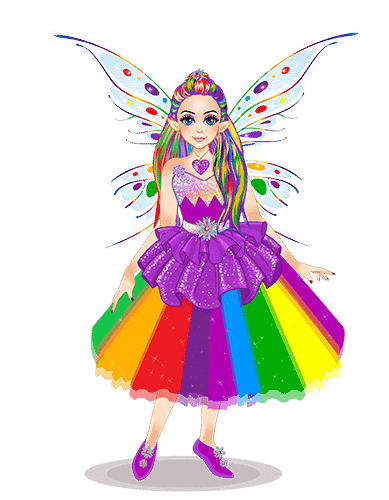 Arcenciel The Rainbow Fairy
Arcenciel the Rainbow Fairy's name means rainbow (arc-en-ciel) in French. She lives a very magical life enjoying the rainbows that she is responsible for looking after. She lives in a home in the clouds and has a bright and colorful wardrobe. She knows that in order to have a rainbow, you have to endure the rain sometimes. She has created a vibrant and magical collection of merchandise for your enjoyment so you can surround yourself with the joy that bright colors can bring.

Arcenciel The Rainbow Fairy Instant Fairy Garden , Digital Download
If you believe in Rainbows and Unicorns this is the perfect fairy garden for you!! 
Over 147 Images to Download!
NEW-Exclusive Digital Download Instant Fairy Garden! What a great project for the family, birthday party, DIY and end up with a beautiful fairy garden! You can also place inside on a wall and make an indoor Rainbows and Unicorns Garden celebration or add to your dollhouse! 
Collect them and collect the beautiful Gold Certificates you will receive with each fairy garden! Frame them and place them on your wall!
Teelie's Original Miniature Rainbow Scenes
Rainbow Fairy Collection On Amazon
To view the product, click the image to enlarge.