Fly along with us. Teelie's Fairy Garden is ready to start thinking about Halloween because it is always a spooktacularly wonderful time in Fairy Land.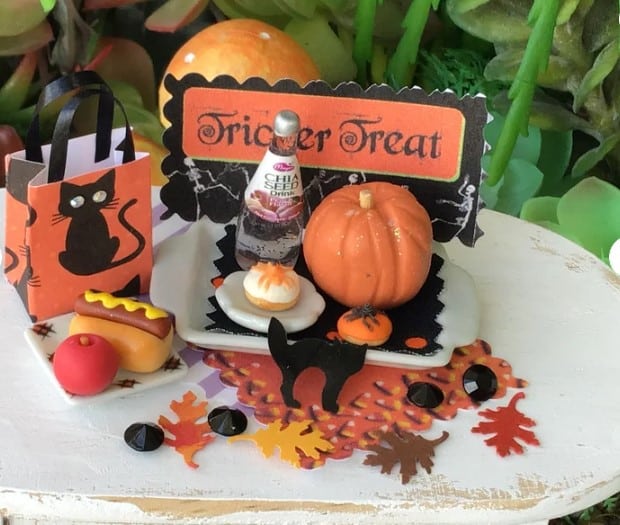 Halloween Fairy Cat Trick Or Treat, Fairy Garden, Miniature, Halloween, Ceramic Plate, Orange, Hotdog, Fairy Halloween DIYDollhouse
Magical Halloween Meal
Teelie's Fairy Garden has numerous enchanted and spooky Halloween fairy garden scenes that they have put together. You can find the one pictured above here. It includes a hotdog, a donut, a beverage, a Halloween bag with a black cat on it, and several other fun items for your fairy garden. There are also books of Teelie Turner's fairy garden scenes available. Learn more here. 
Learn to Create a Spooky Halloween Fairy Garden
Garden Sparkle has a wonderful article on creating your own DIY Spooky Halloween Fairy Garden. One photo from this article is pictured above. We love the pumpkin house, ghost, and tombstones that have been used to give this fairy garden its spooky feel. Read the full article here.
Awesome Autumn Fairy Gardens
One of the amazing things about autumn is Halloween. In this enchanted article from Hello Gnome Décor, you'll see numerous autumn fairy garden scenes. Some of them have a Halloween theme. Pictured above is one scene that we find is perfect for Halloween. There is a Halloween fairy, jack-o-lanterns, signs, a pumpkin house, and spooky steppingstones. Learn more here.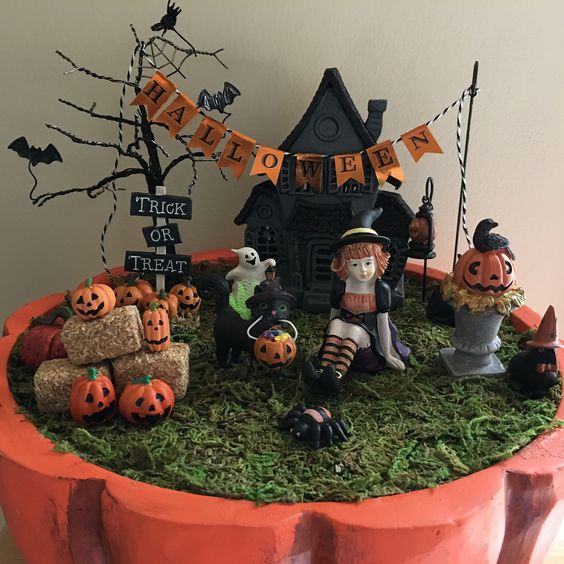 Haunted Halloween Fairy Garden
This haunted Halloween fairy garden can be found on Pinterest and was posted by Hello Gnome Décor. A Haunted house, bales of straw, jack-o-lanterns, a ghost, and a witch are some of the stunning features of this spooky fairy garden. See more here.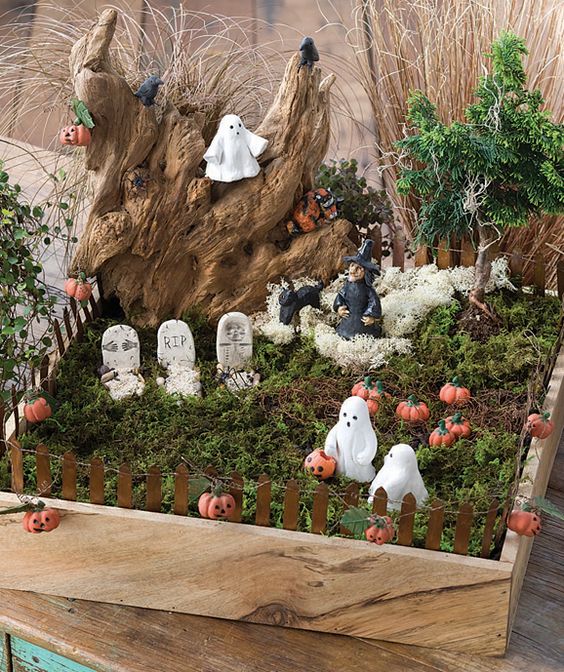 Jeremie Miniatures Fairy Garden
Spooky Fairy Garden
Tombstones, ghosts, a witch, and a black cat are just some of the features in this spooky Halloween fairy garden Jeremie Miniatures posted on Pinterest. We'd love to know what your favorite feature of a spooky garden is. Please let us know in the comments. Find this fairy garden here.
Here are some magical friends that you could include in your Halloween-themed fairy garden.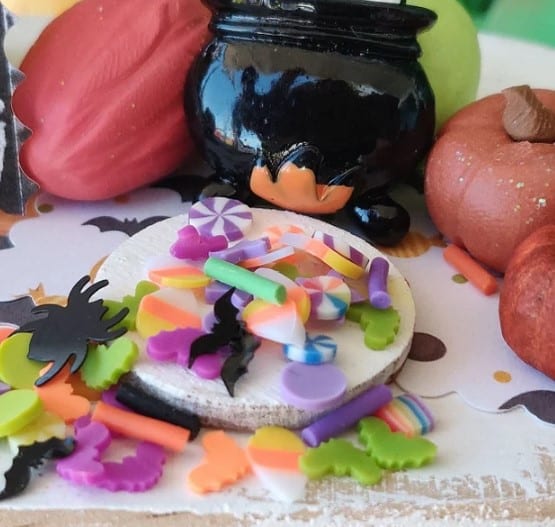 Assorted Halloween Candies with White Wood Base, Halloween Candies, Dollhouse Food, Miniature Goodies, Colorful, Assorted Candies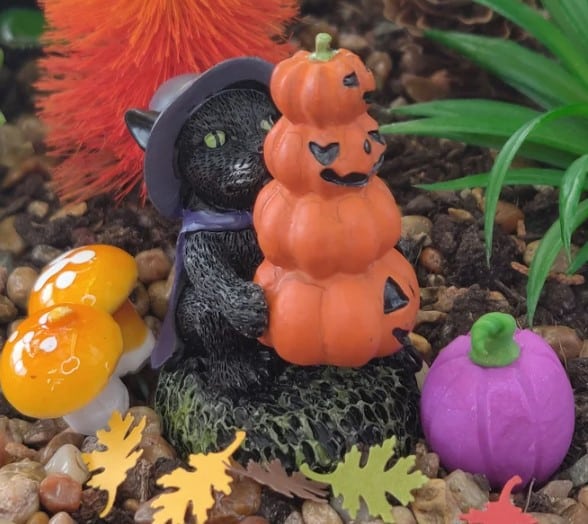 Black Cat Wearing A Hat With A Stack Of Orange Pumpkins And Mushroom, Fairy Garden, Dollhouse, Miniature, Mini Garden, Halloween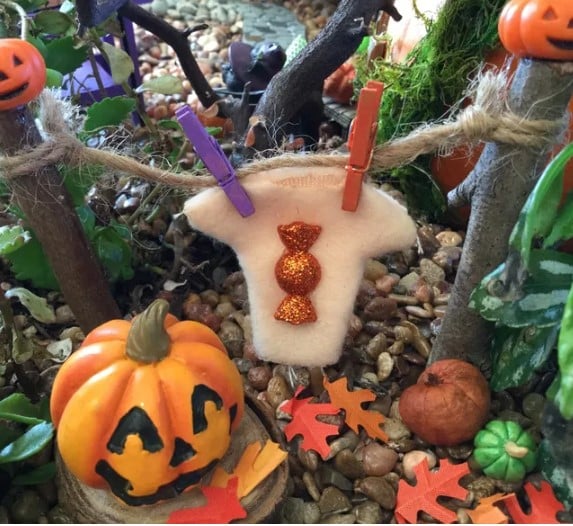 Halloween Clothesline, Fairy Garden, FairyGarden Kit, Miniatures, Dollhouse, Miniature Halloween, Pumpkins, Orange, Dollhouse Halloween, Black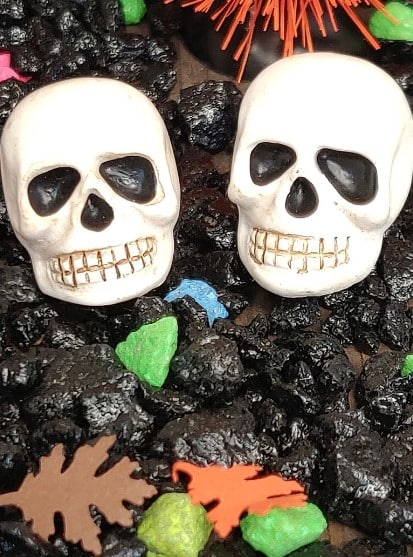 Fairy Garden Spooky Skull Heads, Halloween, Fairy Garden, Dollhouse, Miniature, Halloween Garden, Halloween Skulls, Halloween Fairy Garden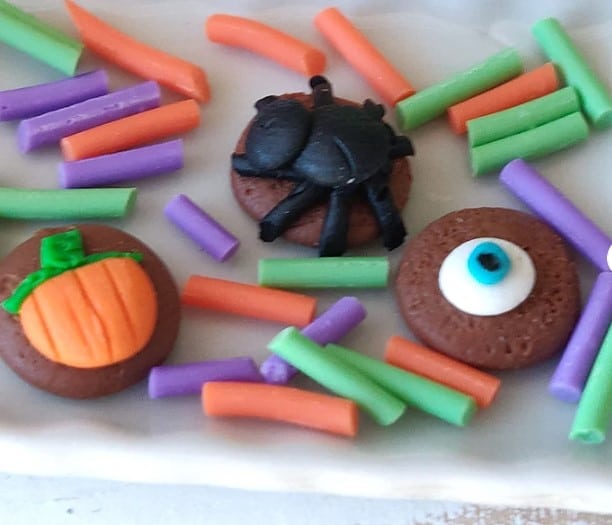 Halloween Cookies, Fairy Food, Miniature Halloween Cookies, Pumpkin Cookie, Spider Cookie, Candy Stick, Dollhouse Food, Yummy Cookies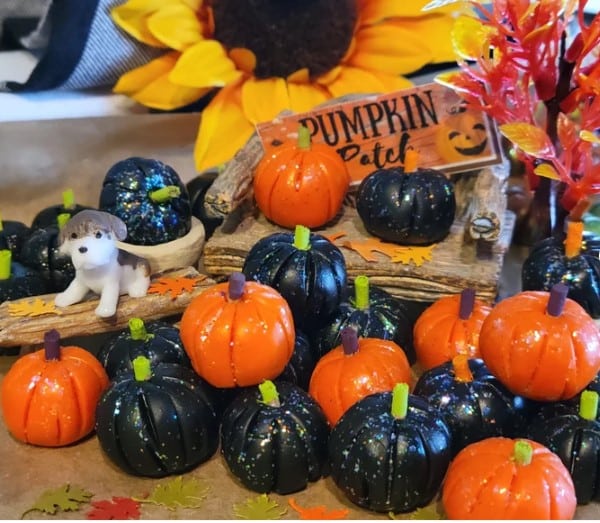 3 Boo! The Halloween Pumpkins Are Here, Halloween, Dollhouse, Fairy Garden, Dollhouse, Orange, Black Pumpkins, Orange, Lime Green, Purple
We hope that you've enjoyed discovering these spooktacular Halloween fairy gardens with us. We hope that you'll revisit Teelie's Fairy Garden soon. More sweet and magical adventures are waiting for you.
You might also enjoy this magical fairy video.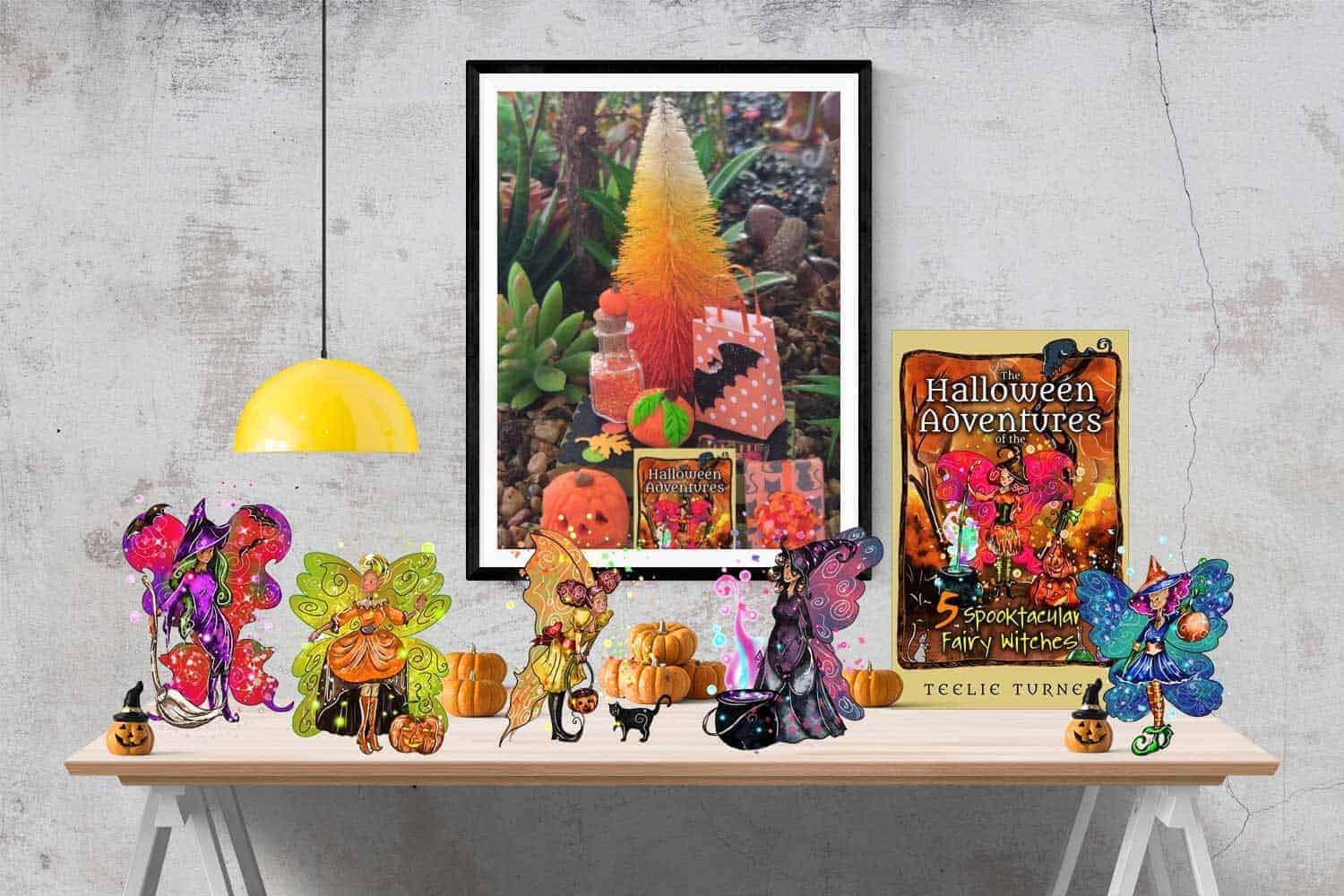 Discover Teelie Turner's complete collection of magical books here. 
Discover one of our magical book reviews.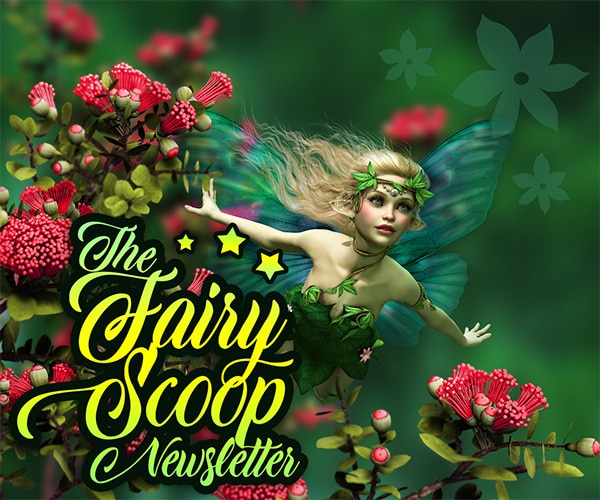 Sign up for The Fairy Scoop Newsletter here. 
Just a disclaimer – We have partnered with these companies because we use their products and/or proudly trust and endorse them – so we do receive a commission if you make a purchase or sign up for services. Often, we are able to negotiate special discounts and/or bonuses, which we will pass on to you via our links. We often get short notice on sale items available for 24-48 hours as we will pass these savings onto you.