A fairy home can be found in nearly every nook and cranny all over the world. Fairies from different lands and different places may find different locations to live in. Whether they live in the city or they live in the countryside, there are quite a few places where a fairy might choose to live. Mermaids and water fairies usually live in grottos or underwater homes. Cloud fairies will live high up in the sky in their heavenly homes. Fairies that live around the earth, however, will find different places to live in throughout the world.
Have a look at some of the different types of fairy homes that you might want to have a peek at!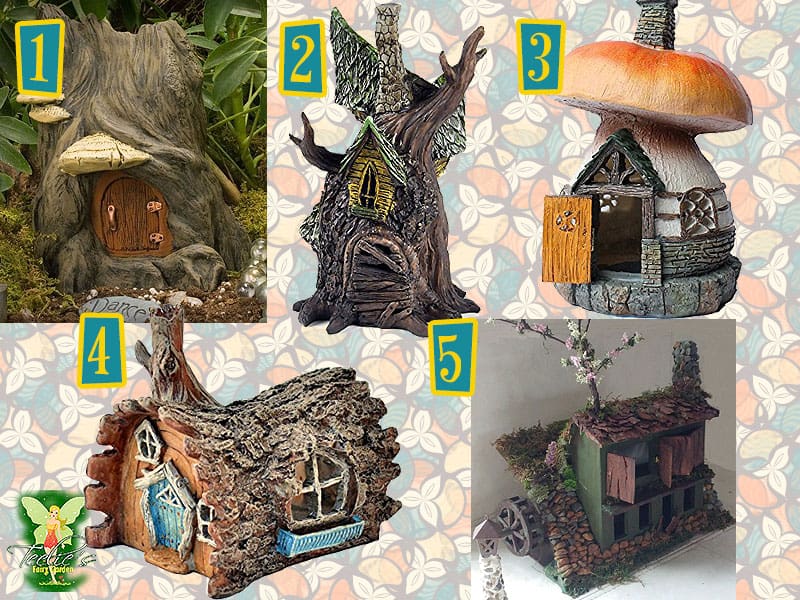 A forest fairy, for instance, would certainly be more likely to live in a small stump like this one. It would have its own lovely arbor of some flat mushrooms, and a tiny doorway for them to step into. A hidden fairy home like this one would blend perfectly in with the rest of the forest scenery, and you'll have to look really hard to see it. Get it at Etsy.
A tree house like this one is another ideal fairy home for a forest fairy. It looks just like any other small tree. Even its chimney is an earthy color, so it blends right into the foliage and the twigs around the forest. Sitting in the forest floor or maybe some bushes and shrubbery, no one would even look twice. They'll just be surprised when a fairy peeks out of the door! Get it at The Fairy Garden.
As you might have noticed, fairies do like to live in hidden areas, usually around foliage. They don't really like to go where many humans tread. So fairies that live in parks, for instance, will settle in a fairy home like this mushroom cottage. It will not only blend in with other mushrooms in a park and will be avoided by humans, but it might also be mistaken as an ornament! Get it at the Fairy Garden.
In terms of inconspicuous living, a fairy home like one in this log is one of the best. No one will notice it in a park, or even in a forest or hillside. A fairy could live quite a quiet and content life in a log like this one, not bothered by humans and animals. It's a wonderful fairy home to have anywhere where there might be woods or dense flora. Get it at the Fairy Garden.
Many fairies, particularly ones in Ireland or other magical countryside areas, love living in hills. The hillsides are sometimes called "raths" or mounds. In general, however, fairies like living on hills as they're usually at forests, with plenty of greenery that they love. A home on a hill like this one is a much beloved fairy home. Get it at Etsy.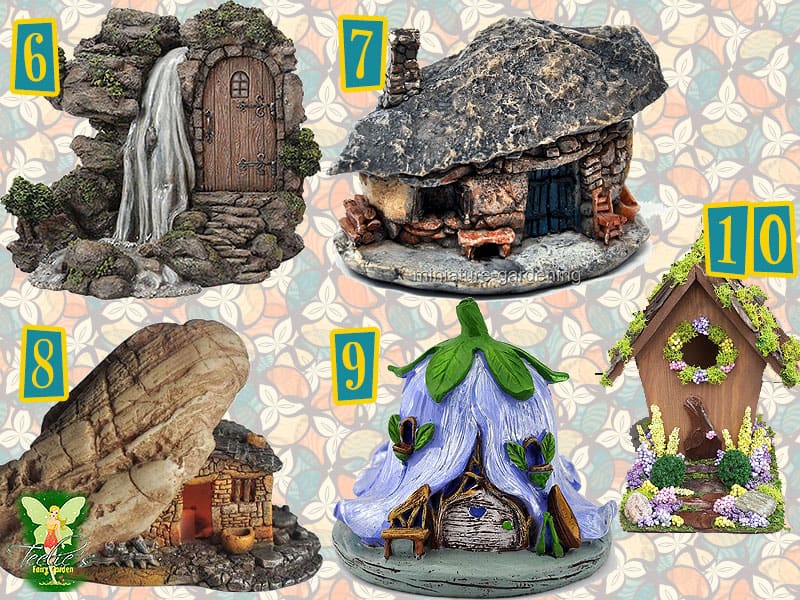 A fairy who lives in the hillsides, deep in nature, might also make a hidden fairy home beneath a waterfall. After all, very few people or animals will head towards a waterfall to see what was hiding behind it. This waterfall home, behind the water, could be the home of a wizened wizard fairy who likes a quiet place to practice some magic. Get it at Etsy.
Some fairies go the extra length and live underground or underneath the hills themselves. Underground, under cliffs or more, there might be lovely fairy homes hidden under nooks and crannies. With pebbles and rocks a-plenty, a fairy can whip up a lovely home like this one, made of smooth pieces in varying colors. It's quite a weather-resistant home too! Get it at Etsy.
In case a fairy prefers to live underground but doesn't really want to live under a hill or a cliff, they might choose to live under some forest rocks. Rocks are, after all, the ideal forest camouflage! Just take a look at this adorable fairy home, tucked right under a rock. No one would think that a tiny fairy was living just beneath the stone, cozy and snug as a bug! Get it at Etsy.
Flower fairies, as the name suggest, prefer to construct their houses amidst the flowers and blossoms. A flower fairy might prefer to live in a flower itself. This pretty fairy home lives right in the heart of a large campanula. Varieties of different bell flowers like this one are often called fairy caps, and fittingly so, as fairies seem to be quite fond of them! Get them at Etsy.
Still, some flower fairies like to be straightforward. A quaint little wooden fairy home like this one is not just adorable, but it's also cozy. It's covered in flowers as well, from the moss on its roof to the multitudes of blossoms around its perimeter. Different kinds of flowers and colors can be found here as well, guaranteed to make a flower fairy feel home. Get this house at Etsy.
So many homes that are fit for so many different fairies! It's an adventure seeking out these different fairy homes. It's truly a magical experience to find which ones would suit the fairies in fairy gardens around the world!
Just a disclaimer – We have partnered with these companies because we use their products and/or proudly trust and endorse them – so we do receive a commission if you make a purchase or sign up for services. Often, we are able to negotiate special discounts and/or bonuses, which we will pass on to you via our links. We often get short notice on sale items available for 24-48 hours as we will pass these savings onto you.