Take a stroll through Teelie's Fairy Garden and enjoy some fun with orange and black fairy gardens. We'll be showing you how you can be inspired by these colors to make magic this holiday season.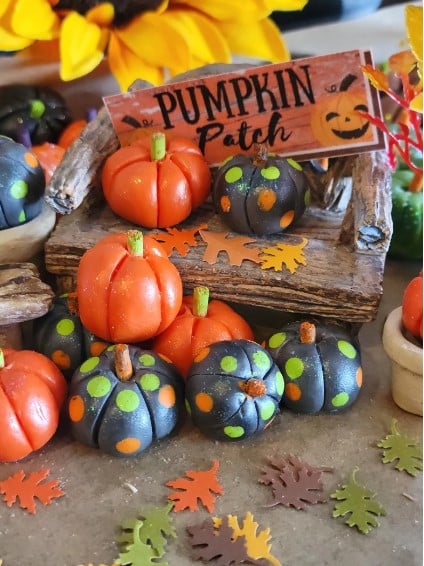 Happy Halloween, Halloween Pumpkins, Miniature, Fairy Garden, Dollhouse
Pumpkin Patch Scene
This magical scene from Teelie's Fairy Garden has several adorable black, and orange pumpkins, autumn leaves, and a Pumpkin Patch sign. It would look incredible in your fairy garden. Learn more here.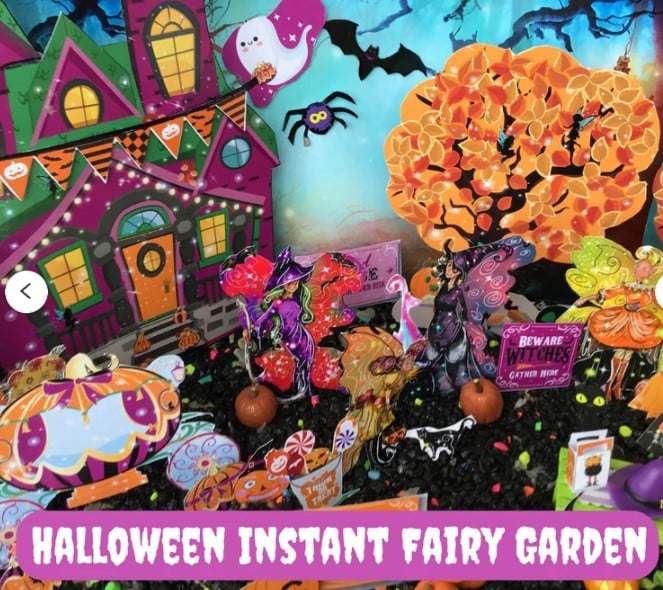 Digital Downloadable Halloween Instant Fairy Garden
Magical Digital Downloadable Fairy Garden
Find numerous black and orange fairy garden accessories including fairies, witches, black cats, and pumpkins, in Teelie's Fairy Garden's digital downloadable Halloween instant fairy garden. This means you can start your enchanted adventure right away. Just purchase, print, and begin cutting out and assembling this amazing fairy garden. It would look amazing as part of your décor this Halloween. Full details are available here.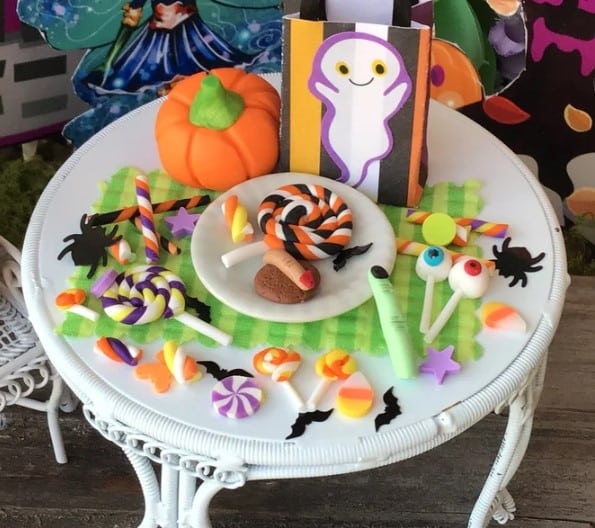 A Halloween Party, Miniatures, Fairy Garden, Dollhouse, Ghost Bag, Orange Pumpkin, Halloween Lollipops, Finger Cookies, Eyeball Suckers, Fun
Haunted Halloween Party
Enjoy an assortment of Halloween treats many of them with orange and black accents from Teelie's Fairy Garden. You can have some Halloween lollipops, finger cookies, and eyeball candies. A pumpkin and a ghost candy bag are also fun accessories that you'll find in this scene. Complete details are available here.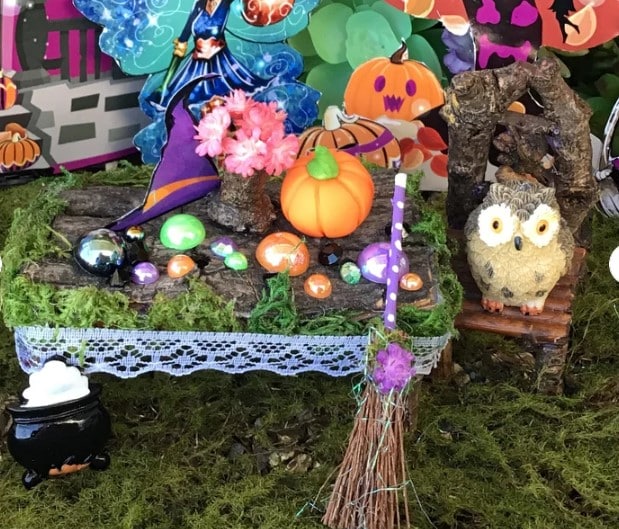 An Amazing Halloween Table, Cute Owl, Fairy Garden, Dollhouse, Miniature, Wood Table, Chair, Broom, Witches Hat, Orange Pumpkins, Pearls
Witches Brew Fairy Garden Scene
This adorable fairy garden scene is spooktacular and witchy. It has several adorable accents including many that have some orange and black on them. They include a witches' cauldron, an owl, pumpkins, Halloween scatter, and a Halloween scene. Learn all about this amazing scene from Teelie's Fairy Garden here.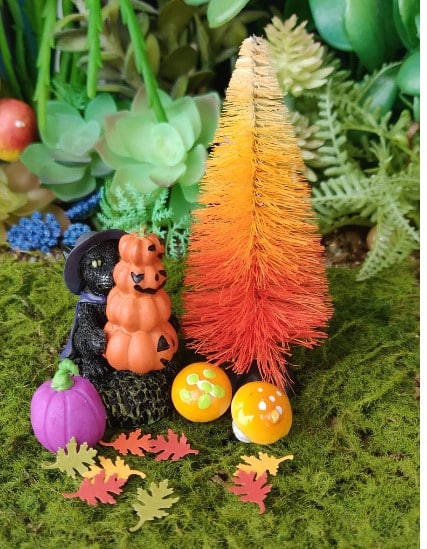 Halloween Black Cat with Lavender Cape, Halloween Black Cat with Orange Ombre Tree and Accessories, Miniature, Dollhouse, Fairy Garden
Amazing Black Cat and Orange Ombre Tree Scene
This magical fairy garden scene from Teelie's Fairy Garden includes an enchanted black cat that is wearing a Halloween cat, mushroom toadstools, a stack of pumpkins, and an orange ombre tree. Learn all the details here.
You might also enjoy this Halloween-themed video.
We also found some adorable orange and black miniatures that you might want to incorporate into your enchanted fairy garden.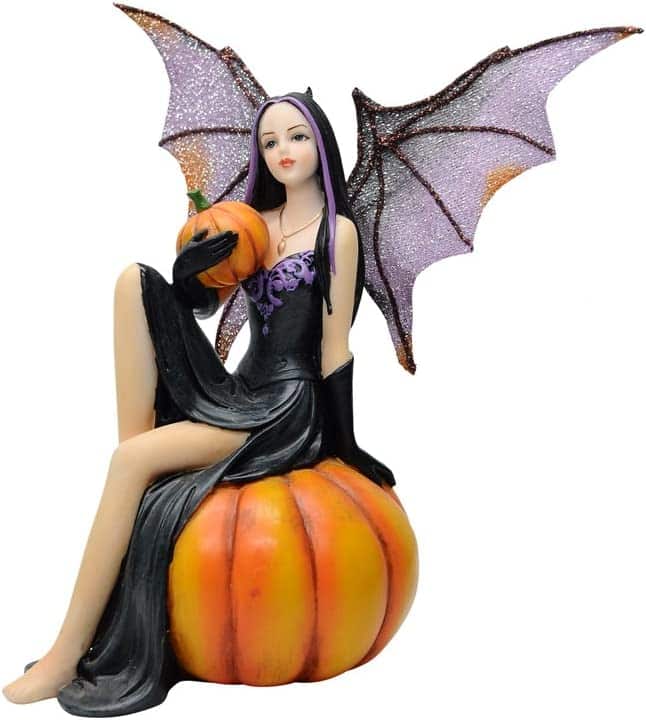 Comfy Hour Fairyland Collection 6" Dark Fairy Witch Holding and Sits on a Pumpkin, Polyresin Figurine, Halloween Theme Gift, Home Decoration and Collectibles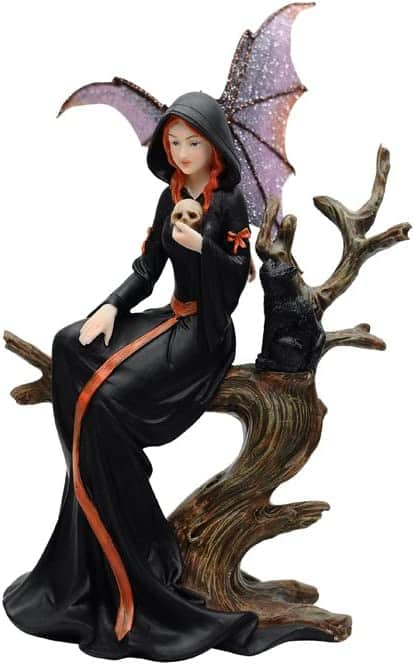 Comfy Hour Fairyland Collection Resin Fairy Witch with Skull and Black Cat Sitting On Withered Tree Crafted Figurine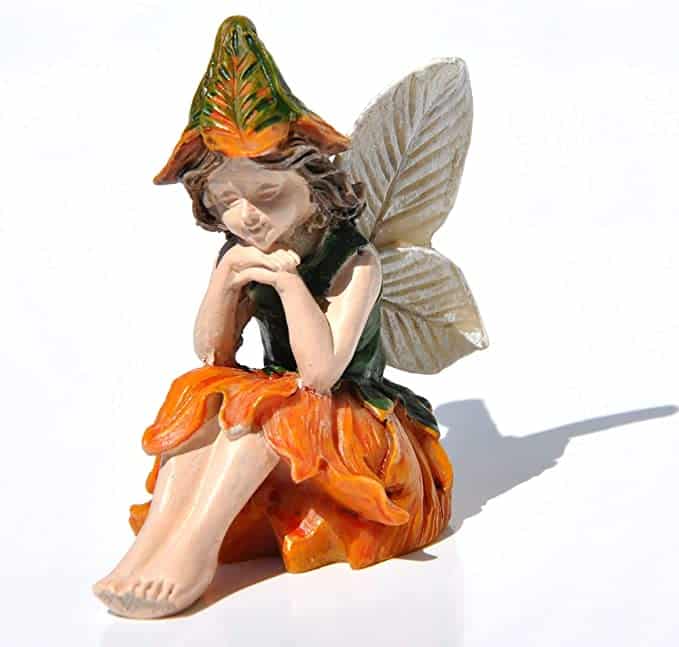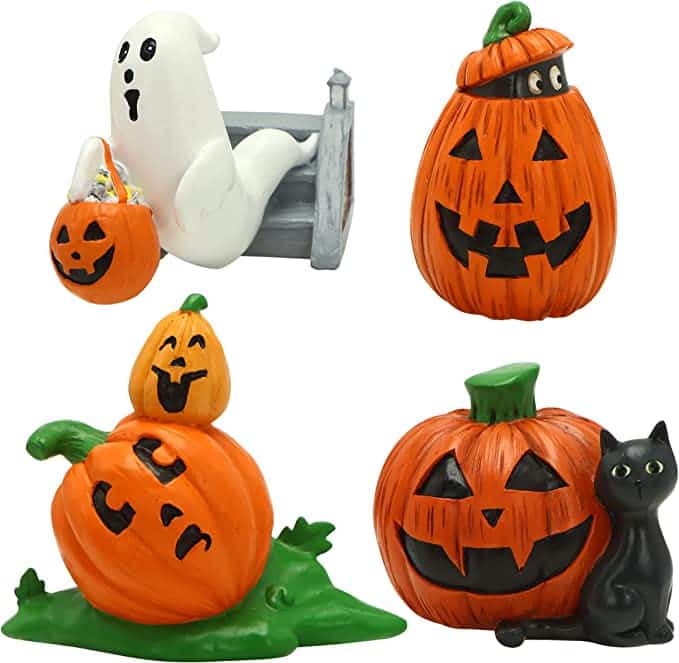 JOYIN 4 Pcs Halloween Decoration Pumpkins Miniature Figurines Set Black Cats and Ghost Ornaments Indoor Outdoor Accessories Resin Collectibles Characters Figurines Decor for Home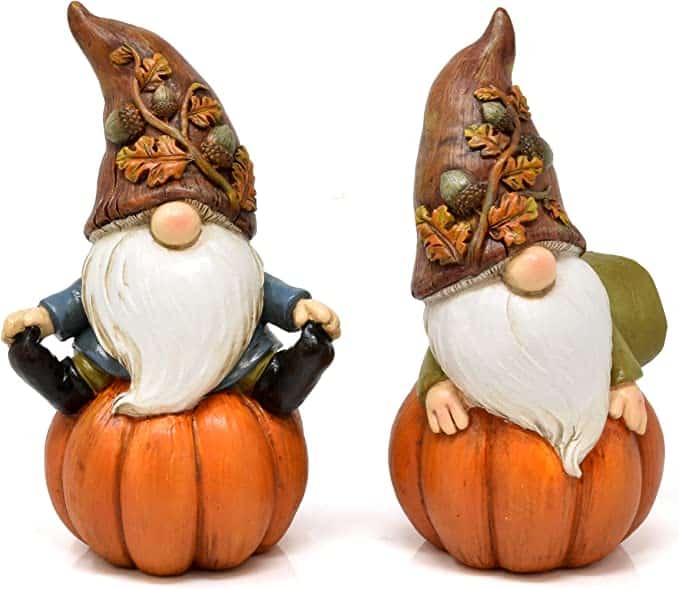 Thanksgiving Pumpkin Garden Gnome Figurines with White Beard Set of 2 for Home Garden Lawn Outdoor Fairy Statue Decoration Holiday Yard Decor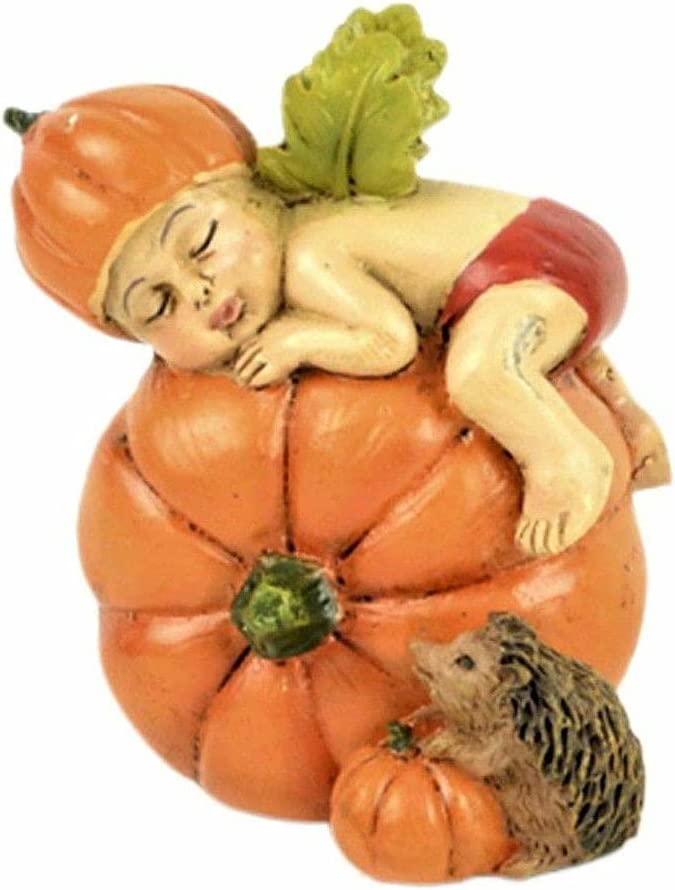 Fairy Garden Decor Accessories Miniature Fairy Garden Fall Fairy Baby Sleeping on Pumpkin
The fairies hope that you have an extremely happy Halloween and that you'll share some of your Halloween fun with the fairies. They'd love to hear from you. Please revisit Teelie's Fairy Garden again soon.
You might also enjoy this magical fairy video.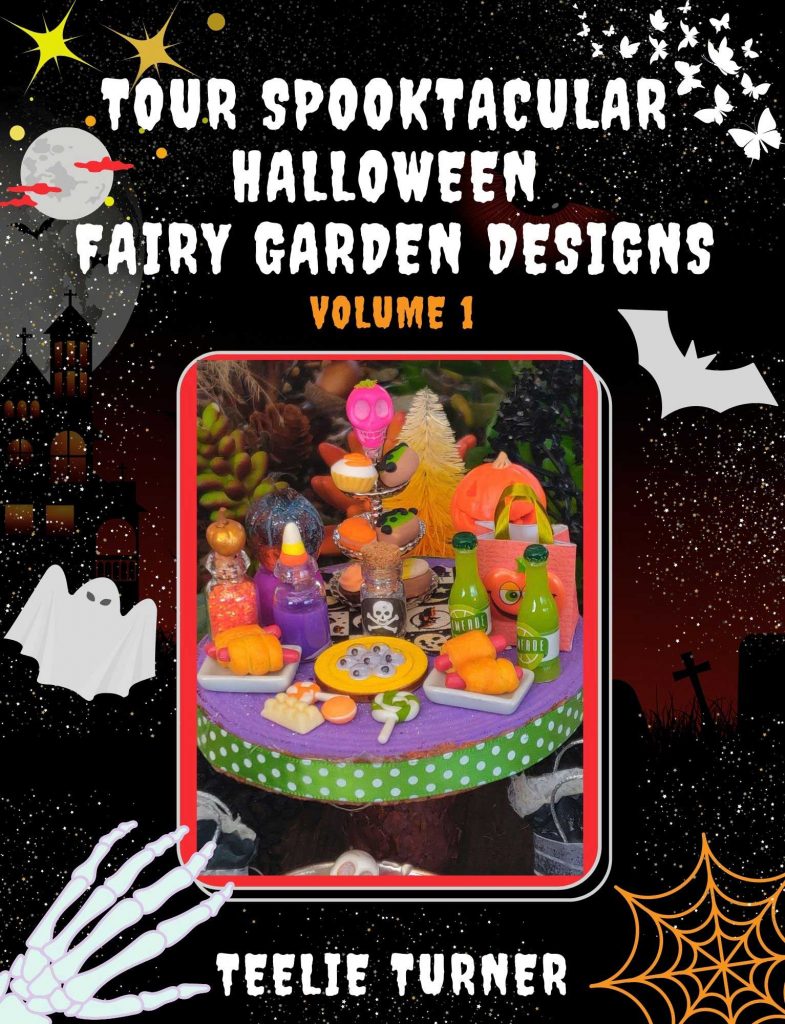 Discover Teelie Turner's complete collection of magical books here. 
Discover one of our magical book reviews.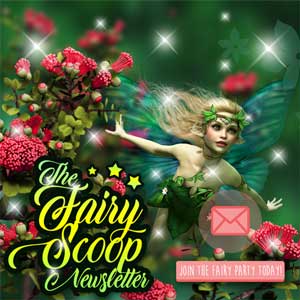 Sign up for The Fairy Scoop Newsletter here. 
Just a disclaimer – We have partnered with these companies because we use their products and/or proudly trust and endorse them – so we do receive a commission if you make a purchase or sign up for services. Often, we are able to negotiate special discounts and/or bonuses, which we will pass on to you via our links. We often get short notice on sale items available for 24-48 hours as we will pass these savings onto you.