The fairies are extra excited because Halloween is almost here. They can't wait to go trick-or-treating and enjoy some delicious treats. You'll see several adorable accessories that look like candy from Teelie's Fairy Garden in this week's blog post.
Here is a magical video for your enjoyment.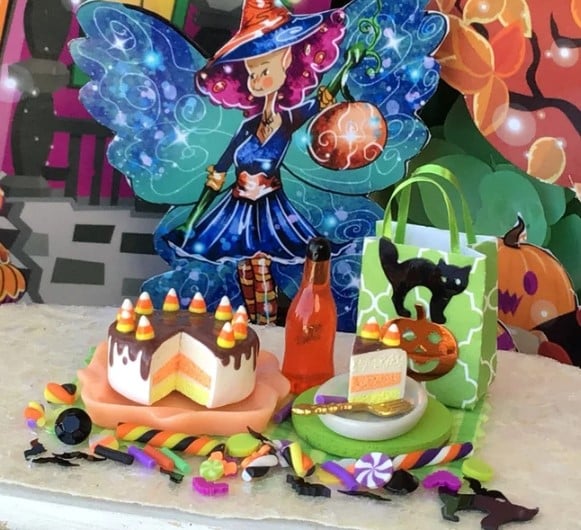 Halloween Candy Corn Cake, Yummy, Fairy Garden, Dollhouse, Miniature, Orange Soda, Halloween Pumpkin, Cat Bag, Peach Plate, White Plate
Candy Corn Cake and Soda
This charming display provides some yummy treats like this beautiful Halloween candy corn cake and orange soda. The dishes and accessories are also exquisite. More information can be found here.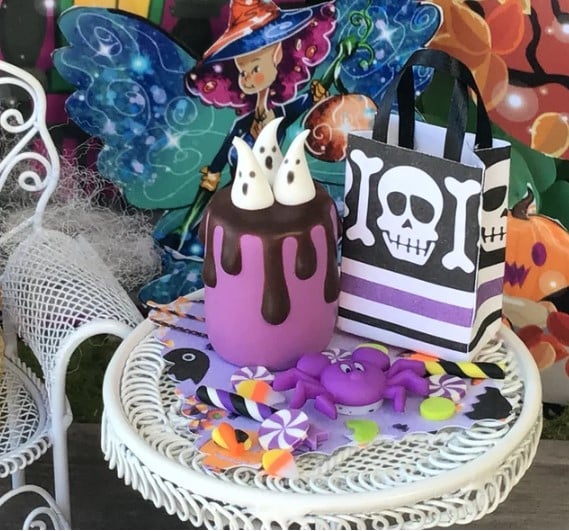 Boo, Adorable Halloween Ghost Cake, Miniature, Fairy Garden, Dollhouse, Purple Cake, Halloween Trick or Treat Bag, Purple Spider, Candy
Ghostly Delicious Cake and Candy
This Halloween ghost cake looks so delicious so we aren't sure that it will make it to the buffet table at King Henry and Queen Olivia's ball before a fairy decides to sample it. There are also delicious candies that come with this cake scene. Full details are available here.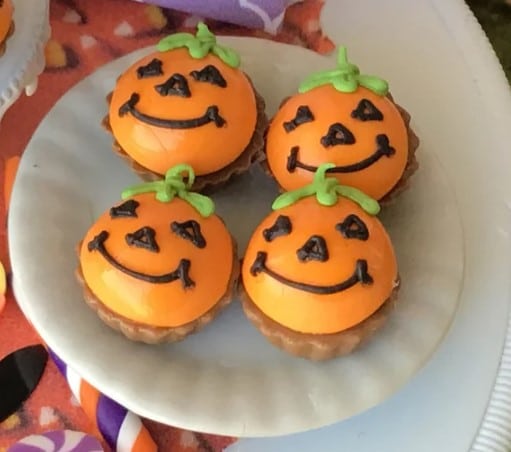 Happy Halloween Pumpkin Cupcakes, Fairy Garden, Dollhouse, Miniature, Cupcakes, Halloween Party, Fairy Food, Dollhouse Food, Orange Pumpkins
Simply Adorable Pumpkin Cupcakes
Do these happy Halloween cupcakes look too cute to eat? They are so adorable. We love how each one has a sweet personality. Learn more about them here.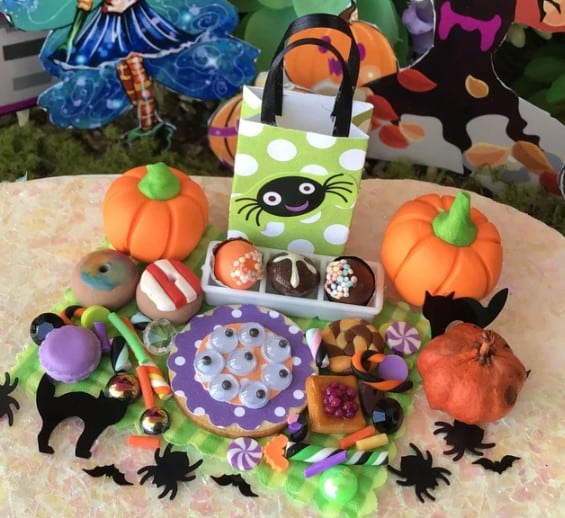 A Halloween Party is waiting For You, Fairy Garden, Dollhouse, Miniature, Orange pumpkins, Eyeballs, Donuts, Tart, Lavender Macaroon, Cat
Assortment of Tasty Treats
This incredible display is filled with tasty treats. It is a Halloween party that is waiting for you. Enjoy donuts, tarts, and macaroons while keeping company with your favorite Fairy Land friends. The fine details on each of these desserts are amazing. More details are available here.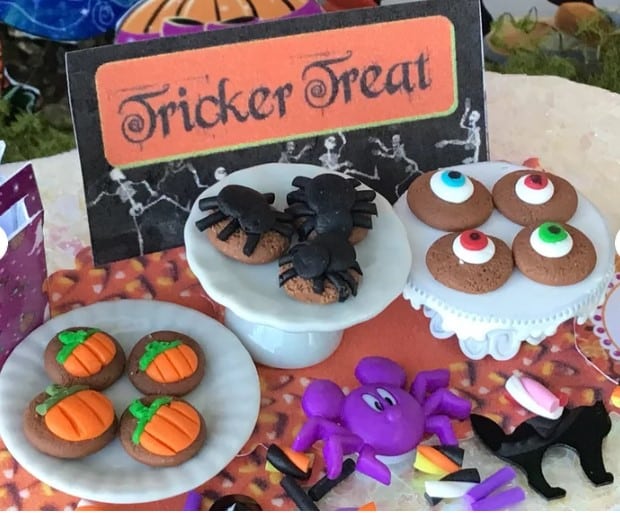 Halloween Cookies, Spiders, Pumpkins, Eyeball Cookies, Halloween Party, Fairy Garden, Miniature, Dollhouse, Fairy Food, Dollhouse Food
Magical Halloween Cookies
These magical Halloween cookies come as spiders, pumpkins, or eyeballs. Each cookie was made using a pinch of love, and some fairy dust. When you have fairy magic in the kitchen anything can happy. Full details are available here.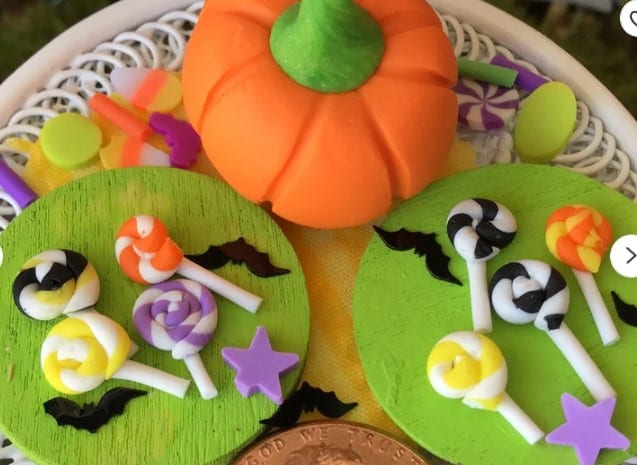 Adorable Tiny Halloween Swirl Lollipops, Miniature, Fairy Garden, Dollhouse, Wood Rounds, Fabric Table Topper, Black, Yellow, Orange, Cute
Twisted Lollipop Treats
There is something magical about being able to lick a lollipop. It can be even more incredible when the lollipops have multiple flavors to them. These twisted lollipop treats have gorgeous swirls on them in Halloween colors. More information is available here.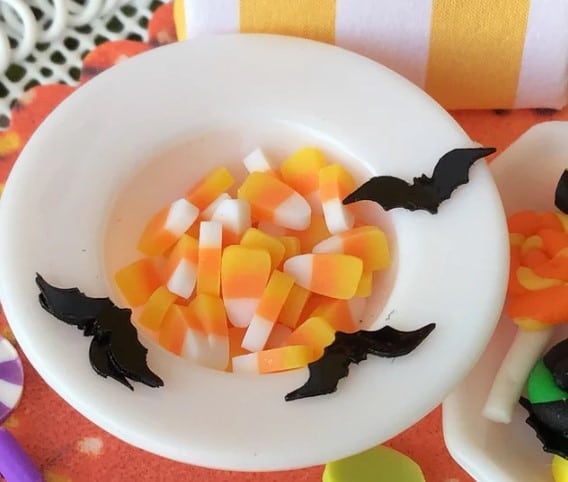 Tiny Halloween Candy Corn, Miniature, Dollhouse, Fairy Garden, Yellow, Orange, White, Halloween Bag, Pumpkin, Halloween Candy, Table Topper
Colorful Candy Corn
This traditional colored yellow, orange and white candy corn is detested by some humans yet loved by others. But you won't find a fairy in Fairy Land who doesn't love this special Halloween treat. Find a whole bowl of it here.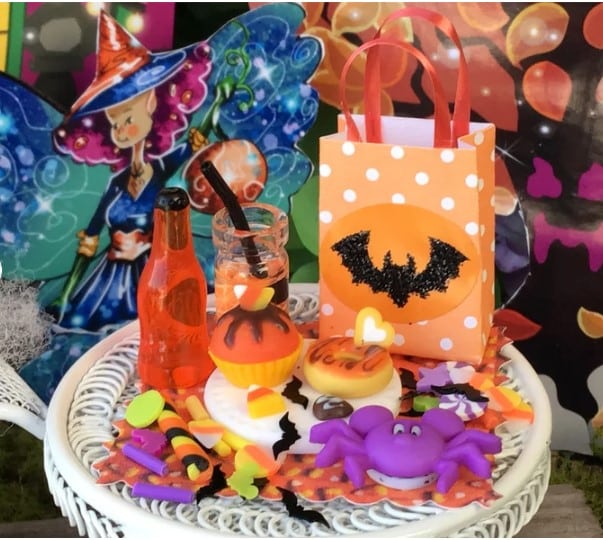 Halloween Miniature Donuts and Cupcake, Orange Soda, Miniatures, Fairy Garden, Dollhouse, Purple Spider, Candy Corn, Orange Drink, Black
Enchanted Treats Scene
What would you like to try first? It all looks delicious. There is candy corn, a miniature Halloween donut, a Halloween cupcake, and some orange soda. I'd love to try it all. More information is available here.
Happy Halloween fairy friends. Several fairies are already looking at the delicious fairy garden scenes that are above. They're going to use some special fairy dust to make the miniature treats edible.  Please revisit Teelie's Fairy Garden again soon.
You might also enjoy this magical fairy video.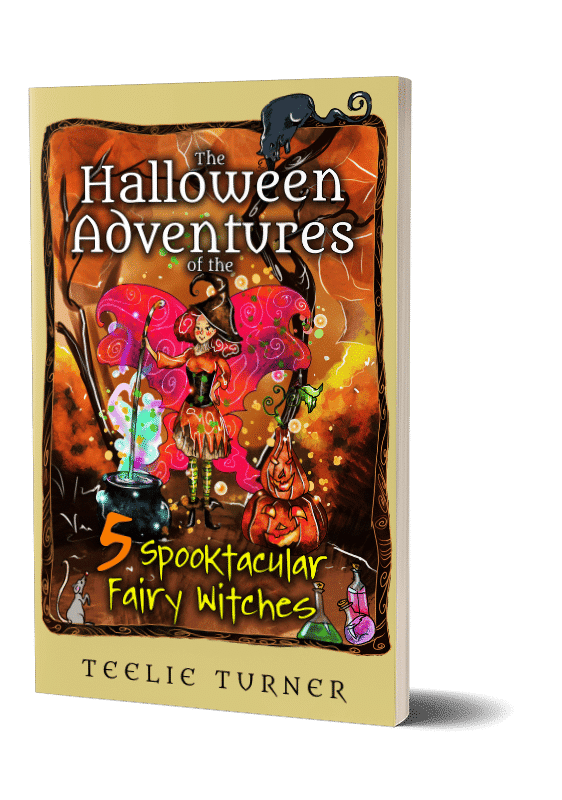 Discover Teelie Turner's complete collection of magical books here. 
Discover one of our magical book reviews.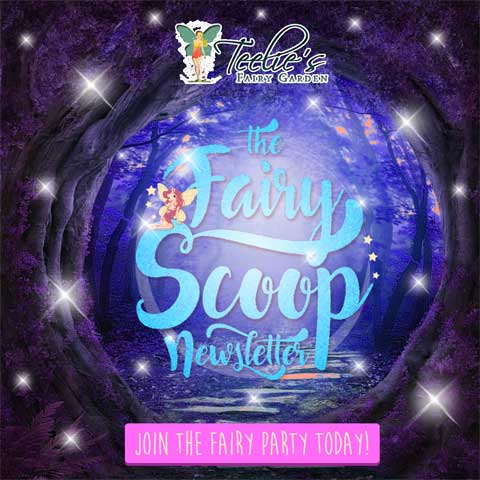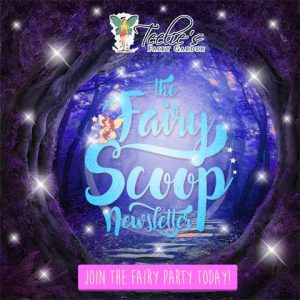 Sign up for The Fairy Scoop Newsletter here. 
Just a disclaimer – We have partnered with these companies because we use their products and/or proudly trust and endorse them – so we do receive a commission if you make a purchase or sign up for services. Often, we are able to negotiate special discounts and/or bonuses, which we will pass on to you via our links. We often get short notice on sale items available for 24-48 hours as we will pass these savings onto you.