Welcome back to Teelie's Fairy Garden. We are so glad that you're here to celebrate amazing Thanksgiving fairy garden scenes and miniatures with us. Keep reading to learn more.
Here is a magical video for your enjoyment.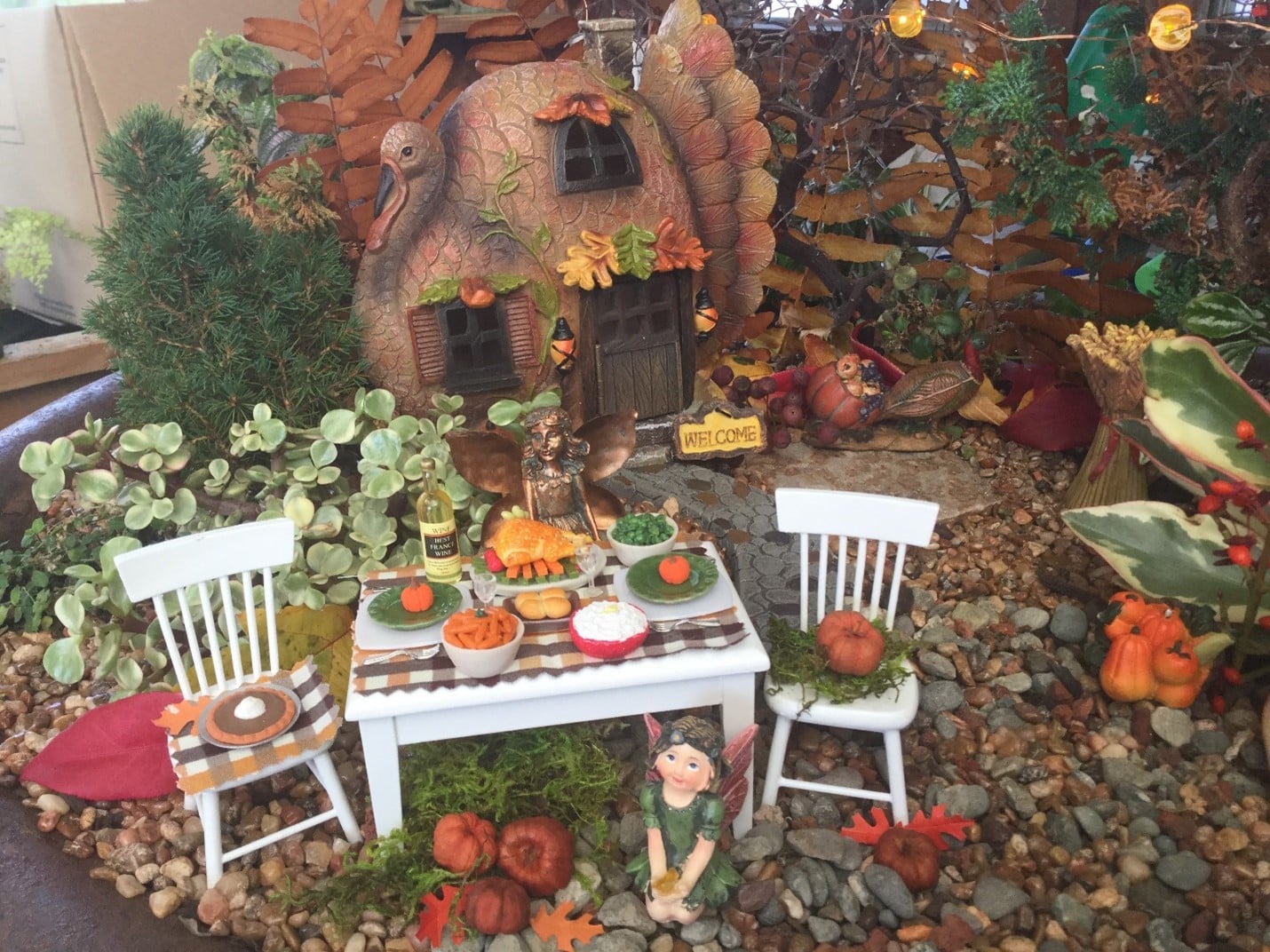 The Magical Fall Journey Through Fairy Land
Multiple Magical Scenes
Teelie Turner has created three magical volumes for your enjoyment of her book 'The Magical Fall Journey Through Fairy Land' which includes multiple fairy garden scenes that she and her team have assembled for your enjoyment. Each picture has a short text with it, to allow you to read about the magic and enjoy your adventures in Fairy Land. Learn more here.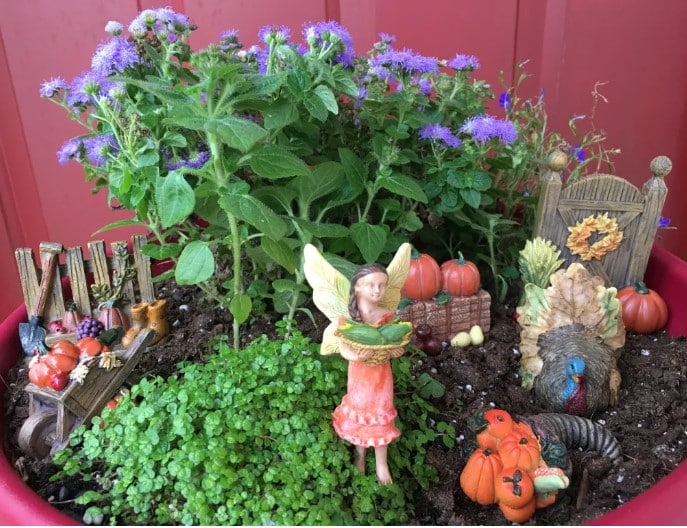 Hello Gnome Décor Tiny Harvest Garden
A Cornucopia of Thanksgiving
This beautiful tiny harvest Thanksgiving fairy garden is from Hello Gnome Décor. We love all the beautiful elements that are included in this fairy garden including the cornucopia, turkey, vegetables, and harvest fairy. More information is available here.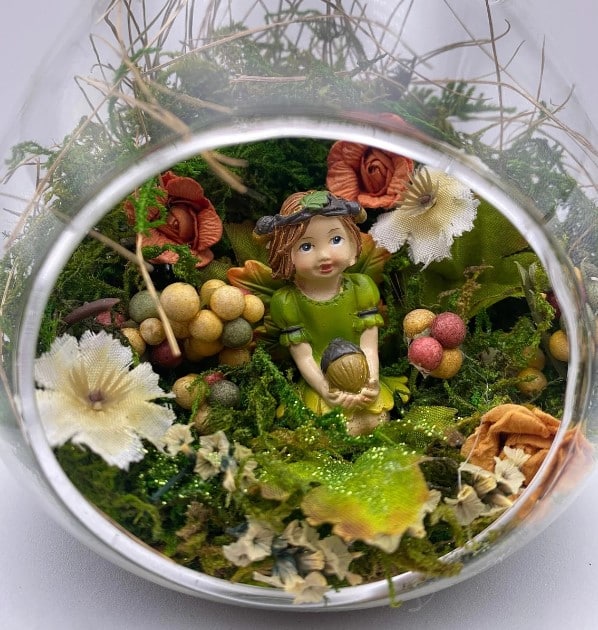 Handmade Thanksgiving Mini Fairy Garden Glass Ornament, Fall Home and Office Terrarium Art Decor, Handcrafted Gifts, Autumn Floral Accents
Gorgeous Thanksgiving Terrarium
My fairyandfriendsbtq on Etsy created this beautiful Thanksgiving scene in a terrarium. We love the autumn accents including the flowers and acorns. The Thanksgiving fairy is also extremely adorable. Learn more here.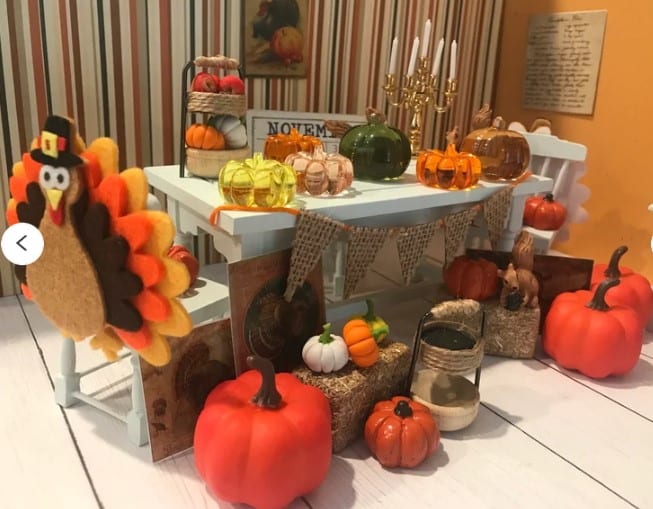 Miniature Thanksgiving Decoration, Pumpkins, Turkey Chair Backer, Squirrels, Dollhouse Accessory, 1:12 Scale, Fairy Garden, Diorama
Inspiring Selection of Thanksgiving Accessories
Put together your own fairy garden scene with accessories from LittleRainbowGate on Etsy. Included in the immense and inspiring selection are squirrels, pumpkins, fruit, flags and so much more. Complete details are available here.
Sleeping Pixie on Acorn Figurine, Harvest Miniature Baby, Fall Home Office Decoration, Autumn Fairy Garden, Thanksgiving Gift Ideas
Resting Harvest Fairies
Fairyandfriendsbtq on Etsy has the adorable sleeping pixie on an acorn available in their harvest collection of miniatures. It would be extremely cute in a fairy garden scene. You could set up your scene like in the picture or come up with your own unique design. Learn more here.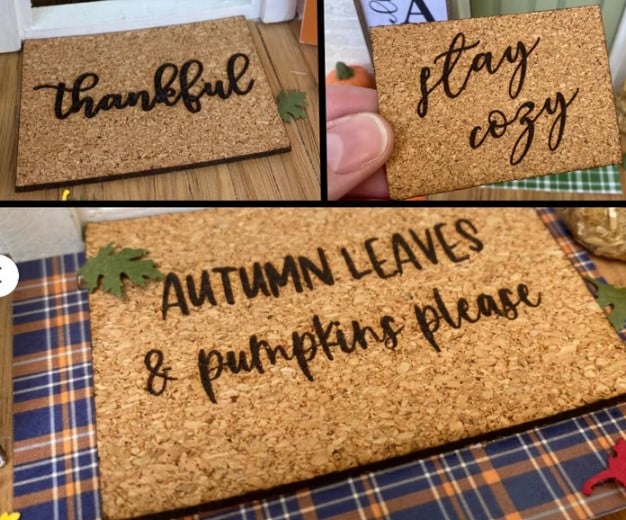 Dollhouse Miniatures Doormat, Autumn
Miniature Fairy Mats
Give your fairies a place to wipe their shoes this Thanksgiving. These miniature doormats are extremely cute. One of them even says Thankful on it. They are available from MyMiniFrontPorch on Etsy. Find them all here.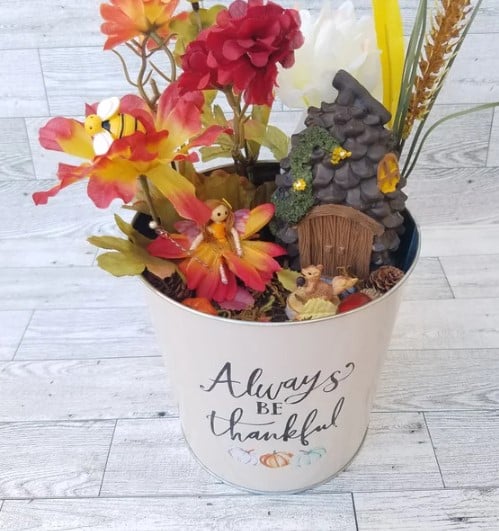 DIY Mini Fall Fairy Garden Kit, Handmade Miniature Fairy, Thankful Decor, Autumn Fairy Garden, Fall Garden Decor, Thankful Gift, Fall Gift
Thankful Fairy Garden
This adorable fairy garden from CrystalCreationsSt was created in a container that says 'Always be thankful' on it. We love the colorful autumn flowers and choice of miniatures that were selected including the squirrel and the fairy house. Learn more here.
Fairy garden miniature table, Fairy furniture 1:12, forest table and chairs, Autumn dining set, Pumpkin tea set, fairy house Accessories
DreamBigHandmade on Etsy created this adorable pumpkin tea set. The fairy house accessories are so comfortable and inviting and the food on the table is plentiful and gives the fairies a lot to be thankful for. Complete details are available here.
Thank you for enjoying this Thanksgiving adventure with us. Please join Teelie's Fairy Garden in more adventures soon.
You might also enjoy this magical fairy video.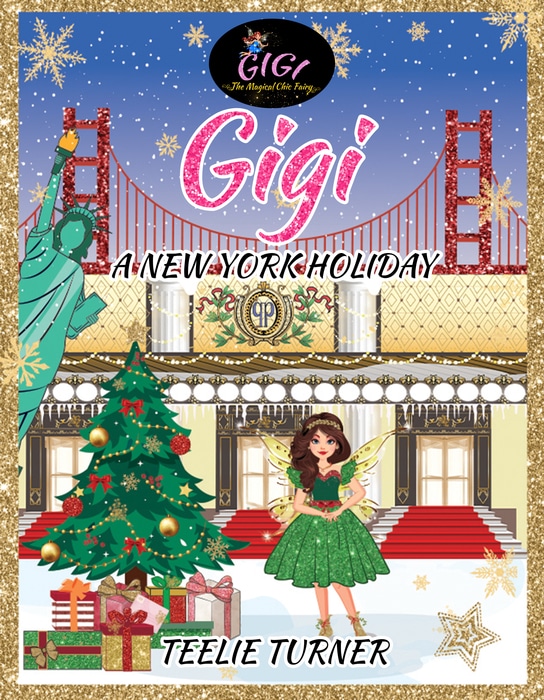 Discover Teelie Turner's complete collection of magical books here. 
Discover one of our magical book reviews.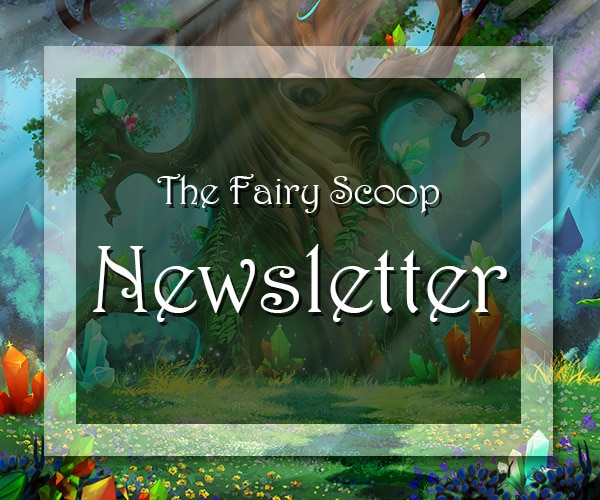 Sign up for The Fairy Scoop Newsletter here. 
Just a disclaimer – We have partnered with these companies because we use their products and/or proudly trust and endorse them – so we do receive a commission if you make a purchase or sign up for services. Often, we are able to negotiate special discounts and/or bonuses, which we will pass on to you via our links. We often get short notice on sale items available for 24-48 hours as we will pass these savings onto you.