Welcome back to Teelie's Fairy Garden. We have numerous Christmas miniatures to inspire your personal fairy garden this holiday season.
Here is a magical video for your enjoyment.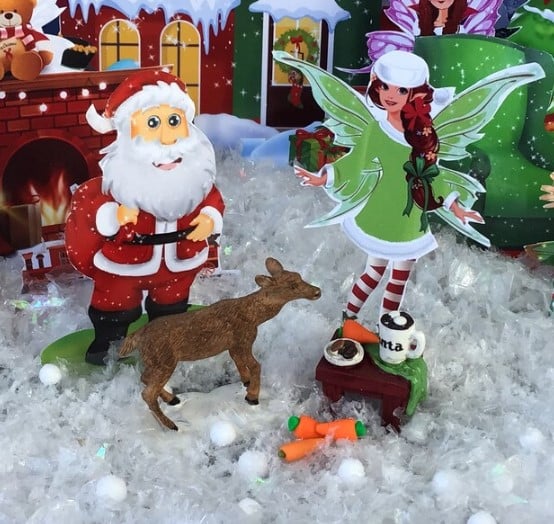 Sweet Deer Looking For Christmas Treats, Fairy Garden, Dollhouse, Carrots, Santa Mug, Orange, Cookies, Brown, Deer, Fairy Food, Standing
Sweet Deer and Christmas Treats
This adorable Christmas scene features a sweet brown deer on a white stand, six orange carrots, assorted snowballs, a small bench with a Santa mug, a green throw, and a plate with two cookies. Find this scene here. Santa and the fairy are not included as they're part of the Fairy Merry Instant Fairy Garden that is available separately from Teelie's Digital Shop.
Adorable Christmas Snowman Cupcakes and Blue Snowflake Cupcakes, Fairy Garden, Dollhouse, Miniature, Fairy Food, Blue Snowflake, Top Hat
Adorable Christmas Cupcakes
The fairies are definitely going to get excited about this delicious treat that could appear in their fairy garden. There are adorable snowman cupcakes and blue snowflake cupcakes. The design is impeccable. We are so glad that Bubba loves baking and put together this special treat for us. Learn more here.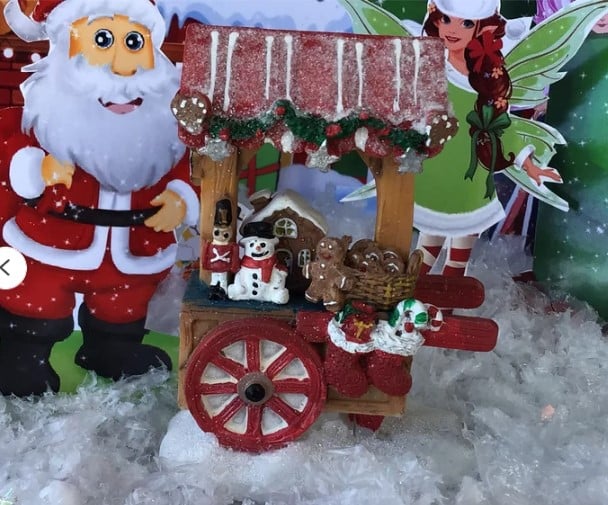 Adorable Christmas Hot Cocoa Cart, Miniatures, Fairy Gardens, Dollhouse, Gingerbread Cookies, Christmas Stockings, Toy Soldier, Snowman
Delicious Hot Cocoa Cart
This delicious hot cocoa cart is the perfect stop for the fairies while they are out Christmas caroling and spreading cheer throughout Fairy Land. When you add the coffee cart to your fairy garden, you'll also receive a gingerbread house, a snowman, two Christmas stockings, gingerbread cookies, a toy soldier, a garland, and some assorted snowballs. Complete details are available here.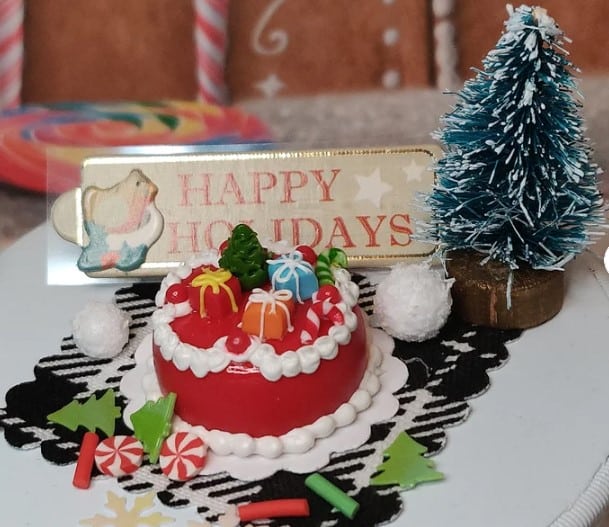 Christmas Present Cake, Christmas Tree, Happy Holidays Sign, Buffalo Plaid Runner, Christmas Candy, Snowballs, Red Cake, Fairy Food
Magical Christmas Cake
As you're probably aware, one of the fairies' favorite things to eat is sweets and their magic allows them to eat as many as they want. Each Christmas, they look forward to this impressively decorated Christmas present cake. You also get additional miniatures for your fairy garden to help bring your scene alive including a teal Christmas tree with a gold base, a happy holidays sign with a cute little bird, snowballs, miscellaneous Christmas candy, and a fabric buffalo plaid table placemat. More information is available here.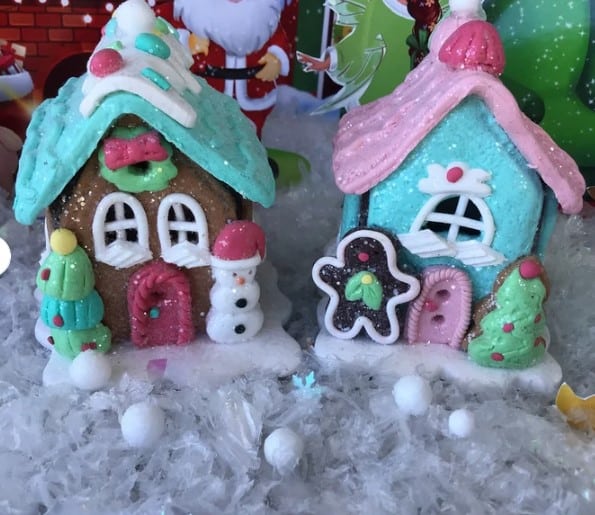 Sugar Plum Miniature Christmas Houses, Snowman, Fairy Garden, Ginger breadman, Christmas Tree, Gum Drops, Sparkles, Yummy, Fairy Houses
Festive Christmas Houses
These adorable and festive Christmas houses are a wonderful option for your fairy garden scene. They have sparkles on them, and the colors are beautiful. The extra details such as the gingerbread, Christmas trees, and gumdrops make these houses even more fun. You get your choice of miniature houses when you select this offering. Learn more here.
Fairy Garden Christmas Tree, Set of 3 Green and White Christmas Trees, Fairies, Miniature, Dollhouse, Green, White, Christmas Fairy Garden
Magical Green and White Christmas Trees
For humans and fairies alike, Christmas trees are part of the holiday tradition. These miniature Fairy Land trees are available in a set of three. You'll receive green trees and white trees. They are extremely versatile and would look amazing in your fairy garden scene. More information can be found here.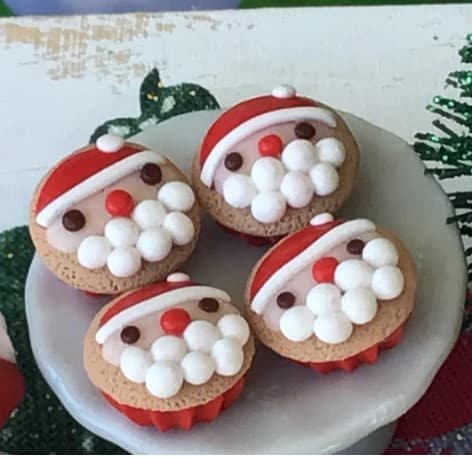 Santa Cookies, Santa Hat, Tiny Santa, Green Sparkly Christmas Tree, Candy Canes, Sant Cupcakes, White Ceramic Cake Stand, Miniature
Detailed Santa Claus Cookies
It takes a lot of sweets to keep the entire Fairy Land population supplied especially during the Christmas holidays when there are more holiday parties and gatherings. These Santa Claus cookies are extremely detailed. You'll also receive some extras including a sparkly green tree, candy canes, snowballs, and some miscellaneous Christmas scatter. More details are available here.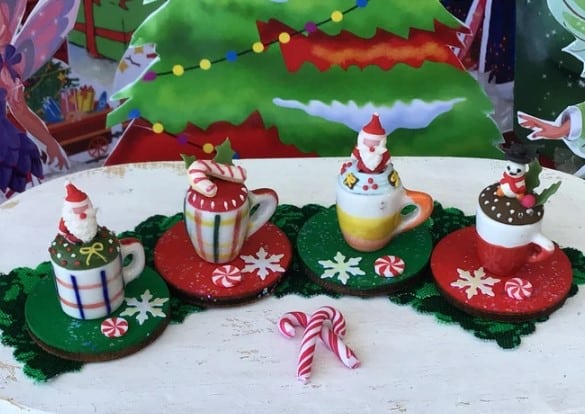 Amazing Ceramic Christmas Mugs, Miniature, Santa, Snowman, Dollhouse, Fairy Garden, red, Green Candy Cane, Peppermint Candy, Plaid Mugs
Fabulous Miniature Mugs
These amazing miniature ceramic Christmas mugs are beautiful for your fairy garden. We love their magical and decorative qualities. You can make your choice of mug or select them all. Each mug comes with a wooden round and a snowflake and peppermint candy. Learn more here.
We hope that you've been inspired by these magical miniatures from Teelie's Fairy Garden to create your own enchanted fairy garden. Please come back and visit us again soon.
You might also enjoy this magical fairy video.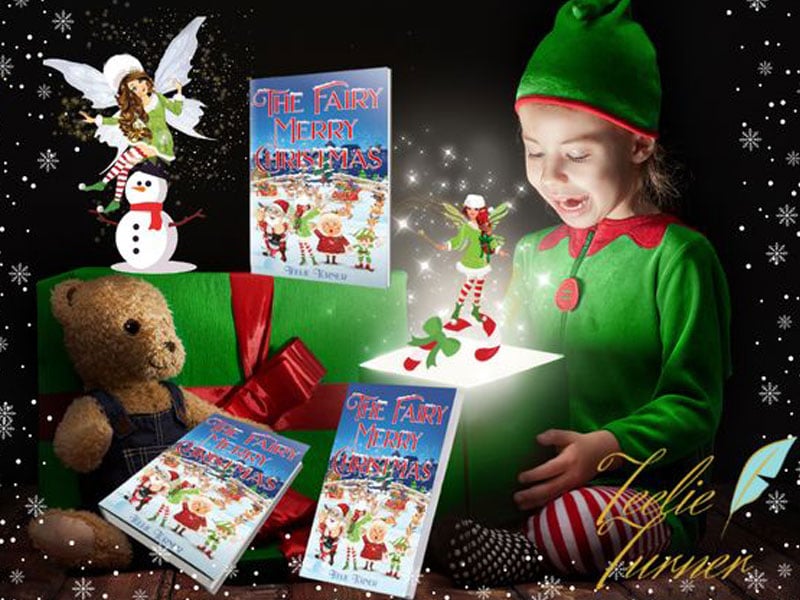 Discover Teelie Turner's complete collection of magical books here. 
Discover one of our magical book reviews.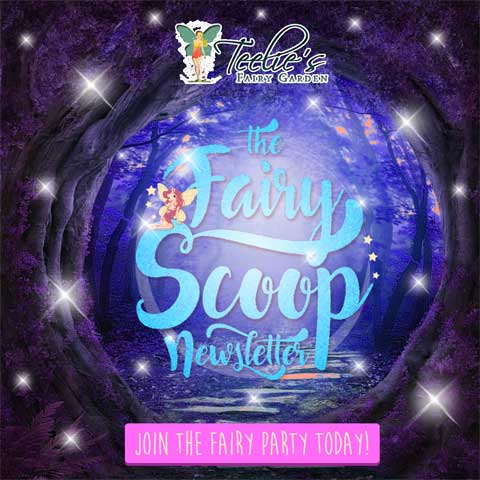 Sign up for The Fairy Scoop Newsletter here. 
Just a disclaimer – We have partnered with these companies because we use their products and/or proudly trust and endorse them – so we do receive a commission if you make a purchase or sign up for services. Often, we are able to negotiate special discounts and/or bonuses, which we will pass on to you via our links. We often get short notice on sale items available for 24-48 hours as we will pass these savings onto you.