Building a fairy garden can be one of the most rewarding and creative things to do this summer. There's simply no limit to fairy gardens, when you think about it: there are so many places, scenes, and wonderful worlds to be created, all for the beautiful fairies that inhabit the gardens and woods around us! Building a fairy garden is to be able to use the magic on your own fingertips in order to craft an entire world in miniature, making a home to host fairies of all origins and spaces. And with so many possibilities at hand, you can build virtually any small world! There are so many inspirations in real life and in the world of fantasy to build from.
Beach Inspired Fairy Garden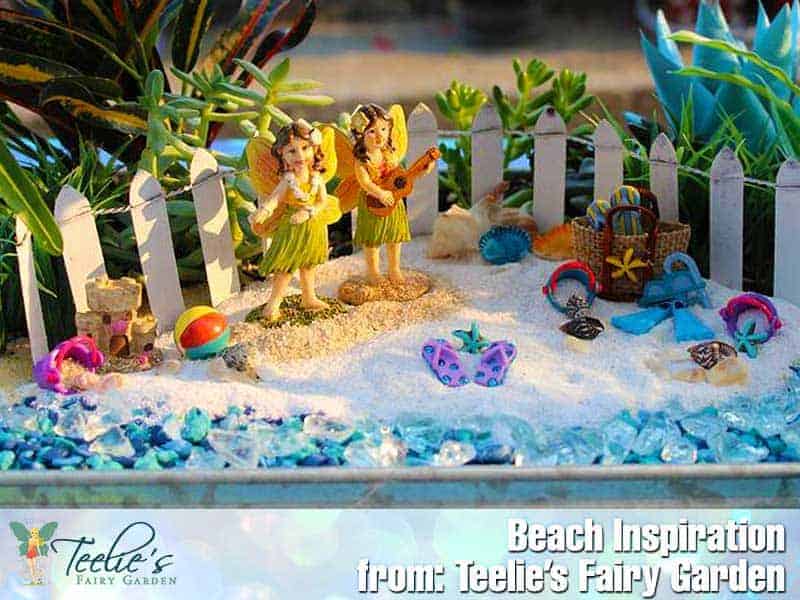 Let's start with some beach inspirations. Beaches are full of magic on their own, drawing from images of glittering waves, mermaids, leaping dolphins, and foam-topped waves. This summer, the fairies will be heading out to the summery isles and seaside paradises the same as humans will, as you can see in this wonderful beach scene from the Fairy Garden. So why not put together a lovely beachy fairy garden for them to enjoy? Try these features for your own beach-inspired scenes: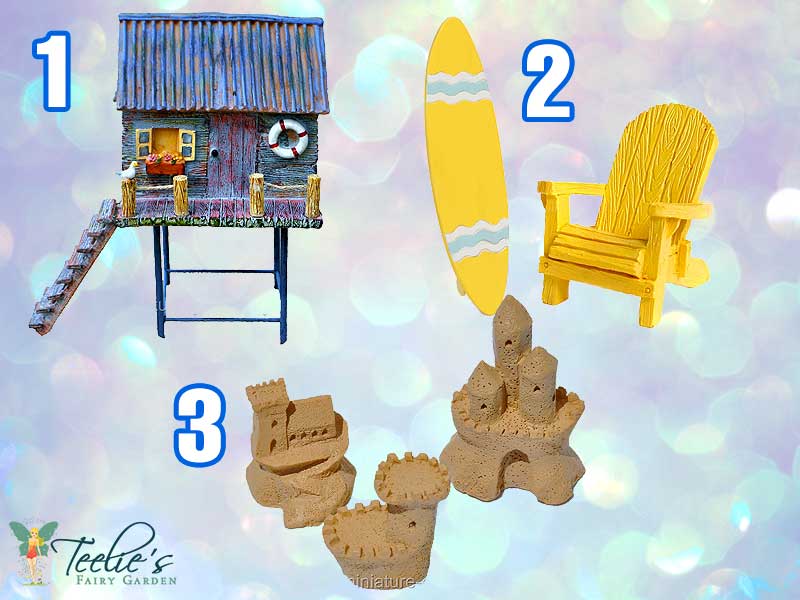 This adorable cottage stands on high stilts, which hover a couple of stories off the ground. It's very sensible for fairies that will be vacationing in this pretty cabin—there won't be any worries when the tide comes in, they'll stay safe and dry in their little home! It would be so lovely for the fairies living in the cottage to wave up to see the glimmering sun on the water and end the day with the sunset in full view from their vantage point. Get it at Etsy.
No beach scene is complete without a nice little Adirondack beach chair for fairies to recline in! It's a nice, sunny yellow color and very inviting; a fairy can have a seat right by the shore, perhaps under an umbrella, to enjoy the seashore. There's also a nice bright yellow surfboard in the sand next to the chair. In case the fairies want to have a little fun in the waves, they can just grab a board and leap right in! Get them both in Etsy.
Not even fairies can resist making a sandcastle when out in the sands. These miniature sandcastles are enchanted just for fairies—no tide or wave will wash them away! They'll be picture perfect when surrounded by a lot of seashells, carefully constructed by some wonderful fairy magic. It might even give a fairy an idea of building a castle made of sand for themselves to live in! Get the sandcastles at Etsy.
Camping Trailer Inspired Fairy Garden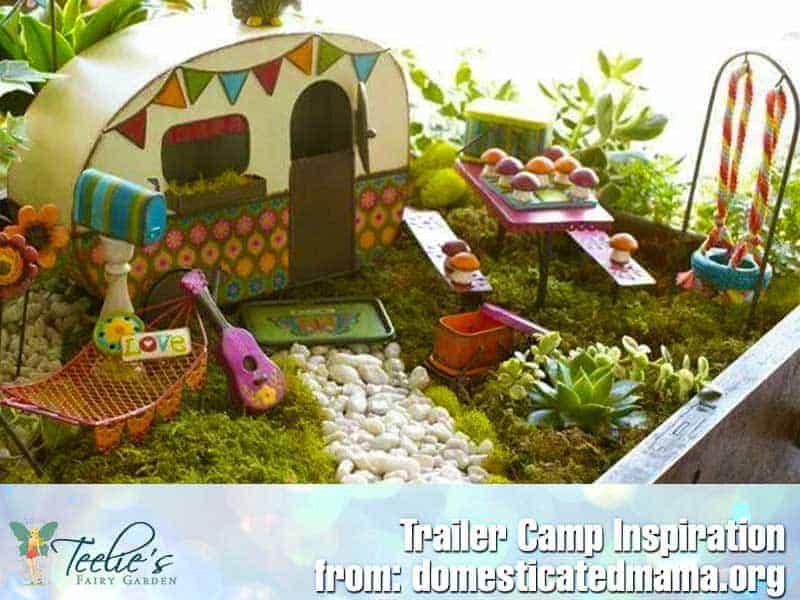 This beautiful fairy garden from domesticatedmama.org has a unique and cozy theme: it's a trailer campsite! It gives wonderful inspirations of fairies going on their own road trip, traveling down country lanes and paths deep into the woods, perhaps traveling to beautiful forests and mountainsides. Once in a scenic location for their vacation, they'll stop and put up camp complete with a hammock and a picnic setup!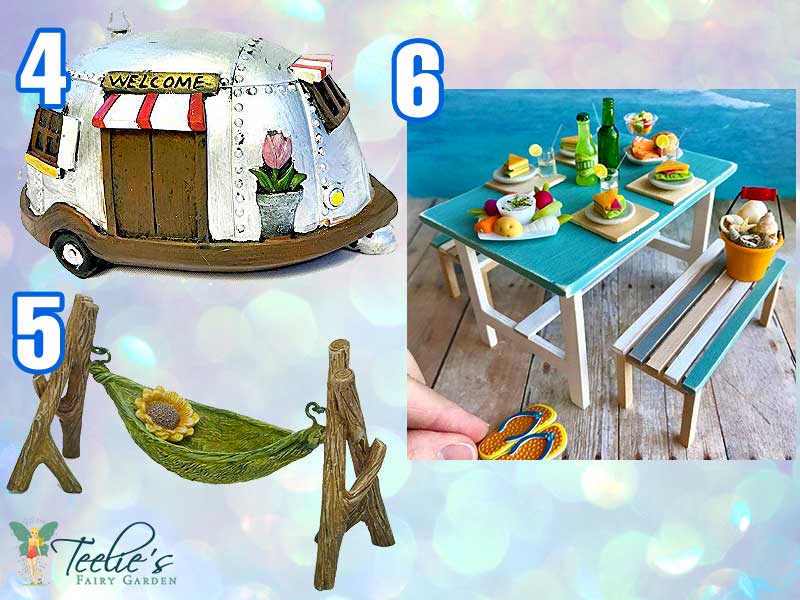 This cozy trailer, beautifully detailed in Airstream-style, is just the right size for a few fairies going on a solo journey for a nice, scenic vacation. It will have all the comforts of home right within it too! You might wonder; how would a handful of fairies fit in such a tiny trailer, along with all their things? Not to worry—a little magic will make the inside of this charming trailer roomier! Get it at the Fairy Garden.
Once the fairies have parked their camping trailer out on a nice clearing in the forest, next to a splendid sapphire lake, or a campsite overlooking a dazzling mountain view, it's time to relax. A beautiful leaf hammock like this one, with a nice daisy for a pillow, is the perfect spot to stretch out in under the sun and enjoy the cool air. Get it on Etsy.
There's something about long rides and adventures that just builds up an appetite. The campsite then can't be complete without this lovely picnic table set. It has enough room for a wonderful lunch spread of sandwiches and drinks, with plenty of seating area for the fairies on the journey. They can enjoy a nice meal in a scenic spot without trouble. Get it on Etsy.
Flower Garden Inspired Fairy Garden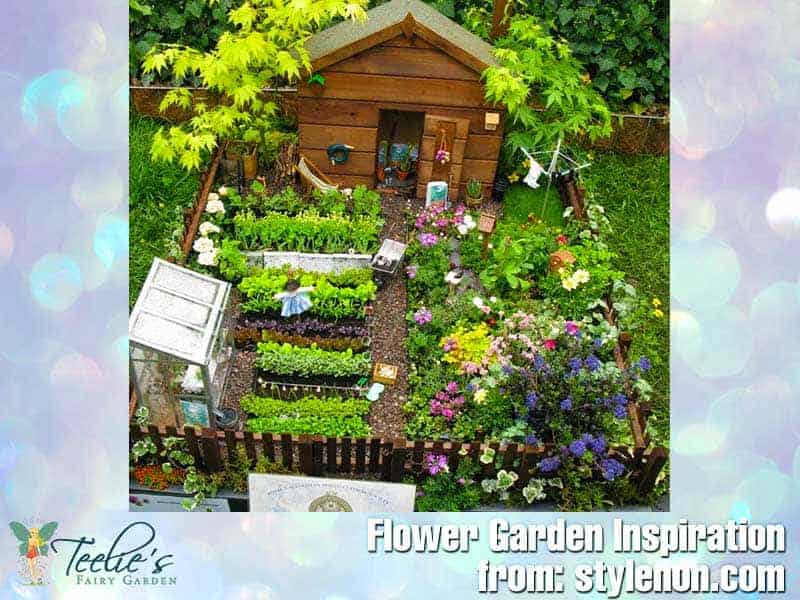 A little garden like this one from stylenon.com is not only very meta—it's also going to give you the chance to make everything colorful and very detailed! It's a fairy garden with its own flower garden within it. Fairies do love tending to gardens. They look after plants and trees and human gardens. But surely they'd love to tend their own garden, and here's one full of blossoms!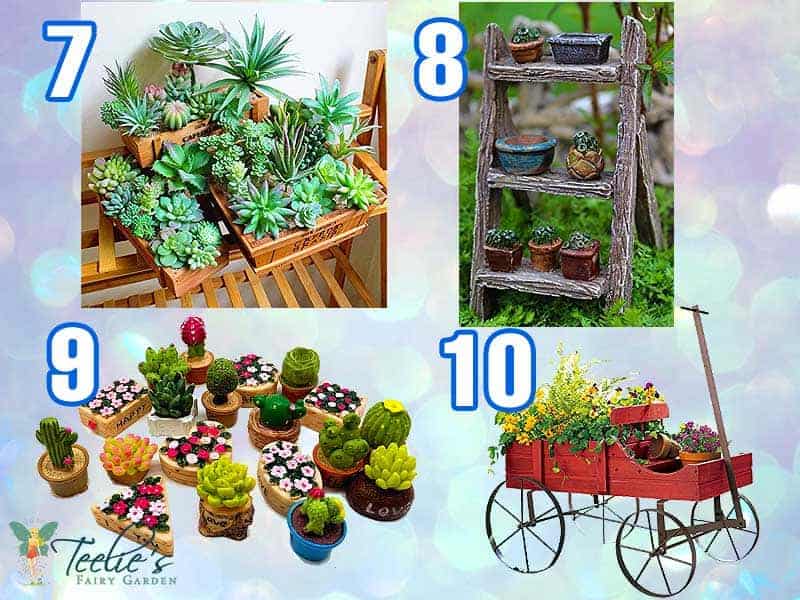 Succulent plants are the easiest to look after. They can live just about anywhere, don't need too much watering, and need just the right amount of sunshine. Fairies would be growing these lovely, hardy little succulents of all enchanting shapes and sizes in a garden. Make sure there's a bunch of them in neat little pots, all in a row! Get them at the Fairy Garden.
Make sure the garden is neat and organized with this rustic wooden plant ladder for fairy plants. The fairies could arrange different types of flowering pots or plants in the different steps, and it will look very nice in one corner of a tiny garden next to the rows of flowers. Get the little plant ladder in the Fairy Garden.
Now it's time to add multitudes of flowers, enough to fill bed after bed of beautiful spring and summertime blossoms! Fairies adore flowers—it's one of the best ways to invite them into any garden. They would be growing all sorts of blossoms in their own gardens, in all shapes, sizes, and colors, just as can be found in this assortment of flower beds. Get the beds at Etsy.
Finally, in order to help the fairies in growing their garden, transporting saplings from one bed to another, or repotting plants that have been growing rapidly, they'll need a lovely little wagon. Here's a beautiful red one, fit for the countryside, just overflowing with blossoms ready to be planted into the little garden as well. Get it on Etsy.
Just a disclaimer – We have partnered with these companies because we use their products and/or proudly trust and endorse them – so we do receive a commission if you make a purchase or sign up for services. Often, we are able to negotiate special discounts and/or bonuses, which we will pass on to you via our links. We often get short notice on sale items available for 24-48 hours as we will pass these savings onto you.