They say that one of the best ways to draw fairies into a garden is to lay out some sweet things for them to eat. Fairies are especially fond of sweets, as any story about them might tell you. In fact, they graciously reward humans who give them something sweet to eat!
This summer is a time of delicious things as fruits and berries are ripe on the trees and bushes, and the harvest is plentiful. The fairies will be anxious to eat some delicious treats that come from the forests and the trees, crafted by the finest fairy bakers and pastry chefs. There will be plenty of tea parties, brunches, lunches and dinners, and they'll all be crowned with a fairy dessert worthy of royalty.
Have a look at some of the things that might appear in a fairy garden dessert course, including ones in your own fairy garden!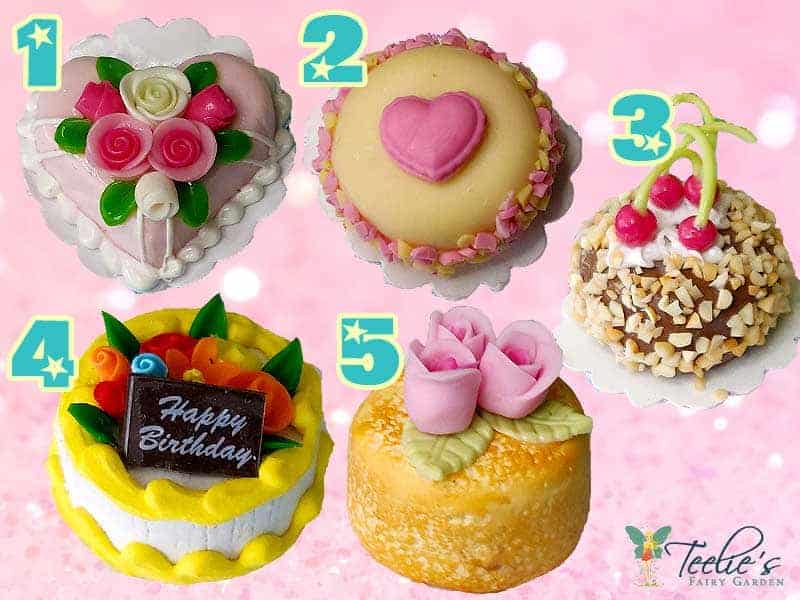 This fairy cake is something that lovers would want to share together when out on a midsummer date, surrounded by fireflies twinkling in the warm twilight air. Heart shaped, decked by lacy white icing, and heaped with molded sugar roses, they'd almost never want to "break" this heart! It's a romantic treat for a pair of fairies who plan to enjoy an evening of love together. Get it at Etsy.
This round yellow cake is another sweet treat that's just filled with love, but it's something a nice little fairy would want to bring over to his or her closest fairy friends. It's a lovely yellow cake, sweet and buttery and likely laced with some honey. It's covered in pink and yellow candy sprinkles, and topped with a big pink candy heart, making it look absolutely festive. Perhaps a special friend is celebrating something wonderful today? Get the cake at Etsy.
Humans aren't the only ones fond of chocolate—fairies love it too! There's something special about chocolate after all; particularly in the cocoa seeds that make chocolate. They have their own special magic. Chocolate, when eaten, gives everyone a jolt of natural magic, making them feel in love! And with this cake just so covered with chocolatey goodness, freshly chopped nuts, and topped with the ripest, reddest cherries, any fairy eating it would surely fall in love. Get it at Etsy.
For a fairy birthday, the much-awaited centerpiece of the party, the cake, must be just as wonderful as the celebrant. Fairies go all out for parties, they are very skilled at balls, celebrations, and festivals. For a fairy's birthday, they'll present a cake as lovely as this one, white and sunshine yellow, heaped with rolling roses, and a big chocolate birthday sign. It's going to make any birthday fairy feel special. Get it at Etsy.
Sponge cake is a fairy favorite. It's soft and as light as fairies themselves, and wonderfully sweet. This is one example of an extra special sponge cake that the royal pastry chefs would produce for a special afternoon tea party. It's golden brown on the edges, soft and tinged with lemon, and topped by carefully sculpted pale pink tea roses. This is the sort of cake that would go so perfectly with delicious fairy tea! Get it at Etsy.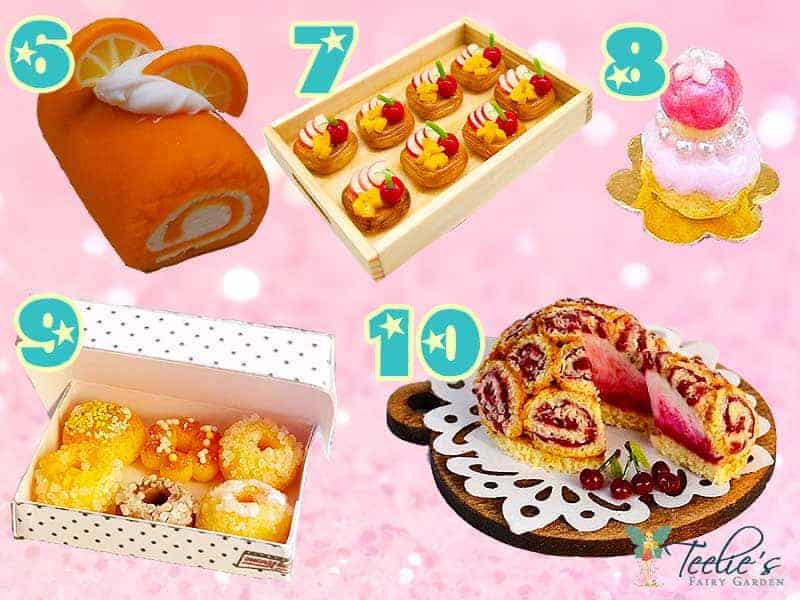 Speaking of summery desserts with a hint of citrusy goodness, this orange crème cake is a must-have for the season. With the oranges ripening perfectly on the branches, sweet and tart at the same time, when it's rolled into a magical spongy, creamy cake roll, it just tingles the taste buds! The fairies are convinced that this whole cake is just full of summertime magic with every bite! Get the cake roll at Etsy.
Summer is a time when the berries and fruits are at their ripest and sweetest. The expert fairy pastry chefs in the royal kitchens would be working round the clock to capture these fruits at their best and ripest form, and then add them to some freshly baked pastries that everyone in the kingdom enjoys. These fairy tarts have cherries, peaches and apple slices; they're a perfectly fruity and refreshing summer treat! Get the tray full of pastries in Etsy.
This dessert may be tiny, tinier than even a fairy might be, but it's perfectly packed with princess beauty. Absolutely delicate and elegant, this French pastry is lined with pearls, crafted with soft, delicate choux pastry, and coated with rich icing. It's just the kind of the dessert that would be served, with dozens of them on golden trays, to fairy royalty for an afternoon tea date. See the pastry at Etsy.
For a sweet snack between breakfast or lunch, or for dipping into coffee as a lazy afternoon wears on, nothing beats donuts, and fairies know it well. This box of half a dozen perfect, golden donuts, covered with sugar, icing, and glaze, is the perfect package of sugary fairy dessert that can be shared with sticky fingers between a group of fairy friends. Get a boxful of donuts at Etsy.
Here's another fairy dessert that must absolutely be served to royal fairies: a Charlotte Royale. It's full of fresh berry jam carefully prepared by the royal cooks, and made by very skilled pastry chefs. This swirling dome of soft, sweet sponge, jam, and cream will take a fairy's breath away. It melts the moment they take a bite, and leaves behind a lingering, spellbinding taste of the summer's sweetest berries. Get the cake in Etsy.
There are so many desserts in the fairy world since there are so many fairies that just love eating them! You can be sure that if a delicious fairy dessert is sitting out at the fairy garden, sooner or later, a fairy will drop by to say hello and ask for a slice. Best serve up more than one, and find that they'll be quite eager to stay for the summer!
Just a disclaimer – We have partnered with these companies because we use their products and/or proudly trust and endorse them – so we do receive a commission if you make a purchase or sign up for services. Often, we are able to negotiate special discounts and/or bonuses, which we will pass on to you via our links. We often get short notice on sale items available for 24-48 hours as we will pass these savings onto you.