Photo credit: Instagram/craftywrens
The world of fairies is fantastical and enchanting. It is filled with creatures that are beyond anyone's and is often the subject of bedtime stories. In the magical world of fairies, anything is possible—even unicorns! Unicorns are such regal, gentle creatures that you can't help but be amazed by them. Today, let's check out the unicorn-themed fairy garden accessories we can add to our collection to honor these magical beasts.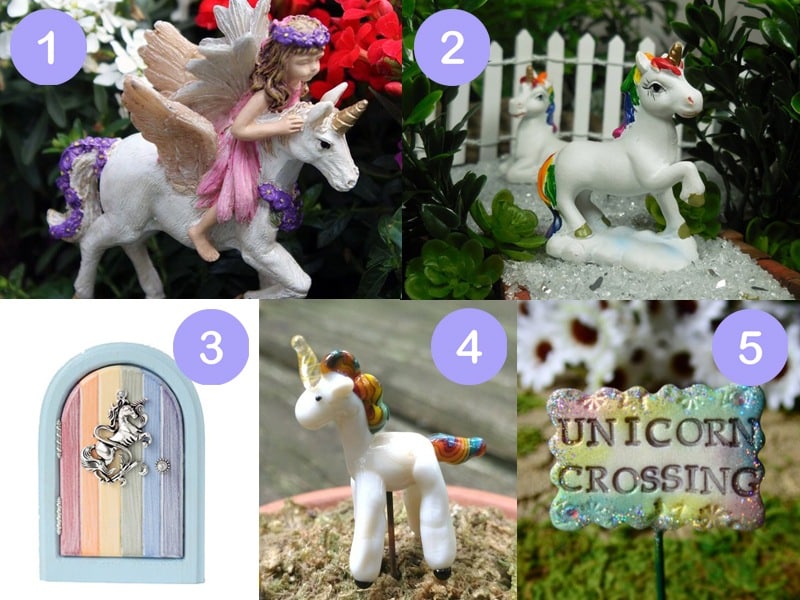 Meet McKenna the fairy and her magic unicorn! These two are often seen galloping through fairy gardens, greeting fairies and pixies along the way. She enjoys spreading love and cheer with her presence, wherever she goes. But she never stays long, as adventure is always calling!
These utterly charming baby rainbow unicorns are such a joy to look at. They may be quite shy in the beginning, but you'll see them prancing in the fairy garden sooner or later. They are pristine white with vibrant rainbow colors on their mane and tail. Truly a magical sight to behold!
Fairy doors are so whimsical when you come across them in a garden. But did you know that there are doors for magical little unicorns too? This rainbow fairy door is great for unicorn enthusiasts. Crafted from red cedar and embellished with zinc based materials, this door is truly one of a kind.
Unlike other fairy garden accessories, this unique looking unicorn is handmade using glass. It comes with a plant poker for easy installation. This tiny unicorn definitely has some personality to him as he comes off as very gentle and quiet fluffy, if we're being honest! So cute!
Be careful where you tread, as this area is where unicorns often appear! This whimsical little sign is made of clay and sprinkled with rainbow colors and sparkles, in true unicorn fashion!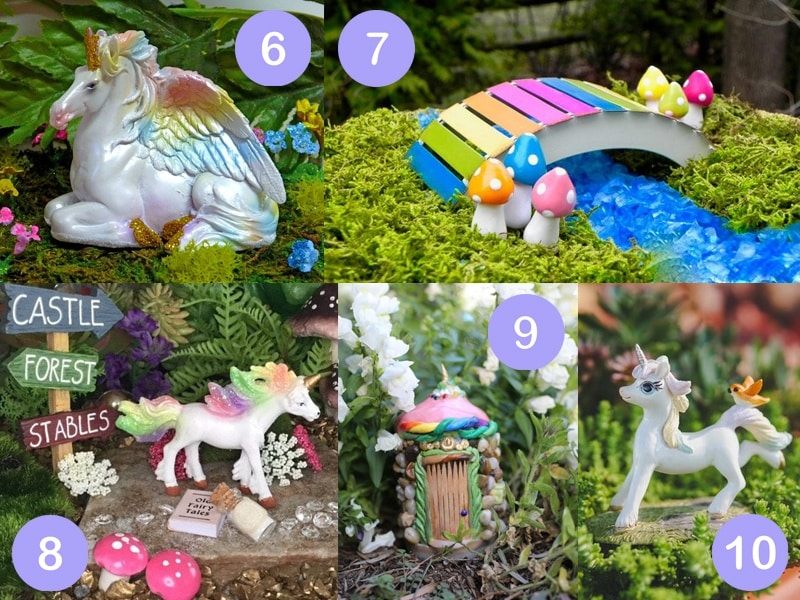 Tread quietly into the clearing and you'll find a wonderful sight: this Magical Fairy Unicorn resting on the grass! His majestic wings are covered in pure white feathers with soft rainbow colors glistening in the sunlight. His golden horn match his golden hooves…truly a sight to behold!
Rainbows are often associated with unicorns. That's why this colorful fairy rainbow bridge is a great addition to your fairy garden. It will guide the way for unicorns so that they never have to get lost. Carefully crafted using metal with polymer clay mushrooms that colorfully match the magical bridge.
If Reesie The Glittery Rainbow Unicorn looks familiar to you, then you must know of Tommy Tinker and The Lost Candy Factory! Reesie is Tommy Tinker's ever trusty friend and the two often go on adventures together. This amazing set features the fairy unicorn, white and pink flowers, mushrooms, a fairy directional sign, assorted white jewels, a fairy book, and a bottle of fairy dust for a complete magical adventure!
There's a secret behind this little unicorn fairy house: It can light up! It's carefully crafted using a recycled jar, so you can place some string fairy lights or LED tealight candles in it for it to glow at night! This will definitely guide the unicorns back home.
Full of life and innocence, this little baby unicorn is often seen playing with her friend, the bird. She enjoys spending time in the fairy garden, exploring the different plants and smelling all the flowers. She's often seen giggling and playing with the other little unicorns, too!
Create a unicorn-themed fairy garden with accessories that are sure to inspire and bring a smile to your guests' faces. Catch up with the latest fairy garden accessories and ideas through our blog and make sure to bookmark Teelie's Fairy Garden for more!
Just a disclaimer – We have partnered with these companies because we use their products and/or proudly trust and endorse them – so we do receive a commission if you make a purchase or sign up for services. Often, we are able to negotiate special discounts and/or bonuses, which we will pass on to you via our links. We often get short notice on sale items available for 24-48 hours as we will pass these savings onto you.