Hello Friends. Thanks for coming back to Teelie's Fairy Garden. The fairies pulled eight adorable items for your viewing pleasure for this week's Enchanted Eight. They decided on fairy kits to start or expand your fairy garden. In some parts of the world, gardeners are eagerly waiting for spring to arrive and elsewhere the gardening season is in full swing. Therefore, the fairies thought it was a great time to show you some adorable fairy themed kits.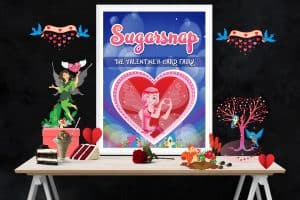 The fairies also wanted to let you know that our friend Teelie Turner recently released Sugarsnap, the Valentine's Card Fairy's story in a book. You can find it here.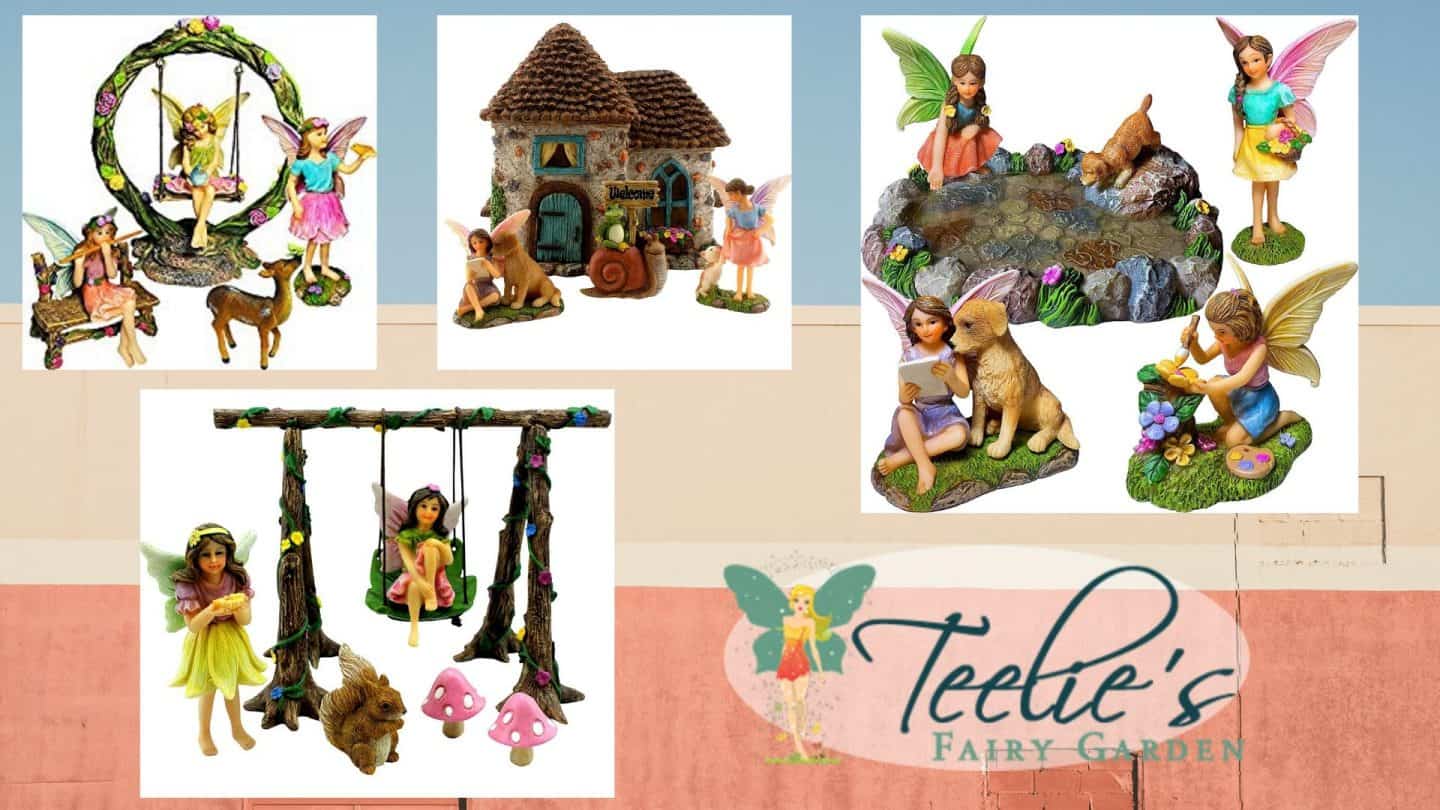 Bring Joy to Your Home with Fairies
The fairies want you to bring joy into your home and they know that its possible when you allow them into your hearts and your home. Their first pick for a fairy garden kit  has six pieces for your garden including an adorable deer and three delightful fairies. It can be yours by going to Amazon.
Create a Fairy Garden as a Family
Creating your family garden can also be a wonderful family activity. The fairies saw and immediately fell in love with a fairy garden kit that has miniature fairies Ava and Sofia, a few of their fairy pets and a welcome sign. The moment that you see it, you'll understand why you'd want your family to have it. It can be found on Amazon.
Make Memories in Your Fairy Garden
Making memories in your fairy garden is another amazing reason to create or expand your fairies' living space with an adorable kit. This fairy pick has five pieces and includes a fairy reading, a fairy playing by the water with her dog, a fairy gathering flowers and a fairy gardening. These fairy sisters will make the perfect magical addition to your garden. Meet them today by visiting Amazon.
Enjoy Playtime with the Fairies
Fairies love to play, and they love it even more when their human believers play with them. You'll find two fairies and a magical pet squirrel in this adorable fairy kit. One of the fairies is playing on a swing and if you listen carefully, you'll hear her giggle as she calls out for you to push her higher. Welcome them into your garden by shopping on Amazon.
Relax in Your Fairy Garden
Your fairy garden should include relaxing elements and the fairies considered these as they looked through the numerous fairy garden kits to narrow down their selections to eight. They decided that one of the most relaxing kits was this hand painted miniature gazebo kit. It comes with a sweet fairy who looks after it. You'll find it on Amazon.
Creating Beauty from Natural Elements
Your fairy garden can be a thing of beauty, especially if you incorporate natural elements into the design. If you're not sure where to start you might want this adorable fairy house kit which the fairies located on Amazon. It comes with three magical and busy fairies and their nature themed home. It will look great nestled in your garden among the flowers.
Believe in the Magic of Fairies
This next kit will help you to believe in the magic of fairies. Two precious little fairies and their pet bluebird will inspire you to believe in the magic of Fairy Land as they sit outside a magnificent fairy cottage which has a cute blue door with the word 'believe' stencilled on it. It can be yours by visiting Amazon.
Use Your Imagination in Your Fairy Garden
The last fairy pick of this week's Enchanted Eight is an inspiring scene that includes four fairy friends, a pet squirrel and a magical looking swing set. Use your imagination as you enter into their lives to discover what might be next for you and these adorable fairies. Remember, anything is possible as long as you're willing to open your heart and mind to it. This fairy garden set is available on Amazon.
The fairies would like to thank you for visiting Teelie's Fairy Garden today. They're glad that you could join them for their Enchanted Eight feature. They hope you enjoyed learning about these adorable fairy garden kits which can be used to start or expand your fairy garden.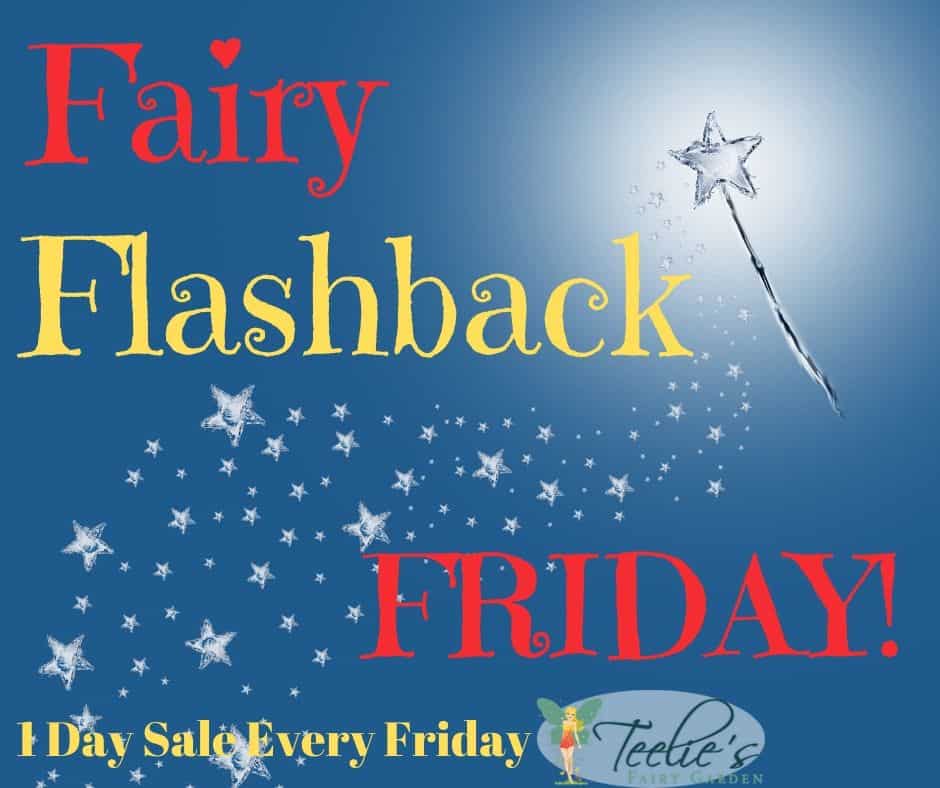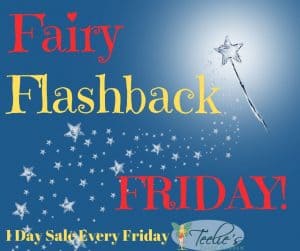 Every Friday, you'll also find a sale on at our Etsy Store which could inspire your fairy garden adventures. There are many items on sale from 25-40% off. Check it out here.
Just a disclaimer – We have partnered with these companies because we use their products and/or proudly trust and endorse them – so we do receive a commission if you make a purchase or sign up for services. Often, we are able to negotiate special discounts and/or bonuses, which we will pass on to you via our links. We often get short notice on sale items available for 24-48 hours as we will pass these savings onto you.