This week the fairies have decided to show you two adorable fairy kits. They have selected several views of each to give you a more complete picture. They will also be sharing a few bonus accessories which would look great with a fairy garden or dollhouse kit. And because the fairies love animals both of their picks today feature a cat. And once you've had a chance to have a look at these amazing kits, the fairies invite you to continue exploring Teelie's Fairy Garden. Before you start working on the kit, the fairies would like to remind you that creating these beautiful works of art take time and patience and you do not have to complete the project in the time listed. These kits are meant to be enjoyed as a fun hobby and not something that you should race through. You want to enjoy the experience. The kits are recommended for anyone age fourteen and up, so if you have children in that age range, it could make an amazing family project.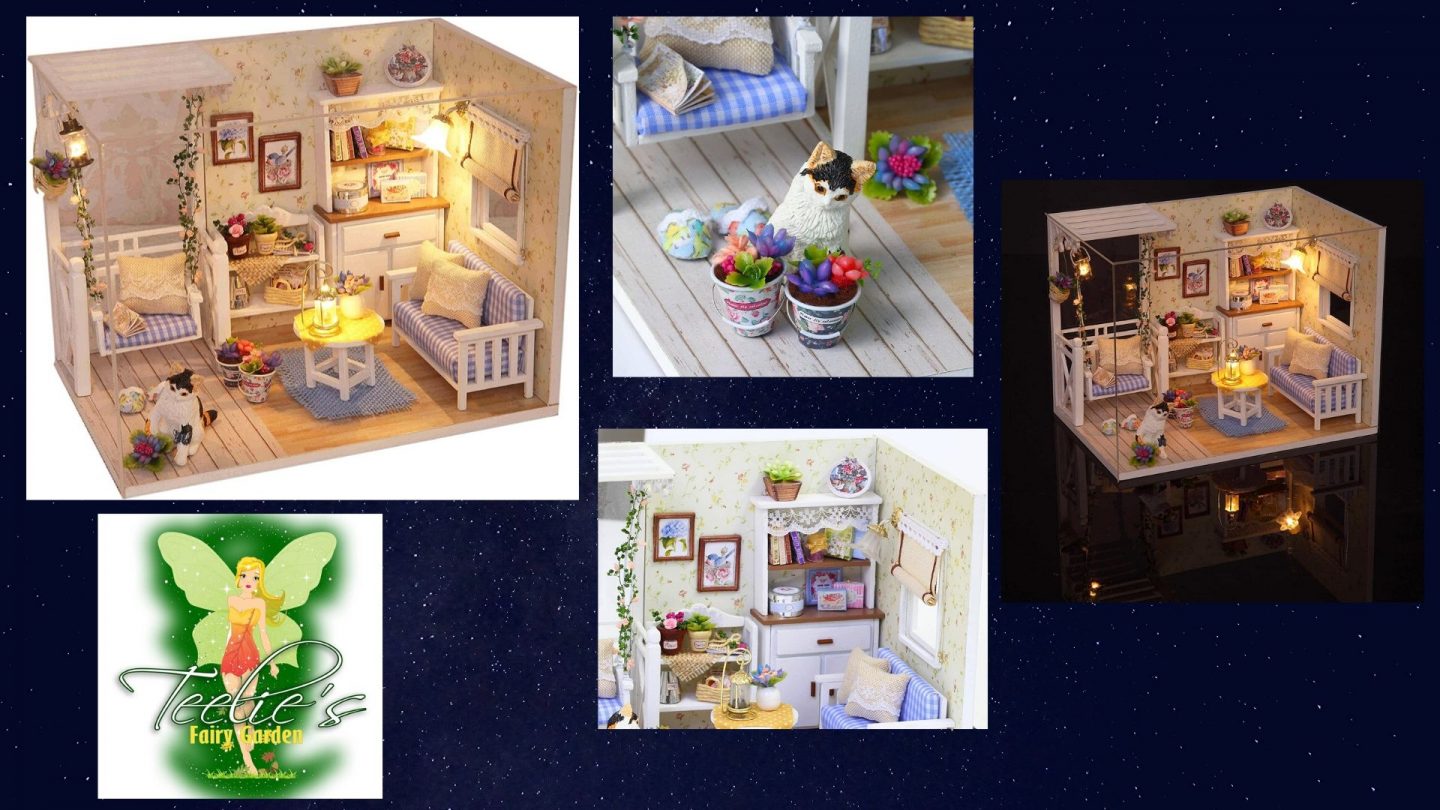 Adorable DIY Fairy Kit
This adorable do-it-yourself fairy/dollhouse kit is perfect for someone who is looking for a project to work on. It features numerous adorable accessories like furniture, flowers, a light and a cute cat. It also comes with a cover to keep the dust out. The photos above show a few scenes from this adorable dollhouse, which would also make a lovely home for a fairy. You can find it on Amazon.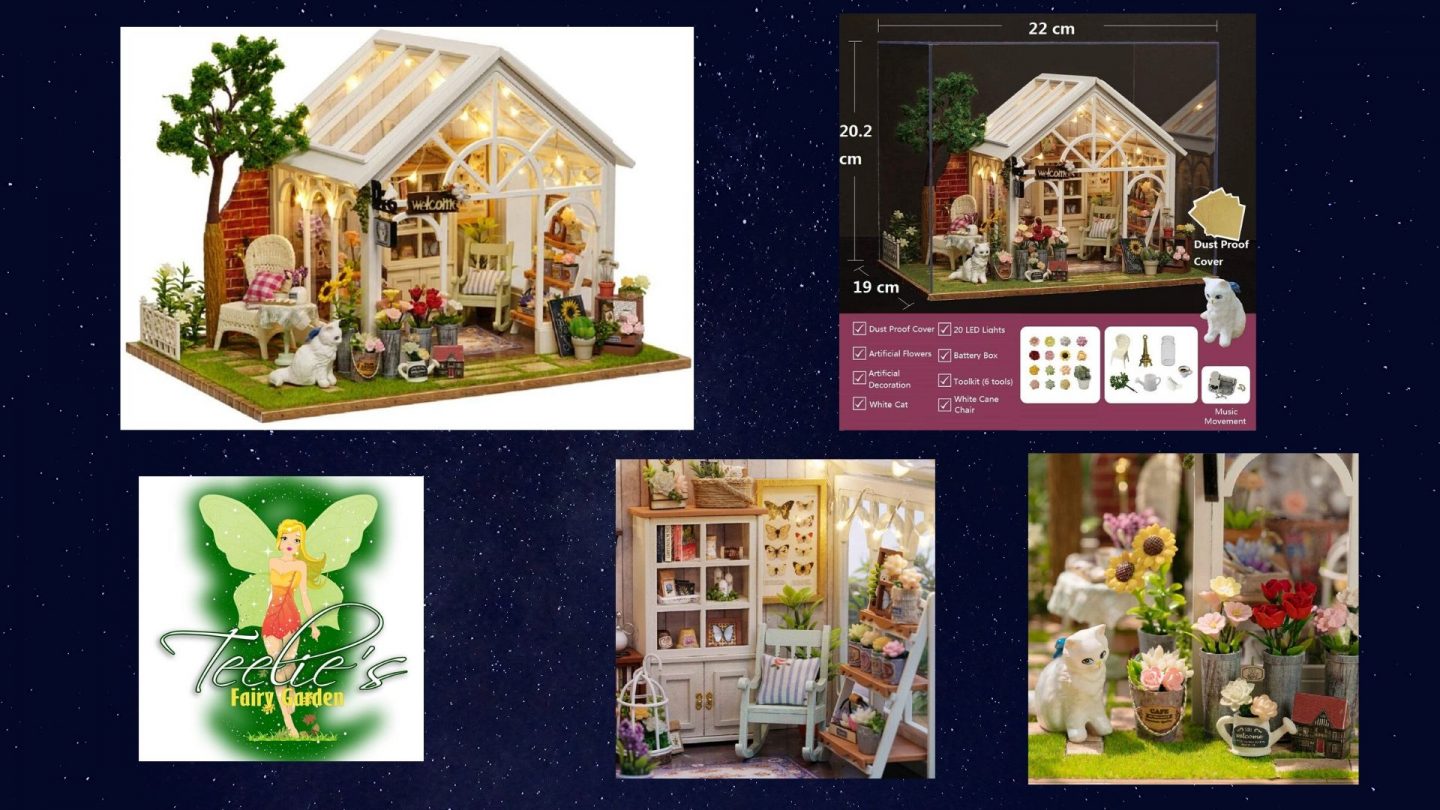 1

. Magical DIY Fairy Kit
Bayin Dollhouse Kit DIY Furniture, Wooden Miniature Doll House Creative Room Gift (Sunny Garden) with Dust Proof Cover and Music Movement
Magical DIY Fairy Kit
This do-it-yourself fairy/dollhouse is a sunny garden that includes music and lighting. It also comes with a dust over.  Its accessories include a white cat, a welcome sign, furniture, flowers and other decorations. This kit is available on Amazon.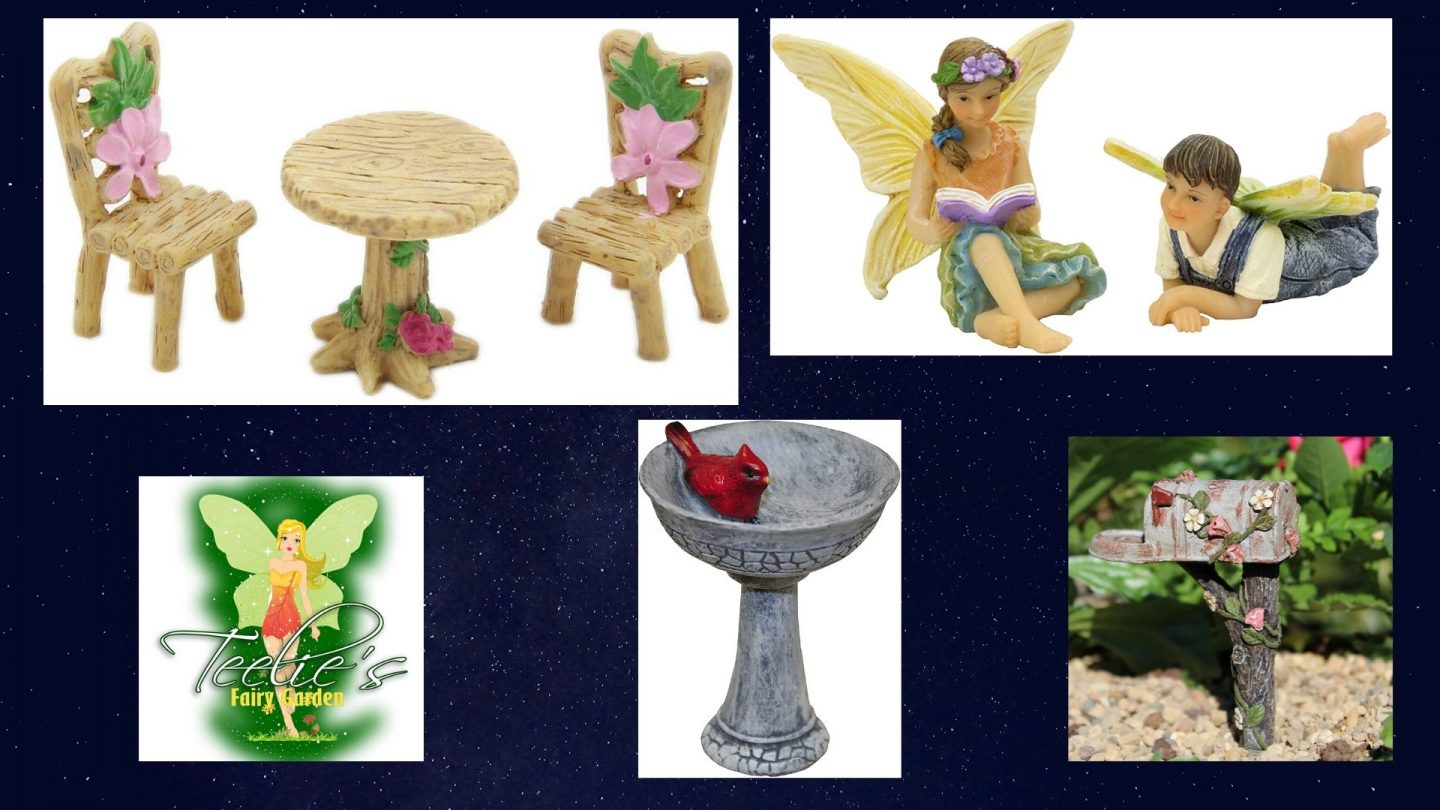 Bonus Ideas
Here are a few bonus ideas for accessories for fairy gardens. While the kits don't need additional items added to them as they look amazing once completed, building an indoor fairy garden around them is an option.
Garden Bench
Give your fairies a chance to have a seat outside in their garden with these adorable miniature fairy garden benches and their little table. These would be great for enjoying a little fairy treat or sitting outside for a chat with a friend. You can find these adorable accessories on Amazon.
Fairies Reading
Add some fairy friends to your fairy gardens. Perhaps, you'd like to add  this brother and sister who are reading together in the garden. They are available on Amazon. What are they reading? Could it be a book by Teelie Turner?
Birdbath
This adorable birdbath is another great option for your fairy garden which could be set up outside of a DIY fairy or dollhouse scene. The birdbath is available on Amazon.
A Magical Mailbox
An adorable and magical mailbox is another great option for accessorizing your fairy garden. The flowers add a spring feel to it and the fairies will love it. It is available on Amazon.
Thanks for joining us today in Teelie's Fairy Garden. We're so glad that you could be here with us. We hope you enjoyed exploring these two do-it-yourself dollhouse/fairy kits and the bonus accessories that could be used to build a fairy garden.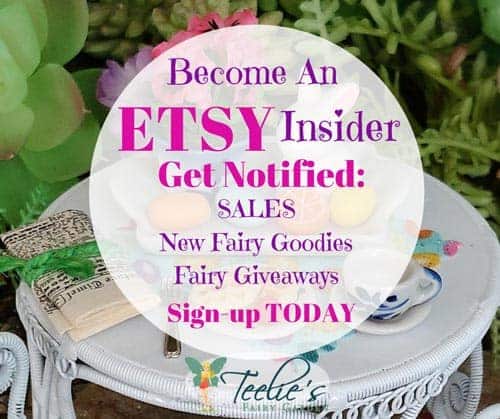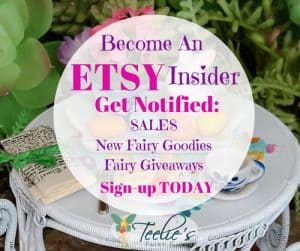 You can also sign up to be an Etsy insider and get notified by e-mail about fairy giveaways, goodies and sales. Sign up here.
Just a disclaimer – We have partnered with these companies because we use their products and/or proudly trust and endorse them – so we do receive a commission if you make a purchase or sign up for services. Often, we are able to negotiate special discounts and/or bonuses, which we will pass on to you via our links. We often get short notice on sale items available for 24-48 hours as we will pass these savings onto you.