Fly along with us and discover some beautiful and whimsical Christmas fairy garden scenes that will be sure to delight you.  Teelie's Fairy Garden is extremely excited to share these beautiful fairy gardens. You might be inspired by them to create your own magical fairy garden this holiday season.
Enjoy this magical Christmas fairy video.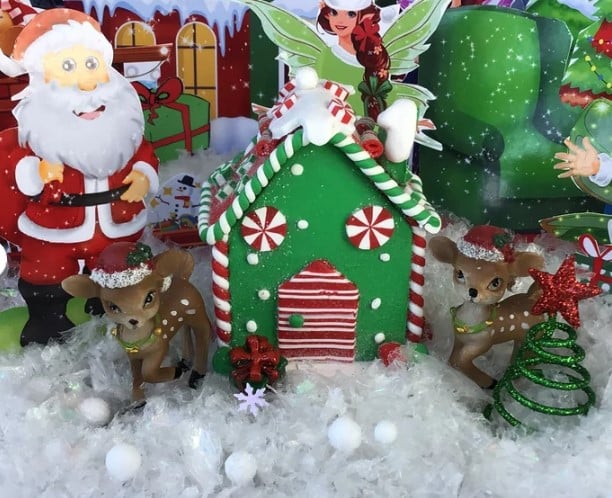 Sweet Christmas Miniature Deer, Christmas Peppermint House and Green Glitter Christmas Tree, Santa Hat, Red Star, Green Present, Red Bow
Magical Peppermint House Scene
This adorable fairy scene includes miniature deer, a Christmas peppermint house, and a green glitter tree. It is absolutely beautiful and enchanting. Learn more here.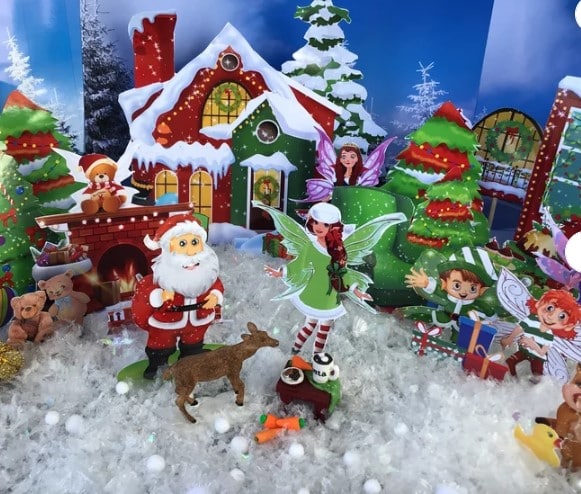 Sweet Deer Looking For Christmas Treats, Fairy Garden, Dollhouse, Carrots, Santa Mug, Orange, Cookies, Brown, Deer, Fairy Food, Standing
Searching for Snacks
The deer in this magical Christmas scene is on the search for treats. There are some carrots that he can enjoy, but given that he's in Fairy Land, do you think he's going to decide to trade in his carrots for Santa's milk and cookies? More information is available here.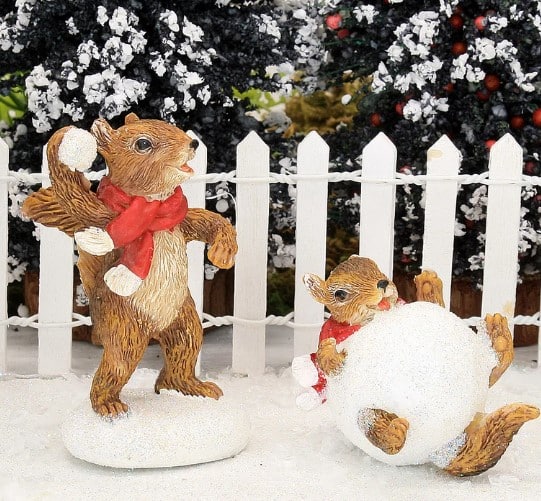 Snowball Squirrels, Snowball Fun, Squirrels Playing in The Snow, Miniature Fairy Garden Squirrels, Christmas Fairy Garden, The Fairy Garden
Whimsical Squirrels in the Snow
These adorable squirrels are enjoying time in a Christmas fairy garden. Christmas trees are decorated in the scene behind them as they play in the snow. Magic is in the air with the childlike delight of this scene. Learn more here.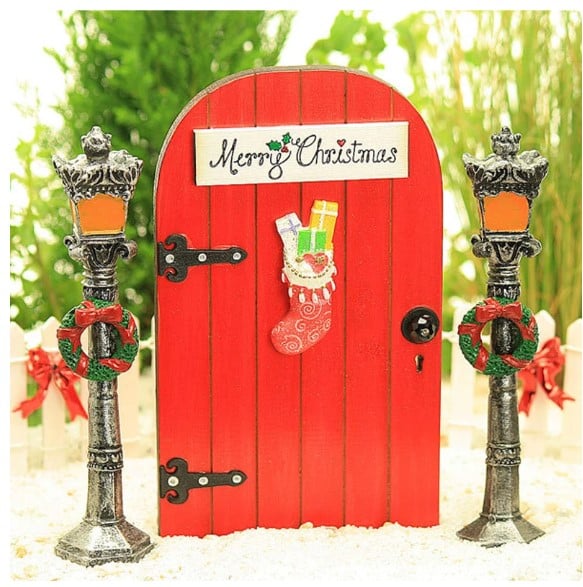 Red Christmas Fairy Door, Merry Christmas Sign, Stocking, Unique Gift, Ornament, Decoration, Fairy Garden Accessory
Enchanted Christmas Fairy Door
This enchanted Christmas fairy door would look incredible in your fairy garden. Its bright red color is stunning, and the words Merry Christmas are written in beautiful script. The Christmas stocking on the door is also a lovely touch. The decorated lanterns beside the fairy door give it an extra magical look. Find this scene here.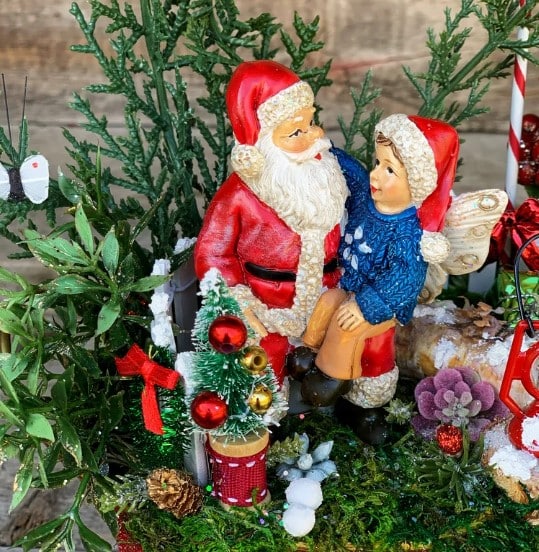 Fairy Garden – Christmas Fairy Garden/Miniature Fairy Garden/Complete Fairy Garden Kit/Christmas Decoration/Christmas Gift for Kids
Wishes from Santa
In this magical fairy garden scene, a fairy boy sits on Santa Claus' knee and lets St. Nick know what he wants for Christmas. The scene is beautifully decorated with a whimsical touch. More information is available here.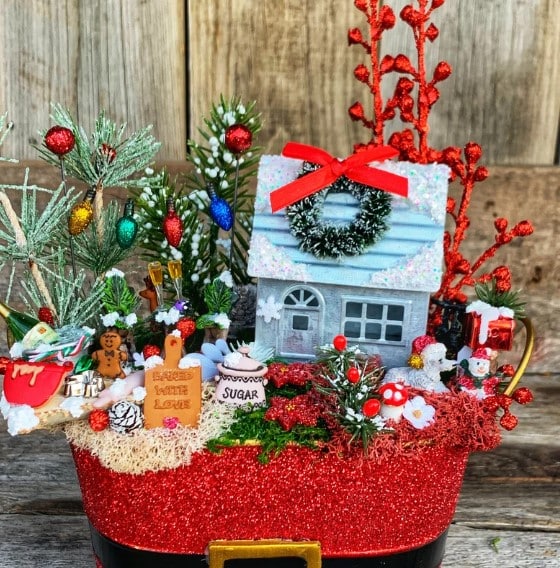 Miniature Garden – Christmas Miniature Garden/Holiday Party Miniature Baking/Christmas Gift/Christmas Decoration Centerpiece/Hostess Gift
Fabulous Fairy Garden Scene
This beautiful scene can be used as a gift or centerpiece. There are so many lovely fairy garden accessories included in this Christmas scene. We love the little fairy house, the snowman, the Christmas puppy, the baking ingredients, and the gingerbread man. Learn more here.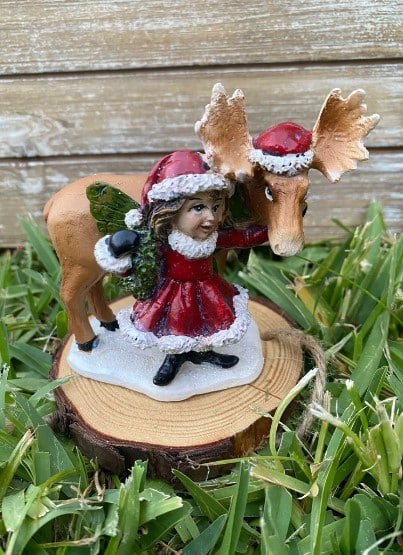 Miniature Christmas Fairy with Moose, Figurines for Holiday Fairy Garden, Winter Decor for Home of Office, Fairies for Seasonal Decorations
Enchanted Friends
This Christmas fairy and moose have become great friends in this adorable fairy scene. With a little fairy dust, we think that the moose will even be able to fly around Fairy Land with the fairy on its back. They can help spread Christmas cheer. Learn more here.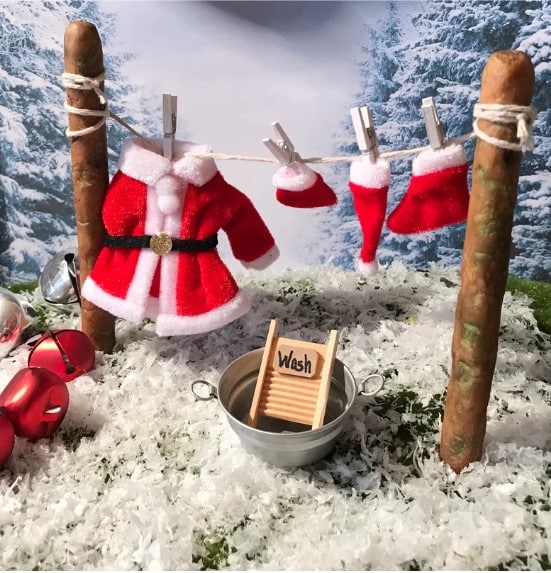 Christmas mini's Fairy garden clothesline fairy garden laundry tub & washboard mini clothesline mini Santa suit polymer clay posts
Santa's Wash Day
In this adorable scene, Santa's clothing has been washed in the tub and is now hanging up on the line to dry. It's important that his clothing gets cleaned and that enough magic is added to the water to ensure that the soot won't stick to his clothing when he goes down all those chimneys on Christmas Eve. Find this scene here.
We hope that you've been inspired by the magic of Fairy Land. Please revisit Teelie's Fairy Garden for more magical fun soon.
You might also enjoy this magical fairy video.

Discover Teelie Turner's complete collection of magical books here. 
Discover one of our magical book reviews.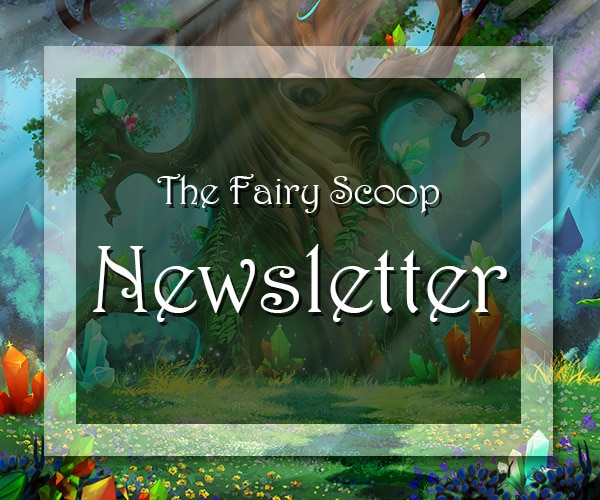 Sign up for The Fairy Scoop Newsletter here. 
Just a disclaimer – We have partnered with these companies because we use their products and/or proudly trust and endorse them – so we do receive a commission if you make a purchase or sign up for services. Often, we are able to negotiate special discounts and/or bonuses, which we will pass on to you via our links. We often get short notice on sale items available for 24-48 hours as we will pass these savings onto you.