Fairy Garden magic shouldn't only be experienced outdoors. Why not bring the fairies, their little world, and all their magic right into the home? Don't get intimidated: building a little fairy garden inside the house isn't as challenging as it seems. It's just like doing it outside: you just have to find a lovely, tranquil little spot inside the house or inside a room to house the fairies and build an enchanted world within it.
Let's go through the process of introducing the fairies into your home through an indoor fairy garden so they can make your house their own as well.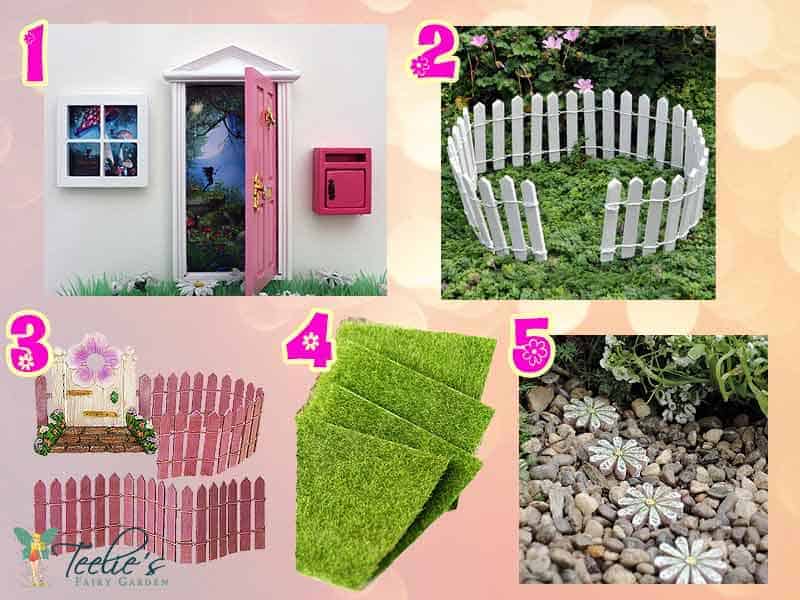 1. Conjure up a Fairy Door
This one is really easy! Once you have picked out the room where the fairy garden will be found in, affix a little fairy door onto the doorway. Make it look just like a tiny entryway fit for fairies to flit into. You can even add little windows and a bit of grass for a "landing" pad. Both humans and fairies will know that something magical is inside! Get a door like this at Etsy.
2. Mark the area where the indoor fairy garden will be built on
The place where the little indoor garden will be placed must be made a little more prominent. You don't want guests mistakenly trampling over anything, after all! Put it high up on a shelf or a table of its own. If it's on the floor, you may want to demarcate the area with a pretty white fence, just like this one. It looks very homey! Get the fence at the Fairy Garden.
3. Add a gate to that leads to the garden
So the fairies will feel even more at home in their spot, add a little gate to the fence or entryway to the fairy garden! It could look like a regular swinging gate like this one, or it could be like an arbor for fairies to flutter through. Get a gate (with a matching fence!) at the Fairy Garden.
4. Set down some Fairy-friendly turf
Fairies do love the outdoors. So bring a little bit of it into the indoor fairy garden through sheets of grass like this one. Fill the whole area where the fairy garden is meant to be, so it looks like a little piece of the outdoors plucked right into the house! Better yet, you can even add some real plants around the fenced area, like succulents which also thrive indoors. Get the turf at Etsy.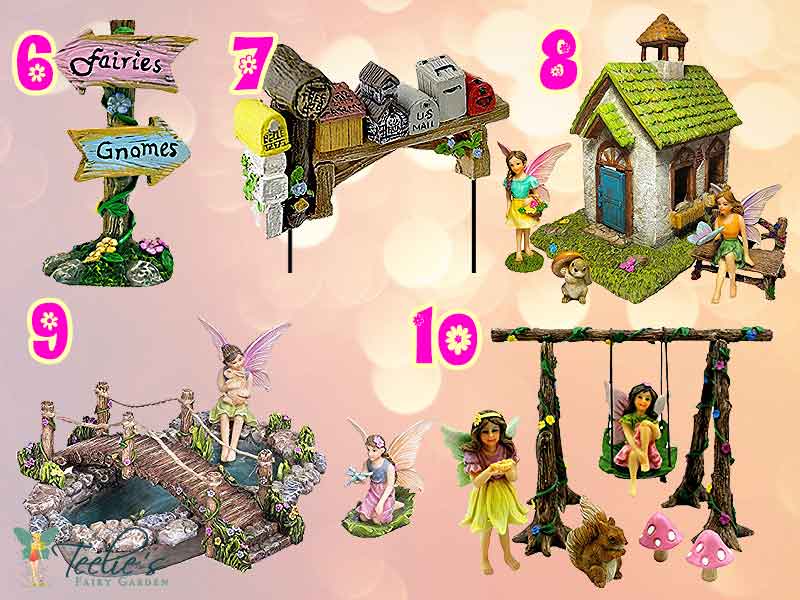 5. Little fairy stepping stones lead the way
Add a trail of stepping stones! It could lead from the big doorway to the garden, or just outside the fairy gate. It makes the area seem inviting, and leads the way to the garden. You can get a little creative too; try flanking the pathway with fairy lights so it's even more eyecatching—like a fairy landing zone! Get the path stones at the Fairy Garden.
6. Add a welcoming little sign!
Pick out a sign for the garden to let people (and fairies) know that it's there. It could be a "welcome to the garden" sign, or a "fairy crossing" sign, or even one like this, which leads towards the fairies while the other arrow leads to gnomes. Fairy travelers will welcome the signpost's directions! Get it at the Fairy Garden.
7. Add mailboxes
Just to make things even more like a real town or a home for fairies, you've got to add a mailbox. Fairies like receiving fairy post too! Plus, having a mailbox really makes it seem like a proper residence for the fairies that will be living inside the house. Get the row of mailboxes at the Fairy Garden.
8. Now it's time to make a home
Then it's time to put up a fairy home! There are so many fairy houses that can be found now, but this one, with fairies already living around it, will make everything look even more inviting. It has its own raised patch of grass, a nice wooden bench, and even an adorable bunny to help urge fairies to come live in it. Don't forget to surround it with pretty indoor succulents and plants! Get the full kit at the Fairy Garden.
9. Add some water
What's a fairy garden without water? Fairies will need a nice little water source too, so add a little fish pond just to make the fairy village indoors look a little more like its own fairy world. This set has its own pond with a beautiful wooden bridge over it. It's so lovely that fairies are already playing around it. Get this kit at the Fairy Garden.
10. Finally, build a place for the fairies to play around in
Every garden should have a place for fairies to play in! How about a little park? This one has a charming wooden swing made of branches, vines of flowers and leaves. Little pink toadstools surround it, and a little squirrel is scampering about. It's a nice place for a fairy to sit down and have a fun time, perhaps while chatting with the company of friends! Get the set at the Fairy Garden.
And with just that, you've already begun to build a home for fairies indoors! This is only the start; you can continue to build more and more, adding more homes or features to an indoor garden. Before you know it, a dreamy fairy town will be residing snugly inside the home, where everyone visiting can marvel at them.
Just a disclaimer – We have partnered with these companies because we use their products and/or proudly trust and endorse them – so we do receive a commission if you make a purchase or sign up for services. Often, we are able to negotiate special discounts and/or bonuses, which we will pass on to you via our links. We often get short notice on sale items available for 24-48 hours as we will pass these savings onto you.