Hello fairy friends and human believers. It's time for another edition of our Enchanted Eight. This week, the fairies are thinking about spring and how wonderful it is for their fairy houses to be surrounded by grass and flowers. Easter events will even take place on some of their lawns. The fairies want you to feel at home with them and are taking you on a guided tour of eight adorable fairy homes.
We're also excited here in Fairy Land because our friend Tommy Tinker who has his own website is holding an amazing giveaway on his page for a Queen Olivia pillow. Enter here for a chance to win.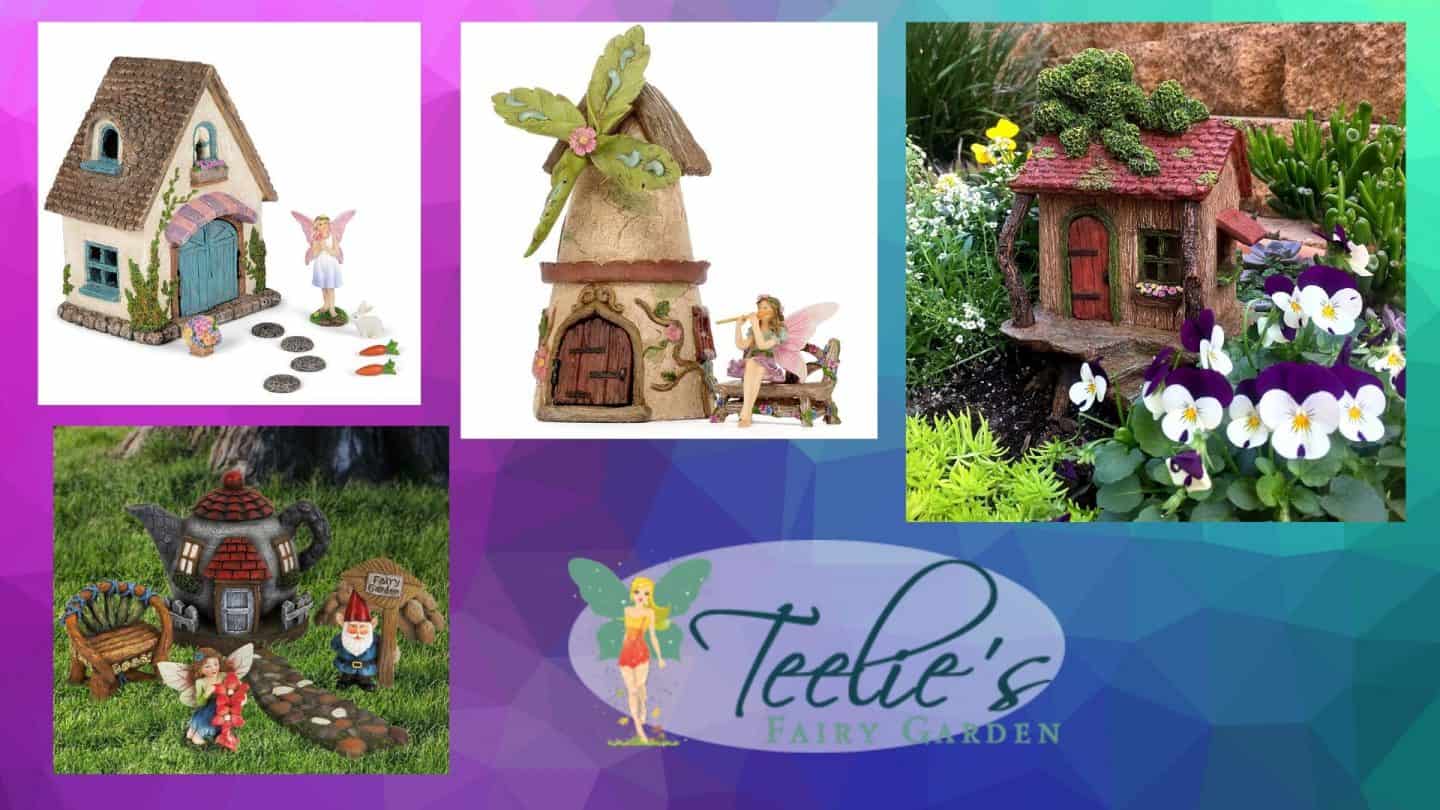 Magical Miniature House
Our first fairy home is a magical miniature house. It looks similar to a home where  you might find a human living. It has a springy look with its blue doors and shutters and purple and pink awning. This adorable home can be found on Amazon and also comes with Jessamine the fairy and her white rabbit.
A Place to Practice
This next fairy house is whimsical and resembles a windmill that has been converted into a delightful place for fairies to reside. It comes with its own fairy who is practising on the flute while sitting in the sunshine on a cute bench. This three piece fairy house set is available on Amazon.
A Tree House
Fairies love to live in nature and their ability to fly means they can live anywhere without needing to consider how to get there. Some fairies live in trees, and others like the inhabitant of our next fairy home, lives in a house that appears  to be in a tree but is resting on the ground. It also has some stairs so even a gnome could go for a visit. This rustic home is available on Amazon.
A Teapot Fairy and Gnome Home
Fairies and gnomes have been great friends for a long time. That is because they have mutual respect for the work that the other does. Often fairies will host tea parties and a gnome will take a break from gardening to enjoy a warm and sweet beverage. Some fairies love tea so much that their homes are shaped like a teapot. If you'd like to offer your garden fairies a teapot home, you can visit Amazon.
A Footwear Home
Perhaps you've heard the rhyme about a woman who lived in a shoe? Well, the fairies have an amazing footwear home that would have many wishing that they could live in a boot. This garden home is gorgeous, solar powered and surrounded by beauty and natural elements. It could be a great way to invite a fairy to live with you by purchasing it a home that it couldn't resist. This fairy home is available on Amazon.
A Homelike Environment
Creating a homelike environment is something that fairies strive for, even though many of them are also world travellers. The next house that the fairies chose to share is a stone house and it is already inhabited by fairies Ava and Sofia and their pet snail, frog, dog and cat. This home can be found on Amazon.
A Travelling Home
Our next home is in a camper. The fairies love this type of home as it can take them anywhere. Especially in the spring and summer, they love being able to enjoy outdoor activities like picnics and camping. With a home that travels with them, they can stay up as long as they like and know that they don't require any transportation home, even if their wings are too tired from their fun to fly home. All they have to do is open the door to this adorable silver camper and crawl under the covers. The fairy camper home is available on Amazon.
A Floral House
The final fairy pick for this week is an enchanting floral home which is also solar powered. It is gorgeous with its many natural elements including what appear to be cherry blossoms adorning the room. This home can be found on Amazon.
The fairies would like to thank you for coming on this journey and they invite you to come back to Teelie's Fairy Garden very soon. Did you know that Teelie just re-released an amazing fairy book about Eliza, the Easter fairy? You're definitely going to want to read it because it is extremely magical.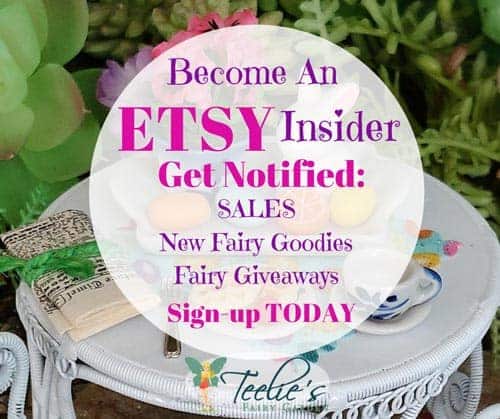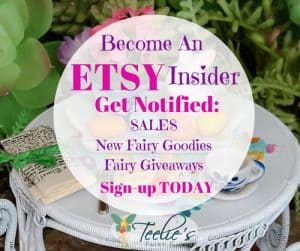 You can also sign up to be an Etsy insider and get notified by e-mail about fairy giveaways, goodies and sales. Sign up here.
Just a disclaimer – We have partnered with these companies because we use their products and/or proudly trust and endorse them – so we do receive a commission if you make a purchase or sign up for services. Often, we are able to negotiate special discounts and/or bonuses, which we will pass on to you via our links. We often get short notice on sale items available for 24-48 hours as we will pass these savings onto you.