It's a magical time in Fairy Land. On this week's enchanted adventure through Teelie's Fairy Garden, we're going to be sharing some incredible fairy gardens with you which have been created using suitcases as the choice of container to build your garden in. Perhaps you're feeling a bit skeptical about whether or not this can work when you usually associate travel and not fairy gardens with your suitcase? Well, come along with us. We have the proof to share with you.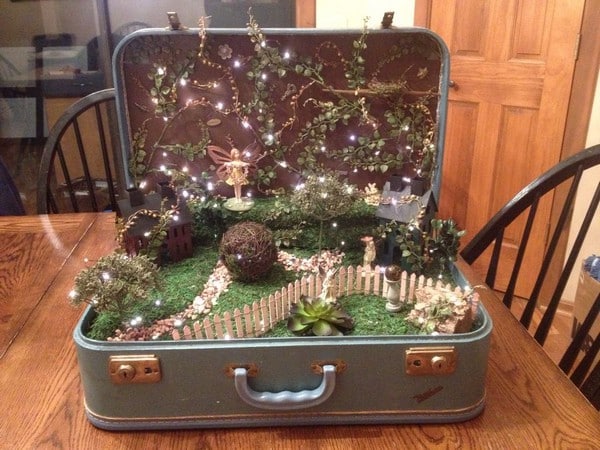 The Art in Life Suitcase Fairy Garden
Magical Suitcase Fairy Garden
The Art in the Life blog post shares numerous fairy garden ideas that you will love including one that features a suitcase as part of the design. We love all the lights that are included in this garden. The stunning design is bright and cheerful. Learn more here.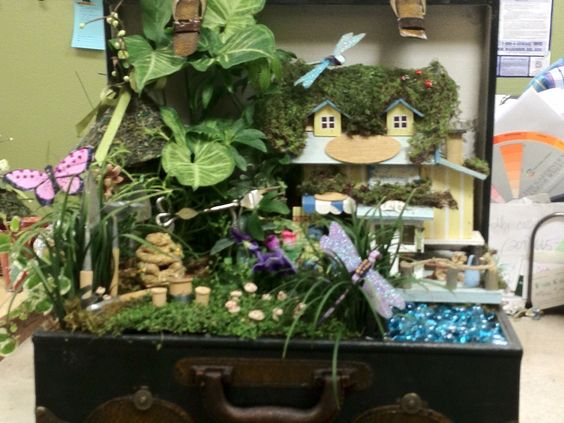 Cheryl Byard Airrington Fairy Garden
Tropical Suitcase Fairy Garden
Cheryl Byard Airrington shared this enchanted fairy garden on Pinterest. This suitcase reminds us of a tropical vacation. We love all the plants and how the miniature cottages were incorporated into the design. Learn more here.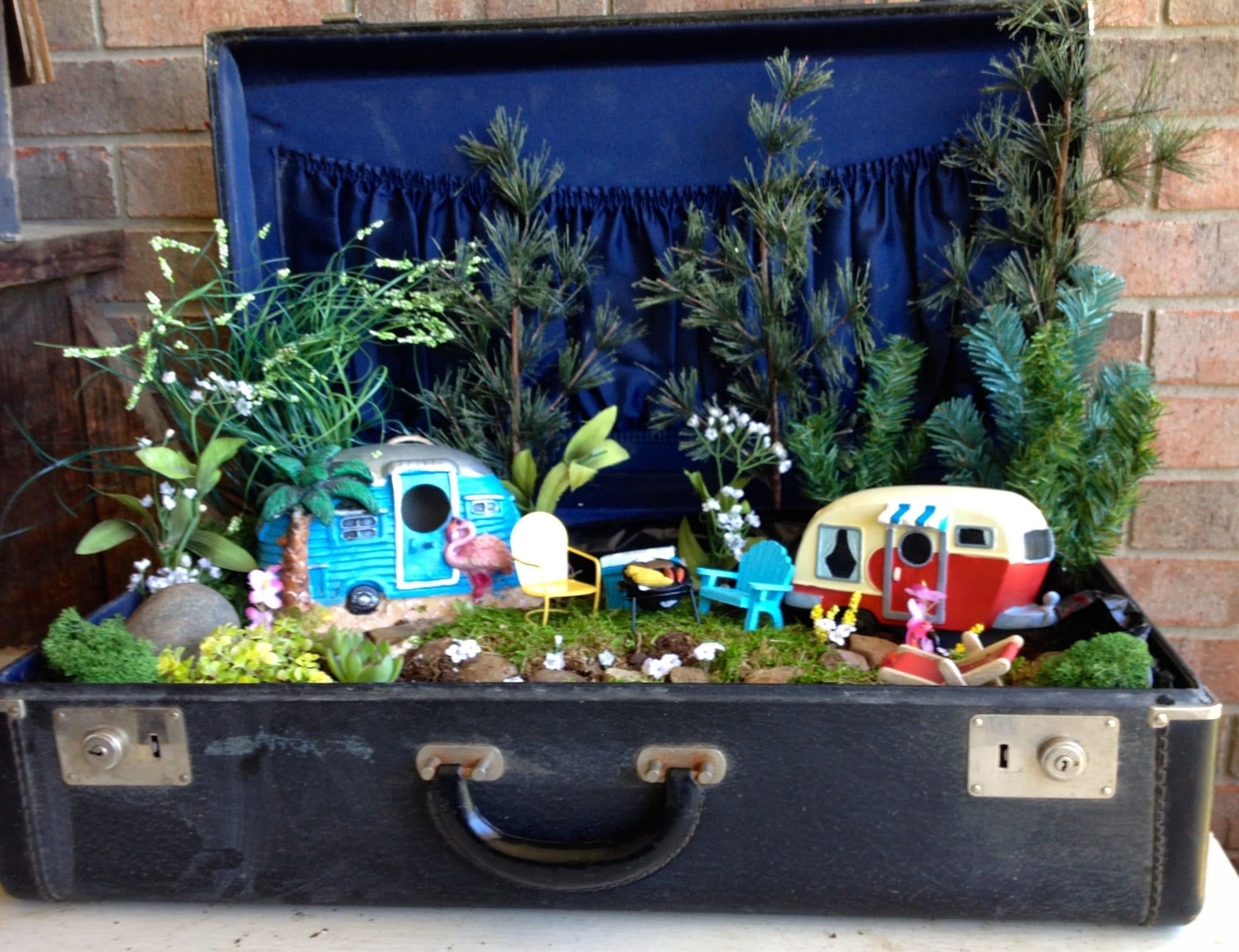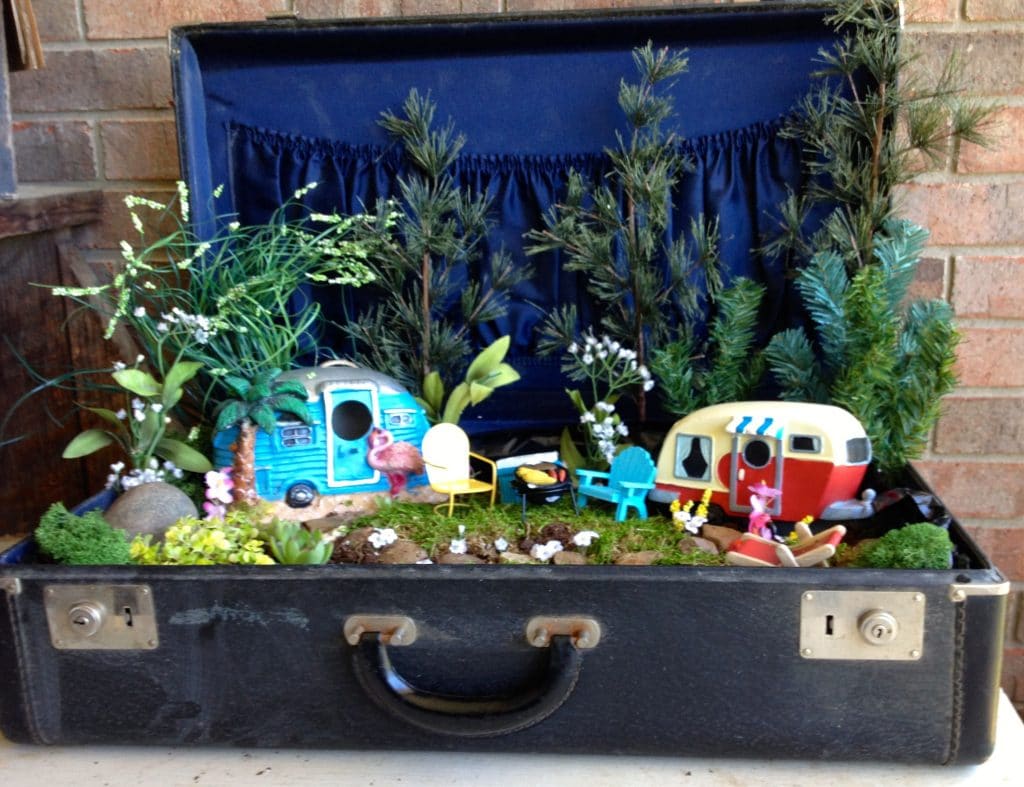 Relaxing Suitcase Fairy Garden
Sometimes when you go on vacation you want to relax. This suitcase fairy garden which was posted on Pinterest by Teresa Scragg sets the scene at a campground or RV park. The miniature campers, lawn furniture, and accessories bring smiles to our faces. We also love how the blue lining of the suitcase adds to the fairy garden's design. Full details are available here.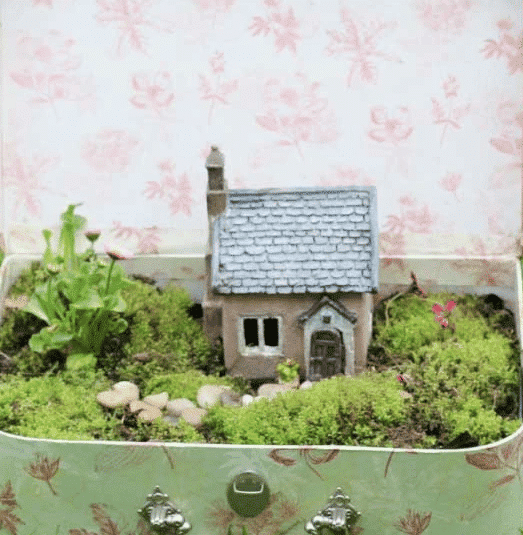 Creating Your Suitcase Fairy Garden DIY
If you are looking to find out how to create your own DIY fairy garden in a suitcase, this article from Empress of Dirt is ready to guide you through the necessary steps in creating your fantastic fairy garden in a suitcase. The design pictured above reminds us of a country house that is surrounded by lush green lawns and gardens. Learn how to create your DIY suitcase fairy garden here.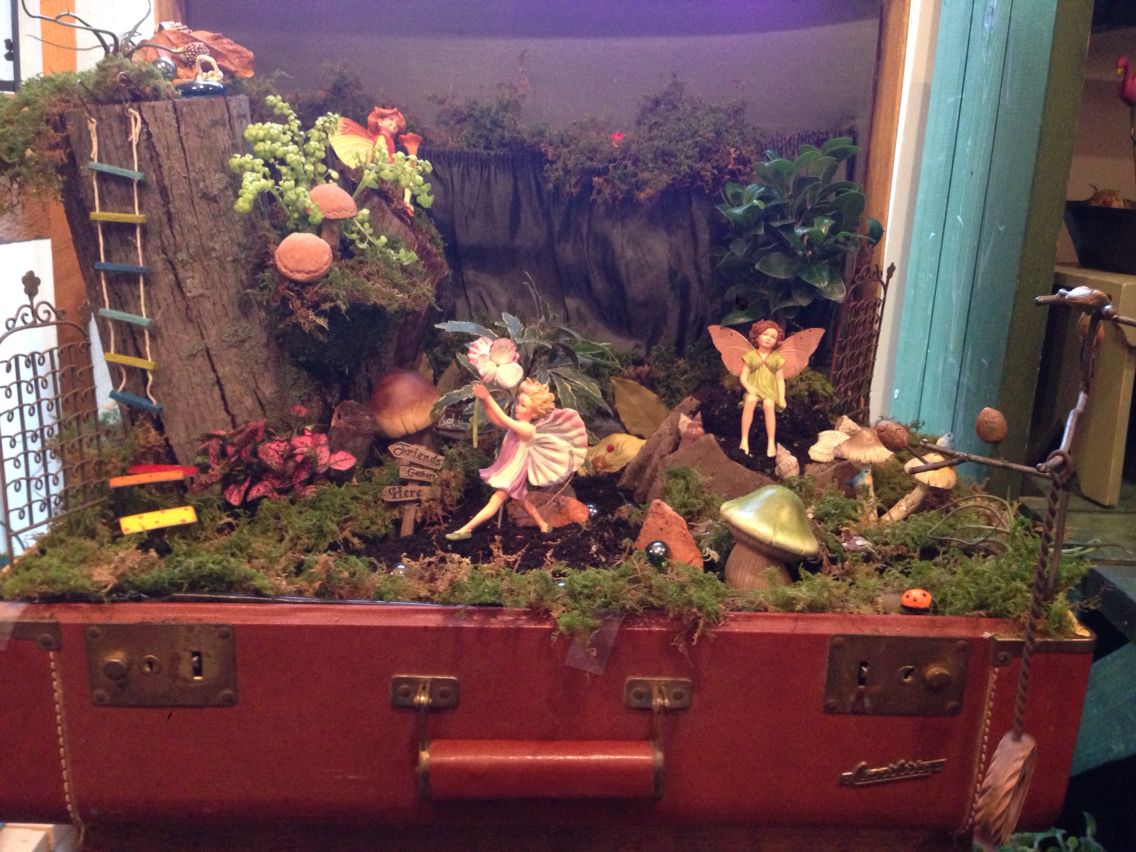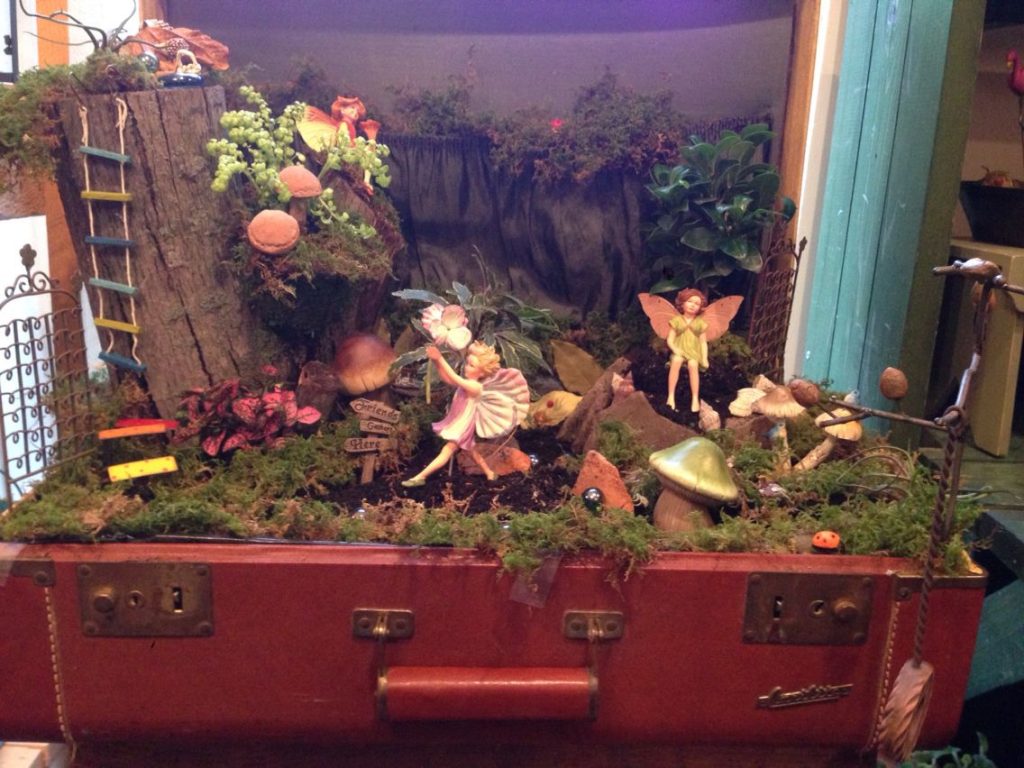 Village Herb Shop of Chagrin Falls Fairy Garden
Enchanted Rustic Suitcase Fairy Garden
Village Herb Shop of Chagrin Falls shares this fascinating fairy garden in a suitcase on Pinterest. We love how this fairy garden is filled with adorable fairy signs and fairy friends. Many nature elements have been incorporated into the design. Learn more here.
Thank you for taking the time to explore these magical suitcase fairy gardens with us. We hope you'll come back to visit Teelie's Fairy Garden again soon. You might also enjoy these accessories for your fairy garden.

Mama Bunny And Baby Bunny Reading, Fairy Garden Rabbits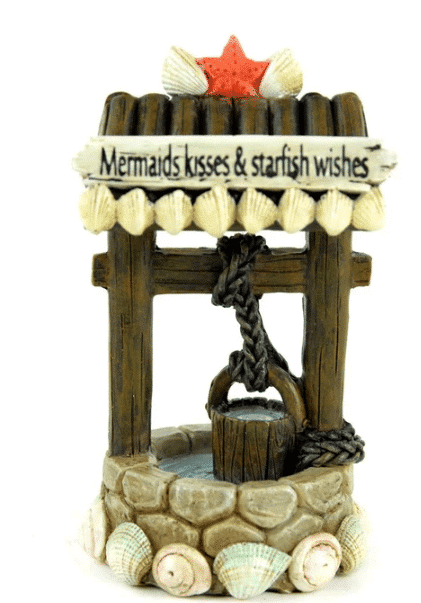 Mermaid Wishing Well, Mini Wishing Well, Fairy Garden Well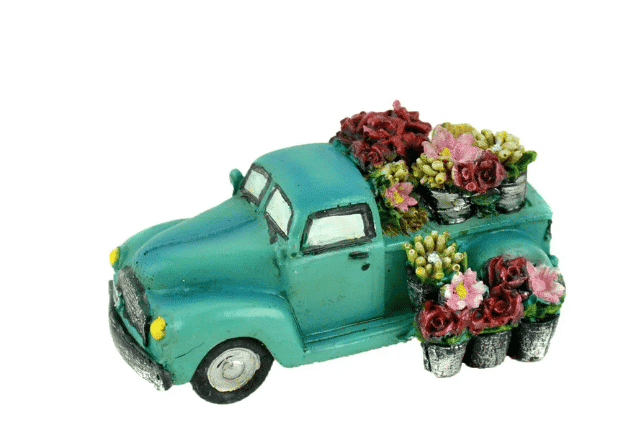 Mini Turquoise Flower Truck, Mini Truck, Fairy Garden Truck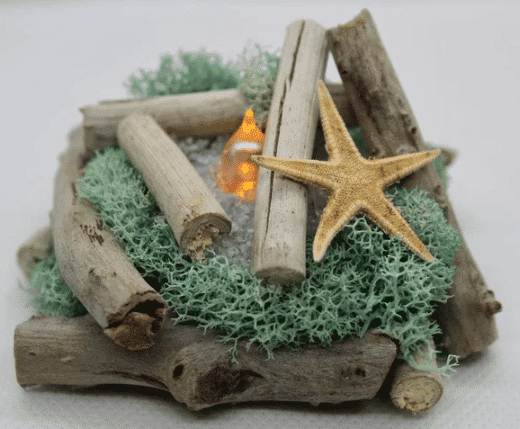 Driftwood Fairy firepit – fairy garden, fairy accessories, campfire, dollhouse miniatures, fairy furniture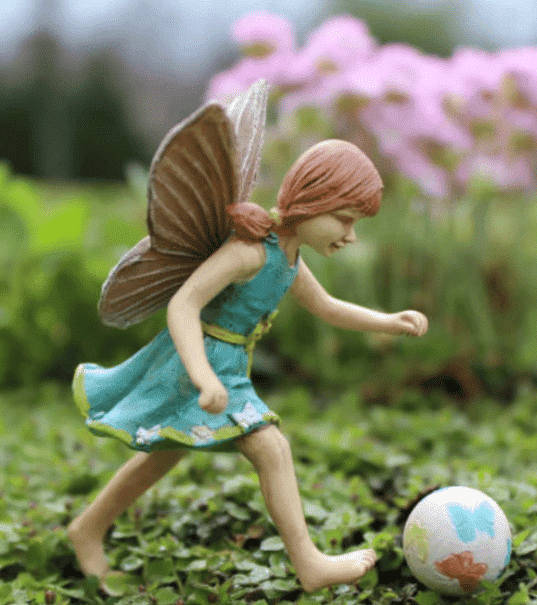 Fairy Jenna with Ball, Fairy Garden Accessories, Fairy Garden Miniature, Fairy Garden Figurine, Fairy Girl With Ball, Two Piece Fairy Set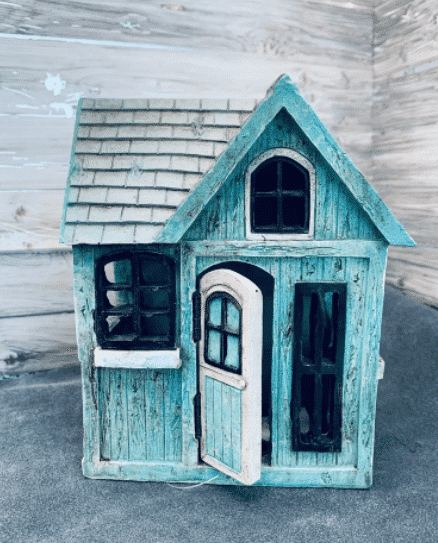 Fairy Garden Beach Cabin, Miniature Fairy Lakeside Cabin, Woodland Knoll Fairy Garden Accessories, Fairy Garden Beach Kit, DIY Fairy Garden
We also have a magical video for your enjoyment.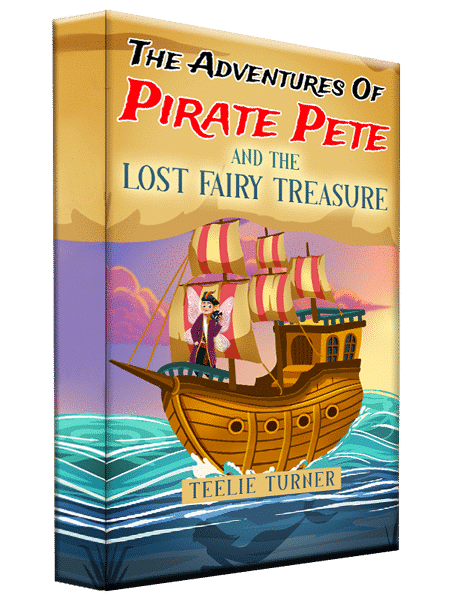 Discover Teelie Turner's complete collection of magical books here. 
Discover one of our magical book trailers.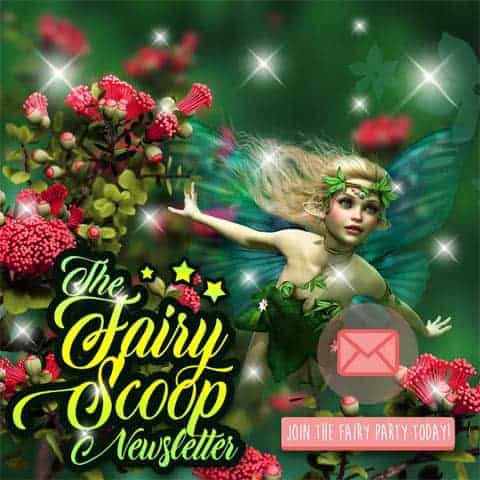 Sign up for The Fairy Scoop Newsletter here. 
Just a disclaimer – We have partnered with these companies because we use their products and/or proudly trust and endorse them – so we do receive a commission if you make a purchase or sign up for services. Often, we are able to negotiate special discounts and/or bonuses, which we will pass on to you via our links. We often get short notice on sale items available for 24-48 hours as we will pass these savings onto you.