Teelie's Fairy Garden would like to introduce you to our Fairy of the Week, Soleil the Solar House Fairy. Soleil means sunshine in French.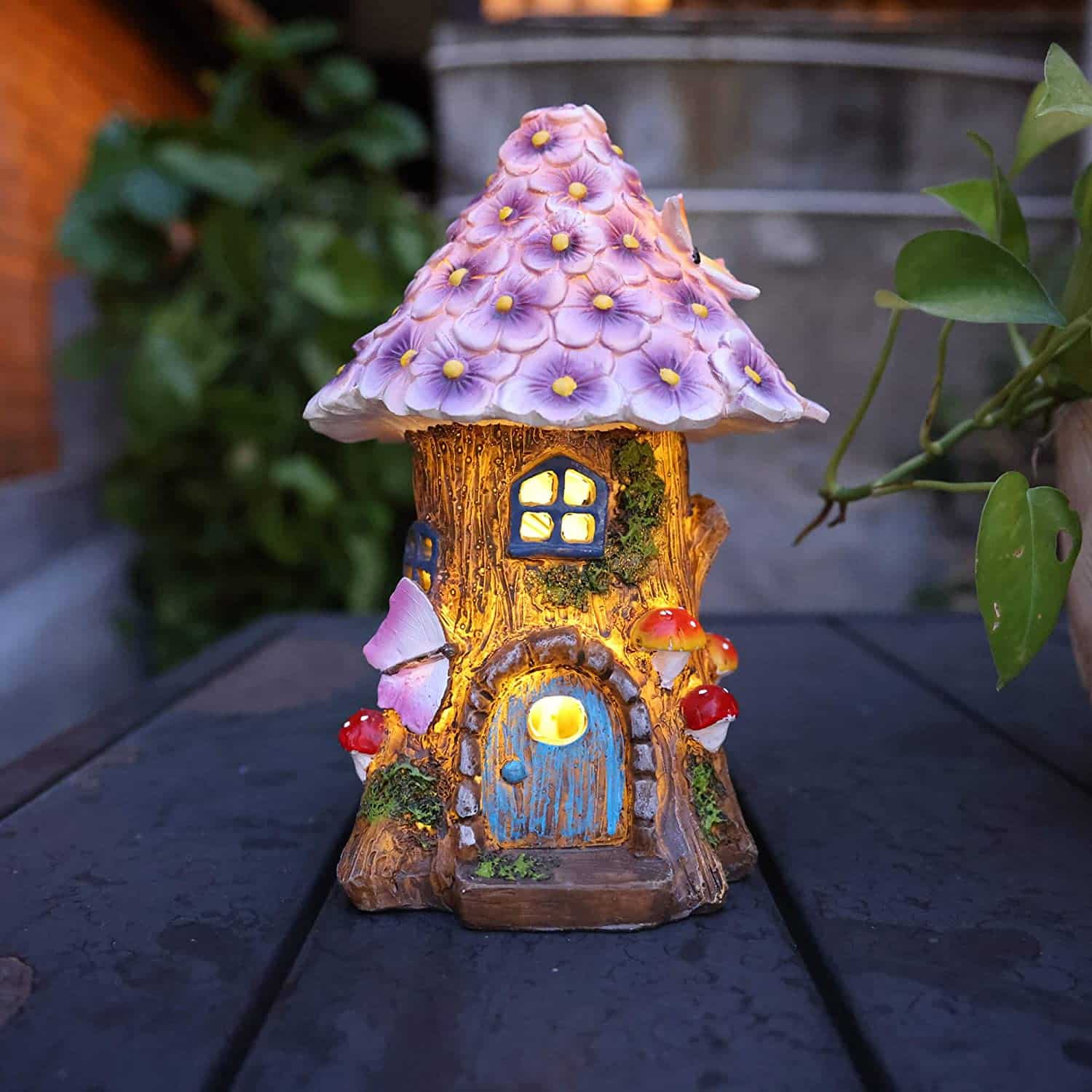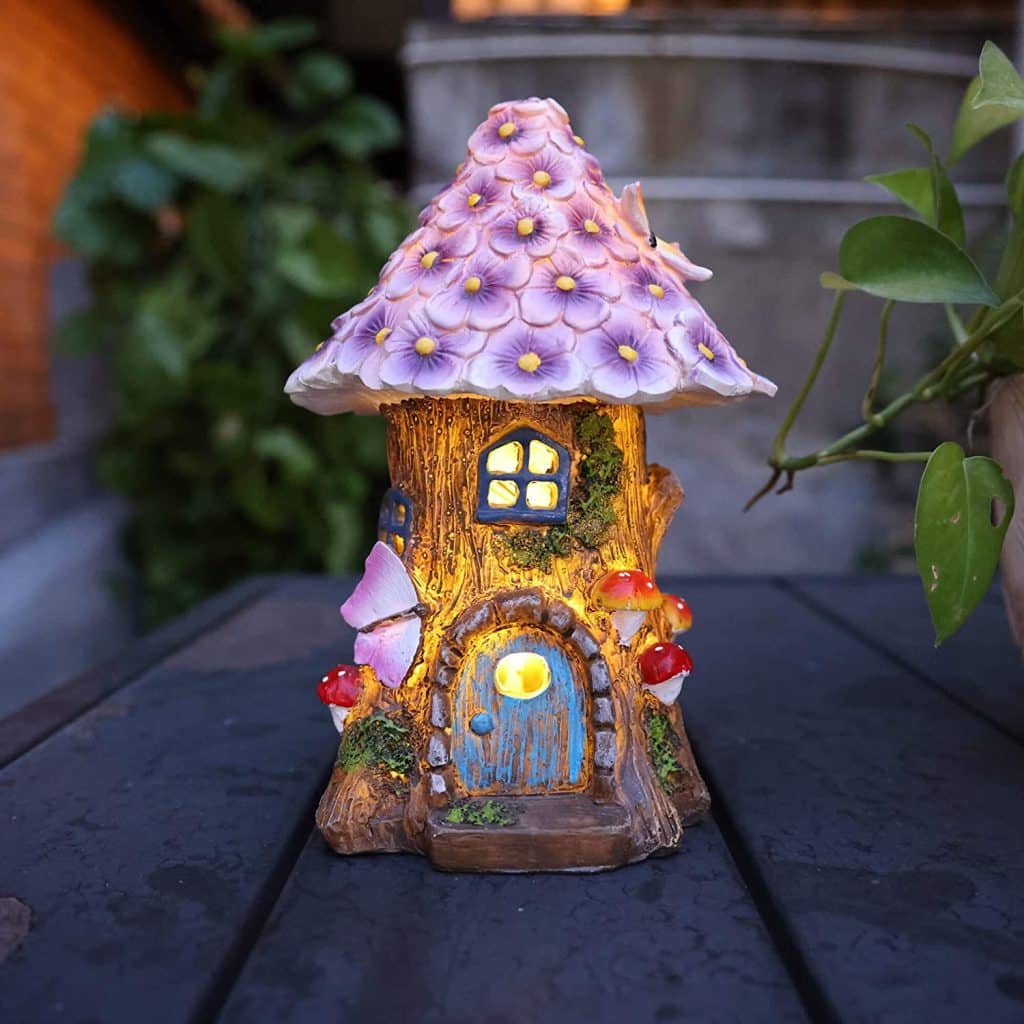 AnnaStore Fairy Garden House Outdoor Light up Fairies Houses Solar Power Statues Mushroom Ornaments Decor Miniature Figurines Treehouse Lawn Yard Decoration Gift Ideas DIY Purple Planter 8″ Tall
Shades of Purple Home
This solar-powered fairy home with its delightful purple floral roof is enchanted looking. We also love the mushroom decorations on it. Learn more here.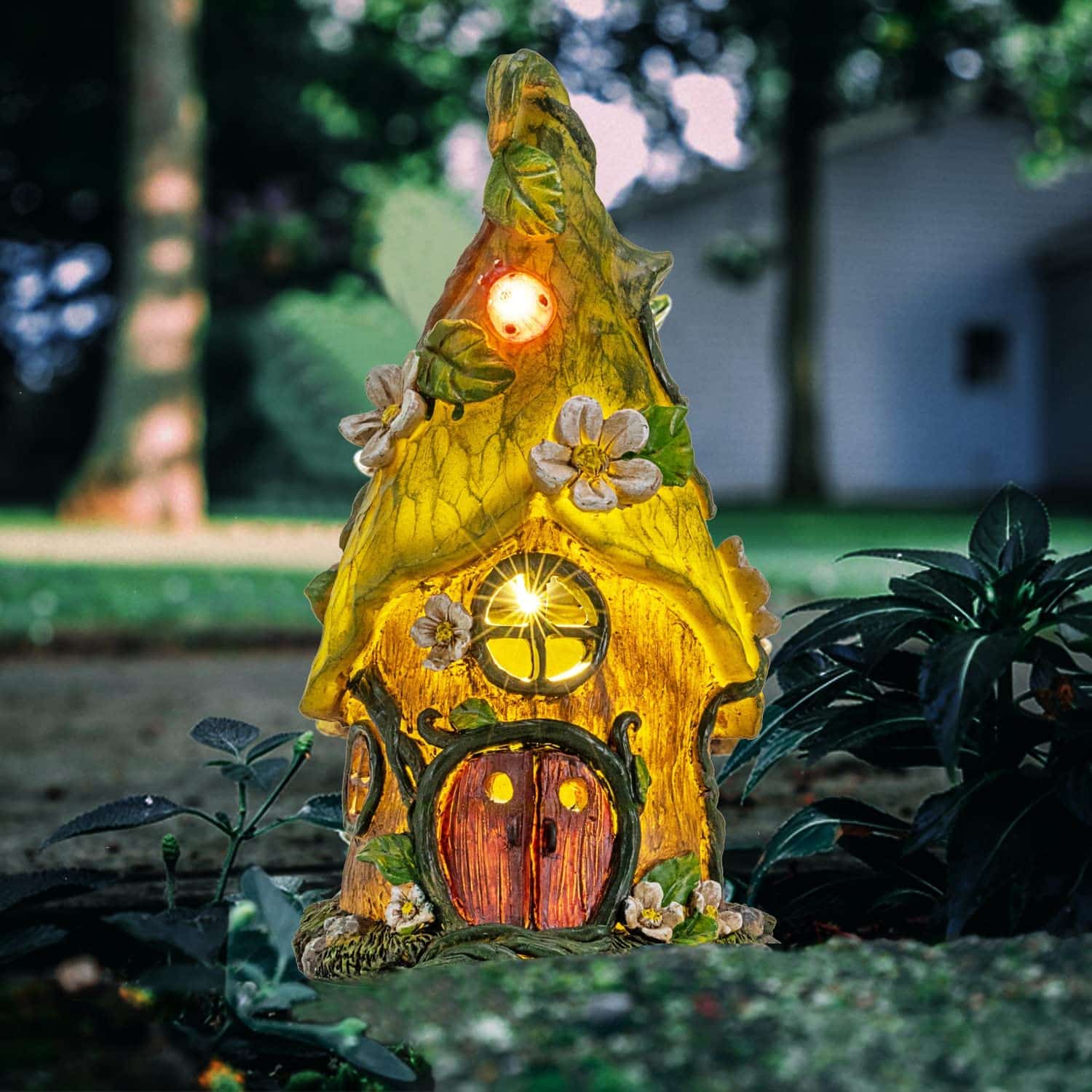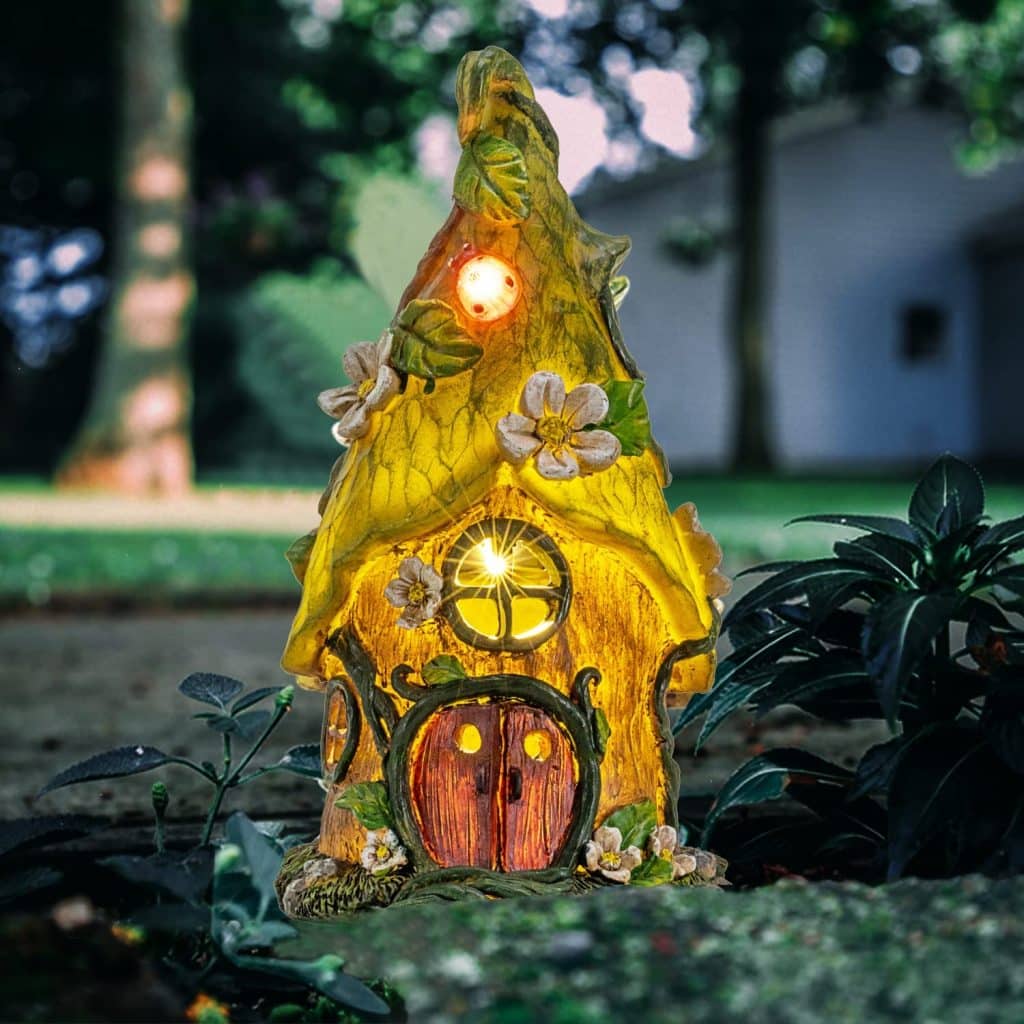 AIINY Garden Decor for Outside, Large Fairy Outdoor Statues Solar Gnome Figurine Lights,11Inch Flower Resin Decorations, Green Tree House Sculptures Lawn Ornaments for Patio Yard Accessories
Gorgeous Glowing Fairy House
When nighttime falls in Fairy Land, this gorgeous solar house absolutely glows because of its gorgeous lights. It is beautiful in the daytime too. It has lots of greenery and floral décor. Learn more here.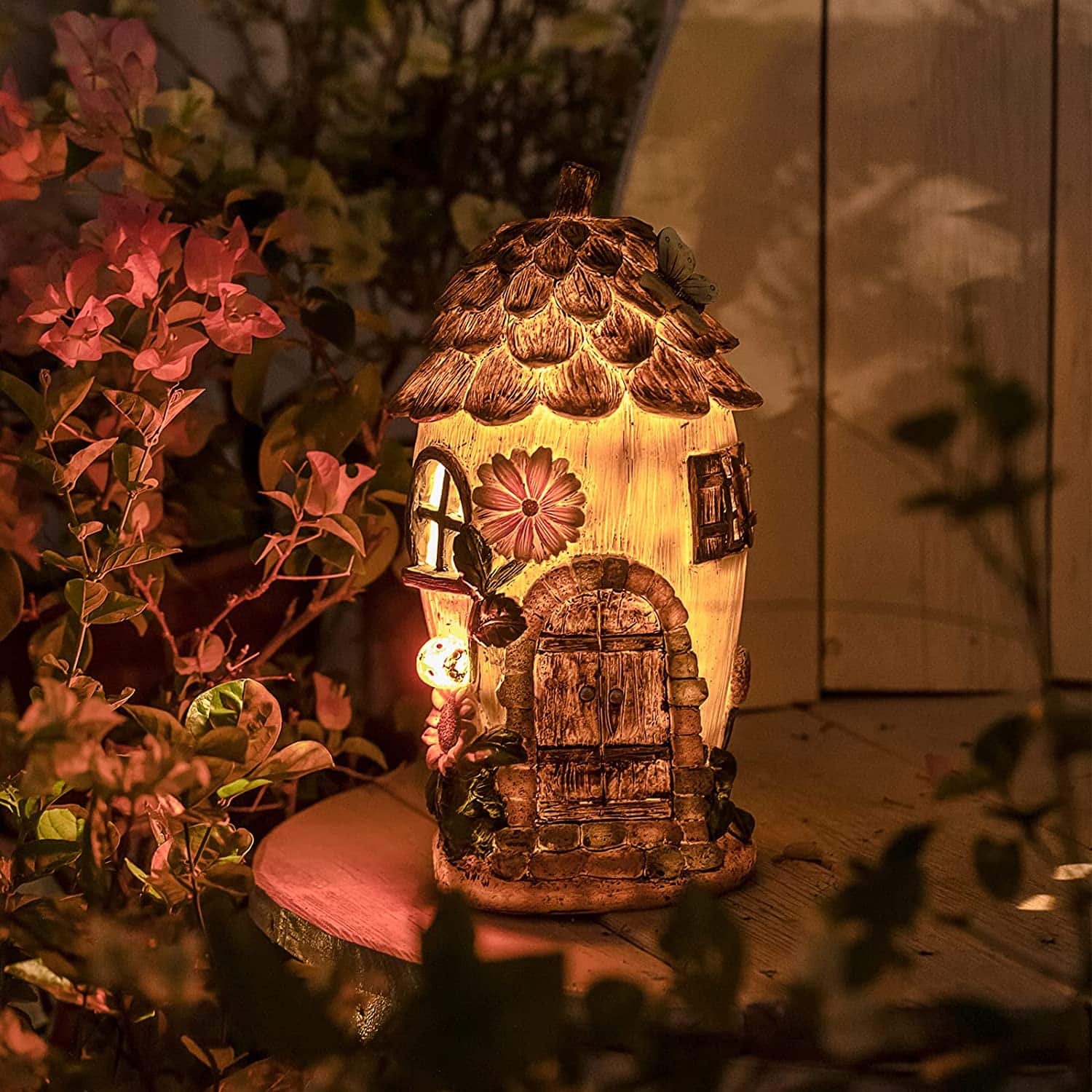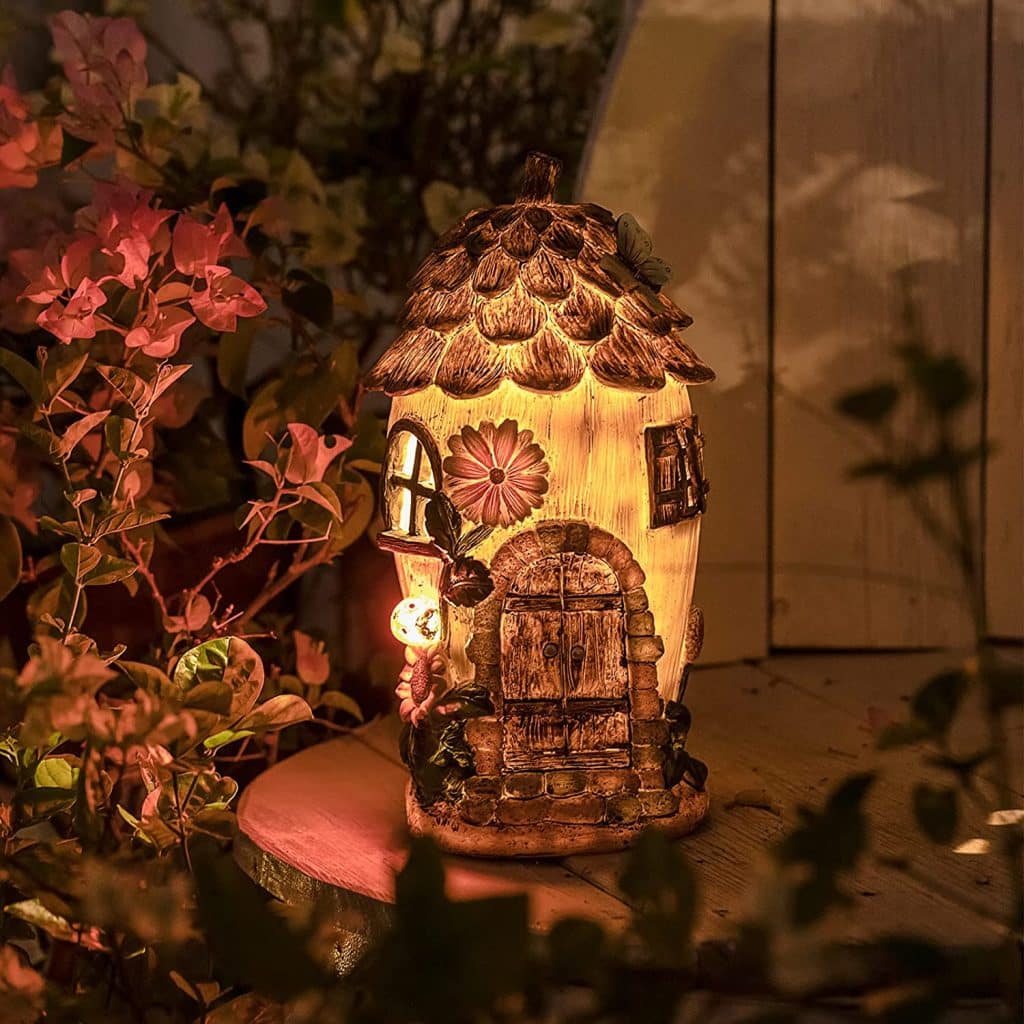 AIINY Large Garden Fairy Statues with Solar Light 12 in, Pinecone Roof Fairy Houses Indoor Outdoor Statues Sculpture Figurine Light with Sunflower Ladybug Butterfly Lawn Ornament Gift
Luminous Fairy Home
This luminous fairy home is beautiful during the day and at night. It has a stunning pinecone room and floral accents. The stones around the doorway are also amazing. Learn more here.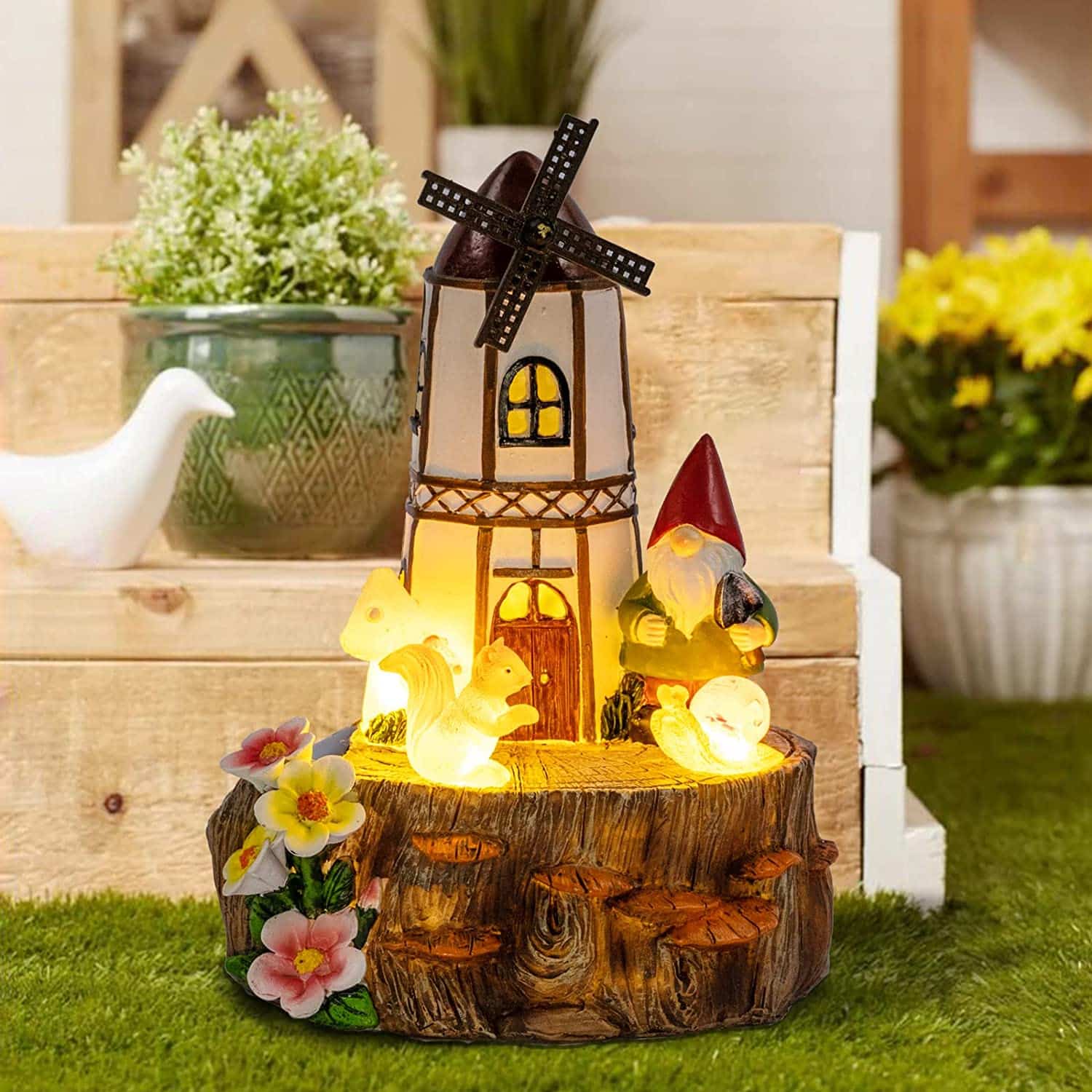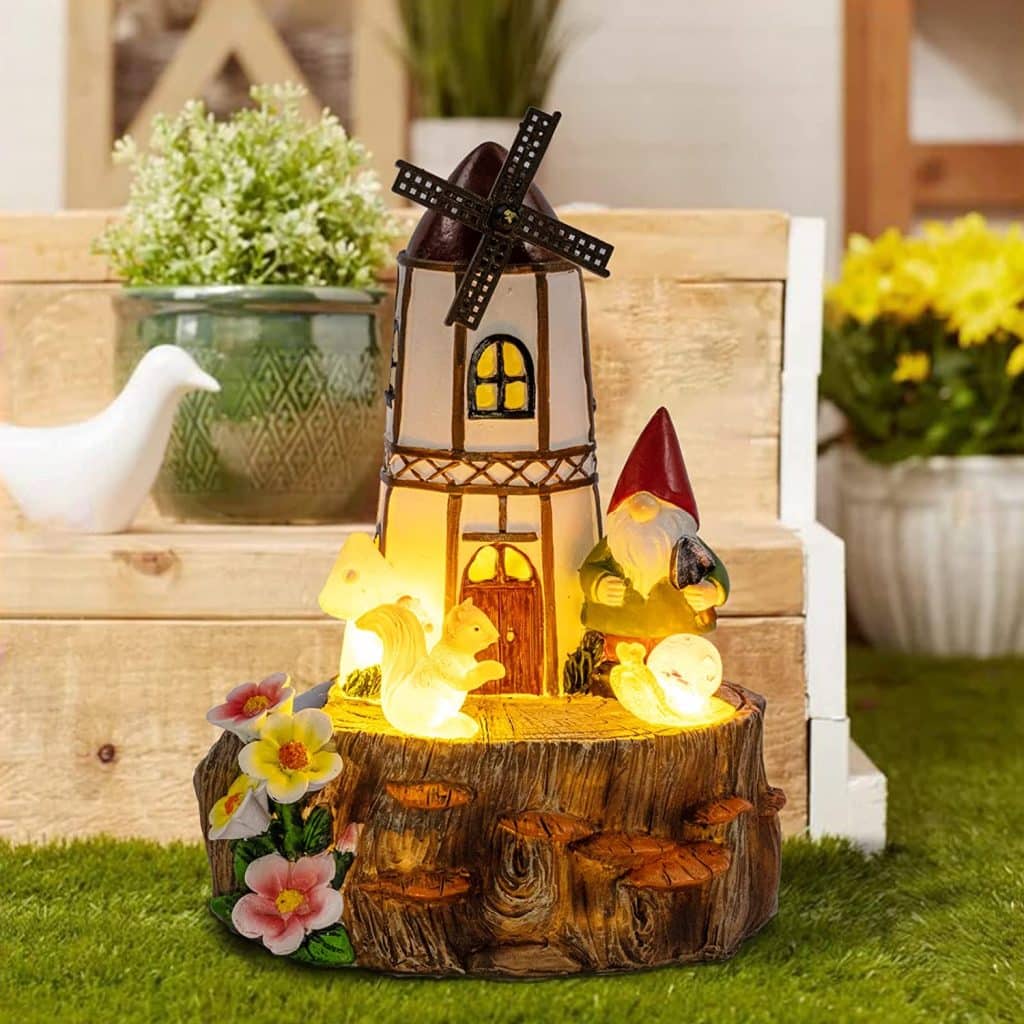 AIINY Solar Windmill Fairy Tower House, Fairy Garden Accessories Stump House Gnome Decor Hold Shovel in Hand Squirrel, Snail Flowers Outdoor Statues Illuminated Lawn Ornaments Figurines Lights Yard
Amazing Windmill Fairy House
The solar windmill fairy house is extremely unique. We love its shape and design. There is a gnome who does the gardening at this house, and he is assisted by a snail and squirrel which also have solar lights in them. Learn more here.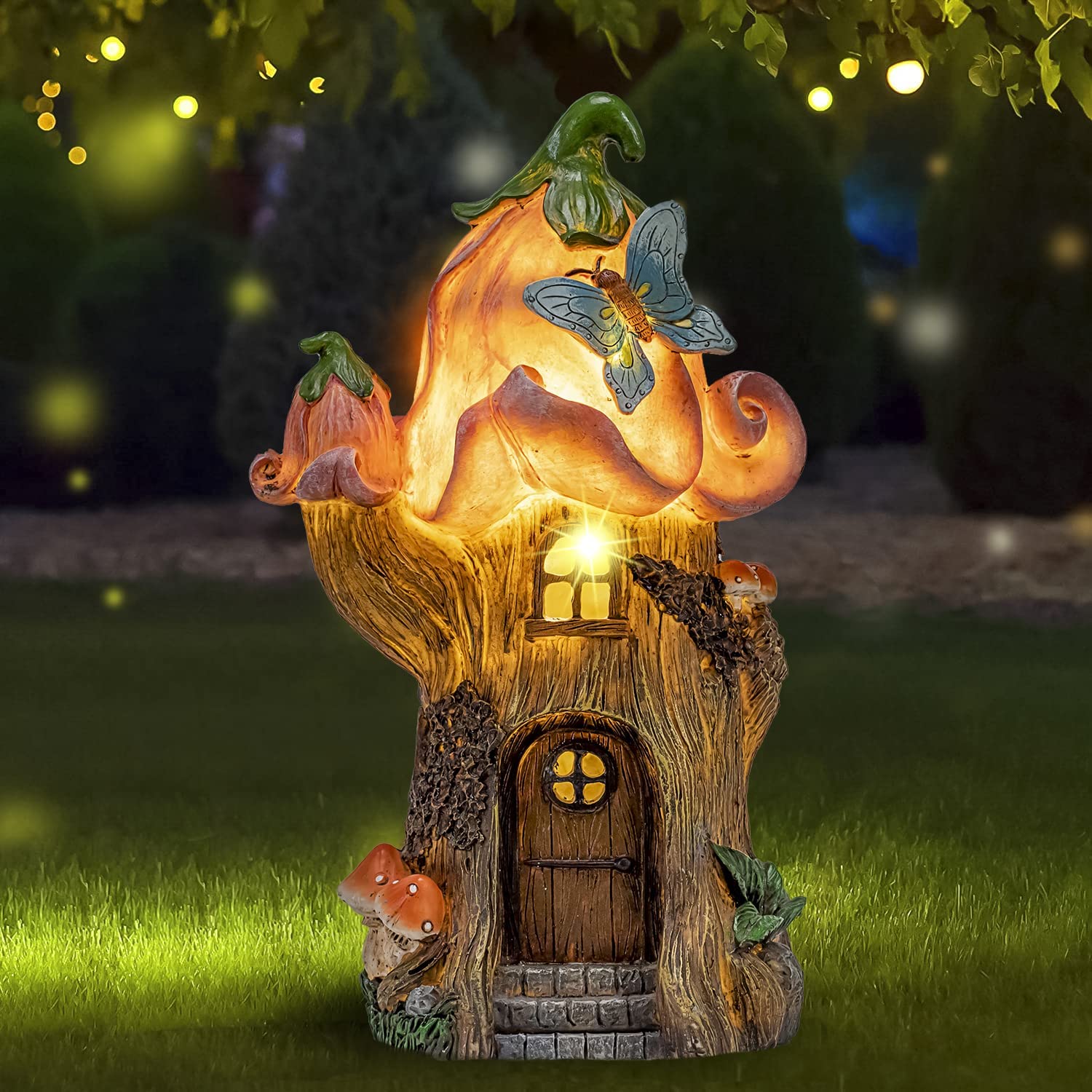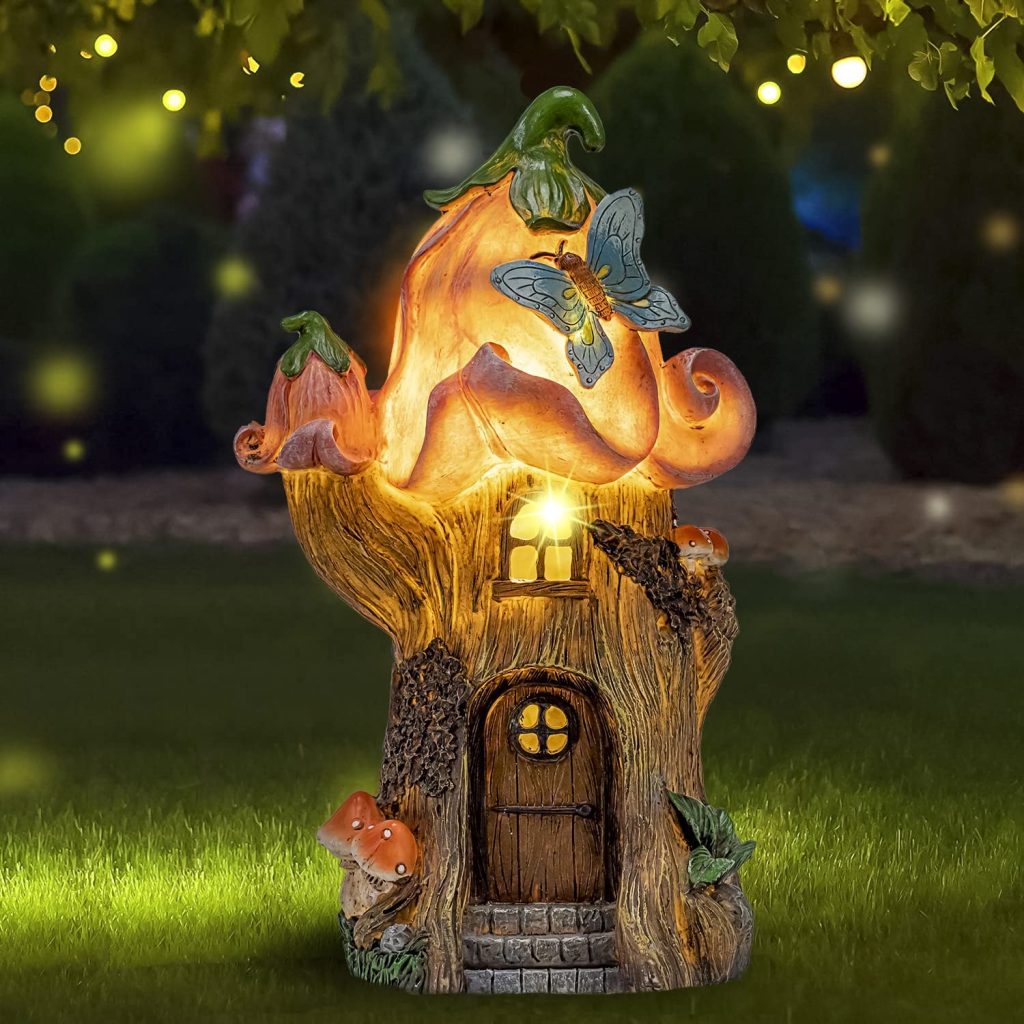 Fairy Garden Accessories Outdoor Statues, Mushroom House Decor,Large Gnome Solar Powered Lights Sculptures,Pink Resin Figurine Butterfly Figurines Lawn Ornaments for Patio Yard Decorations 11Inch
This beautiful butterfly fairy house is absolutely gorgeous. There is a butterfly on the roof. The brown door has a cute round window in it that also lets the light shine through. Learn more here.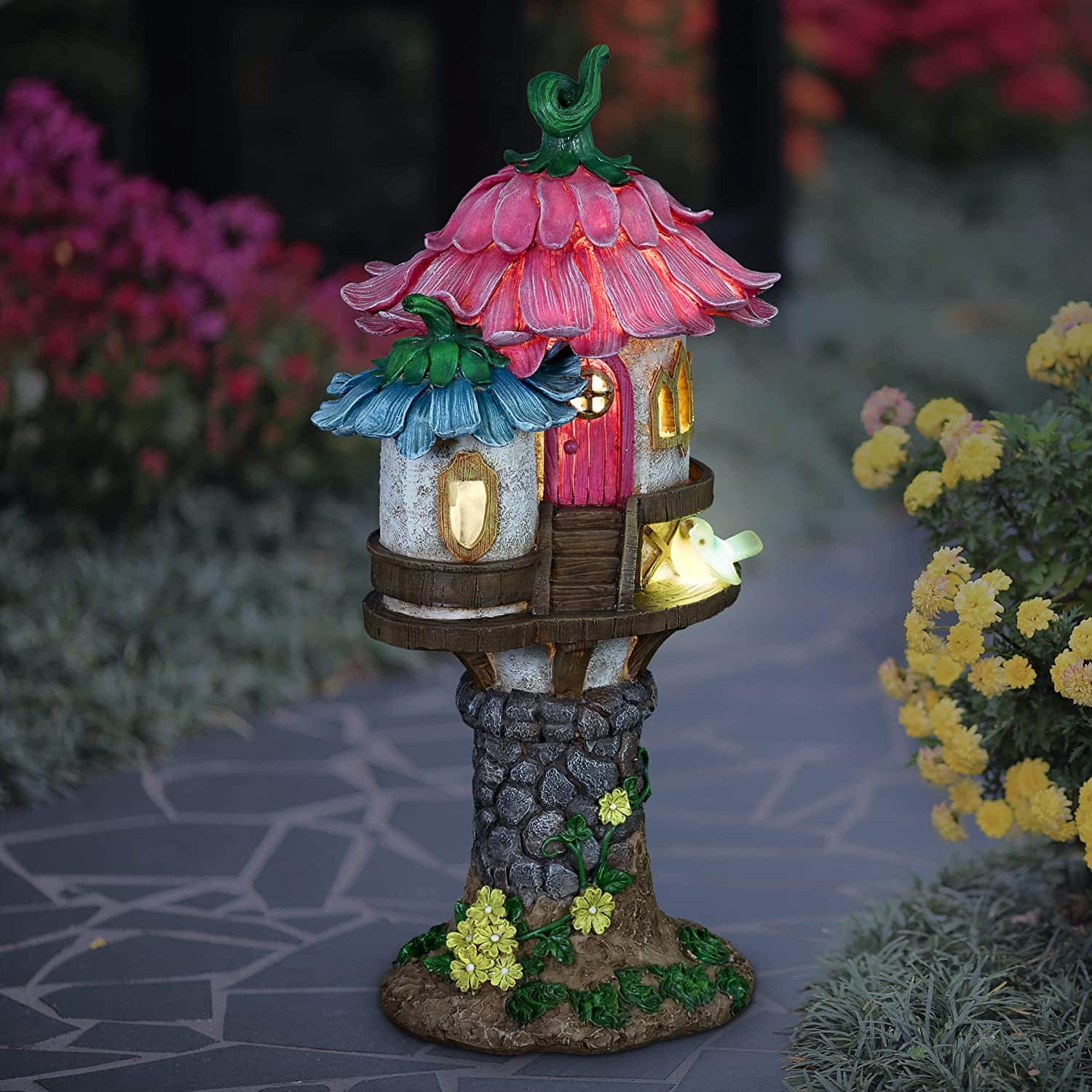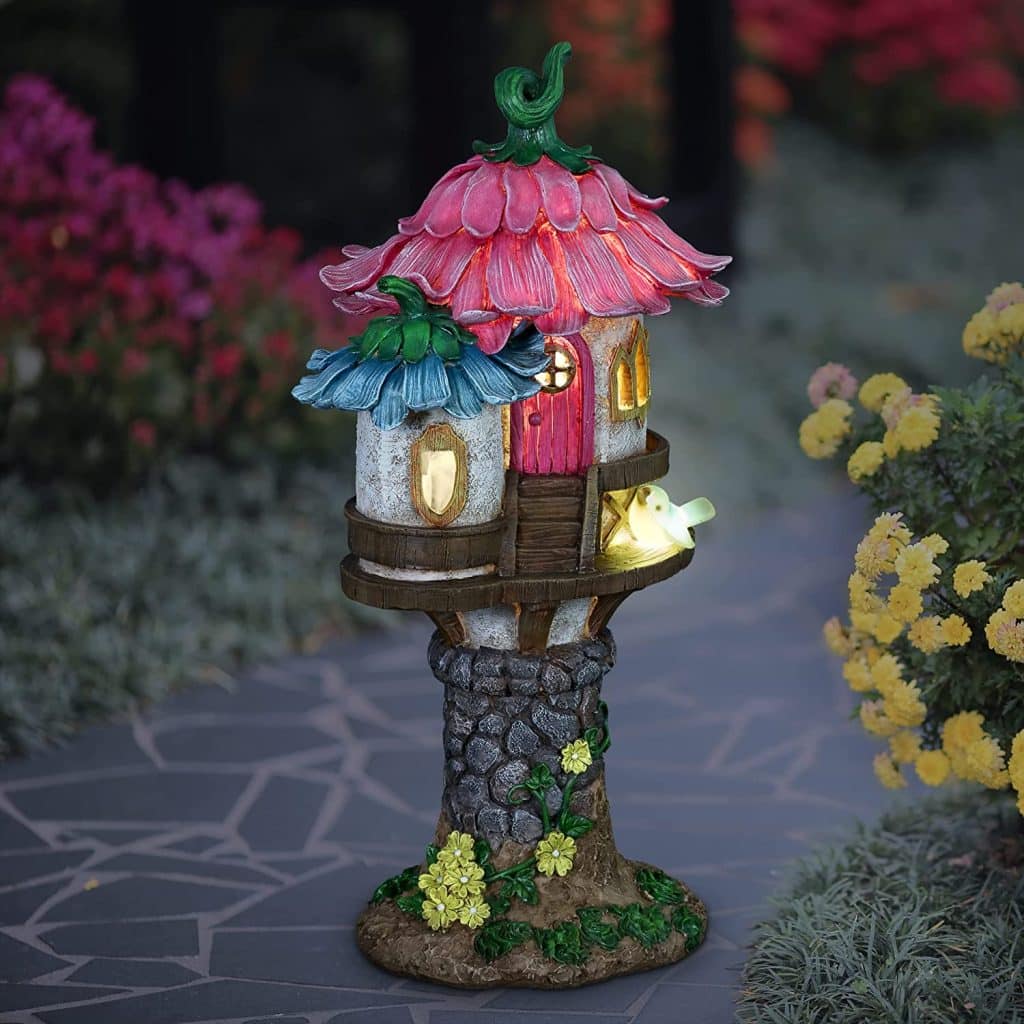 Exhart Solar LED Fairy House Garden Statue, Hand-Painted Adorable Resin Garden Décor, 9.5″x7.5″x17″
Raised Fairy House
This gorgeous, raised fairy house is the perfect place for a fairy to live. There is also a little guest cottage beside it. Each fairy house has a beautiful floral roof. The stonework on the base of the fairy house is lovely, as is the wooden staircase leading to the house. There is even a bird who loves to visit the fairies who live in this house. Learn more here.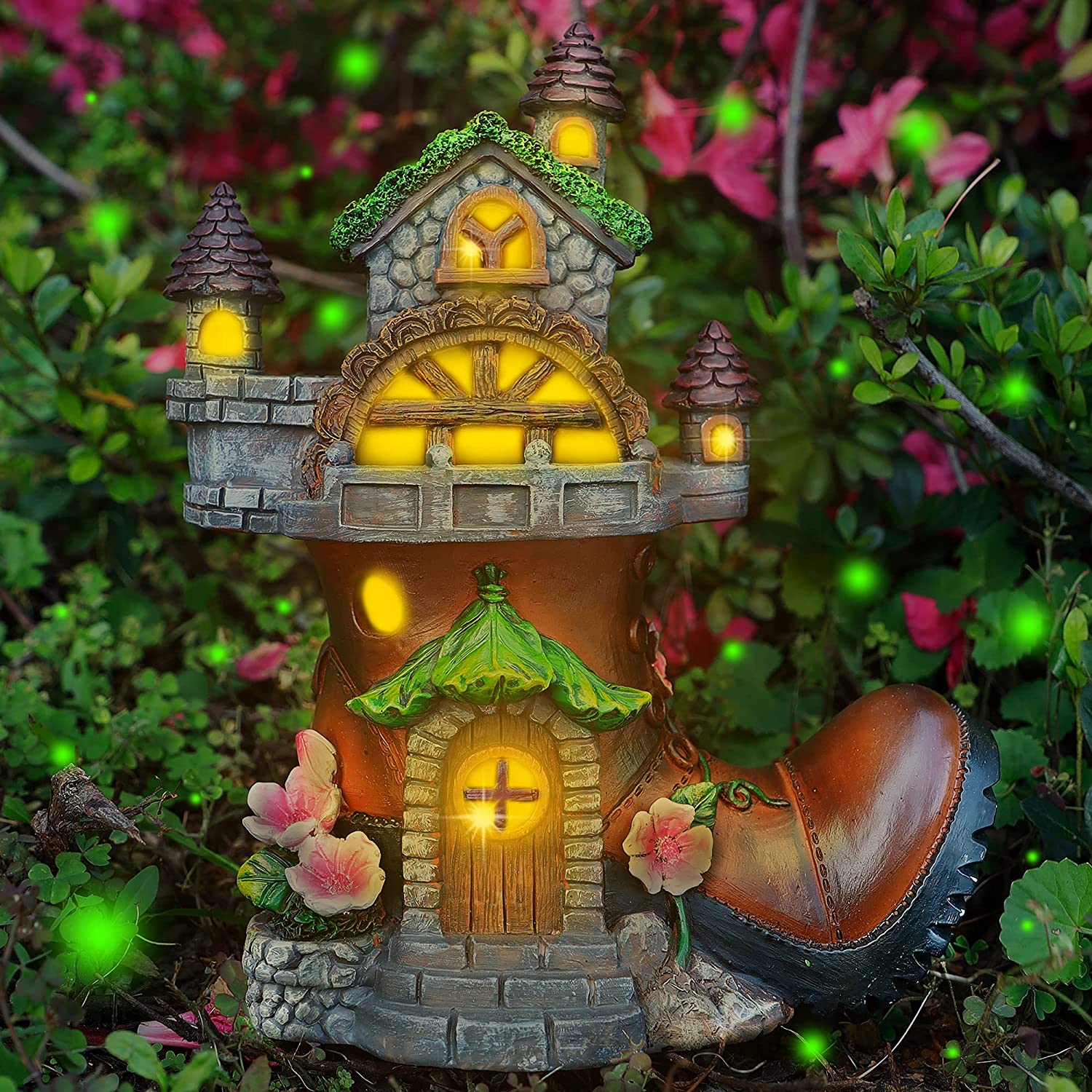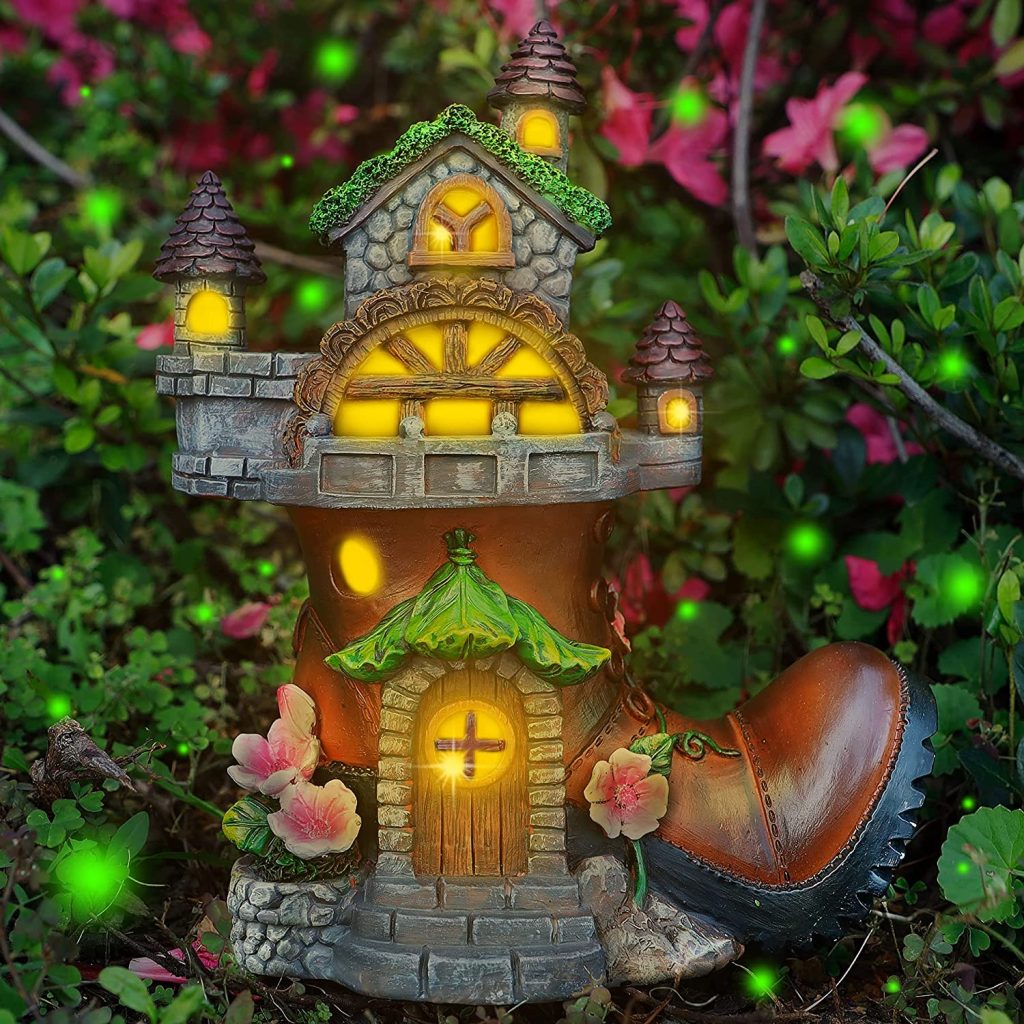 FORUP 10 Inch Fairy House Garden Statues with Boots, Fairy Garden Decor House Kit, Solar Powered Lights Garden Figurine for Outdoor Patio Lawn Yard Garden Decorations
Fairy houses are intriguing because they come in so many different shapes, sizes, and designs. This enchanted solar-powered house is shaped like a boot. It also has some lovely flower accents. The mossy roof is also amazing. Learn more here.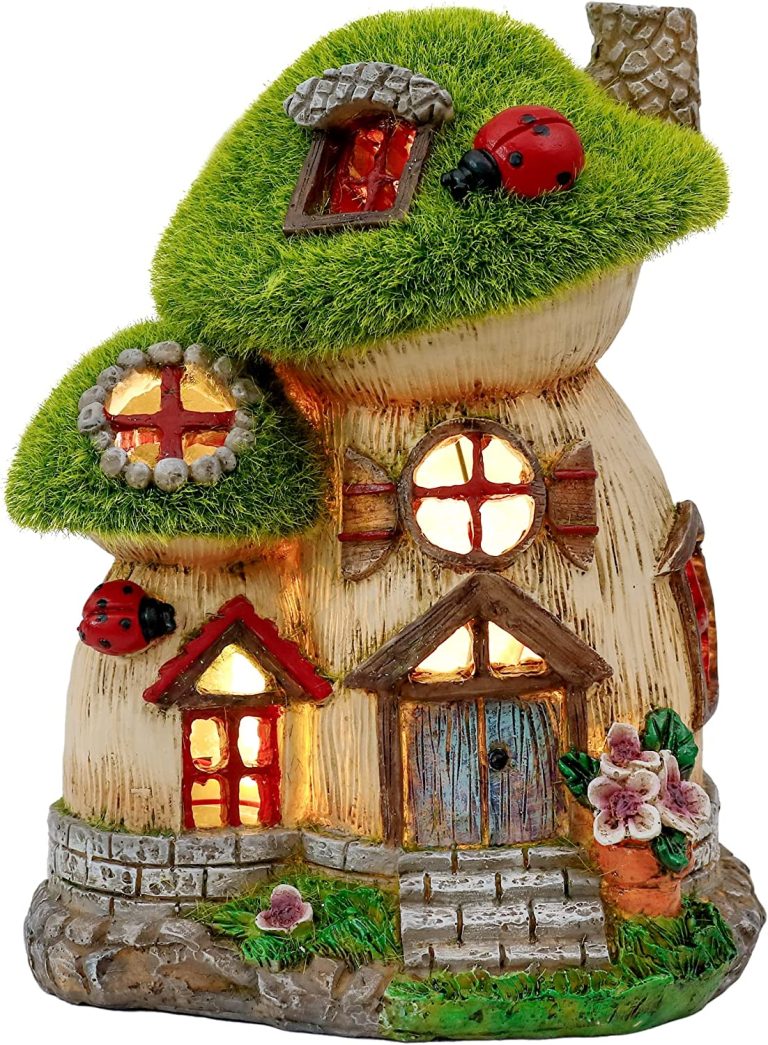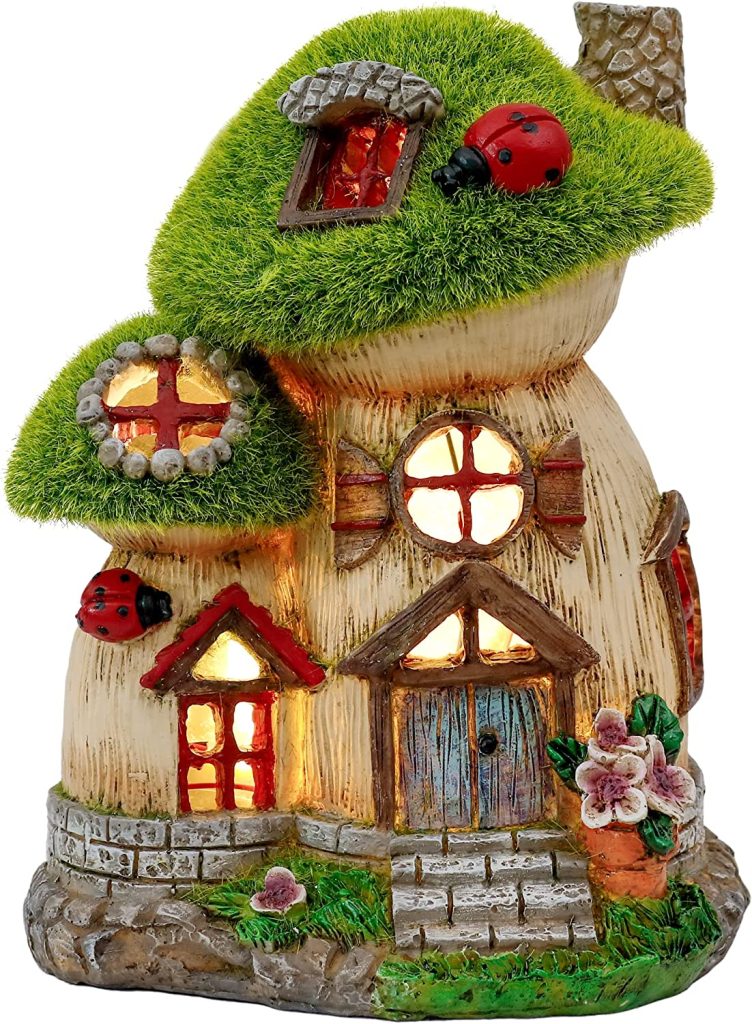 TERESA'S COLLECTIONS Mushroom Garden Statues with Solar Light, Cute Flocked Fairy House Accessories Resin Cottage Figurines Lawn Ornaments Outdoor Gifts for Flower Garden Patio Yard Decor, 7.7"
Mushroom Fairy House
Shaped like a mushroom, this awesome fairy house has many stunning elements in its design including a grass-covered roof, a lovely flowerpot at the entrance, ladybugs that love to crawl on the exterior walls, and intriguing windows. Learn more here.
Thank you for spending time in Teelie's Fairy Garden. Soleil the Solar Fairy hopes that you've enjoyed discovering these luminous fairy houses. Please come back and see us again soon.
You may also enjoy this video about fairy summer cottages: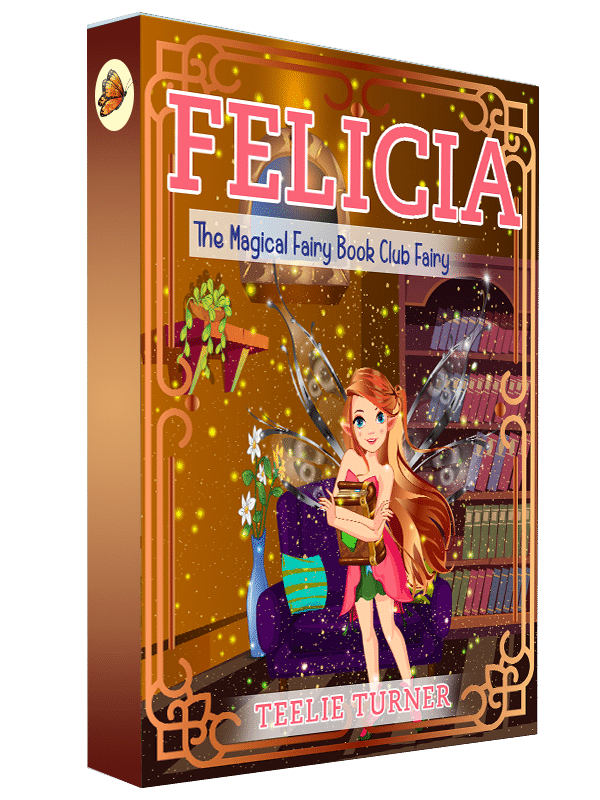 Discover Teelie Turner's complete collection of magical books here. 
Discover one of our magical book trailers.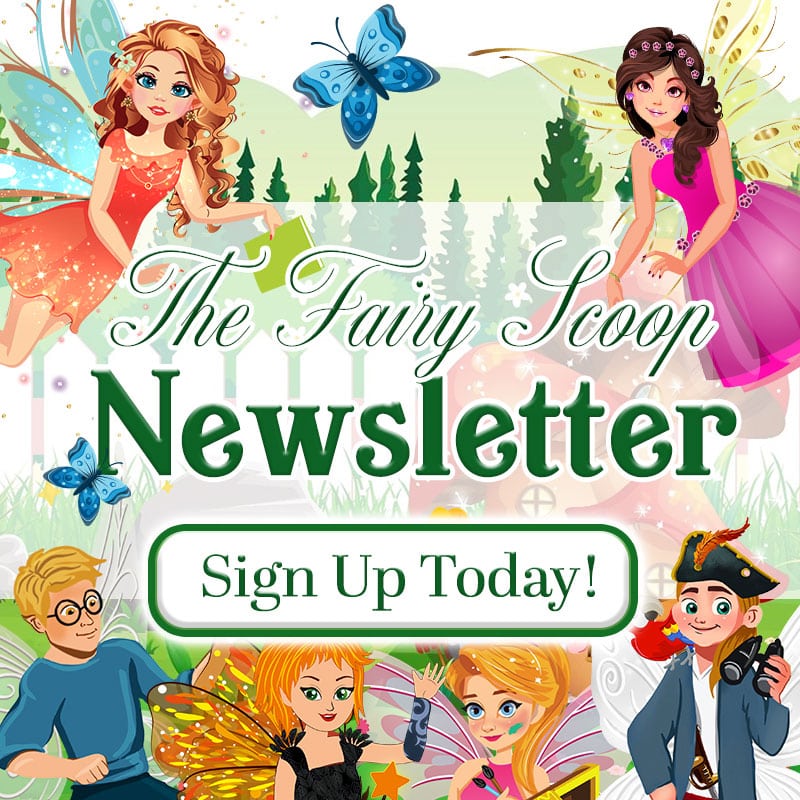 Sign up for The Fairy Scoop Newsletter here. 
Just a disclaimer – We have partnered with these companies because we use their products and/or proudly trust and endorse them – so we do receive a commission if you make a purchase or sign up for services. Often, we are able to negotiate special discounts and/or bonuses, which we will pass on to you via our links. We often get short notice on sale items available for 24-48 hours as we will pass these savings onto you.