Livana the Landscape Fairy is the fairy of the week and she cannot wait to share terrific fairy scenes with you. Each scene will feature some form of landscaping as that is what she is responsible for in Fairy Land. Teelie's Fairy Garden is so pleased that she took the time to share these with us.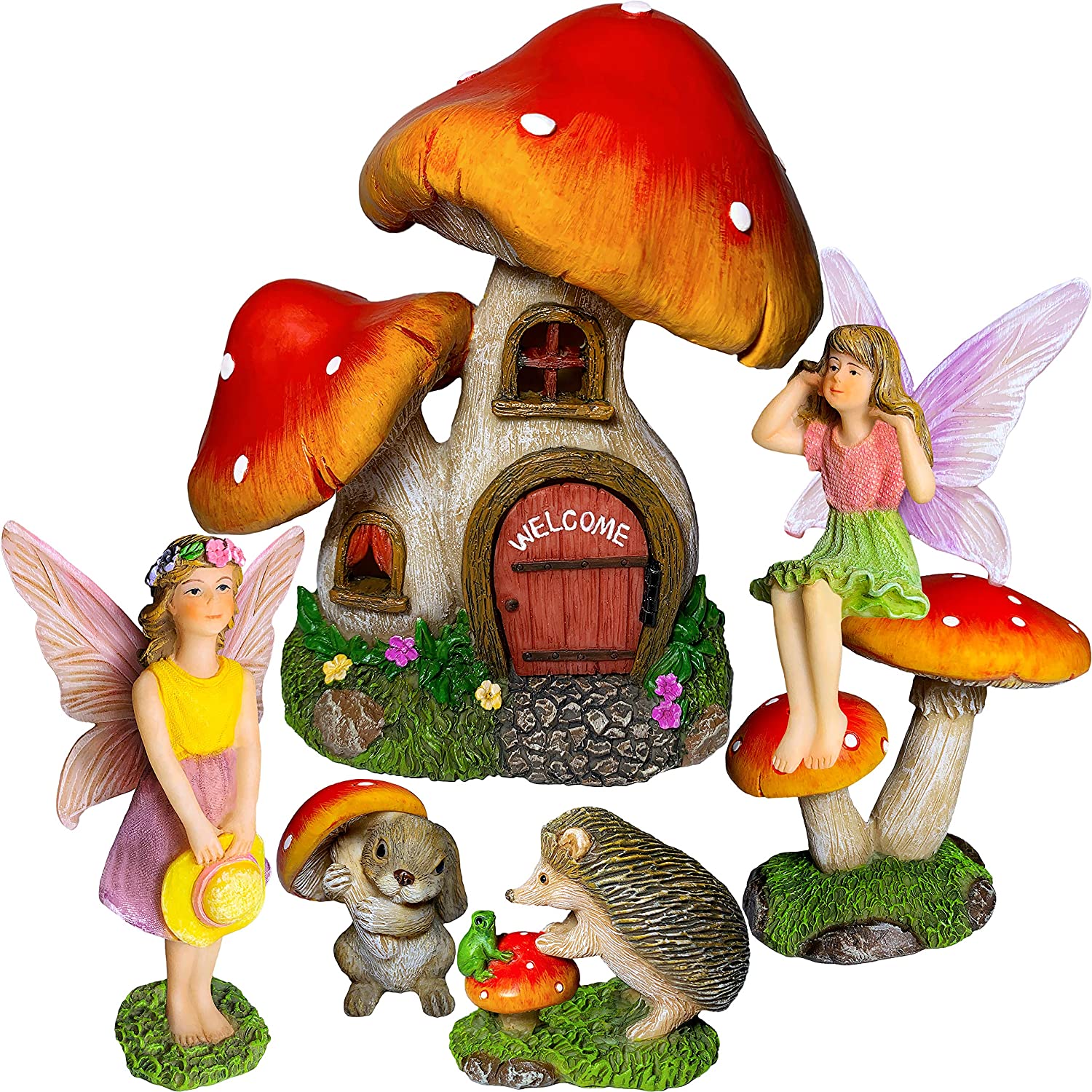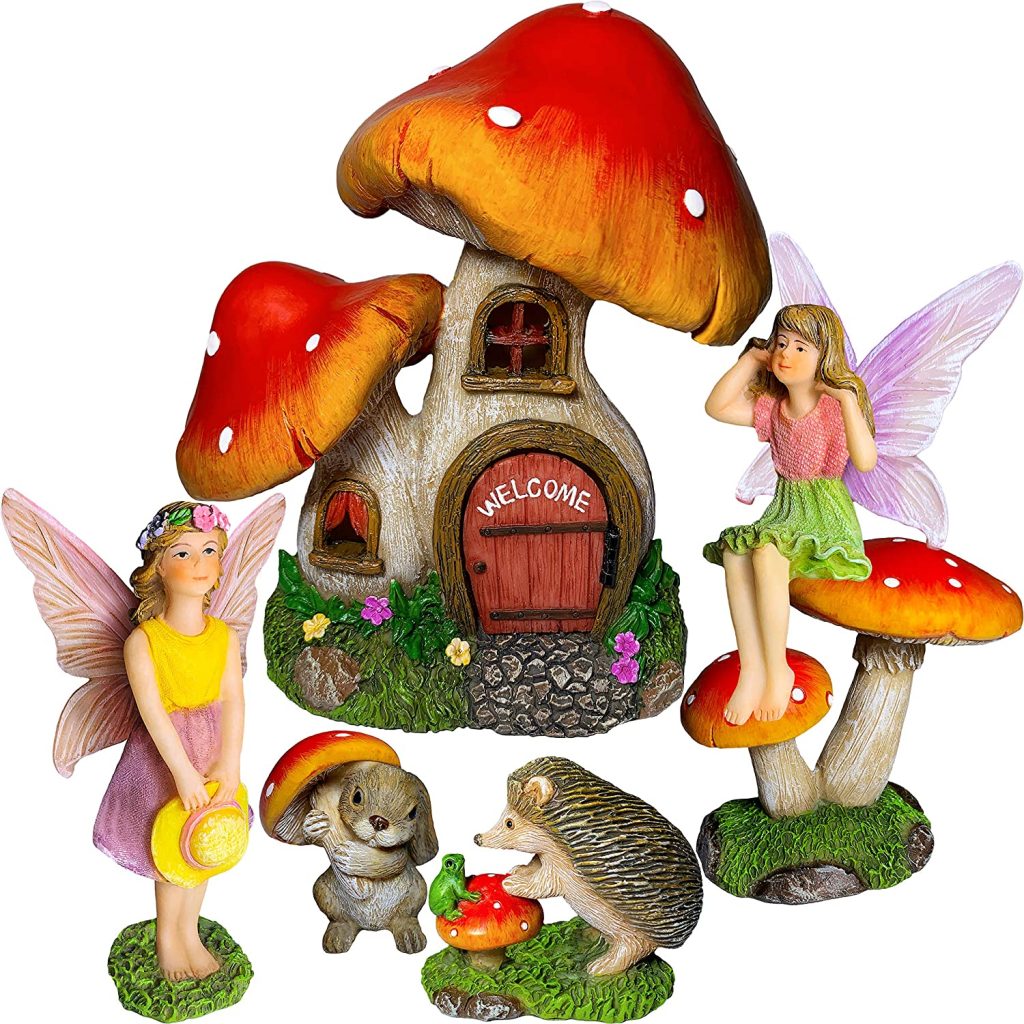 Mood Lab Fairy Garden – Mushroom House Set of 6 pcs – Miniature Figurines & Accessories Kit – for Outdoor or House Decor
Welcoming Fairy Scene
This fairy scene is extremely welcoming. Even the adorable mushroom cottage says welcome on the door. There are also two beautiful fairies, a hedgehog, rabbit, and frog ready to greet you. Flowers and grass are used for landscaping. Learn more here.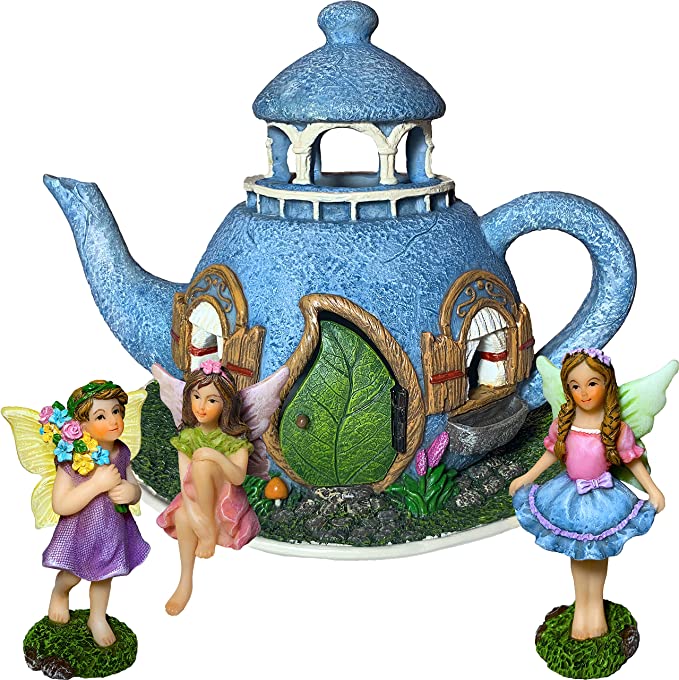 Mood Lab Fairy Garden Miniature Teapot House Kit – Figurines and Accessories Set of 4 pcs – 7.1 Inch Tall House
Enchanted Teapot House
This magical fairy scene has an enchanted blue teapot house that even has a leaf-shaped front door. Three fairy friends are enjoying some time together on the grass outside the home. One even picked some lovely flowers. Learn more here.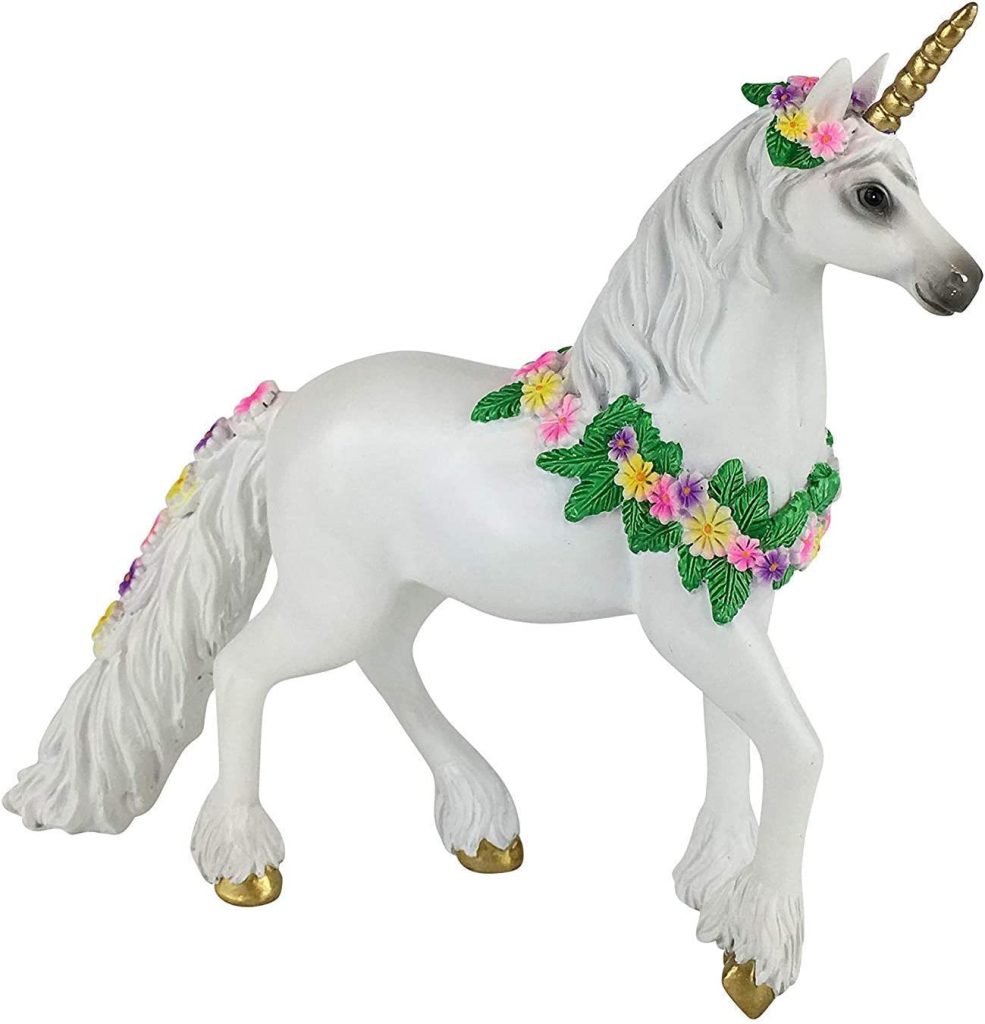 GlitZGlam Genevive The Golden Unicorn for Your Enchanted Fairy Garden. 6.5 inches Tall Fairy Garden Accessory
Gorgeous Golden Unicorn
This white and gold unicorn's name is Genevieve. Livana loves how Genevive always has some landscaping with her as she has leaves and flowers around her neck and in her mane and tail. Learn more here.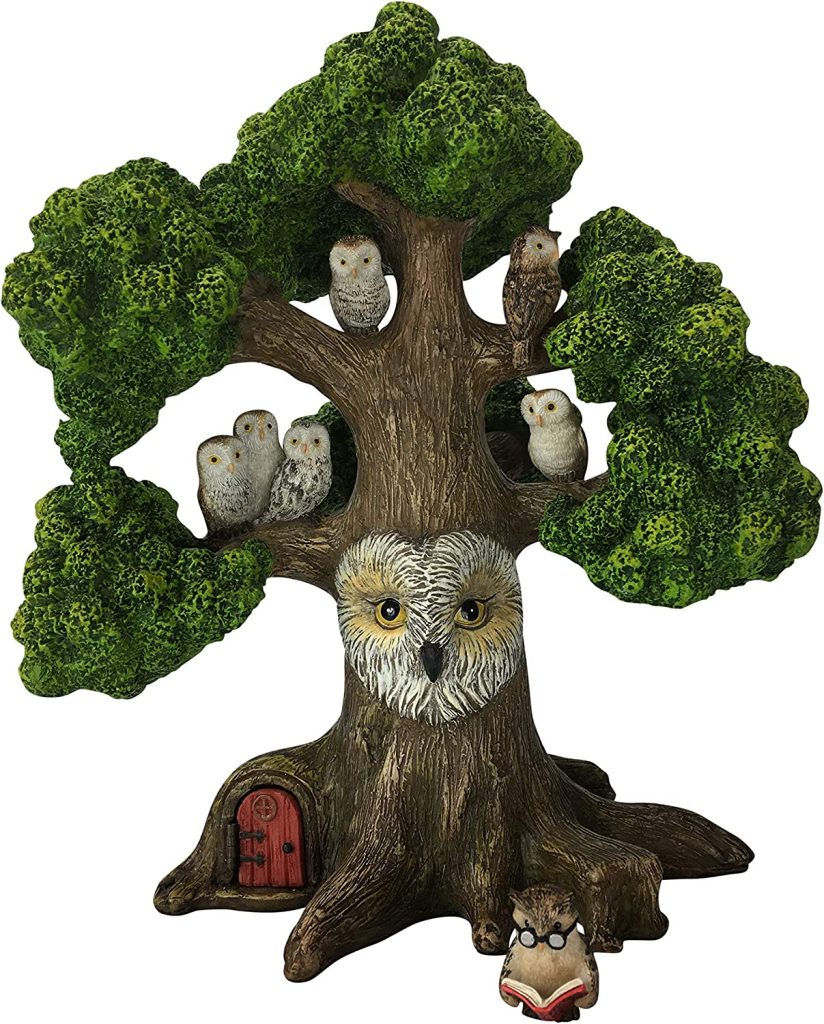 GlitZGlam Fairy Garden Tree – Theodore The Owl's Miniature Tree (9.5 Inch Tall) for The Garden Fairies and Garden Gnomes – Part of The Beautiful Azarian Collection A Fairy Garden Accessory
Theodore The Owl's Miniature tree is amazing as there are several owls that have taken up residence in it, and the tree truck also has the design of an owl's face on it. Its green foliage is also beautiful as are its charming branches. Learn more here.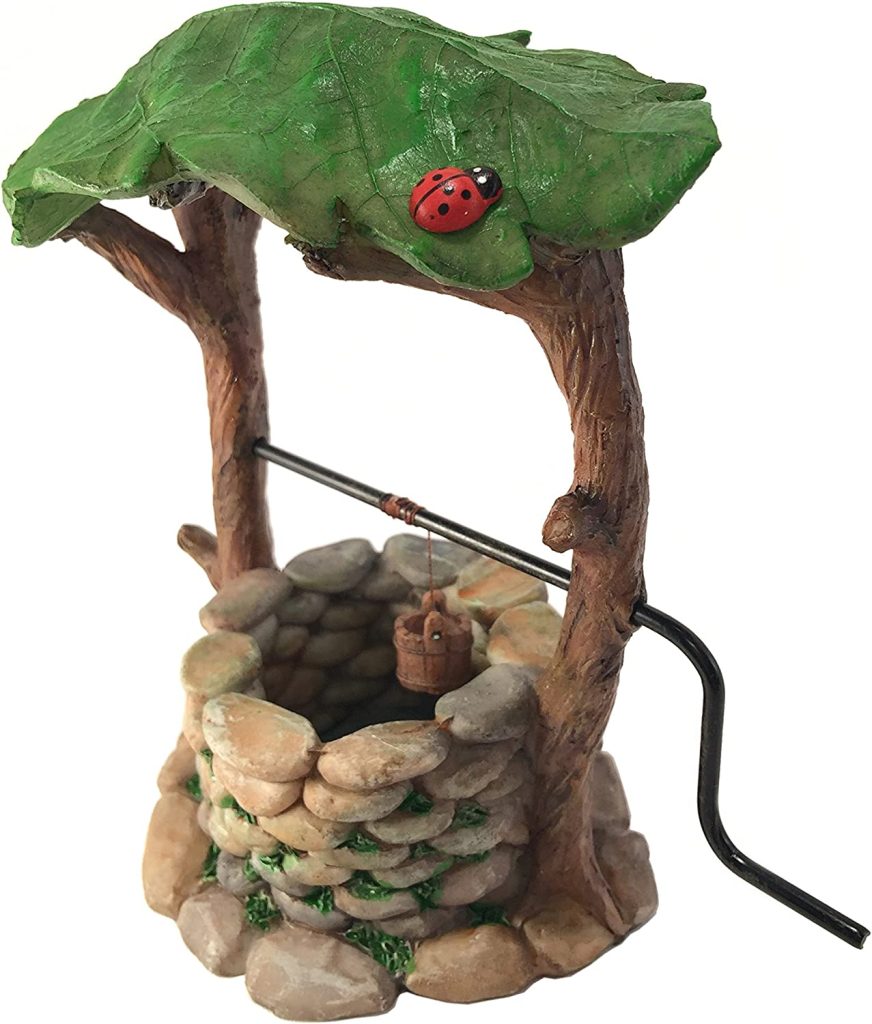 GlitZGlam Miniature Wishing Well with Movable Handle and Water Bucket for Garden Gnomes and Fairies -a Fairy Garden Accessory
Miniature Wishing Well
This miniature wishing well has a leafy roof that has a ladybug living on it. There is also some moss growing among the stunning stonework that makes up the well. There is a moveable handle and a water bucket. Learn more here.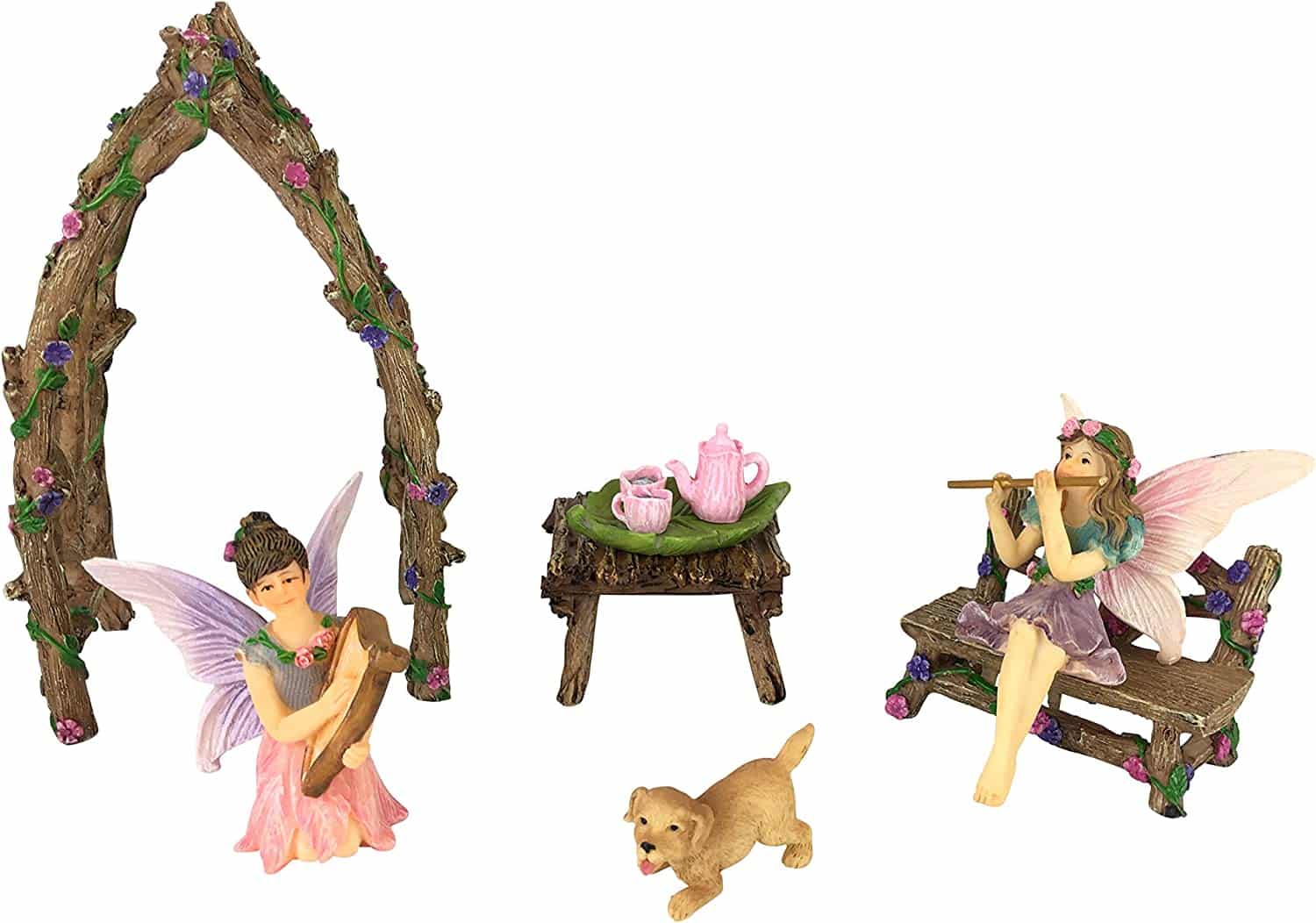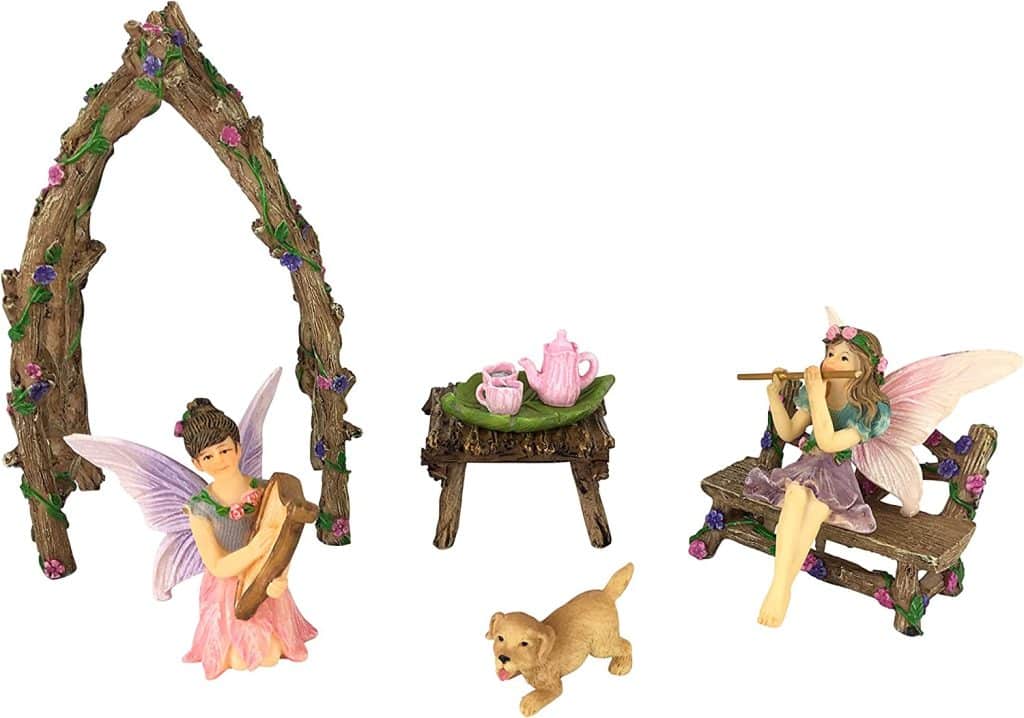 GlitZGlam Musical Sisters Fairy Garden Set: 7 Pieces Miniature Fairy Garden Accessory
Enchanted Outdoor Celebration
These fairy sisters are enjoying some time outside with their puppy and musical instruments. The landscaping is amazing. The bench and arch have flowers on them. Their tea tray is even shaped like a leaf. Learn more here.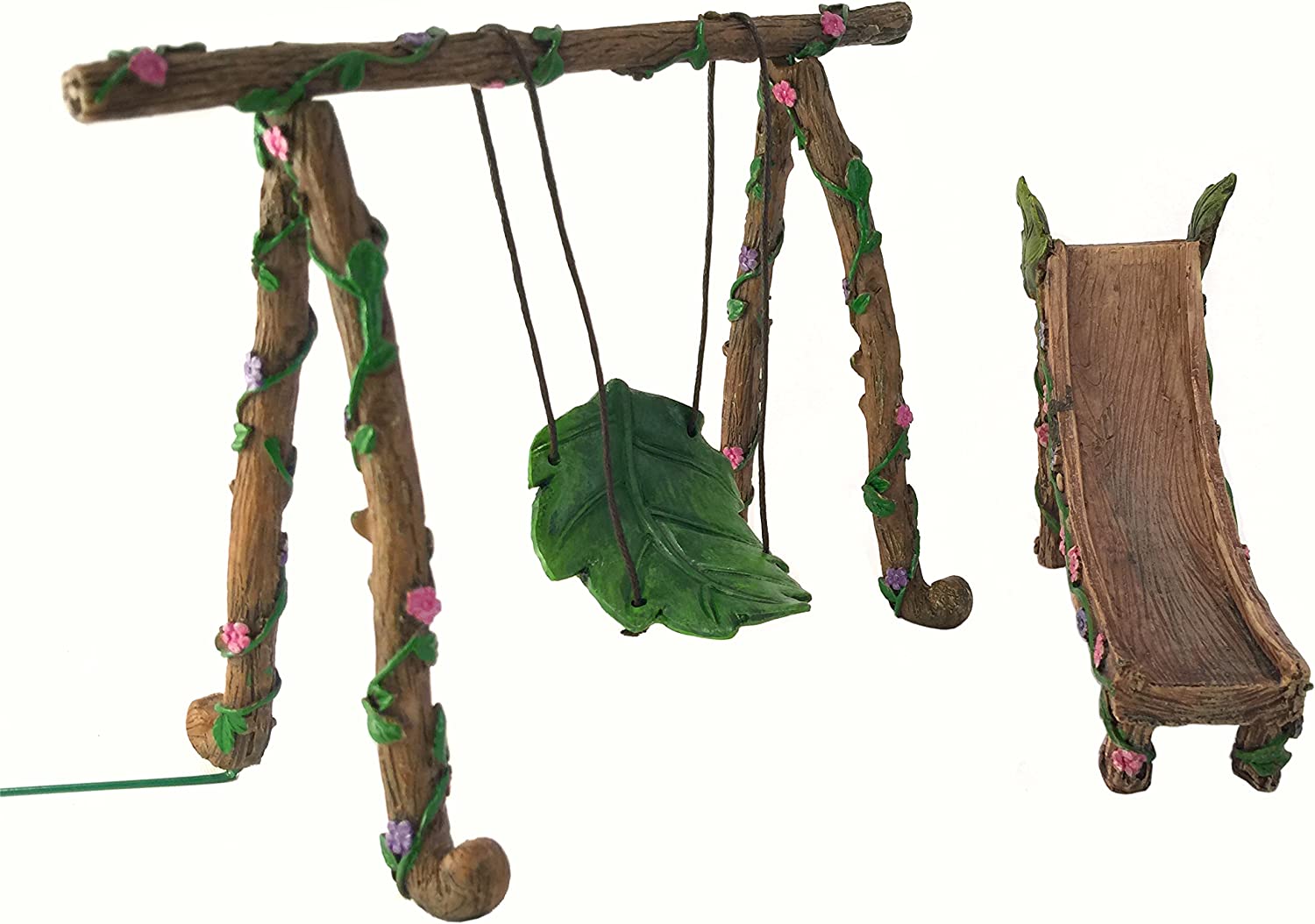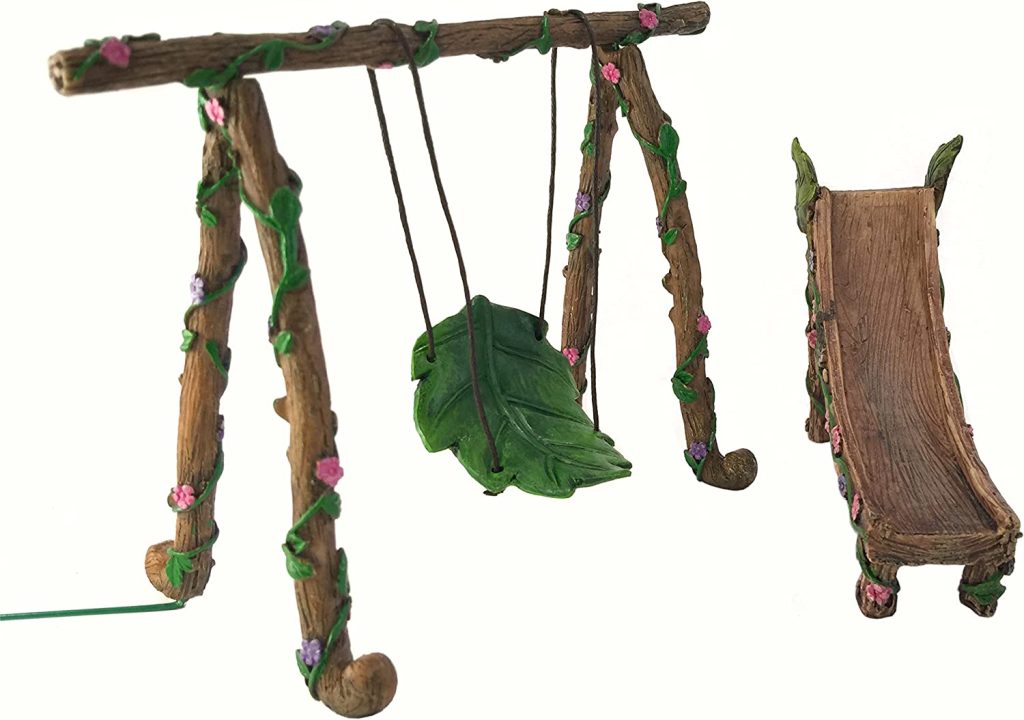 GlitZGlam Fairy and Gnome Miniature Swing and Slide Set – A Fairy Garden Accessory
Outdoor Play Furniture
Fairies and gnomes will love spending time on this amazing swing set and slide. Livana the Landscape Fairy loves the flowers and vines that are on the play set. The swing is even shaped like a leaf. Learn more here.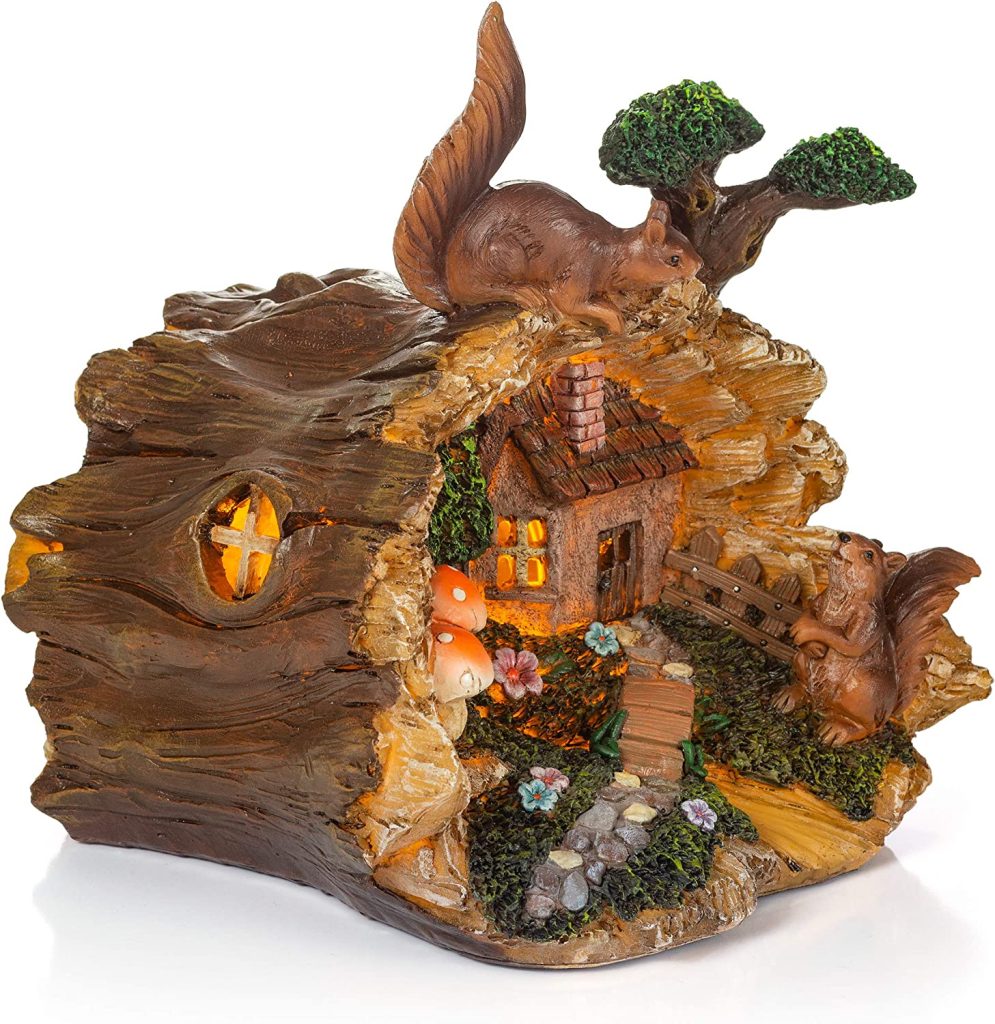 VP Home Tree Trunk Fairy House Solar Light for Home and Outdoor Decor, Tree Trunk Solar Powered Flickering LED Garden Light Tree Backyard
Tree Trunk House
This charming tree trunk house is amazing. There is even another tree growing on top of it. Flowers are planted just outside the entrance to the house. There is also a lovely stone path. The squirrels are glad that they get to live in this solar house. Learn more here.
Thank you for joining us this week in Teelie's Fairy Garden. We're glad that you got to spend time with Livana the Landscape Fairy. More magic awaits you on our website and social media pages.
Here is a magical fairy video for you to enjoy.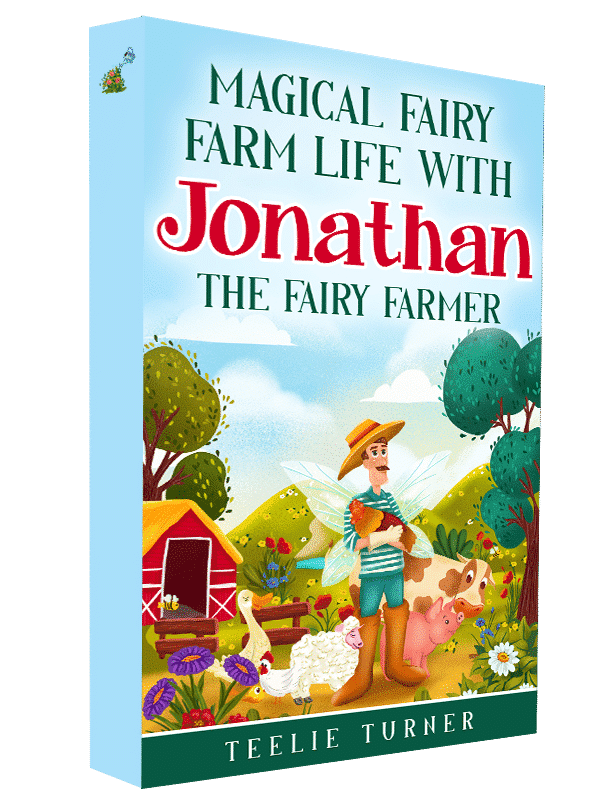 Discover Teelie Turner's complete collection of magical books here. 
Discover one of our magical book trailers.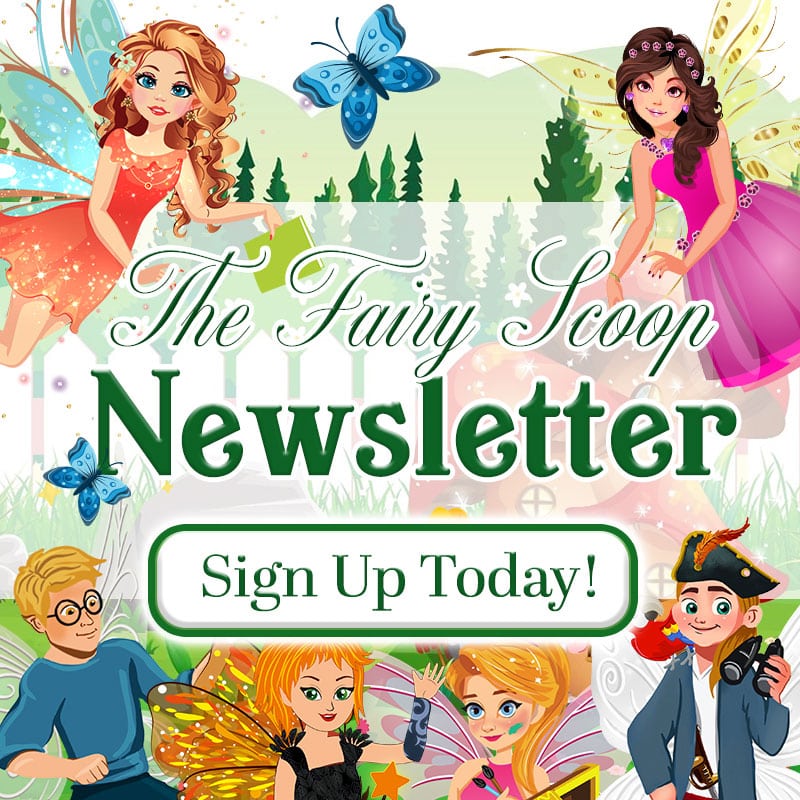 Sign up for The Fairy Scoop Newsletter here. 
Just a disclaimer – We have partnered with these companies because we use their products and/or proudly trust and endorse them – so we do receive a commission if you make a purchase or sign up for services. Often, we are able to negotiate special discounts and/or bonuses, which we will pass on to you via our links. We often get short notice on sale items available for 24-48 hours as we will pass these savings onto you.