April 9th is National Unicorn Day and Teelie's Fairy Garden wants to celebrate this special day with you. That's why we are introducing you to eight remarkable unicorns that you can have so much fun with.
You might also enjoy this video about unicorn-themed fairy gardens.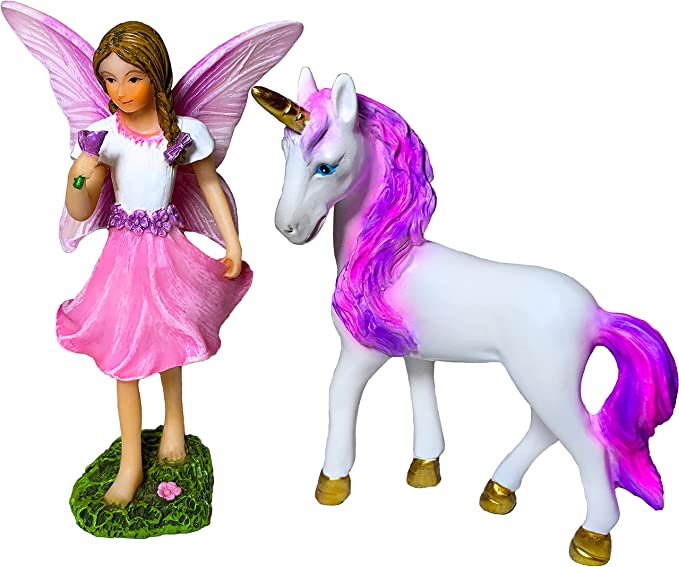 Mood Lab Fairy Garden – Fairy with Unicorn Set of 2 pcs – Miniature Figurines Statue Kit – Outdoor or House Décor
Unicorn Adventures
This unicorn and her fairy friend match in their white, pink, and purple color theme. They are spending time enjoying nature together. Meet them here.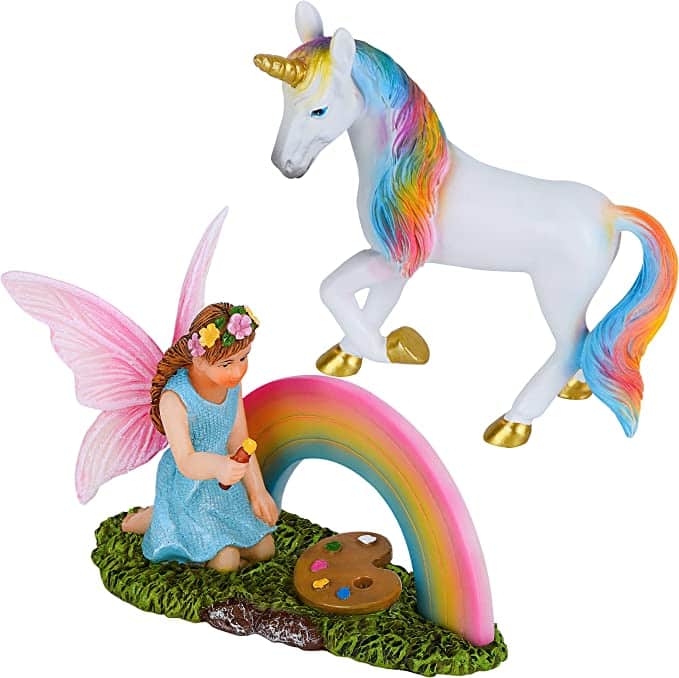 Mood Lab Fairy Garden – Unicorn Rainbow Set of 2 pcs – Miniature Figurines & Accessories Kit
All the Colors of the Rainbow
This adorable unicorn's mane has all the rainbow colors in it. Its fairy friend is also painting a rainbow with a stunning paint palette of colors. They are definitely bringing magic to Fairy Land. Learn more here.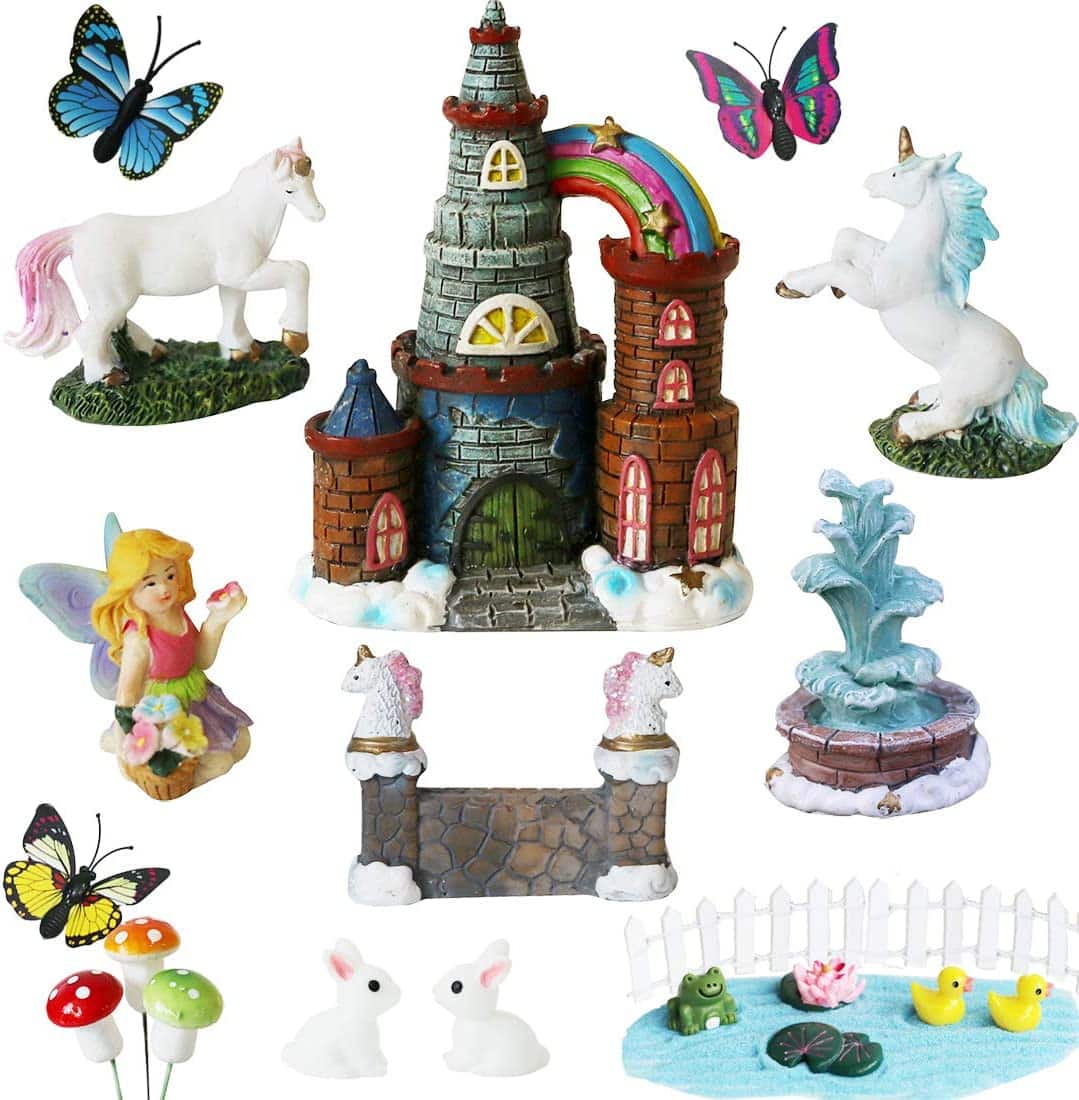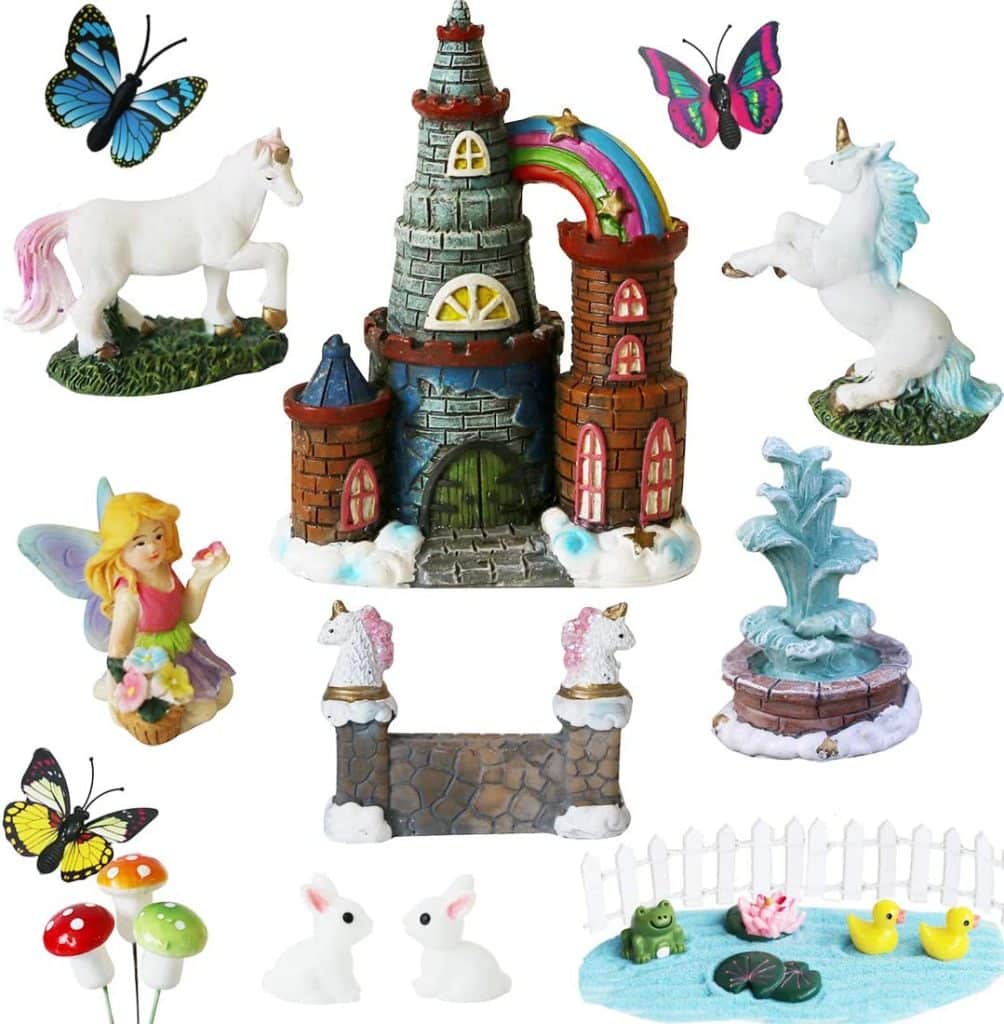 BangBangDa Unicorn Figurines Fairy Garden Accessories – Miniature Unicorn Gift Set Outdoor Garden Decoration – Fairy Figurines Castle Fountain Girl Birthday Gifts (Set of 23)
Enchanted Unicorn Castle
This magical fairy garden kit has twenty-three miniatures in it including unicorns' heads on their stone wall, a unicorn with a pink mane and tail, and another with a blue mane and tail. Learn more here.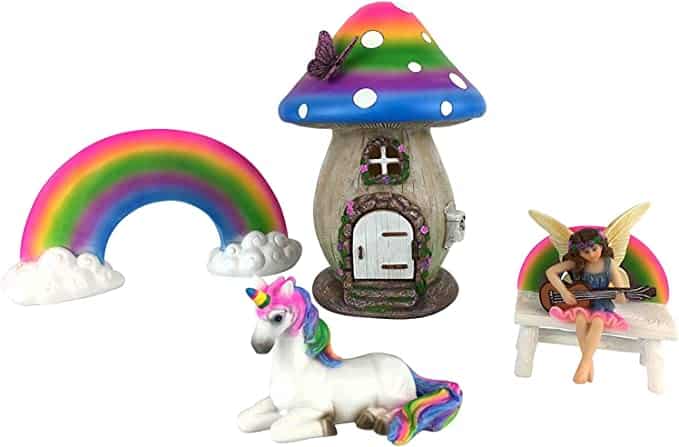 GlitZGlam Miniature Rainbow Mushroom Fairy House – 5-Piece Set – a Miniature Fairy House Set for Your Fairy Garden
Rainbow Adventures
The unicorn in this five-piece fairy garden has a unicorn horn, mane, and tail that are stunning in all the colors of the unicorns. There is also a stunning fairy cottage with a rainbow roof, a rainbow bench with a fairy using it for guitar practice, and more. Full details are available here.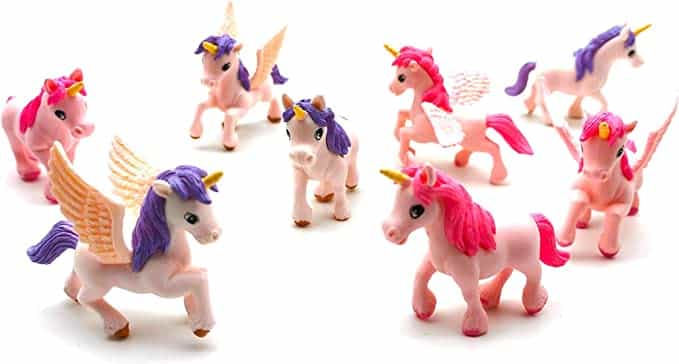 Hiawbon Mini Animals Miniature Figurines Animals Model Fairy Garden Miniature Moss Landscape Cake Topper DIY Terrarium Crafts Ornament Accessories for Home Decoration
Herd of Unicorns
This herd of unicorns is looking forward to spending time with you. They'd be happy to live in your fairy garden, or terrarium, or be a stunning decoration on top of a magical cake. Learn more here.
Schleich bayala Fairy Princess Eyela with Sparkly Unicorn Toy from The Princess and the Movie for Kids Ages 5-12
Sparkly Unicorn
Perhaps you recognize Fairy Princess Eyela as she rides on a stunning, sparkly unicorn. A unicorn is a perfect ride for such a majestic princess. We love how the blue and white on the unicorn and princess complement each other. Learn more here.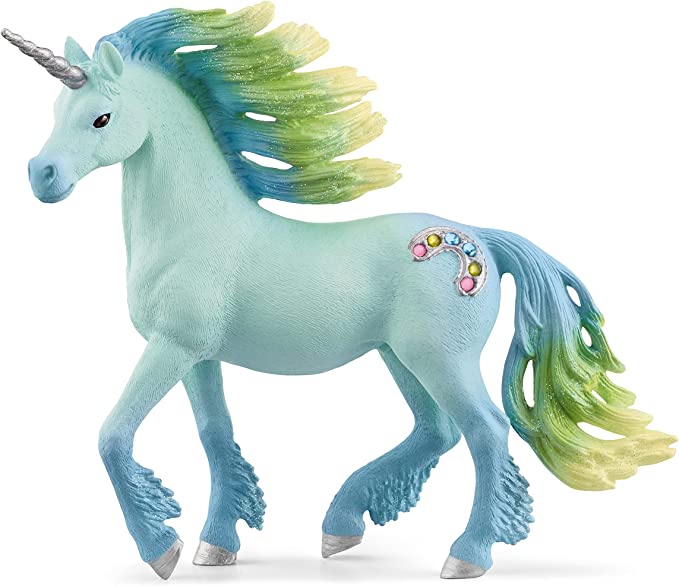 Schleich bayala, Unicorn Toys for Girls and Boys, Marshmallow Unicorn Stallion, Blue and Green ,with Gems, Ages 5+
Hand Painted Unicorn
This beautiful blue unicorn was painted in a soft blue tone. There are also some stunning green accents and a small crescent with multi-colored gemstones on the unicorn's back. Learn more here.
Schleich bayala, Unicorn Toys for Girls and Boys, Winged Rainbow Baby Unicorn Foal with Glitter Wings, Ages 5+
Cute Unicorn Foal
This cute unicorn foal cannot wait to meet you. It has a stunning white coat and majestic rainbow-colored wings. Learn more about this baby unicorn here.
Thank you for spending time with us in Teelie's Fairy Garden. We hope you've enjoyed meeting all these stunning unicorns. More magic is waiting for you on our social media pages.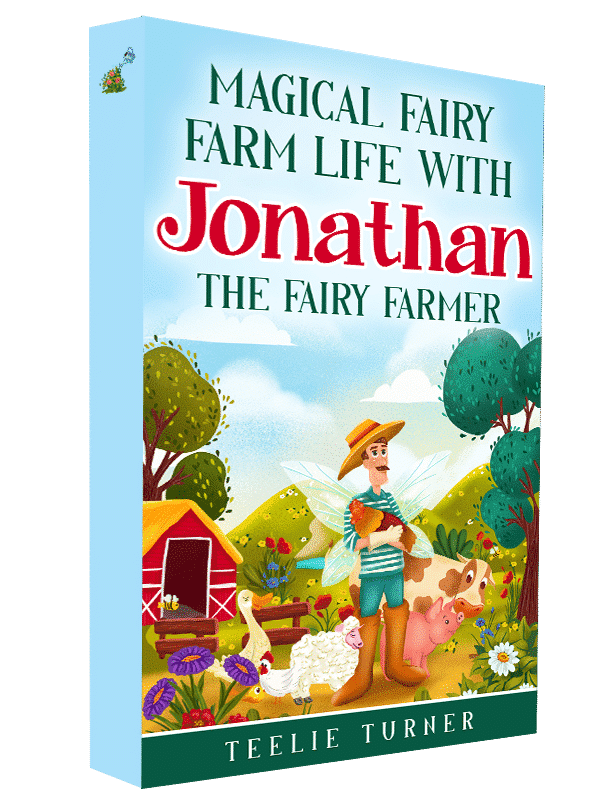 Discover Teelie Turner's complete collection of magical books here. 
Discover one of our magical book trailers.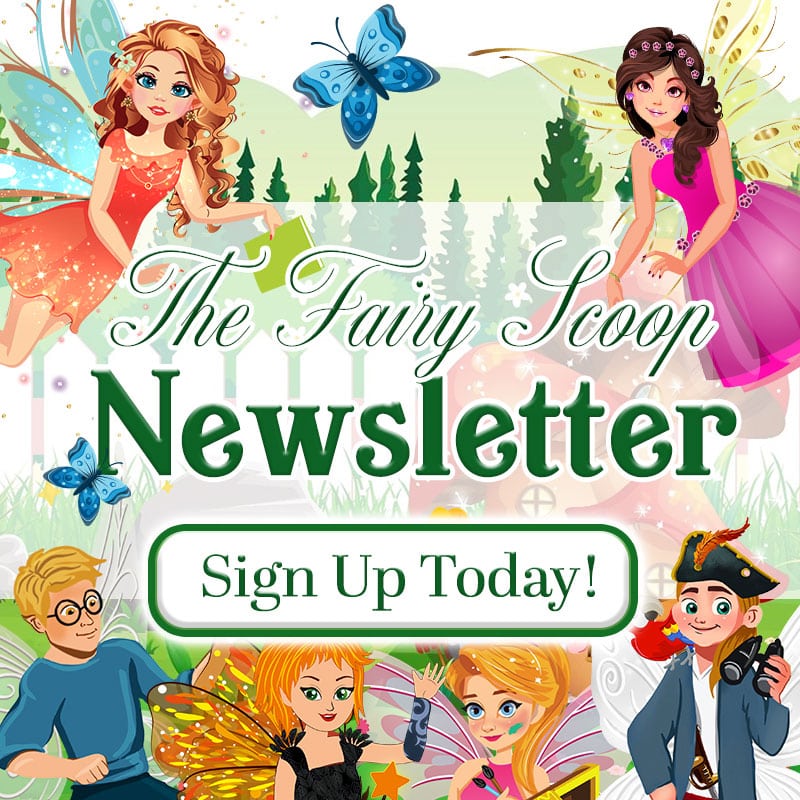 Sign up for The Fairy Scoop Newsletter here. 
Just a disclaimer – We have partnered with these companies because we use their products and/or proudly trust and endorse them – so we do receive a commission if you make a purchase or sign up for services. Often, we are able to negotiate special discounts and/or bonuses, which we will pass on to you via our links. We often get short notice on sale items available for 24-48 hours as we will pass these savings onto you.