Fairy gardens can be different things to your fairy friends. Depending on your style and preferences, fairy gardens can serve as a barnyard, a school, a home, or any type of place for your fairy friends. Fairy gardens are sometimes inspired by different things, such as seasons (Halloween, Christmas, Valentine's Day, Memorial Day, etc). But sometimes, fairy garden enthusiasts opt to go for a fairy garden playground that invites fairies to play and have fun in the afternoons. Here are some of the little accessories you can collect to create your own little fairy garden playground.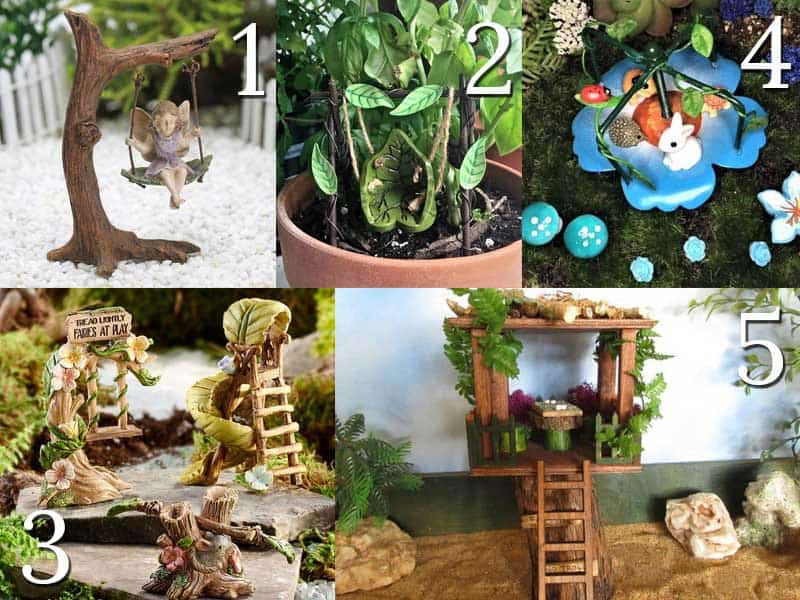 Take a walk inside the fairy garden playground and you'll find a little fairy sitting by a tree swing. She's wearing her lavender dress and is happily swinging on a tree swing that features a leaf for a seat! Very whimsical, indeed!
There can never be enough swings to go around in a fairy garden playground. That's why this charming little fairy swing is a must have for your fairy garden. It will surely invite fairies, gnomes, and pixies to spend some time hanging out in the garden. This swing features vines that grow up the poles and lush green leaves growing from it.
It's difficult not to fall in love with this whimsical playground made of delicate twigs, charming little flowers, and leaves. This set includes a see saw made of a tree trunk and branches, a swing adorned with beautiful flowers, and a dainty slide made of large leaves. Your fairy friends will delight in playing with these fairy garden playground things. A delightful touch comes in the form of a sign that reads "Tread Lightly, Fairies at Play."
This charming little merry-go-round is a must-have for any fairy garden playground. It is a fully functioning merry-go-round that features little vines crawling around it. It also includes woodland fairy friends in the form of a turtle, bunny, mouse, and hedgehog, as well as white mushrooms, blue flowers, and stepping stones for an authentic look and feel.
Complete your fairy garden playground with this lovingly crafted tree house that sits upon a solid oak log. It features a mossy rustic wooden roof top and wooden picket fencing. Step inside and discover a small oak table and stools with a tiny backgammon table. There's also some great detail in the form of a winding vine and a tiny nest with a bird on the rooftop. A couple of signs out front read "Fairies Welcome" and "No Trolls Allowed." A little fairy ladder leads up to the house, where fairies can hang out and play all afternoon!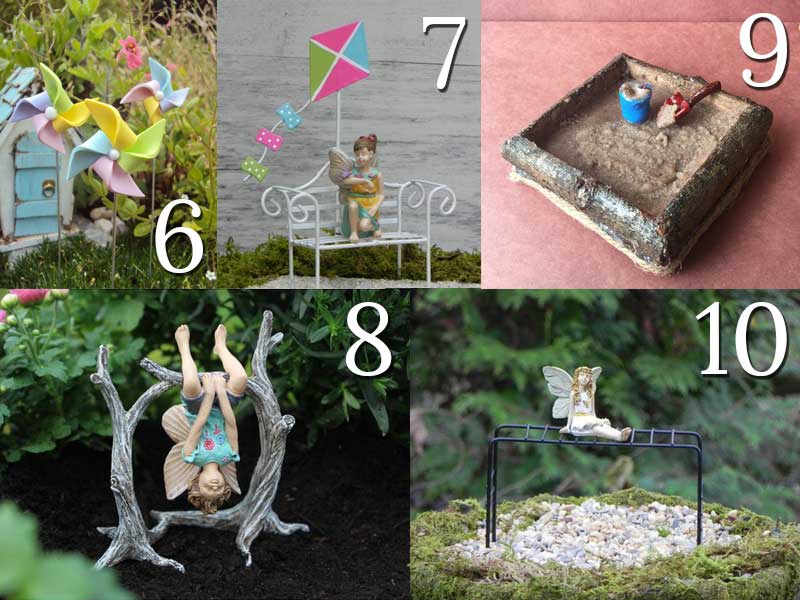 These fairy pinwheels will be a charming addition to your fairy garden playground. Fairies will enjoy blowing them and watching as they turn and create colors.
Let your fairies have a place to rest after an afternoon of playing with this fairy garden bench, complete with a kite! You can get either the bench, the kite, the fairy, or all three fairy garden accessories and mix and match!
Add more fun into your fairy garden playground with this upsy daisy accessory that lets fairies climb and hang upside down. Spark your imagination with this unique little accessory that brings a touch of playfulness to your garden.
A playground is never quite complete without a sandbox for fairy children to bask around in. This adorable miniature fairy garden sandbox is made of wood and features a handmade clay bucket and shovel, which are perfectly small enough for fairy children to play with.
These tiny little monkey bars are perfect for your playground, as it lets fairies exhaust their energy by climbing and hanging from it. It is made of metal and are very minimalistic to match any fairy garden design or theme.
Create a fairy garden playground with these accessories that are sure to bring back the fun in fairy gardening. These accessories will entice the little tyke fairies to come over and spend some time in your garden. For even more fairy garden ideas, don't forget to follow the link below!
Creating a Magical Barnyard Fairy Garden
Just a disclaimer – We have partnered with these companies because we use their products and/or proudly trust and endorse them – so we do receive a commission if you make a purchase or sign up for services. Often, we are able to negotiate special discounts and/or bonuses, which we will pass on to you via our links. We often get short notice on sale items available for 24-48 hours as we will pass these savings onto you.