Last week, our fairies went house hunting in Teelie's Fairy Garden. This week they are looking for furniture for their home/garden. Join them as they explore charming options in Fairy Land.
You can also enjoy this fun video.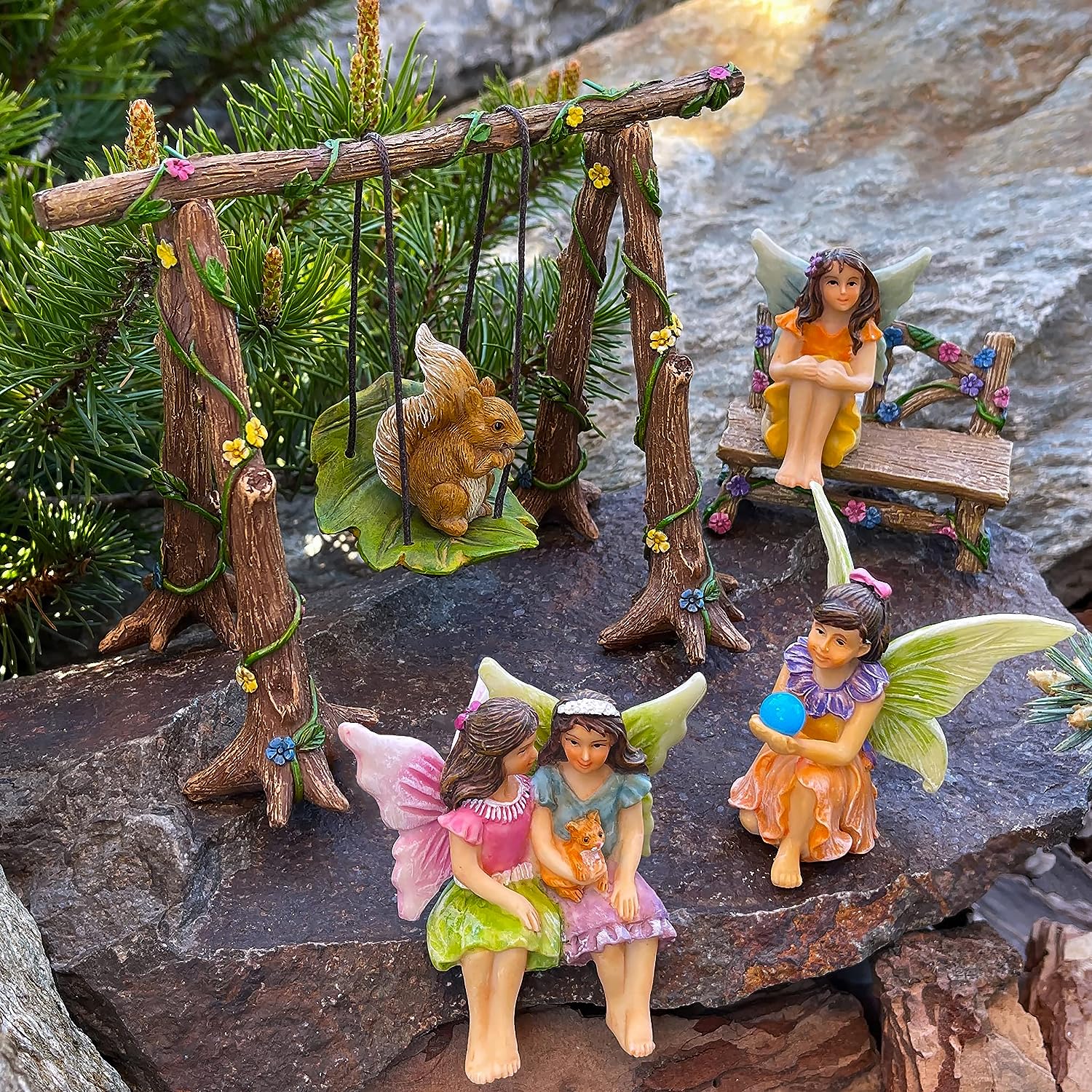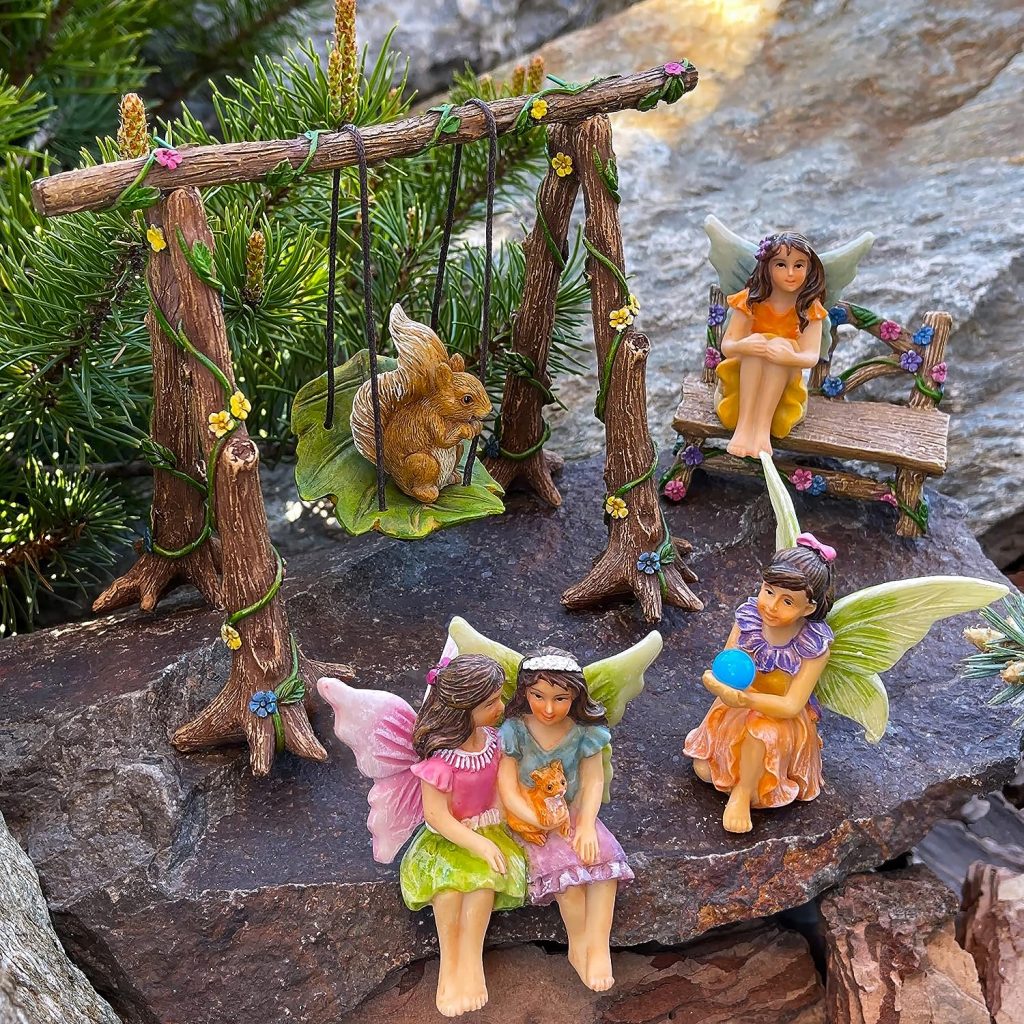 Mood Lab Fairy Garden – Accessories Kit with Miniature Figurines – Swing Set of 6 pcs – for Outdoor or House Décor
Fairies and Their Own Furniture
These enchanted fairies come with their own adorable bench and swing set. They even met a squirrel who was taking a break from preparing for autumn. There is definitely magic in the air with this fairy scene. Learn more here.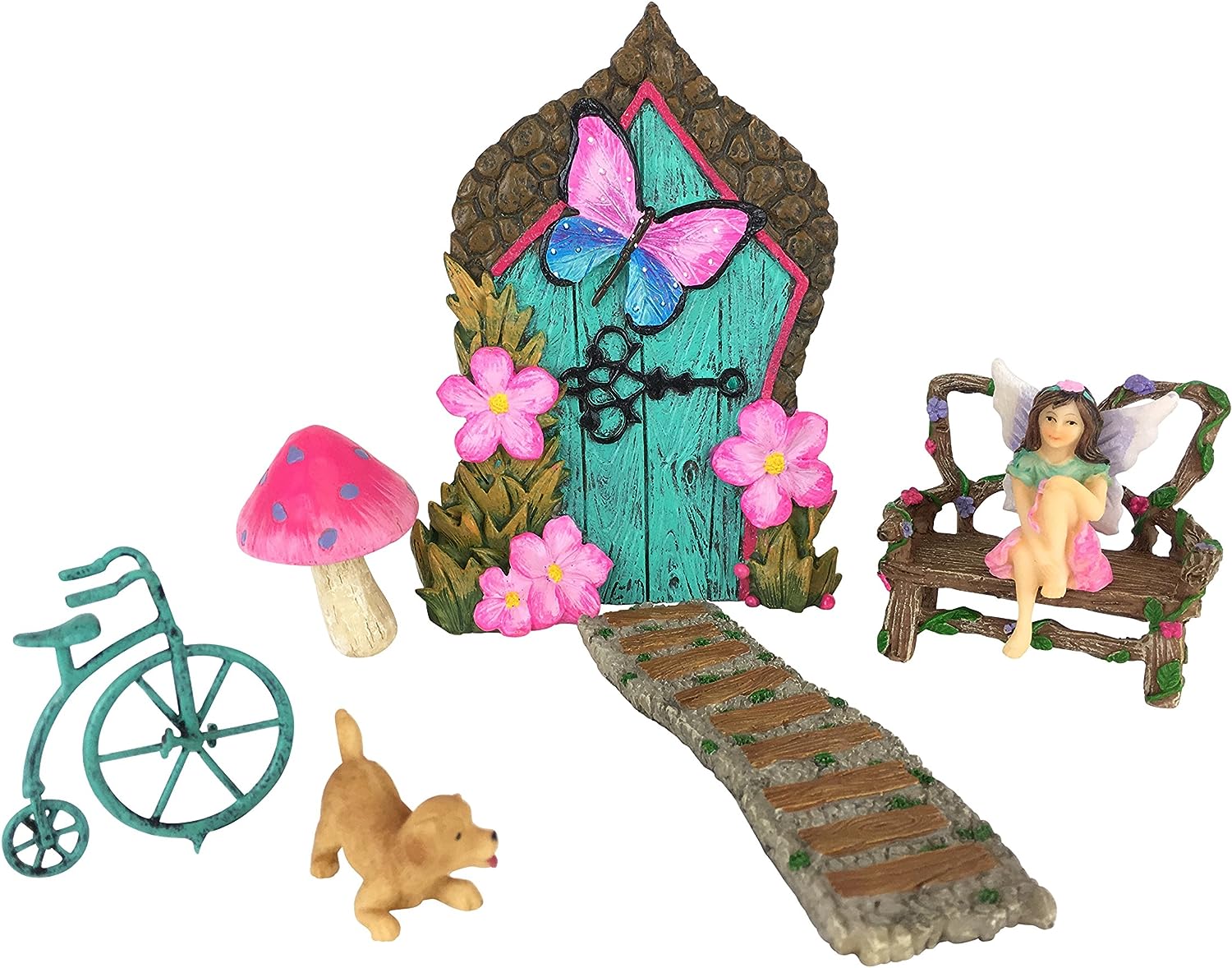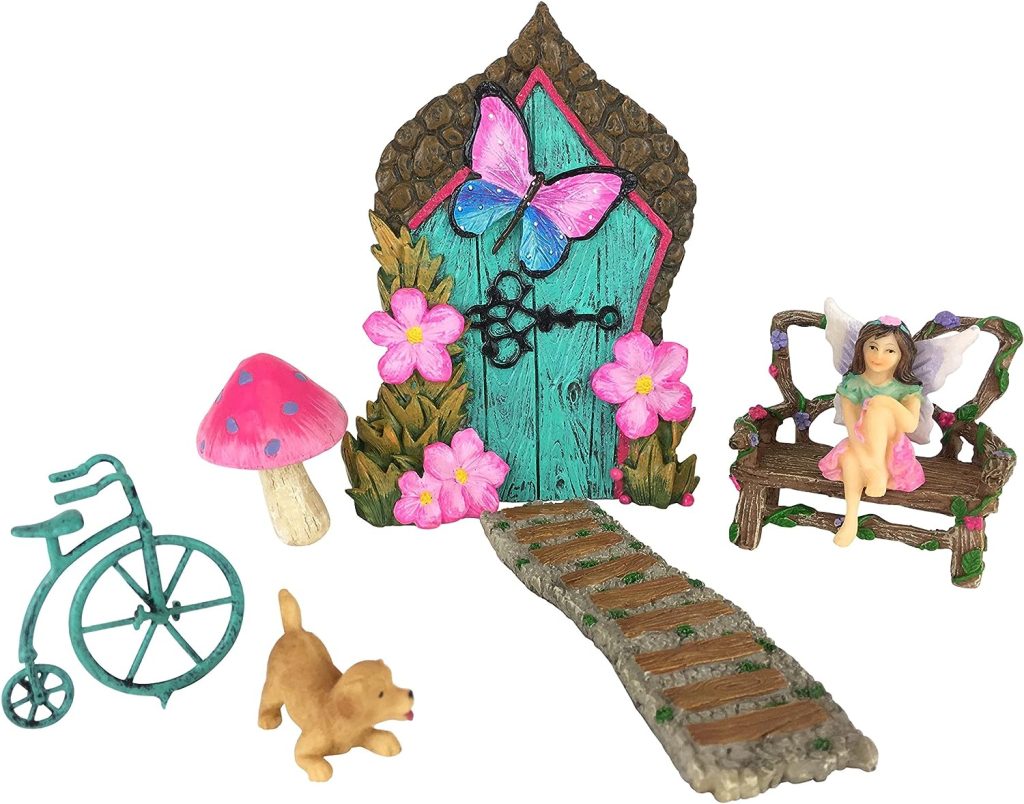 GlitZGlam Miniature Fairy House Set – 7-Piece Fairy Garden kit A Perfect Accessory for Your Fairy House
Fairy Door to the Unimaginable
Behind this fairy door are unimaginable possibilities for magic. It is time to step through the door and discover the enchanted possibilities. Outside the fairy door is a fairy sitting on a bench to greet you, an amazing walkway, and even a bicycle and a pet dog. Learn more here.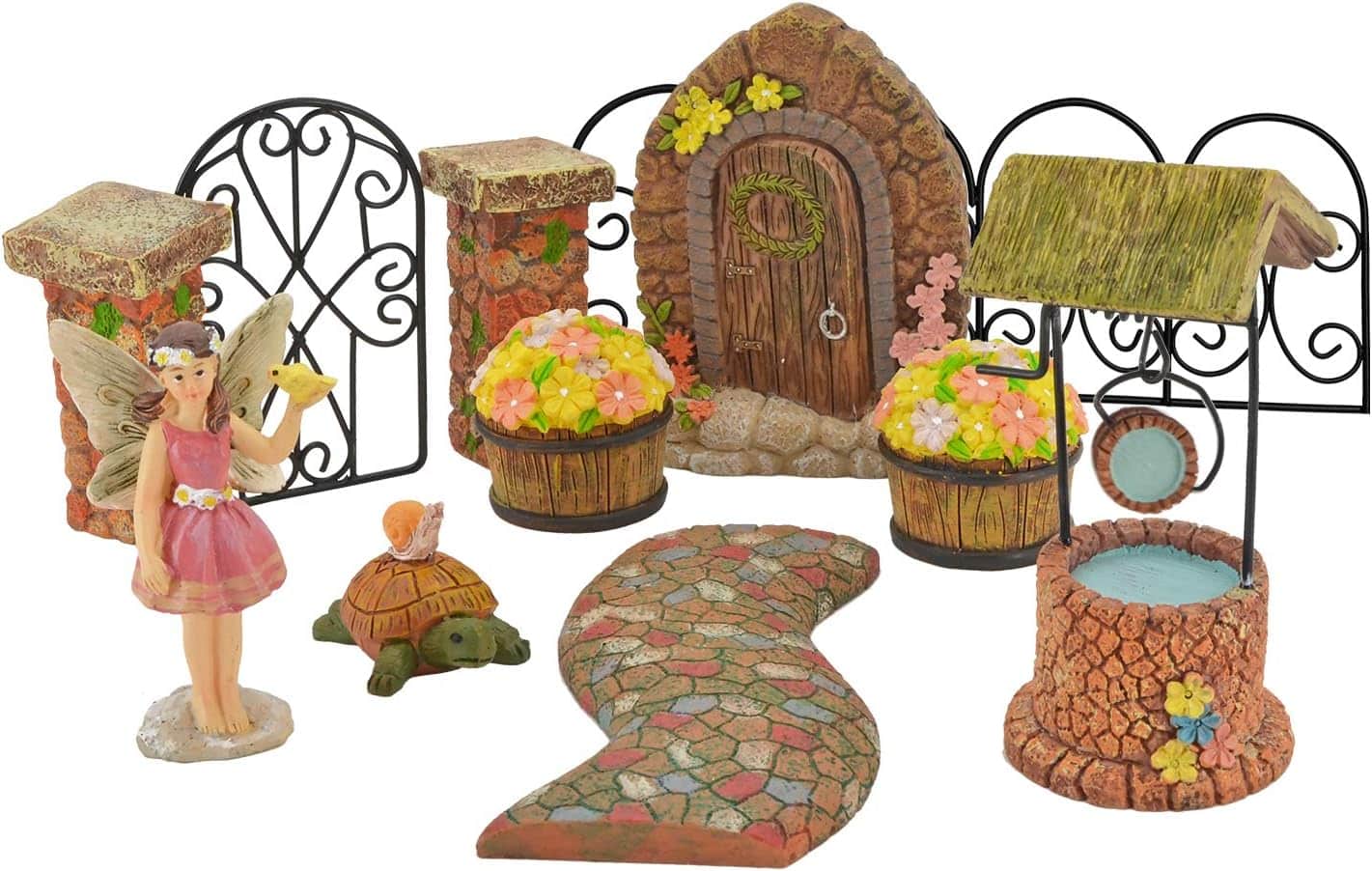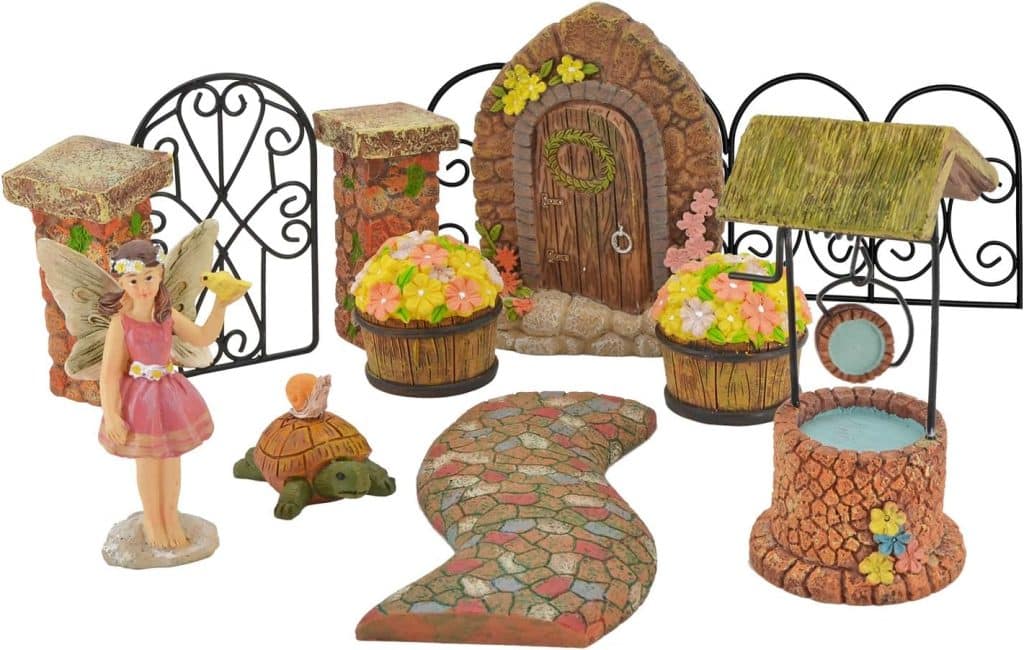 Arcadia Garden Products Pebble Lane Polyresin Fairy Garden Kit (11-Piece)
Incredible Pebble Path Fairy Adventure
Step onto the pebble path to spend some time with this beautiful fairy and her pets. Enjoy some stunning gates in your fairy garden, and a chance to toss a coin into the wishing well before you walk through the fairy door. Learn more here.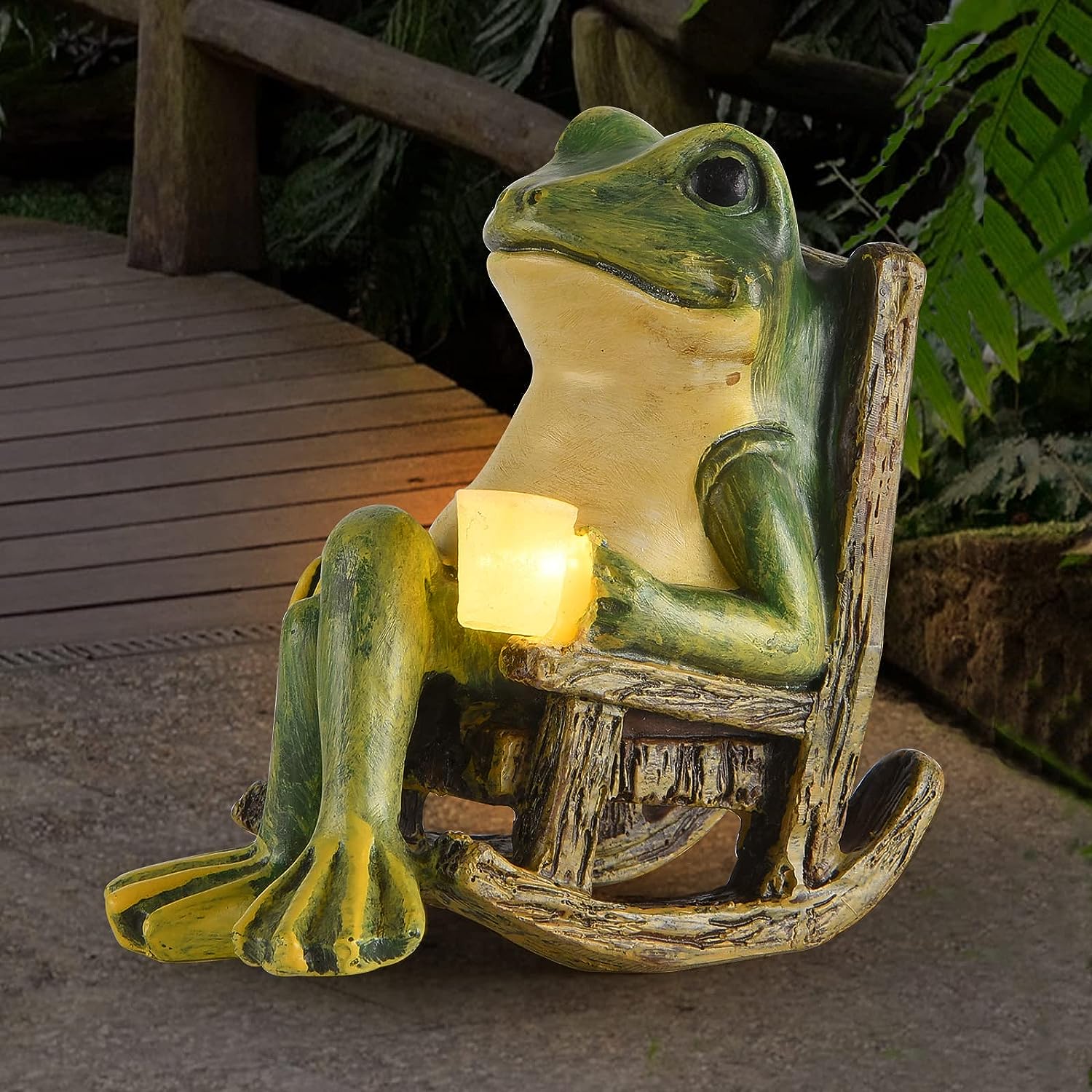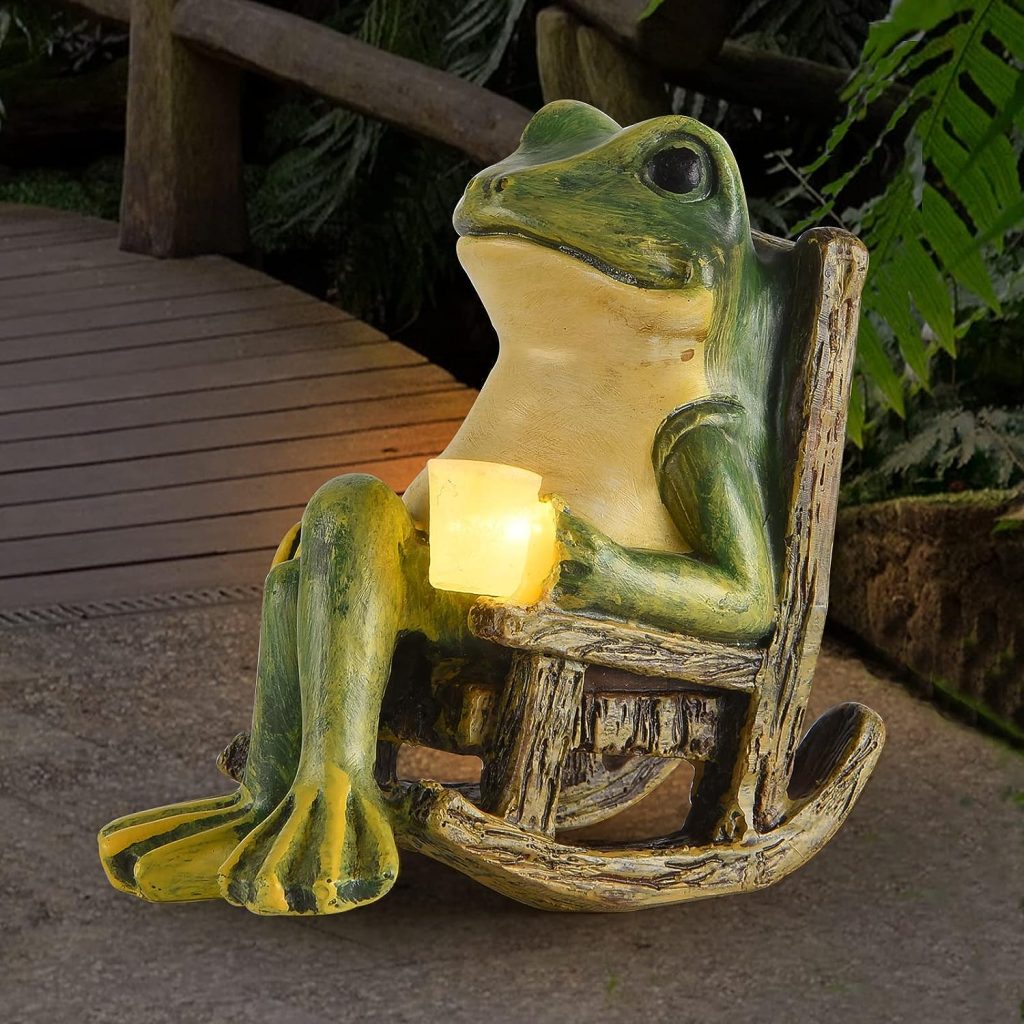 FOXMIS Miniature Frog Garden Statue Summer Home Decor Fairy Garden Accessories Outdoor Indoor Solar Garden Frog Decor Art Housewarming Gift for Patio, Yard, Lawn Ornament,3.89″x2.36″x3.93″
Relaxing Rocking Chair
This frog is enjoying a relaxing evening in its rocking chair. Its cup lights up so that it can enjoy its beverage even when it gets dark. There is so much beauty to be seen in its fairy garden. Learn more here.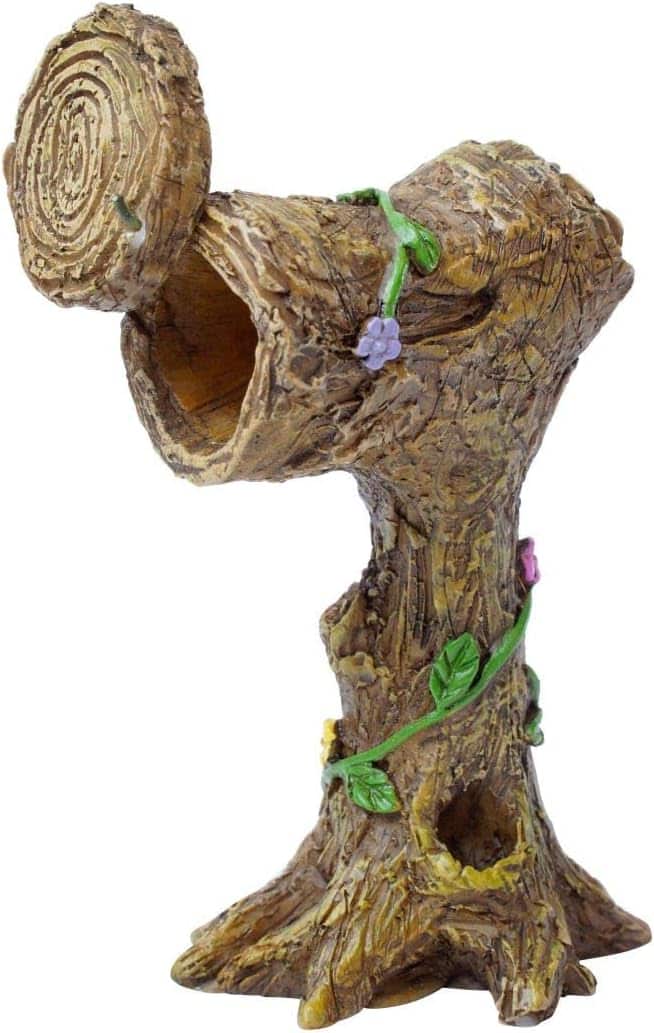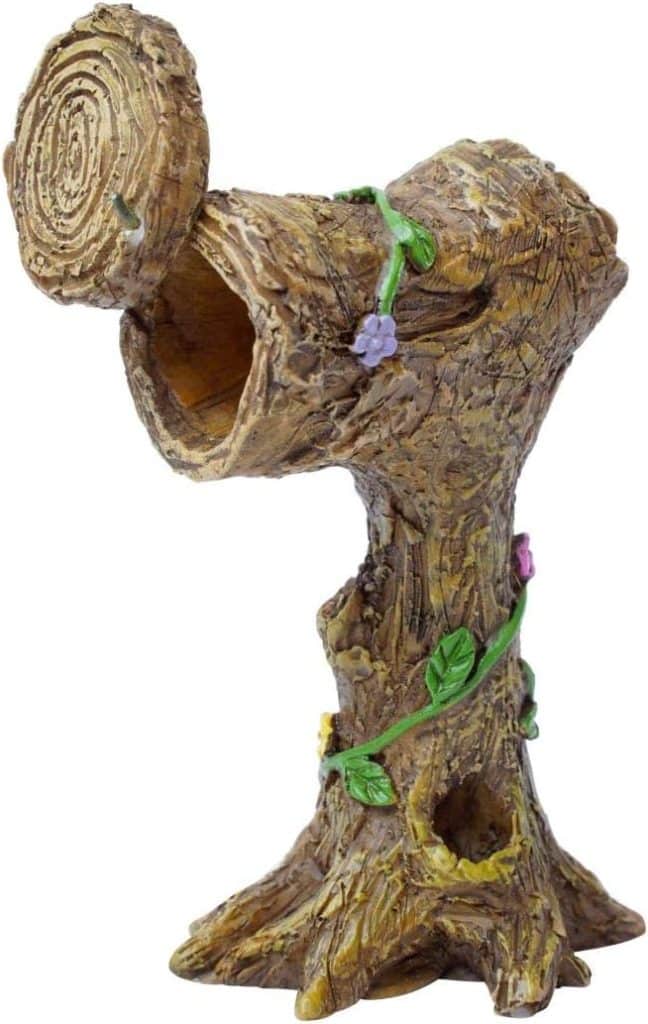 Branch Mailbox for Miniature Garden, Fairy Garden
Beautiful Mailbox
This woodland-themed mailbox is perfect for an enchanted fairy garden. We cannot wait for you to enjoy its rustic beauty. The vines and flowers that are wrapped around it add to the magic. Learn more here.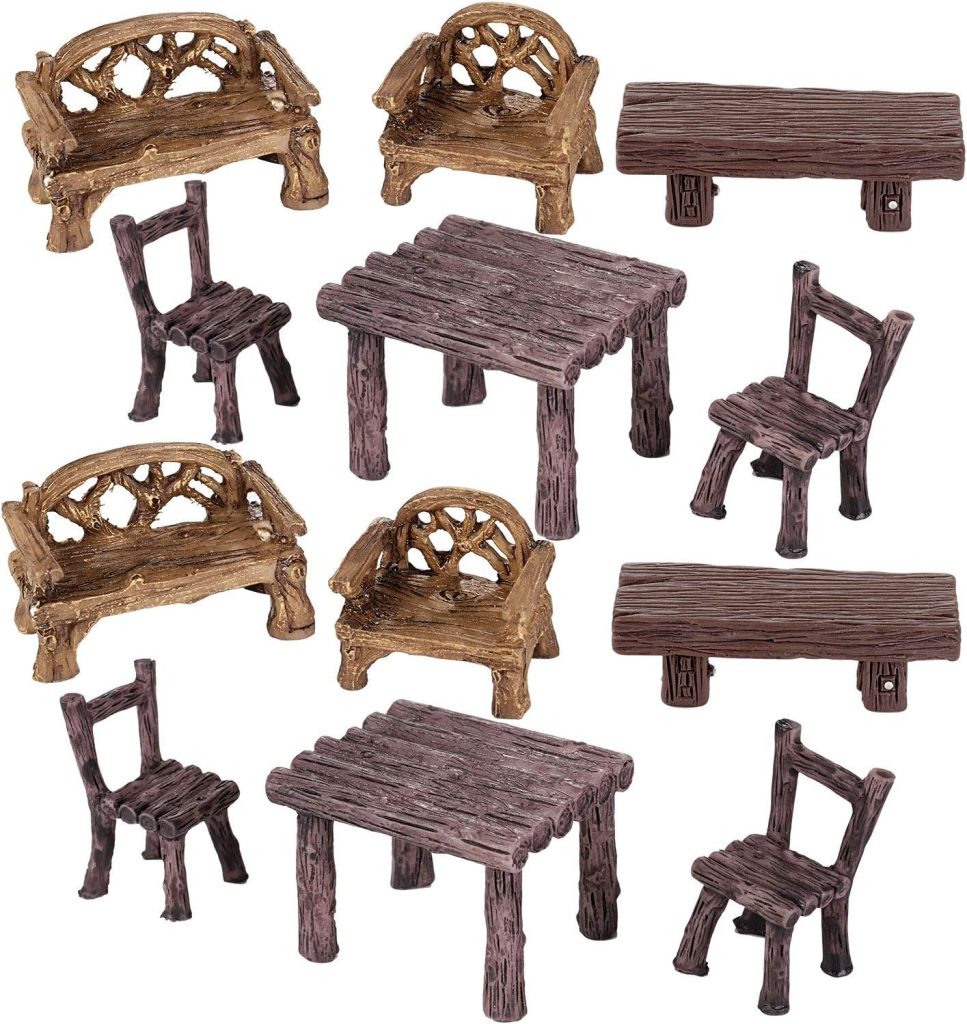 12 Pieces Fairy Garden Furniture Ornaments Miniature Table and Chairs Set Fairy Village Micro Resin Bench Chair for Dollhouse Accessories Home Micro Landscape Decoration (Vintage Style)
Magical Micro Landscaping
These rustic-looking tables, benches, and chairs are perfect for adding to the micro landscape in your fairy garden. Their shape and design have a lot of characteristics that can add fun and enchantment to your fairy garden. Learn more here.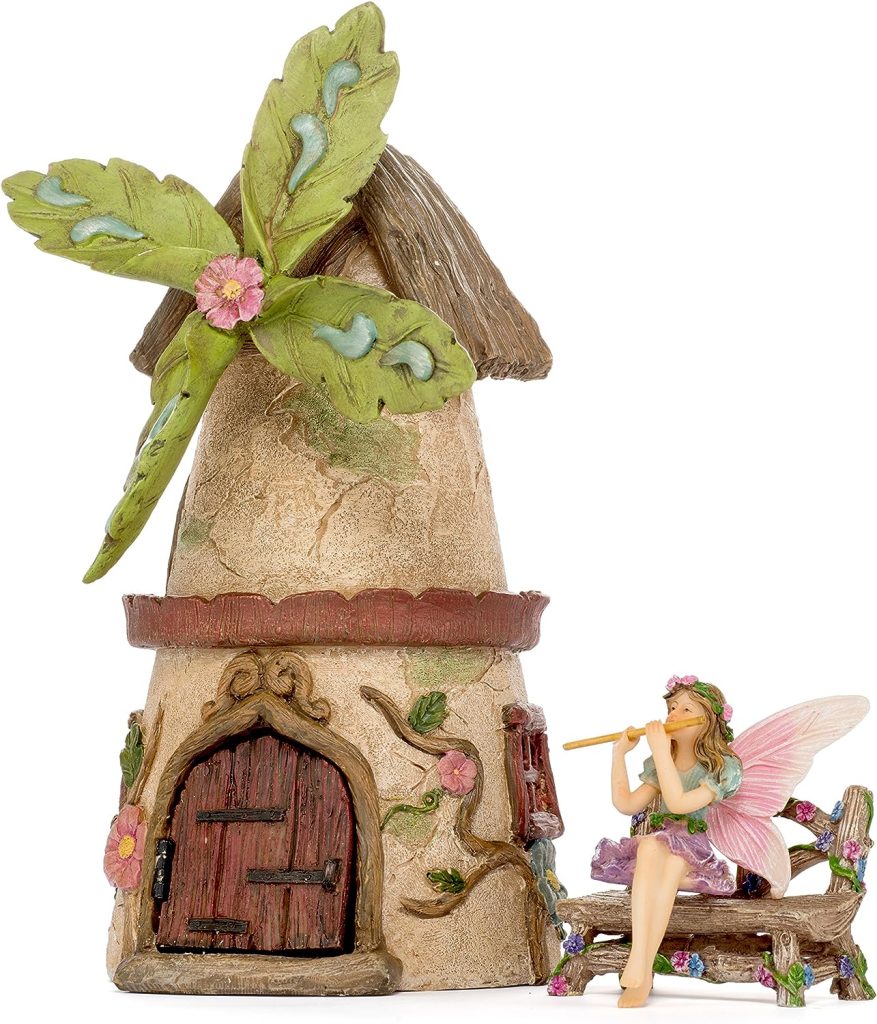 Patio Eden Miniature Fairy Garden House Kit – Mini Fairy Figurines – Indoor or Outdoor 3 Piece Accessory Set
Musical and Relaxing Melodies
This adorable fairy in the pink dress has the perfect bench outside of her charming windmill house where she can sit and enjoy the outdoors and musical melodies from her flute. It is great relaxation she says. Learn more here.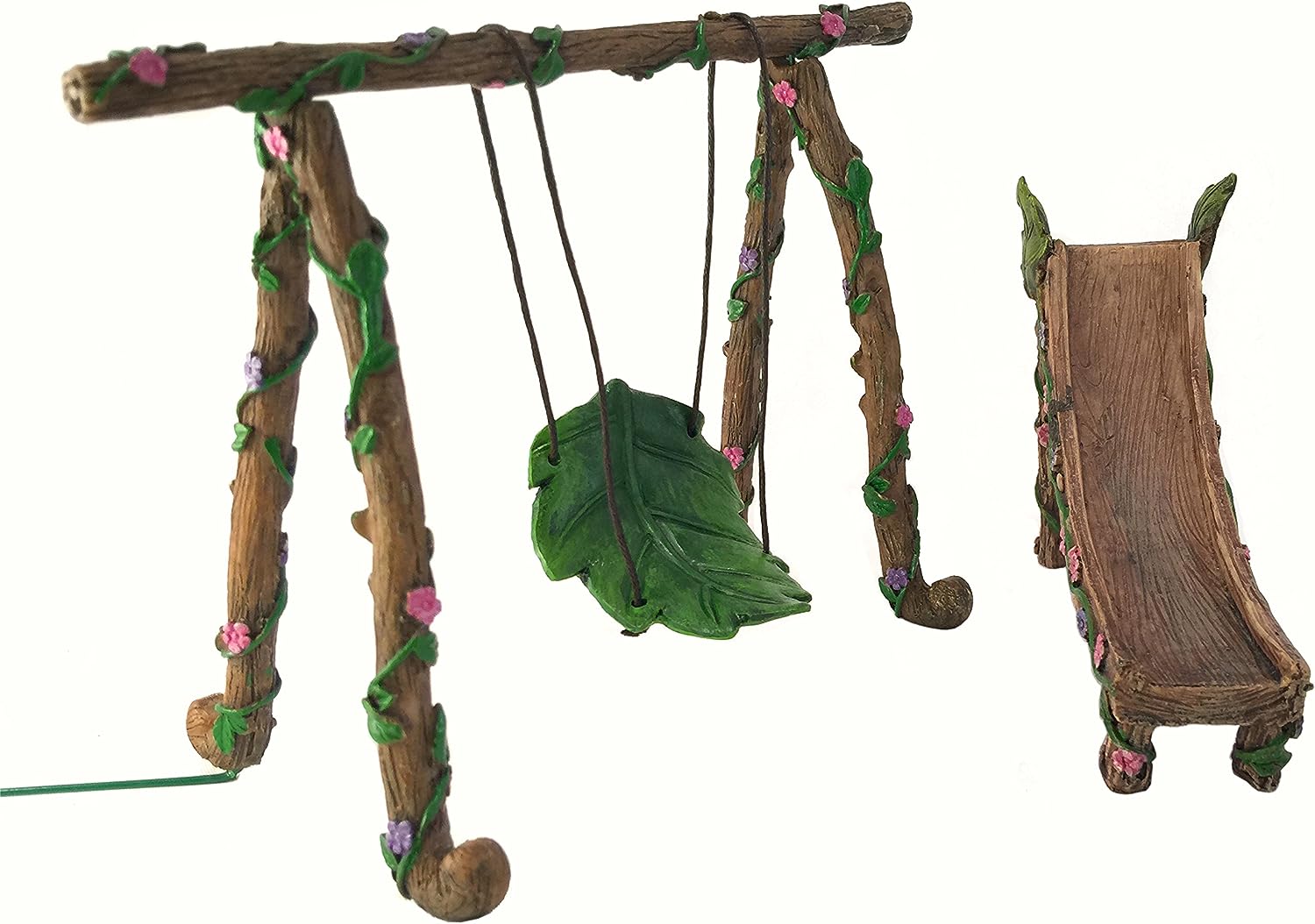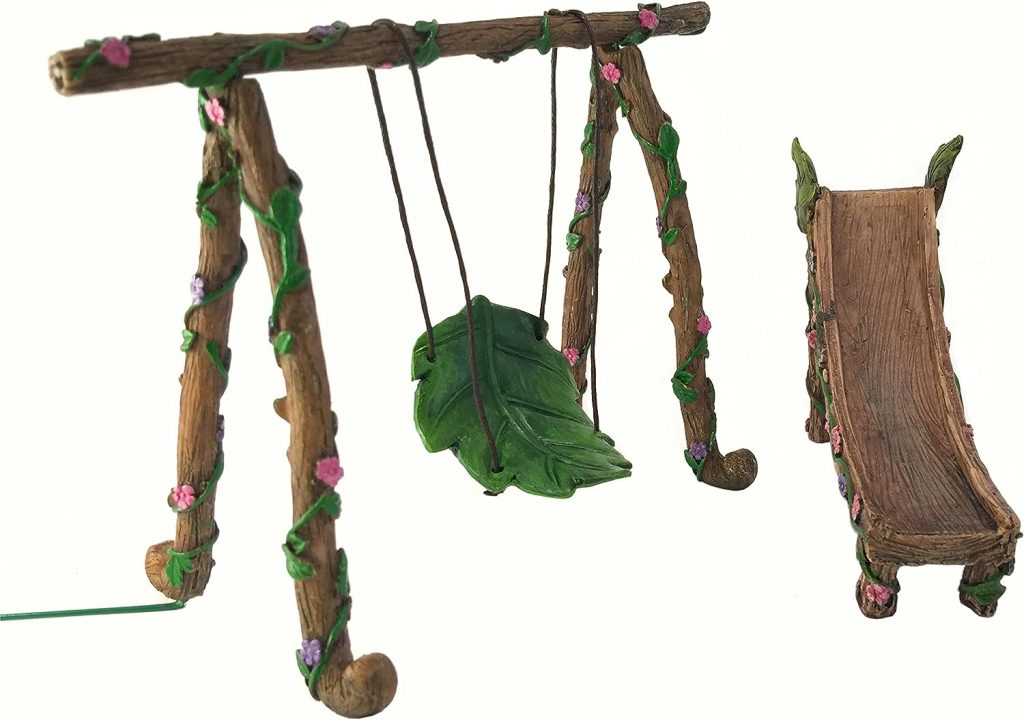 Fairy and Gnome Miniature Swing and Slide Set – A Fairy Garden Accessory
Enchanted Fairy Swing and Slide Set
Let your childlike delight come alive with this enchanted fairy slide and swing set. It has so many beautiful touches of nature to it with the wood, leaves, and flowers. Your fairies will love having it in their fairy garden. Learn more here.
The fairies in Teelie's Fairy Garden hope that you had an amazing time on this week's magical hunt for fairy furniture. Please keep visiting Fairy Land for more enchanted fun.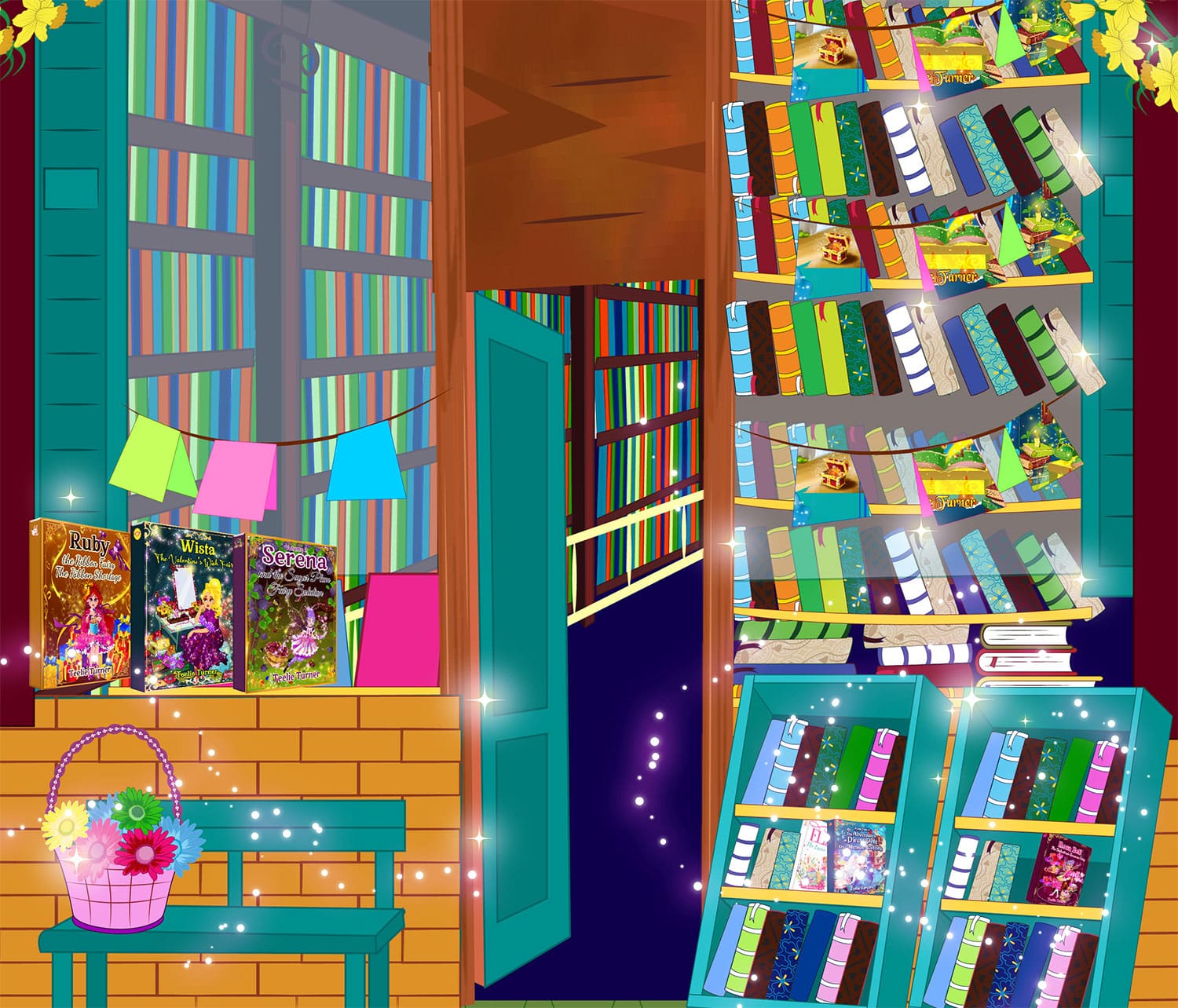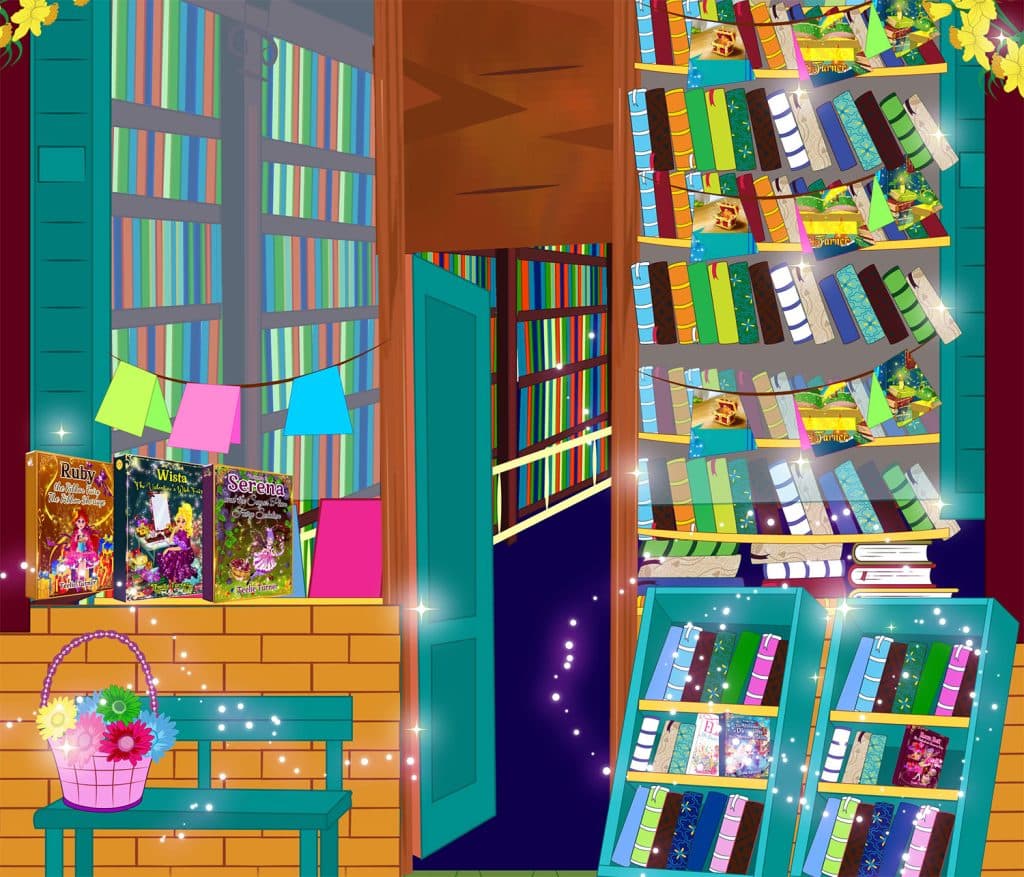 Join the Teelie Turner Magical Fairy Book Club here.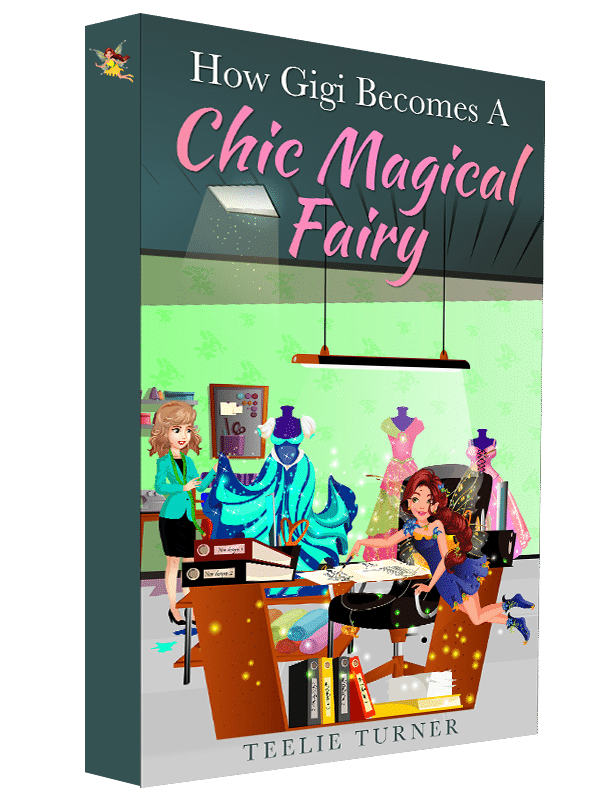 Discover Teelie Turner's complete collection of magical books here. 
Discover one of our magical book trailers.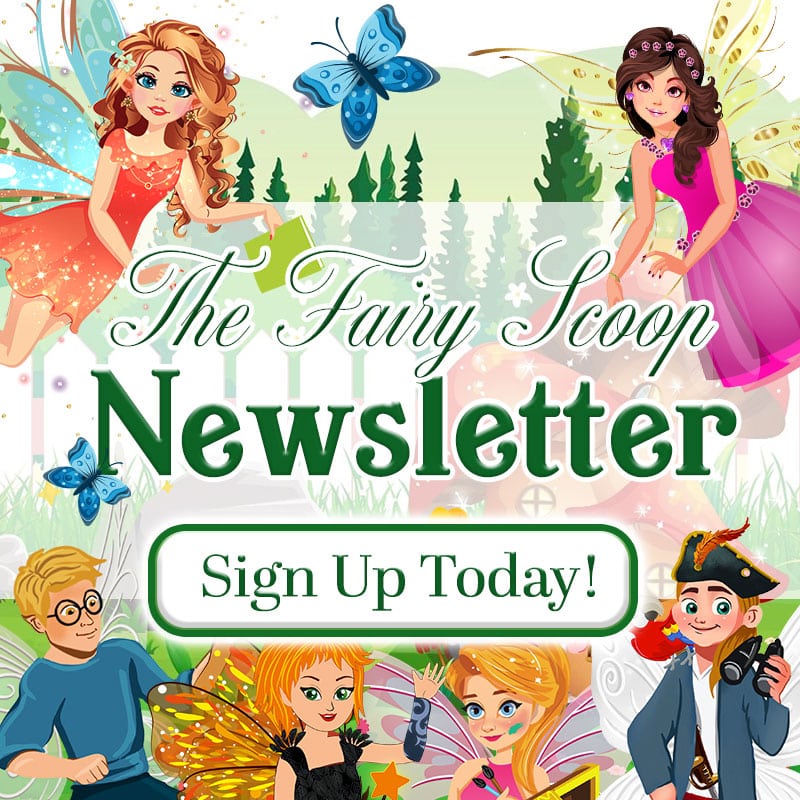 Sign up for The Fairy Scoop Newsletter here. 
Just a disclaimer – We have partnered with these companies because we use their products and/or proudly trust and endorse them – so we do receive a commission if you make a purchase or sign up for services. Often, we are able to negotiate special discounts and/or bonuses, which we will pass on to you via our links. We often get short notice on sale items available for 24-48 hours as we will pass these savings onto you.