1,771 Total Views
Teelie's Fairy Garden knows how popular raising your own chickens can be. Perhaps you're raising your own backyard flock, or you just love seeing and hearing about chickens. We've come up with a DIY for creating your own chicken-themed fairy garden. Fly along with us to learn more.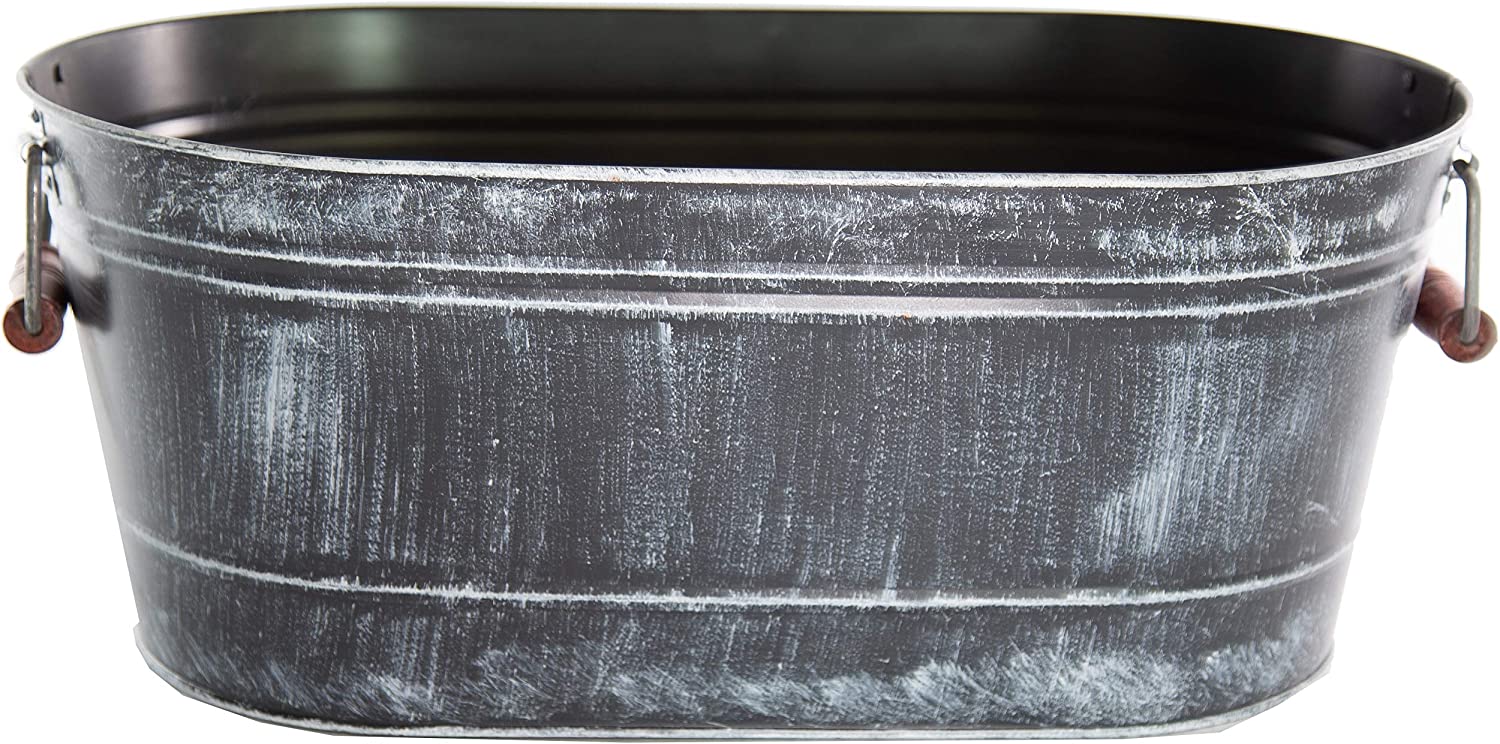 Gardener Select VB1709PM-GE Planter, Black
Select Your Container
Unless you are planning to make your fairy garden in a garden that already exists or perhaps a hollowed-out tree trunk or another natural spot, you're going to need a container to get started. Since our fairy garden theme is all about chickens, we decided to go with this silver and black planter that reminds us of a water tub for animals. Learn more about it here.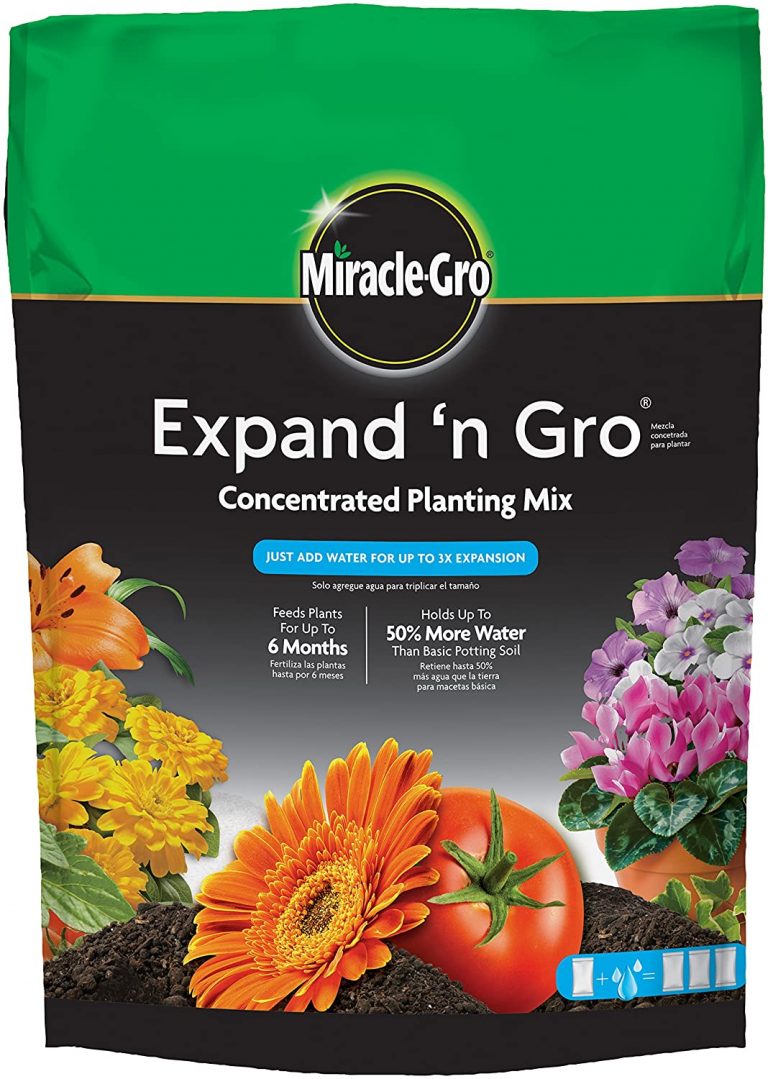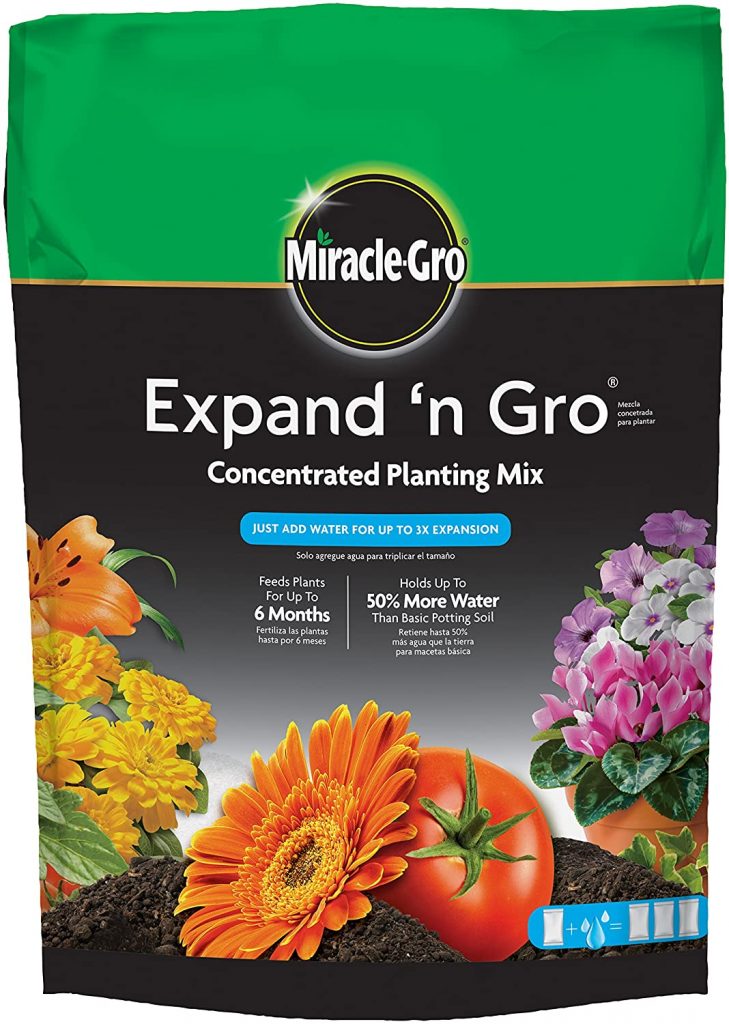 Miracle-Gro Expand 'n Gro Concentrated Planting Mix 0.33 Cu Ft
Add Soil to Your Container
Once your container is selected, you'll need to add dirt to your fairy garden especially if you plan on growing real plants in it. If you aren't using real plants, then you have more options, such as filling the bottom of the container with foam,  material, or wood to lift up your miniatures. We are sharing one type of dirt with you, but there are numerous varieties available. Find our selection here.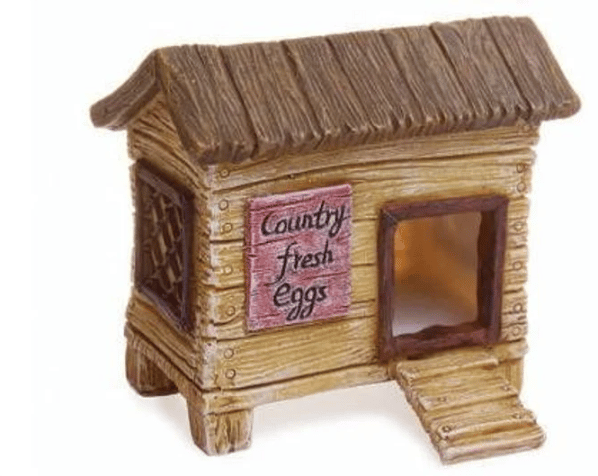 Mini Chicken Coop, Fairy Garden Chicken Coop, Mini Chickens, Mini Coop
Include a Chicken Coop
A chicken coop is a must for a chicken-themed fairy garden. We love this adorable miniature coop. It has a cute sign on it that reads 'country fresh eggs.' You can place your chicken coop anywhere you like on top of the dirt in your fairy garden. Find it here.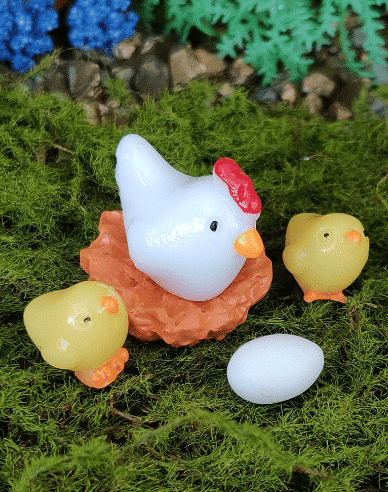 Mama Chicken With Her Baby Chicks, Miniature Chickens, Baby Chicks, Miniature Egg, Fairy Garden, Dollhouse, Farm Fairy Garden, Nest
Add Chickens to Your Coop
Now it's time to add your hens to the chicken coop. You can either place them in the coop or around or near it. Allow your inspiration and creativity to run wild as you put together the chicken-themed fairy garden of your dreams. Your chickens could be wandering around the fairy garden nibbling on grass or smelling wonderful fragrant flowers if you'd like. See the adorable mother hen and her chicks that we found here.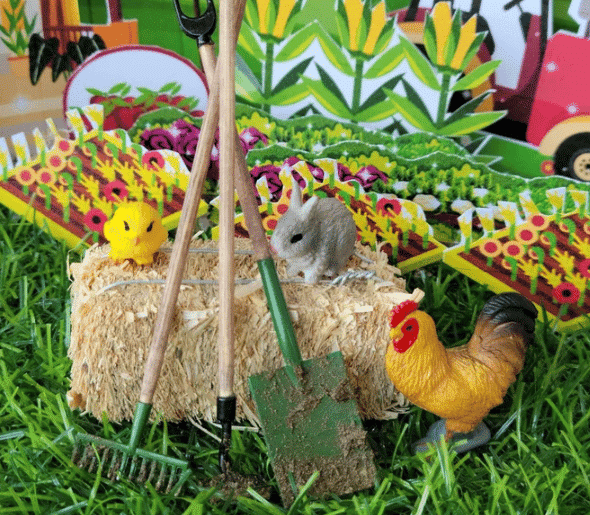 Farmer Jonathan Farm Scene, Hay, Rooster, Garden Tools, Bunny, Chick, Hay, Tools with Dirt, Rack, Shovel, Hoe, Fairy Garden, Dollhouse
Add Roosters, Friends, or Accessories
Now it's your turn to choose some more miniatures for your fairy garden. You might want to add roosters, and friends for your hens or accessories. This fairy garden scene from the Farmer Jonathan instant fairy garden that was created by Teelie Turner offers all three options as you'll find tools with dirt, a rack, shovel, and hoe which are perfect for use in a garden around the chicken coop. You'll also meet a rooster and a bunny who cannot wait to spend time with you. Learn more here.
Learn more about Farmer Jonathan in this incredible book trailer.
50 Pcs Hens and Chicken Sempervivum Succulent Cactus Mix Seeds-Beautiful and Colorful mat-forming drought tolerant Hardy Perennial/ S078
Add Succulent Plants
You can add some plants to your chicken-themed fairy garden. We love using succulents and since it is a chicken-themed fairy garden, we thought it was only fitting to choose hens and chicks as your succulents. They are a form of cactus. You can learn more about them here.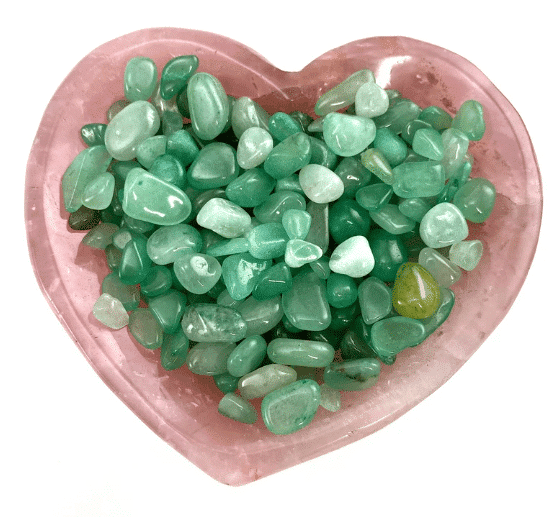 20g of Green Aventurine, mini tumbled stones, tumbled crystal, tumbled green aventurine, green aventurine chips
Include Stones
If you'd like, you can add some stones to the fairy garden. They can act as a fairy garden path or as water or grass for your fairy garden. We chose green stones as we liked the idea of having a grassy area in our fairy garden. More information about the stones we chose is available here.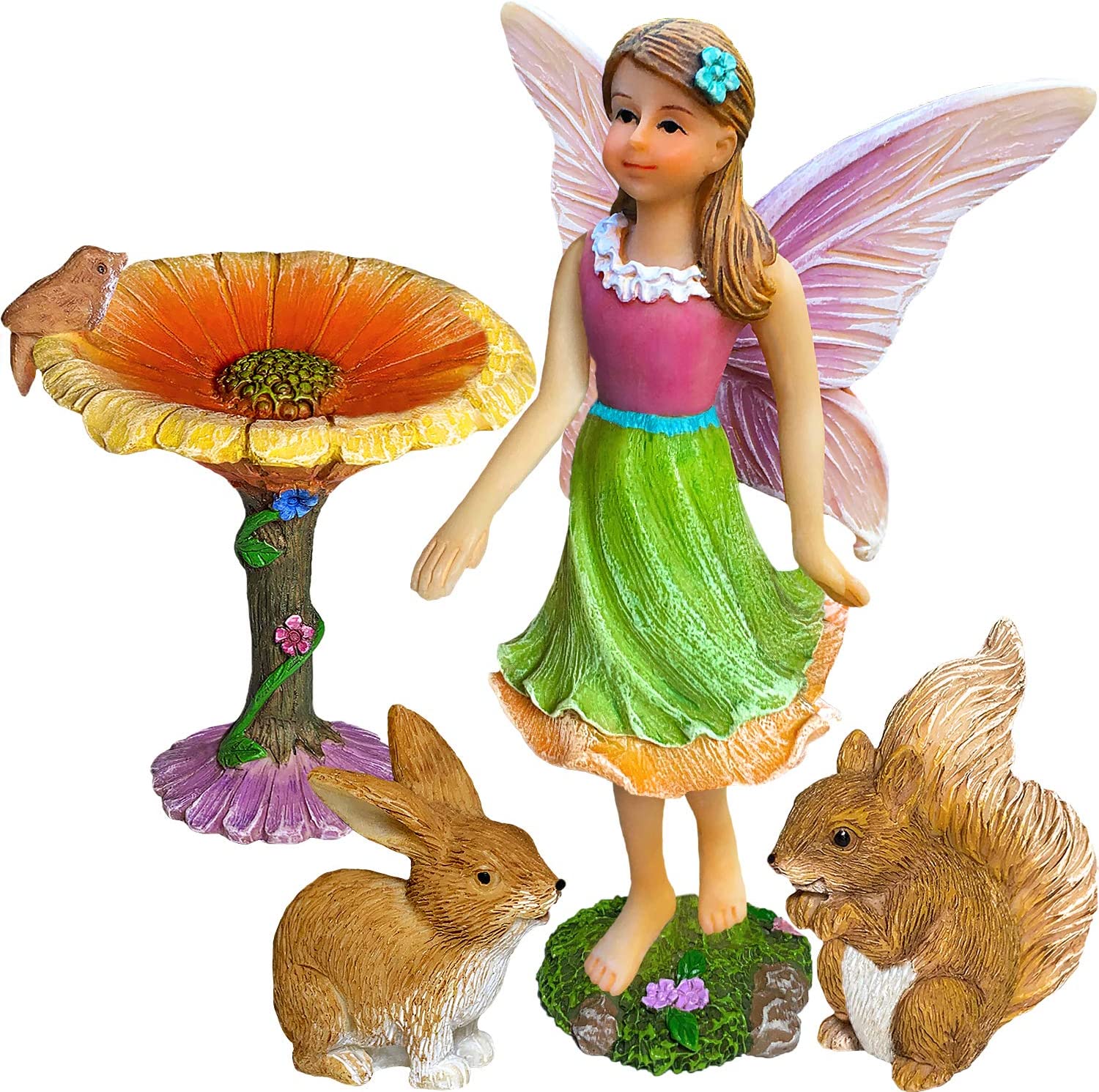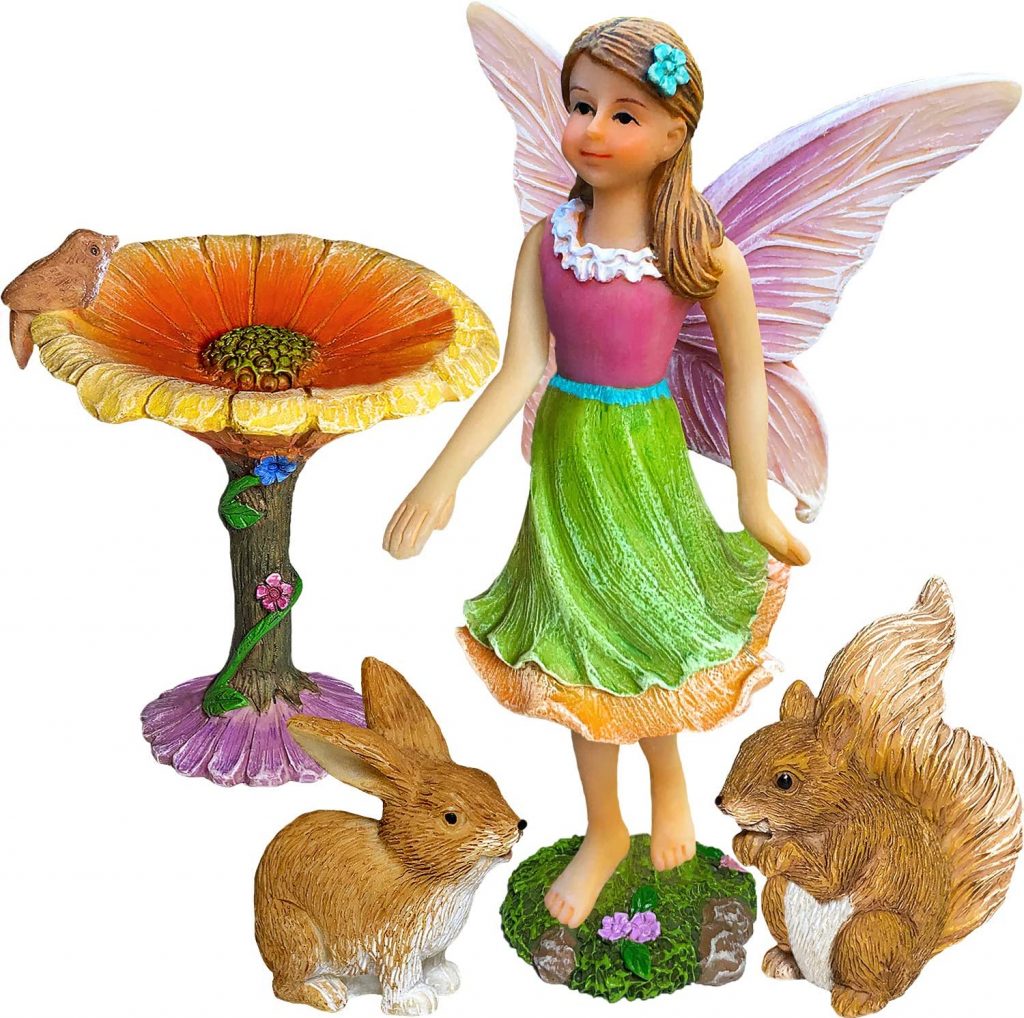 Mood Lab Fairy Garden Kit – Miniature Figurines & Accessories – Flower Set of 4 pcs – for Outdoor or House Décor
Add at Least One Fairy
Since we are creating a fairy garden, we think that adding at least one fairy to your DIY chicken-themed fairy garden is a good idea. The fairy that we chose loves nature and animals and has a few accessories to bring along with herself including a bird bath, a pet bunny, and a pet squirrel. Complete details are available here.
Thank you for taking the time to visit Teelie's Fairy Garden. We hope that you've had a wonderful time learning about how to create your own chicken-themed fairy garden with us. Please come back and see us again soon for more magical fairy garden DIYs and scenes.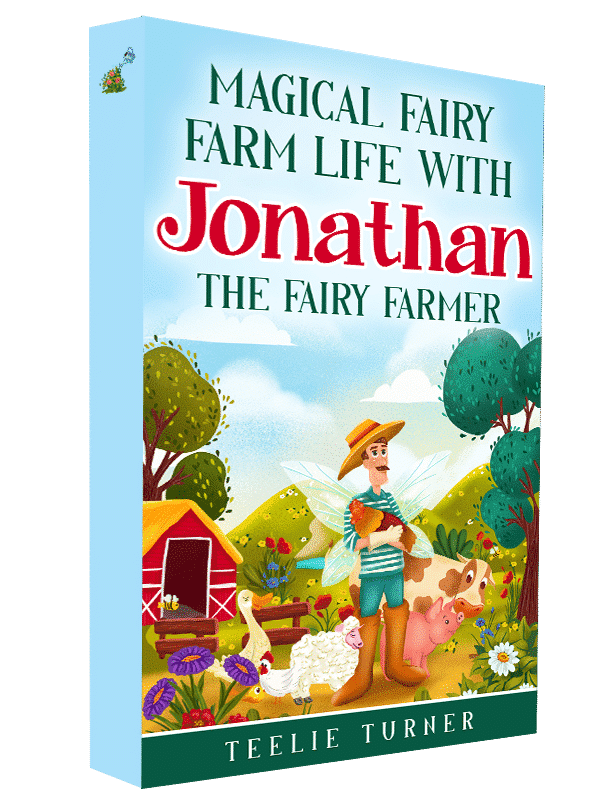 Discover Teelie Turner's complete collection of magical books here. 
Discover one of our magical book trailers.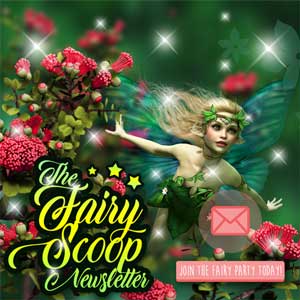 Sign up for The Fairy Scoop Newsletter here. 
Just a disclaimer – We have partnered with these companies because we use their products and/or proudly trust and endorse them – so we do receive a commission if you make a purchase or sign up for services. Often, we are able to negotiate special discounts and/or bonuses, which we will pass on to you via our links. We often get short notice on sale items available for 24-48 hours as we will pass these savings onto you.