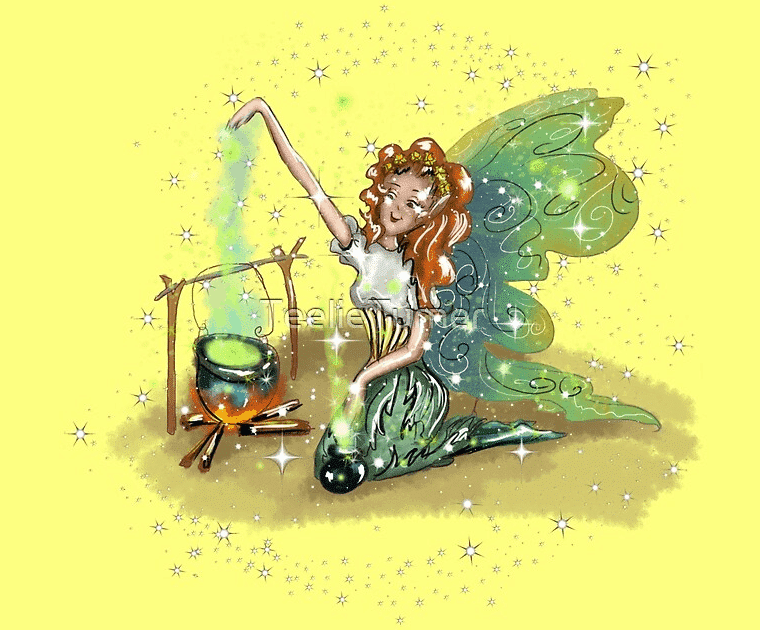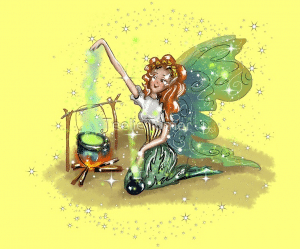 Welcome to Teelie's Fairy Garden. Our fairies had a great idea that they want to share with you. They have been enjoying doing a lot of fairy gardening lately and came up with a camping themed fairy garden. Our friend Crissy the Camping Fairy put together a cute video to share with you. They also have a few ideas for camping themed kits and some bonus items so that you can create your own miniature fairy garden. Crissy the camping fairy also has her own amazing collection of merchandise.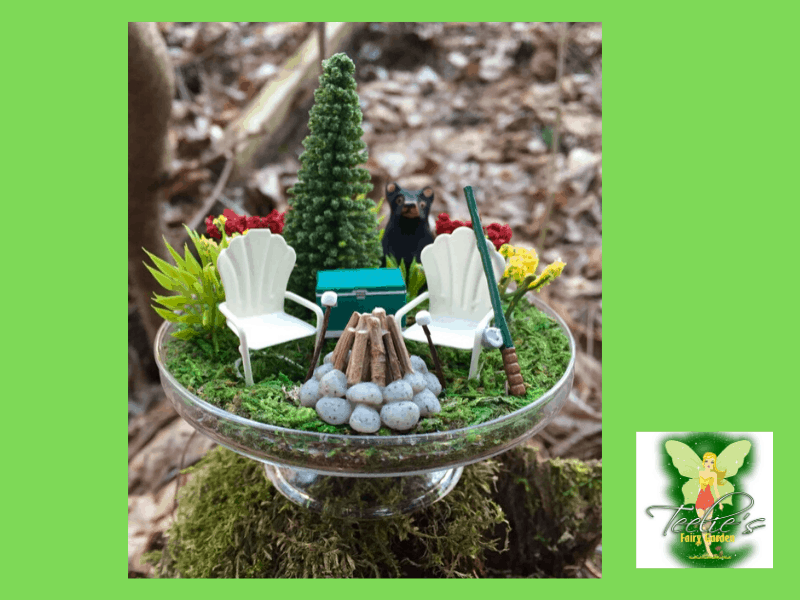 Amazing Camping Fairy Garden Kit
Our first suggestion for an amazing fairy garden kit with a camping theme is perfect for a centerpiece or indoor fairy garden. It comes in a glass dome and includes chairs, a tree, a bear, a campfire, marshmallows on a stick and a fishing pole. These are all components that make for an incredible camping experience. Full details about this kit can be found on Etsy.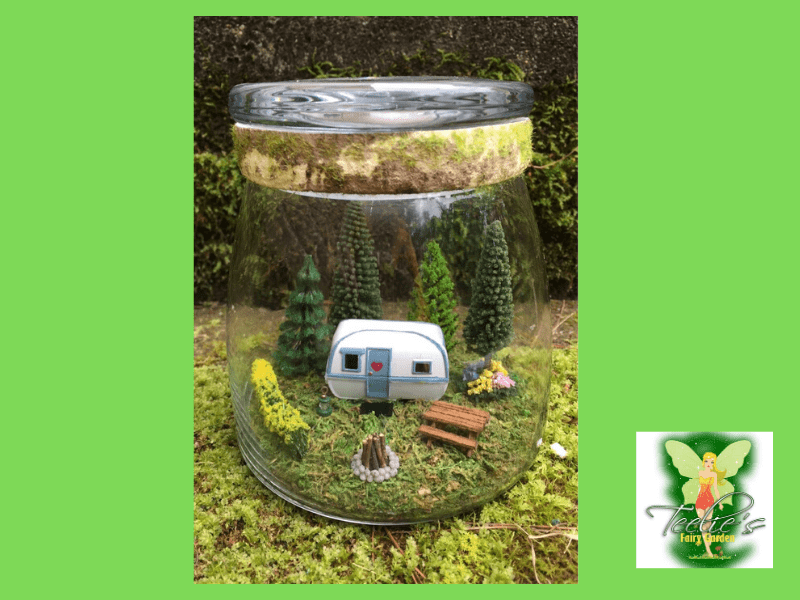 Dome Style Fairy Garden Kit
The second kit that we would like to share with you also comes in a glass dome. It is an adorable miniature recreation of a camping trip. This kit includes a trailer, picnic table, a lantern, trees, and a campfire. To learn more about this fairy garden kit visit Etsy.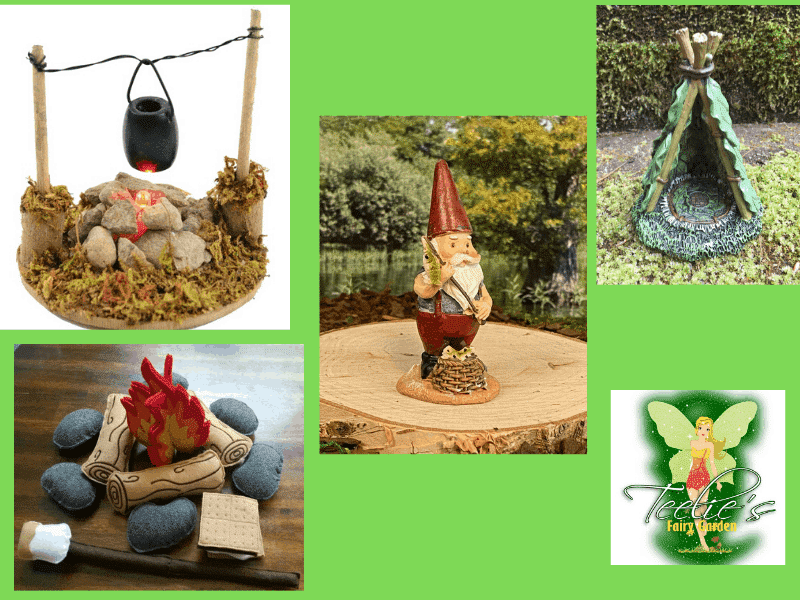 Bonus Ideas – Highlights of Camping
Our bonus ideas for camping themed fairy gardens allow you to pick which items you'd like to include in your fairy garden. There are many available,  but we have chosen four miniature items to show you.
Campfire
A campfire is one of the best parts of the adventure when it comes to camping. Many enjoy sitting around a campfire and telling ghost stories. We hope that you tell a fairy story too. You can find a miniature campfire on Etsy.
Fishing
Fishing is another fun activity that can be enjoyed when you go camping. You get to sit by the water and catch your own food and then cook it over your campfire. We found an adorable miniature gnome fishing. This figurine is available on Etsy.
Enjoying S'mores
S'mores are a much enjoyed treat on camping trips. The fairies especially love them because of their sweet flavors. An adorable felt campfire that includes felt s'mores can be found on Etsy. It can be a great and safe way to introduce your children to camping. You could even have an indoor camping adventure that includes the felt campfire.
Sleeping Outside
Our final suggestion for today is a cute miniature tent figurine. The one that our fairy merchants found is made out of leaves. The fairies use some magical fairy dust to keep the rain out of the tents when they go camping. You can find the tent figurine on Etsy.
Thank you for coming on this camping adventure with us. We hope that you enjoyed the opportunity to learn about a camping themed fairy garden. Please keep visiting Teelie's Fairy Garden for new fairy products and updates.  Also look for us on social media including Twitter and Pinterest and Bloglovin' or comment in this post and we'll get back to you.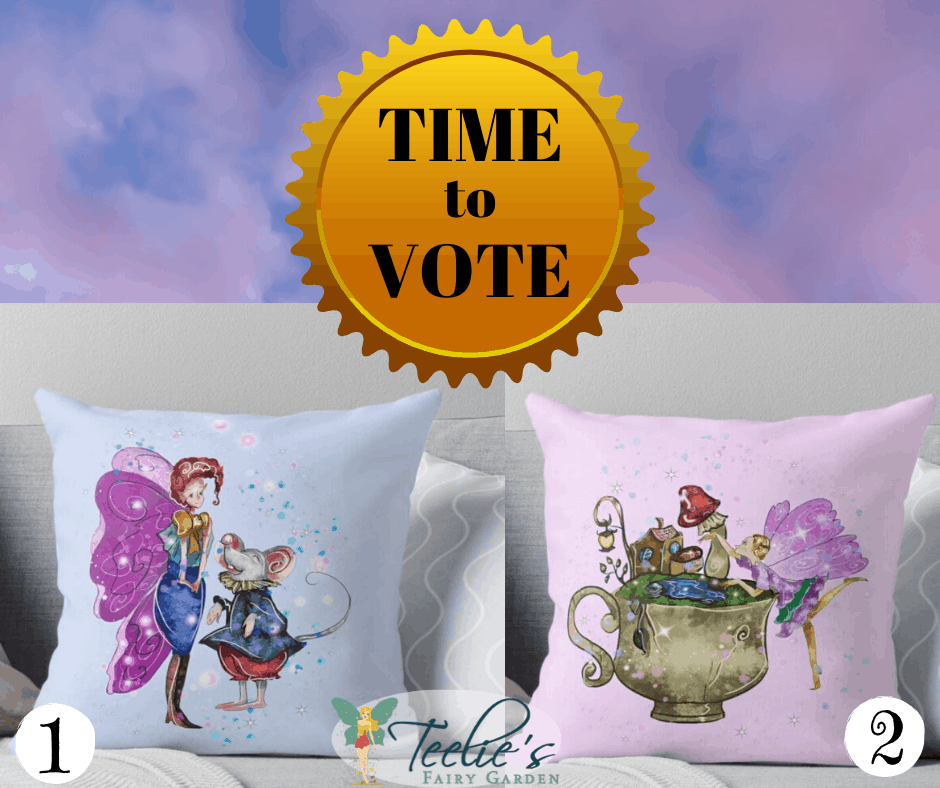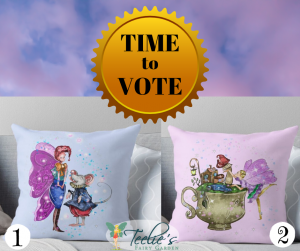 Also, please visit the Teelie's Fairy Garden Facebook page which will allow you to help select a magical fairy or creature which will have a story written about it. Please take a second to place your vote.
You can also learn more about it in our blog post too.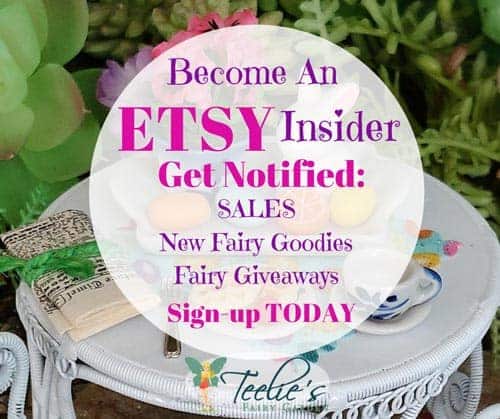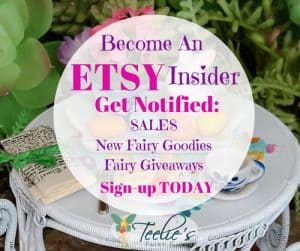 You can also sign up to be an Etsy insider and get notified by e-mail about fairy giveaways, goodies, and sales. Sign up here.
Just a disclaimer – We have partnered with these companies because we use their products and/or proudly trust and endorse them – so we do receive a commission if you make a purchase or sign up for services. Often, we are able to negotiate special discounts and/or bonuses, which we will pass on to you via our links. We often get short notice on sale items available for 24-48 hours as we will pass these savings onto you.