Join us in Teelie's Fairy Garden as we introduce you to eight beautiful and enchanted Valentine's fairies. Each one has important work to be doing for this romantic holiday.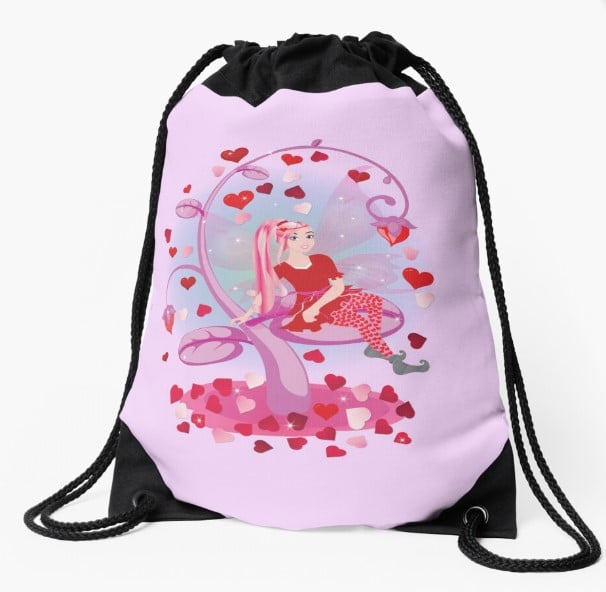 Sugarsnap-The Valentine Card Fairy™ Drawstring Bag
Sugarsnap the Valentine's Card Fairy
Meet Sugarsnap the Valentine's Card Fairy. She has an extremely important role in Fairy Land and that is ensuring that the most magnificent cards are sent for this beautiful and romantic celebration. Pictured above you can see Sugarsnap on a drawstring bag that you can find here. You can also enjoy a video about her.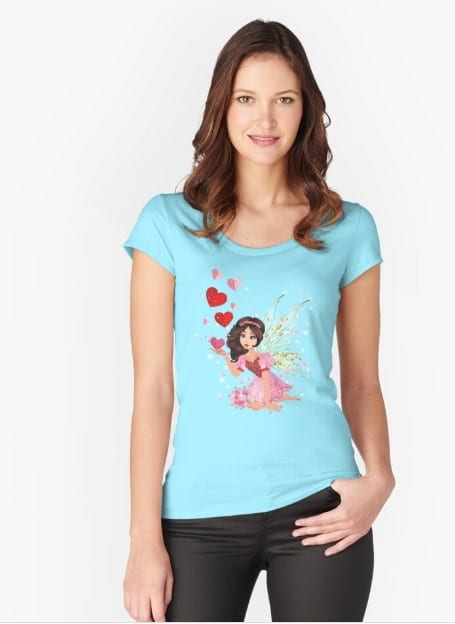 Gigi and the Magical Fairy Hearts™ Fitted Scoop T-Shirt
Gigi the Chic Fairy
Gigi the Chic Fairy is known for her good deeds and fashion advice around Fairy Land. She's always wearing amazing clothing as shown on the gorgeous pink outfit for Valentine's Day that she's wearing on the fitted scoop t-shirt above. Gigi's designs can be found on an assortment of clothing that is available in different colors and sizes. Learn more here.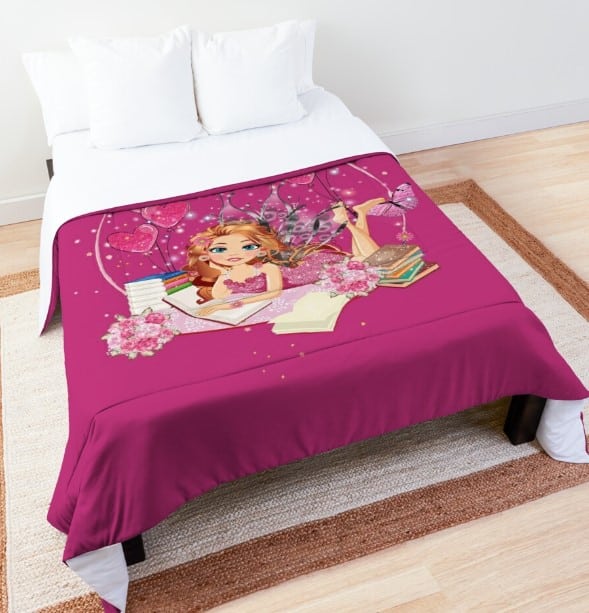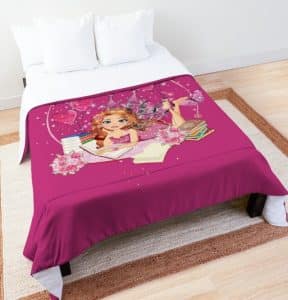 Felicia's Valentine's Day Dreaming Collection Comforter
Felicia the Fairy Book Club Fairy Magenta Design
Felicia is the ambassador for Teelie Turner's Magical Fairy Book Club. She also gets to wear a magnificent new outfit each week. In the design on the comforter above, Felicia is showing us that reading books can be extremely fashionable. We love the hearts on the design too. Find it here.
You can learn more about Teelie Turner's Magical Fairy Book Club in this video.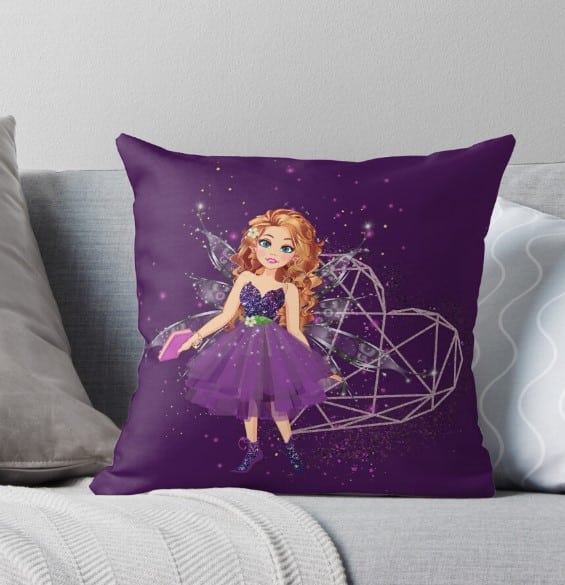 Felicia's Lavender Heart Collection Throw Pillow
Felicia the Fairy Book Club Lavender Design
On the throw pillow above, Felicia the Magical Fairy Book Club Fairy is wearing another stunning outfit for Valentine's Day. We love the way the top of the lavender gown forms a heart on Felicia as well as the heart-shaped design behind her. Learn more here.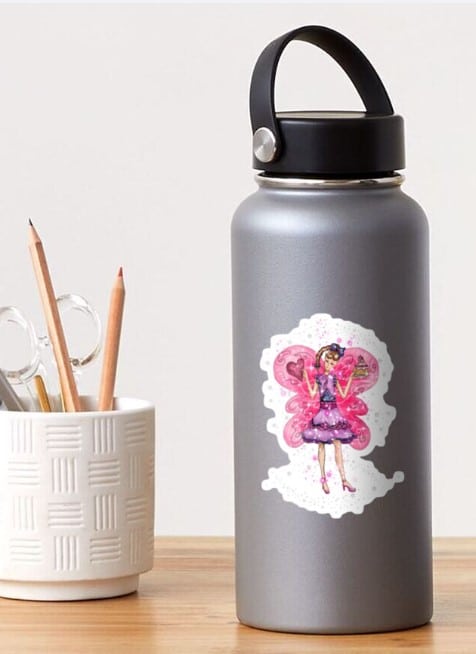 Vesta The Valentines Day Fairy™ Sticker
Vesta the Valentine's Day Fairy
Vesta's job in Fairy Land is to help humans find true love. It means that her job goes beyond the confines of the Fairy Kingdom. Teelie Turner will soon be releasing a new book all about Vesta and her magical work. Vesta is holding a heart and Valentine's cake in her gorgeous design. Pictured above is one of Vesta's stickers that is available in various sizes with a choice of finishes. Further details are available here.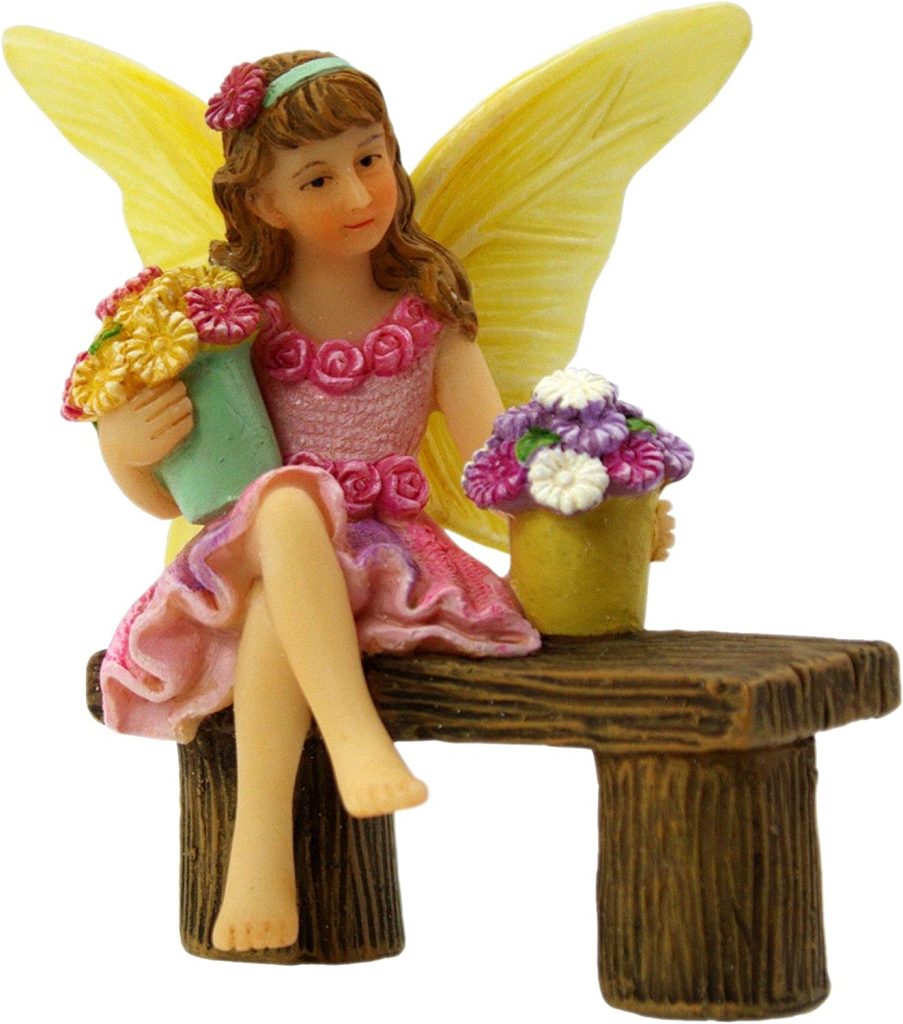 PRETMANNS Fairy Garden Fairy Figurine – an Adorable Fairy for Fairy Garden – Fairy Garden Accessories for a Miniature Fairy Garden – Garden Fairy Figurine – Sitting Fairy Isabella 1 Item
Isabella the Flower Fairy
Isabella the Flower Fairy from the Pretmanns collection keeps herself busy throughout the year with tasks related to beautiful and fragrant flowers which she loves. For Valentine's Day, she's often preparing bouquets of flowers for fairies to gift. Meet Isabella here.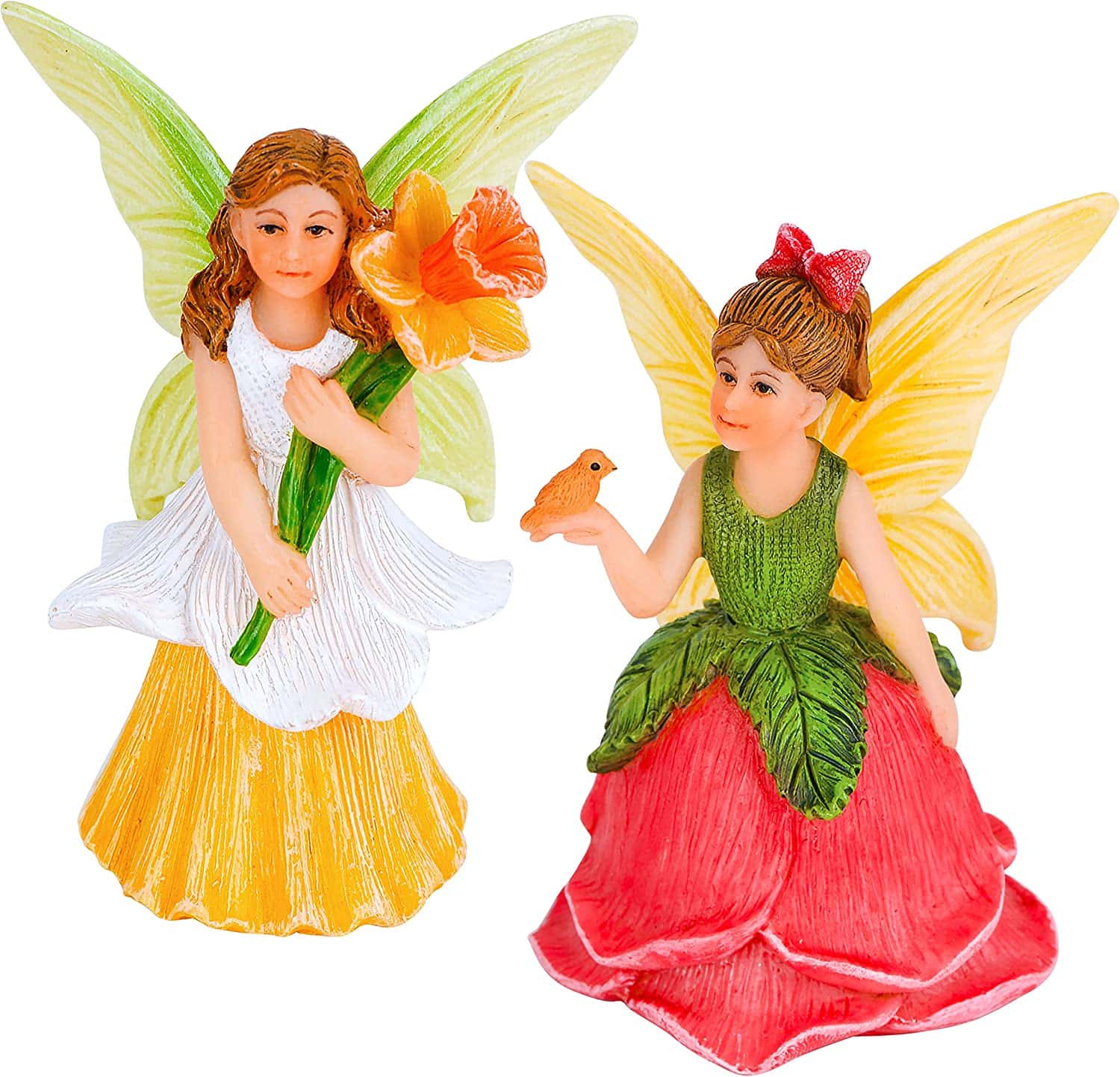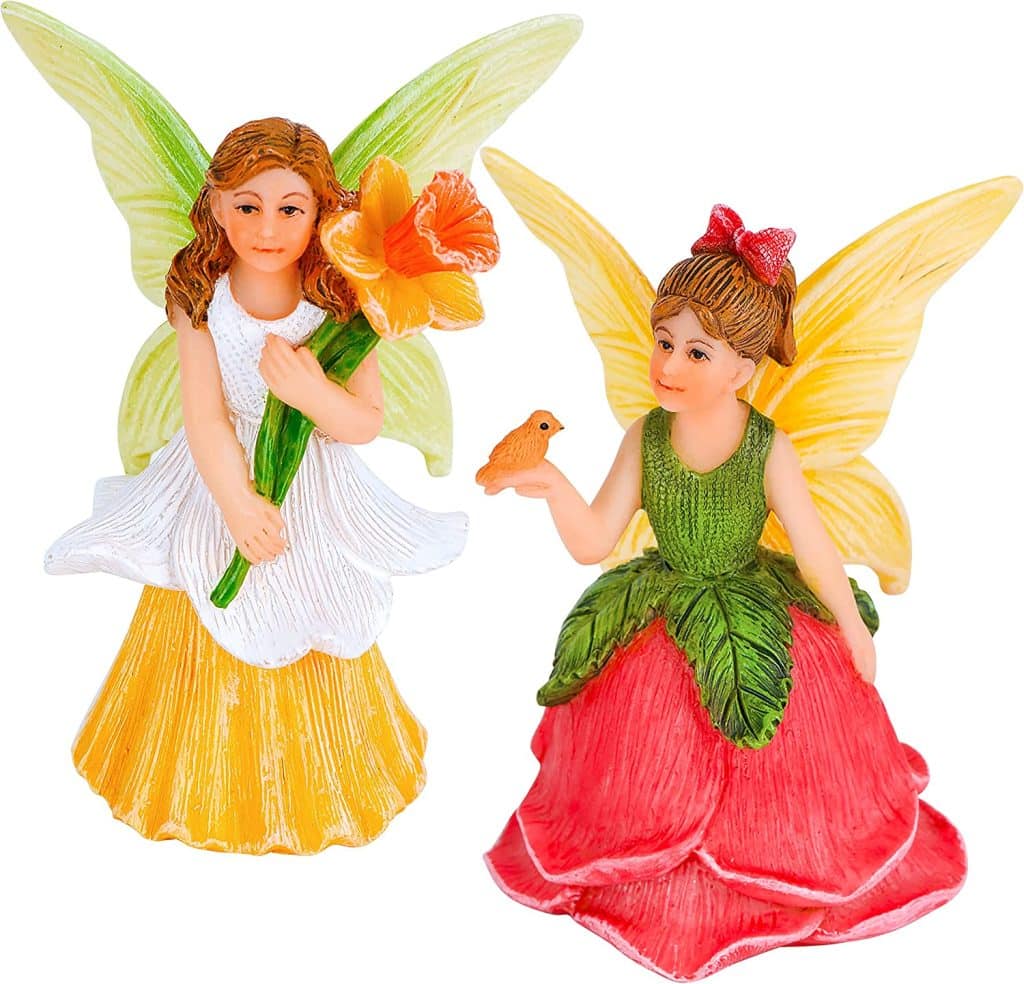 Mood Lab Fairy Garden – Miniature Fairy Figurines – Flower Girls Set of 2 pcs – Narcissus & Rose Fairies Accessories Statue Kit
Narcissus and Rose the Flower Girl Fairies
Narcissus and Rose are pleased to make your acquaintance. They're from the Mood Lab Fairy Garden Collection. They love nature, probably why their parents chose their floral names. They are dressed like the flowers they're named after. Rose also has a yellow pet bird. On Valentine's Day, they are often asked to play the role of flower girl at weddings. Learn more about them here.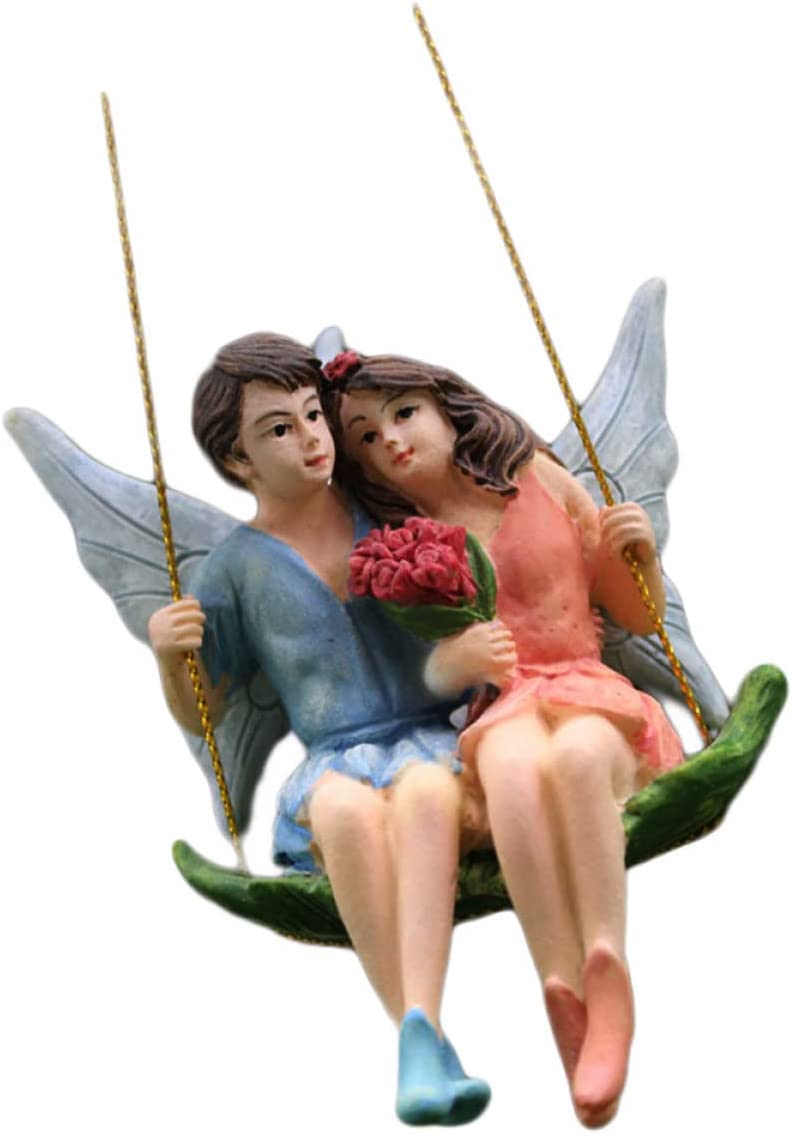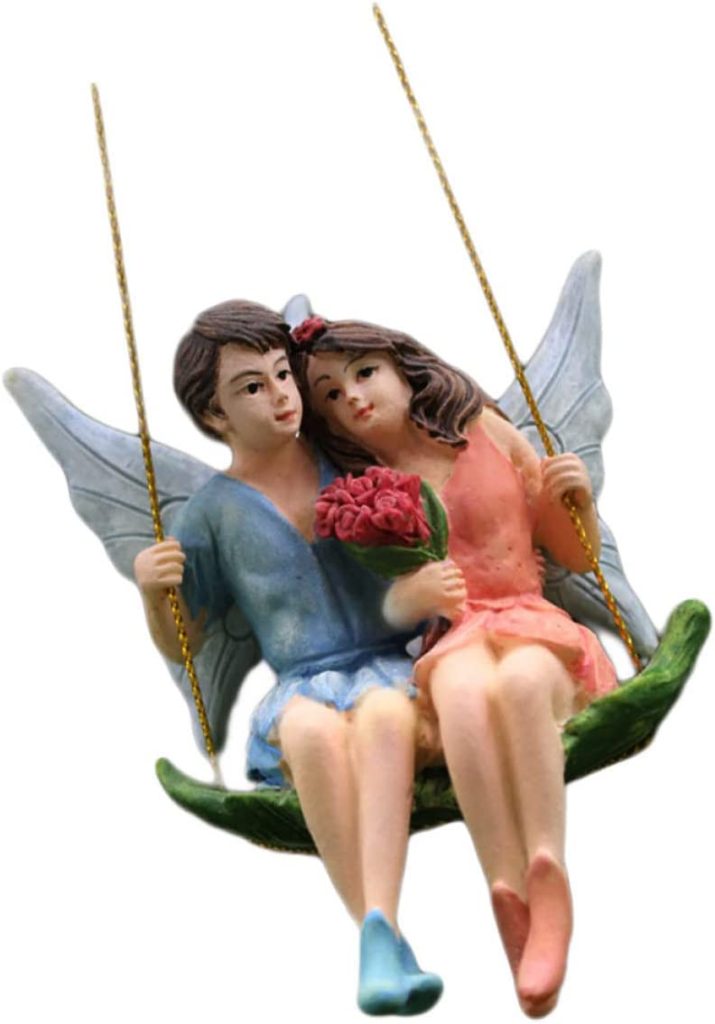 Yardwe Miniature Fairy Figurines Romantic Decorations Special Night Garden Flower Fairy Statue Resin Fairy Miniature Swing Fairy Figurines Statue Garden Couple Couples Gifts Fairy Couple Figurines
Sweet Fairy Couple
This sweet fairy couple from the Yardwe Collection helps to make romantic date suggestions to fairies throughout the Fairy Kingdom. They are married and ensure that they make time for their own romance too. Sometimes something as simple as picking flowers and then sitting on a swing under the stars and talking or just listening to the sounds of nature together can be a great date. Meet this fairy couple here.
These Valentine's Day fairies are so glad you took the time to wander through Teelie's Fairy Garden with them. They hope you'll come back to visit again soon.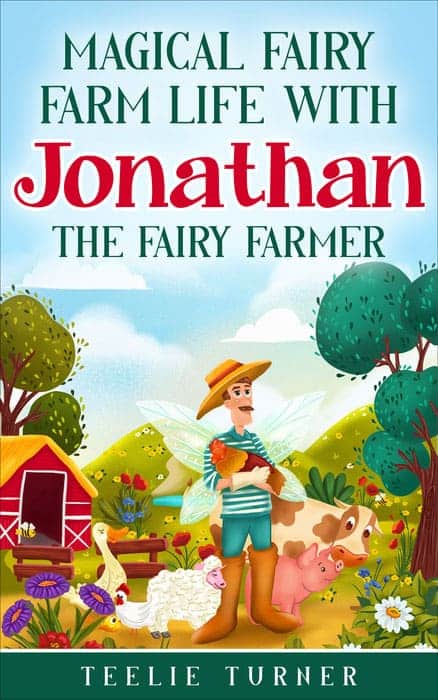 Discover Teelie Turner's complete collection of magical books here. 
Discover one of our magical book trailers.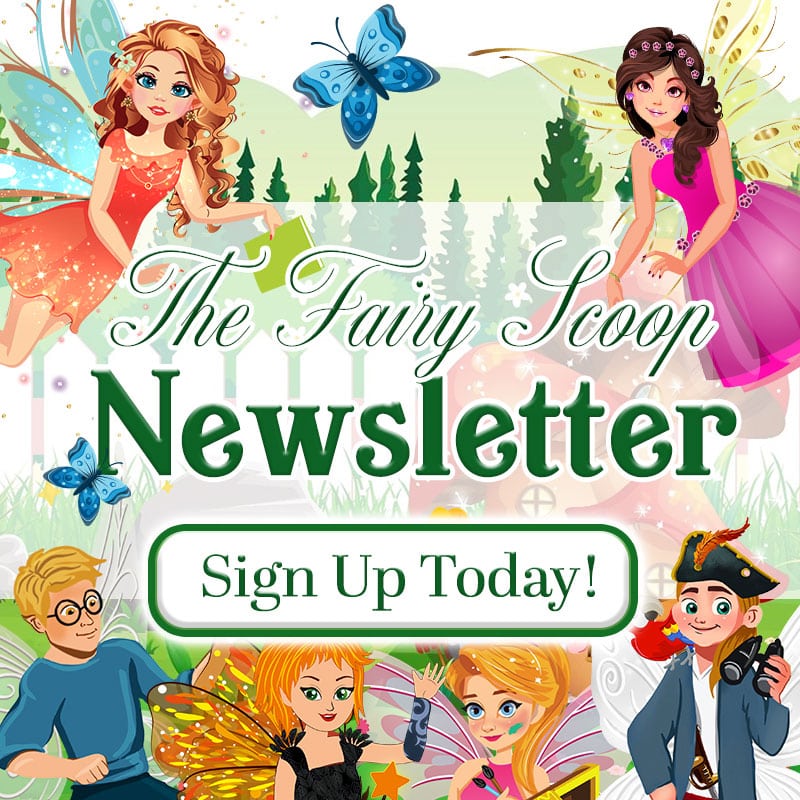 Sign up for The Fairy Scoop Newsletter here. 
Just a disclaimer – We have partnered with these companies because we use their products and/or proudly trust and endorse them – so we do receive a commission if you make a purchase or sign up for services. Often, we are able to negotiate special discounts and/or bonuses, which we will pass on to you via our links. We often get short notice on sale items available for 24-48 hours as we will pass these savings onto you.