Unicorns are rare, special, and absolutely magical. There are few magical creatures in the world more famous than the wonder of unicorns. They conjure up images of white, iridescent coats and rippling silvery or rainbow manes. They bring to mind mystical visions with the single spiraling, twisting horn on their foreheads. From their hair to their hooves, unicorns are bursting with so much magic and conjure up visions of pure light breaking into prismatic rainbows.
Unicorn mania is spreading all over the world, with millions of people getting inspired by the enchantment of these amazing creatures. From household accessories to even pop tarts and breakfast cereal, unicorns are showing up everywhere! It's as though everything they touch just turn into adorable, shining magic that adds a little something special to what we do. You can join in on the magical unicorn trend with a few of these incredible items that bring enchantment to everyday life.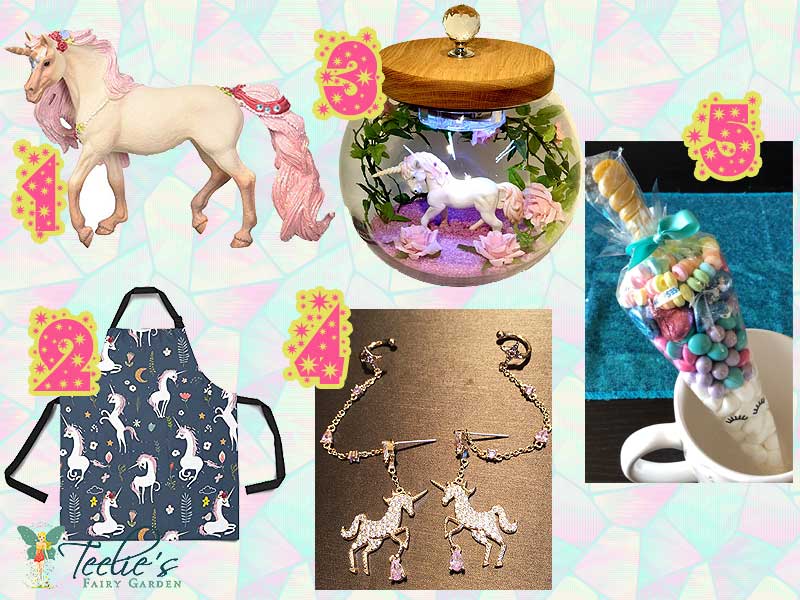 For a unicorn lover, a classic, fantasy unicorn ornament is a must-have. In fact, there's got to be more than one of these beautiful figures decorating their home. A splendid unicorn such as this one, with flowing rose-colored mane and tail, with a crown of blossoms, and a golden horn twisting from its forehead, is exactly the kind of ornament that will conjure up fairytale fantasies. Get it at the Fairy Garden.
Trying to make your cooking and baking just a little bit more magical? Get inspired by the magic of unicorns while wearing a unicorn print apron like this one. It's perfect for kids who want to help out in the kitchen and learn the magic of cooking, and adults who just absolutely love unicorns can feel a bit more enchanted just by wearing this apron too! Get it at the Fairy Garden.
No one will have to fear the dark again with this lovely unicorn nightlight. Encased in a glass globe, as though a scene taken straight out of the pages of the most wonderful fairytale, is a unicorn at rest in a flowering rose garden. Surrounded by blossoms and vines, hooves firm upon pink earth, this crystal-topped night light is the stuff of fantasies. Get it at Etsy.
These unicorn earrings show off the majestic unicorns rearing upward, their shining horns pointed to the air. Studded in crystal rhinestones, these earrings dangle downward, with the large pink crystals winking into the light. With its long golden chain sprinkled with pink crystals, it can be worn as an earcuff that makes you look like you walked straight out of the pages of a fantasy novel. Get it at Etsy.
The most prominent thing about unicorns is their large, twisting single horn. In many stories and tales of magic, this horn is highly coveted as it is full of magic. Well, this unicorn horn is coveted for similar reasons: it's stuffed full of candy! This unicorn horn is an ideal party favor or giveaway, especially for parties with children. It's a sweet fantasy no one can say no to. Get it at Etsy.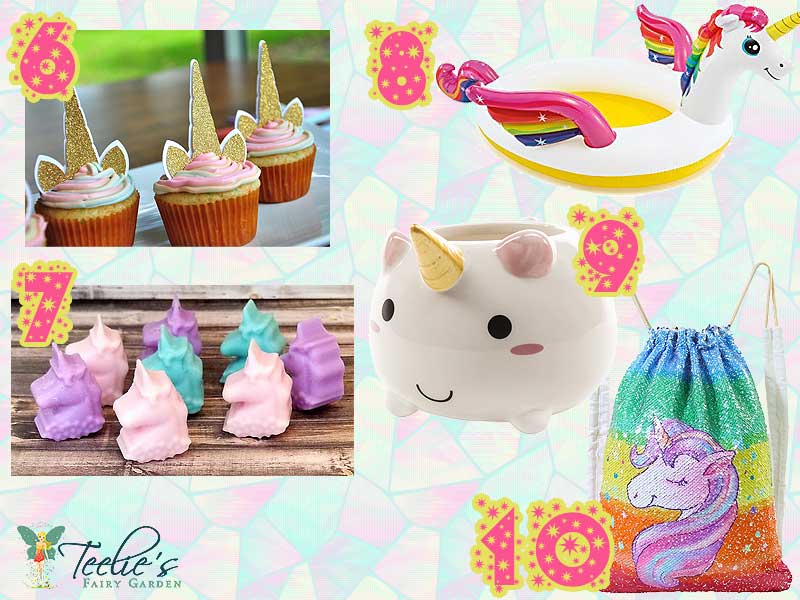 You can turn any delicious cupcake into a unicorn cupcake just by giving it the right accessory: these gold-glitter unicorn cupcake toppers! Bake those golden cupcakes, give them that delicious swirl of blue, pink, and white marshmallow icing, then crown each cupcake with these glittery unicorn toppers. Instant unicorn magic in a cupcake! Get the toppers at Etsy.
Unicorns are also synonymous to calm tranquility in some stories. You always have to approach a unicorn with a calm, clear heart so that they don't run away from you. You can get that same relaxation in the form of these adorable, colorful unicorn wax melts that will work for any diffuser. The room will be filled with the magical scent of cotton candy and berries! Get them at Etsy.
We may not be able to ride a real unicorn anytime soon, but that doesn't mean we can't keep trying to do that this summer! Head into the water of the pool or the beach with a huge unicorn pool floater. It's white with an eye-catching rainbow mane, perfect for summertime fun in the sun and the water. Ride on your unicorn float over the waves! Get it at Amazon.
The woods are the unicorns' home, and it makes sense that their magic aids the plants and trees around them. In many stories, unicorns are seen as the guardians of the evergreen. So this adorable unicorn-head planter will make sure that whatever plant you grow within it will be protected by its sweet unicorn magic. It's also a great cup to put in some pens and other stationery supplies! Get it at Amazon.
Finally, this spectacular unicorn bag, covered in shiny, rainbow-colored sequins and adorned with the image of the unicorn, will make every day a colorful adventure. It's lightweight, easy to wear and pack away, ideal for travel, and can fit quite a few items comfortably. Take this magical rainbow unicorn bag with you and bring the enchantment of unicorns wherever you go! Get it at Amazon.
Unicorns continue to inspire the most beautiful dreams of magic and fantasy all over the world. There are many more unicorn inspirations to certainly come along. We'll be right here making sure the spellbinding love of unicorns and their enchantment will hang over everyone for quite a while!
Just a disclaimer – We have partnered with these companies because we use their products and/or proudly trust and endorse them – so we do receive a commission if you make a purchase or sign up for services. Often, we are able to negotiate special discounts and/or bonuses, which we will pass on to you via our links. We often get short notice on sale items available for 24-48 hours as we will pass these savings onto you.