Fairy magic is one of the most powerful kinds of magic in the world. Tales of enchantments, spells, fairydust, and worlds far beyond our knowledge fill stories all around the globe, throughout multiple cultures. There's just something so special about fairy magic and all the possibilities it brings that make us want to seek out these tiny, fluttering, immortal beings. Maybe there's just something about the shining hope that with a little sprinkle of fairy dust, absolutely anything can happen, and anything is possible.
Bring in that same magical inspiration, and that same fairytale romance with these wonderful fairy magic inspired jewelry. Who knows, you might find some extra fairy magic working for you when you wear them!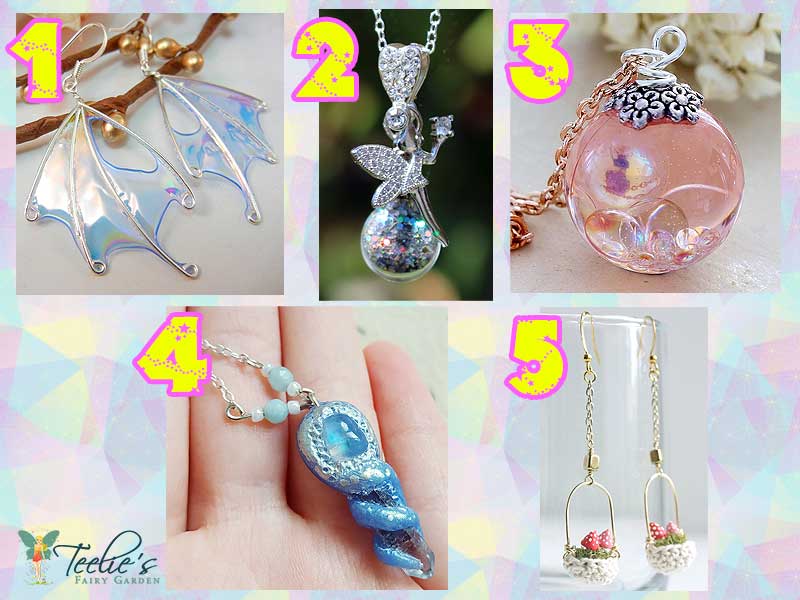 A fairy is often seen with a pair of the most beautiful, delicate, silvery wings. They shine like slivers of moonlight, iridescent like the underside of a shell. Fairy wings give off a magic of their own; apart from the ability to take flight, wings tend to scatter some fairy dust of their own! Bring along some magical fairy wings with you through these earrings. Get them at Etsy.
Of course, it might be easier to invoke fairy magic directly if you have a delicate little globule of the fairy dust for yourself. Hanging upon this pendant is a tiny globe, filled with sparkling fairy dust. Think of it as a little conductor of fairy magic, bringing more wonderful things your way as you wear it! A little fairy is even sitting guard over it. Get it from Etsy.
This necklace has a pendant of pure fairy magic, in shining, sparkling bubbles. The shimmering iridescent fairy magic bubbles are trapped forever within the glass globe, catching the light as it glimmers a soft rose pink that catches the eye of anyone looking at it. It is a necklace pure fairy magic in a ball! Get it for yourself at Etsy.
Sometimes, fairies will need an artifact or an item to channel their magic through. After all, didn't Cinderella's own fairy godmother have to use a magic wand to conjure up her dress and her carriage? This moonstone talisman is full of fairy magic and wonder. Bring it along with you and see what fairy magic you can call upon—preferably not anything that dissipates at midnight! Get it at Etsy.
Around the fairy world, that ever-elusive mystical place, magical mushrooms grow. They may be incredibly tiny, but they're also incredibly powerful. Fairies love to use them to ornament their homes, and also sometimes like to use them as ingredients in fairy potions and spells. You'll have your own magical fairy mushrooms everywhere when you wear these earrings. Get them at Etsy.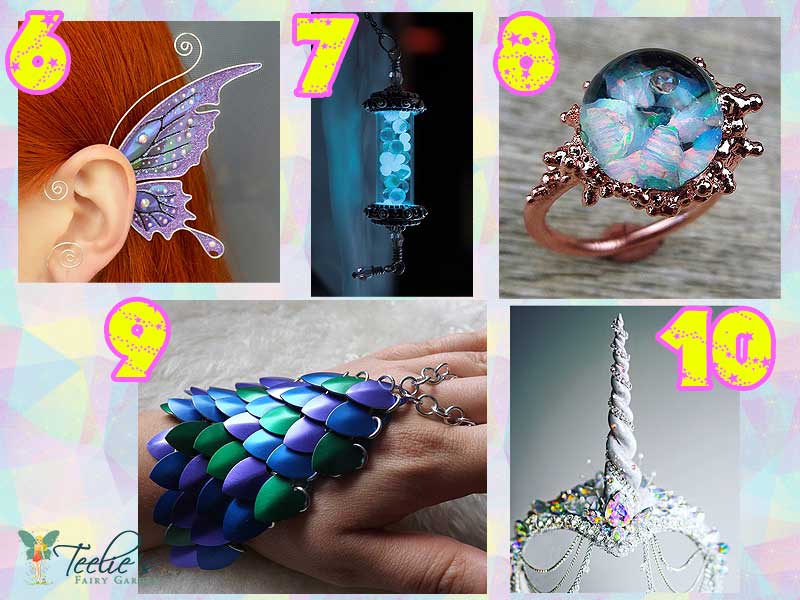 Why stop with just fairy dust and talismans? Transform into a fairy yourself, or at least get quite close to it, with a breathtaking ear wrap like this one. Formed in the shape of fairy wings, delicately translucent purple, with sparkling glitters and pearls embedded into the wing, this ear cuff will immediately turn you into your own fairy princess. Get it at Etsy.
You won't have to fear the night when you have fairy magic like this: this fairy lantern, made of ornate silver, with a glass tube filled with glowing spheres of fairy magic, will give you the courage through nighttime. Watch it glow a peaceful, otherworldly calm blue in the darkness. It's not just fairy magic: it may also be a beacon to draw fairies to you in the evenings! Get it at Etsy.
When you wear this ring and look down into it, it's like you're peering straight into the depths of the ocean to look at white stone and coral shimmering beneath the waves. It's the kind of prismatic underwater world a mermaid would live in. Imagine the magic and power of the ocean in a single ring, offered to you by a mermaid! Get this ring at Etsy.
Creatures just as magical as the fairies, the dragons, are chock full of magic from their scales to their claws. Putting on this beautiful bracelet, with blue and green and purple dragon scales, feels as though you were gathering draconic strength and magic for your own. With an armor bracelet like this one, you could conquer anything! Get it at Etsy.
Finally, there are the magical unicorns, friends of the fairies, and some of the most mystical creatures in the entire world. With this incredible crown, it feels as though you've transformed yourself into a unicorn as well. It shines with mystical glitter, absolutely encrusted with stones that seem to have captured the aurora of unicorn magic within them. This is the ultimate piece of magical jewelry! Get it at Etsy.
When you don this magical, mystical fairy magic jewelry, it's as though you've become a part of the magical world yourself. You draw the magic of fairies into your hands, the courage of dragons, the ephemeral wisdom of unicorns, and the mysterious beauty of mermaids. Full of fairy magic, these pieces are must-haves for fairy friends who want to bring that enchantment to their lives.
Just a disclaimer – We have partnered with these companies because we use their products and/or proudly trust and endorse them – so we do receive a commission if you make a purchase or sign up for services. Often, we are able to negotiate special discounts and/or bonuses, which we will pass on to you via our links. We often get short notice on sale items available for 24-48 hours as we will pass these savings onto you.