This week we're celebrating Christmas in July in Teelie's Fairy Garden. We have put together a magical list of gorgeous and whimsical fairy garden scenes as well as an assortment of holiday miniatures for your enjoyment. We'd also love to know what your favorite Christmas character is. Do you love Christmas fairies, angels, Santa Claus, or snowmen? You'll see some of these fabulous Christmas friends in our fairy garden scenes.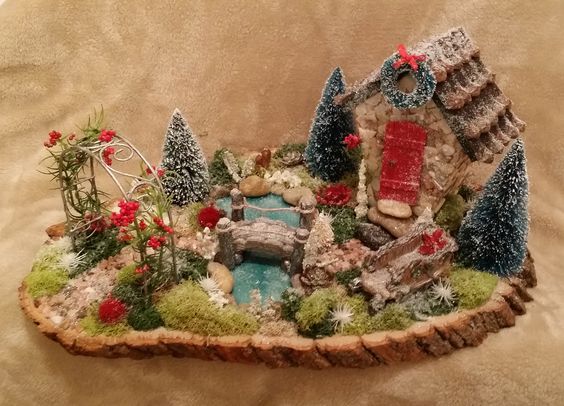 Christmas Fairy Garden, Winter Fairy Garden, Cardinal on the Mantel on Pinterest
Magical Christmas Fairy Garden
We discovered this magical Christmas fairy garden on Pinterest. It was posted by Cardinal on the Mantel. It has a woodland theme and includes an adorable fairy cottage that is decorated for Christmas in July, Christmas trees, wooden furniture, and an enchanted arbor. Learn more here.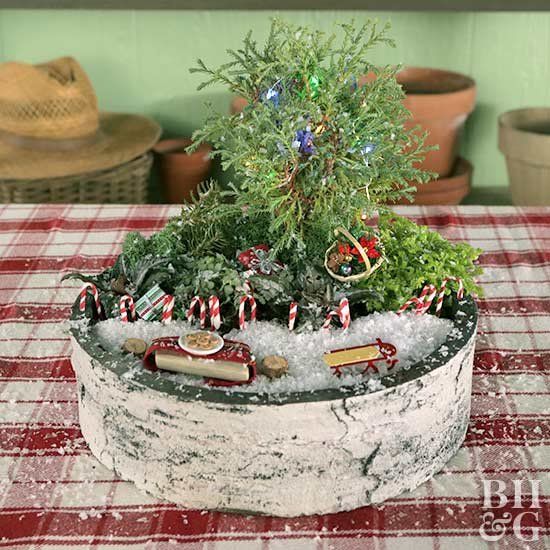 Christmas Tabletop Fairy Garden
BHG.com created an amazing Christmas container garden that is known as the Christmas tabletop fairy garden. It is a space saving idea for apartments or homes that cannot accommodate a traditional size Christmas tree. In addition to the Christmas tree, this fairy garden includes cookies, candy canes, and a sled. Learn more here.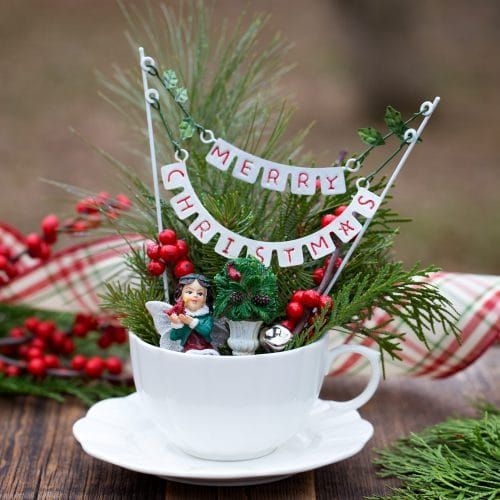 Christmas Fairy Garden – Fireflies and Mudpies
Enchanted Christmas Teacup Fairy Garden
Fireflies and Mudpies put together an enchanted Christmas fairy garden in a white teacup. This would make an amazing holiday centerpiece. This fairy garden includes a fairy, a Christmas tree with miniature decorations, and a Merry Christmas sign. Discover it here.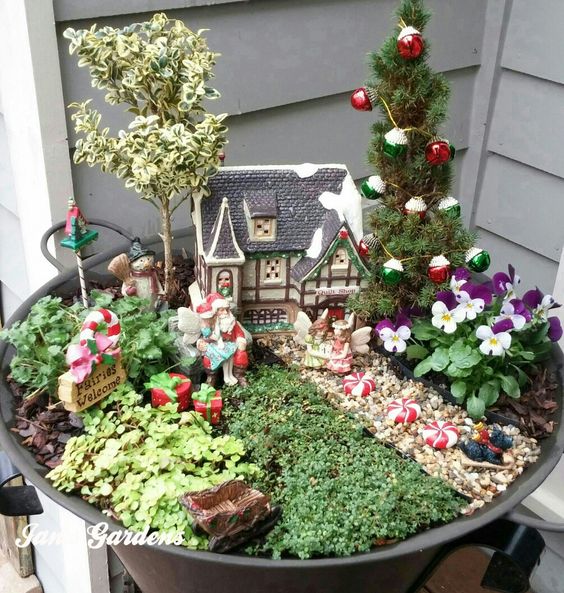 Jan Lilley Strother Fairy Garden from Pinterest
Adorable Christmas Fairy Garden
Jan Lilley Strother on Pinterest posted this adorable Christmas Fairy Garden. It includes Christmas candies as steppingstones, a magical quilt shop that came from a Christmas village, a Christmas tree, a fairies welcome sign, Santa with a fairy on his knee and some beautiful pansies and other floral elements. Find it here.

Studio M Fairy Garden from Pinterest
Fascinating and Festive Christmas Fairy Garden
This fascinating and festive Christmas Fairy Garden was posted on Pinterest by Studio M. It has numerous Christmas elements including a Believe mat, a penguin, a snowman,  a mailbox, a cardinal, Christmas presents, an elf who appears to be napping in the snow and some plants. Full details are available here.
Thank you for flying through Teelie's Fairy Garden with us. We hope that you've enjoyed looking at these whimsical fairy garden scenes. We have some adorable miniatures below that you might like to include in a Christmas Fairy Garden.
You can also enjoy this magical Christmas fairy garden video.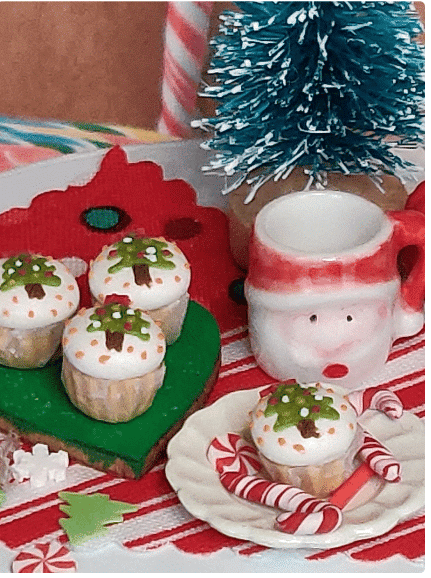 Oh Christmas Tree Cupcakes, Miniature, Dollhouse, Fairy Garden, Green Tree, Fairy Food, Fairy Cupcake, Miniature Cupcake, Red, Green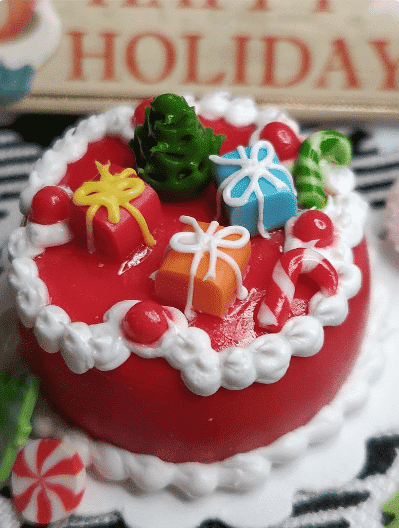 Christmas Present Cake, Christmas Tree, Happy Holidays Sign, Buffalo Plaid Runner, Christmas Candy, Snowballs, Red Cake, Fairy Food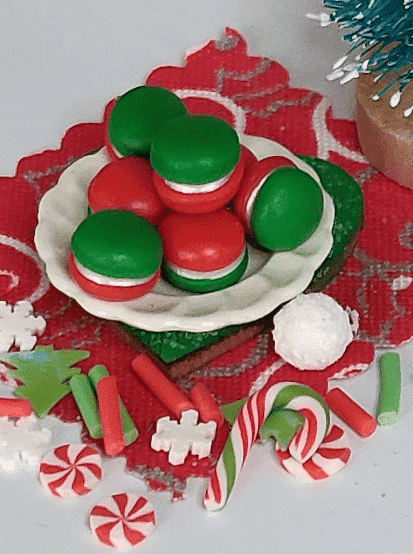 Red And Green Macaroons, 3 Pieces of Christmas Candy, Miniature, Dollhouse, Fairy Garden, Fairy Sweets, Fairy Treats, Christmas Cookies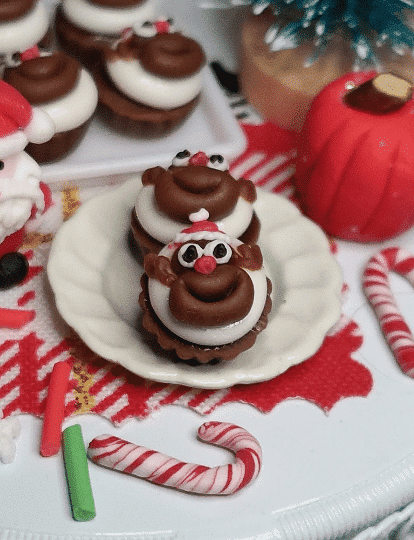 Reindeer Christmas Cupcakes With Santa Hat, Miniature, Fairy Garden, Dollhouse, Fairy Food, Christmas Cupcakes, Brown, Red, Candy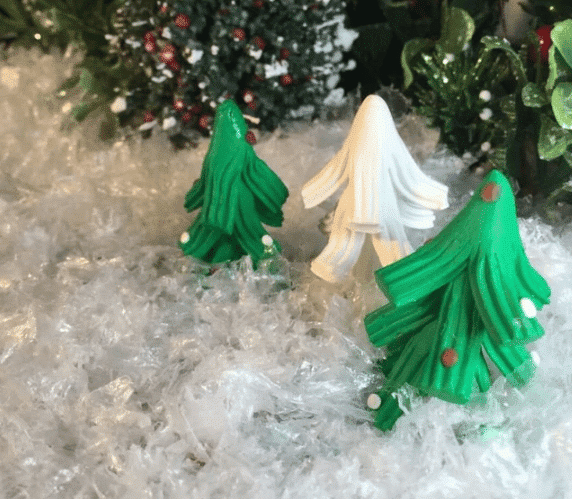 Fairy Garden Christmas Tree, Set of 3 Green and White Christmas Trees, Fairies, Miniature, Dollhouse, Green, White, Christmas Fairy Garden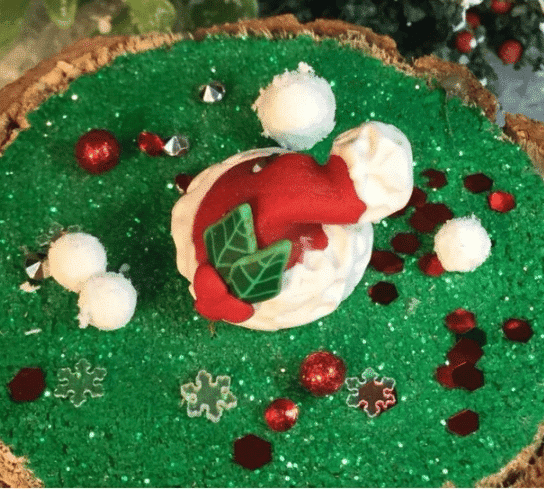 Magical Santa Hat, Fairy Garden, Miniatures, Dollhouse, Red, White, Hat, Holly, Snowballs, Snowflakes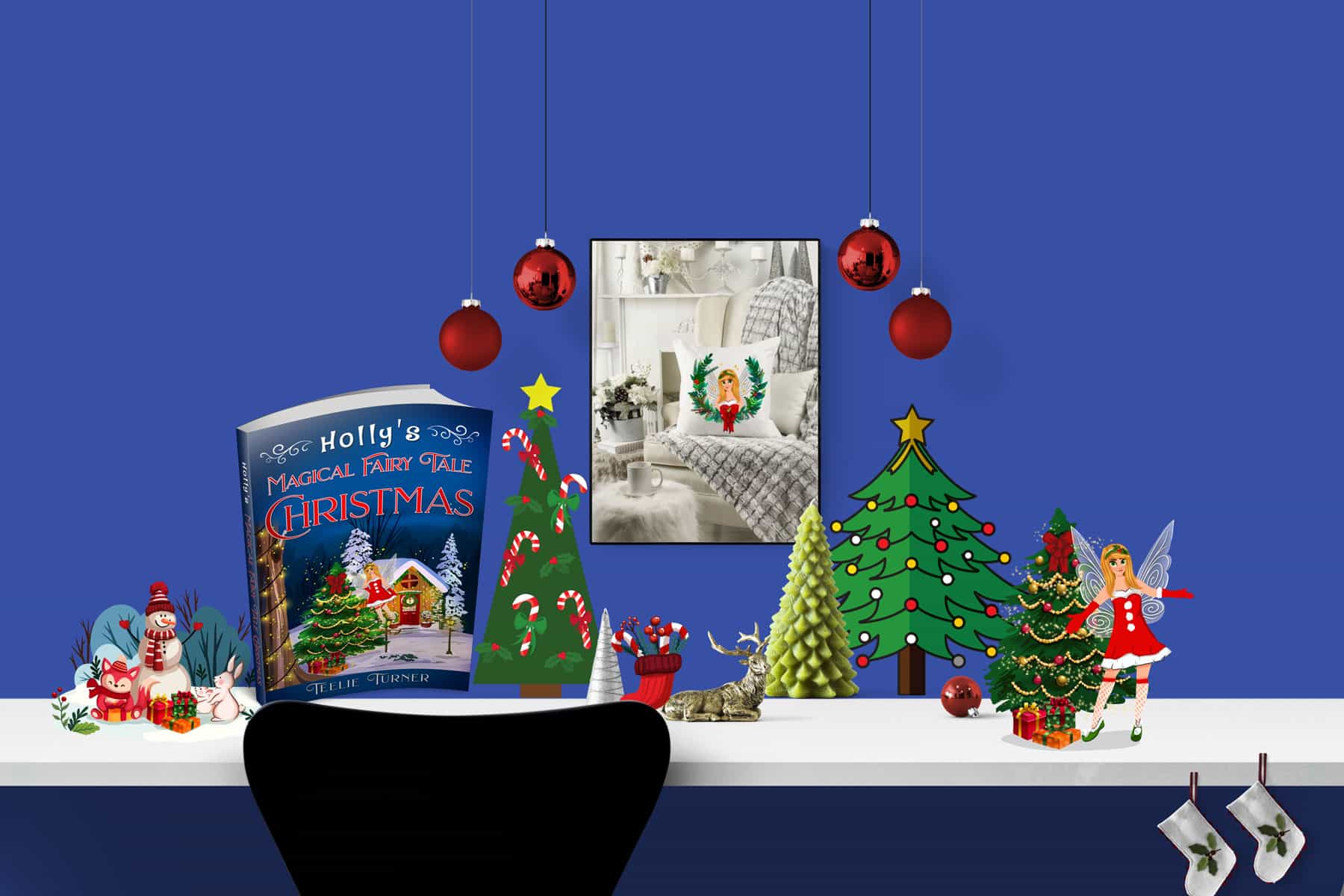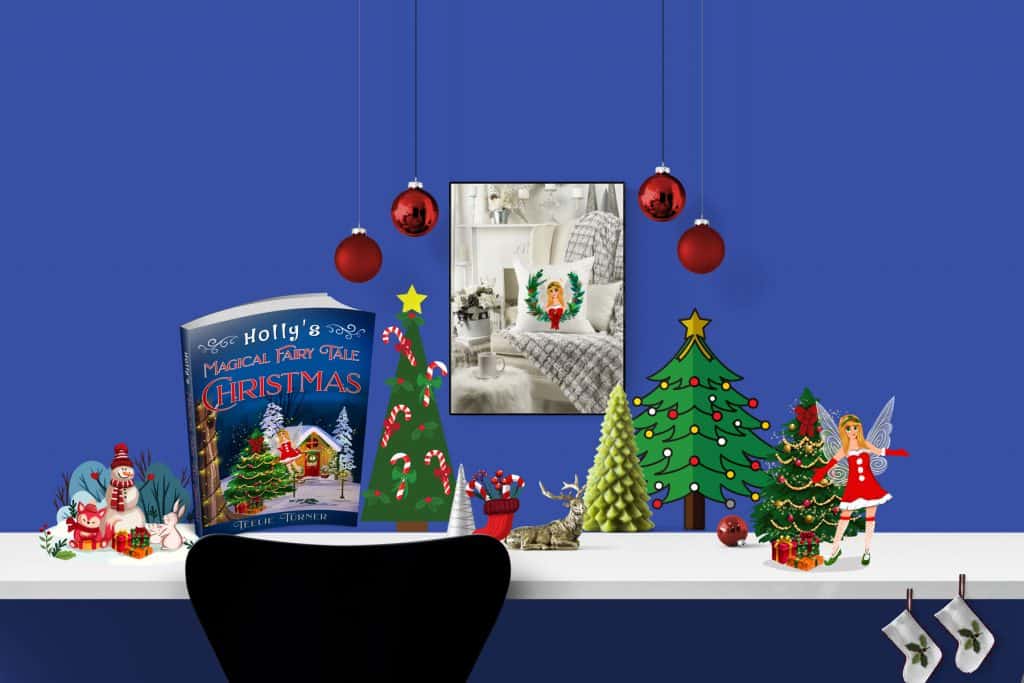 Discover Teelie Turner's complete collection of magical books here. 
Discover one of our magical book trailers.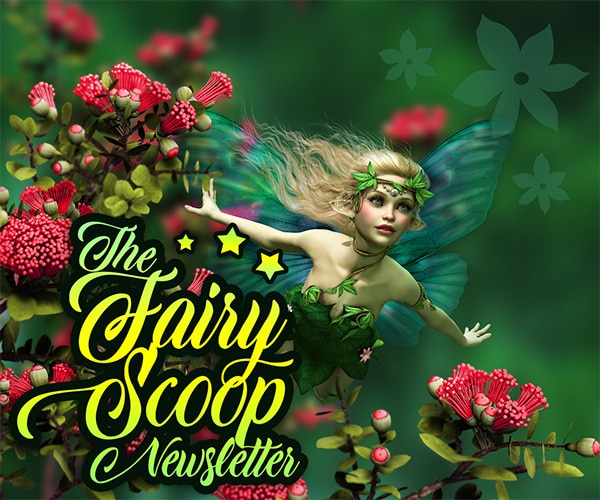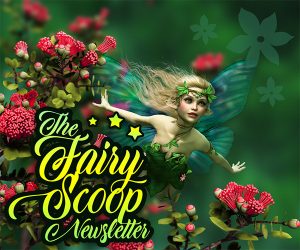 Sign up for The Fairy Scoop Newsletter here. 
Just a disclaimer – We have partnered with these companies because we use their products and/or proudly trust and endorse them – so we do receive a commission if you make a purchase or sign up for services. Often, we are able to negotiate special discounts and/or bonuses, which we will pass on to you via our links. We often get short notice on sale items available for 24-48 hours as we will pass these savings onto you.