There's something brewing in the fairy garden today: It looks like a wonderful fairy tea party is all set and ready to start! Fairies love their tea parties in the garden, especially now that summer has come. During brilliant sunny days filled with the sound of chirping birds and buzzing bees, heading outside under a canopy of emerald leaves for a wonderful tea party is just the most magical thing in the world. And of course, any excuse to feed a fairy's notorious sweet tooth will always be found. The fairy bakers and pastry chefs have gone all out to create numerous sweet delights to be eaten at tea parties, and they're received very well by the fairy kingdom.
This particular fairy tea party is even more enchanting than usual; with each slice of cake a different design, cups filled with delicious tea and sprinkled with shining gems. It's a colorful spread that no fairy will be able to resist!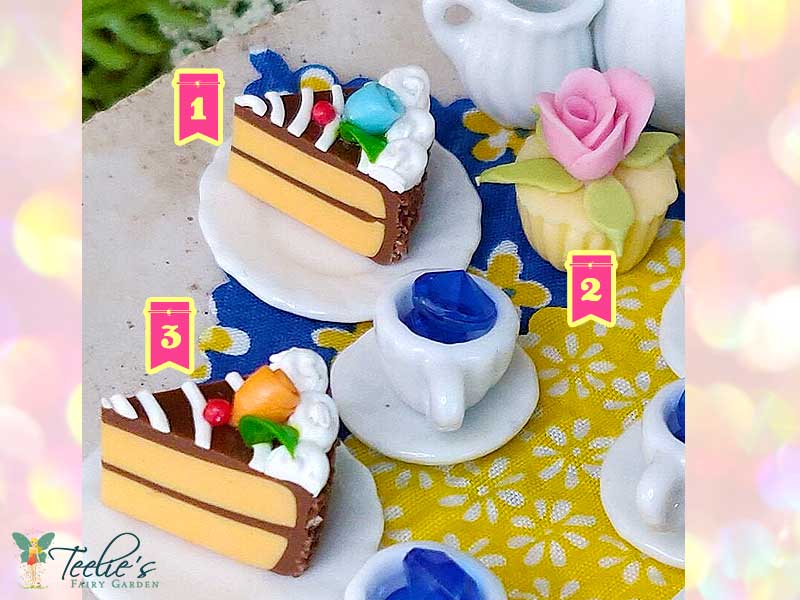 At this little table set for four, there are found, beautiful, perfect slices of cake set out. They're of golden sponge and chocolate icing, with a white or green icing drizzle across the top, and dollops of white icing at the end. But as you may notice, no two slices are the same! They're decorated with roses of varying color and number, making each one colorful and unique, suited to whichever the fairy prefers. See them with the set at Etsy.
Just in case the fairies seated to enjoy this lovely tea party need a little extra sweet thing to eat, there's also a golden cupcake in the middle of the set. It tastes of the best, finest vanilla in the world, grown by the fairies themselves. The cupcake is golden sponge, soft, and topped with a carefully crafted icing rose that the fairy bakers have so patiently created. See it with the set at Etsy.
A lovely meal like this one just wouldn't feel complete without the right decorations to go with it. Beneath all the plates is a pair of beautiful summery place mats. Blue, yellow, and white, they feature floral designs that bring to mind the fields of lovely flowers that have sprung forth in the sunshine of the season. It truly ties together the blue and gold theme of the meal. See it with the set at Etsy.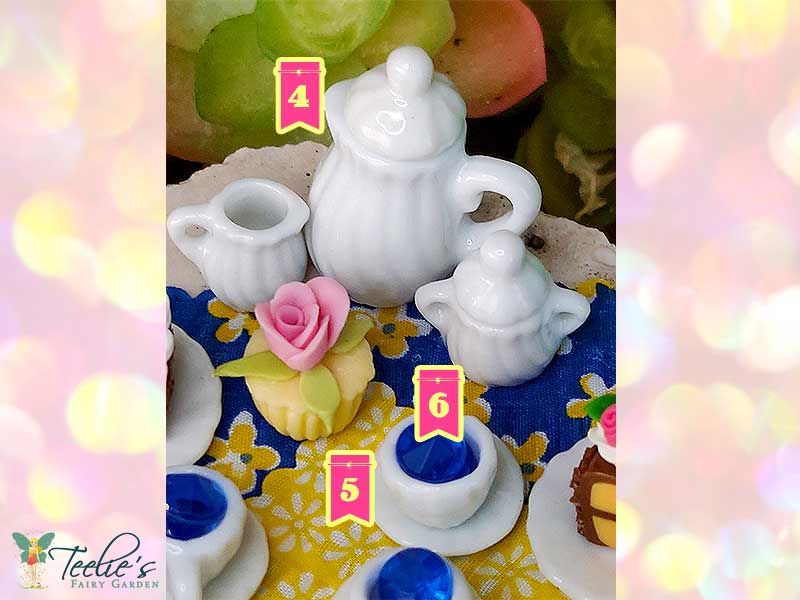 It's not a tea party without the lovely tea! That's why the fairies have brought out their fine china for the meal. The tall teapot is filled with delicious afternoon tea, and there is a matching little sugar bowl and milk jug to go with it. There must certainly be quite a bit of fairy magic in that tea pot, as the fragrant, delicious tea never seems to run out no matter how much you pour! See it with the set at Etsy.
To match the pretty tea pot, the sugar bowl, and the milk jug, white saucers and teacups have been set out all over the table. There are enough cups and plates for a party of four to enjoy in this meal; a small family of fairies or a group of friends can enjoy all this cake and tea. But there's always room for more, to welcome more fairies in the tea party! See them with the set at Etsy.
Inside each teacup appears to be a bright blue gemstone. Isn't that a little strange to see? Why would there be sparkling sapphires inside each cup? But these stones are truly magical. Imbued with fairy magic, they can transform the tea to any variety a fairy might wish for. Early grey, green, English breakfast, chai, white tea—whatever they wish for will come true! See them with the set at Etsy.
Such a delicious spread for afternoon tea will surely draw more than just four fairies to the party. There's bound to be a few more fairies who would like to join in and enjoy some sweets. Just in case you need some extra cakes and bakes to accommodate everyone, here are a few more!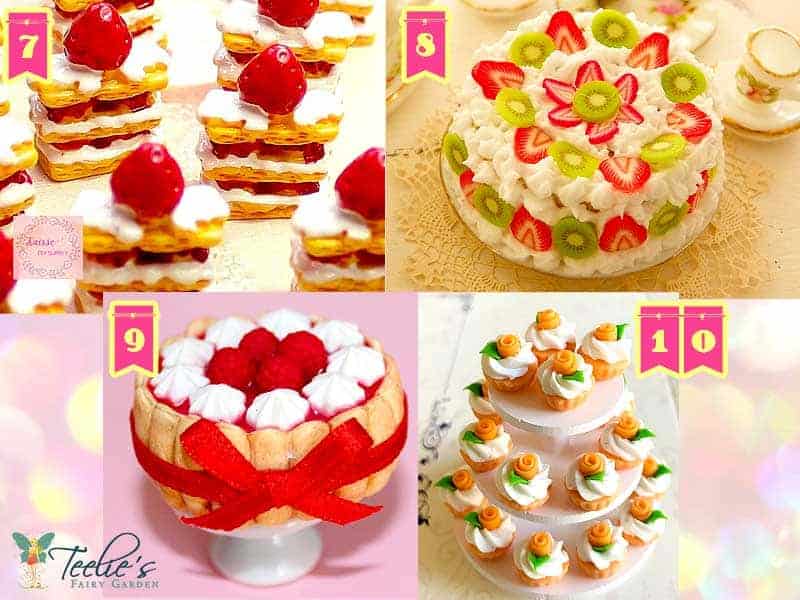 This set of six pastries will surely entice the sweet tooth of every fairy in the village! Strawberry napoleons, made from the freshest, reddest strawberries that the fairies have grown are one of the best summer pastries to enjoy. They've got fresh cream that had come straight from the fairy farm, and the sweet, flaky, crisp pastry that the fairy pastry chefs have made. See them in Etsy.
This luscious cake brings to mind all the freshness of summer. It's covered in white, cream icing, and absolutely colorful with the fruit that adorn it. It's heaped with slices of fresh red strawberries, which go wonderfully with all the bright green slices of kiwifruit to go with it. It's a tropical delight that every fairy would want a slice of in this tea party! See the cake at Etsy.
Lovely fresh white cream, the crispest freshly-baked ladyfingers, and so much raspberry jam: this is what makes the fairies' ideal raspberry Charlotte cake. Such a dainty treat, very sweet, tart, and fruity, would have been made with great care by the finest pastry chefs in the fairy kingdom. There's just no way that any of the fairies can enjoy just one piece! See it in Etsy.
In case the single vanilla cupcake is not enough, here is a whole tower of them! Golden and perfect, and all topped with orange roses, they feature a citrusy twist. The vanilla sponge has a twist of orange flavor soaked into it, giving it a refreshing summer taste for the fairies to enjoy along with the sweetness of the sugary icing. And there's more than enough cupcakes in the tower to share! See them at Etsy.
Afternoon tea is served! There is plenty of room for a group of fairies to fly in and settle down for a slice of sweet cake and a cup of delicious tea. Under the afternoon summer sunshine, it feels like a fairy garden paradise.
Just a disclaimer – We have partnered with these companies because we use their products and/or proudly trust and endorse them – so we do receive a commission if you make a purchase or sign up for services. Often, we are able to negotiate special discounts and/or bonuses, which we will pass on to you via our links. We often get short notice on sale items available for 24-48 hours as we will pass these savings onto you.