It's a beautiful day in Fairy Land, and eight of our fairies have come together to show you a few items from our fairies' collection of merchandise. Not only do our fairies do amazing work around the world, but they also have a team of experts working with them to make them better known. Each of our eight fairies today will introduce themselves and mention one piece of merchandise that you can find with their image on it. However, feel free to explore all the fairy collections on Redbubble. You can mix or match items or create your own collection of fairy fun with your favorite fairy's image.  And, once you've finished exploring the fairy merchandise, please come back to join us in Teelie's Fairy Garden.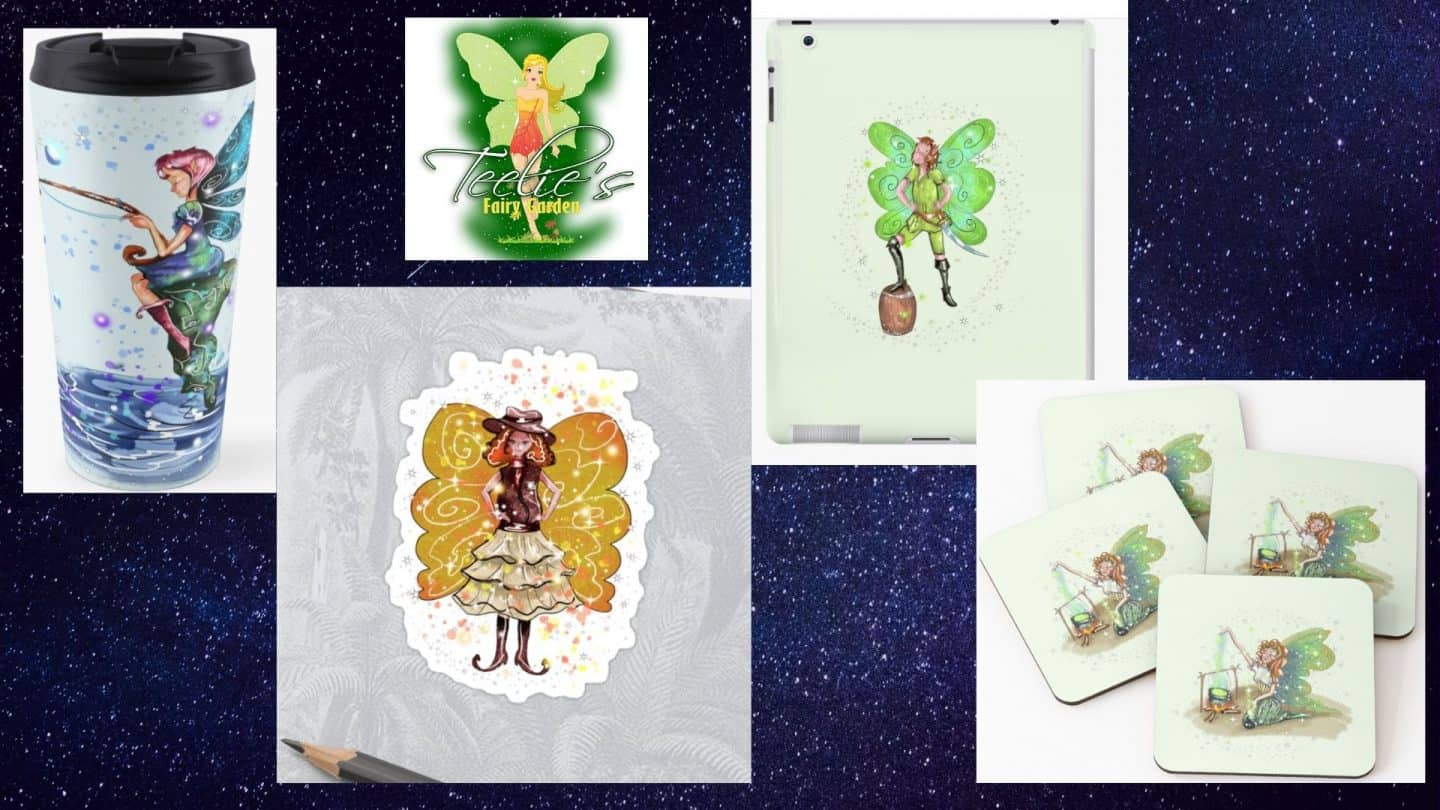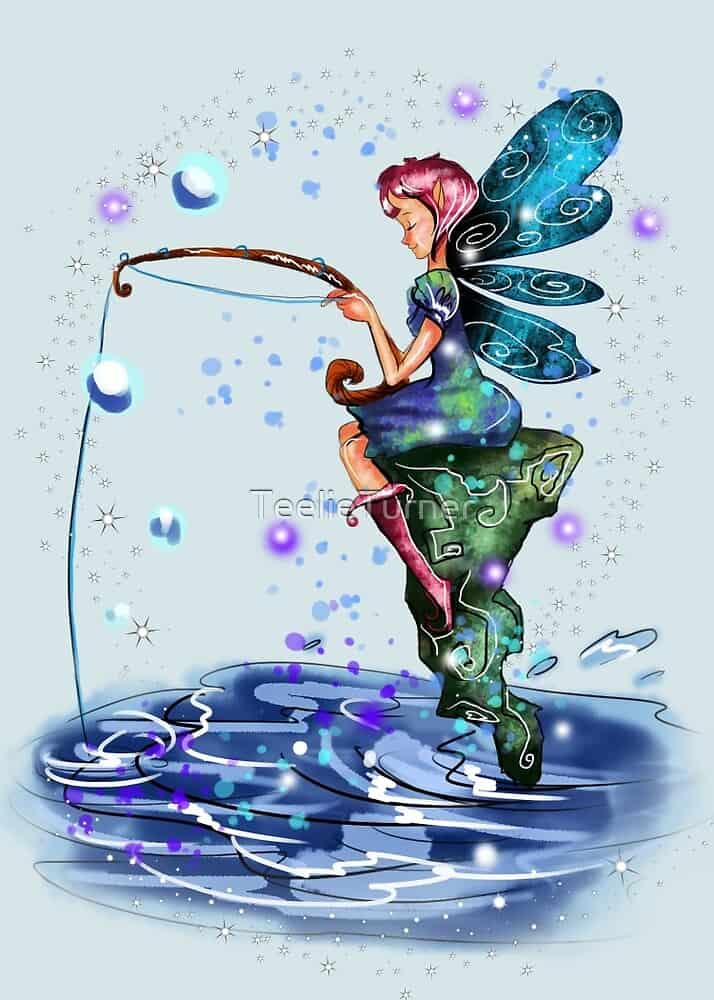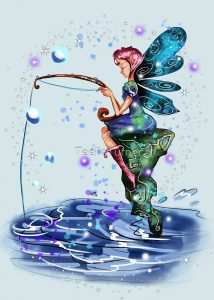 Lorilla The Lakeside Fairy
I'm Lorilla the Lakeside Fairy and I decided to show you a fairy travel mug. Travel mugs are useful ways to keep beverages warm. Being a lakeside fairy, I'm away from my cottage a lot. I love to fish and swim, so I always fill my travel mug before I leave with my favorite drink. It's always something sweet like hot cocoa. You can find my travel mug on Redbubble.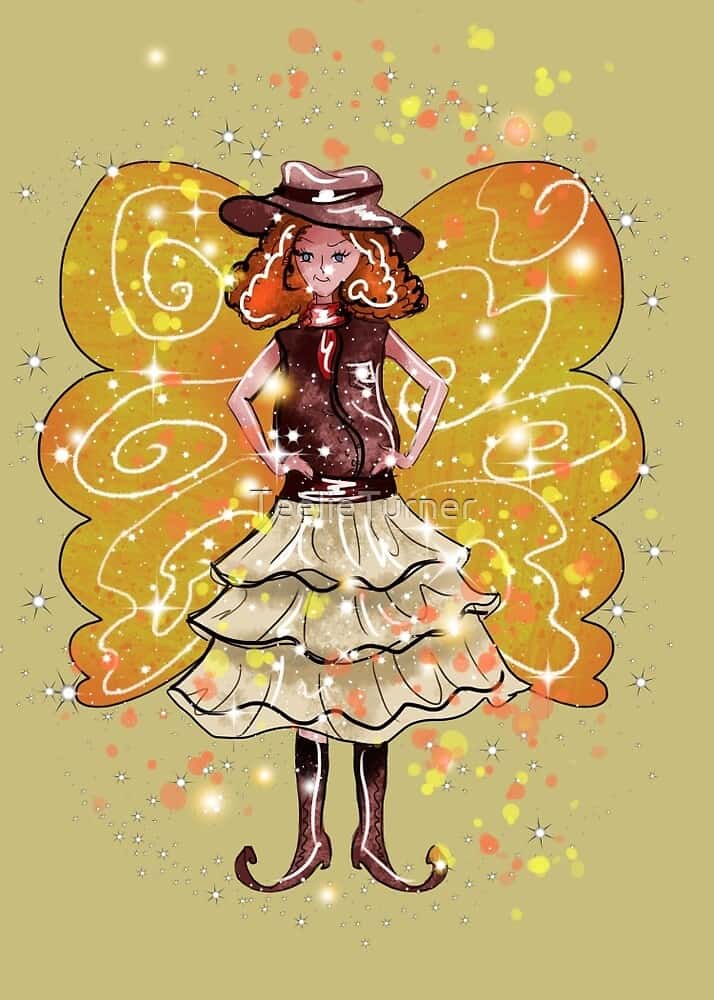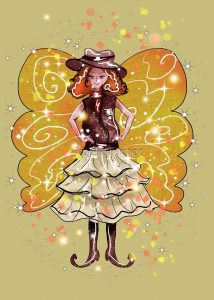 Willie Snap The Wild West Fairy
Howdy ya'll. I'm Willie Snap, a fairy who is in charge of the wild west, even though it is a lot calmer than it used to be. I love to ride horses and go on camp outs under the stars. And, sometimes when I'm up for a challenge, I find myself a unicorn or a dragon to ride. You can find my picture on a lot of fairy merchandise – thank goodness it isn't a wanted poster. I decided to show you a sticker with my image on it. It is available on Redbubble.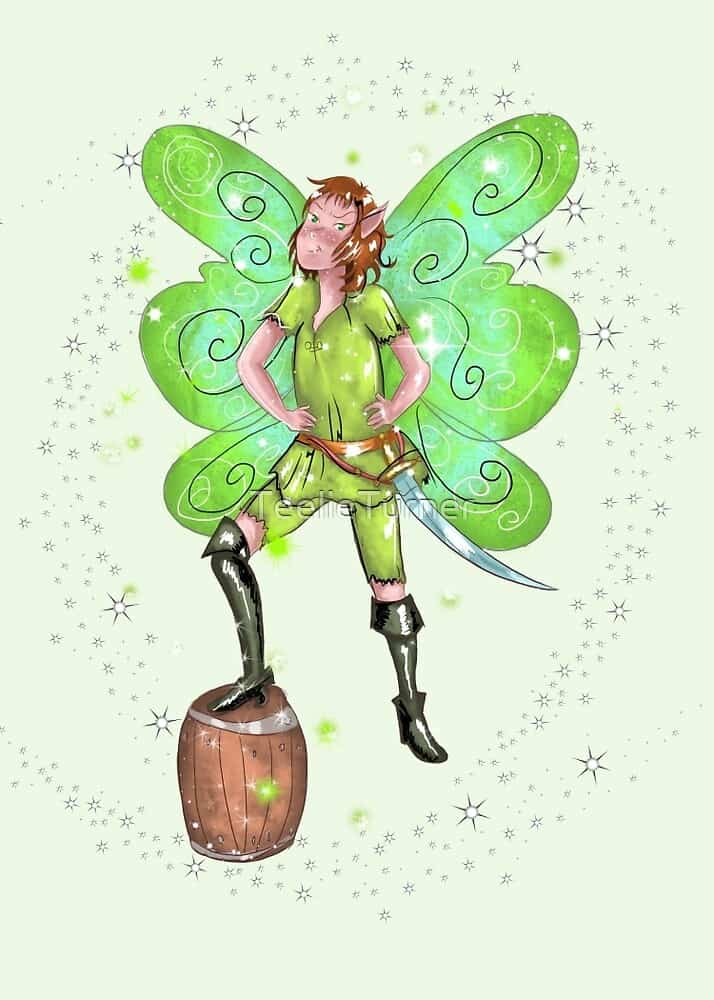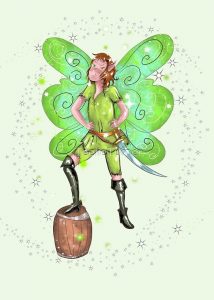 Puppa The Pirate Fairy
Ahoy, matey. I'm Puppa, the Pirate Fairy but you don't need to be afraid. There are good pirates and bad pirates in the world. Mostly, I look for treasures and help patrol the seas. Technology is becoming more and more predominant in the world and so I decided to show you an iPad case and skin that has my picture on it. You can find it and more on Redbubble.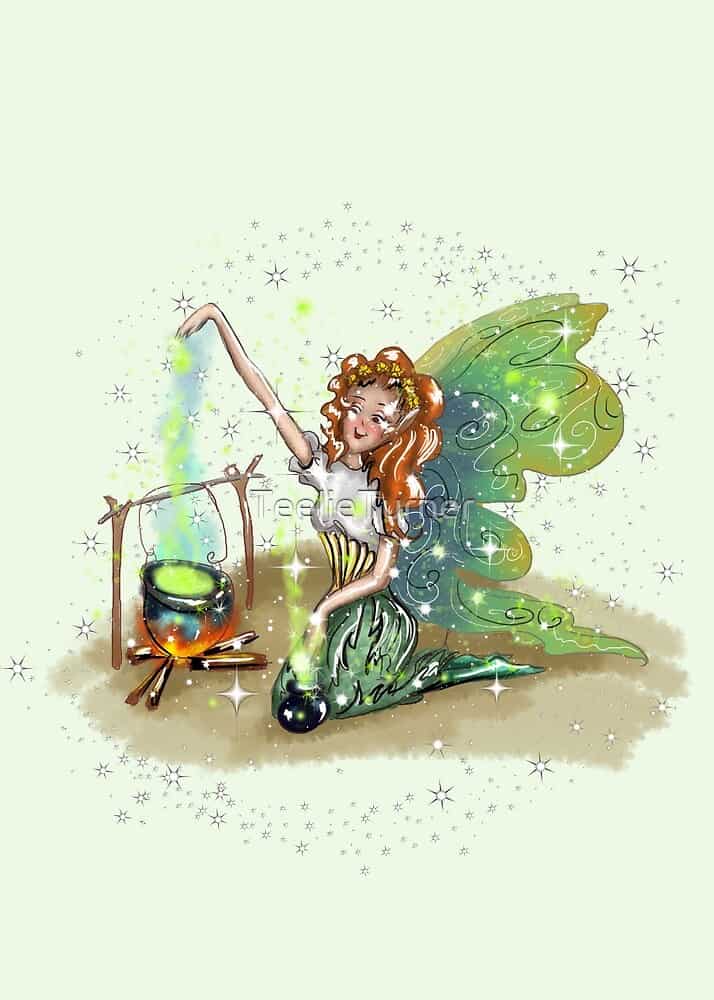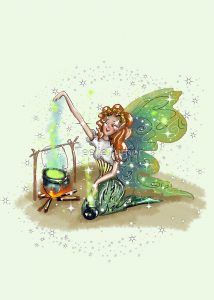 Crissy The Camping Fairy
Hi, my name is Crissy and I have an amazing job in Fairy Land. I'm a camping fairy. It means I get to travel around, sleep outside and meet all sorts of people and fairies. Actually, my most recent camping trip was held in a desert with Willie Snap. We had quite the time. I use magic fairy dust to light my camp fire and cook up a delicious campfire meal. And, even when I'm camping, I can keep things nice and tidy. That's why I decided to show you a set of coasters with my picture on them. They're on Redbubble.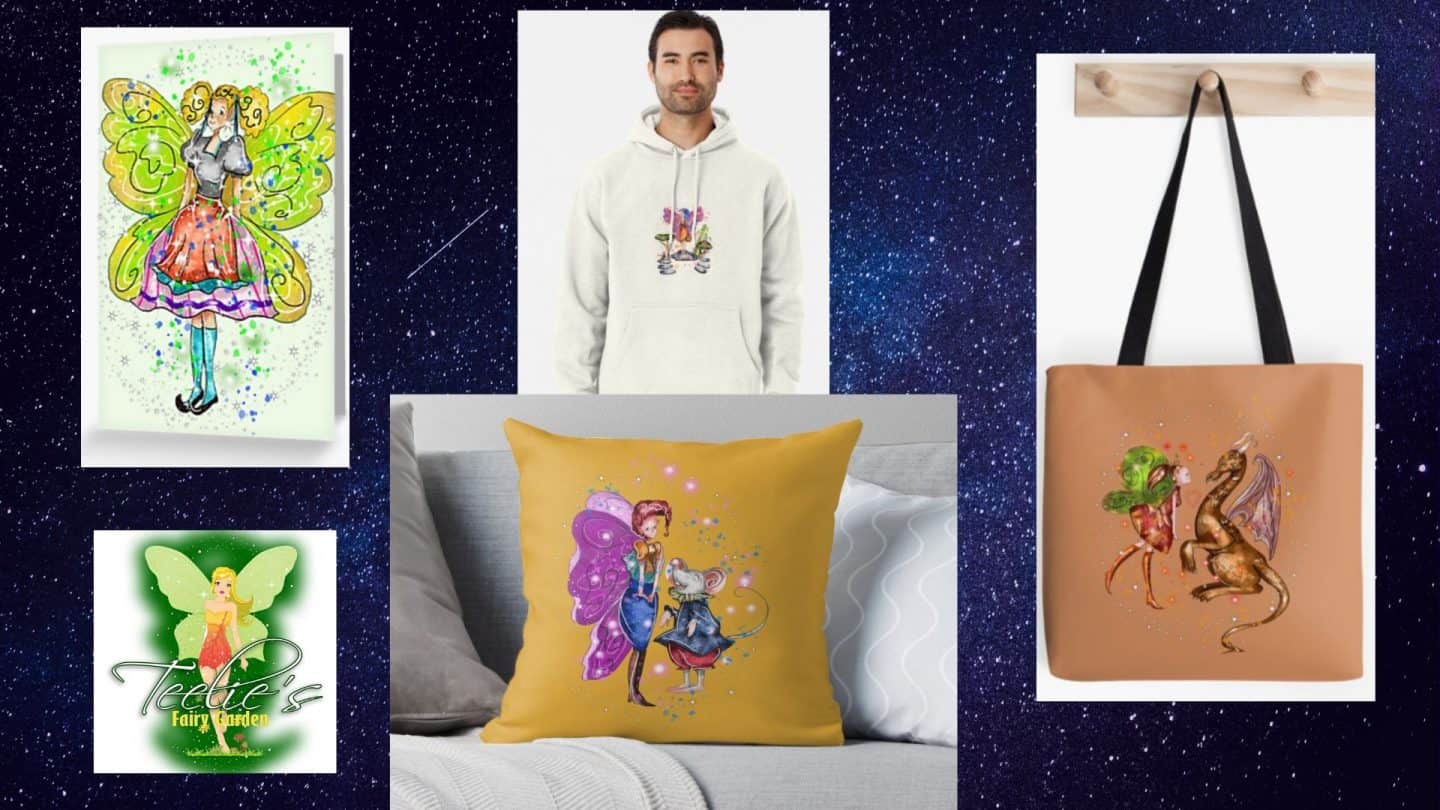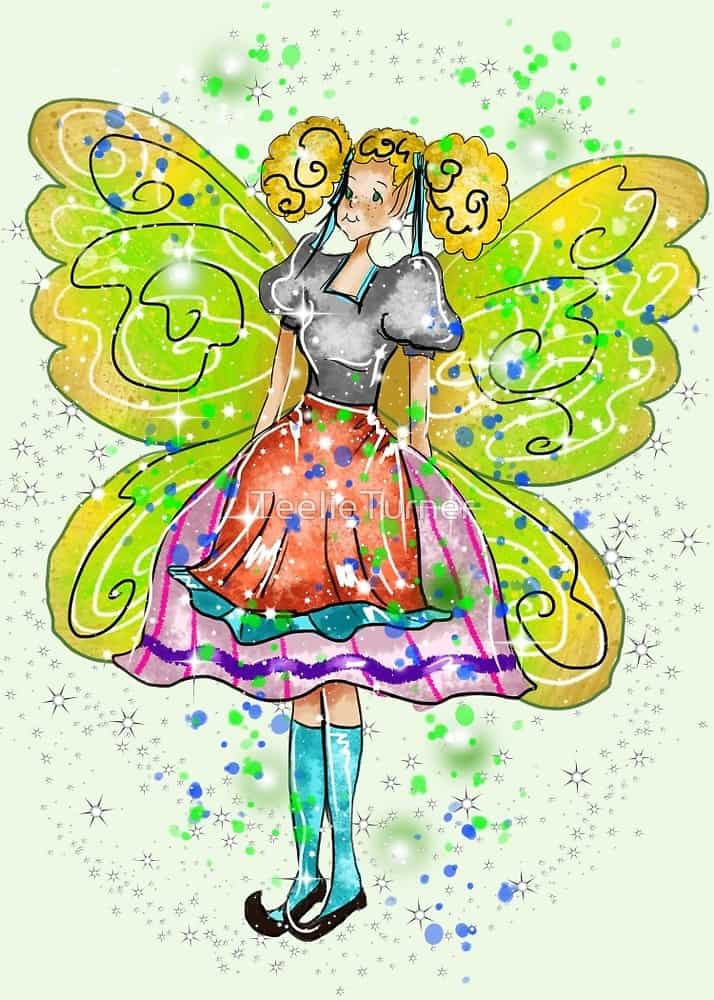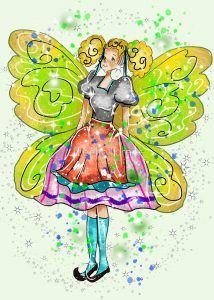 Cookie The Country Fair Fairy
Hi Friends, I'm Cookie and I'm a County Fair Fairy. That becomes a tongue twister when you try to say it fast. My favorite activities are travelling around the world to different fairs, and especially riding on roller coasters. I also love writing letters to friends and family around the world. It's so much fun to get mail whether it is in the traditional human way or the magical fairy way. This is why I selected a greeting card with my picture on the front as my fairy merchandise selection. You can buy it on Redbubble.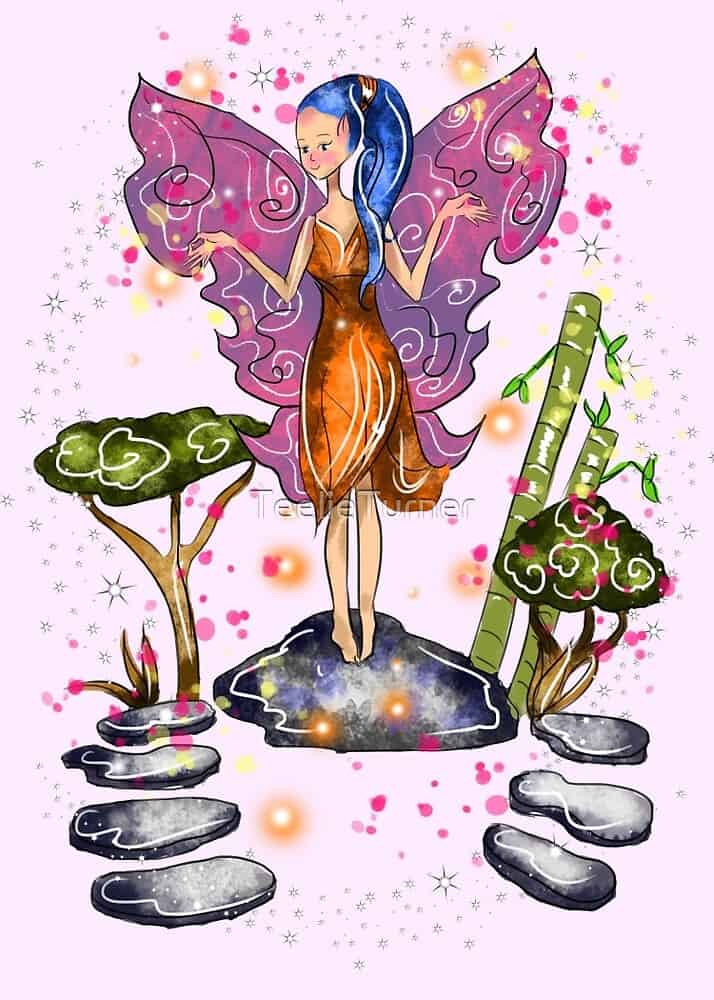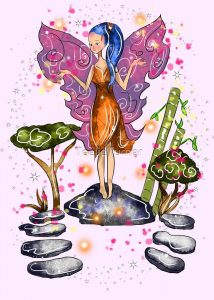 Zarina The Zen Fairy
Greetings, I'm Zarina the Zen Fairy. My job is to help bring calm to the world. As such I do a lot of yoga and meditation. I also like to sit on the porch of my cottage and sip on warm sweet tea. Some evenings it gets chilly and this is why I chose to share a pullover hoodie from our merchandise store with you. I always have one close by. Sometimes, I wear it with my picture and other times I choose a fairy friend. You can find it on Redbubble.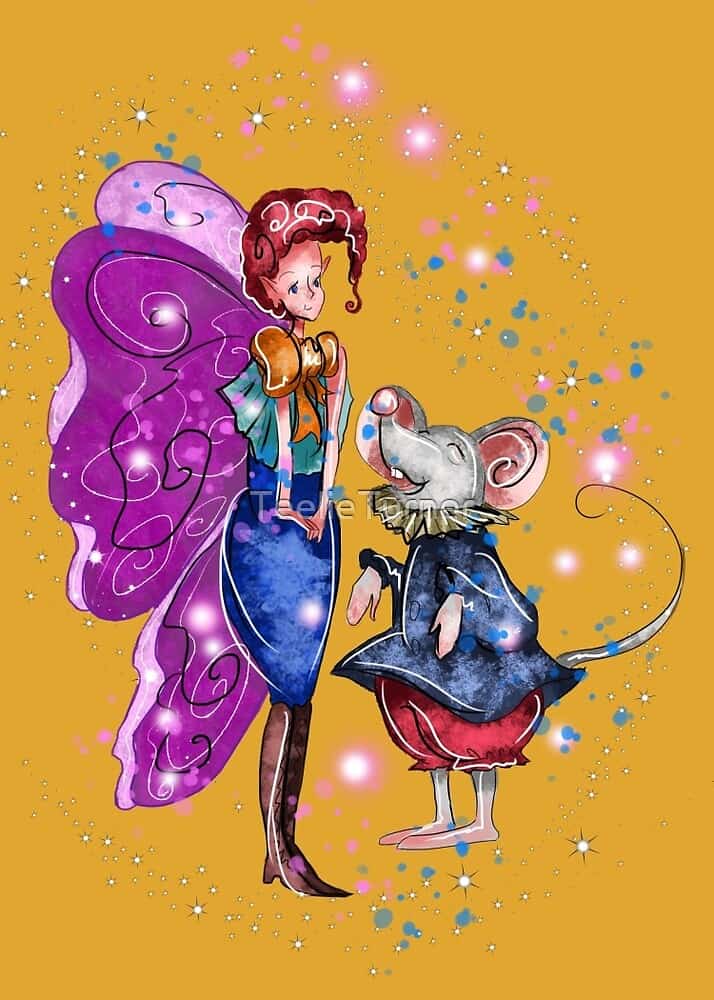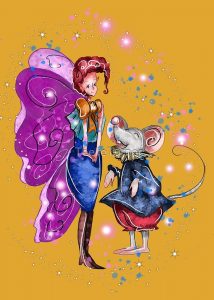 Wee Forest Folk Fairy
Hi, I'm a Wee Forest Folk Fairy. In some places like Ireland, fairies are called 'Wee Folk' and it is my job to help look out for other fairies and to make sure that they are doing alright and feeling rested and enjoying their jobs. This is why I decided to show you a throw pillow with my picture on it. You can find it on Redbubble. I'm often seen with my pet mouse or other forest animals, that's because animals are small and in need of protection too. So, I enjoy keeping a close eye on them while I go about my other duties.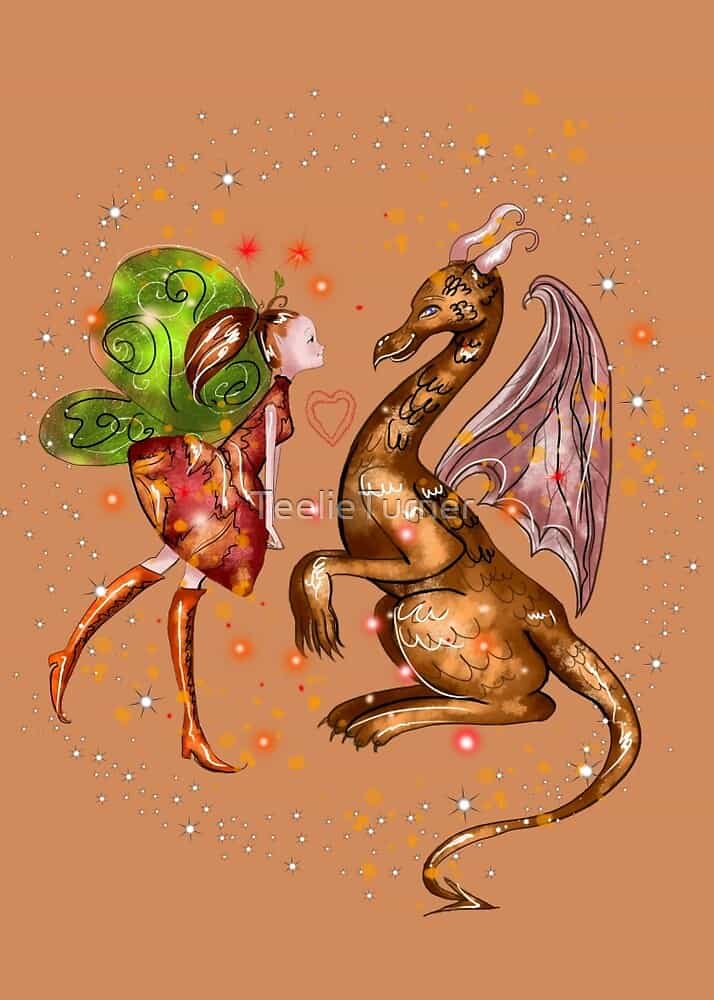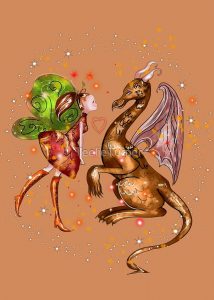 Desta The Dragon Fairy
And, last but not least, I'm Desta, the Dragon Fairy. My responsibilities include making sure that all the dragons who live in Fairy Land understand how to act with the fairies and that it is important not to scare visitors like you who come to visit. You see, some dragons haven't had much contact with fairies or humans when we first find them in their homeland, but most of them are receptive to coming to Fairy Land and enjoying a brand-new magical lifestyle. I decided to show you a tote bag with my picture on it. Sometimes I carry treats or toys to the dragons in a tote. You can find yours on Redbubble.
Thank you for being here today to meet our eight fairies who were so happy to be able to meet you and introduce you to their merchandise. We hope that you'll come back to Teelie's Fairy Garden after you've had a chance to look at the merchandise.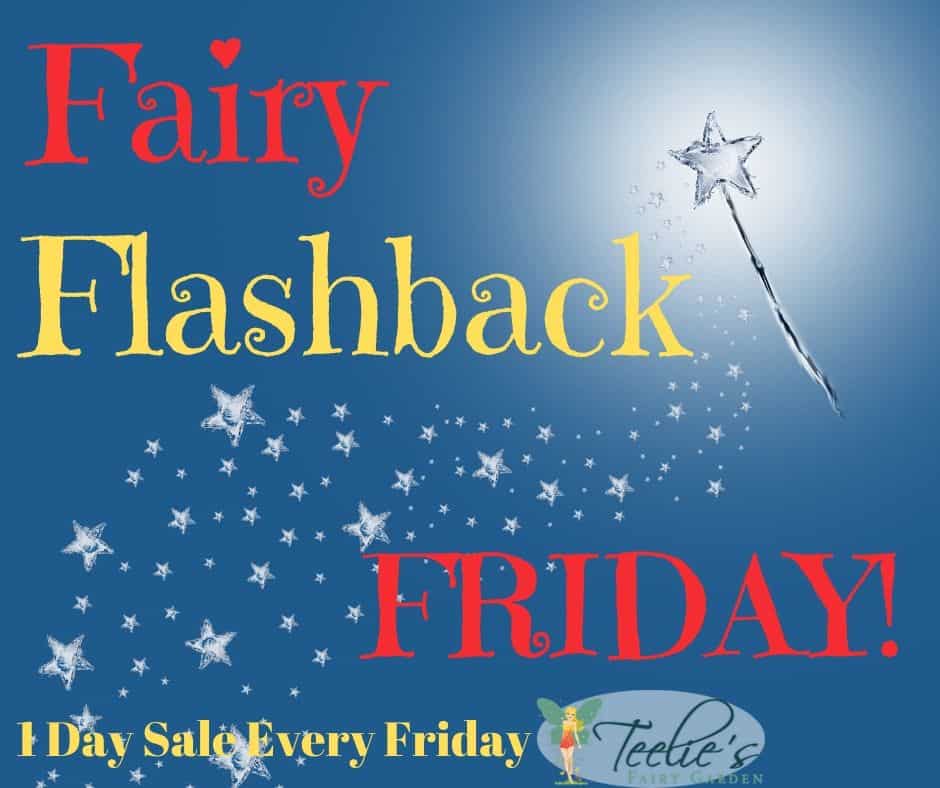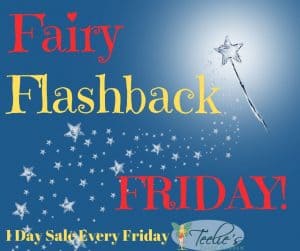 Every Friday, you'll also find a sale on at our Etsy Store which could inspire your fairy garden adventures. There are many items on sale from 25-40% off. Check it out here.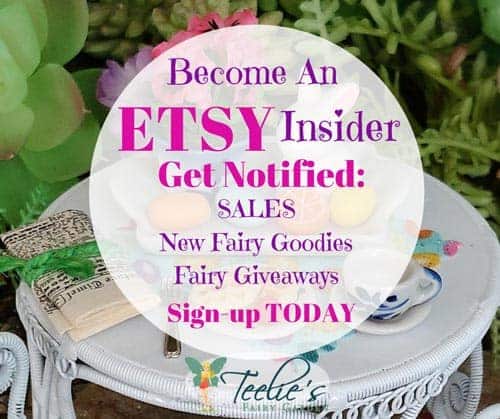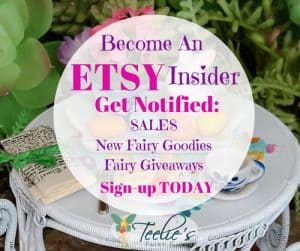 You can also sign up to be an Etsy insider and get notified by e-mail about fairy giveaways, goodies and sales. Sign up here.
Just a disclaimer – We have partnered with these companies because we use their products and/or proudly trust and endorse them – so we do receive a commission if you make a purchase or sign up for services. Often, we are able to negotiate special discounts and/or bonuses, which we will pass on to you via our links. We often get short notice on sale items available for 24-48 hours as we will pass these savings onto you.