Tea in Fairy Land is a very important activity. The majority of the fairies love it and that's why this week they wanted to share some unique looking tea sets with you. These are miniature sets so perfect for a fairy tea or playtime with children. Let your imagination take you on a journey as you explore this week's Enchanted Eight. The choice of the right tea set is up to you, but the fairies have some neat choices just for you. And, when you're through please stay with us in Teelie's Fairy Garden. If you're planning to incorporate your tea set into a fairy or dollhouse set that you already own, the fairies recommend checking the size of the pieces.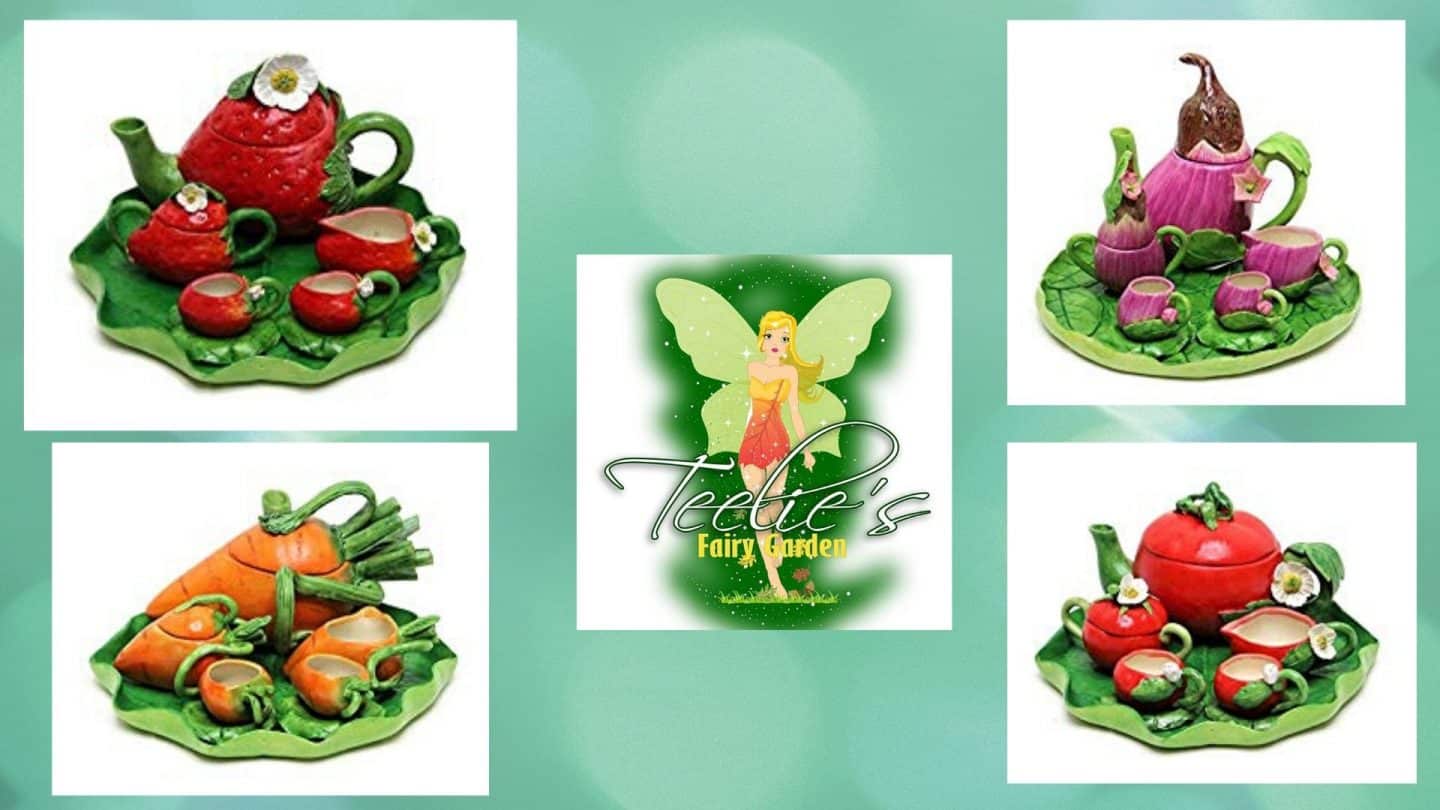 Fruit Themed
The fairies' first pick is a tea set with a strawberry design. It would be extra wonderful with some strawberry flavored tea or a sweet strawberry treat on the side. The fairies vote for strawberry filled doughnuts. There are lots of choices for fruit themed tea sets. The strawberry one is on Amazon.
Vegetable Themed
The vegetables also wanted to get in on the tea experience, and so there are numerous options with your favorite vegetables to have tea in. The fairies found this eggplant one to be extra adorable. As you know fairies have extremely sweet teeth and eggplants are not their everyday cuisine but seeing this set has inspired some to try this vegetable. You can find the eggplant tea set on Amazon.
Menu Themed
Carrot soup, carrot muffins, carrot salad…there are a lot of choices for a menu featuring carrots, and if you have a pet bunny, they'll be glad to have a piece too. And there is a carrot tea set that can go with your carrot themed menu. With any tea set that has a fruit or vegetable theme, you can choose to pair your menu with the shape and color of the tea pot. If you'd like to own a carrot style teapot, you can find it on Amazon.
Non-traditional
When you're hosting a tea party, it is fun to be able to surprise your guests. You can do this by choosing a non-traditional tea-set. Your guests might be expecting something usual but when you serve the tea in something different, it can become a memorable experience for you and your guests. The fairies chose this tomato tea set which can be found on Amazon.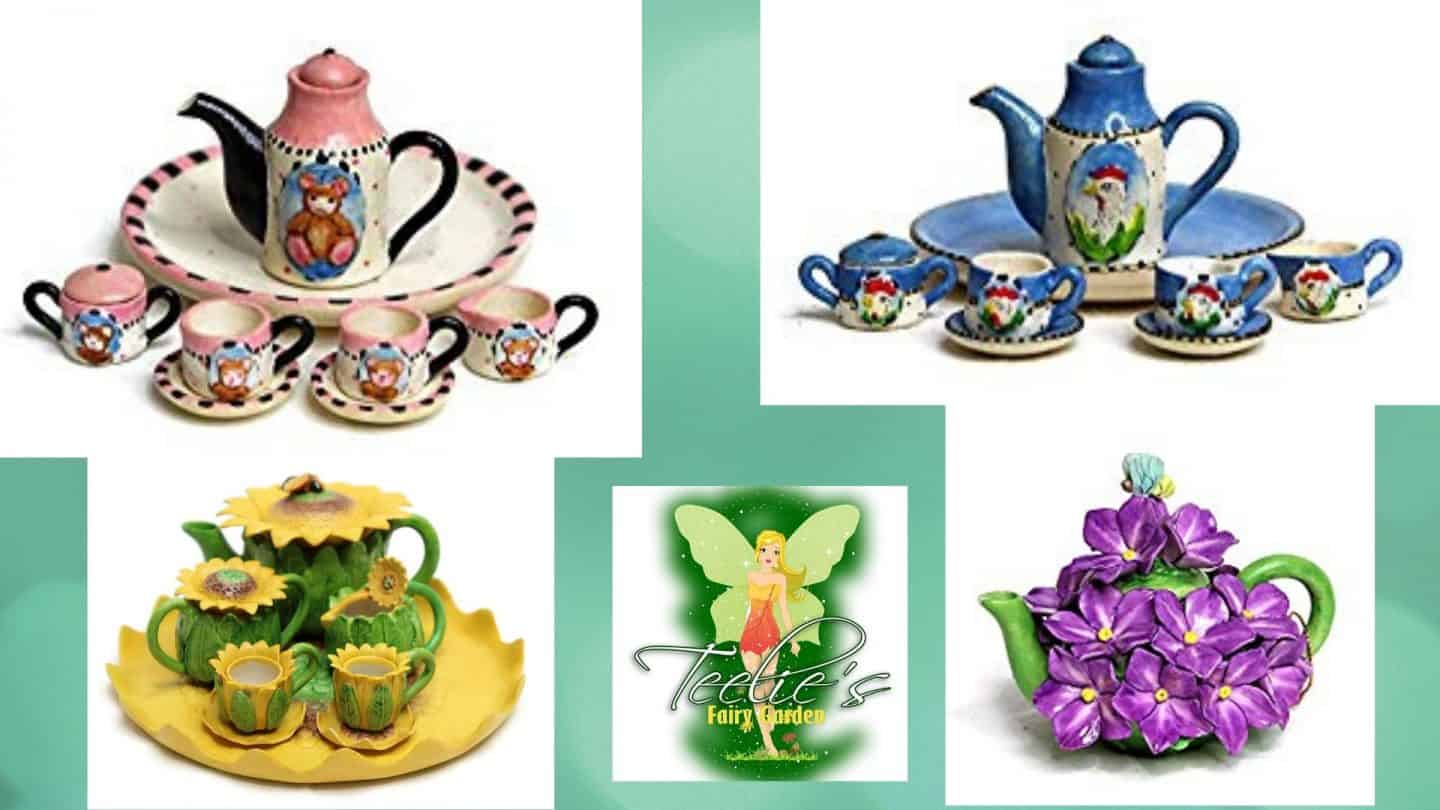 Adorable and Exciting
Choose a tea set that is both adorable and exciting, something that makes your heart smile when you look at it. This is how the fairies felt when they saw a tea set with a little bear design on it. And, it is also hand-painted which makes it even more special. It can be found on Amazon.
Animal Themed
Having images of animals on your tea set can make for a delightful experience. With so many options to choose from, you'll have an enjoyable time choosing the perfect tea set for your special occasions. The fairies saw this one with a rooster design and fell in love with it. It is available on Amazon.
Floral Themed
Very few humans or fairies dislike flowers and so choosing a tea set with a floral theme can brighten up an event. Not only do these stunning tea sets create a special experience, but they can also be used as a centerpiece. The fairies decided to show you this one with the sunflowers, because of the smiling and cheerful image that sunflowers bring. If you'd like to own it, visit Amazon.
Bright Colors
The fairies final pick is a green tea set with bright purple flowers. It is very cute. It can also be used as a mini-planter or a table-top vase. With this in mind, your tea parties can be about more than just the kind of tea that you serve. You'll find this tea set on Amazon.
Now that you've had a chance to explore these cute miniature tea sets, we hope that you'll make yourself a cup and settle in to explore more fun in Teelie's Fairy Garden.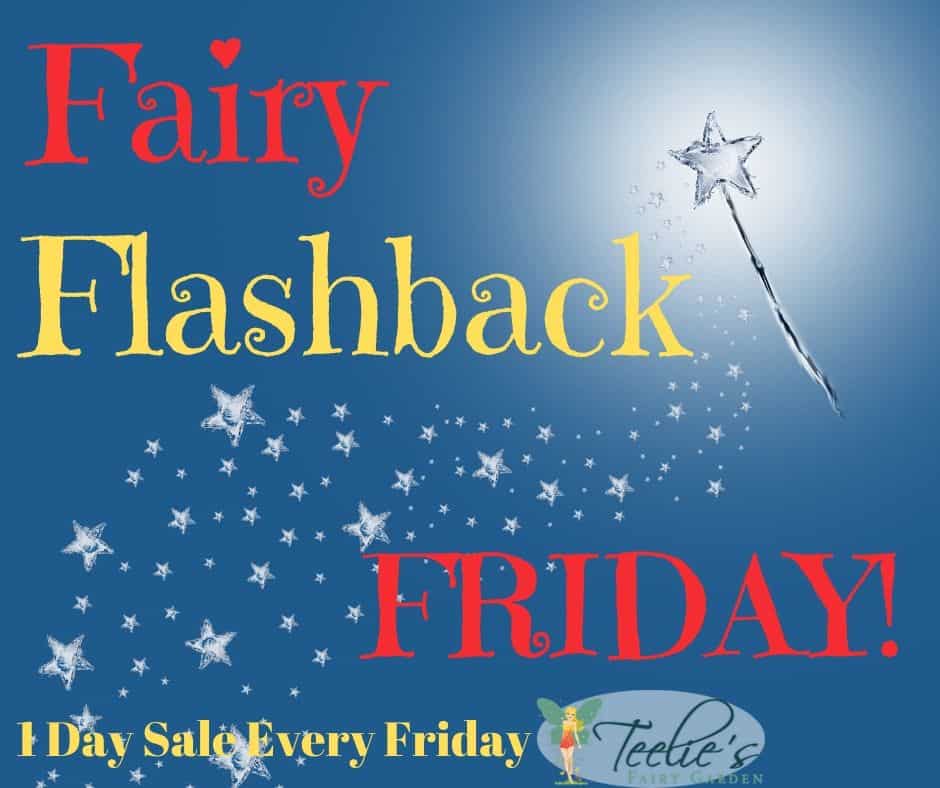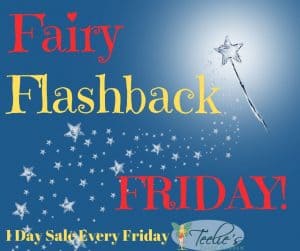 Every Friday, you'll also find a sale on at our Etsy Store which could inspire your fairy garden adventures. There are many items on sale from 25-40% off. Check it out here.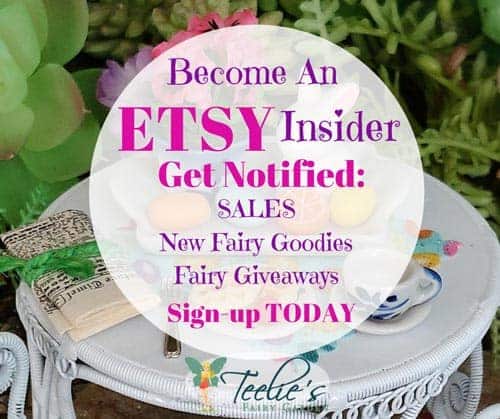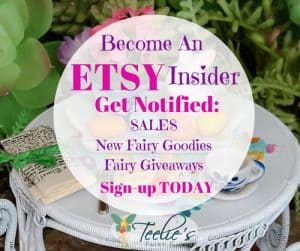 You can also sign up to be an Etsy insider and get notified by e-mail about fairy giveaways, goodies and sales. Sign up here.
Just a disclaimer – We have partnered with these companies because we use their products and/or proudly trust and endorse them – so we do receive a commission if you make a purchase or sign up for services. Often, we are able to negotiate special discounts and/or bonuses, which we will pass on to you via our links. We often get short notice on sale items available for 24-48 hours as we will pass these savings onto you.