Thank you for taking a walk with us through Teelie's Fairy Garden. We're so glad that you could take the time to visit Fairy Land.  At the beginning of September, we were inspired by a Peter Rabbit-themed baby shower that our friend Lynn co-hosted. An adorable pair of baby shoes were used as the cake topper. This got the fairies wondering what other cake toppers could be used in their fairy gardens for some magical fun.
We think you'll enjoy this video that includes a few photos from the baby shower.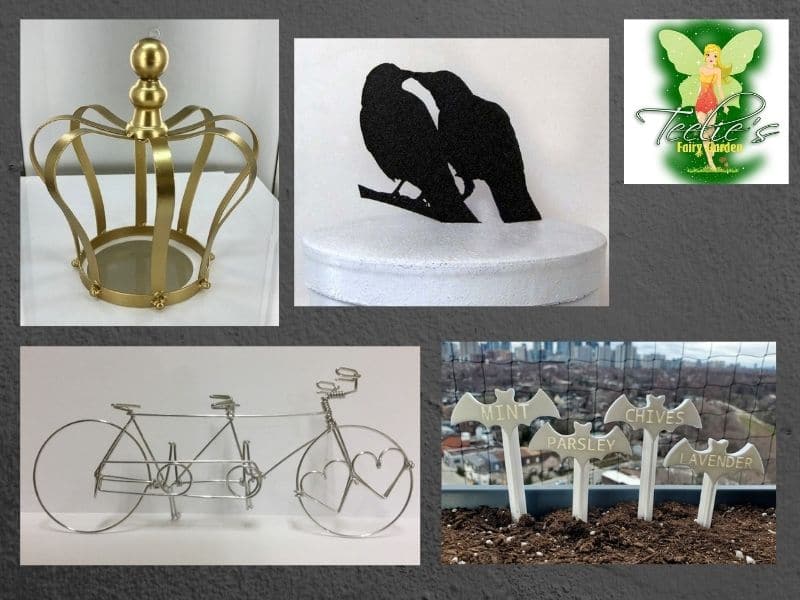 Royal Cake Topper
We found an adorable metal cake topper which is a crown. This would be great on a cake to celebrate King Henry and Queen Olivia at their palace. Learn more on Etsy.
Caring Crows Topper
The next cake topper that we found had a loving pair of caring crows on top. We also thought this would be fun for decorating a Halloween-themed fairy garden. This cake topper is available in a number of colors including black, gold, silver, and copper. Find it on Etsy.
Adorable Tandem Bike
Another adorable cake topper had a tandem bike with double hearts on it. This would be adorable in a fairy garden. It could be leaned up against a porch or a shed. It would also look nice in the center of a flower garden. Find it on Etsy.
Spooky Garden / Cupcake Toppers
If you're hoping to turn your cake toppers into an intriguing spooky garden ornament, you might like these little bats with the names of herbs on them. You can also have them personalized with your own messages. It's great for Halloween too. Learn more on Etsy.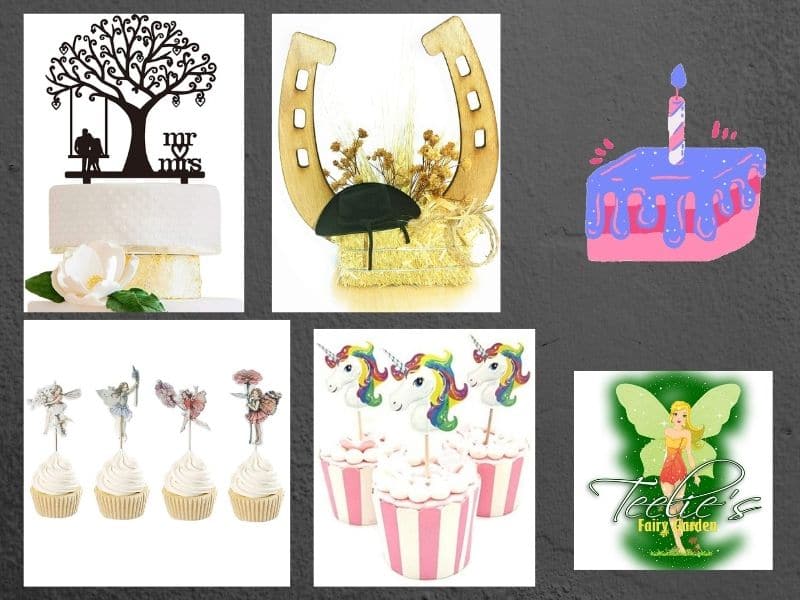 Romantic Cake Topper
We found this adorable and romantic cake topper that features a swing, a tree, and the words Mr. & Mrs. It is made of acrylic and would be cute as part of the background for a wedding-themed fairy garden. It is available on Amazon.
Lucky Cake Topper
If you're looking to add a touch of luck to your fairy garden, you might enjoy this horseshoe cake topper / tabletop decoration. It has a western theme look, so would be fun for a ranch or farm-themed fairy garden. Full details are available on Amazon.
Fantastic Fairy Toppers
We found some adorable fairy cupcake toppers which were designed for a kids' party. However, we think they would fit in wonderfully in an instant fairy garden. They're already on picks, ready to become part of a magical instant fairy garden décor. Teelie Turner has a number of instant fairy gardens available including one featuring Felicia the Magical Fairy Book Club Fairy, two with Iaada the International Fairy, and a Halloween instant garden. Find the cake toppers on Amazon. Find all the instant fairy gardens on Teelie's Fairy Garden website.  
Fun Unicorn Cake Toppers
The final cake toppers that we decided to share with you today have fun and colorful unicorns on them. They also have the picks already in them and would look cute in an arrangement for a centerpiece or as part of a magical instant fairy garden. Find these cake toppers on Amazon.
Thank you again for visiting us. Please come back and visit us again soon in Teelie's Fairy Garden. We have a lot of magical fun planned to share with you for autumn, Halloween, and many other intriguing fairy topics.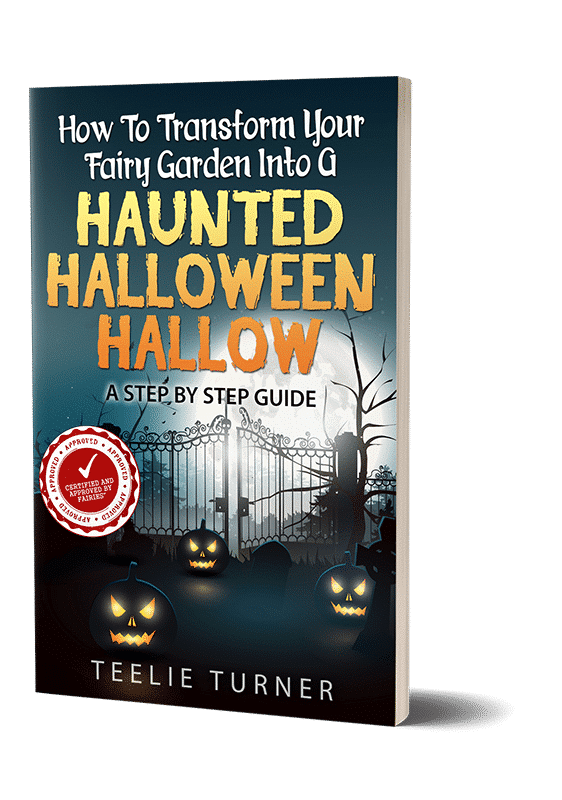 Discover Teelie Turner's complete collection of magical books here.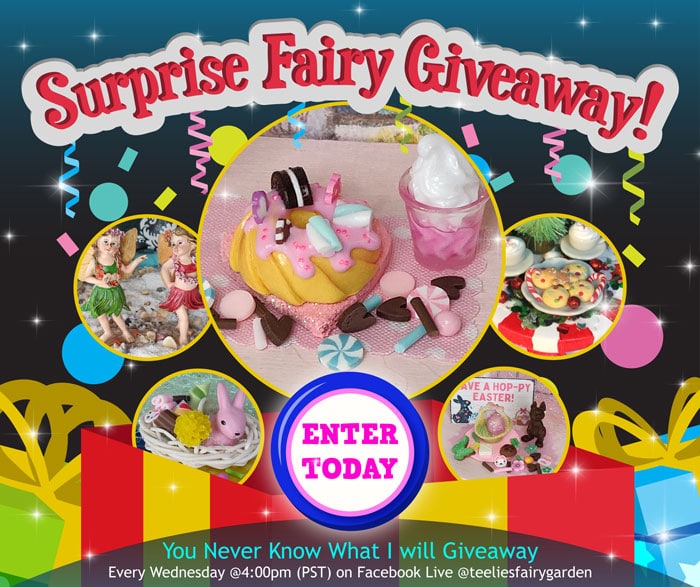 Every Wednesday, Teelie Turner will be giving away something special in a magical surprise giveaway. You'll never know what it might be and that is part of the magic that goes along with this. Sign up now for your chance to win. (USA residents only)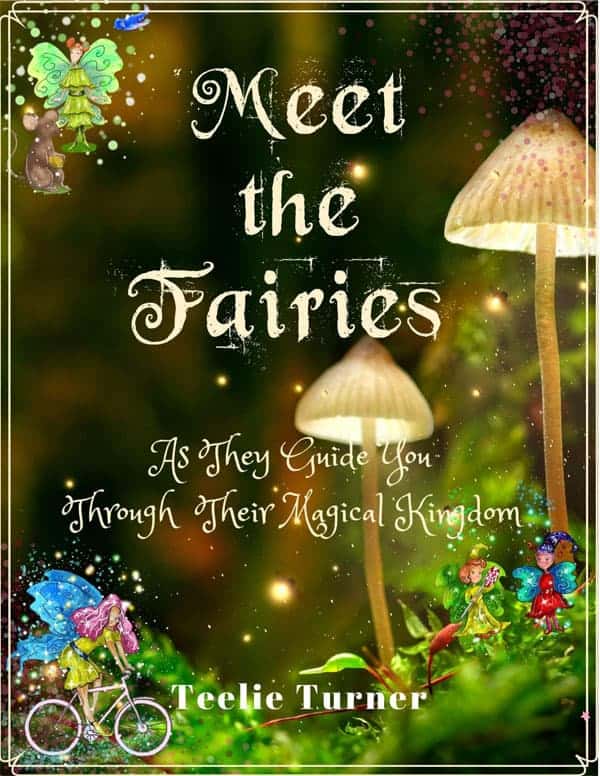 Sign up to get a copy of the Meet the Fairies catalog/book. It's an enchanted opportunity to get better acquainted with over a hundred incredible fairies.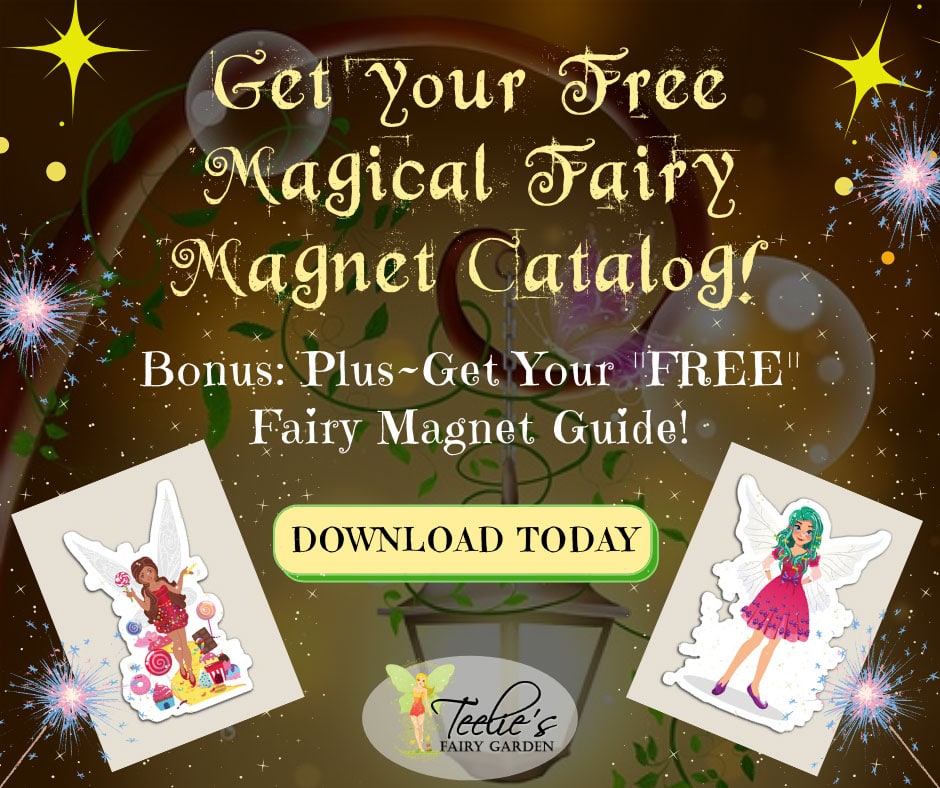 Several magical fairy catalogs and guides are available as a free download. Learn more about them here.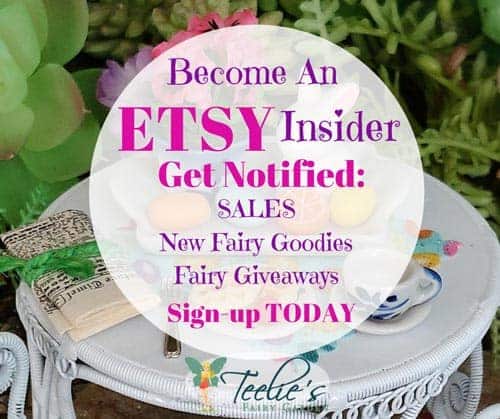 You can also sign up to be an Etsy insider and get notified by e-mail about fairy giveaways, goodies, and sales. Sign up here. 
Just a disclaimer – We have partnered with these companies because we use their products and/or proudly trust and endorse them – so we do receive a commission if you make a purchase or sign up for services. Often, we are able to negotiate special discounts and/or bonuses, which we will pass on to you via our links. We often get short notice on sale items available for 24-48 hours as we will pass these savings onto you.