Would you like your pets to join in on your Christmas in July celebrations? This week Teelie's Fairy Garden has some magical treasures and accessories that can help you do that.   Keep reading to learn more.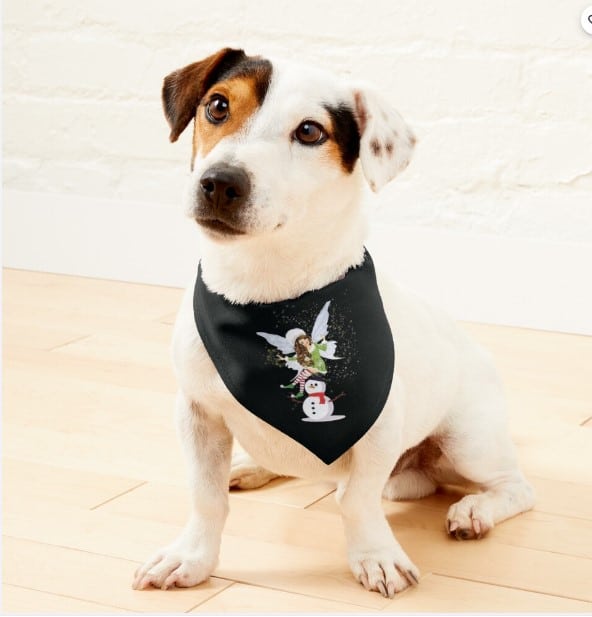 Pet bandanas are a great way to add some magic to your Christmas season. They work great for both cats and dogs. In our cover photo, you saw a cat wearing a Fairy Merry bandana. In that one, Fairy Merry has a candy cane in it. Above, we have an adorable dog wearing a Fairy Merry bandana. In this one, Fairy Merry is with a snowman. Fairy Merry is a magical Christmas Fairy who lives and works at the North Pole. She is featured in Teelie Turner's book The Fairy Merry Christmas. Learn more here.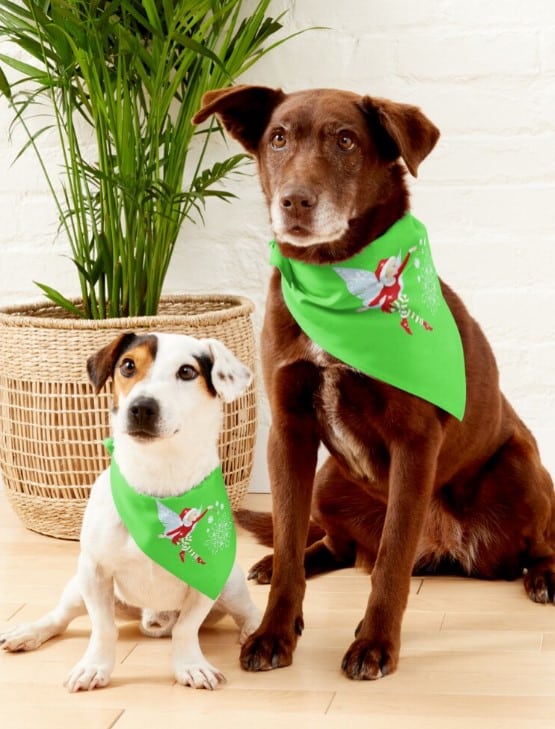 The Snowflake Christmas Fairy is full of magical fun for you this Christmas in July season too. She has beautiful pet bandanas and other pet accessories to brighten your holiday season. The green background is particularly striking. Learn more here.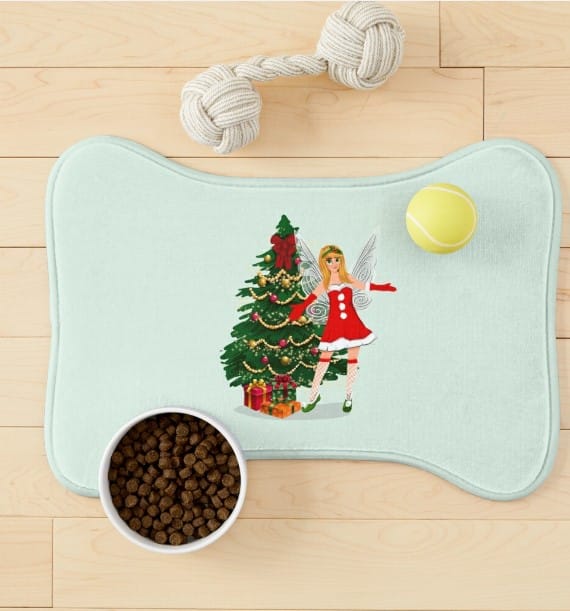 This magical Holly's Magical Fairy Tale Christmas pet mat is for dogs. It has Holly standing in front of a Christmas tree. Holly is featured in Teelie Turner's magical book Holly's Fairy Tale Christmas. In this story, Holly and a human girl share their holiday traditions with each other. Learn more here.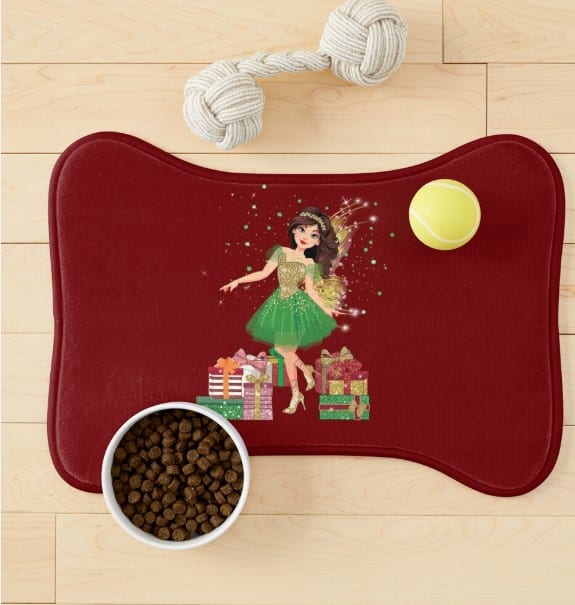 Gigi the Chic Fairy has a magical Christmas in New York. You've got to read about it in Teelie Turner's enchanted book. You can also help accessorize your pets with Gigi's amazing pet products such as the dog mat pictured above. We love how sparkly Gigi's dress is and how beautiful the background color is. Learn more here.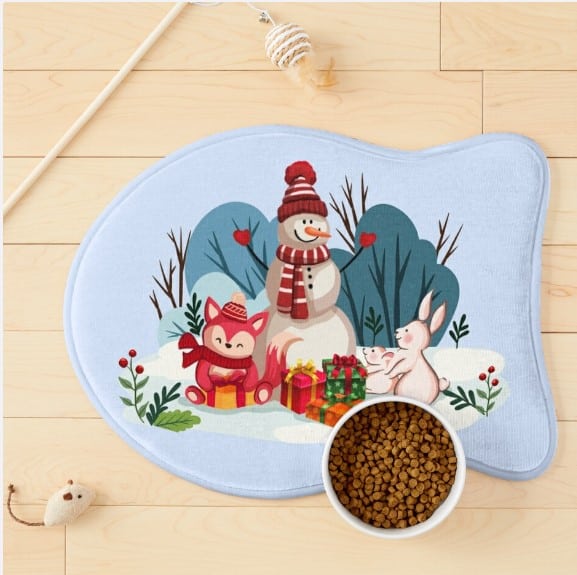 The Christmas snowman is sharing the magic of Christmas in July with his furry friends. He wants to share it with you too. He has many delightful pet accessories including this beautiful cat mat. Learn more here.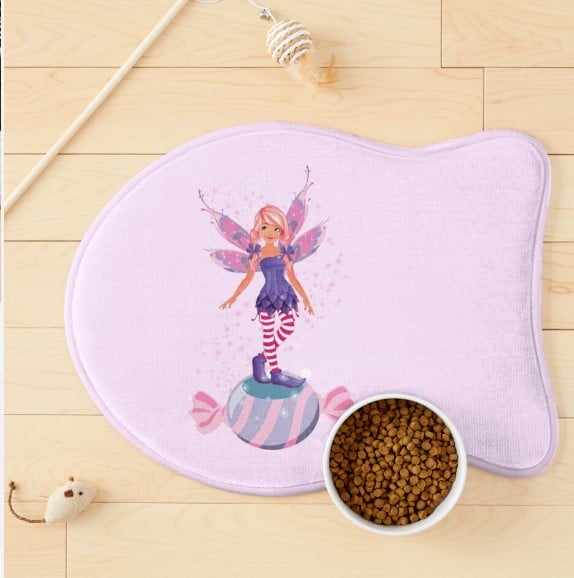 The Sugar Plum Fairy of the North Pole is featured in Teelie Turner's Fairy Merry Christmas story. The Sugar Plum Fairy wants you to celebrate the magic of the holidays. She's featured on all the pet accessories including this cute cat mat. Learn more here.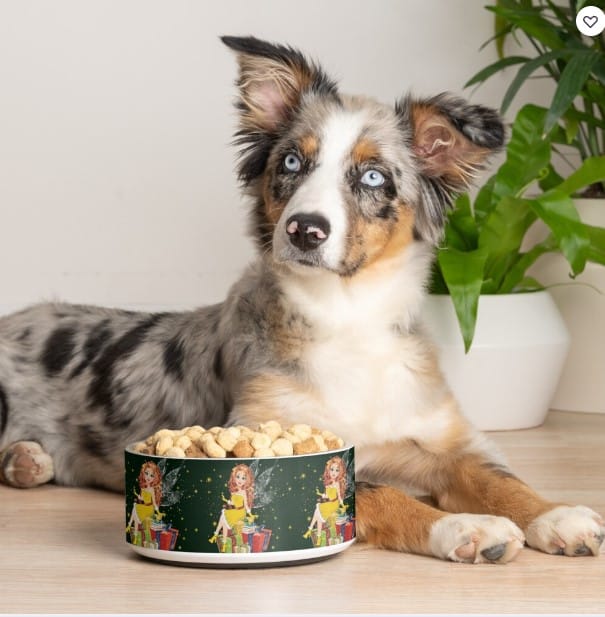 Felicia the Magical Fairy Book Club Fairy loves to celebrate all the holidays throughout Fairy Land. She posed for a photo in a gorgeous yellow dress when presents surrounded her. This photo ended up on a stunning collection of clothing and accessories. Pictured above is Felicia on a beautiful pet bowl. Learn more here.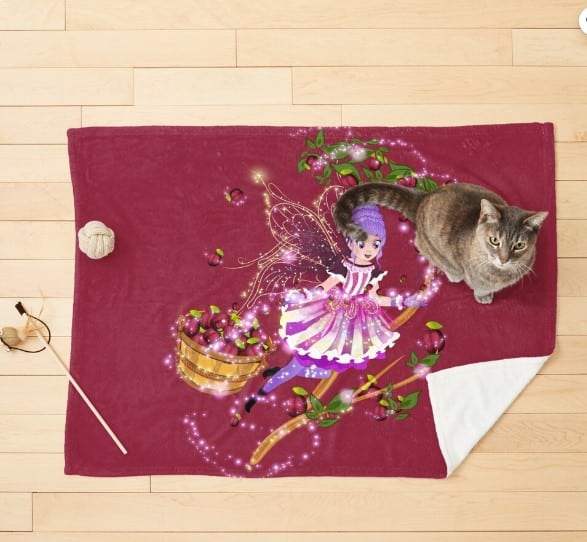 Serena and the Sugar Plum Fairy Solution Pet Blanket
Serena the Sugar Plum Fairy can be found in two amazing Teelie Turner Christmas books. She also has her own collection of merchandise for each book. Pictured above is her beautiful pet blanket from the Serena and the Sugar Plum Fairy Solution collection. Learn more here.
 Teelie's Fairy Garden has lots more magic coming your way for Christmas in July. So keep visiting our website and social media accounts. You don't want to miss out on the treasures that this season has to offer you.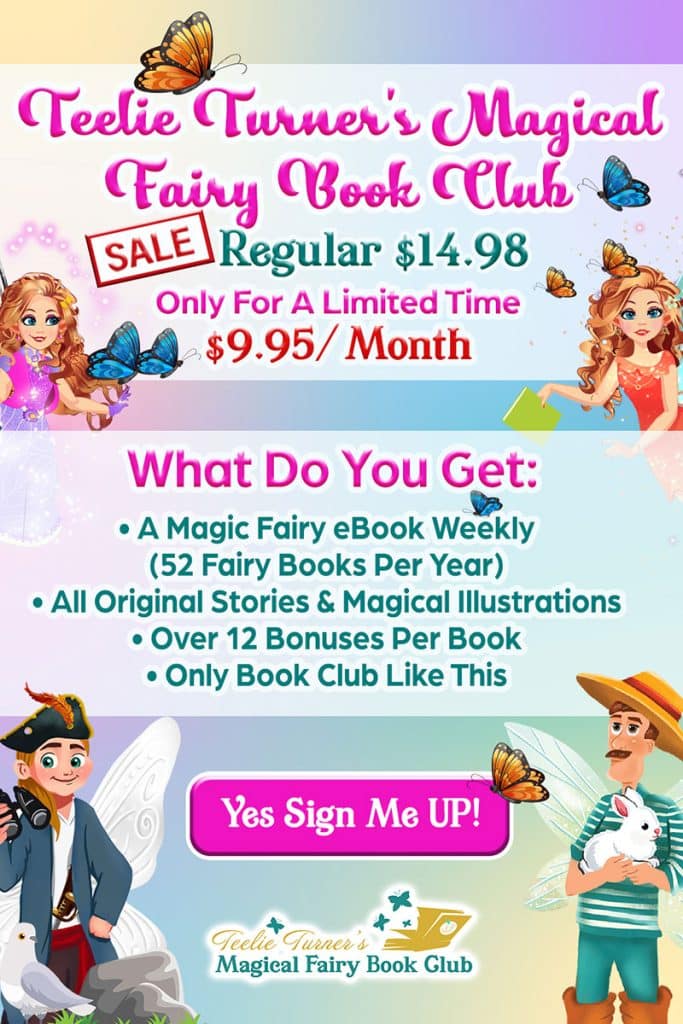 Join the Teelie Turner Magical Fairy Book Club here.

Discover Teelie Turner's complete collection of magical books here. 
Discover one of our magical book trailers.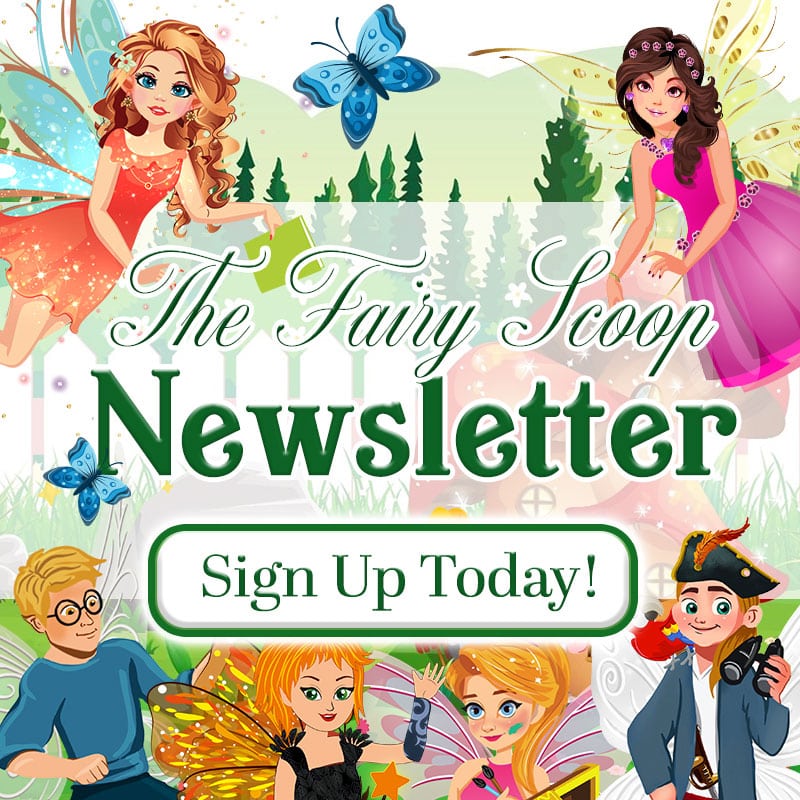 Sign up for The Fairy Scoop Newsletter here. 
Just a disclaimer – We have partnered with these companies because we use their products and/or proudly trust and endorse them – so we do receive a commission if you make a purchase or sign up for services. Often, we are able to negotiate special discounts and/or bonuses, which we will pass on to you via our links. We often get short notice on sale items available for 24-48 hours as we will pass these savings onto you.