We're ready to inspire your Thanksgiving décor. The fairies have found eight beautiful miniatures that they think you may want to use for your majestic fairy garden or as part of your table or room décor. If you're looking for magic, it can be found right here in Teelie's Fairy Garden.  
You can also enjoy this fun video.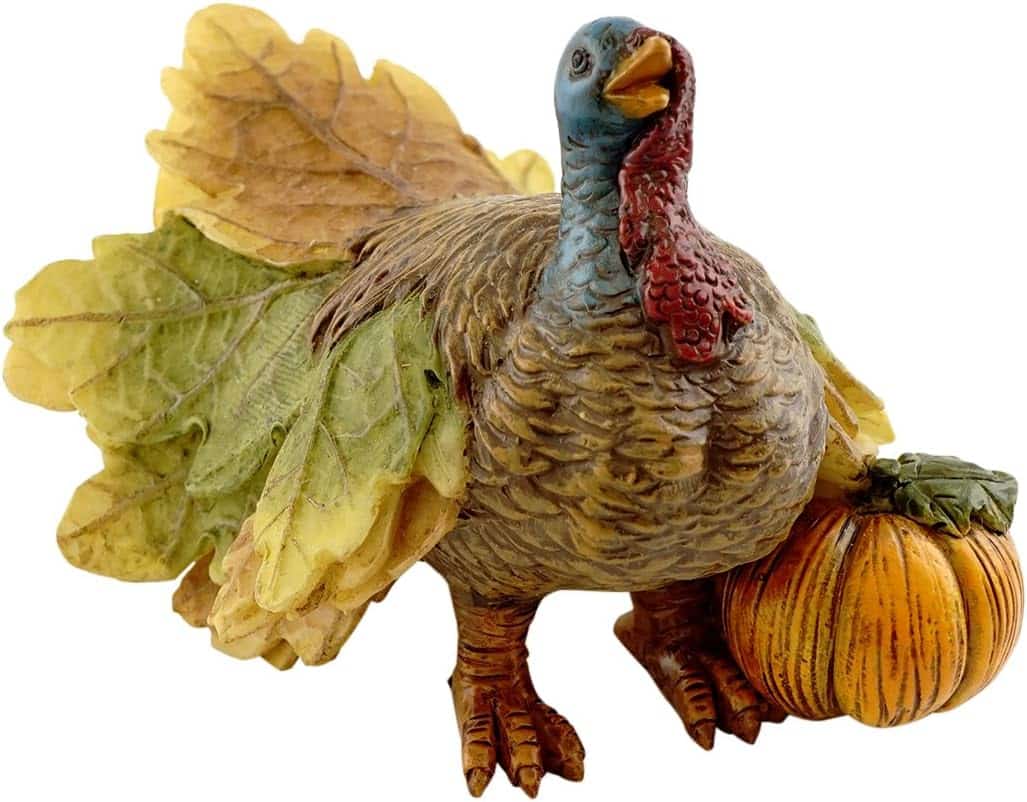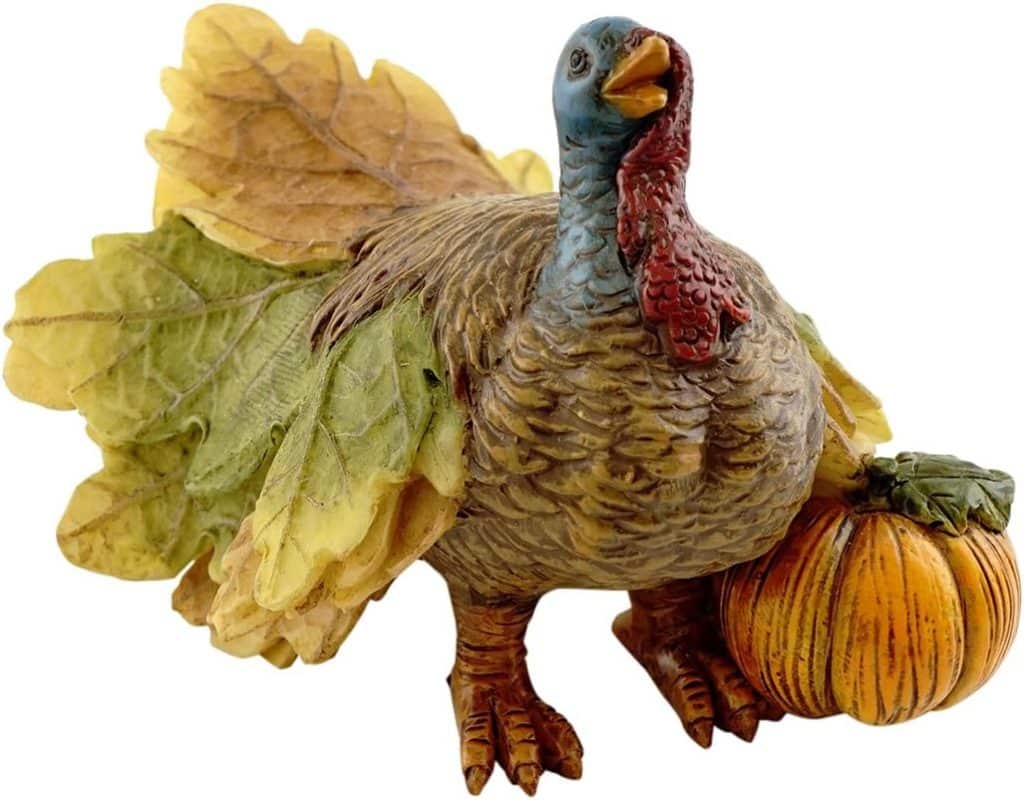 Top Collection Miniature Fairy Garden and Terrarium Turkey with Pumpkin Figurine Brown
Adorable Turkey
This adorable pet turkey and its pumpkin are looking forward to being part of your décor this Thanksgiving. They cannot wait to celebrate this amazing holiday with you and your loved ones. Learn more here.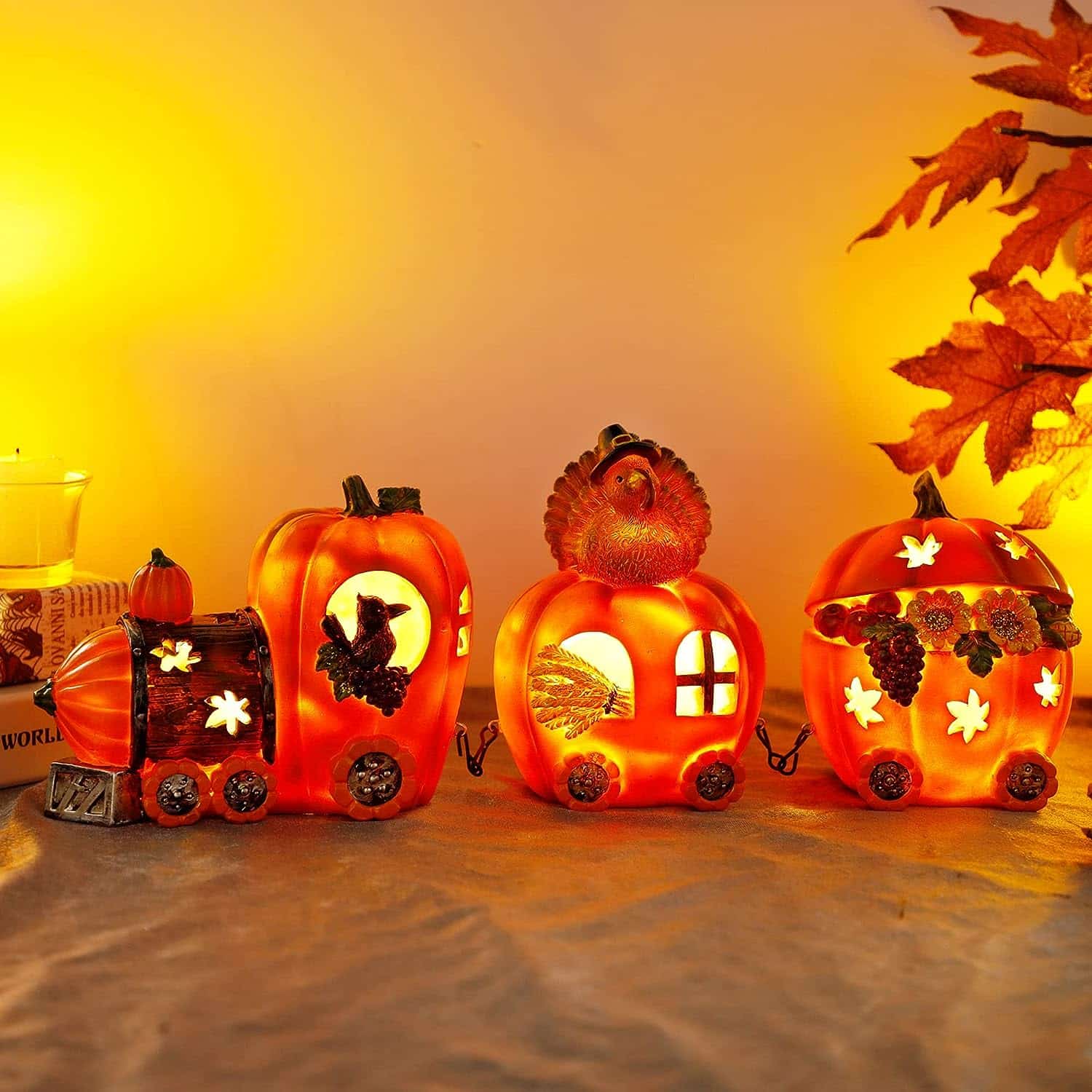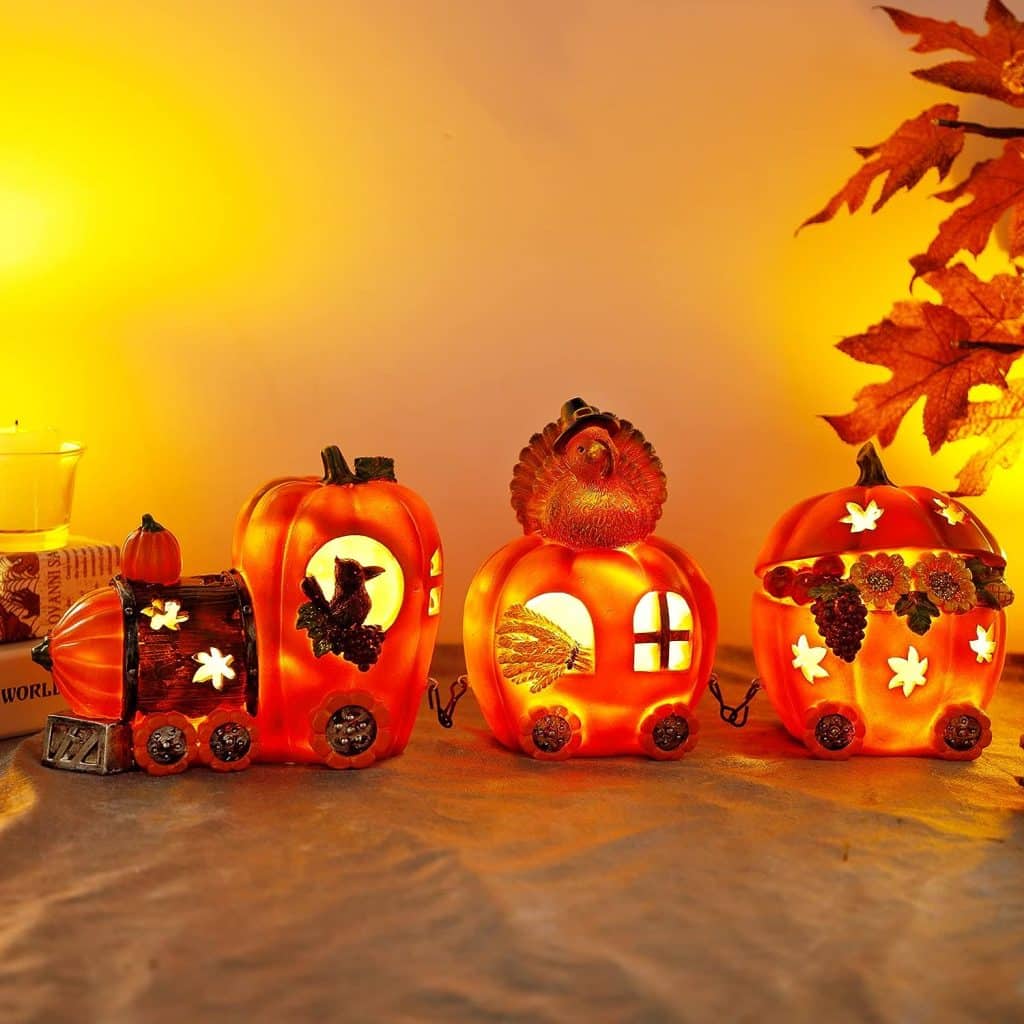 Adroiteet Thanksgiving Table Decorations Resin Pumpkin Turkey Carriage Train with LED Lights, Turkey Tabletop Centerpieces Fall Harvest Decor for Home Kitchen
Delightful Turkey and Pumpkin Train
This delightful turkey and pumpkin train even has LED lights to make it a fantastic piece of your Thanksgiving décor regardless of the time of day that you're celebrating. It is small but great for adding ambiance to any room. Learn more here.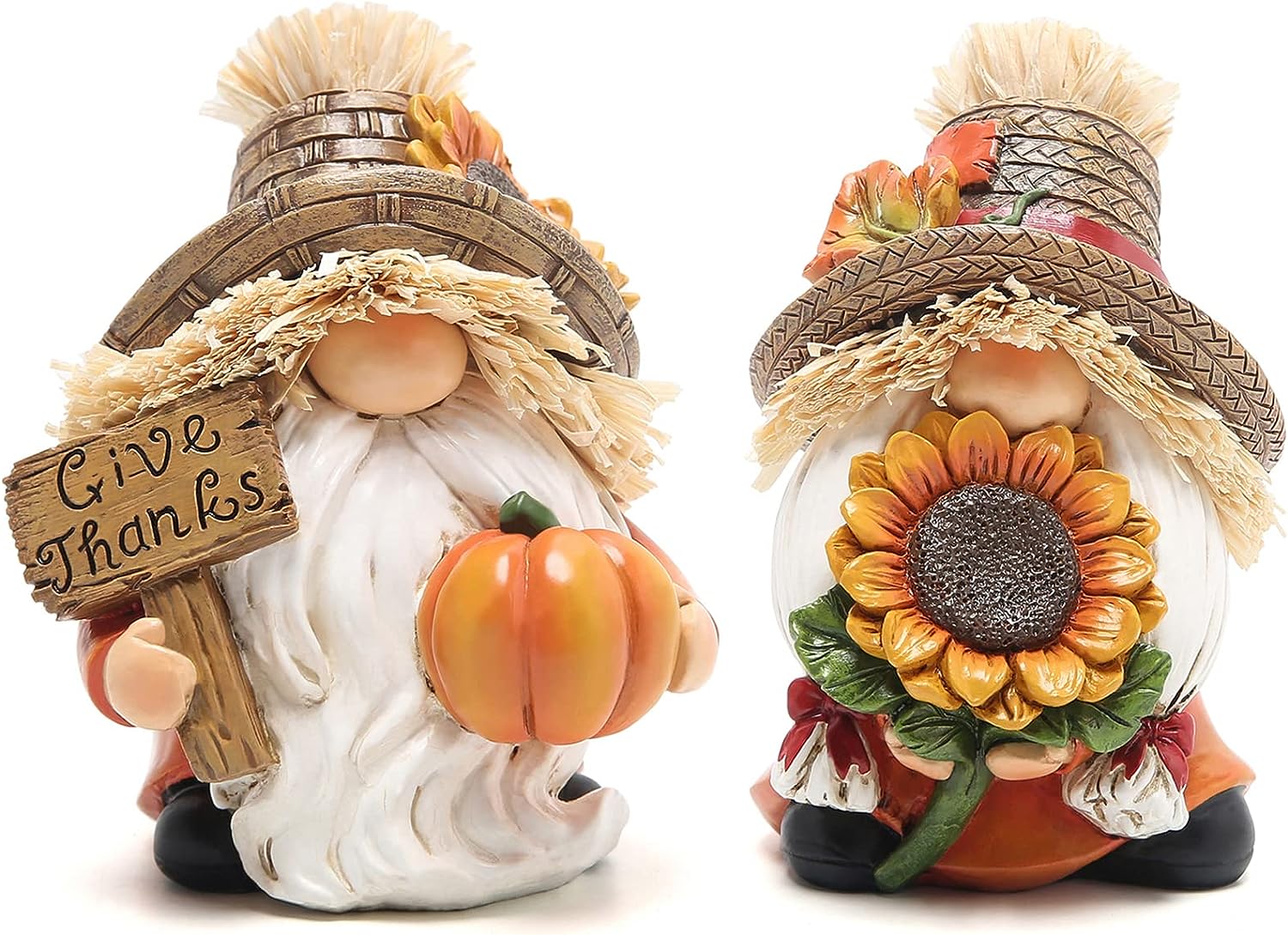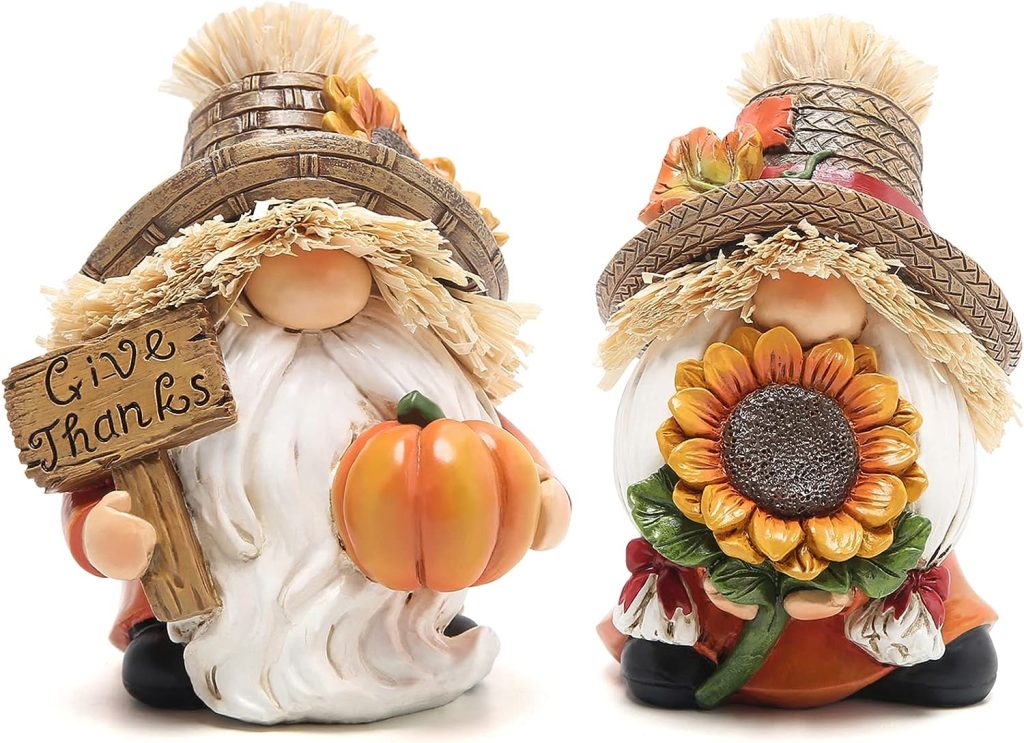 Hodao 2pcs Fall Thanksgiving Pumpkin Gnomes Decorations Handmade Swedish Tomte Gnomes Elf for Fall Decor Gift – Fall Thanksgiving Party Home Kitchen Table Decor – Thanksgiving Autumn Gift
Thankful Gnomes
These thankful gnomes are hoping to be invited to your house for Thanksgiving. They are bearing gifts of a sign, a pumpkin, and a sunflower. They want you to celebrate the blessings you've been living all year long. Learn more here.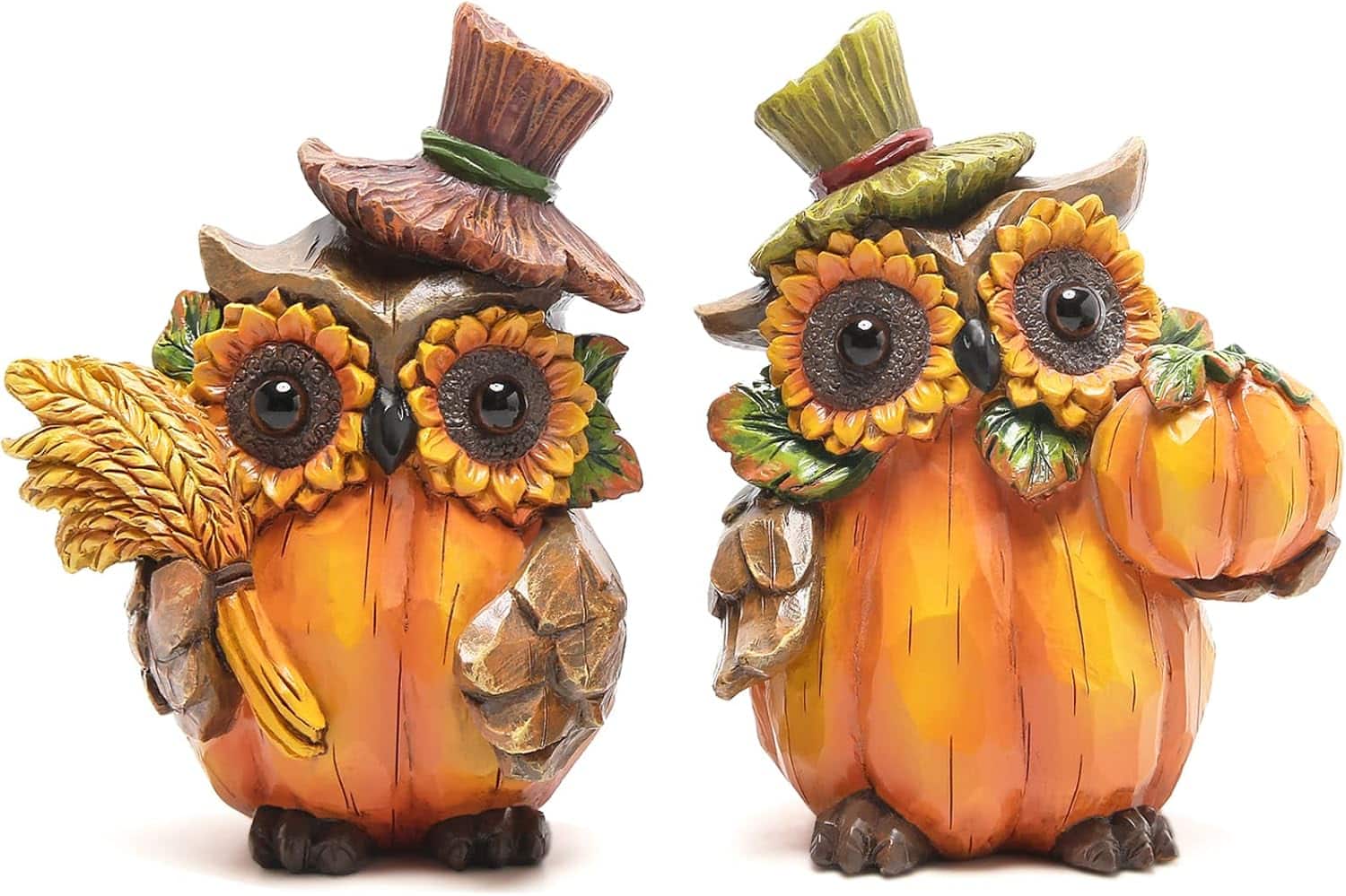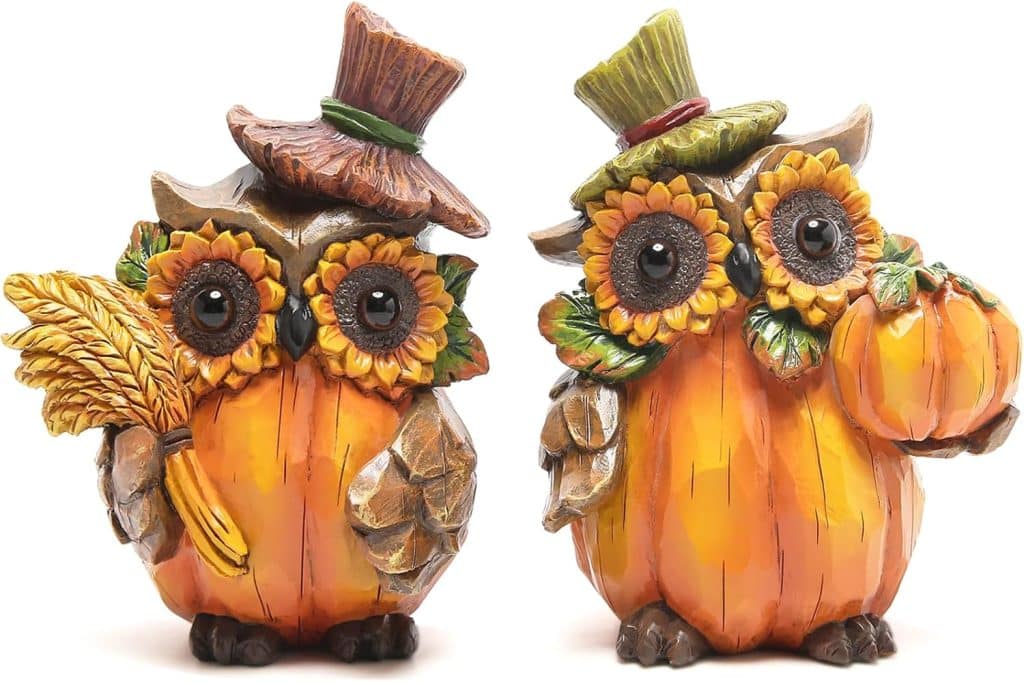 Hodao Fall Thanksgiving Pumpkin owl Table Decorations for Home, Resin Owl Give Thanks Fall Centerpieces for Tables-Thanksgiving Pumpkin owl Gifts
Enchanting Owls
These owls will give you a wonderful feeling the moment that they fly into your view. They're all ready for autumn and hope to make your Thanksgiving a more enchanted occasion. They have pumpkins and sheaths of wheat with them. We especially love the sunflowers that are around their eyes. Learn more here.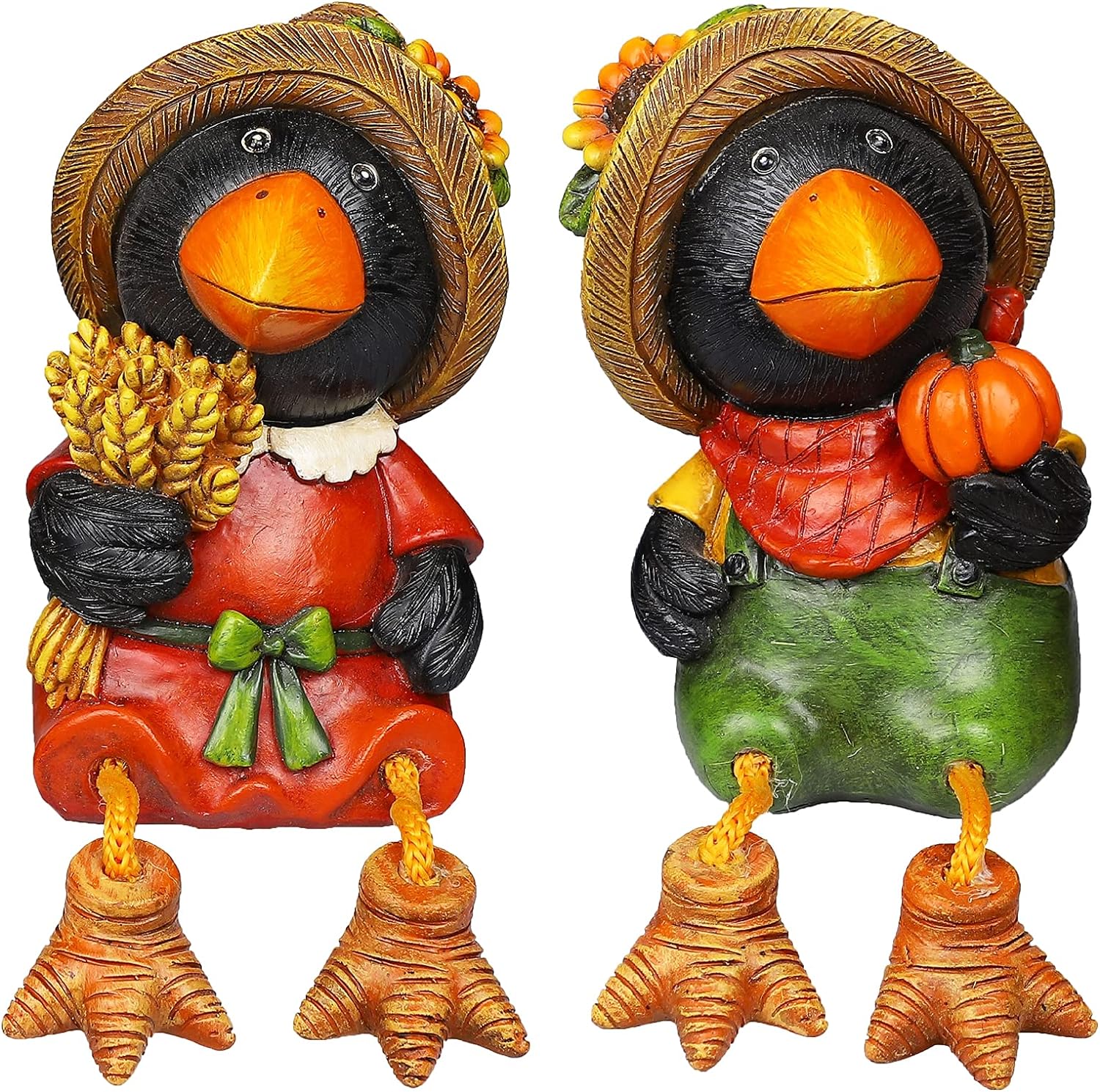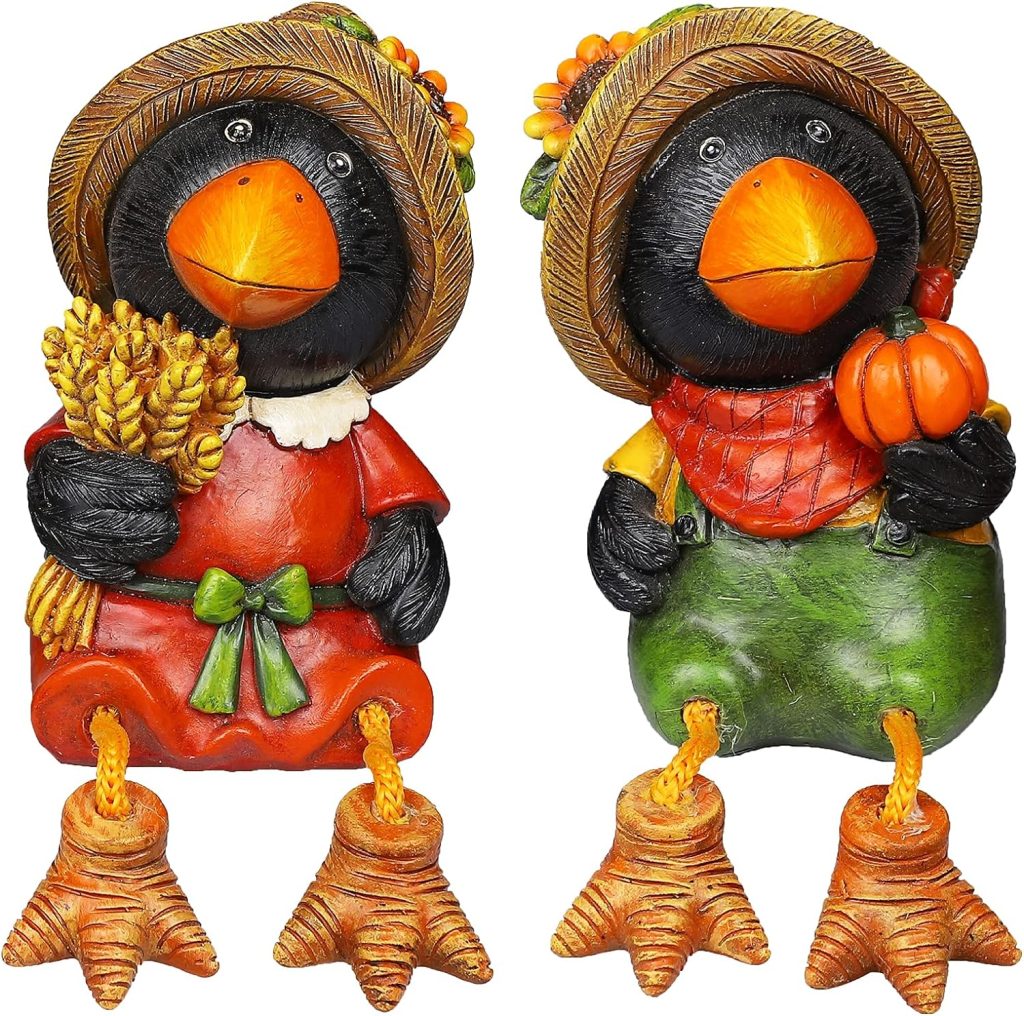 MorTime Set of 2 Thanksgiving Decorations Resin Scarecrows Figurines, Thanksgiving Sitting Crow Scarecrows with Hat Centerpieces for Desk Shelf Fireplace Fall Autumn Thanksgiving Harvest Day Décor
Fun Scarecrows
These fun-loving scarecrows have put on their best suit of clothes to join you for your Thanksgiving celebrations. Whether you ask them to join you at the table, or if they watch from a fireplace mantle or bookcase, they're excited to learn more about you and this magnificent celebration. Learn more here.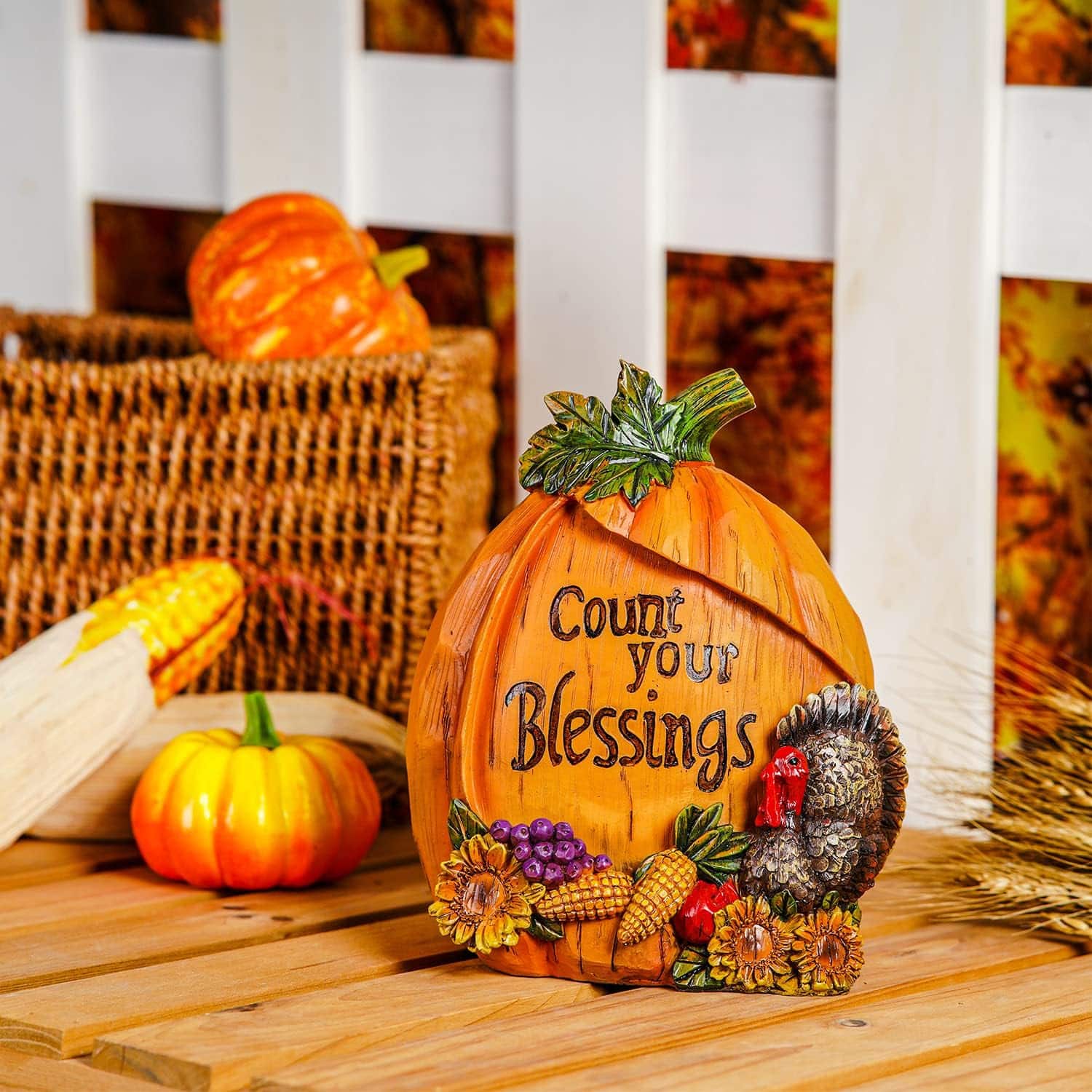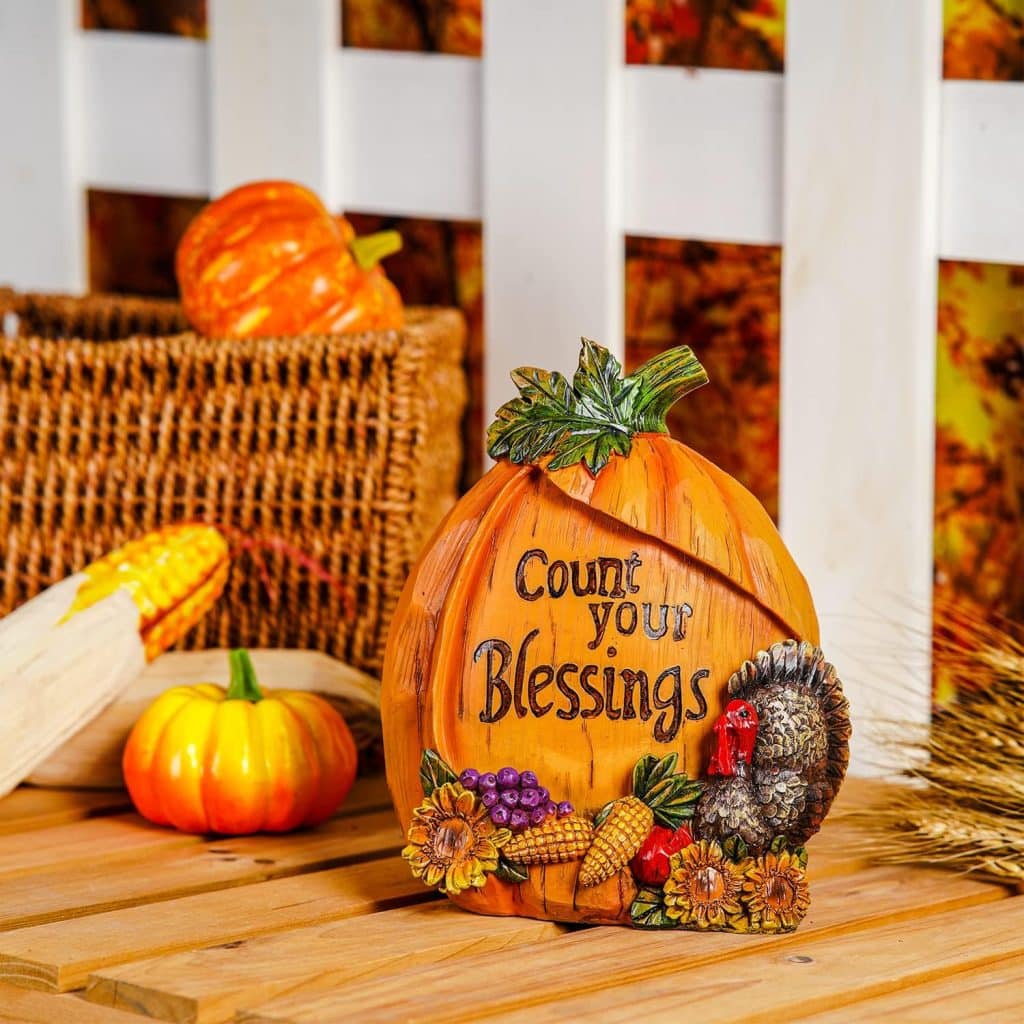 TZSSP Fall House Garden House Figurine, Pumpkin House Decor Fall Decoration Funny Figurine Autumn
Intricately Decorated Pumpkin
This astounding pumpkin is decorated with an intricate design that is beautiful and festive. It says Count Your Blessings and has several autumn elements such as sunflowers, a turkey, and corn in the design. Learn more here.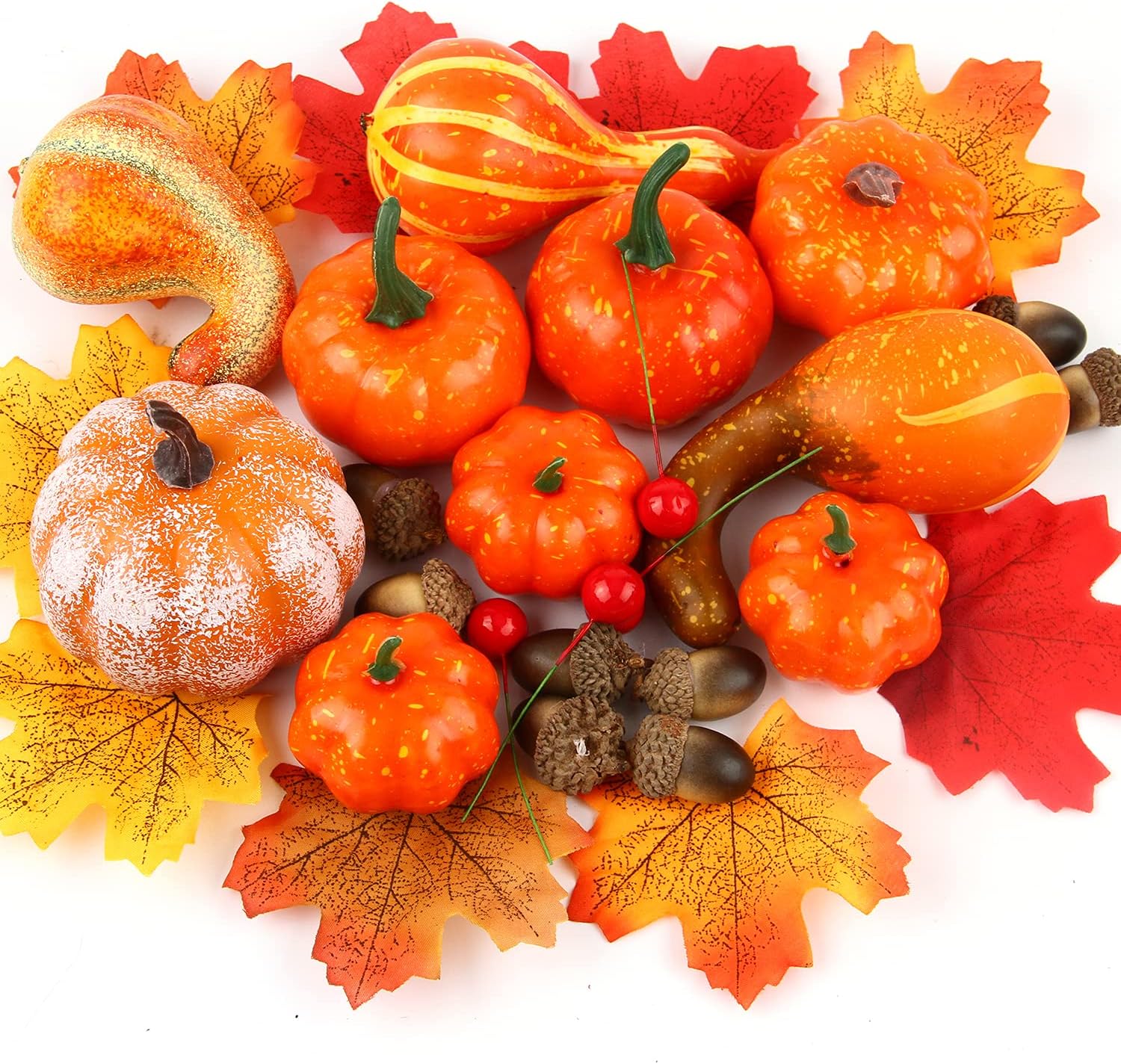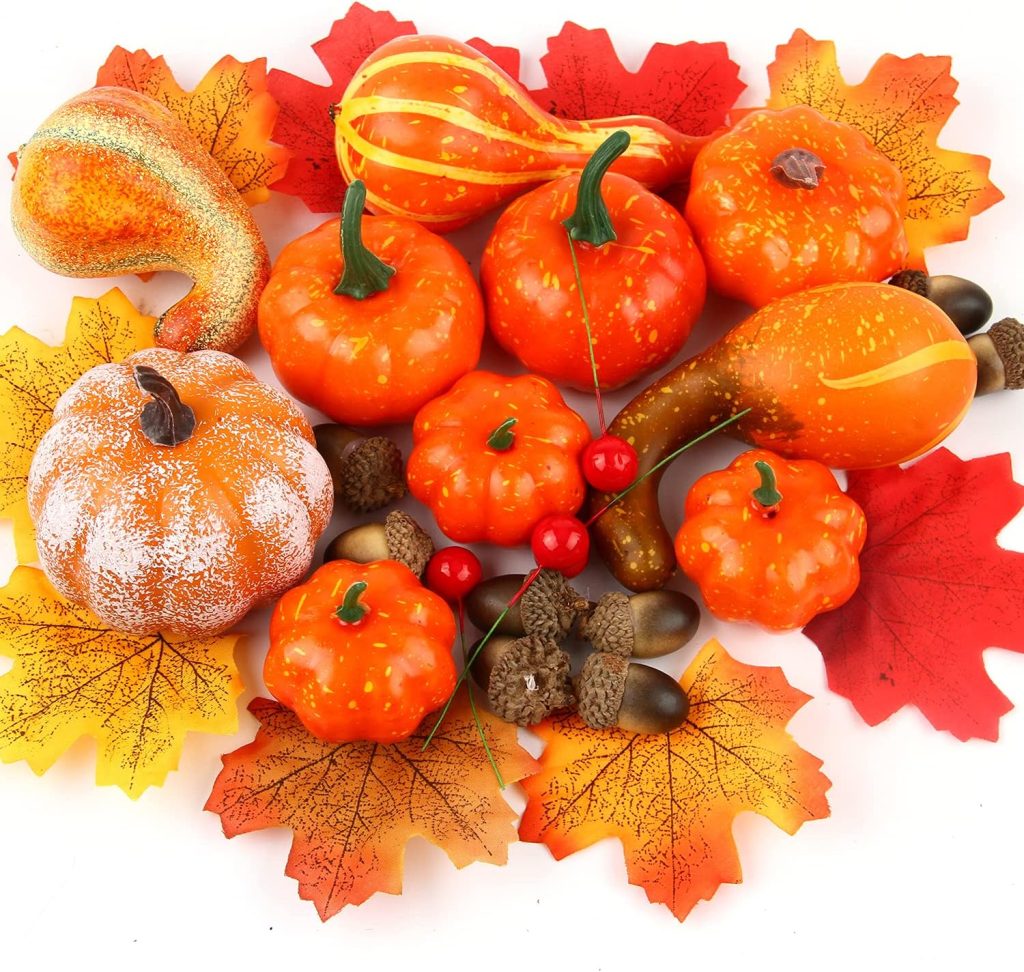 CCINEE Artificial Mini Pumpkins, Faux Foam Pumpkins with Lifelike Maple Leaves Acorns and Red Berries for Halloween Thanksgiving Wreath Garland Making and Centerpiece Decoration
Beautiful Leaves, Acorns, Pumpkins and Berries
This enchanted set of artificial miniature pumpkins, gourds, acorns, leaves, and red berries is perfect for creating your own fantastic garland or centerpiece for a gorgeous autumn and Thanksgiving theme. Anything is possible when you have beautiful accents and creativity on your side. Learn more here.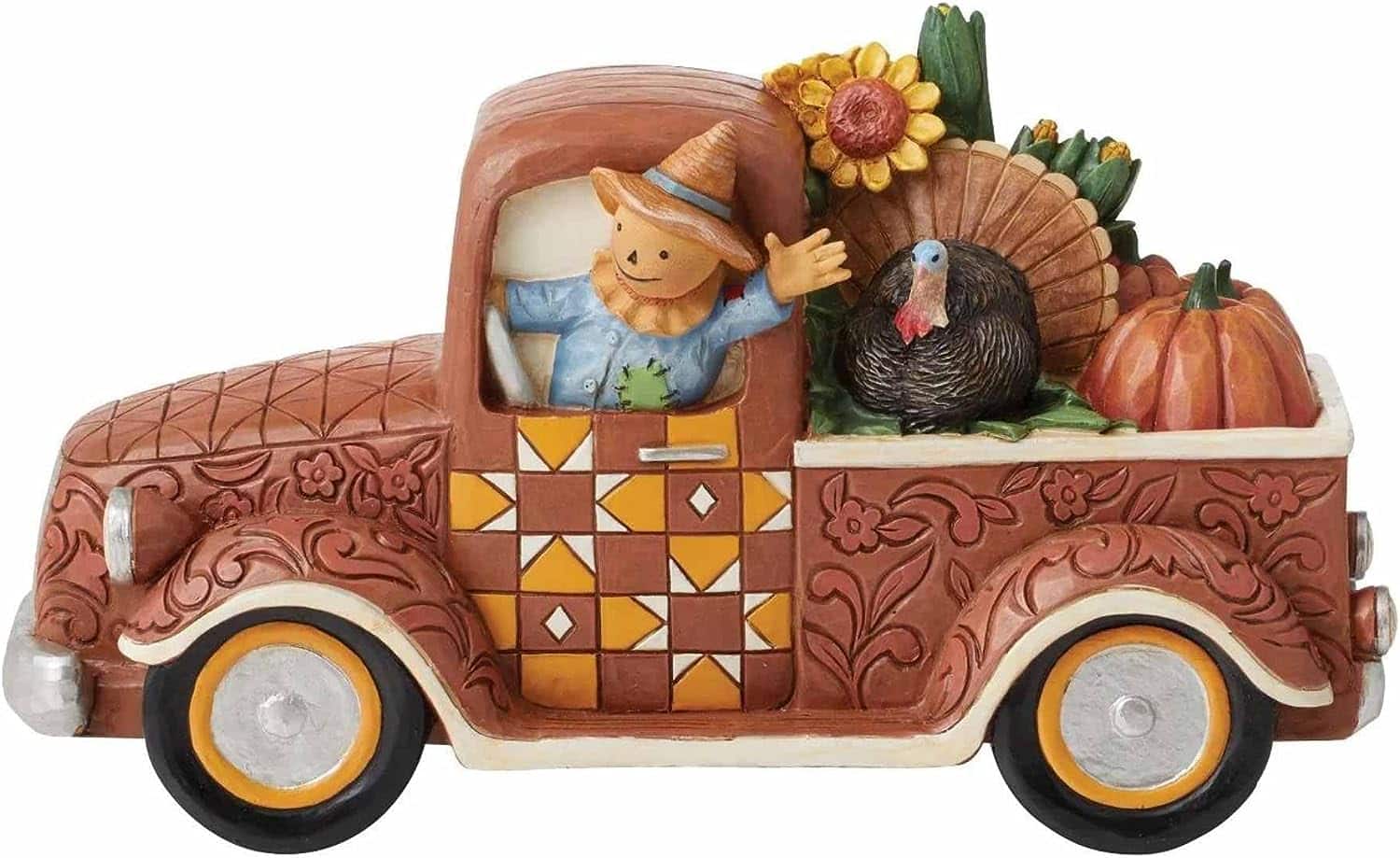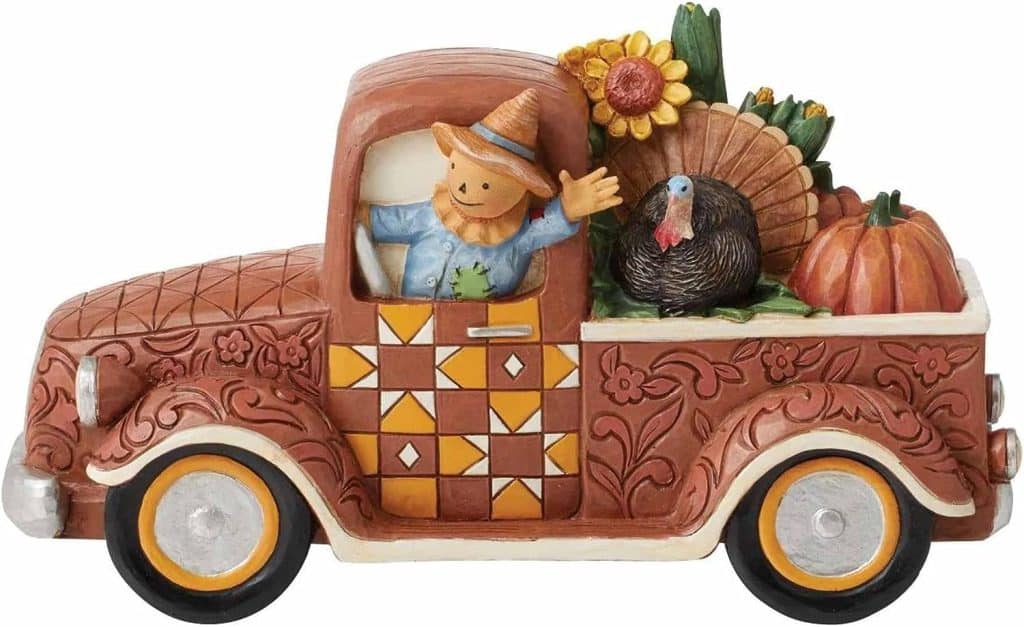 Enesco Jim Shore Heartwood Creek Four Seasons Harvest Pickup Truck Figurine
Stunning Harvest Pickup Truck
Driven by a scarecrow, this harvest pickup truck is absolutely stunning with its intricate carvings and amazing cargo of a turkey, pumpkin, corn, and sunflower. Learn more here.
Teelie's Fairy Garden is filled with gratitude because you stopped by to spend time with us in Fairy Land. Your fairy friends are looking forward to a beautiful and amazing celebration and are so fortunate to have you as part of it. Please come back to see us again soon.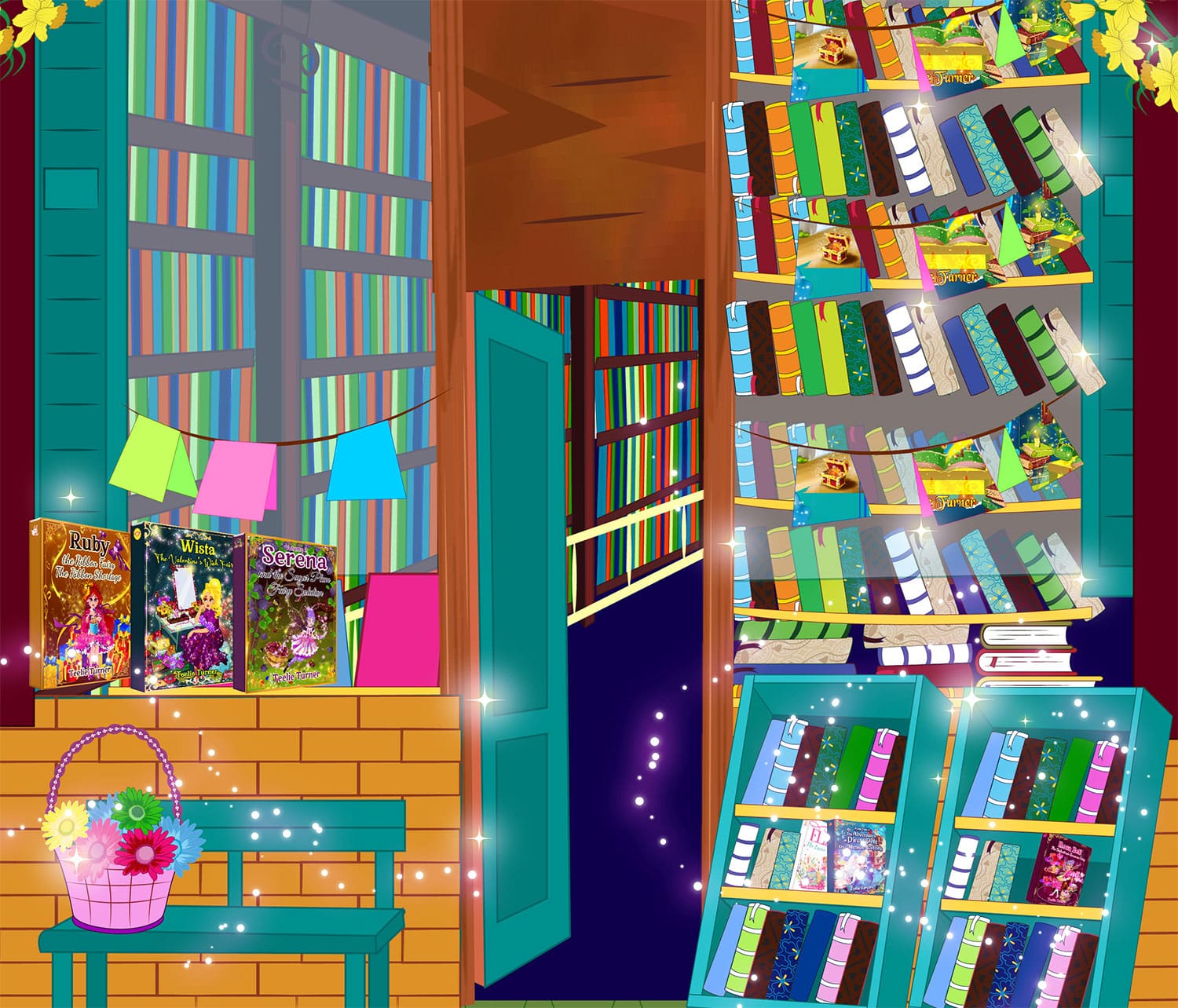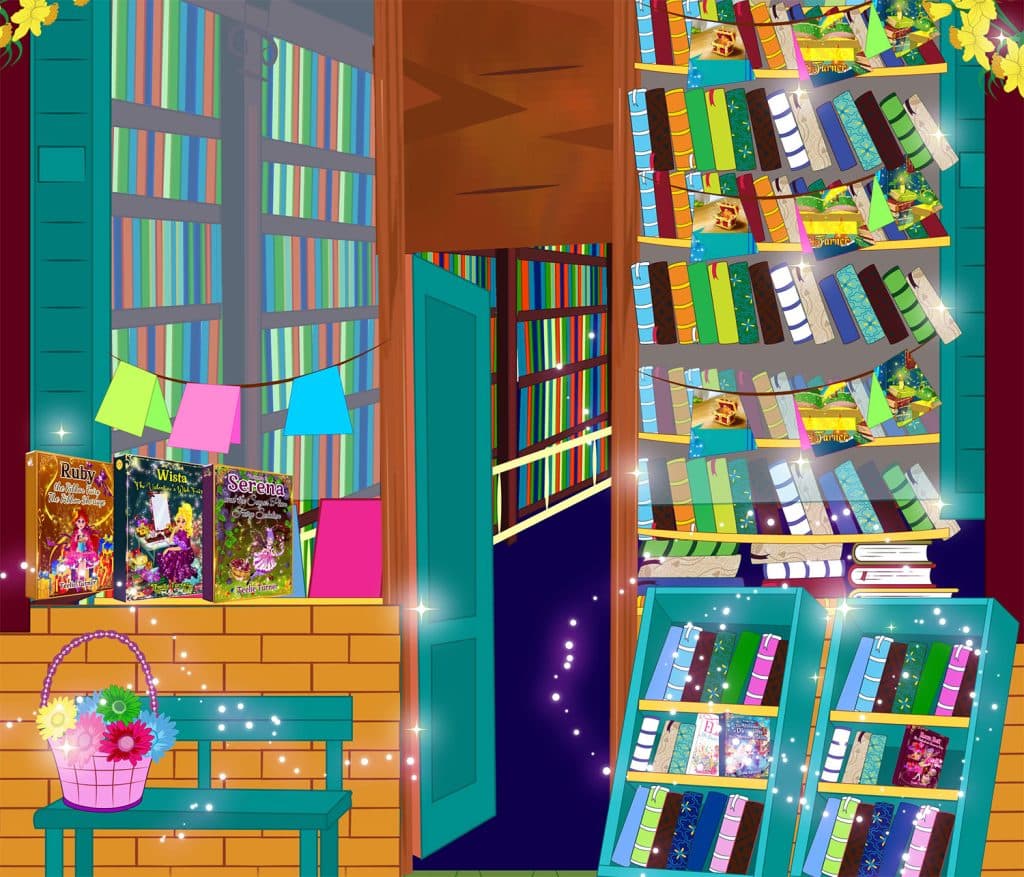 Join the Teelie Turner Magical Fairy Book Club here.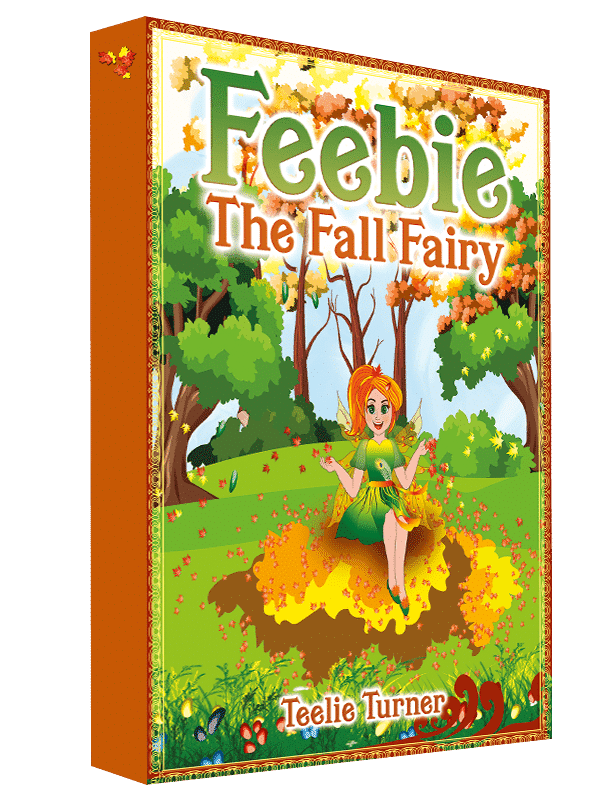 Discover Teelie Turner's complete collection of magical books here. 
Discover one of our magical book trailers.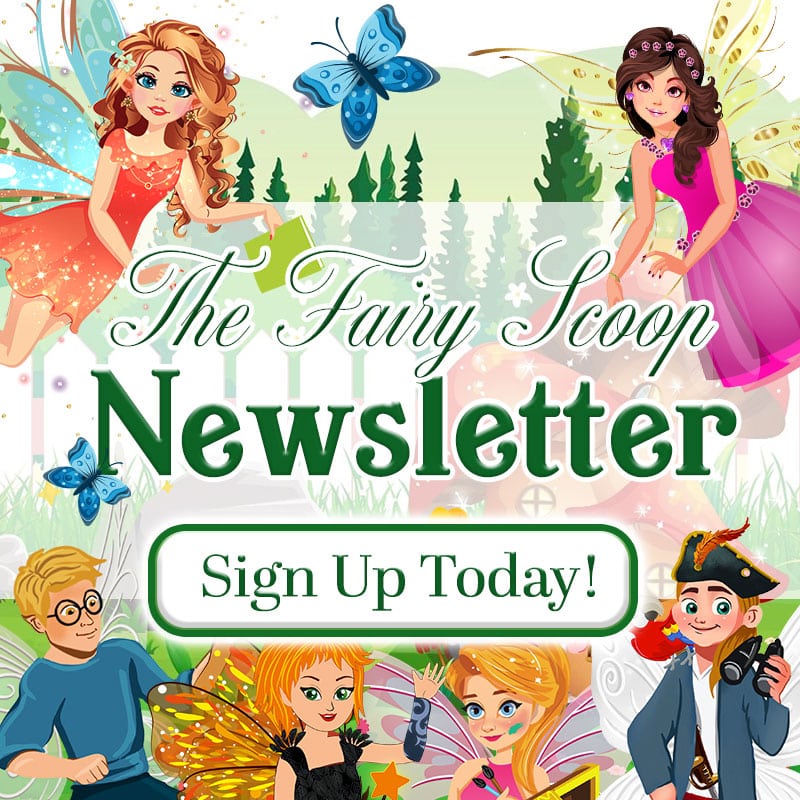 Sign up for The Fairy Scoop Newsletter here. https://www.subscribepage.com/fairyscoopnewsletter
Just a disclaimer – We have partnered with these companies because we use their products and/or proudly trust and endorse them – so we do receive a commission if you make a purchase or sign up for services. Often, we are able to negotiate special discounts and/or bonuses, which we will pass on to you via our links. We often get short notice on sale items available for 24-48 hours as we will pass these savings onto you.