Hello fairy friends, we're happy to have you here with us. April 23rd is International Book Day. Sometimes it is also called World Book Day. To celebrate, the fairies have chosen two book themed dollhouse projects to show you. They have also selected some bonus accessories which could be used to create a book themed fairy garden. Reading is a great project when you need to stay home. Enjoying our blog posts and other information here at Teelie's Fairy Garden is also a great way to pass the time.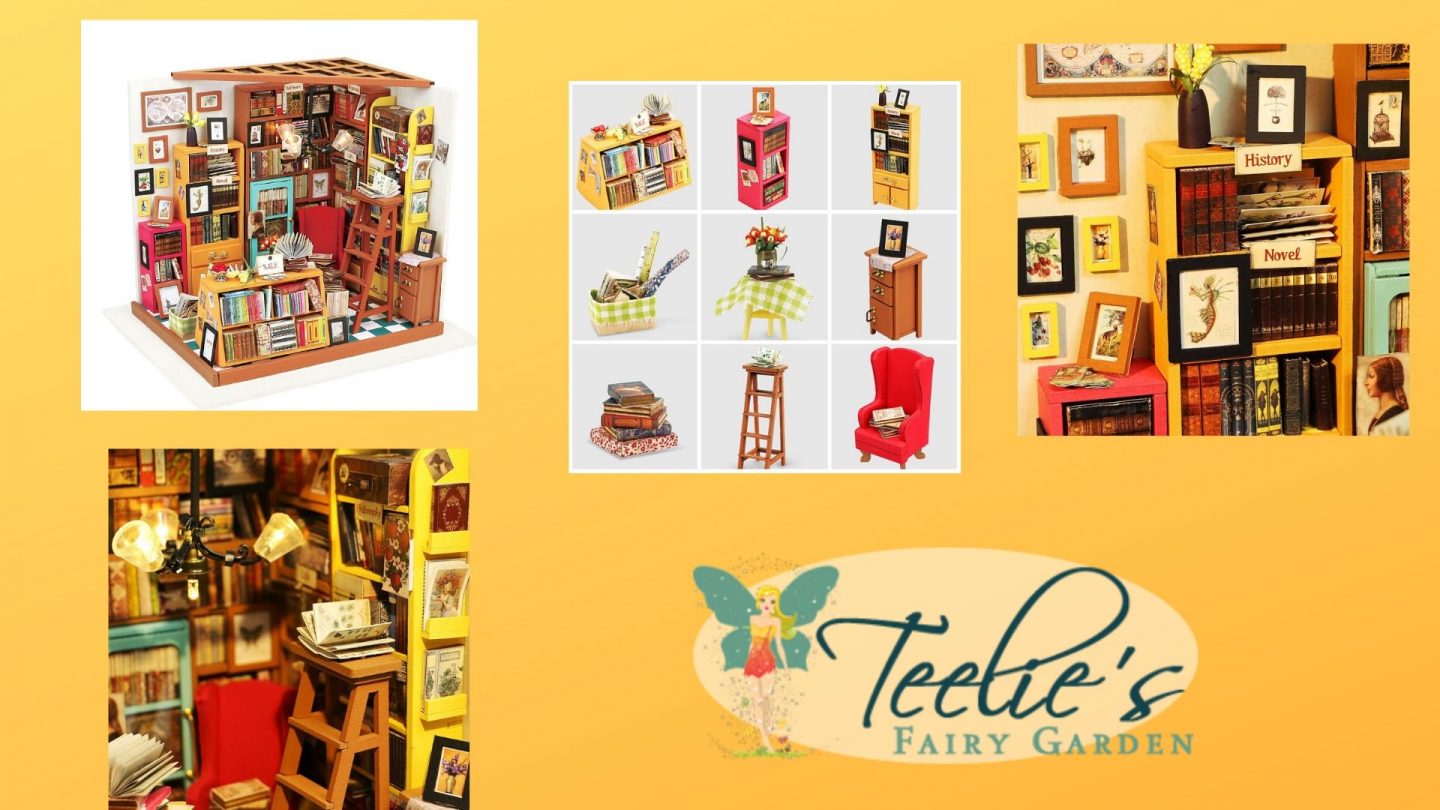 DIY Bookworm Project  – Enchanted Reading Room
The fairies chose an enchanted reading room and they are so excited to show it to you. Pictured above are four different views of this stunning bookworm's den. This is a great project for you to work on. Remember to forget about the time frame listed on the box and just go at your pace. The goal is for this to be a magical and enjoyable project, not an obligation to be completed on a deadline. This kit includes books, bookshelves, lighting, and many other adorable fairy furniture accessories. You can find this book lovers' kit on Etsy.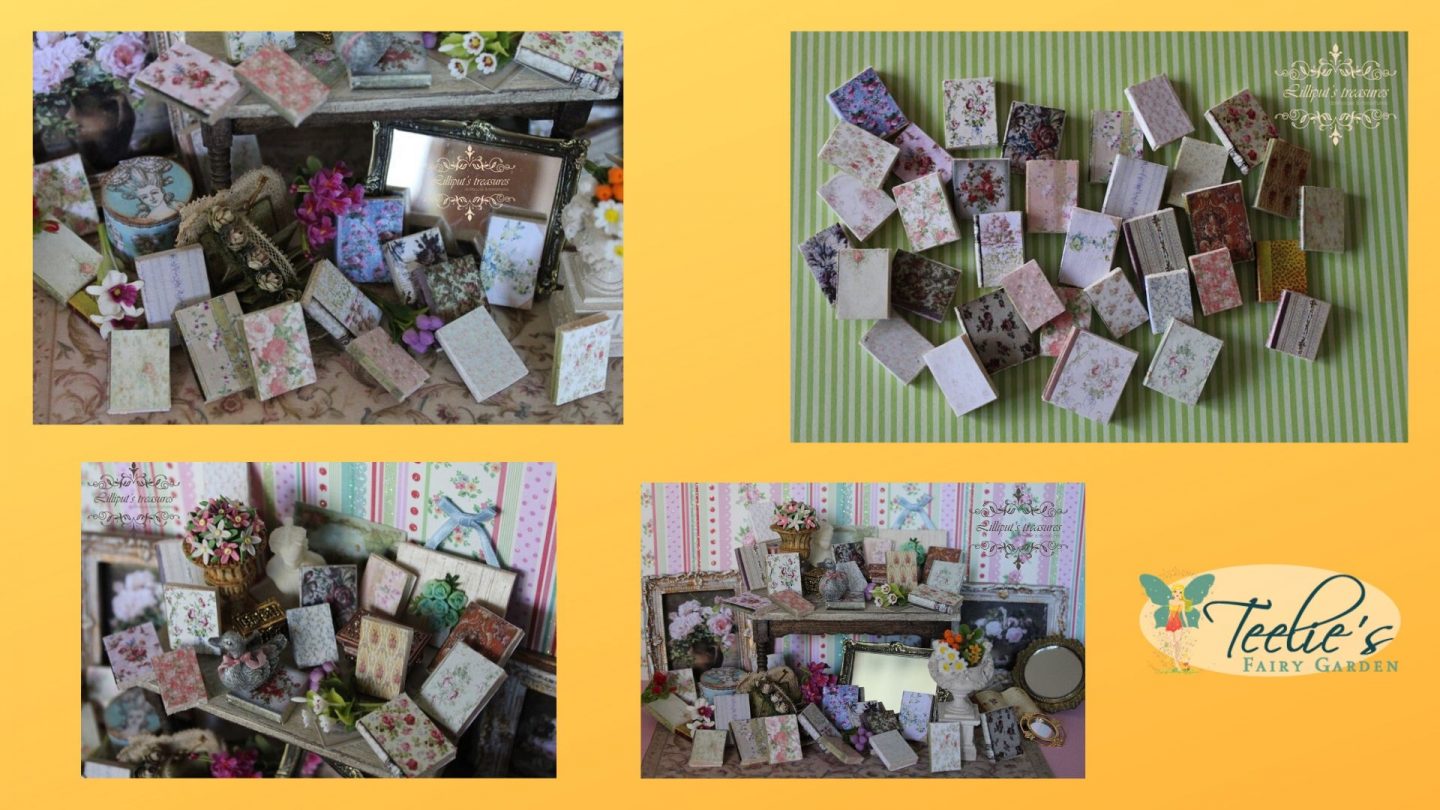 Create Your Own Dollhouse Project  – Books are an Adventure
Books are an adventure and creating a dollhouse is also a journey. The fairies located a set of thirty-five miniature books which could be used to build a library or reading room for your dollhouse or your fairy friends. Have a look at this enchanting set of books and let your imagination run wild as you envision how you could make something amazing. If you're looking to complete a dollhouse that includes all the usual rooms of a house, you could put books in the bedrooms, living rooms, den etc. You can find this miniature book set on Etsy.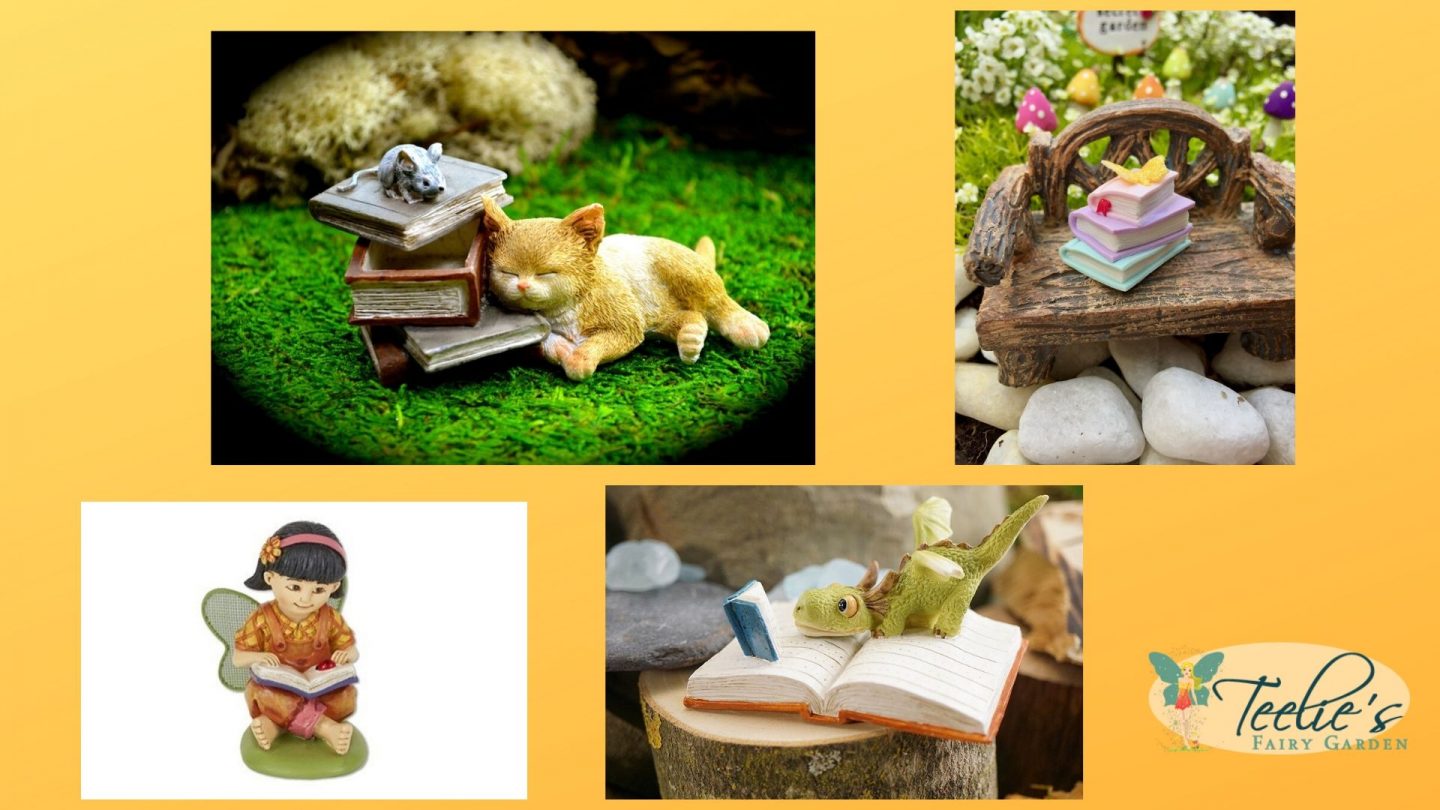 Bonus Ideas
A book themed fairy garden would also look amazing and the fairies would love to come and visit it. The fairy merchants selected four small items which you could use in your fairy garden. There are numerous choices when it comes to a book themed fairy garden and the fairies want you to be creative and have fun.
Magical Cat and Mouse
The fairies are pleased to show you an intriguing miniature cat that is having a nap beside some books. There is also a tiny mouse visiting the cat. They are interestingly friends. The book top that holds the mouse lifts off to reveal a small hidden compartment. Maybe the fairies would like to hide a bit of fairy dust there. You can find this on Etsy.
Escape to Fairy Land
Allow yourself to escape to Fairy Land in your book themed fairy garden. You'll love to admire the garden and enjoy visiting with the fairies. The fairies located this miniature stack of books that had a butterfly resting on top. The books were sitting on an adorable bench, just the right size for a fairy to have a seat and do some reading. You can find the bench and books on Etsy.
Breathe Some Magic into Your Fairy Garden
Dragons also love to read. And, when you're in Fairy Land, you don't have to worry about the dragons breathing fire. Instead, they breathe magic. Invite a dragon into your fairy garden so that they can help bring some magic to it. In this particular miniature dragon statue, the dragon loves to read so much that it has two books open at the same time. You can find it on Etsy.
Read with a Reading Fairy
The final item which the fairies wanted to show you today is an adorable reading fairy. Her name is Mikayla. She cannot wait to see what you're reading and where you choose to put her in your fairy garden. If you listen carefully, you might even hear her reading aloud to you. Mikayla is available on Etsy.
The fairies hope that you have enjoyed learning about these literary inspired projects. The fairies hope that you find a good book to enjoy everyday and especially on April 23rd in celebration of International Book Day. And, if you can stay, the fairies would be pleased to take a walk with you through Teelie's Fairy Garden.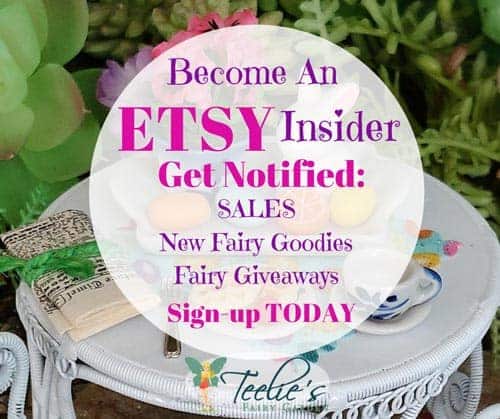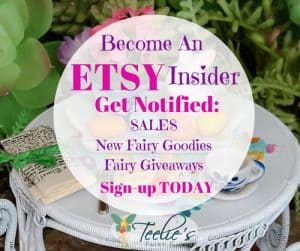 You can also sign up to be an Etsy insider and get notified by e-mail about fairy giveaways, goodies and sales. Sign up here.
Just a disclaimer – We have partnered with these companies because we use their products and/or proudly trust and endorse them – so we do receive a commission if you make a purchase or sign up for services. Often, we are able to negotiate special discounts and/or bonuses, which we will pass on to you via our links. We often get short notice on sale items available for 24-48 hours as we will pass these savings onto you.