Creating a fairy garden with real plants may be ideal but it sure isn't easy. Not everyone has a green thumb and sometimes the weather condition just doesn't work out for your live greens. But don't worry, the enchanted folks don't discriminate! They'll be more than happy paying a visit to a fairy garden with artificial plants as long as it's made with love. Putting together your very own fairy garden is a wonderful experience. It is something that is magical in itself and one that can be enjoyed by anyone and everyone. Making a fairy garden with artificial plants is no exception. In fact, this route is so much easier than using live plants that need tending. Let me show you one of my fairy gardens – an indoor nook for all the magical creatures! It is what I use to stage some fairy scenes for Teelie's Fairy Garden, including our new and very lovely Valentine's Day collection that you can check out here. Although it looks real in the photos, I actually used artificial succulents, plants, mushrooms and flowers in it. You'll need the following basic items to start creating a fairy garden with artificial plants:
Fairy Garden Container
You can get creative with this. Old plant pots, clay cooking pots and even tin recyclables will do the trick. Since we are making a fairy garden with artificial plants, the container can be without drainage. If you're looking to buy, check out this
Galvanized Flower Container by Ashland
. It is made with galvanized iron sheet and tin and gives off a rustic vibe. I think it'll be a great start to stage any fairy scene you'd like.
Floral Foam
Fairy gardens with artificial plants don't really need soil so most turn to floral foam. It requires zero maintenance and lasts a lifetime. There are also other options like this
FloraCraft Styrofoam Block Flower Arranger
. It is very lightweight and easy to cut into the size and shape you need. It also holds its shape pretty well. It's a great option if you wish to use your fairy garden as a table centerpiece.
Ground Structure
You'll also need something to cover your floral foam and serve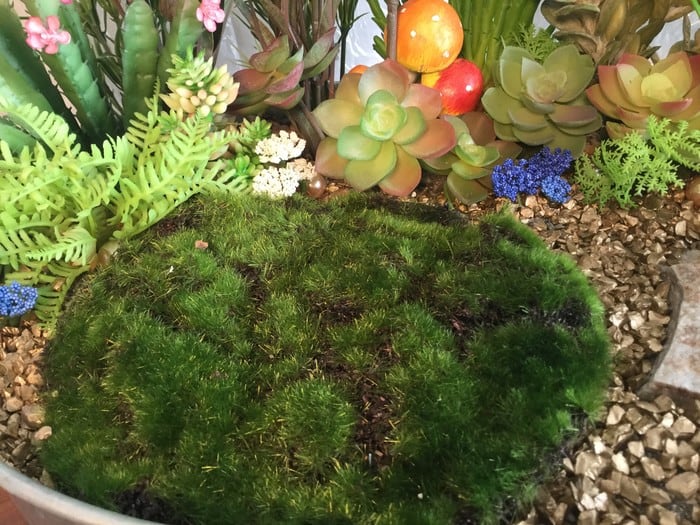 as the ground. I used a combination in mine – pebbles, fairy grass and a slab of marble.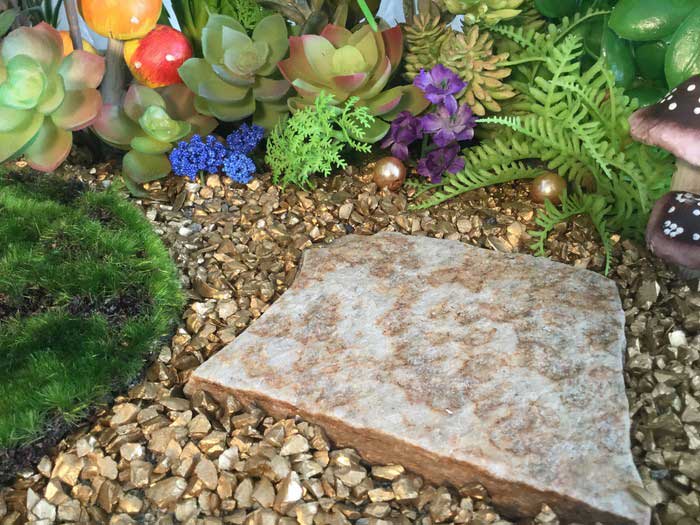 Fairy Garden Artificial Plants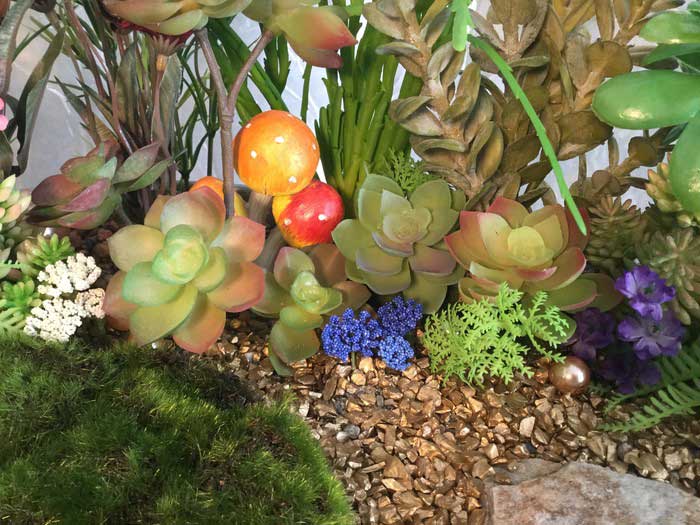 There are lots of choices when it comes to artificial plants that you can use for your fairy garden. I primarily used artificial succulents but also added some ferns and flowers here and there.
Fairy Garden Décor
Now for the fun part! Spruce up your fairy garden with your favorite fairy garden décor. You can create any fairy scene you like. My staples in almost all of my fairy scenes are mushrooms.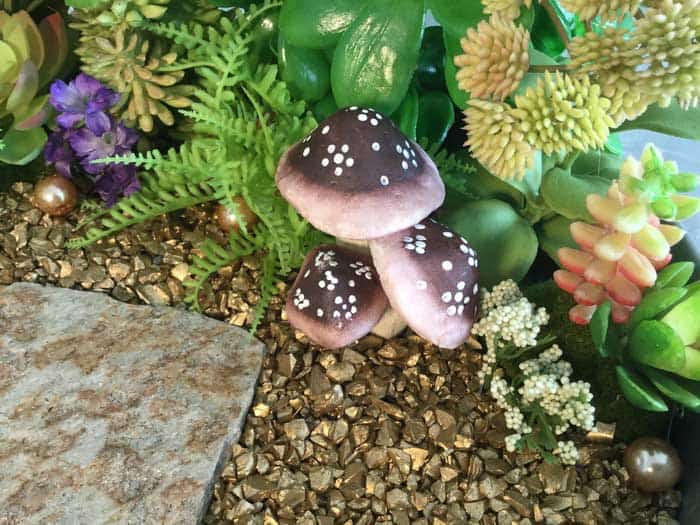 Here are more mushroom fairy garden products you might want to take a look at:
Shop: Mini Mushrooms by Celebrate It
Get: Miniature Open Mushroom House By Celebrate It
Happy gardening! Send us a photo of your fairy garden with artificial plants and we might just feature you on Facebook. Don't forget to visit our fairy garden store's décor section
here
. Also, have you ever wondered why gnomes are just irresistible? Read about them
here
.
Just a disclaimer – We have partnered with these companies because we use their products and/or proudly trust and endorse them – so we do receive a commission if you make a purchase or sign up for services. Often, we are able to negotiate special discounts and/or bonuses, which we will pass on to you via our links. We often get short notice on sale items available for 24-48 hours as we will pass these savings onto you.