For this week's Enchanted Eight, we have eight special guests. They are angels who came to Fairy Land to give us a special message. Because we are so happy to have them among us, and they have brought us many special blessings, we knew that we had to share their words with you. And after you've heard from our angelic guests, please continue to spend some time in Teelie's Fairy Garden so that you can find out what else has been happening in her garden and throughout Fairy Land.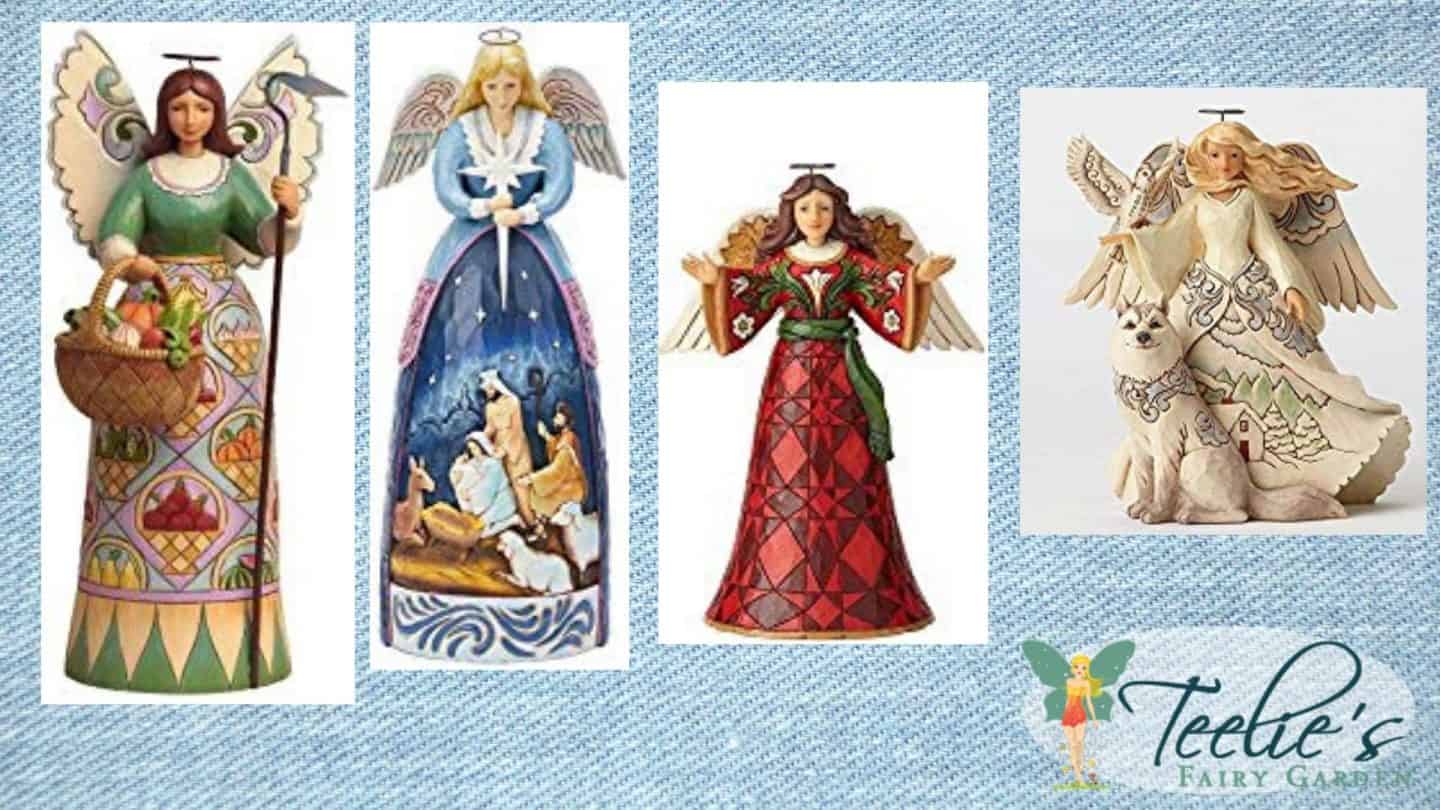 Gardening Angel
I am a garden angel and it is my pleasure to watch over gardeners all year round. I don't only watch the fairies in their gardens but also the gnomes, pixies and humans. During this Christmas season, I hope that you are surrounded by the bounty of your garden or that of someone else's. I also ask that you help me keep an eye on the bees in this coming year. Their help in pollinating our flowers is so important in keeping our gardens beautiful. If you'd like to own a figurine of me gardening, you can find it on Amazon.
Nativity Angel
I am the angel who depicts the beautiful nativity scene. I wear it year long painted on my skirt and I always carry a star in my hands, just like the one that led the shepherds and the wisemen. It is my joy in life to celebrate Christmas and the birth of baby Jesus with all who believe in this miracle. While I am here in Fairy Land, I will be joining the school children in their school play. I can't wait. If you'd like to own a replica of me, you can buy it on Amazon.
Royal Angel
I am sometimes called the Royal Angel because of the burgundy and gold dress that I wear. I am an angel of wishes and dreams. It is my job to listen to your deepest desires and to help you make good decisions. This is why I have a team of many Earth Angels who help me do my job. In the New Year, a few fairies will also be joining my team and I can't wait to expand the work that we do and learn about Fairy Magic. If you'd like to have an angel that looks like me, please visit Amazon.
Nature Angel
I am a nature angel. I am gifted to have my husky dog by my side at all times. He helps me with my work. I also have an eagle who often rides on my shoulder. He is a great communicator and also helps me especially in forests. I have always worked very closely with the Fairy Community to ensure that nature is being cared for. My work takes me all over the world. Like many of the fairies that I know, my strong wings take me where I need to go. I am also able to ride on my dog's back. He also has wings; you just don't see them in the picture. If you'd like to own a figurine of me, my dog and eagle, you can find one on Amazon.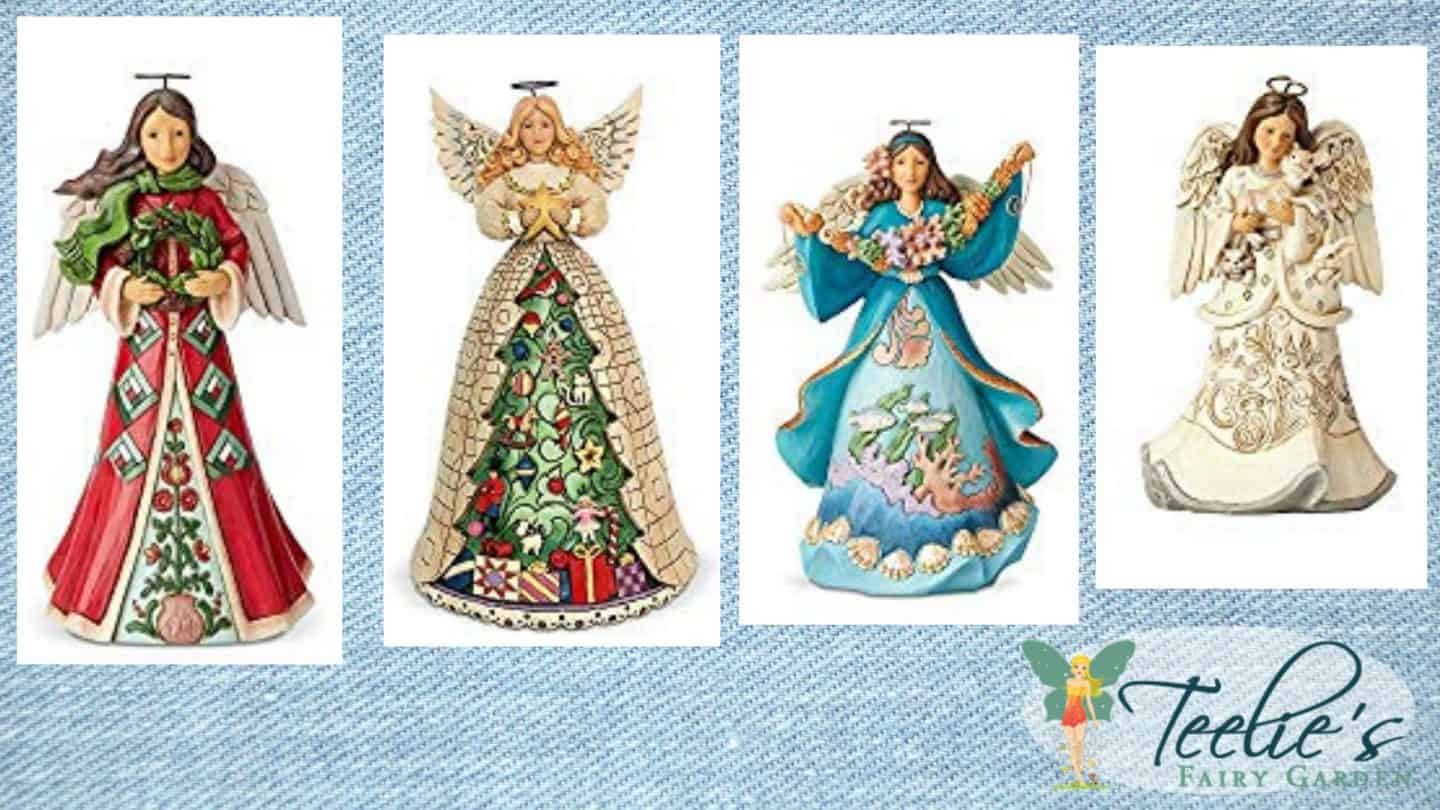 Seasonal Angel
I am a seasonal angel. I own several different outfits which allow me to look different with each changing season and holiday. Currently I am dressed to celebrate Christmas. That is why I carry a wreath with me and wear a red dress with some green accents and Christmas flowers on it. My work takes me all over the world with the changing seasons. My favorite season is autumn because the changing leaves are breathtaking. This coming year I am planning a backpacking trip to the North Pole. I am hoping to visit Santa Claus in his workshop, so that I can bring glad tidings to him and his elves and reindeer. If you'd like to have a replica of me in my current clothing, you can find me on Amazon.
Christmas Angel
I am a Christmas angel and even though it only comes once a year, it can be a state of mind all year long. That's why my skirt is decorated with a Christmas tree and gifts. I wish you all the gifts of peace, joy, kindness and understanding each and everyday.  The good deeds that the fairies do on a daily basis make my heart glow with happiness. If you'd like to own a replica of me, you'll find one on Amazon.
Coastal Angel
I am an angel who looks after the coast lines. That means that I get to do my work on beaches by the ocean. In doing this, I've had the great honor of meeting many mermaids and fairies who live and work beneath the sea. My blue dress symbolizes the color of the water. If you'd like to have a replica of me for your angelic collection, please go on Amazon.
Woodland Angel
I am a woodland angel. I get to roam the forest and woods and interact with the wild and majestic creatures that live there. I have had the joy of playing with baby fawns, baby foxes and even riding on the back of a unicorn. A few of the fairies invited me to join them for picnics in the forest this coming summer and I can't wait to enjoy a magical meal with them. They guarantee me that there will be lots of tasty sweets to eat. If you'd like to own a replica of me, you can shop on Amazon.
On behalf of our visiting angels and all the fairies, pixies and other majestic creatures around the world, we would like to wish you a magical Christmas surrounded by family and friends. Here in Fairy Land, we are looking forward to enjoying a delicious and sweet holiday meal. And, please keep looking around Teelie's Fairy Garden. There are lots of exciting things happening over the Christmas season and we are looking to the New Year too.
Just a disclaimer – We have partnered with these companies because we use their products and/or proudly trust and endorse them – so we do receive a commission if you make a purchase or sign up for services. Often, we are able to negotiate special discounts and/or bonuses, which we will pass on to you via our links. We often get short notice on sale items available for 24-48 hours as we will pass these savings onto you.