The fairies are busy getting ready for the 4th of July. Teelie's Fairy Land cannot wait to celebrate this American holiday that is rich in history and magic. For many of us, the parties, food, and fireworks are what we are most looking forward to. Teelie's Fairy Garden has put together these adorable fairy garden scenes for your enjoyment. They would look amazing with our 4th of July-themed instant fairy garden which you can find here.  Patriotic Patsy is the Fairy Land fairy in charge of all 4th of July celebrations. She can't wait to celebrate with you.
We also hope that you'll enjoy this video that is all about the 4th of July.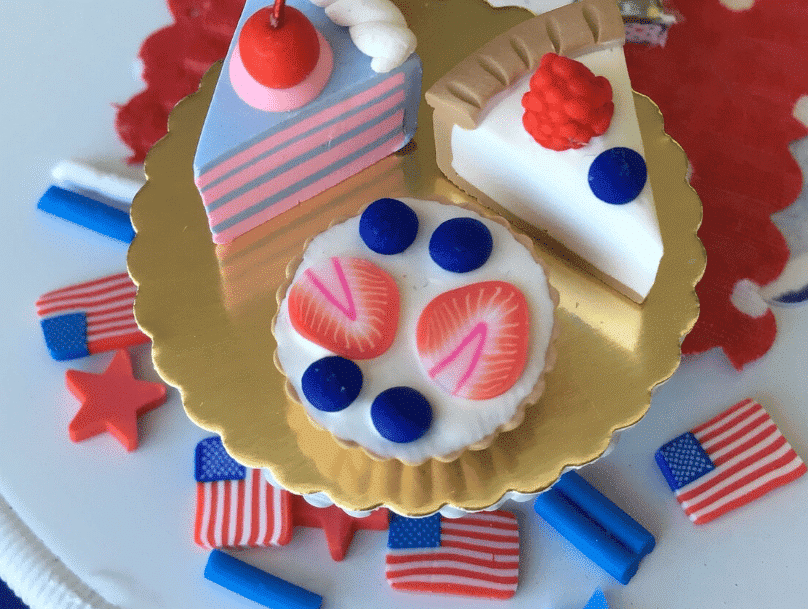 4th of July Miniature Pastries, Miniature Cake, Fruit Tart, Miniature Sweets, Fairy Garden, Dollhouse, Blueberries, Strawberries, Cherry
Fairies Love Sweets
As you are probably aware, fairies love sweets. This beautiful photograph was taken by Teelie's Fairy Garden. The miniature cakes and tarts are awaiting our fairy visitors who are going to visit our friend Patriotic Patsy's fairy garden for an enchanted 4th of July. Patriotic Patsy knows how much her fairy friends love sweets, so she is making sure that the fairy bakers are making oodles of dreamy desserts. Learn more here.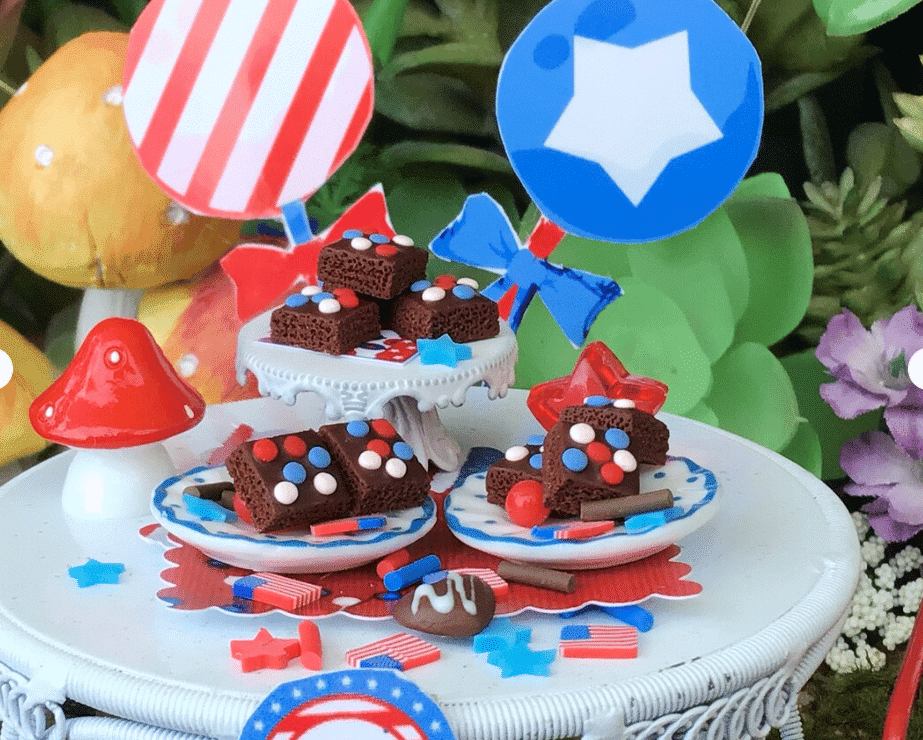 4th of July Brownies, Red, White, Blue, Chocolate Brownies, Miniature, Fairy Garden, Dollhouse, Barbie, Yummy, Fairy Food, Barbie Food, Good
Patriotic Brownie Treats
These amazing chocolate brownies have been topped with red, white, and blue candies making them a festive and delicious choice for the 4th of July. We love their patriotic design and know that Patriotic Patsy and all her fairy friends cannot wait to enjoy them at the upcoming celebration. There will even be fireworks and music. Learn more here.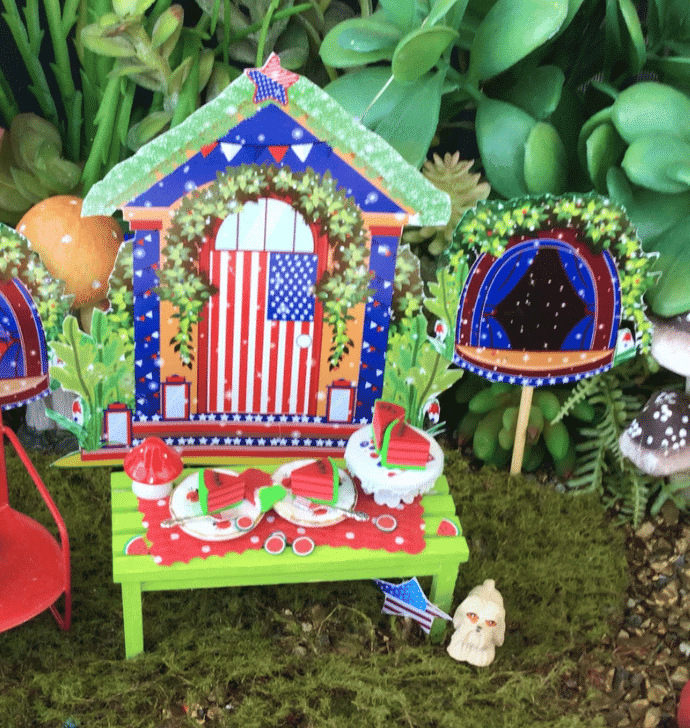 Watermelon Cake, Watermelon Popsicle, Dollhouse, Miniature, Fairy Garden, Fairy Food, Fourth of July, red Cake, Green Frosting, Yummy Cake
Magical 4th of July Cake
These magical 4th of July watermelon cakes have a sweet flavor just like the fruit itself. Red and green frosting have been added for an even bigger flavor splash. The fairies will absolutely love these. They are a brand new Fairy Land creation and Patriotic Patsy is anxiously watching to see how her guests enjoy them. Find them here.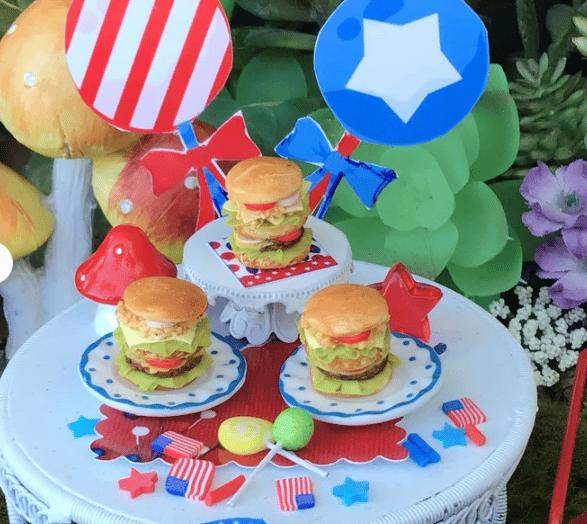 Double Decker Cheese Burgers, Miniature, Dollhouse, fairy Garden, Picnic, Fairy Food, Lollipops, Fourth of July, Picnic, Deluxe Burgers, Fun
Delicious 4th of July Barbecue
These double-decker cheeseburgers are going to taste amazing. We have miniature grills to cook up our delightful 4th of July cuisine. Several of the fairies will take turns looking after the grill and with a little bit of fairy dust, the food is sure to be ready even faster. You can learn more about these burgers here.

4th of July Ice Cream Sandwiches, Red, White, Blue, Ice Cream, Chocolate Cover, Fairy Garden, Dollhouse, Barbie, Fairy Food, Miniature Food
Festive and Refreshing Treats
Ice cream sandwiches are always a refreshing treat. These specially made Fairy Land ice cream sandwiches are also festive and patriotic with their red, white, and blue ice cream centers. In the scene, they are also sitting on white and blue plates. Red, white, and blue lollipops are also adding some festivities to this delightful and sweet feast. More details are available here.
Thank you for taking some time to celebrate the 4th of July in Fairy Land with us. We hope you'll return to revisit Teelie's Fairy Garden soon. We also have some goodies below for your enjoyment.
Here are some other enchanted and magical 4th of July Fairy Garden accessories that you can enjoy.
We also have a magical video about this celebration for you.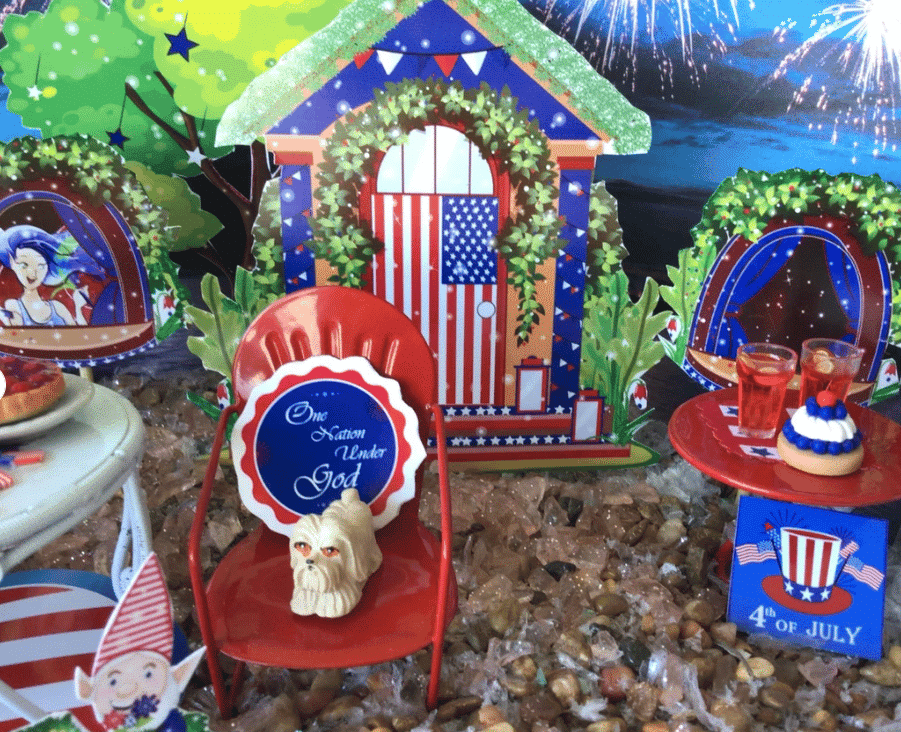 Patriotic Patsy The 4th Of July Fairy, Digital Download, Instant Fairy Garden, Magical Fairy Garden, DIY, Crafts, Birthday Party, Fun Crafts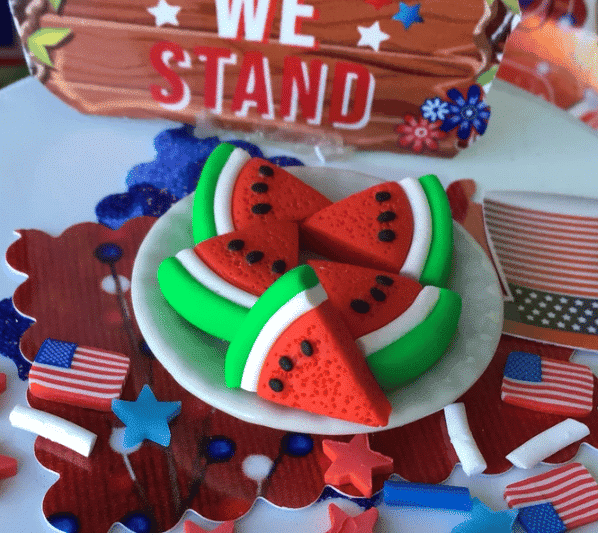 Patriotic Watermelon Slices, Miniature Watermelon, America, Watermelon Slices, 4th of July Celebration, Fairy Garden, Dollhouse, Party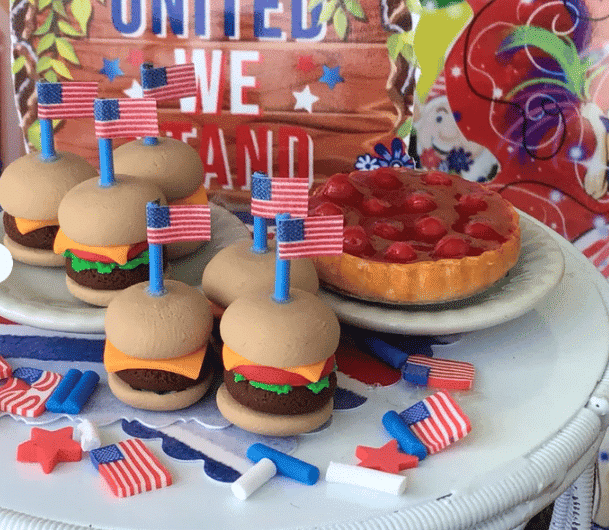 Your Choice Of Hamburgers with All The Works Or A Plain Cheeseburger, Cherry Pie, 4th Of July, Miniature, Dollhouse, Fairy Garden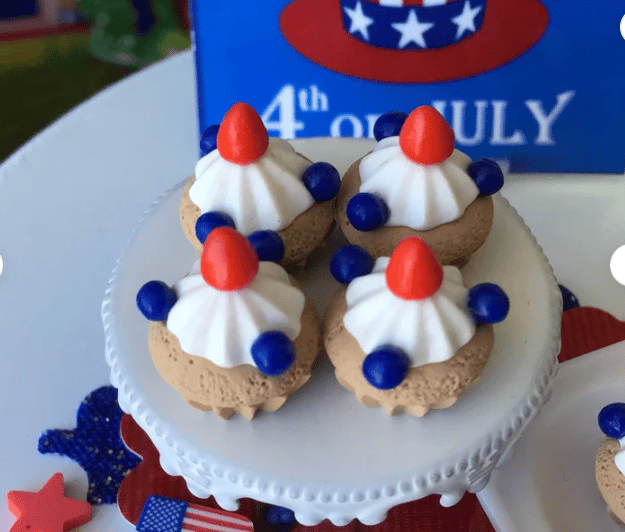 Patriotic Cupcakes, Red, White and Blue Cupcakes, Miniature Cupcakes, America, 4th of July Celebration, Fairy Garden, Dollhouse, Party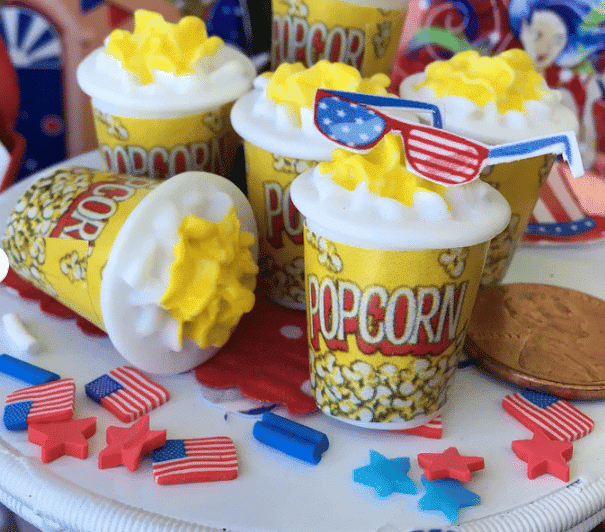 4th of July Bucket of Popcorn, Miniature Popcorn, Buckets of Popcorn, 4th of July Celebration, Fairy Garden, Dollhouse, Yellow, Butter, Cute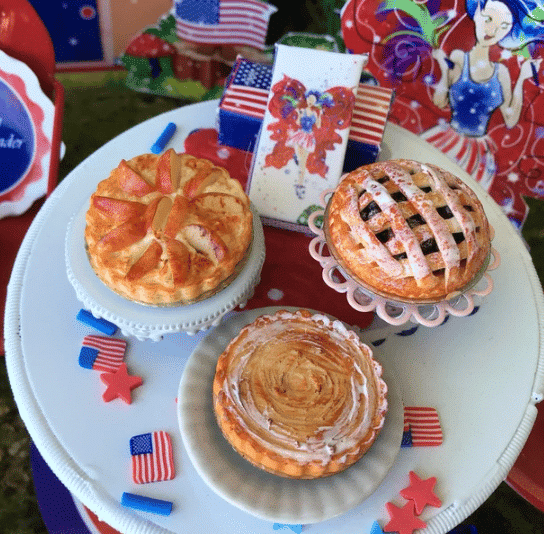 4th of July Yummy Pies, Miniature Pie, Miniature Food, Fruit Pies, 4th of July Celebration, Fairy Garden, Dollhouse, Apple Pie, Berry Pie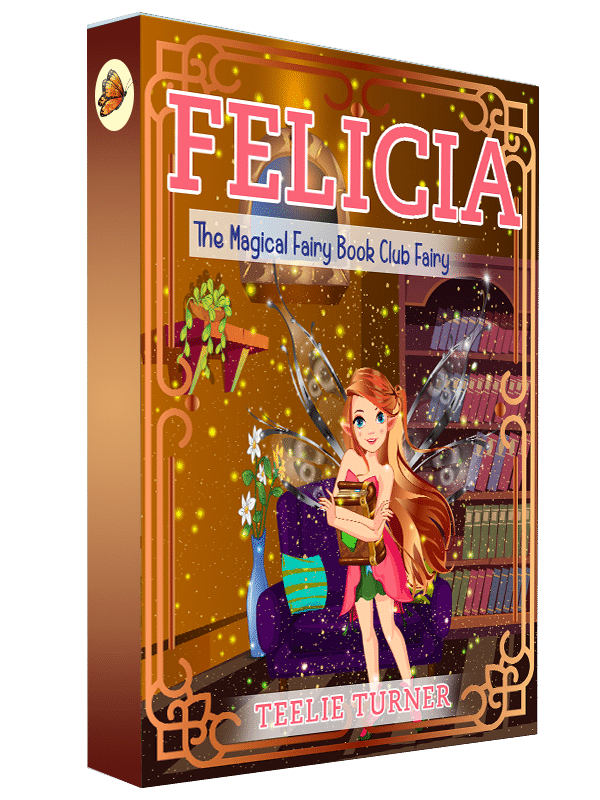 Discover Teelie Turner's complete collection of magical books here. 
Discover one of our magical book trailers.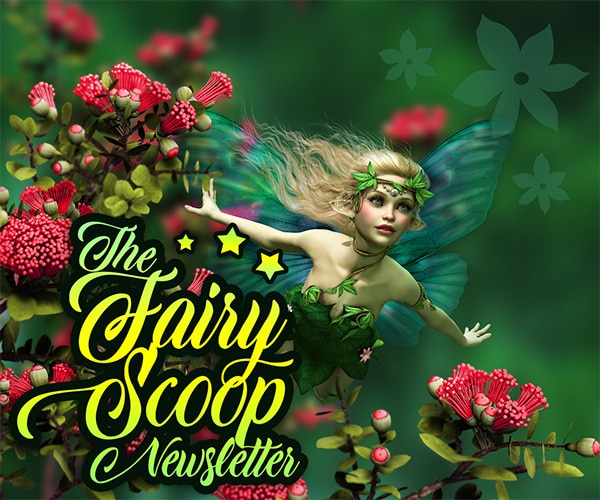 Sign up for The Fairy Scoop Newsletter here. 
Just a disclaimer – We have partnered with these companies because we use their products and/or proudly trust and endorse them – so we do receive a commission if you make a purchase or sign up for services. Often, we are able to negotiate special discounts and/or bonuses, which we will pass on to you via our links. We often get short notice on sale items available for 24-48 hours as we will pass these savings onto you.