Teelie's Fairy Garden is ready to take you on vacation. Pack your tent, grab some marshmallows, chocolate and graham crackers, and have a few stories in mind for around the campfire because the fairies are going camping. In the photo above, perhaps you'll recognize the fairy who is in charge of camping. Her name is Chrissy.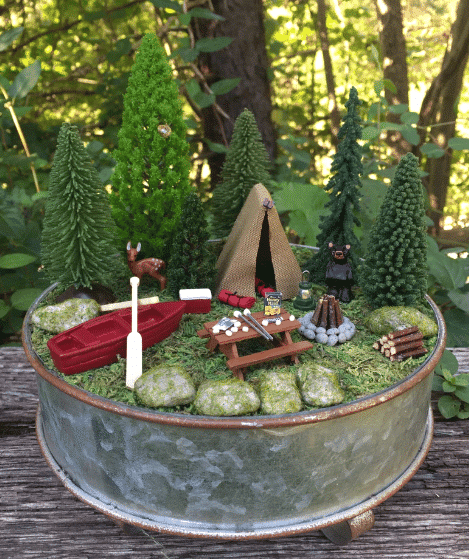 Miniature Camping Scene With Canoe Tent Deer And Bear -Enjoy the Outdoors-Miniature Camping -Miniature Tent-Cake Toppers-Wedding Cake Topper (Kalamity Creations on Etsy)
Magical Camping Fairy Garden Scene
Our first scene comes from Kalamity Creations on Etsy. They have put together an incredible fairy garden for us to view. Their display is in a round metal tub. They've set up their campsite in a grove of trees that is also home to a deer and bear. They have wood on their campfire and another stack ready to be added later. A picnic table is set with sticks and marshmallows. They're going to have an incredible time. And don't worry about the fairies, they're great with wild animals. They have special magical fairy dust that can allow them to be friends. Learn more here.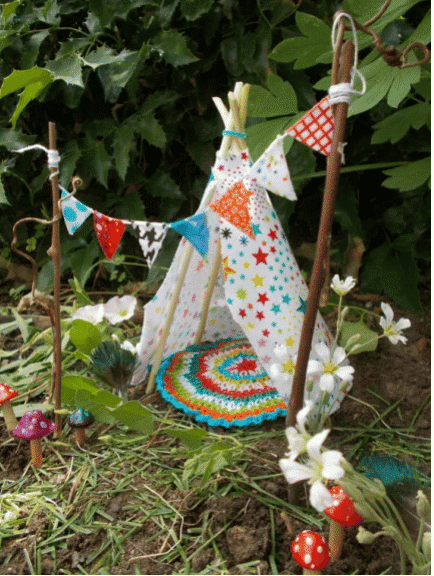 Beneath the Ferns Camping Fairy Garden Tutorial
Fairy Garden Camping Tutorial
Beneath the Ferns has prepared an incredible tutorial for you. It will teach you what fairy garden miniatures and accessories you might want to use to create a magnificent camping-themed fairy garden. They plan on roasting hotdogs over an open fire, tents, camping trailers, bears, and boats. The tutorial can be found here.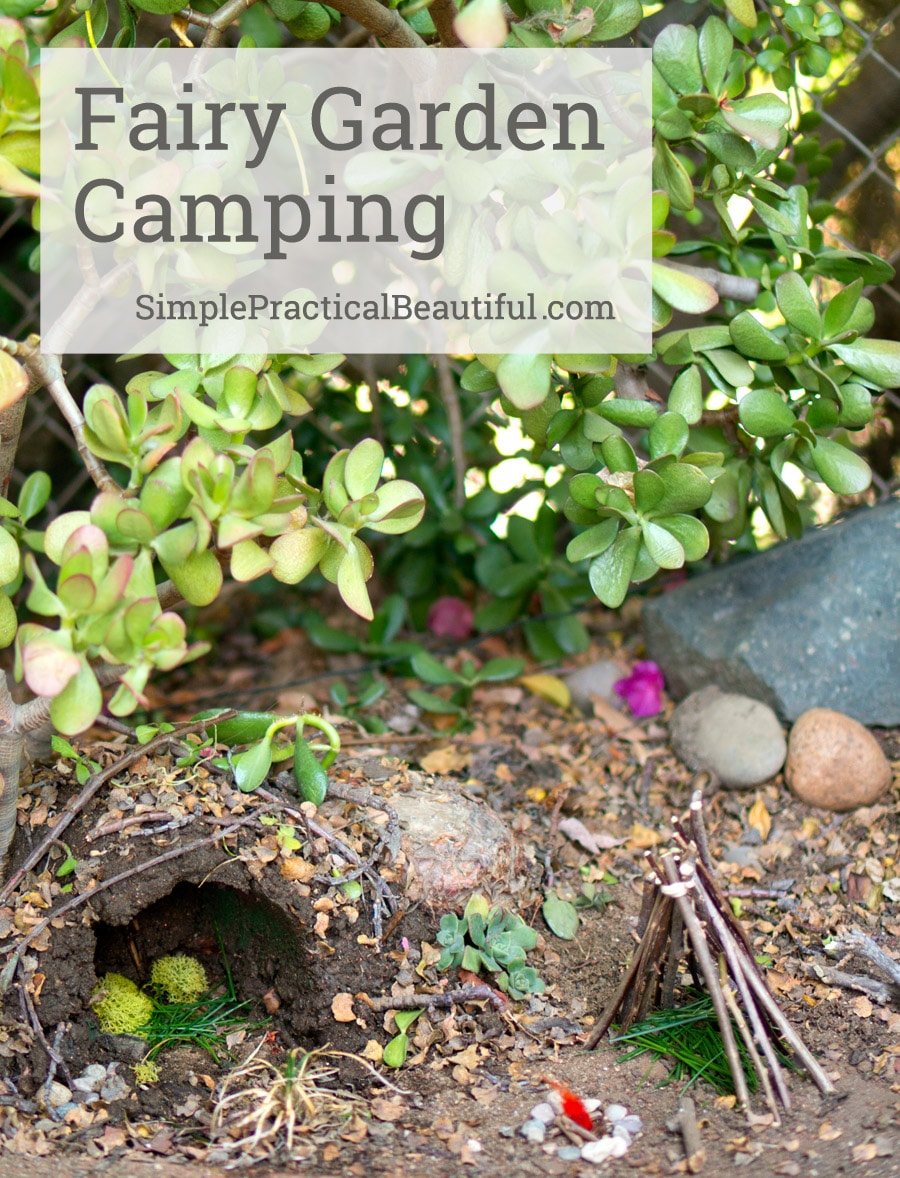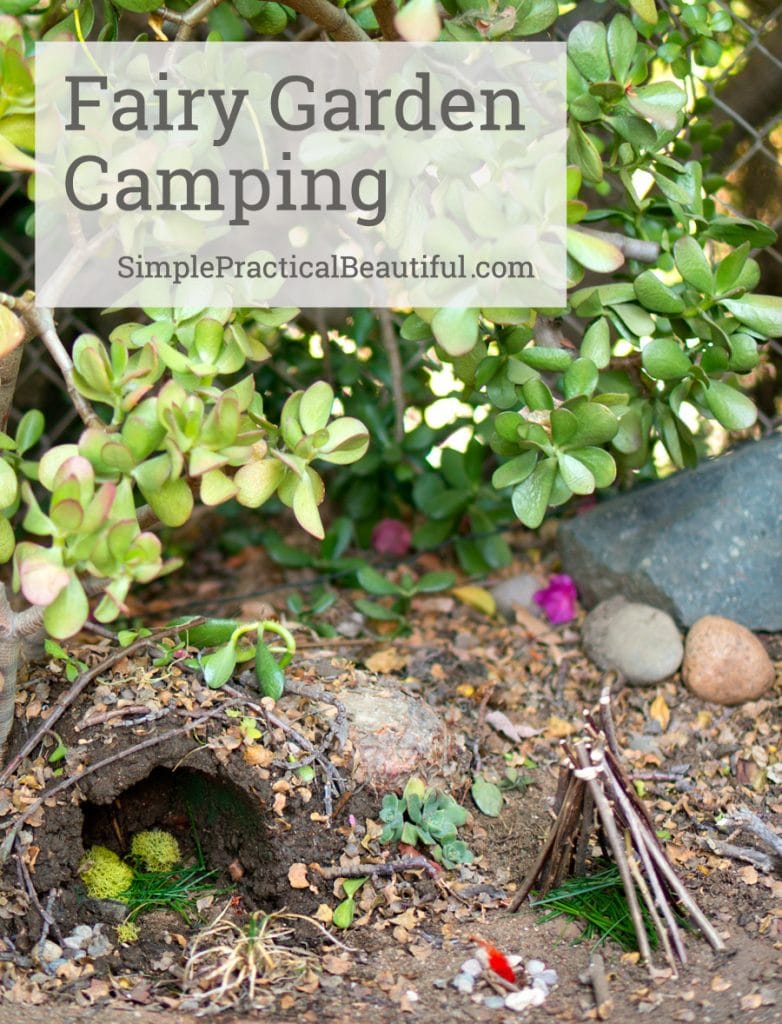 Simple Practical Beautiful Fairy Garden
Rustic Camping Fairy Garden
Simple Practical Beautiful created an enchanted and rustic fairy garden. Grab your hiking boots and come along for a walk with us as we discover what they have created using natural elements. Full details are available here.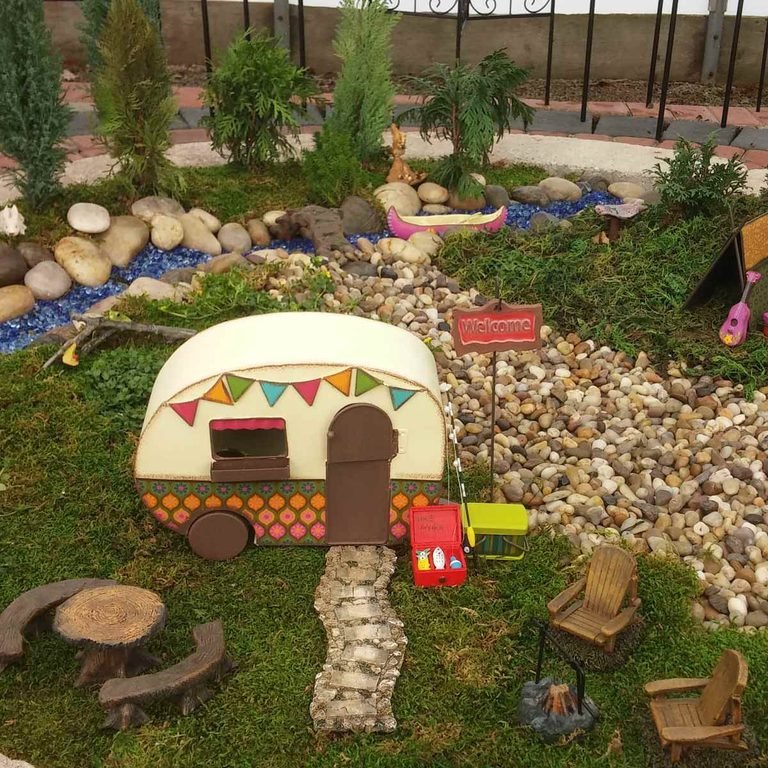 Enchanted Camping Fairy Garden
Family Handyman has assembled a list of wonderful ideas for fairy garden themes. Number two on their list is a camping themed fairy garden. We love the scene that they created. It includes an RV, a table and benches, Adirondack chairs, a welcome sign, and a path. Learn more about it here.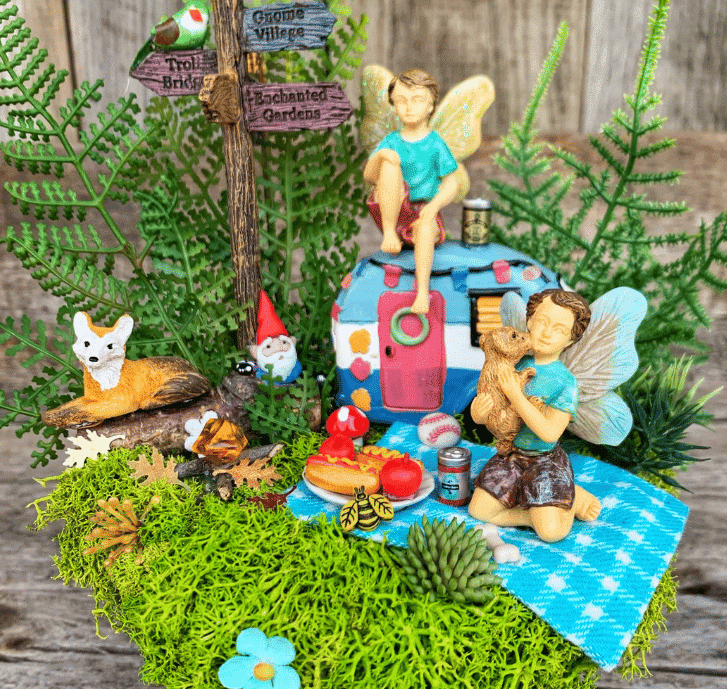 Fairy Garden, Camping Fairy Garden, Fairy Garden Miniature, Fairy Garden Accessory, Complete Fairy Garden, Miniature Fairy Garden (FairyGrandMaGardens on Etsy)
Incredible Camping Fairy Garden Scene
FairyGrandMaGardens on Etsy has put together a beautiful camping scene. There are two fairy boys and their adorable and playful puppy, a gnome, fox, bee, sign, a picnic blanket, camper, and food to be enjoyed in this scene. An entire description of this scene can be found here.
Teelie's Fairy Garden hopes that you have an enchanted time enjoying camping fairy gardens or doing real-life camping this summer. If you are considering a camping fairy garden, we found a few accessories that you might like to include. If you do create a fairy garden, we'd love to see photos. Please reach out to us on social media.

Campfire Cookout 2 piece set MG273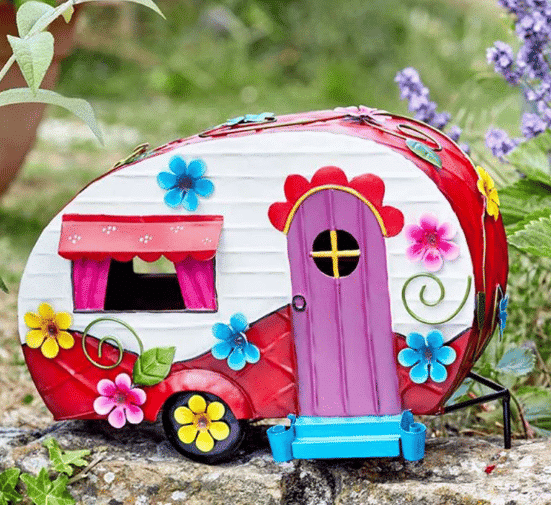 Flower Power Metal Caravan, Fairy Garden Caravan, Fairy Camper Van, Fairy Trailer, Camping, Fairy Garden Accessory, The Fairy Garden UK
Miniature Campfire (1/5pc) – Fairy Garden Decoration – Campfire Figurine – Terrarium – Figurine – Bonfire – Fire Pit – Camp Figurine
Camping Miniature Figurines – YOUR CHOICE – 90s Miniatures – Polymer Clay – FIMO – Cheryl Brown – Camping Bears – Outdoorsy – Hikers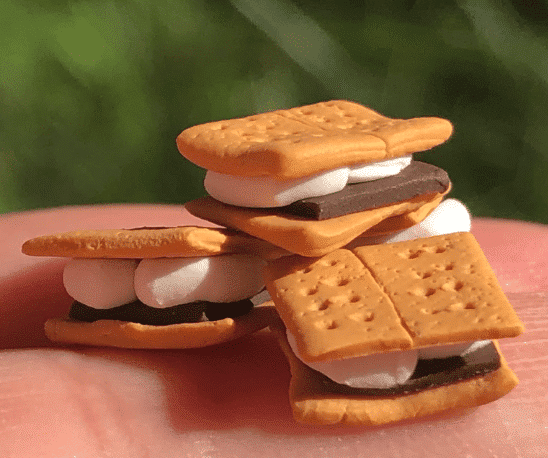 Dollhouse Miniature S'mores; 1:12 Camping Food, Fairy Garden S'mores Sandwiches, Cute Tiny S'mores; Unique Miniatures, Campfire Food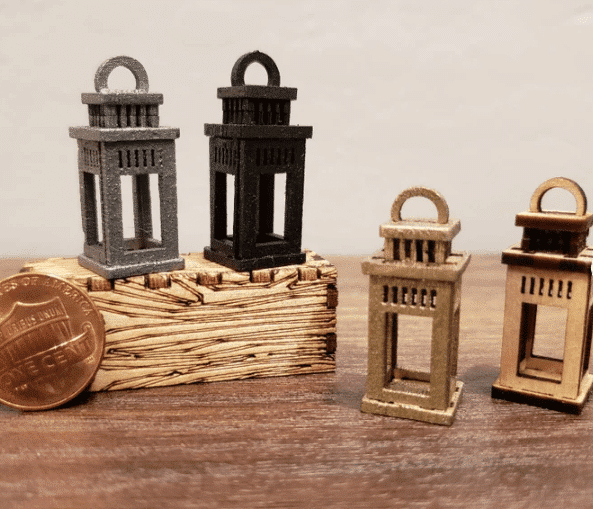 Miniature Lantern for 1:12 Scale Dollhouse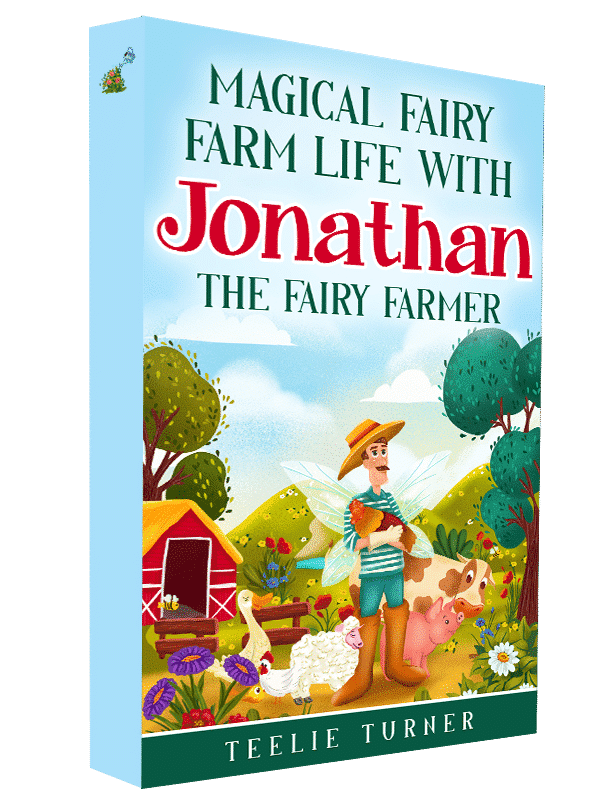 Discover Teelie Turner's complete collection of magical books here. 
Discover one of our magical book trailers.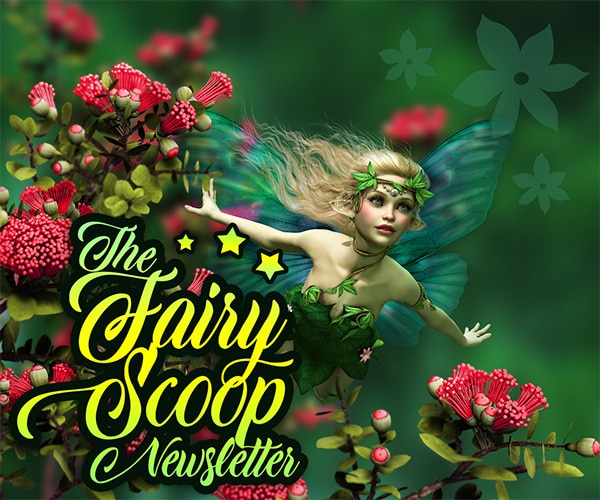 Sign up for The Fairy Scoop Newsletter here. 
Just a disclaimer – We have partnered with these companies because we use their products and/or proudly trust and endorse them – so we do receive a commission if you make a purchase or sign up for services. Often, we are able to negotiate special discounts and/or bonuses, which we will pass on to you via our links. We often get short notice on sale items available for 24-48 hours as we will pass these savings onto you.