Welcome back to Teelie's Fairy Garden. Fairy Gardening can be such a magical experience and just as children love to let their imaginations take them on incredible adventures with paper dolls, Teelie Turner's Magical Instant Fairy Gardens have the power to bring hours of fun to children, and to children at heart.
There are many advantages to having a Magical Instant Fairy Garden including you can have them immediately after downloading them. They are also affordable and easy to store. These Instant Gardens can be enjoyed on their own or by adding miniature accessories like cakes, flowers, fairy furniture, and additional fairies. Many of these items can also be used for multiple fairy gardens helping to keep the cost of creativity reasonable.
These amazing Magical Instant Fairy Gardens are also a DIY craft and interactive and educational playtime. Teelie Turner's goal is to eventually have a Magical Instant Fairy Garden for each of her over one hundred fairies. Iaada's fairy gardens are a great idea for birthday parties, playdates, one on one or family time as they can provide hours of fun and enjoyment.
We are pleased to introduce you to Iaada the International Fairy. Each month she will be featured in an enchanted fairy garden from some of her travels. International Fairy Day will be taking place on June 24th, so it seemed like the perfect time to introduce you to Iaada and share her first two adventures with you. Her Japanese and Scottish Fairy Gardens are now ready. With each new place that Iaada visits, she loves to explore the country's food, nature, tourist attractions and learn all she can about each place she goes. Learn more about Iaada on her personal webpage.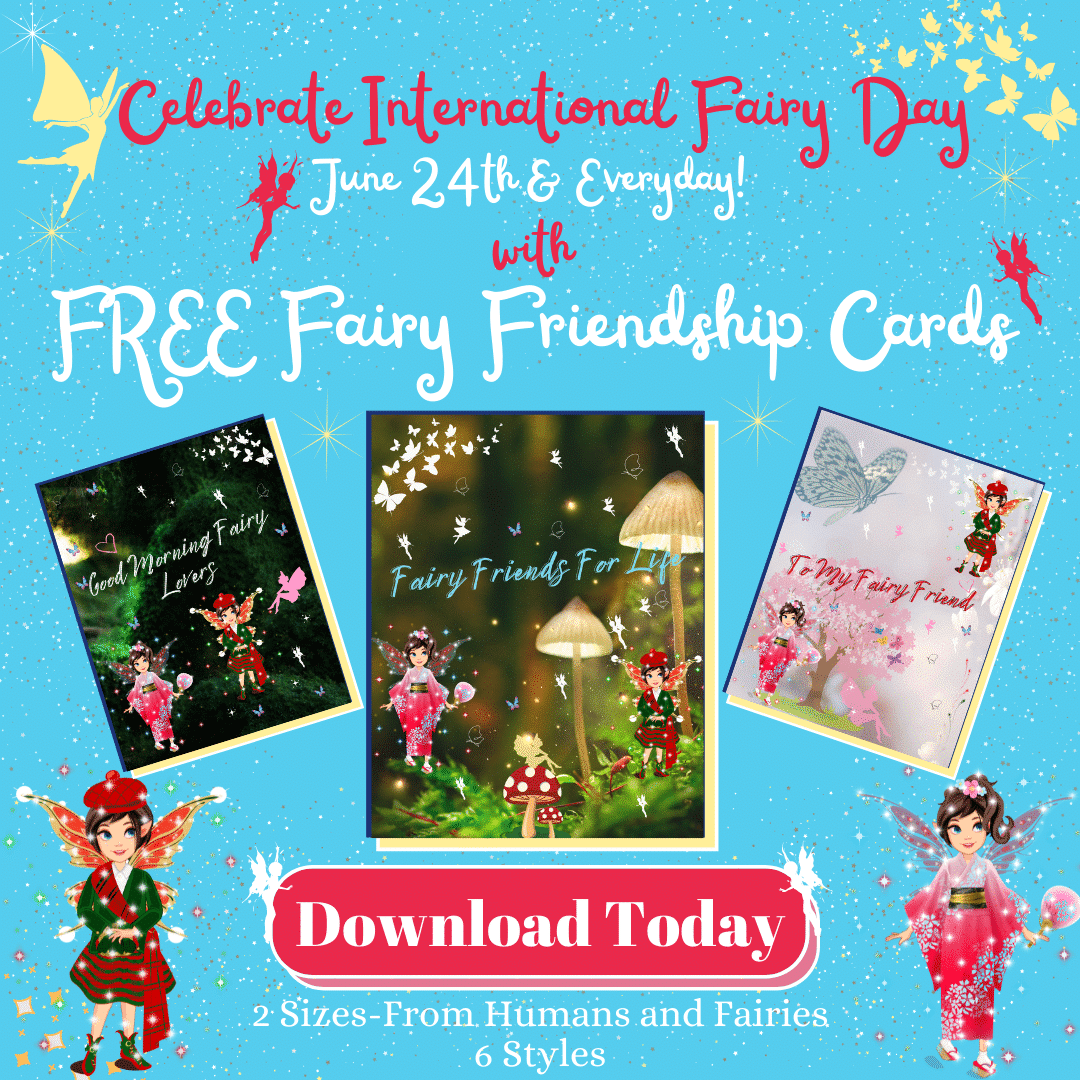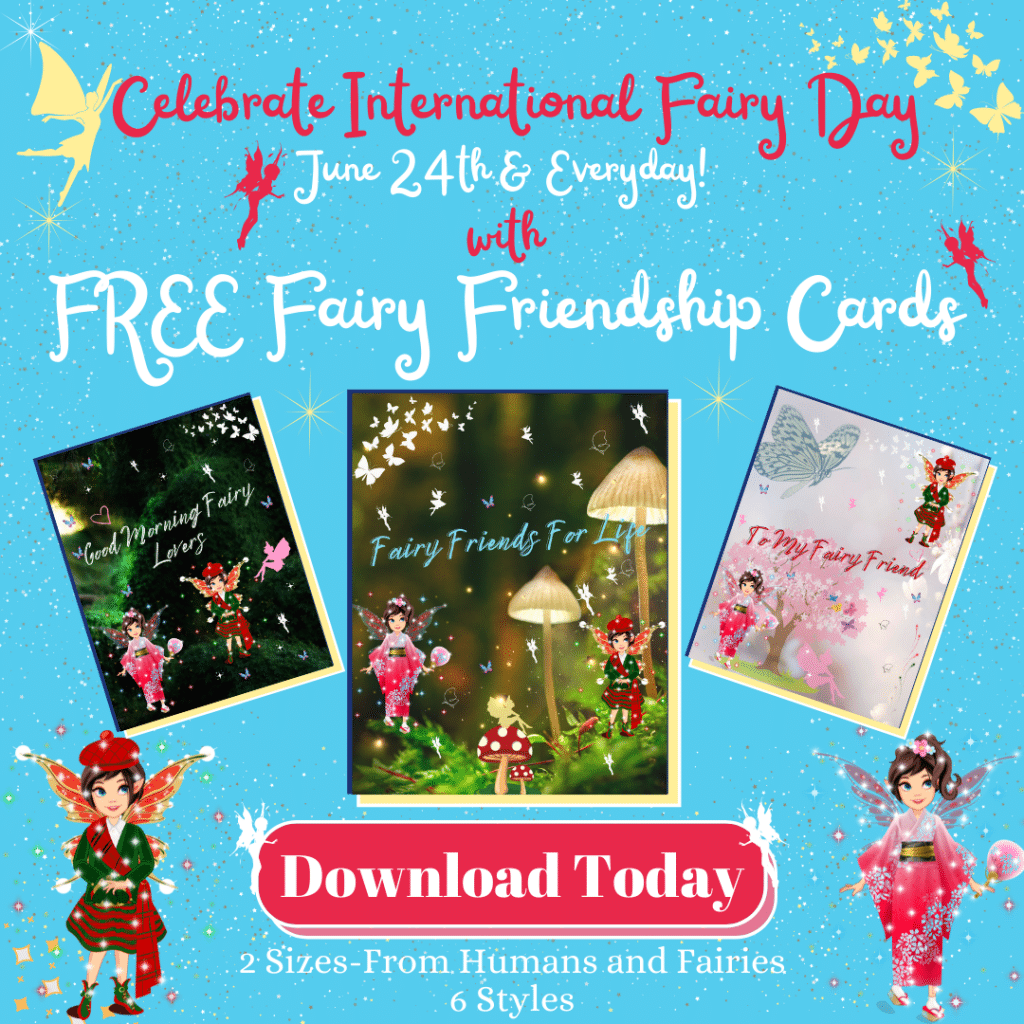 We also have some magical friendship cards that we created just for you for International Fairy Day. They are free to download. Find them here. 
Iaada's Japanese Fairy Garden
Iaada asked her friend Teelie Turner to help her share her magical Japanese fairy garden with you. Teelie was pleased to help Iaada spread the word. Here are two incredible videos which they created. After you enjoy the videos, please continue reading about the magical products that could go into your fairy garden and the instant download of the garden which is sure to provide hours of fun in your home.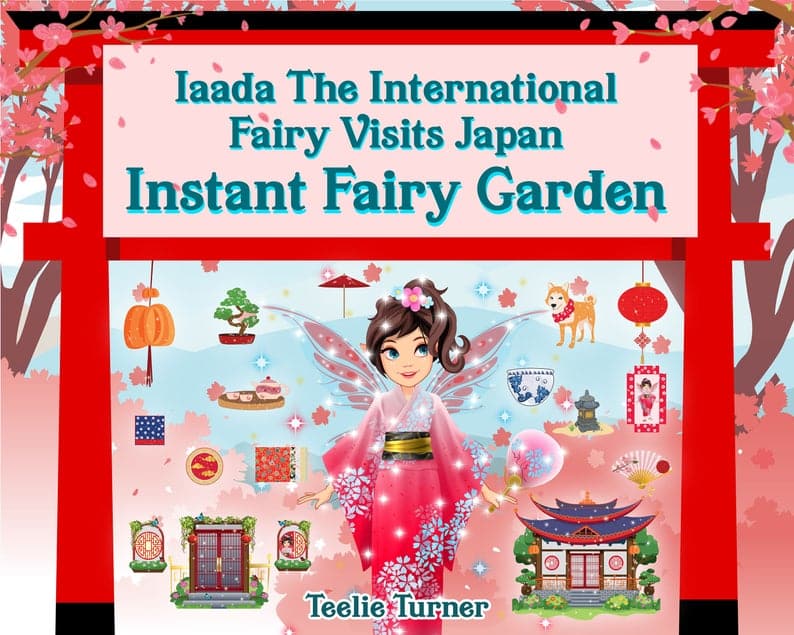 Iaada The International Fairy Visits Japan, Digital Download, Instant Fairy Garden, Magical Fairy Garden, DIY, Crafts, Birthday Party, Fun
Iaada's Japanese Instant Fairy Garden
Iaada was recently on a trip to Japan, and this inspired the creation of her Japanese Instant Fairy Garden. She especially enjoyed drinking tea in the tea garden and smelling the delightful cherry blossoms. There are hours of fun to be enjoyed as you discover all the magical and miniature items that are included in the instant download. Full details are available on Etsy. You can also watch the videos above.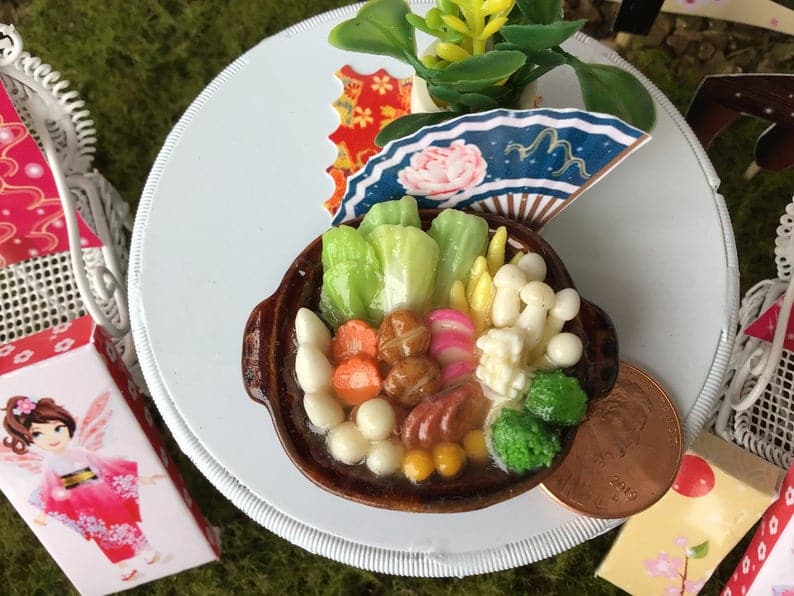 Iaada Visits Japan, Amazing Miniature Japanese Sukiyaki Hot Pot Dish, Blue Fan, Japanese Food, Miniature, Dollhouse, Fairy Garden, Japan
Delicious Japanese Food
While in Japan, Iaada tried a number of delicious foods including a Japanese Sukiyaki Hot Dish. You can include this treat and the dish it comes in, in your fairy garden. You'll also receive a blue paper fan. Learn more on Etsy.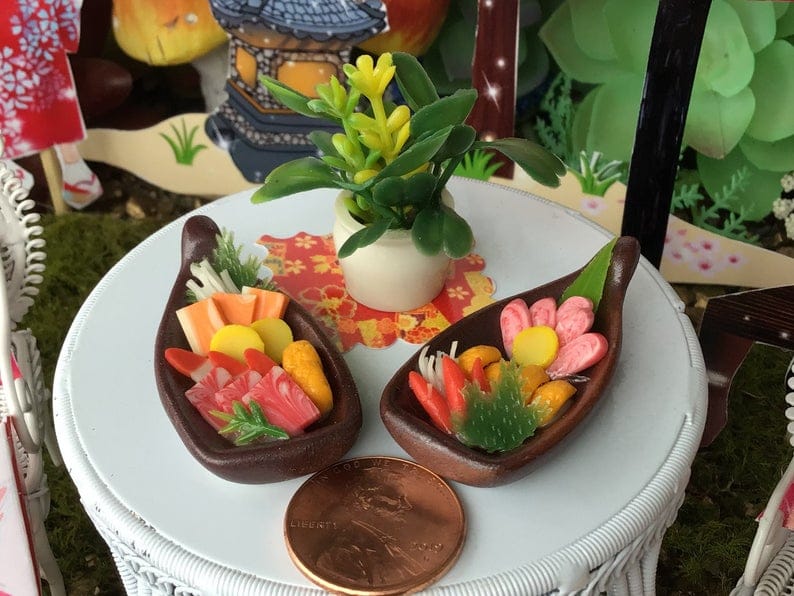 2 Iaada's Miniature Japanese Sushi Set, Miniature Sushi box, Miniature Japanese food, Fairy Garden, Dollhouse Japanese Food, Dollhouse Miniature
Sushi for Two
Our next meal is great for eating with a friend or loved one. This sushi set for two includes two amazing platters of Japanese food. Iaada had never tried sushi before going to Japan and was pleasantly surprised. Find it on Etsy.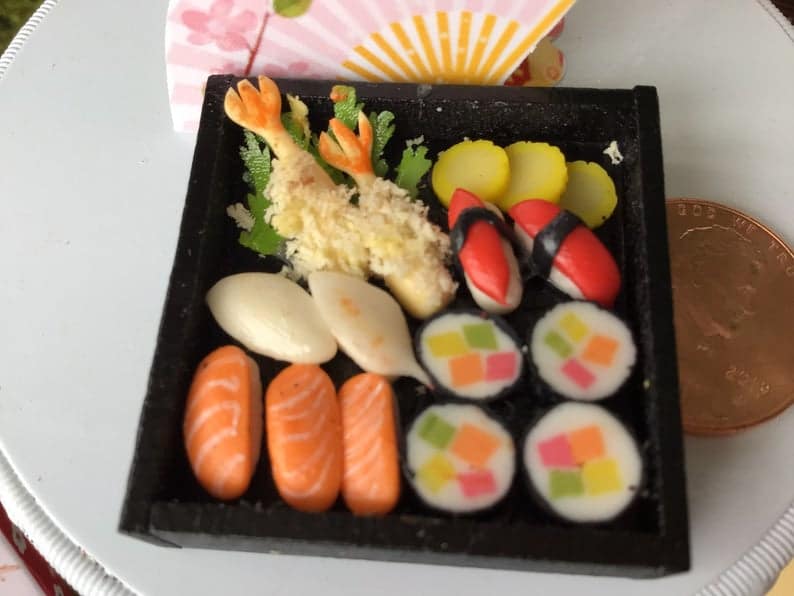 Iaada International Fairy's Sushi in a Black Bento Box and Pink Fan, Miniature Sushi, Japanese Food, Miniature Food, Dollhouse, Fairy Garden
Japanese Take Out
Iaada also found Japanese sushi as a takeout box one night and enjoyed it in her magical fairy garden. She is glad that her magical fairy dust will allow her to create an instant garden anywhere she goes. With this sushi set that comes in a wooden bento box, you'll also receive a pink fan that matches Iaada's outfit. Learn about it on Etsy.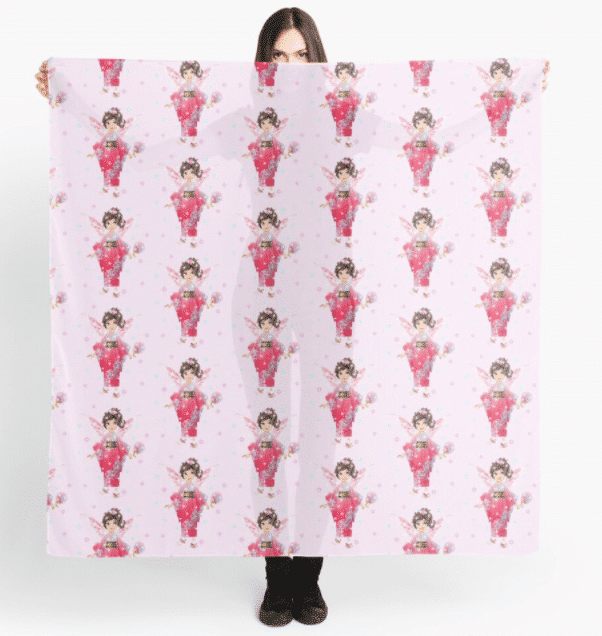 Iaada the International Fairy – Japanese™ Scarf
Adorable Iaada Scarf
Iaada has her own collection of merchandise featuring her image on products. She is wearing a kimono with cherry blossoms on it in the picture. Her magical products include a scarf. It would look amazing if you were wearing it while enjoying your fairy garden or you could use it as a backdrop or draped over a tree branch to give the illusion of cherry blossoms growing in your fairy garden. With imagination anything is possible. Find Iaada's scarf and her other merchandise on Etsy.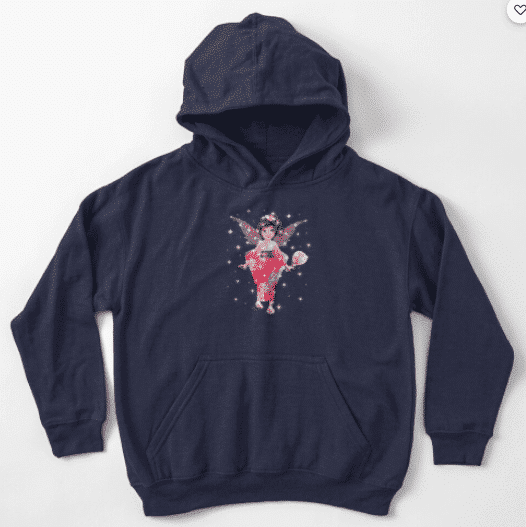 Iaada the International Fairy – Japanese™ Kids Pullover Hoodie
Iaada's Children's Clothing
Iaada has magical children's clothing in her collection of merchandise including pullover hoodies for kids. They are available in four colors. Find all of Iaada's clothing for babies, kids, youth, and adults on Redbubble. There are t-shirts, onesies, hoodies, skirts, and leggings available.
Iaada's Scottish Fairy Garden
Iaada and her friend Teelie Turner have created this magical video so that you can learn about Iaada's enchanted Scottish Fairy Garden. After you watch the video, you can read about some of the magical products that we have to offer you for your incredible Scottish Fairy Garden.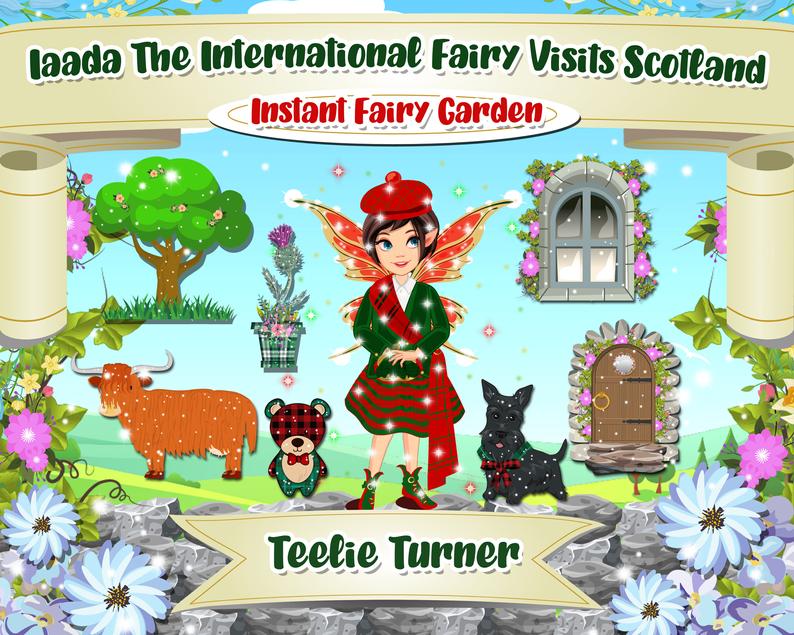 Iaada The International Fairy Visits Scotland, Digital Download, Instant Fairy Garden, Magical Fairy Garden, DIY, Crafts, Birthday Party
Iaada's  Scottish Instant Fairy Garden
Instantly download Iaada's Scottish fairy garden so that you can enjoy hours of fun and enjoyment with this magical garden. Learn about all of the enchanted elements of this special garden including a castle, Scottie dog, Highland cows, thistles, and plaid furniture. Download your instant Scottish garden from Etsy.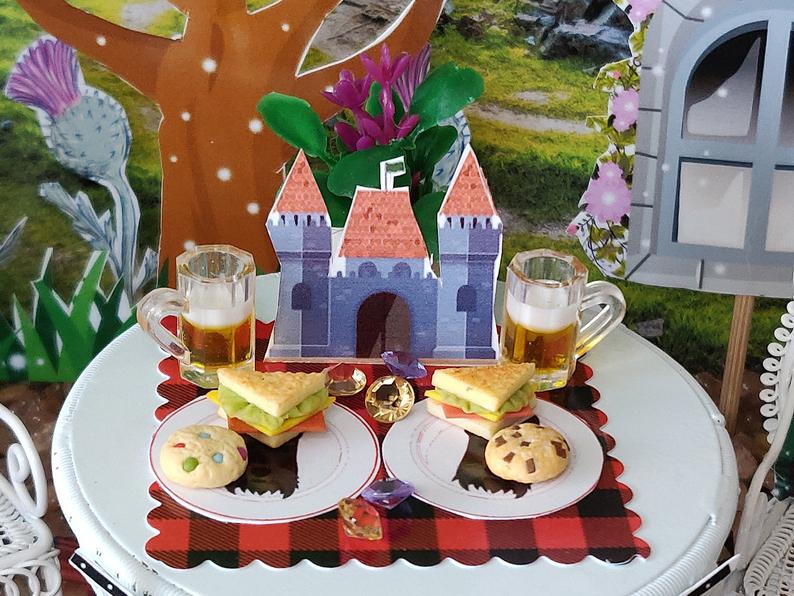 Iaada The International Fairy's Scottish Lunch, Miniature Sandwich and Cookies, Dollhouse, Cookies, Miniature Sandwich, Fairy Garden
Magical Scottish Lunch
Iaada loves to go for picnics in the countryside. Her magic fairy dust will allow her to set up a table and chairs anywhere if she doesn't want to spread out a picnic basket and take a seat on a blanket in the grass. Enjoy a miniature sandwich and cookie with Iaada in her Scottish garden. Find Iaada's lunch on Etsy.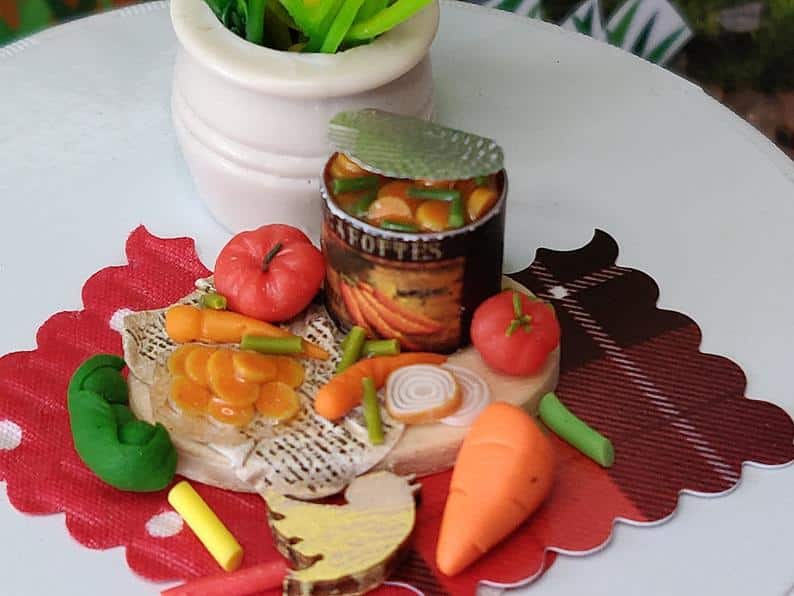 Iaada The International Fairy Tastes Scottish Food, Amazing Veggies, Miniature Veggies, Dollhouse Miniature Veggies, Fairy Garden, Cute
Iaada's Garden Vegetables
Outside of Iaada's castle is a delightful vegetable garden and she loves enjoying all of the fresh and crunchy vegetables from it. Find Iaada's assortment of vegetables on Etsy.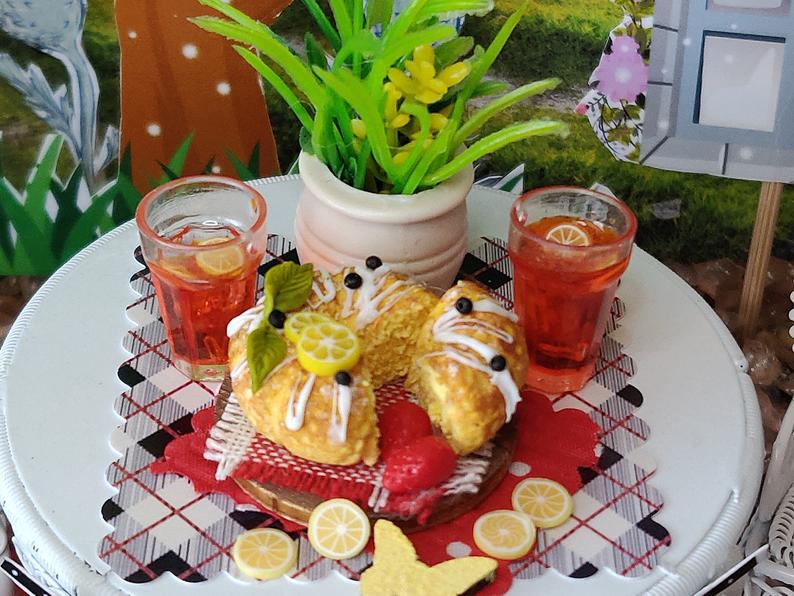 Iaada The Scottish Fairy's Lemon Bunt Cake, Dollhouse, Fairy Garden, Iced Tea, Pastry, Lemon Cake, Slices of Lemon, Butterfly, Yellow
Iaada's Delightful Dessert
As you're probably aware, fairies love desserts. Iaada absolutely loves this Scottish Lemon Bunt Cake. She recently picked it up at a bakery during a walk-through of Scotland's streets. She is so impressed that she knows she'll have to get it again, the next time she returns home to Scotland. Find the cake and some iced tea on Etsy.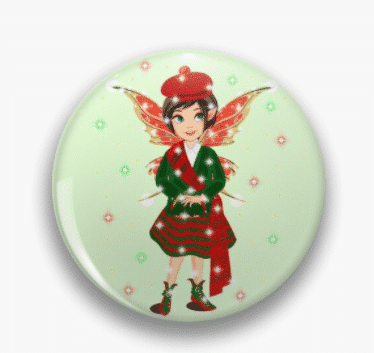 Iaada The International Fairy– Scottish™ Pin
Iaada's Scottish Pin
Iaada has her own collection of merchandise featuring an image of her in her red and green plaid outfit. One of the items which you might enjoy and could wear while you spend time with Iaada in her Scottish garden is her pin. These would also be great party favors if you host an Iaada themed celebration. Find the pins and Iaada's other merchandise on Redbubble.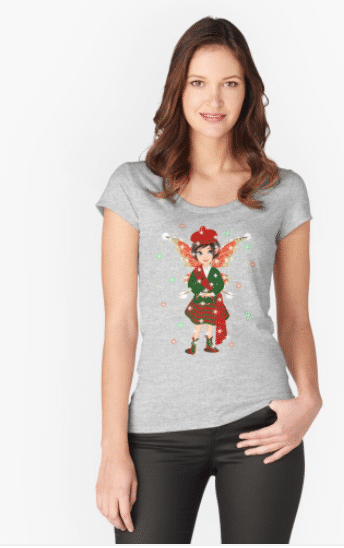 Iaada The International Fairy– Scottish™ Fitted Scoop T-Shirt 
Iaada's Magical Clothing Line
We told you about Iaada's magical Japanese clothing line, but she also has clothing featuring her in Scotland. We decided to show you a fitted scoop neck t-shirt for adults. The t-shirt is available in six different colors. The grey is featured above. Various clothing options are available for babies, children, youth, and adults. Find out more on Redbubble.
Thank you for joining us on this amazing journey. Teelie's Fairy Garden is so pleased that you were able to meet Iaada the International Fairy. We invite you to share your fairy gardens with us on social media or in the comments below. We have also created a new interactive group on Facebook called Teelie's Magical Fairy Garden Ideas. Join now. 
Also, Prime Day on Amazon will be taking place on June 21st and 22nd. This could be a wonderful time to start your fairy garden because there are incredible deals out there for you.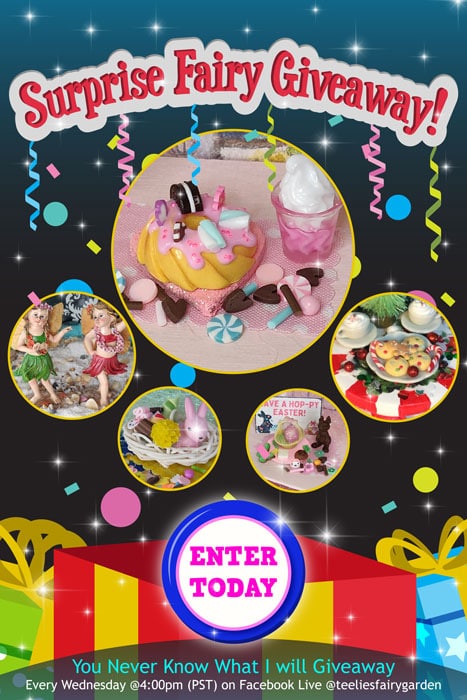 Every Wednesday, Teelie Turner will be giving away something special in a magical surprise giveaway. You'll never know what it might be and that is part of the magic that goes along with this. Sign up now for your chance to win. (USA residents only)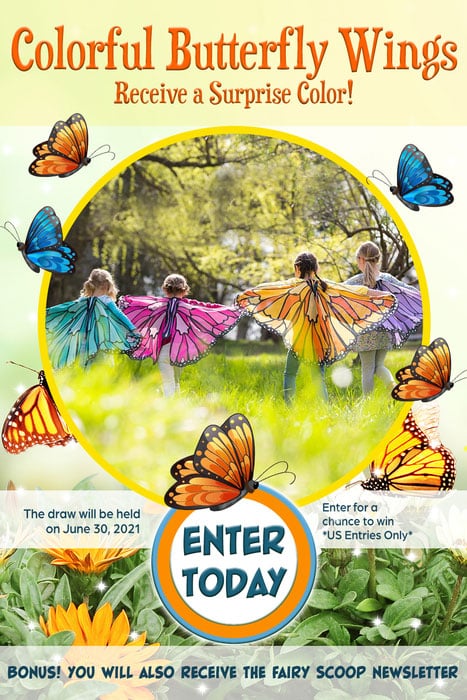 On June 30th, a winner will be selected at random to receive a pair of colorful butterfly wings. Enter now for your chance to win. (USA residents only).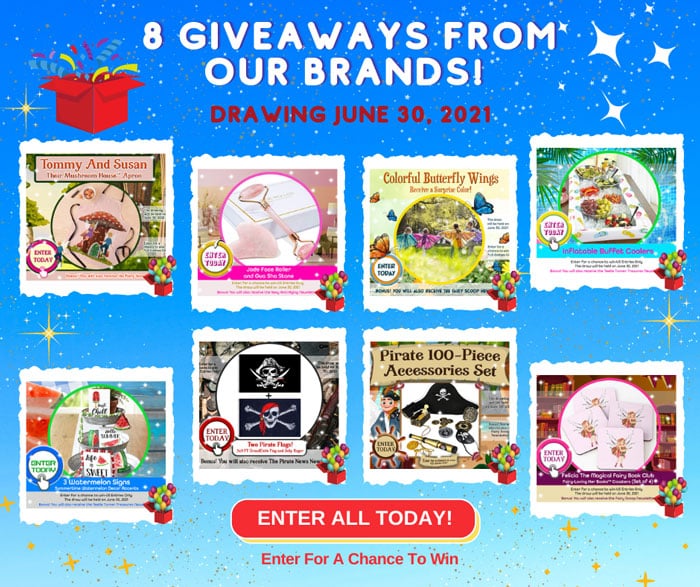 Enter for a chance to participate in all of our giveaways here.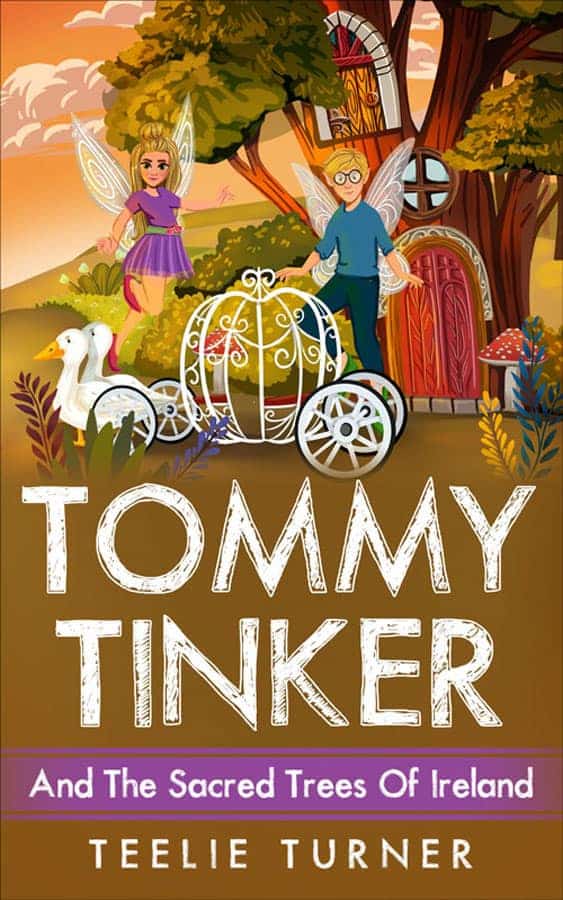 Discover Teelie Turner's complete collection of magical books here.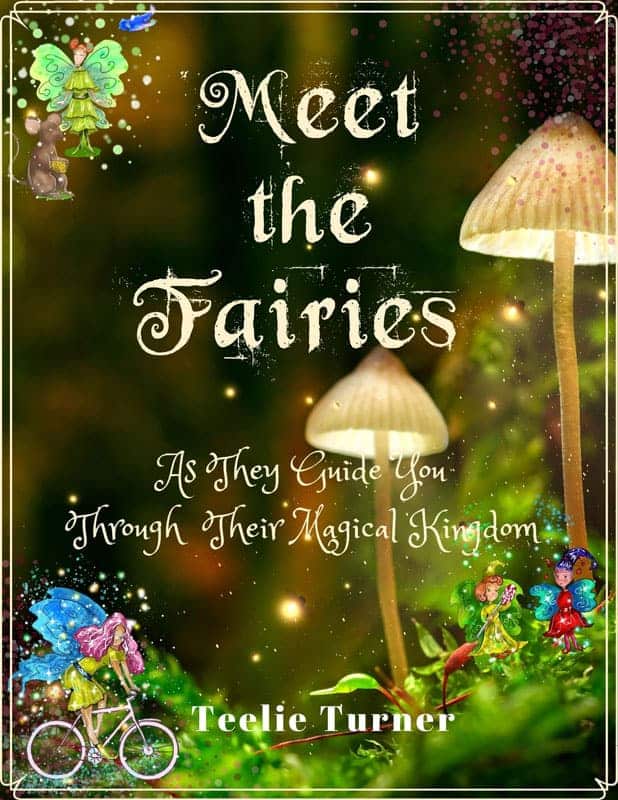 Sign up to get a copy of the Meet the Fairies catalog/book. It's an enchanted opportunity to get better acquainted with over a hundred incredible fairies.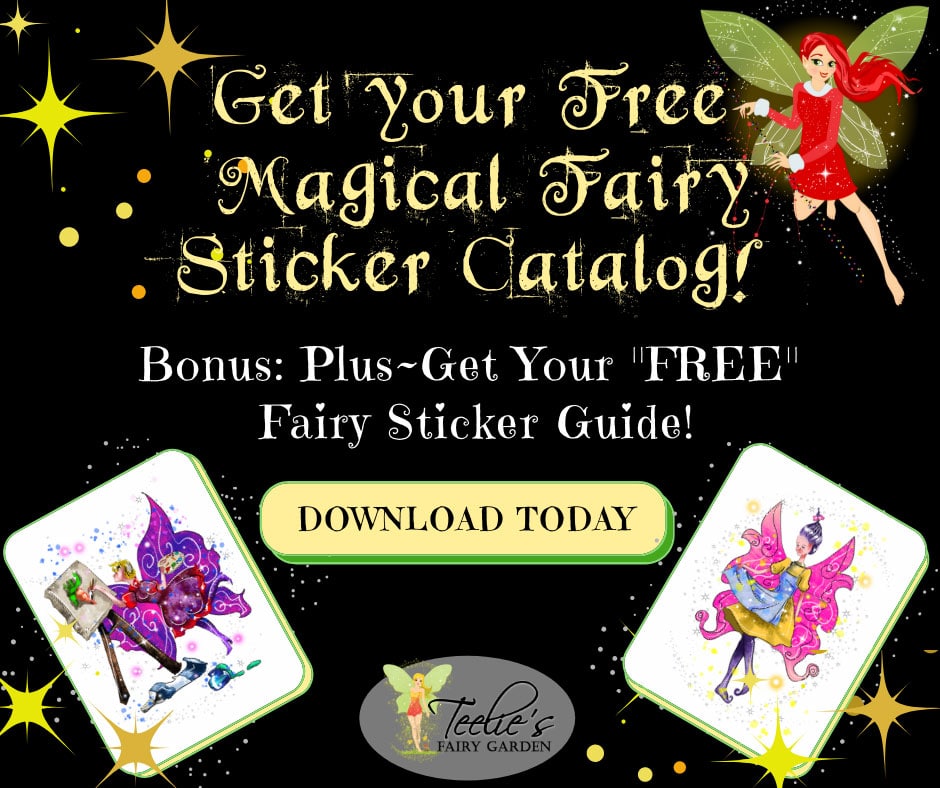 Several magical fairy catalogs and guides are available as a free download. Learn more about them here.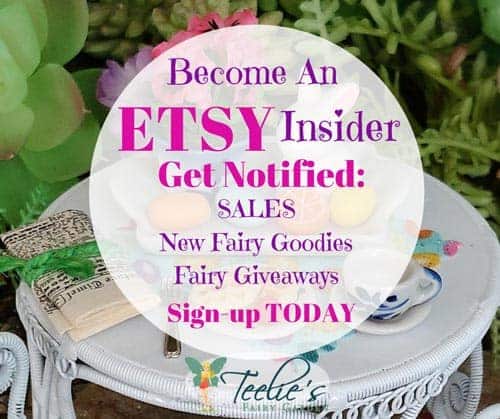 You can also sign up to be an Etsy insider and get notified by e-mail about fairy giveaways, goodies, and sales. Sign up here. 
Just a disclaimer – We have partnered with these companies because we use their products and/or proudly trust and endorse them – so we do receive a commission if you make a purchase or sign up for services. Often, we are able to negotiate special discounts and/or bonuses, which we will pass on to you via our links. We often get short notice on sale items available for 24-48 hours as we will pass these savings onto you.