Welcome back to Teelie's Fairy Garden. We are excited to share that there are numerous new items coming to the Teelie's Fairy Garden Etsy Shoppe. This week new Christmas items are coming in, but you can find magical items for a fairy garden theme in any season. We can't wait for you to see the magical miniatures. You can also find fantastic miniatures in our DIY Christmas Guide. 
We chose to share eight items from our Etsy shoppe with you. Enjoy the magic.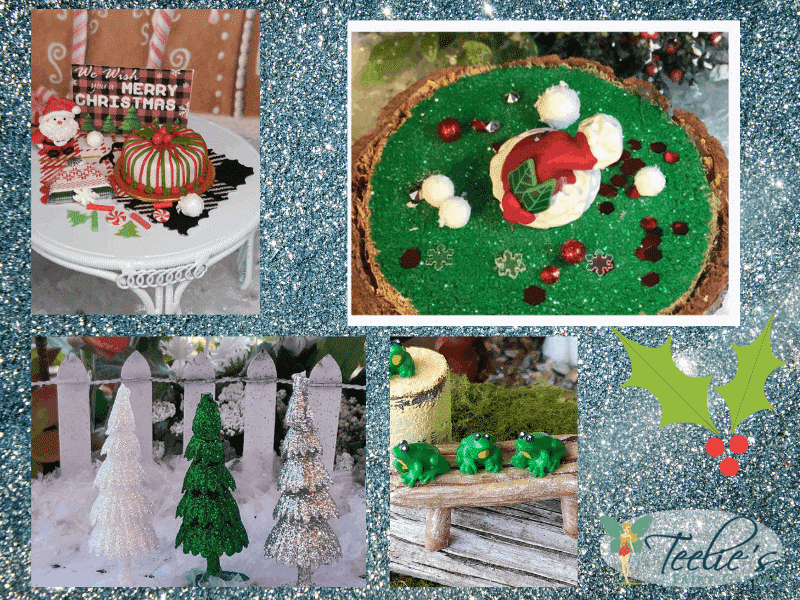 Magical Christmas Cake
We have magical Christmas cakes like this incredible white cake with red and white icing. It is beautiful and magical, and the Christmas kitchen fairies are delighted to be able to make such spectacular creations. Find it here.
Enchanted Santa Hat
Discover a miniature Santa hat that is surrounded by Christmas colors, snowflakes, and snowballs here. It would be perfect as a little holiday centerpiece.
Holiday Trees
The Teelie's Fairy Garden Etsy shoppe has a wide variety of holiday trees. The fairies gave us a glimpse of some last week in their blog post about selecting a Christmas tree. This week we decided to show you some glittery silver, green and white whimsical trees which are available here.
Fabulous Fairy Pets
Meeting fairy pets is fun at any time of the year. There is a wide variety to be found on the Etsy shoppe including these miniature frogs.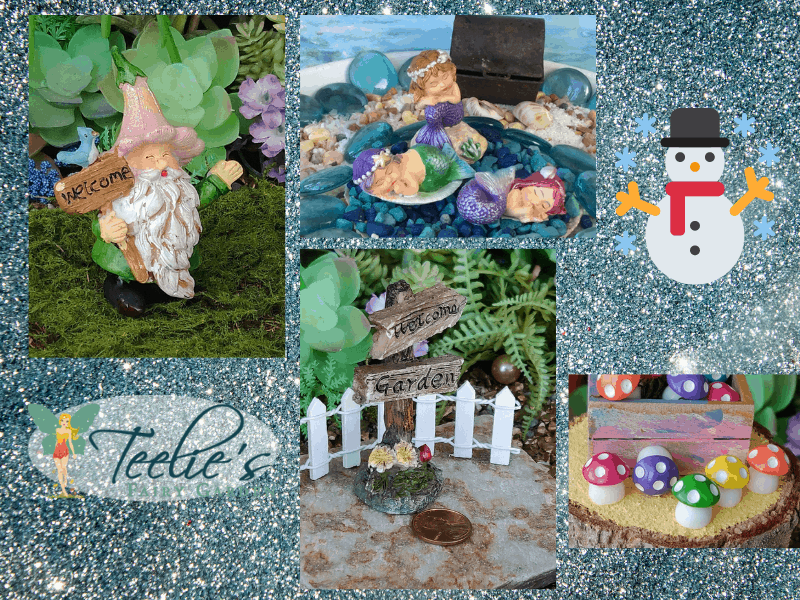 New Fairy Garden Friends
Making fairy garden friends is so much fun. We decided to introduce you to a gnome in a pink hat. He loves gardening and flowers. He looks forward to working in your garden if you invite him to your home. Find him here.
Magical Mermaids
Mermaids are a lot of fun and there is a lot of magic and folklore surrounding them. The mermaids in our shoppe are swimming away quickly, but the purple sleeping mermaid is still available. Find her here.
Welcome Sign
The wee folk asked that we share a sweet garden sign with you. It says Welcome and Garden on it. It would look great at the entrance to your fairy garden so that all the magical creatures in Fairy Land know that you'd like them to join you. Find the sign here.
Fairy Garden Adventures
We also found some bright colored mushroom toadstools that add a pop of color to any fairy garden. They are full of fun and whimsy. Learn more here.
Thank you for coming to our Etsy shoppe. We hope that you enjoyed the trip and invite you to explore all of our merchandise in the coming days. Also please continue to adventure through Teelie's Fairy Garden because we have new books coming soon.
Watch this video to learn about Fairy Merry and her book.
Discover our magical Christmas DIY guide here.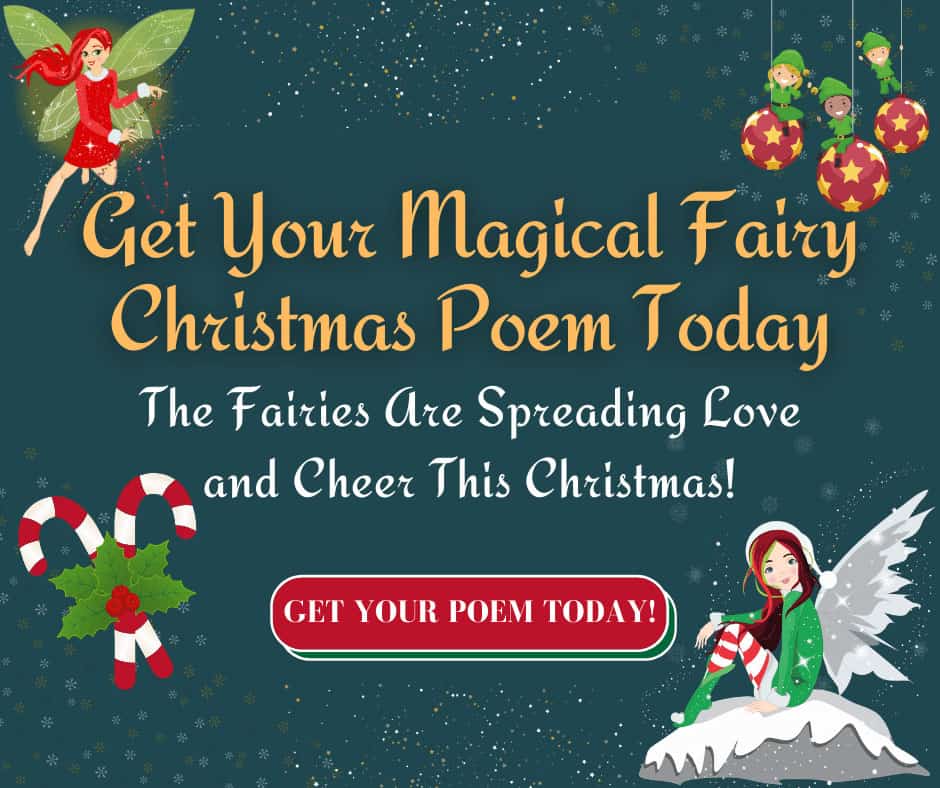 Sign up now for your free Christmas fairy poem.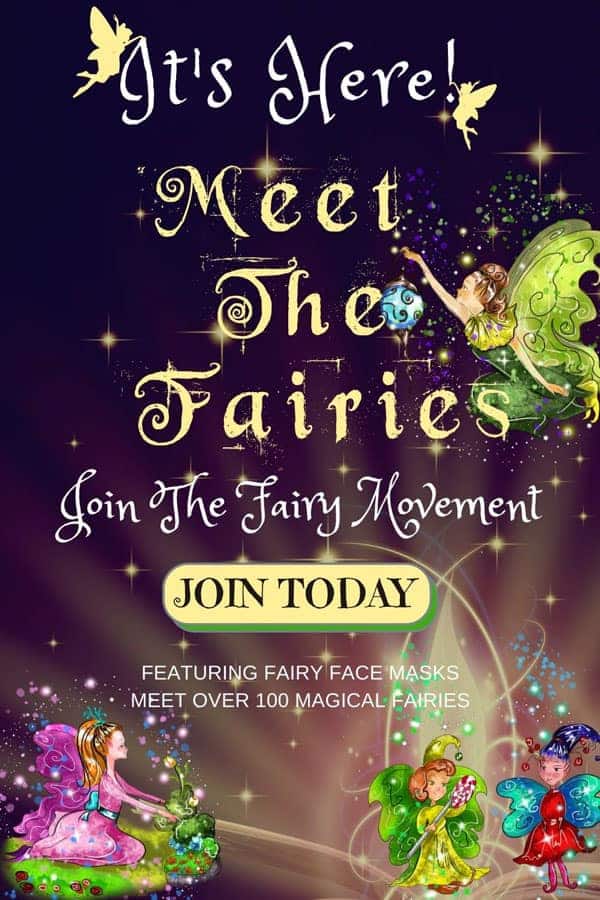 Sign up to get a copy of the Meet the Fairies catalogue / book. It's an enchanted opportunity to get better acquainted with over a hundred incredible fairies.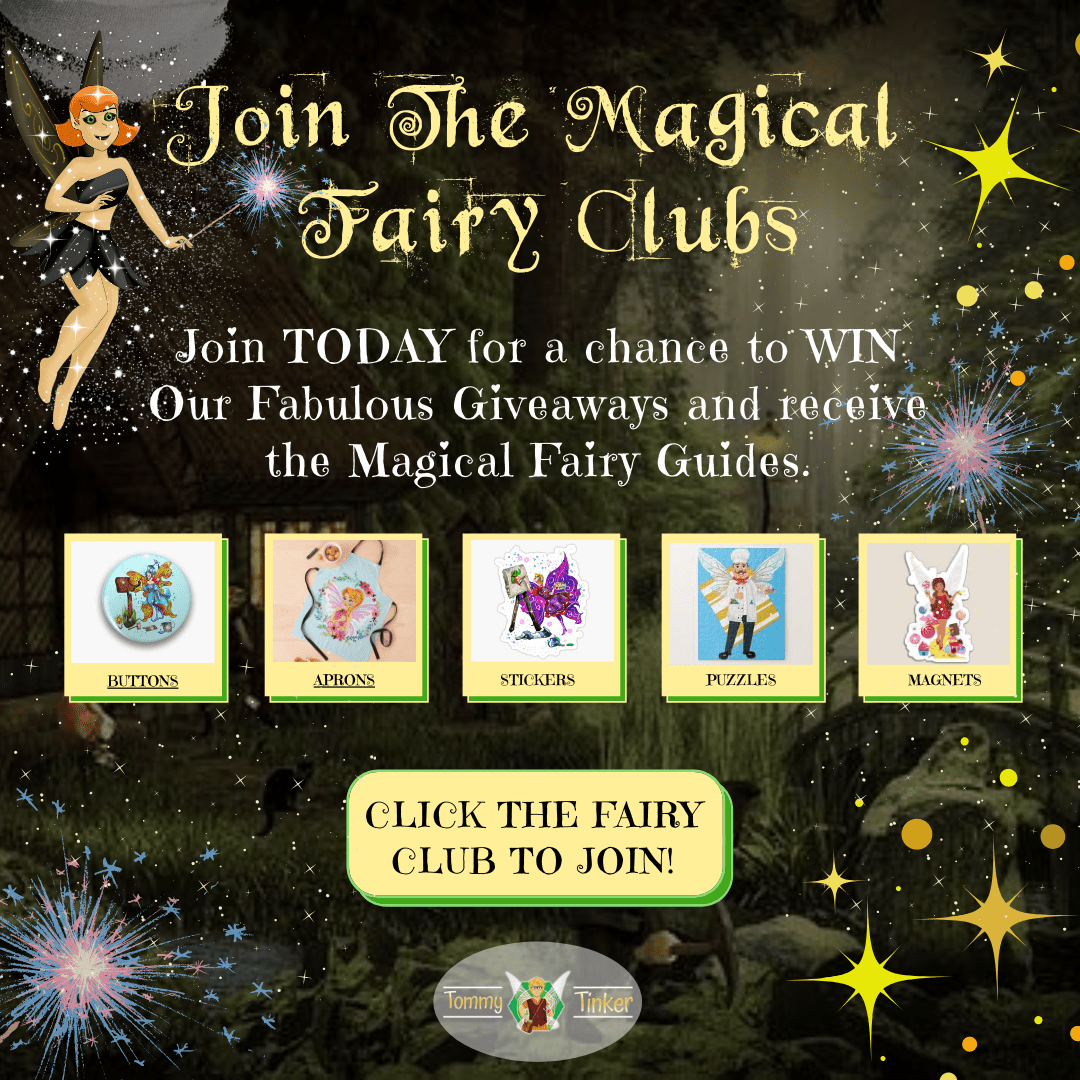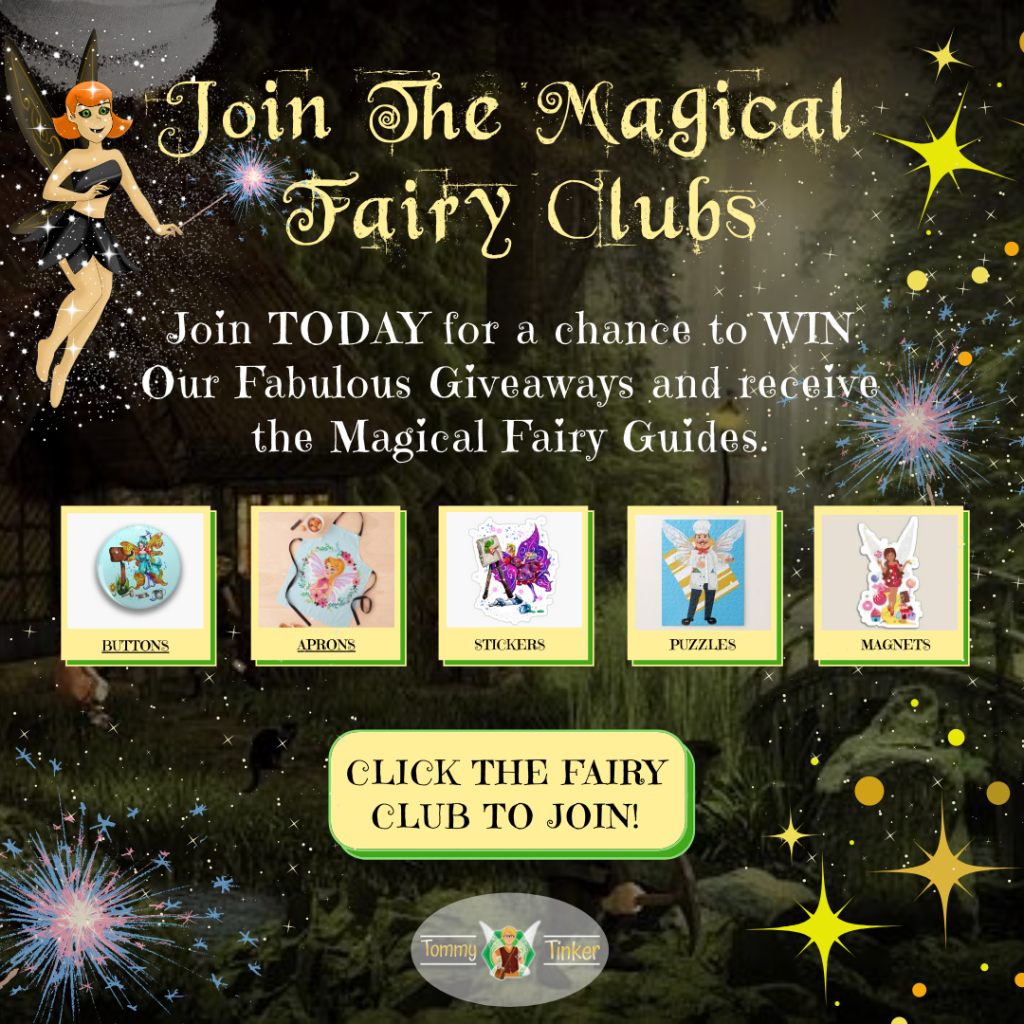 The Fairies have started several magical fairy collector's clubs. Learn more about them here. All our clubs come  with intriguing downloads and chances to win wonderful prizes.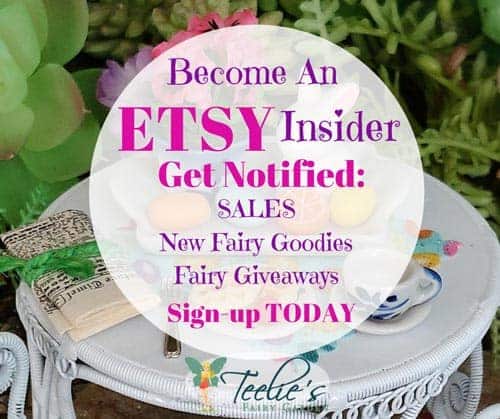 You can also sign up to be an Etsy insider and get notified by e-mail about fairy giveaways, goodies, and sales. Sign up here. 
Just a disclaimer – We have partnered with these companies because we use their products and/or proudly trust and endorse them – so we do receive a commission if you make a purchase or sign up for services. Often, we are able to negotiate special discounts and/or bonuses, which we will pass on to you via our links. We often get short notice on sale items available for 24-48 hours as we will pass these savings onto you.