On behalf of all the fairies everywhere we'd like to wish our human believers who are also moms a very Happy Mother's Day. If you are reading this and are looking for great fairy garden themed gifts for mom, we've selected eight amazing items which we know moms will love. You can also explore other fairy garden news after this at Teelie's Fairy Garden.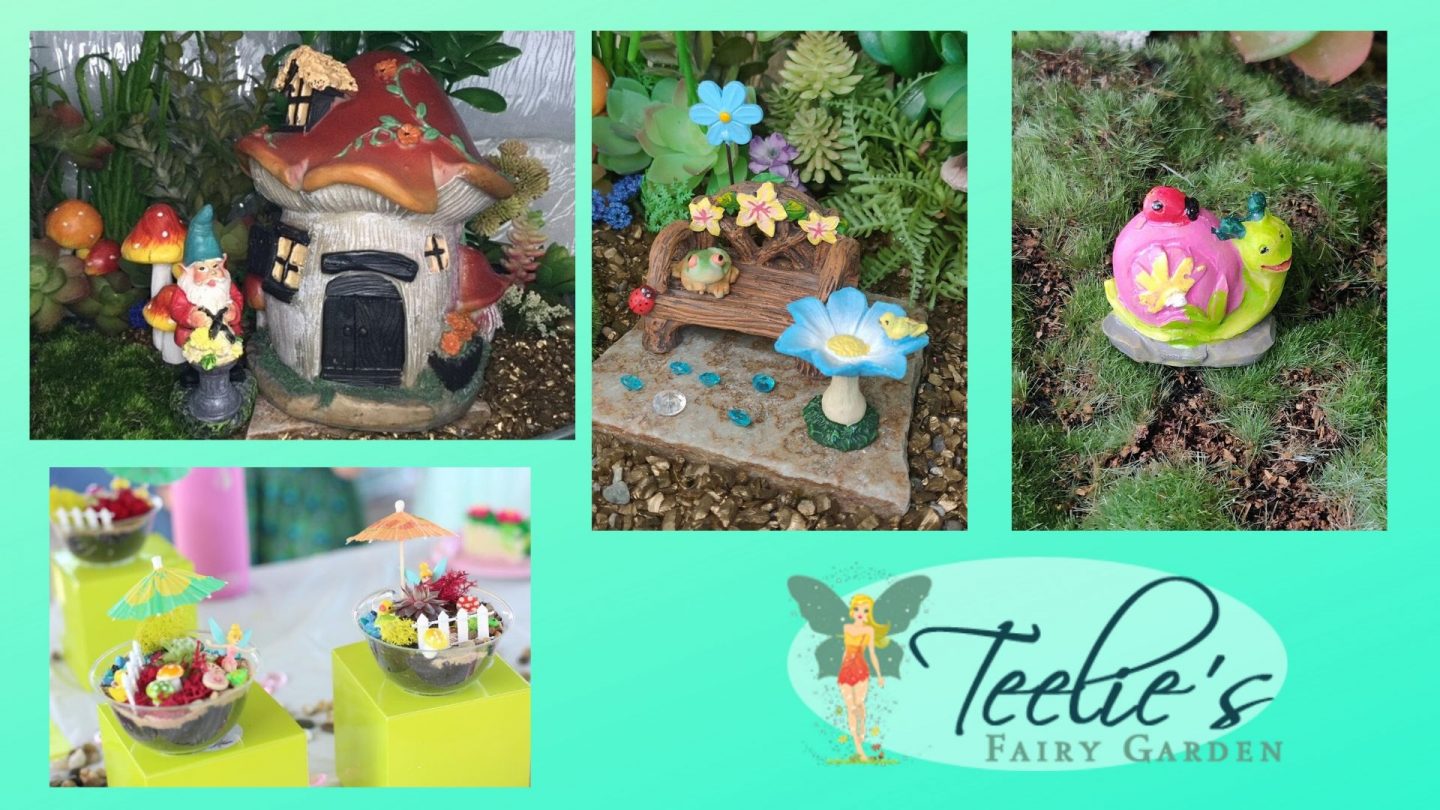 Adorable Gnome Home
Our first gift pick comes from the Teelie's Fairy Garden collection and is of an adorable gnome house. It includes several accessories including a gnome, flowers and miniature mushrooms. This would make an amazing focal point for a cute fairy garden. It is available on Etsy.
Adorable Birdbath and Bench
Our next selection is also from the Teelie's Fairy Garden collection and is of an enchanting birdbath and bench. There is a frog that sits on the bench and a cute yellow bird using the birdbath. This little kit also includes some magical looking jewels and some little ladybugs. You can find it on Etsy.
Beautiful Snail and Ladybug
We found this cute snail with a little ladybug riding on her back that we thought moms would love for their fairy gardens. It is also part of the Teelie's Fairy Garden collection. It is available on Etsy.
Unicorn Kit
We also found an adorable unicorn fairy garden kit. Unicorns are one of the most magical creatures in Fairy Land and would look amazing in your mother's fairy garden. The seller can be contacted on Etsy.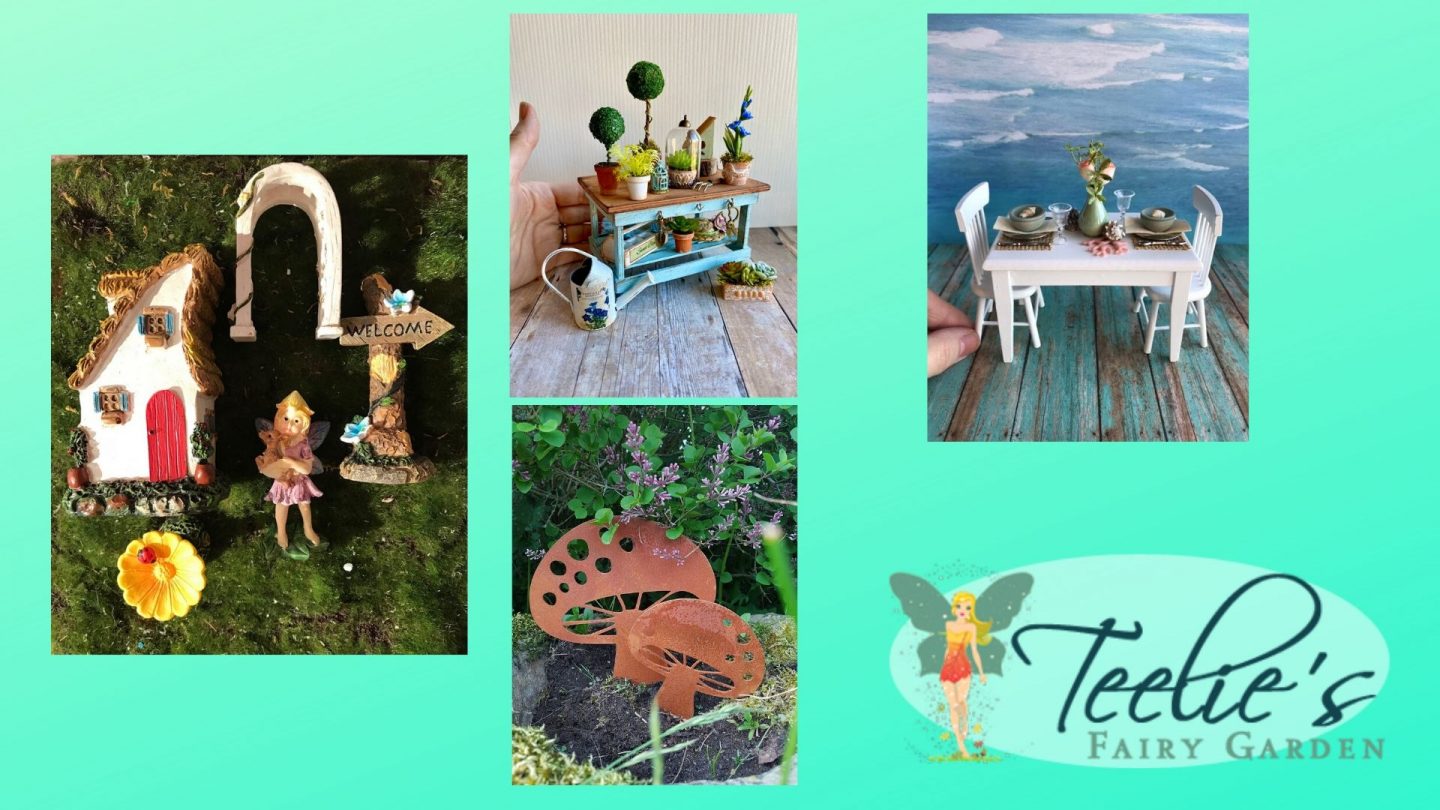 Fairy Garden Starter Kit
We located a cute fairy garden starter kit on Etsy that has seven pieces including a fairy, fairy house, garden arch and fairy sign that reads welcome. This is a great choice for your mom's first fairy garden as she'll have all the items, she needs to start an amazing and magical garden.
Exquisite Potting Bench
Fairy gardens or dollhouses look amazing when they have a miniature potting bench in them. The fairy merchants located an adorable one on Etsy. This potting bench can only be used for indoor displays but a miniature fairy garden on a table in the house always brightens a space.
Amazing Miniature Patio Set
Tiny dolls and fairies love to have dinner parties and a miniature patio set is a great option. This patio set includes miniature silverware sets, glasses and a floral centerpiece in a vase. It is available on Etsy.
Rusty Metal Toadstools
Our last gift suggestion for a Mother's Day fairy garden is a rusty metal toadstool. It can be used in a garden with regular proportions or as a focal point in a fairy garden where the fairy garden would be made in a human size garden in the front or to the side of these artistic toadstool mushrooms. You can find it on Etsy.
Thank you for taking this journey with us to explore fairy garden ideas as Mother's Day gifts. The fairies love all of these and are looking forward to visiting your gardens and seeing your progress. There are lots of other adventures waiting for you in Teelie's Fairy Garden. Enjoy.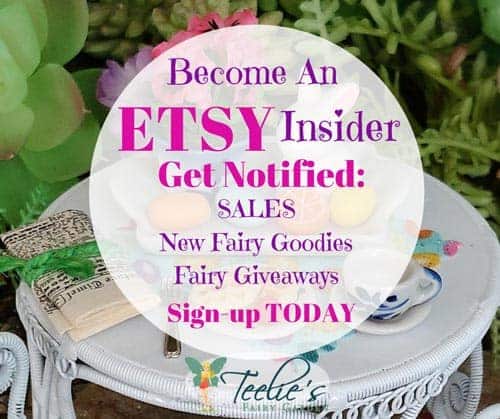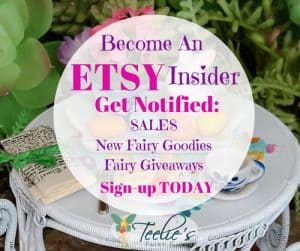 You can also sign up to be an Etsy insider and get notified by e-mail about fairy giveaways, goodies and sales. Sign up here.
Just a disclaimer – We have partnered with these companies because we use their products and/or proudly trust and endorse them – so we do receive a commission if you make a purchase or sign up for services. Often, we are able to negotiate special discounts and/or bonuses, which we will pass on to you via our links. We often get short notice on sale items available for 24-48 hours as we will pass these savings onto you.