Photo by Alisha/@folkandco on Instagram
Fall is finally upon us and we cannot wait to plan our Halloween and Thanksgiving parties! With parties come a lot of preparations but you need not be stressed out. We've got all the Fall inspired party decor and giveaways for you in one list so you need not look elsewhere! This extensive list is all you'll need to throw the most amazing Fall party. Let's begin!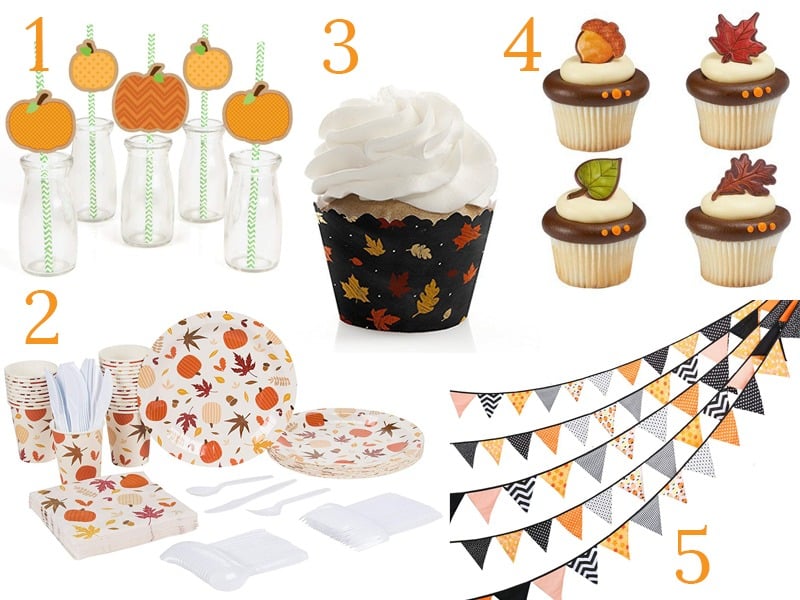 These charming little paper straws are not only better for the environment, they're also better for you party! Spread a little cheer here and there with some pumpkins from the pumpkin patch. This set includes 24 Autumn paper cut outs, 25 coordinating paper straws and clear sticker for hassle-free assembly. You can even get the kids to join in the prep fun!
Make your Fall party completely hassle-free with this disposable dinnerware set that serves as much as 24 guests! Included in this set is 24 each of plastic knives, spoons, forks, paper plates, napkins and cups. What more could you ask for? It also comes in a delightful autumn leaves design complete with colorful Fall foliage, leaves, ferns, acorns, and pumpkins!
If you love cupcakes, you'll enjoy serving them in these cute cupcake wrappers! These Fall leaves cupcake supplies are adjustable up to 2 inches wide so you can bake as much as you want. Features a gorgeous Fall leaves pattern against a sleek black background. Perfect for Halloween, too!
Add a touch of Fall magic to your cupcakes with these topper rings that come with stickers and sparkle flakes. It's great for adding style to your delectable cupcake offerings.
We love these buntings because it can be used for both Halloween and Thanksgiving! This Fall-themed banner kit includes 24 pieces (2 sets) of hanging Halloween triangle banners. Each banner measures 5.5 meters and include 12 delightfully colorful flags to breathe life into your party.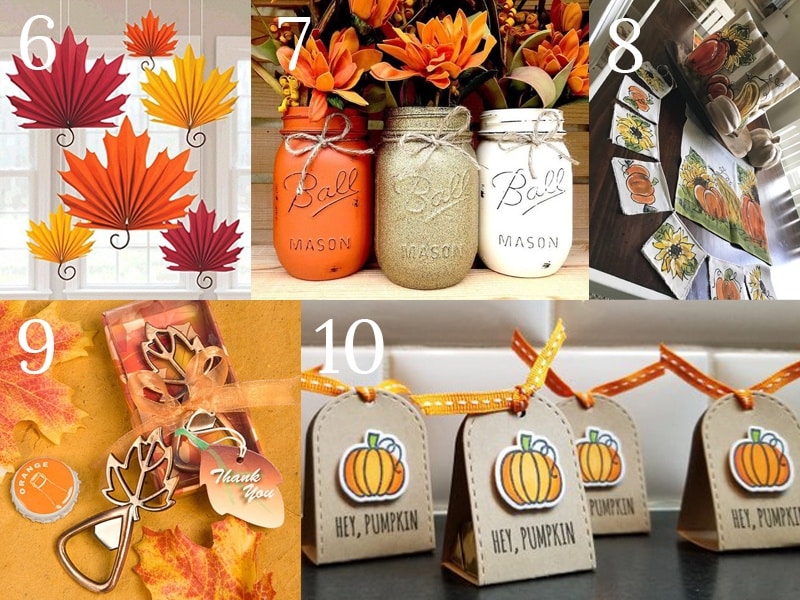 Whether your party will be held indoors or outdoors, these elegant leaf shaped 3D fans are a charming addition to any party or home decor. It's great for Thanksgiving events in and outside the home or office, as well as other special Fall occasions. Each package contains 6 leaves measuring 8 inches, 12 inches, and 16 inches, all in gorgeous Fall colors.
Here's a gorgeous centerpiece for any party or dining table. These mason jars are painted in the colors of Fall and are best paired with your favorite flowers in gold, orange, red, and yellow tones. Flowers are not included in this listing, but feel free to get inspired and make your own unique arrangement.
Add a touch of classic elegance and style to your party or home with this masterfully hand painted table runner. This gorgeous table runner features beautiful sunflowers and orange pumpkins, inspiring a feeling of warmth in your home.
Make your party a memorable one especially for the adult guests with this elegant Autumn Magic Collection leaf design bottle opener, which captures the true essence of the Fall season. No one likes a party favor that just gathers dust, so give them something that's useful. They'll remember your awesome party every time they use it!
For the kids, get them these amazing treat boxes that you can just fill with some candy or chocolates! The Hershey's Nugget is great, too, as it fits perfectly inside. Each box measures 2.25 by 1.5 inches. The best part is that this design is perfect for both Thanksgiving and Halloween, so you can use them as you wish!
Your Thanksgiving party will be the talk of the town with these Fall inspired party decor and giveaways. Make sure your party is Instagrammable with these amazing decor that's also great for Halloween and other Fall-themed gatherings. If you'd also like to make over your fairy garden to fit the theme, check out the link below. Happy Fall!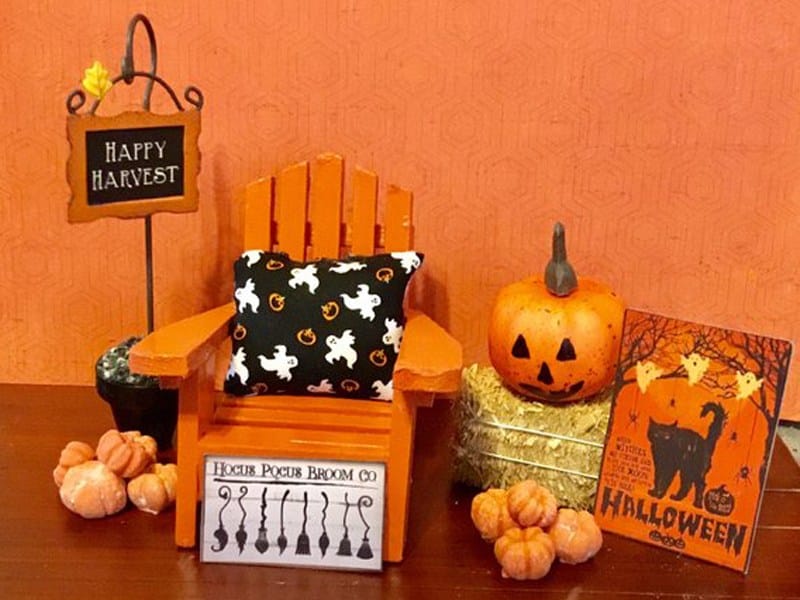 Fall-themed Fairy Garden Goodies
Just a disclaimer – We have partnered with these companies because we use their products and/or proudly trust and endorse them – so we do receive a commission if you make a purchase or sign up for services. Often, we are able to negotiate special discounts and/or bonuses, which we will pass on to you via our links. We often get short notice on sale items available for 24-48 hours as we will pass these savings onto you.