One of the most anticipated holidays of the year is less than two weeks away! Halloween is exciting because kids and kids at heart would dress up in their favorite characters and showcase their creativity with their costumes. Over at Fairyland, we're also celebrating the season with some Halloween-inspired fairy garden accessories. Today, we're discovering the fairy garden accessories for witches, which are one of the most popular Halloween symbols. Let's see how we can welcome them to our little fairy gardens!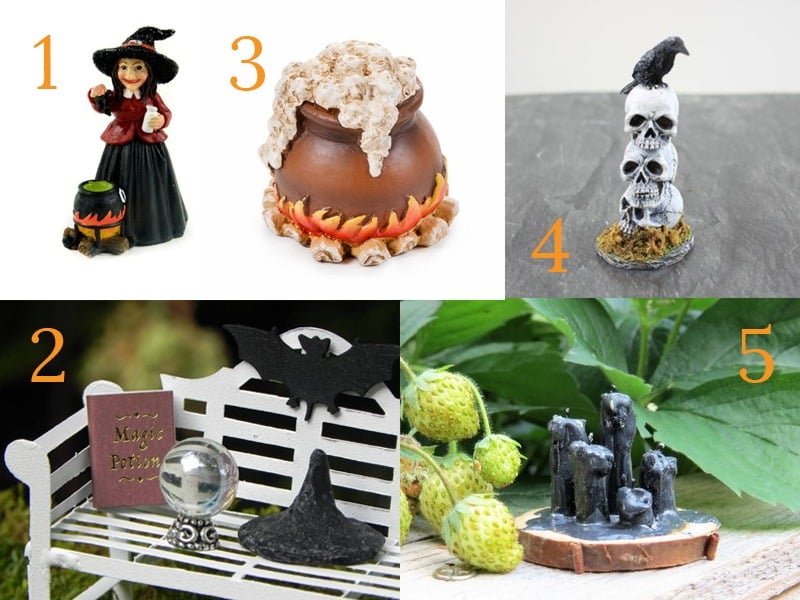 Meet this friendly-looking witch who means well. She is often a visitor in fairy gardens, especially in October towards Halloween. The witch is dressed in a beautiful red long-sleeved, collared blouse and a black skirt that matches her witch's hat. She is a talented witch who is a master at potions. That's why she always has her cauldron with her.
Little witches will feel more welcome in your fairy garden with this enchanting Halloween bench that has all they'll need for their spells. This set includes essential witch supplies, such as the Magic Potions brown book, a glass crystal ball, a witch's hat, and a small bat to keep them company. The crystal ball is handcrafted and features a metal base, while the brown book is made of paper and is great for spell-writing!
Every witch needs her own cauldron. This is where she mixes her potions and weaves her magic. This brewing cauldron is perfect for the witches of your fairy garden. It features some wood and flame at the bottom and a frothy bubble on top. Witches would be delighted to cast their spells and mix their potions in this cauldron.
Utterly creepy but equally fascinating, this miniature skull stack will be the talk of the town of witches in your fairy garden. Not only does it have tiny realistic looking skulls, but a lone crow sits atop the skull stack, pensively staring out into the distance, waiting for Hallow's Eve. This item is expertly crafted using resin and glitter and measures 4.75 inches tall.
Add a touch of cryptic magic to your Halloween fairy garden with these black candles on a tiny wooden tray. This will come in handy for witches when they are writing spells and cooking up potions in their cauldron. These candles are made of real wax and attached to a real wooden tray for a rustic look and feel.
This enchanting fairy and witch workspace is truly a work of art! The altar table set is lovingly handcrafted using faux moss, grapevine, cedar, quartz crystals, paper, and clay. The altar table features lots of lovely detail including an acorn mortar and pestle, handmade candles out of clay, two tiny quartz crystals, a little jar of dried florals, and a "Faery Spells" spell book. All of these accessories are glued to the table. Witches and fairies will love this special work table and chair!
A witch's broom is a cute detail to add to your Halloween fairy garden. This straw broom for fairies and witches is made of wood, sisal, and synthetic fibers, and measures 3.75 to 4 inches tall. It's great placed against a structure such as a miniature tree or a fairy house.
Visiting witches will need a place to stay in your fairy garden. This house is designed like a witch's boot, complete with rustic stone and wooden accents and a balcony up front. It also features a door with lots of detail and large windows. You could almost see the witches peeking from inside!
Witches enjoy homemaking too. That's why this Halloween, they'll make sure that your fairy garden looks just right for the season. They might magically turn your white picket fences black and add some accents such as small ghosts and skulls. These fairy garden accessories will make for a truly creepy transformation!
Last but certainly not the least, your Halloween fairy garden will need a black cat to accompany your witch guest. The black cat will keep the witches and the fairy garden safe from any evil spirits that may lurk around. They're very sensitive to these spirits and can alert the fairies and witches of any lost souls that may wander in the fairy garden.
Make this Halloween season a fun one for friends and family by transforming your fairy garden into witching hour! These fairy garden accessories for witches will not only charm, but will surely bring a smile to people's faces. For more awesome Fall and Halloween ideas, check out the link below.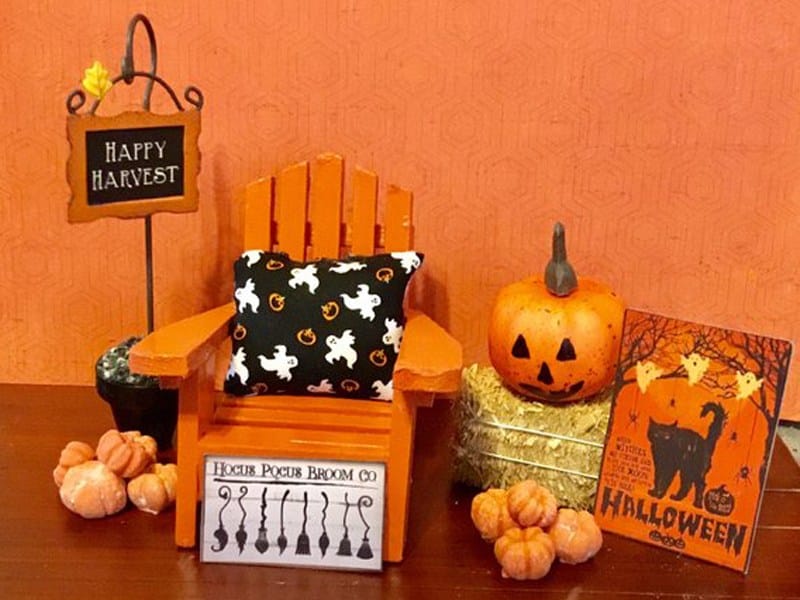 Spooktacular Halloween Fairy Garden Accessories
Just a disclaimer – We have partnered with these companies because we use their products and/or proudly trust and endorse them – so we do receive a commission if you make a purchase or sign up for services. Often, we are able to negotiate special discounts and/or bonuses, which we will pass on to you via our links. We often get short notice on sale items available for 24-48 hours as we will pass these savings onto you.