The world of fairy gardening is undeniably enchanting. From magical fairy garden accessories to charming little miniatures, the community is a melting pot of creators and craftspeople whose creations are definitely a sight to behold. Today, we're exploring the world of realistic fairy garden food and treats that are very charming to look at and bring a new spin to fairy gardening.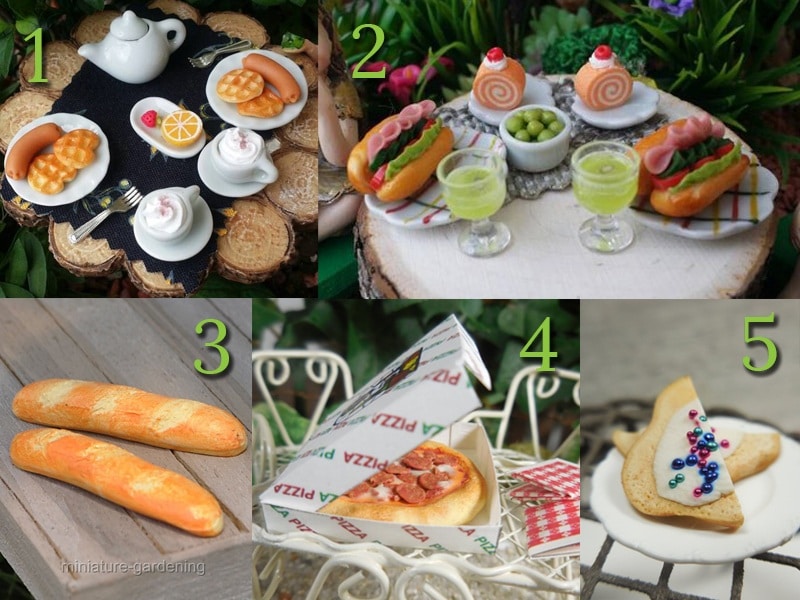 What's for breakfast? Why this beautiful spread especially crafted for fairies! This realistic looking breakfast set includes two dainty cups of mocha, one white teapot with a removable lid, four delicious miniature waffles, two sausages, a white plate with an orange and strawberry, two forks, and a table runner.
Treat your fairy friends to a scrumptious lunch set with this collection. This delightful set includes key lime drinks, a mini bowl of green grapes, two orange cream sliced cakes, two round striped plates, two round mini white plates, two very detailed ham sandwiches complete with lettuce, tomato, and some cucumbers, and a gray table runner.
You can almost smell this freshly baked french bread in the fairy garden! This pair of french bread loaves feature golden colored, crispy looking crust. Best paired with some gingham picnic cloth for a whimsical look and feel.
There's nothing quite as enticing like a box of freshly baked pizza! This miniature pepperoni pizza for fairies comes in a box and comes complete with some napkins to keep their tiny fairy hands clean as they devour its crunchy looking crust.
Here's something perfect to add to fairy tea time: some fairy toast with icing and sprinkles! This delightfully detailed toast looks like it was perfectly toasted in the oven. It also comes with a cream icing and shiny blue, green, and pink sprinkles that look very sweet and enticing!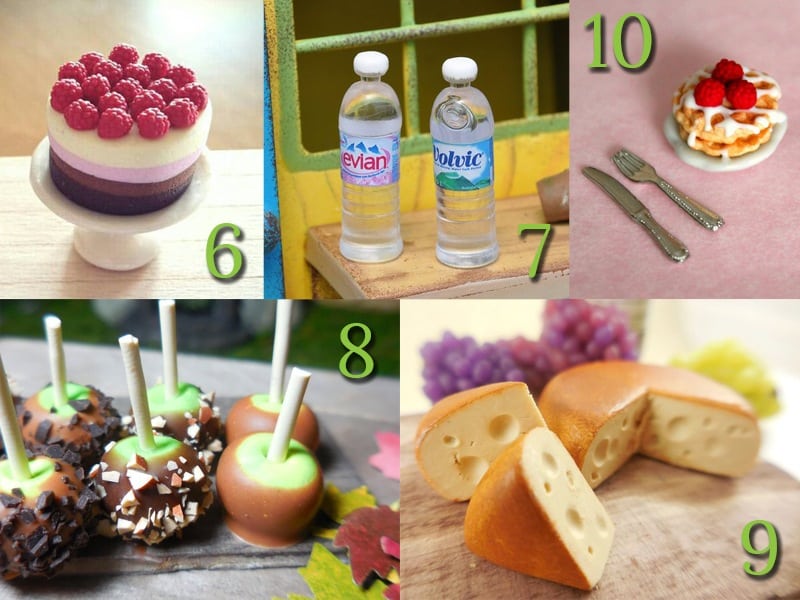 Fairies have a sweet tooth too! That's why they'll absolutely love this realistic looking miniature raspberry cake featuring a chocolate sponge-cake layer, three mousse layers (chocolate, raspberry and vanilla), topped with fresh raspberries. Lovingly handcrafted in Italy using Fimo clay and attached to the white ceramic cake stand.
Your little fairy friends get thirsty, too. That's why you should keep some water bottles handy at all times. This set of two water bottles are very lifelike thanks to its plastic resin material and the realistic brand labels attached to them. It's perfect for a summer day out in the garden!
These realistic looking candy apples are just perfect for Fall! Each green apple is dipped in caramel and chocolate and were sprinkled with delicious nuts and chocolate pieces! Truly a sweet treat for your fairy garden friends!
Completely satisfying to admire, these delicious looking cheese wheel and cheese slices are expertly crafted using clay. The realistic tiny gourmet cheese features tiny holes just like actual cheese!
We can never get enough of these waffles! This realistic looking breakfast waffle is very detailed and features vanilla cream topped with some raspberries. Also comes with a knife and fork!
These realistic fairy garden food and treats are such a delight to collect. They will bring more magic to your fairy garden with its lovely details. Your fairy friends will enjoy feasting on these awesome treats. For more great fairy garden ideas, follow the link below and get inspired!
Tea Time with Your Fairy Friends
Just a disclaimer – We have partnered with these companies because we use their products and/or proudly trust and endorse them – so we do receive a commission if you make a purchase or sign up for services. Often, we are able to negotiate special discounts and/or bonuses, which we will pass on to you via our links. We often get short notice on sale items available for 24-48 hours as we will pass these savings onto you.