Hello Fairy Friends. Today we're going on a spring adventure. We're going to be enjoying a number of floral items. We hope that you'll join us. And, after our walk, please continue to visit Teelie's Fairy Garden for more fairy fun.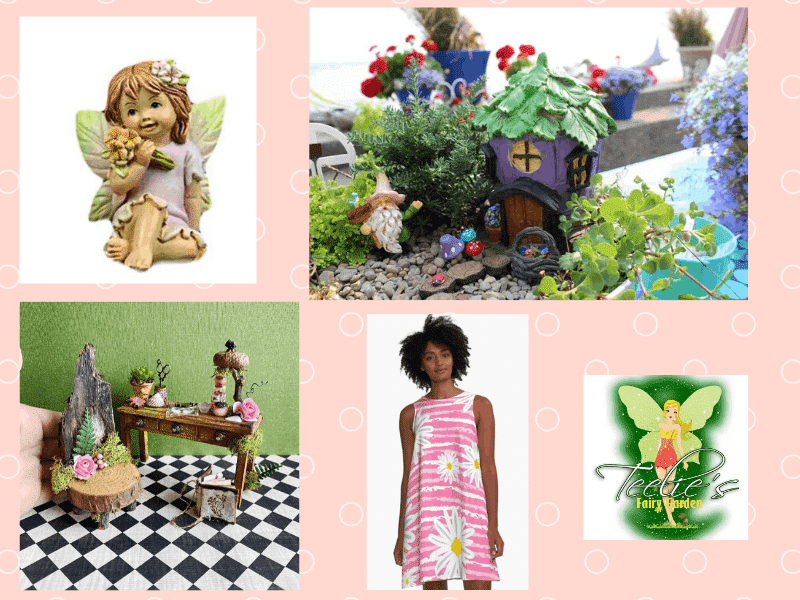 A Magical Spring Bouquet
When you think about spring do you think about a bouquet of flowers? They're even more wonderful if they're picked by someone special to you like a child, or significant other. The fairies found an adorable figurine of a fairy with leafy grey wings carrying a bouquet of spring flowers. If you'd like to make this fairy part of your home, visit Etsy.
Designer Fairy Garden Kit
Teelie's Fairy Garden has an amazing designer fairy garden kit which is full of floral highlights and incredible items including a birdhouse, a welcome gnome, a fairy house, a white bunny, and jewels. Full details can be found on Etsy.
Miniature Floral Office Space
Brighten up a magical fairy garden or dollhouse office space with an amazing choice which our fairy merchants found on Etsy. Adorable furniture with floral and woodsy accents are magical.
Floral Print Dress
Wearing florals can make us feel wonderful and springy. The fairy merchants located a beautiful floral print dress on Redbubble which they thought you might love to wear.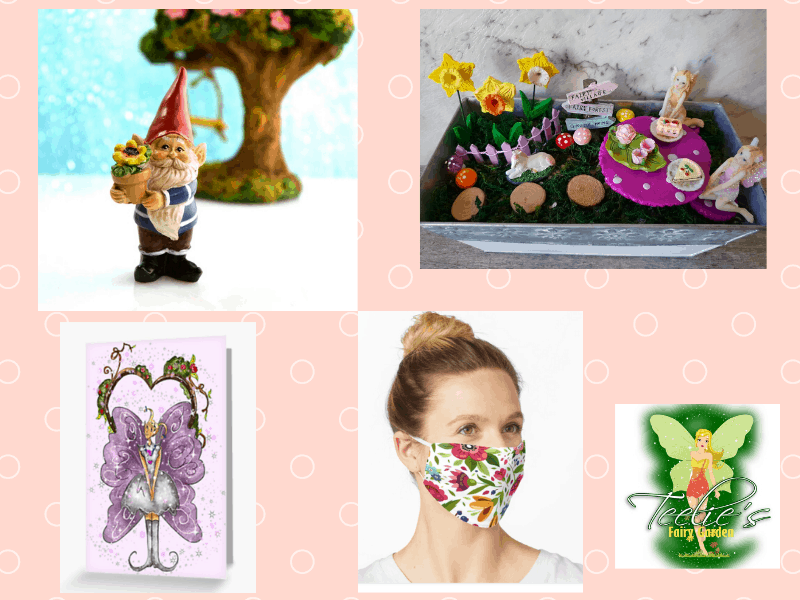 Gnome Gifting Flowers
Flowers make wonderful gifts and we found a gnome with flowers outstretched in his hands. We don't know who the receiver of these beautiful flowers is, but we know that they're fortunate to be friends with this kind and generous gnome. Find the gnome figurine on Etsy.
A Fantastic Floral Tea
Enjoying a tea party is something that the fairies love to do. That's why the fairy merchants were thrilled when they found a fairy garden starter kit with a daffodil tea theme. This amazing kit includes a unicorn, two fairies, a floral tea set and clay flowers. Full details are available on Etsy.
Flowery Greeting Cards
Floral greeting cards are another magical option. Trixy the Trellis fairy has her very own greeting card as do many of her fairy friends on Redbubble. Send a friend or family member a message in an adorable card to bring unexpected cheer to their day.
Floral Masks
The fairies have also come up with several different models of masks, some featuring their images and others with amazing prints. Since they're talking about florals today, they chose to share the 'Flowers For You With Love' mask. Not only does this mask have over the ear straps for a snug fit, it is also made of two layers of soft polyester. Redbubble is donating a blank mask to Heart to Heart International for every mask that is purchased. They are also running a promotion where if you buy four masks, you get them at 20% off. So, let the fairies and their amazing prints be your smile today.
Thank you for joining us on today's Teelie's Fairy Garden Adventure. You can also find us on on social media and Bloglovin' or comment on this post and we'll get back to you. We'll love to hear what your favorite floral option was in today's piece, or about your favorite flowers.
We'd also like to invite you to read this article by Joan Clark on the Tips Bulletin website. It is about some amazing perennials with delightful fragrances. They're sure to bring you a lot of floral joy, as you walk through a garden, use a bouquet as a centerpiece or gift some flowers to a friend. You can find the article here.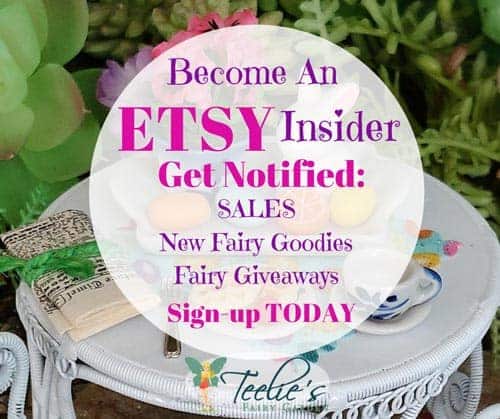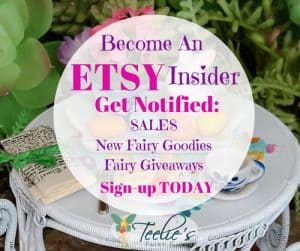 You can also sign up to be an Etsy insider and get notified by e-mail about fairy giveaways, goodies, and sales. Sign up here.
Just a disclaimer – We have partnered with these companies because we use their products and/or proudly trust and endorse them – so we do receive a commission if you make a purchase or sign up for services. Often, we are able to negotiate special discounts and/or bonuses, which we will pass on to you via our links. We often get short notice on sale items available for 24-48 hours as we will pass these savings onto you.