Every year, temporal magic sizzles through the air of the Fairy Garden during July. Time bends and shimmers; and somehow, you start to hear sleigh bells ringing overhead as fluffy tufts of snow start settling onto the branches of pine trees. Could it be? Is it suddenly Christmas?
Only the magic of the fairies could have brought this: it's Christmas in July! Every year, the Fairy Garden holds its annual Christmas in July sale, so that fairy lovers everywhere will get the head start on the biggest and most magical day of the year. Fairy gardens all over the world will be decked out in their best and brightest, so the fairies here have made sure to get everything ready as early as they can for you! Have a look at the Christmas collection that may be shining in your fairy garden soon: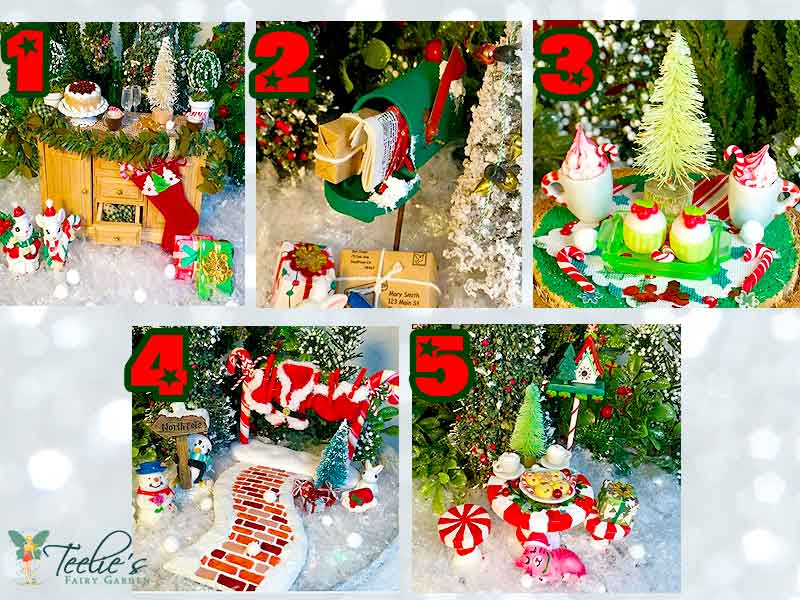 This heap of Christmas goodies is spread on top of a fairy-sized sideboard. With two crystal wine glasses and a heaping slice of Christmas cake, it's absolutely tantalizing. There's even a mug of cocoa, heaped with cream and topped with a stick of peppermint. Some wrapped presents and a pair of snow white mice completes the set! See it in the Fairy Garden Etsy.
Even the fairies send their mail to Santa, along with all the fairies that they love the most. Tiny presents, magical Christmas cards, and letters of well wishes are packed into neat little envelopes and sent off on the Fairy Post. Fairy mailboxes like these will soon be bursting with cards and well wishes, as well as wonderful presents! See it in the Fairy Garden Etsy.
With the weather so chilly, enjoying a hot cup of cocoa will hit the spot. This delicious treat for fairies contains two cups of cocoa, heaped with whipped cream and has a stick of peppermint candy cane. Two perfect cupcakes, topped with cream icing, will be the yummy treat to enjoy while sipping onto the warm drinks. See it at the Fairy Garden Etsy.
Looks like even Santa is getting ready for Christmas! A paved brick road heads to a long clothesline, where a very familiar fluffy red suit has been hung out to dry. This all important Christmas attire for one of the most magical beings in the world is being guarded by a pair of enchanted snowmen, a scarf-wearing penguin, and even a magic white bunny. See the set at the Fairy Garden Etsy.
Instead of leaving cookies out for Santa, why not invite him to sit down with you to eat? These lovely soft cookies are all speckled in rainbow-colored chocolate candies instead of chocolate chips, and they have some peppermint sticks on the side. They rest on top of giant peppermint candy tables and chairs. There's even a couple of cups of cocoa and cream! Even Santa would want to sit down for a snack with you. See the set at the Fairy Garden Etsy.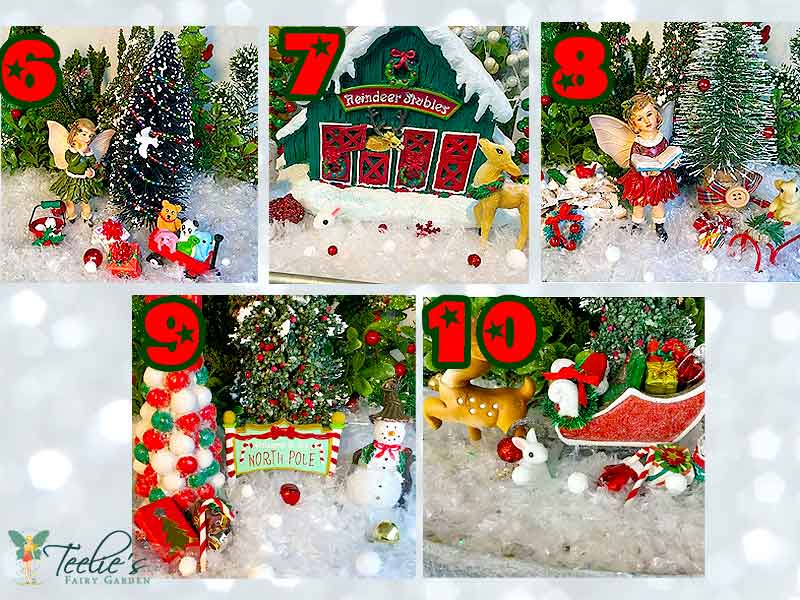 This fairy has been towing some lovely little presents along in a bright red wagon. These toys will surely go to good boys and girls this Christmas. She's carefully setting them down beneath a pine tree decked out in multicolored beads. She's likely one of Santa's helpers, making sure that all the gifts are brought to their deserving owners safely. Meet her at Fairy Garden Etsy.
The reindeer are feeling a little restless in the fairy stable maintained by Christmas fairies and little elves. They know when Christmas is near, and they want to stretch out their legs. They too want to prepare for the long haul flight that Santa will be embarking on around the world to deliver gifts. One of the reindeer is thoroughly enjoying the chance to trot outdoors, so the others want to play too! Visit them at the Fairy Garden Etsy.
This little fairy, smartly dressed in a Christmas outfit made of scarlet poinsettia leaves, is warming up for the caroling! She's holding a book full of Christmas carols that she and her friends will be singing as they go door to door this Christmas. She's standing by the tree and the pine logs to practice so she can really get into that Christmas spirit. Meet her at the Fairy Garden Etsy.
When entering the North Pole, a land of perpetual snow and the hometown of Christmas, there has to be a sign! This little sign will welcome all visitors in, reminding them that the magic here is as thick as snow in Christmas. There's even a small tower of Christmas balloons waiting, and an enchanted snowman ready to say hello. See it at the Fairy Garden Etsy.
Finally, there is the glorious scarlet and white sleigh that Santa Claus himself will be using this Christmas. It glitters in red and is already heaped with brightly-wrapped presents. An eager little fawn is at the front of the sleigh—perhaps he's dreaming of being big enough to pull the sleigh along for Santa when the time comes! See them at the Fairy Garden Etsy.
All these wonderful Christmas things will be on sale for Christmas in July. Everyone should have them ready before the Christmas season actually arrived! Grab them before the magic whisks them away!
Just a disclaimer – We have partnered with these companies because we use their products and/or proudly trust and endorse them – so we do receive a commission if you make a purchase or sign up for services. Often, we are able to negotiate special discounts and/or bonuses, which we will pass on to you via our links. We often get short notice on sale items available for 24-48 hours as we will pass these savings onto you.