Welcome back to Fairy Land. This week we're celebrating Christmas in July and the fairy merchants found twelve adorable options that you could include in a DIY Christmas themed fairy garden. They are all available on the Teelie's Fairy Garden Etsy Shop. There are numerous choices and we encourage you to choose what you like and mix and match to create whatever your imagination desires. There are numerous options available when it comes to creating a Christmas in July Fairy Garden. You have to consider if you want a traditional Christmas which involves snow, or if you'd rather that your Christmas in July fairy garden takes place on a beach or at a campground. Once you've had a chance to browse our Christmas in July options, we'd like to invite you to walk the garden paths at Teelie's Fairy Garden to learn more about what is happening in Fairy Land.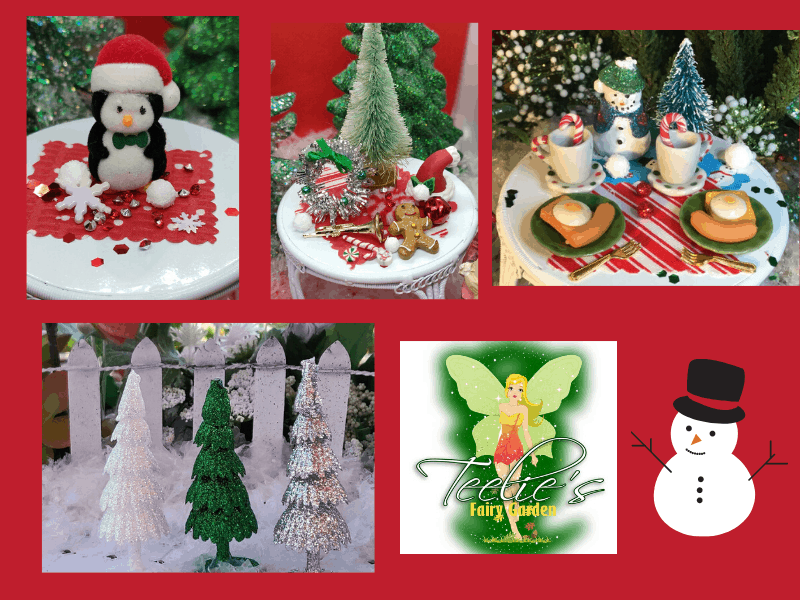 Nature Themed Christmas Celebration
Our first Christmas in July theme features a penguin, adorable tablecloth, and table décor. The table isn't included. It is showing how it can also be used as a centerpiece. To create your DIY fairy garden, you could pair this penguin scene with some delicious treats, gifts, snowmen, or polar bears. You can find it here.
Trees and Treats
Having a Christmas tree and delicious treats at Christmas time is a special tradition for many fairies and humans. A Christmas in July fairy garden would look amazing with this adorable fairy scene that includes some trees, a gingerbread person, candy canes, snowballs and the other items that are pictured on the table. The table is also not included with this scene. This set can also be used as a centerpiece. Find it here.
Whimsical Christmas Trees
These silver, green, and white Christmas trees have a whimsical feel to them and would look great in your Christmas in July fairy garden. And, the options of what to put with them are endless. You might choose to combine another scene that we have featured here or add a family of fairies and some gifts. Find the whimsical trees here.
Magical Christmas Breakfast
Having a special breakfast especially for the holidays is a magical experience. The fairies love to eat delicious food and featuring replicas of their delights in a DIY Christmas in July fairy garden is a great option. Fairies would certainly be attracted to visit. Their breakfast scene includes eggs, sausage, candy canes, warm beverages, a snowman, and a snowball. The fairies would probably eat the snowball for their breakfast since a little fairy dust sprinkled on top can turn it into something tasty like a cinnamon sugar donut. Find this scene here.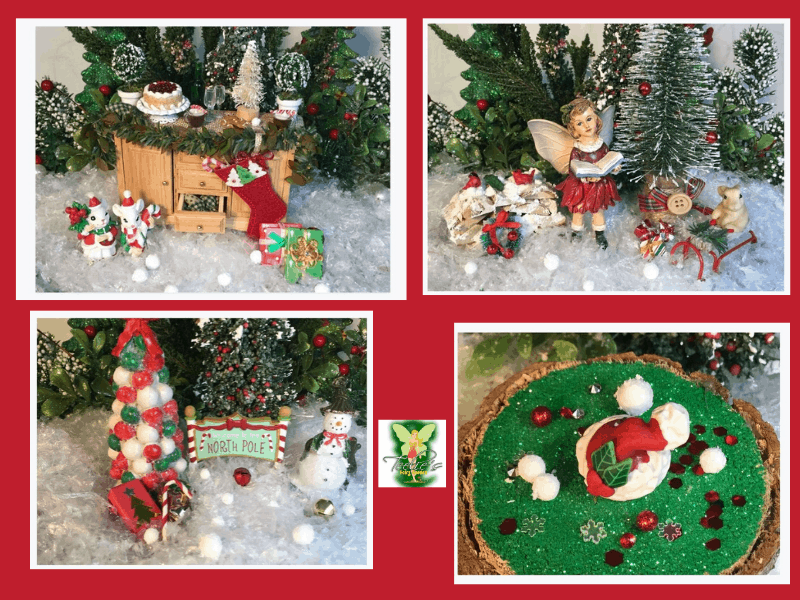 Elegant Christmas Celebration
Perhaps you'd like to turn your Christmas fairy garden into something elegant. Our next scene is filled with many elegant and traditional items. It  features two adorable mice who got dressed up for the holidays, a sideboard, presents, a Christmas stocking, a delicious cake, and several other adorable elements. Full details can be found here. This scene has enough items in it that you could create a complete fairy garden out of it. You would just need to incorporate the plants.
Carolling in the Forest
Our next pick is also a scene that is large enough that you can recreate a whole Christmas fairy garden from it. It includes a fairy holding a book – presumably filled with delightful Christmas music, a brown bunny, packages, a sled, a wreath, a woodpile and two birds. You can find a complete listing of the items included here.
North Pole Adventure
This next scene is a magical North Pole adventure that includes a Welcome to the North Pole sign, a gumdrop tree, a snowman, snowballs, and bells. Full details can be found here.
Magical Santa Hat
Our next choice is a magical Santa hat. It could be used at the center of your DIY Christmas in July fairy garden or to help add a little magic to the miniatures that you already have. Find it here.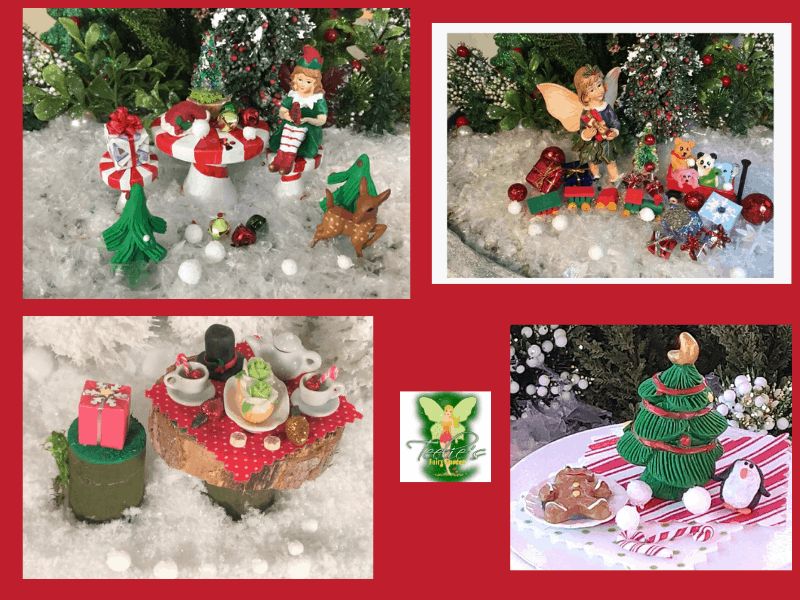 Christmas Candy Cane Fairy Party
Fairies love candy canes and in this cute Christmas scene they are holding a candy cane party. It includes candy cane furniture, a deer, a Candy Cane Fairy holding a bird, and some bells. Full details of what this adorable scene includes can be found here.
Fairy Toy Adventure
Fairies love toys and this Christmas scene comes with plenty of miniature accessories to allow you to create a magical adventure featuring them. It includes a Christmas fairy, a toy train, a wagon full of toys, a Christmas tree, and some gift-wrapped packages. Full details are available here.
Fantastic Fairy Tea
Fairies love to have tea parties for all celebrations. This tea party scene would make a lovely DIY Christmas in July fairy garden, and you could add a few Christmas fairies to round it out if you would like. This scene includes Frosty the Snowman's hat, a teapot, and teacups, treats and gift-wrapped packages. A full listing of what comes with this fantastic fairy tea scene is available here.
Magical Christmas Treats
Our final pick for today includes several kinds of delightful fairy treats. The fairies would love to have these incorporated into their Christmas in July fairy garden. You can find it here.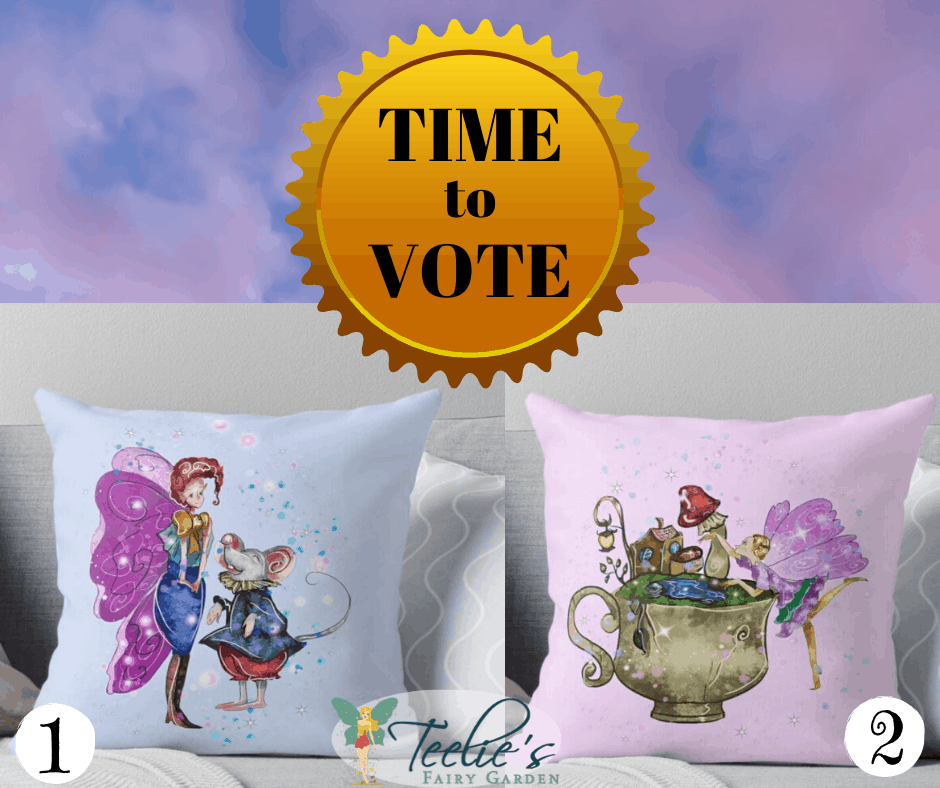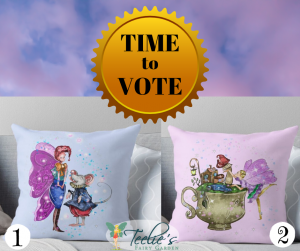 Thank you for joining us for today's look at DIY Christmas in July fairy gardens. Christmas in July fairy gardens can be traditional holiday fairy gardens, or you can incorporate a fun summer twist. Please continue to wander through Teelie's Fairy Garden for more great DIY fairy garden ideas, and fairy news. We have also launched a contest on social media which will allow you to help select a magical fairy or creature which will have a story written about it. Please take a second to place your vote. You can vote on MeWe, Pinterest, or  Facebook.  You can also look for us on our other social media pages which include Twitter and Instagram. We are also on Bloglovin' or comment in this post and we'll get back to you. You can also learn more about it in our blog post too.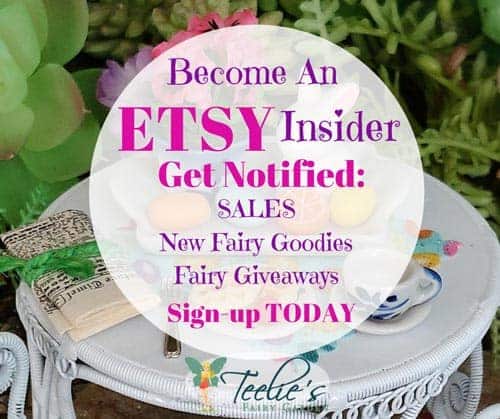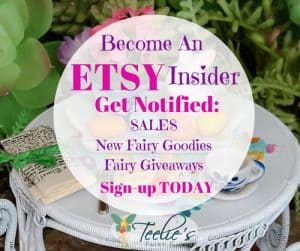 You can also sign up to be an Etsy insider and get notified by e-mail about fairy giveaways, goodies, and sales. Sign up here.
Just a disclaimer – We have partnered with these companies because we use their products and/or proudly trust and endorse them – so we do receive a commission if you make a purchase or sign up for services. Often, we are able to negotiate special discounts and/or bonuses, which we will pass on to you via our links. We often get short notice on sale items available for 24-48 hours as we will pass these savings onto you.