In anticipation of our magical Christmas DIY guide that will be released soon, Teelie's Fairy Garden decided to share eight enchanted fairy garden miniatures that you might want to include in a Christmas themed fairy garden.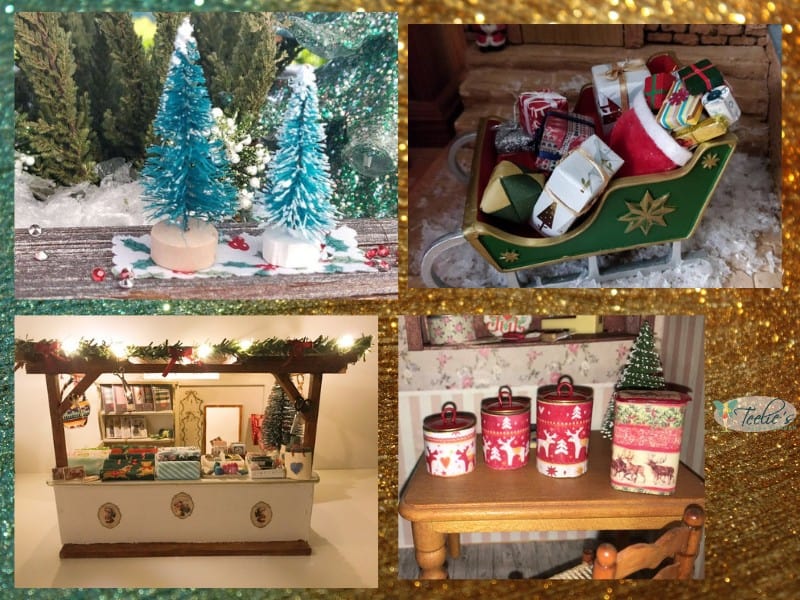 Christmas Trees
Decorating Christmas trees is a magical part of the holiday season. Consider adding one or more Christmas trees to your fairy garden this year. We chose to show you two miniature teal sisal bottle brush trees. They can be found on Etsy.
Vintage Sledge With Gifts
We located an amazing green sledge with gifts in it. It would make an amazing addition to a fairy garden. But there is only one available so if you'd like to have it, you'll have to act fast. Find it on Etsy.
Magical Christmas Market
We located a unique Christmas market stand. It is made out of wood and is a vision of what a fabric market stand could look like at holiday time. However, there is only one available. If you'd like it visit Etsy now.
Cookies For Santa
Santa loves enjoying cookies and milk. We found a magical looking set of miniature biscuit tins. The fairies use these to store their baking in for Santa until the big night when they leave him out a generous helping of his favorites. Find the biscuit boxes on Etsy.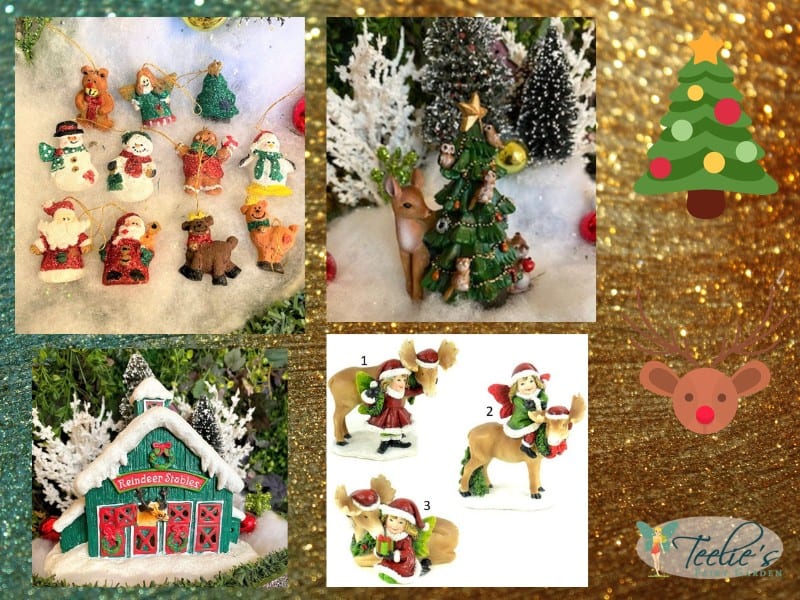 Miniature Tree Ornaments
If you're going to have a Christmas tree in your fairy garden, you should also have some holiday ornaments. We found a cute set of twelve miniature decorations on Etsy that is perfect.
Christmas in the Forest
The fairies and Santa all love visiting the forest especially at Christmas time. This year while the fairies were out for a walk, they came across something glowing in the forest. It was a Christmas tree that the forest wildlife had decorated. Find it on Etsy.
Lovely Reindeer Barn
The reindeer that live at the North Pole live in a magical reindeer barn. At night, you can see it far off in the distance because of the magical lights. Find the reindeer barn on Etsy.
Christmas Fairy and Her Magical Moose
We found a Christmas fairy and her magical holiday moose on Etsy. They must have the most amazing holiday adventures together.
Thank you for visiting Teelie's Fairy Garden. We hope that you enjoyed browsing through these magical miniature items. If you have any questions about creating a fairy garden, please contact us through social media. Please keep visiting us as we have numerous announcements coming this holiday season.
We have many magical videos that you might want to watch too.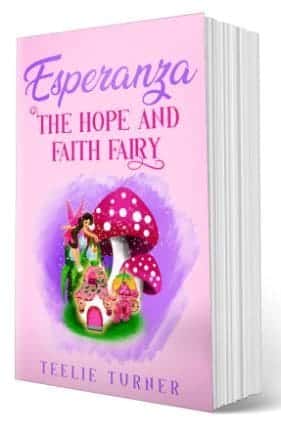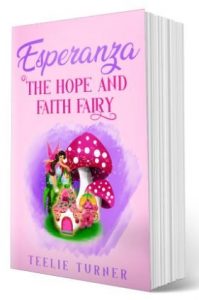 Learn about Esperanza the Hope and Faith Fairy here. She is the newest fairy to have a story to tell you.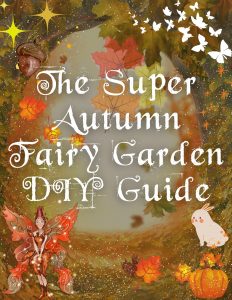 The fairies would also like to invite you to discover their Super Autumn DIY Fairy Guide with fairy gardening ideas on the themes of autumn, Halloween and Thanksgiving. Find it here. Our Christmas edition will be here soon.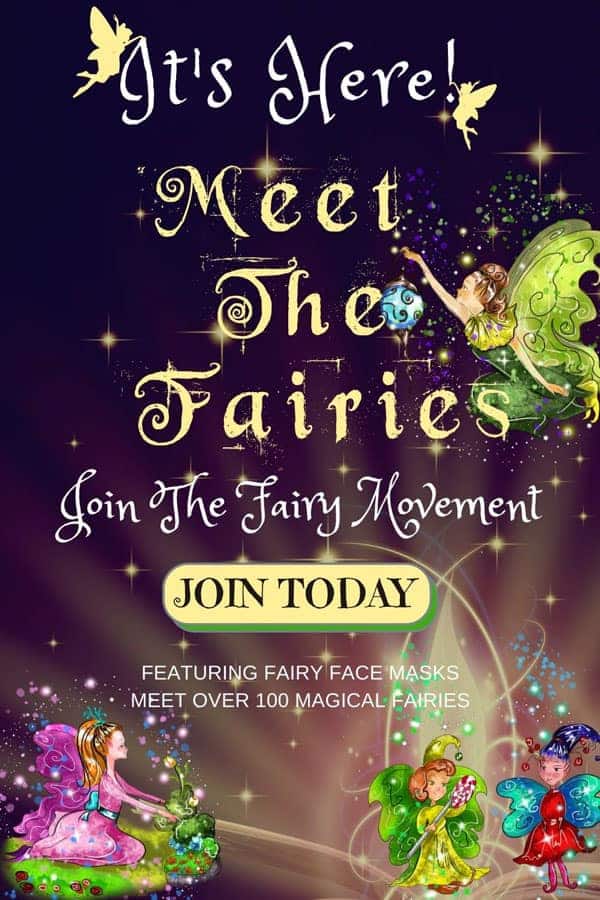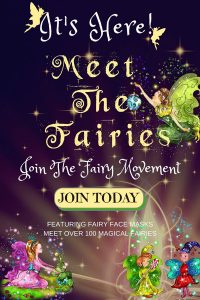 Sign up to get a copy of the Meet the Fairies catalogue / book. It's an enchanted opportunity to get better acquainted with over a hundred incredible fairies.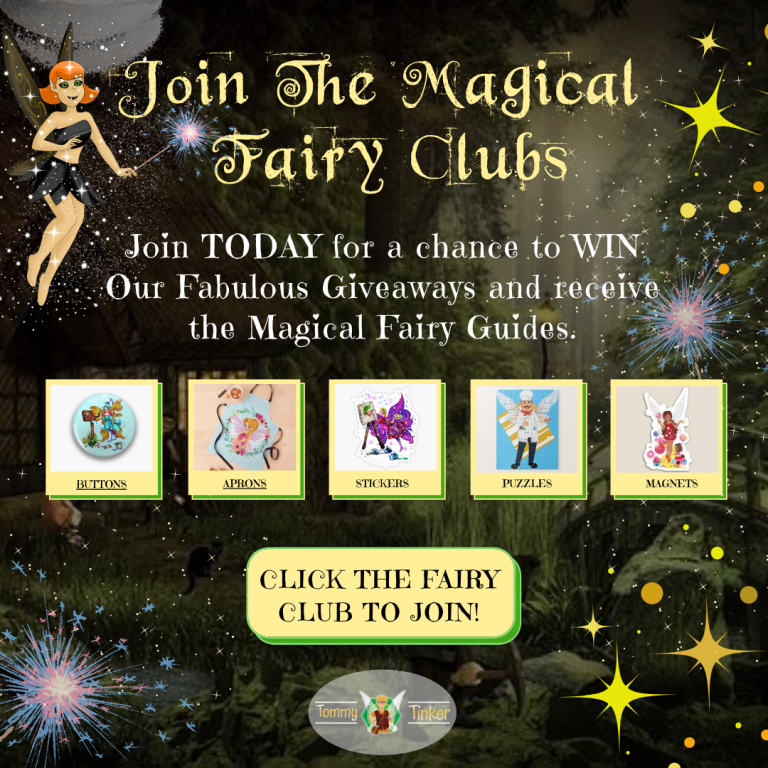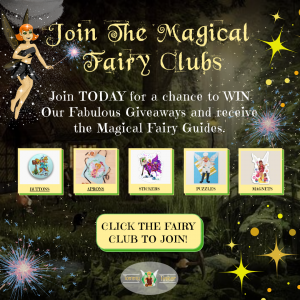 The Fairies have started several magical fairy collector's clubs. Learn more about them here. All our clubs come  with intriguing downloads and chances to win wonderful prizes.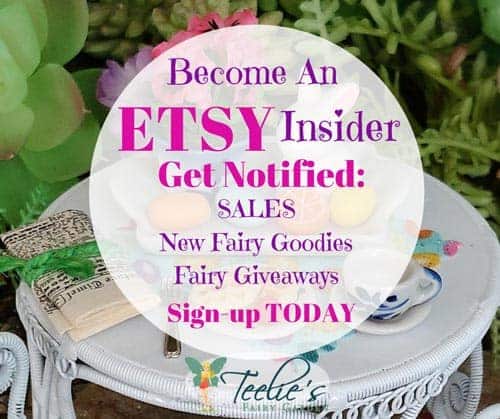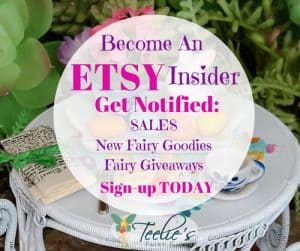 You can also sign up to be an Etsy insider and get notified by e-mail about fairy giveaways, goodies, and sales. Sign up here.
Just a disclaimer – We have partnered with these companies because we use their products and/or proudly trust and endorse them – so we do receive a commission if you make a purchase or sign up for services. Often, we are able to negotiate special discounts and/or bonuses, which we will pass on to you via our links. We often get short notice on sale items available for 24-48 hours as we will pass these savings onto you.