This week's Teelie's Fairy Garden blog post will introduce you to eight incredibly interesting gnomes. Keep reading to find out how special each one is and why you're going to want to invite them to live in your fairy garden. You can also enjoy this amazing video.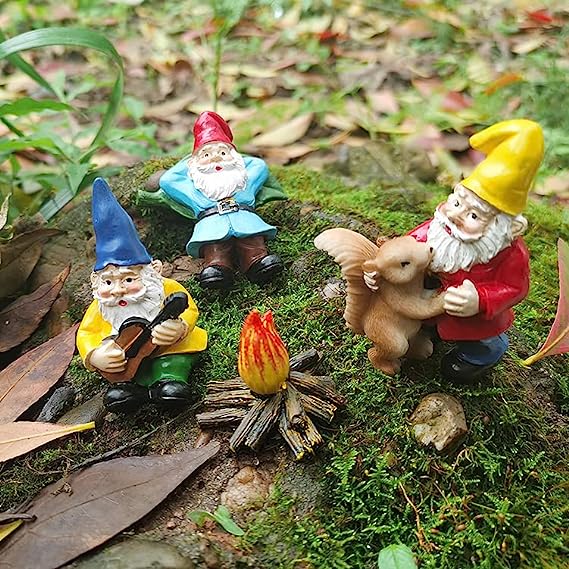 JIUMO Dance Miniature Garden Gnome Set of 4 Fairy Garden Gnomes Accessories Campfire Little Garden Gnomes Outdoor Small Garden Gnome Figurines Ornaments Gifts
Camping Adventure
Three gnomes are having a great time on a camping adventure around this glowing campfire. One gnome has even found a friendly squirrel to dance with, while another is playing the guitar and the third is relaxing. Learn more here.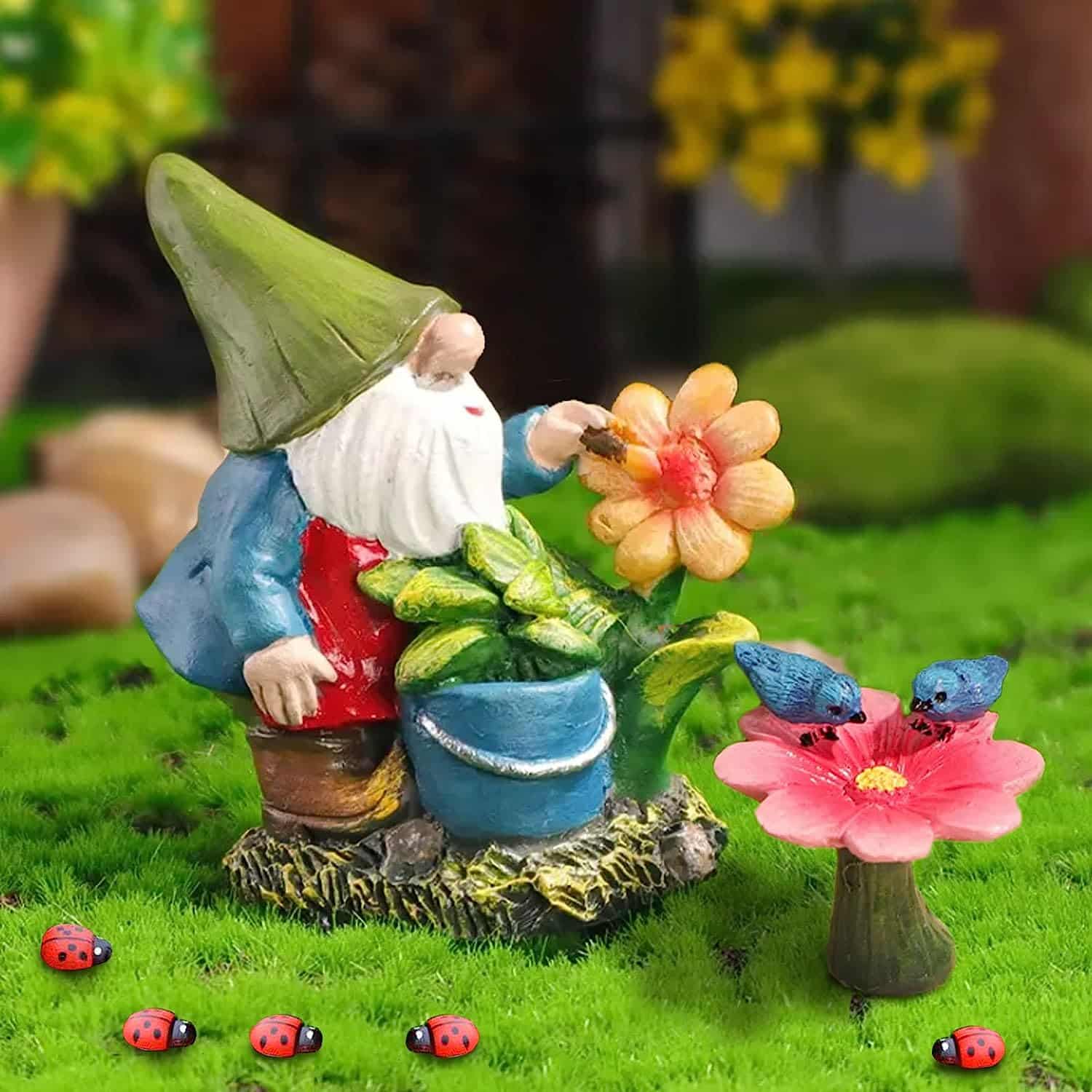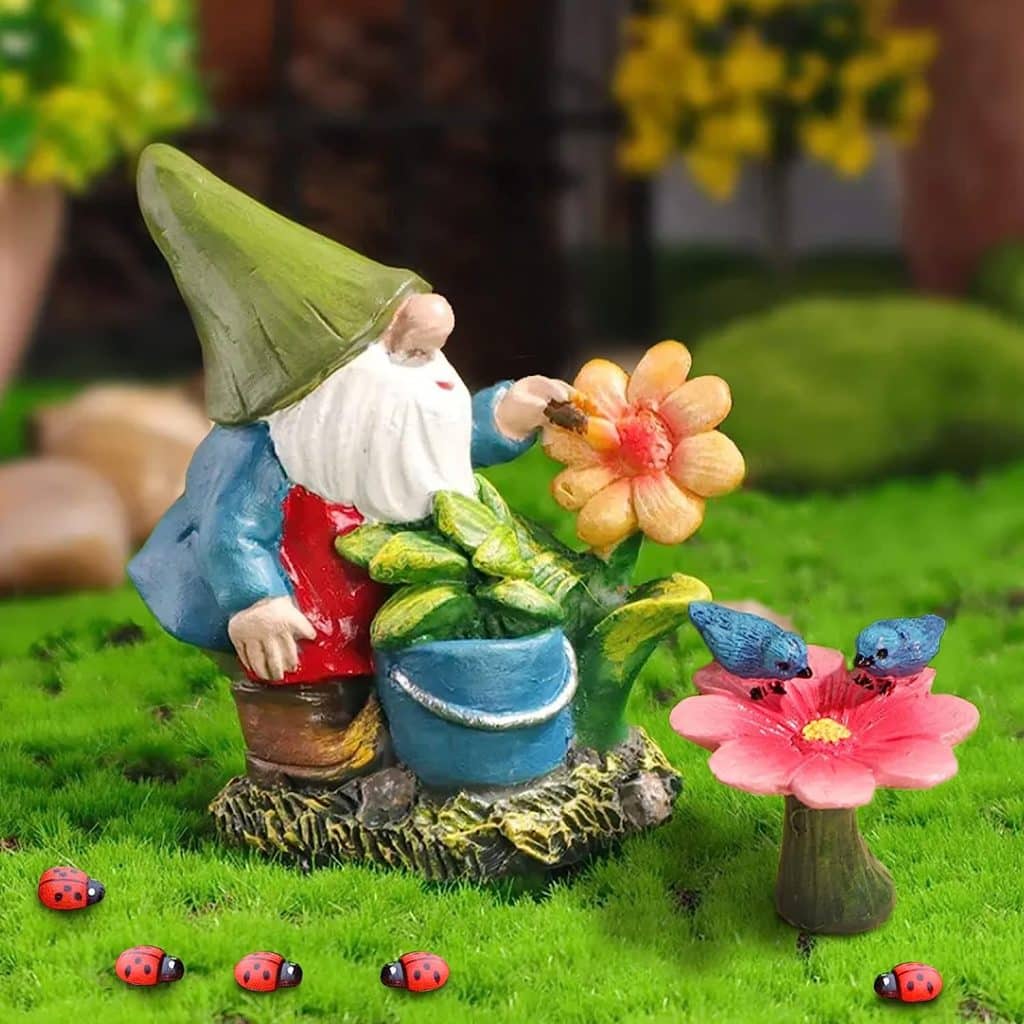 BEZALEL Fairy Garden Accessories – Resin Mini Gnomes Miniature Gnomes Figurines with Ladybugs Flower Birds Fairy Garden Miniatures for Garden Plant Pots, Terrarium, Bonsai, Yard – Fairy Garden Gnomes
Gardening Gnome
This busy gnome is helping to make sure that everything is going well in the garden by caring for the flowers and ensuring there's enough water in the bird bath. Learn more here.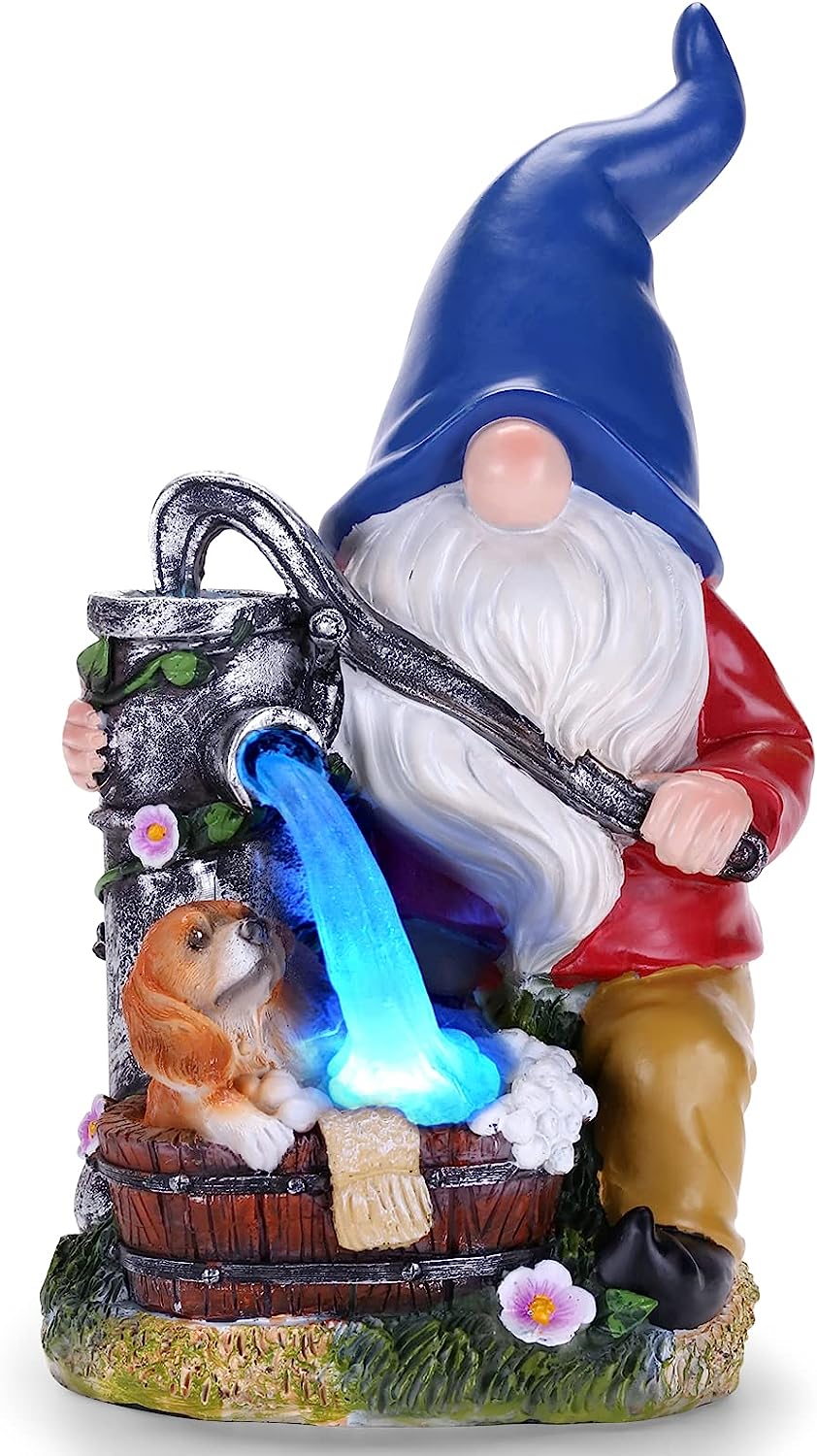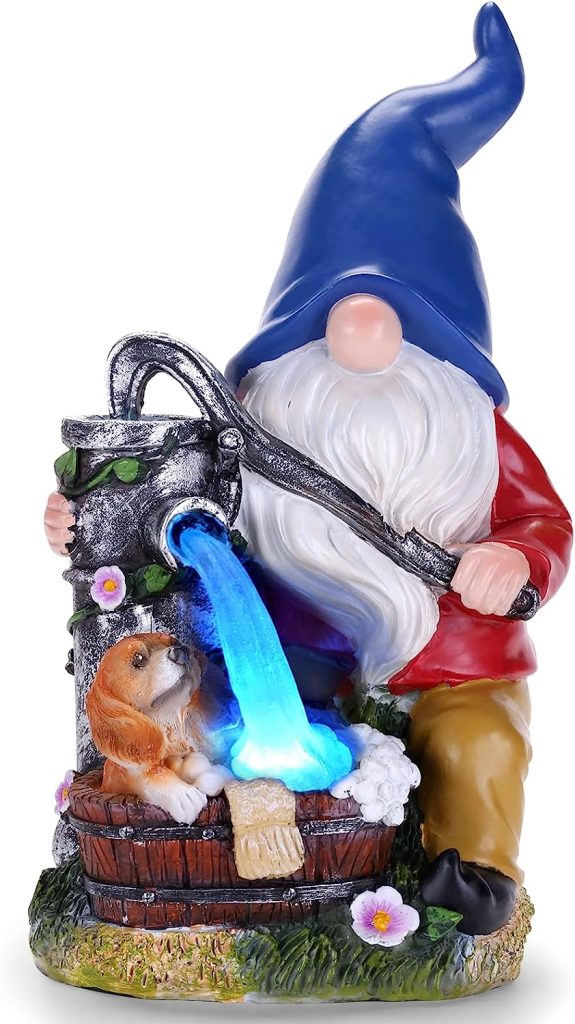 Garden Gnome Statue, Gnome Decoration for Yard with Blue Solar Light, Patio Porch Yard Garden Decor for Outside, Lawn Ornament
Caring Gnome
This amazing gnome statue for your yard may just come alive when you're asleep with the magic from some fairy dust. One thing is for sure the blue solar light is enchanting, and the statue is amazing. The gnome is pumping water into a tub so it can give its pet dog a bath. Both of them seem to be enjoying their time together. Learn more here.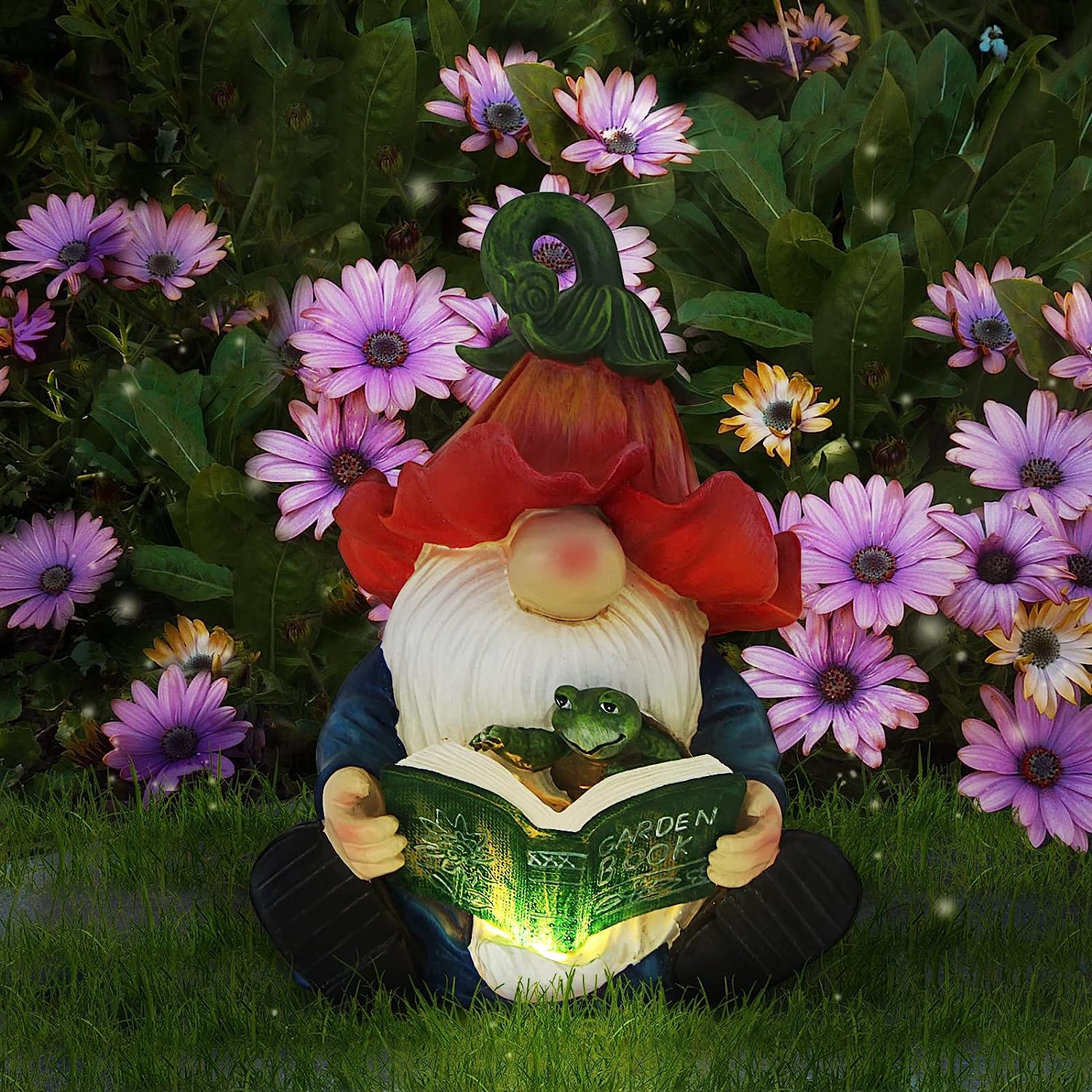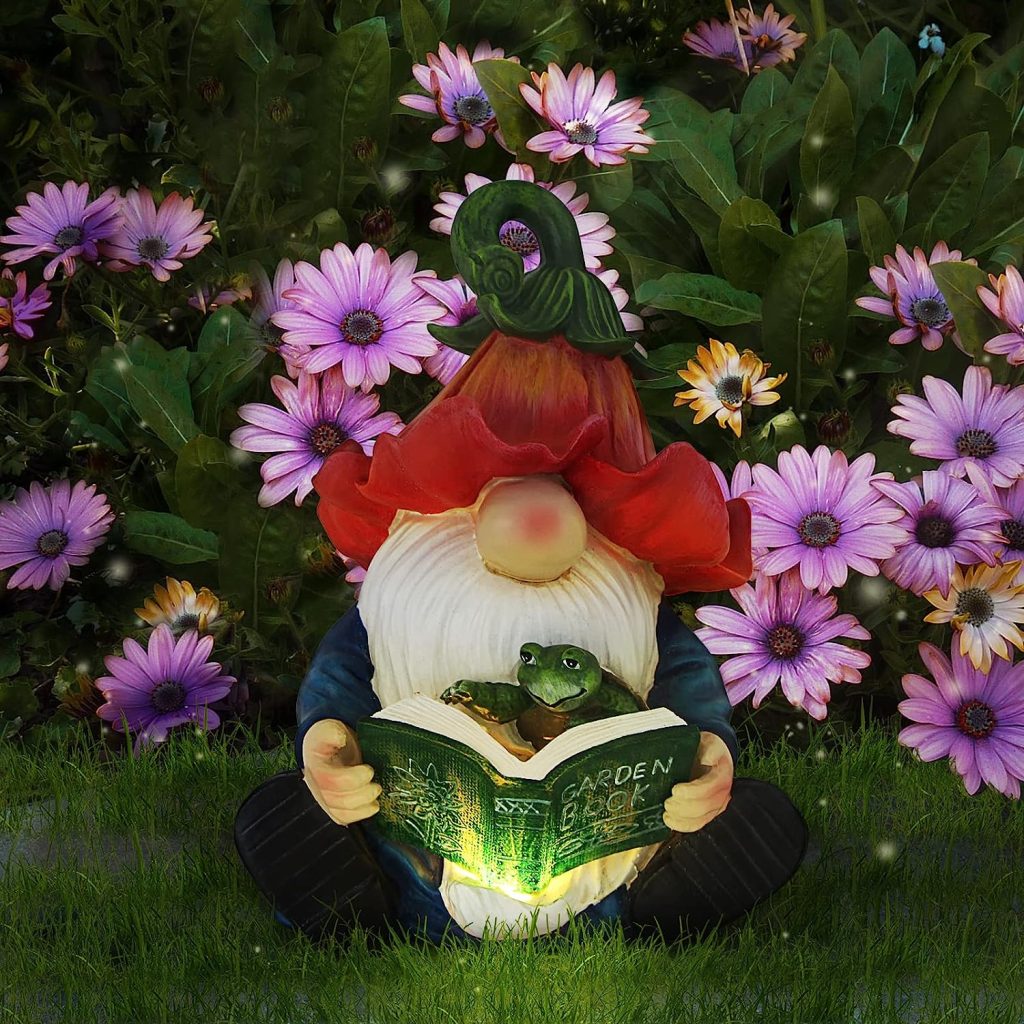 Sinhra Garden Gnome Statue-Resin Gnome Figurine Hugging Turtle Reading Book with Solar LED Lights,Outdoor Summer Decorations for Patio Yard Lawn Porch, Garden Ornament Gift
Reading Gnome
This gnome is excited that it can help bring brightness to your garden with its LED lights. The gnome is sitting in a comfortable position wearing a flower hat. It is reading a garden book to a frog that cannot wait to hear the entire tale. Learn more here.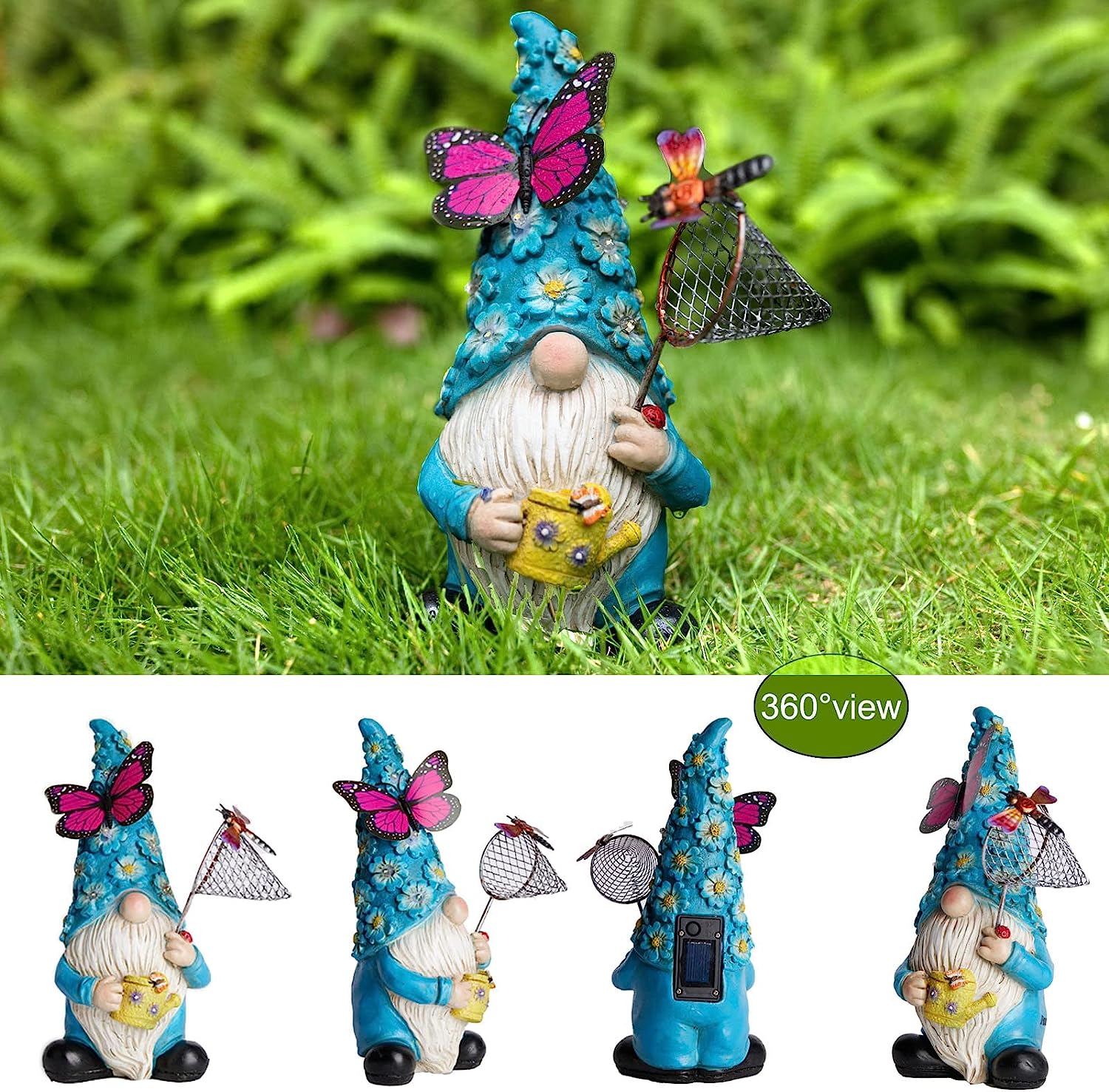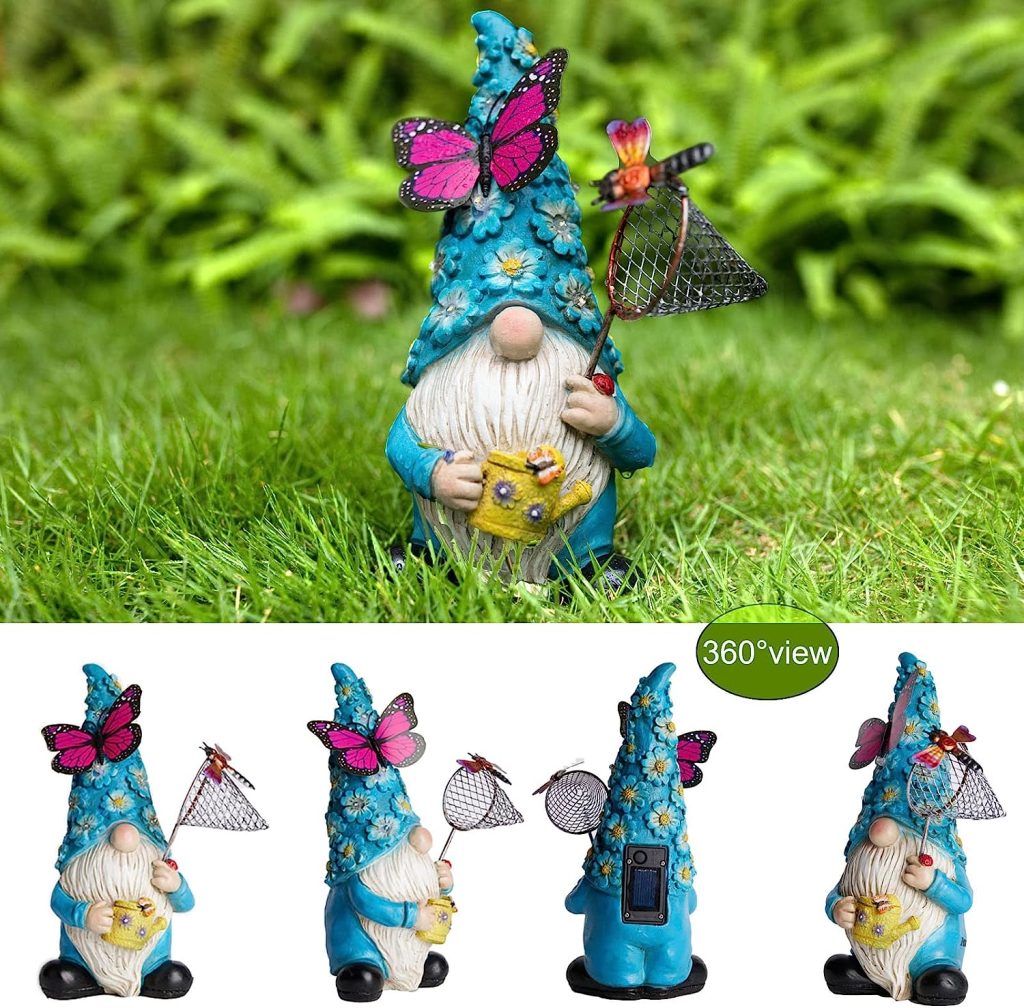 Foreby Garden Gnome Statues Outdoor Decor Solar Gnomes Statue,Garden Gnomes Decor with Butterfly on LED Lighted Flowers, Gnomes Sculpture for Patio Yard Lawn Onament Decoration
Butterfly Fun Gnome
This enchanted garden gnome which also has an LED solar light is out-catching butterflies. He's going to help get them back into their homes as it is such a windy day outside that they're having trouble flying through the air. Learn more here.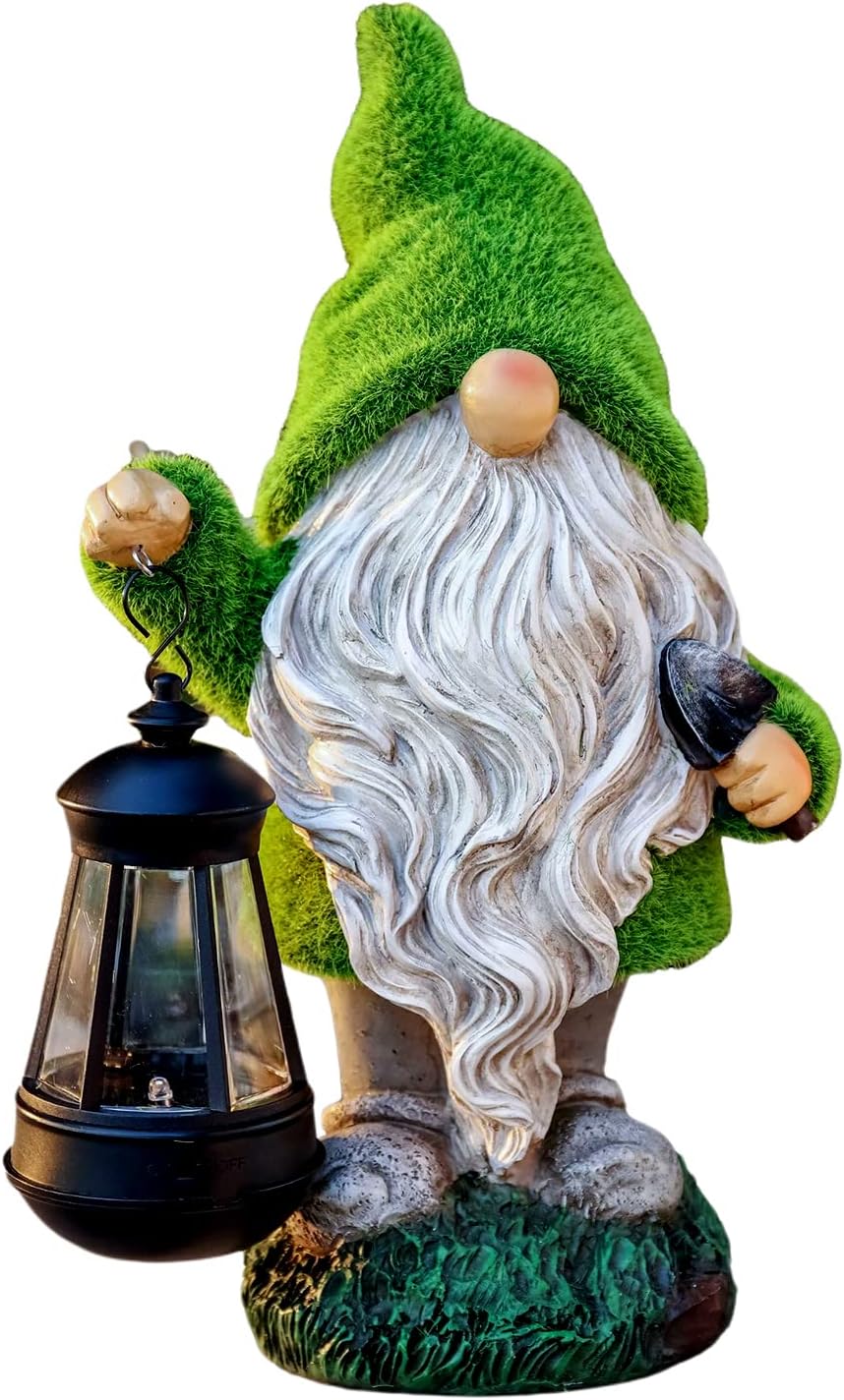 TERESA'S COLLECTIONS Garden Gnomes Decorations for Yard with Lantern Solar Light, 13″ Cute Large Moss Garden Sculptures & Statues Outdoor Lawn Ornaments Garden Gifts for Mom Yard Front Porch Patio
Gnome with Lantern
This adorable gnome with the fantastic green mossy hat is holding a garden gnome. Compared to some gnomes he is fairly tall, standing at over a foot tall. He'd be perfect for a porch or lawn decoration, as he can stand amongst the flowers in a garden that is planted directly in the ground. Learn more here.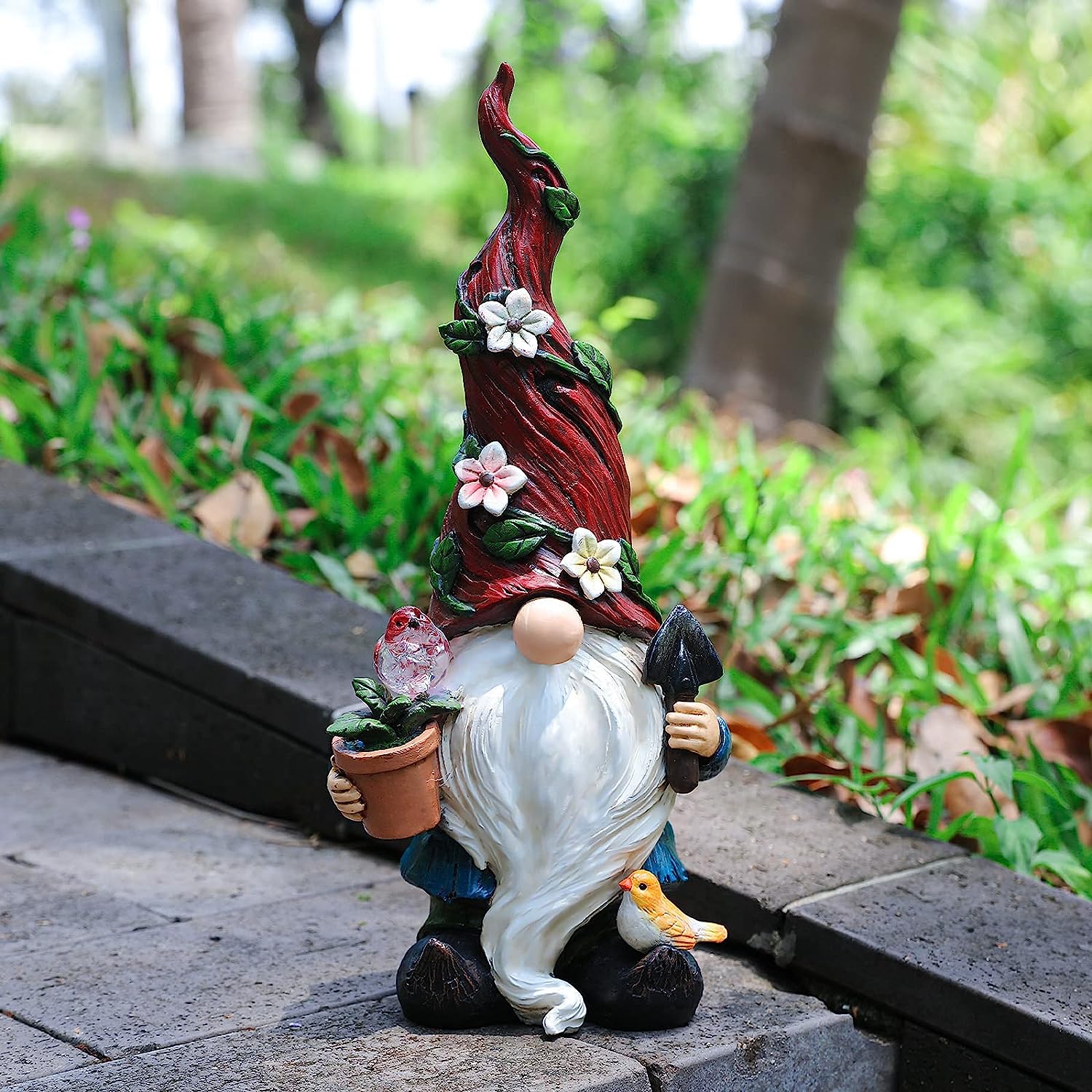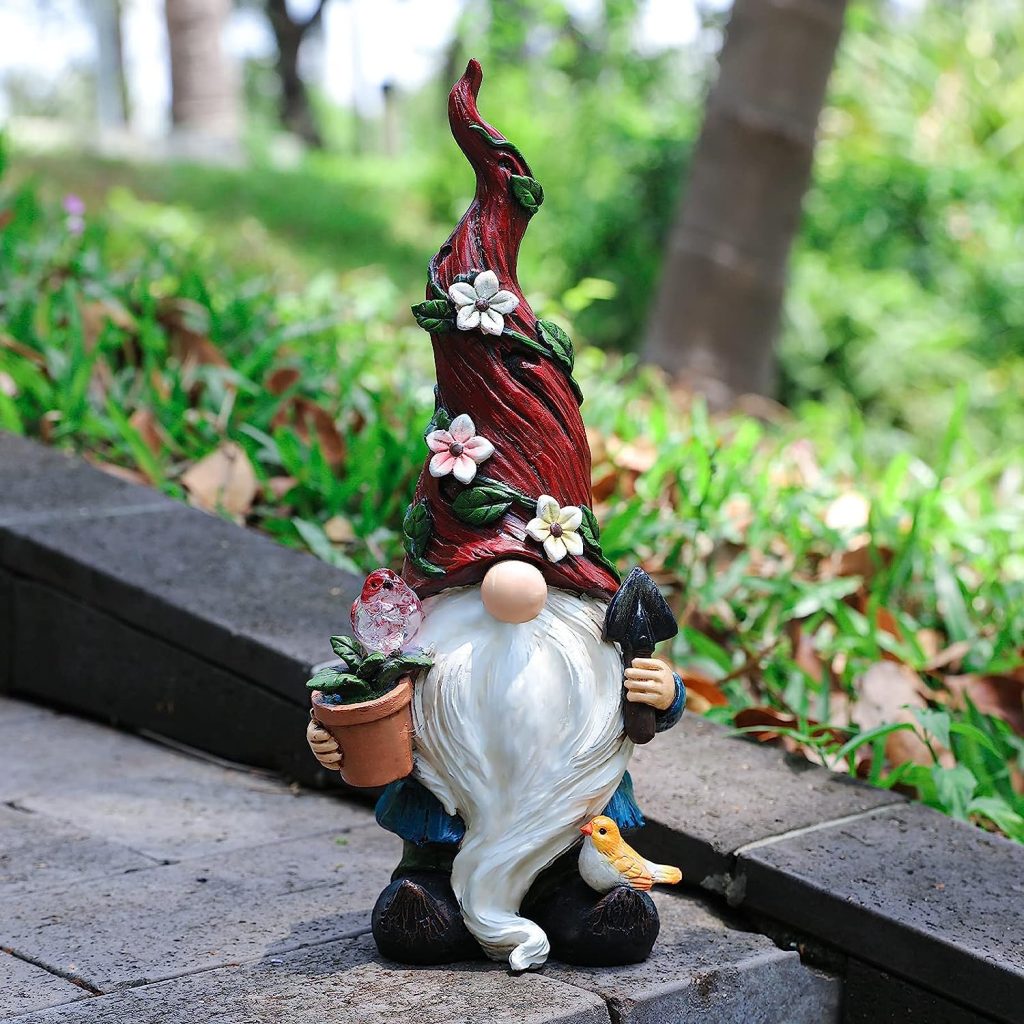 grinshin Outdoor Garden Gnome Statue,Resin Gnome Figurine with Solar Led Lights, Outside Decor for Patio Yard Lawn Porch Decorations, Ornament Gifts (Blue Statue)
Gardening Gnome
This gardening gnome is ready to have some fun in your garden. It already had the chance to pot a plant and has its trowel handy to do more work in the garden. This gnome also has a solar light which comes in handy as it comes out mostly at night. Learn more here.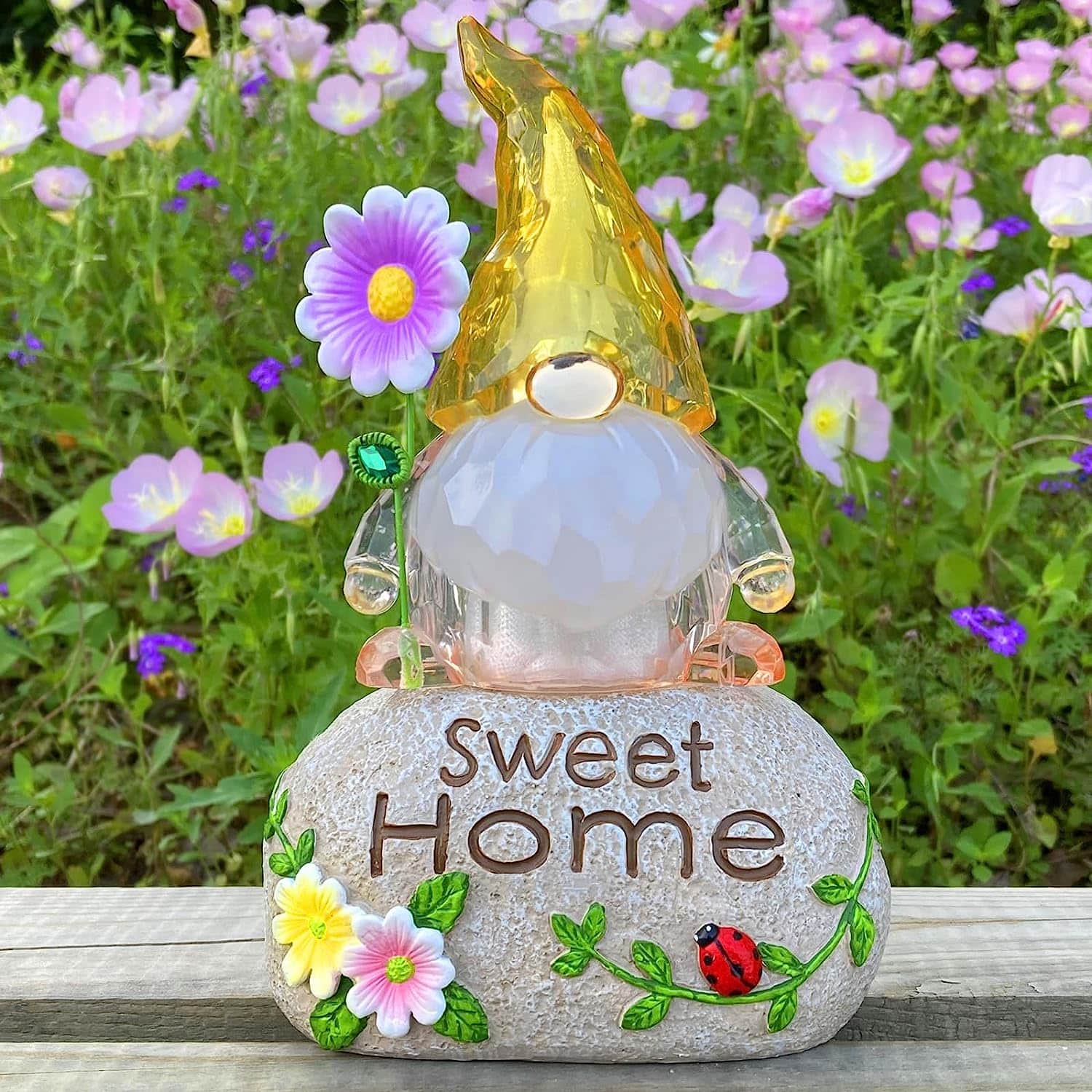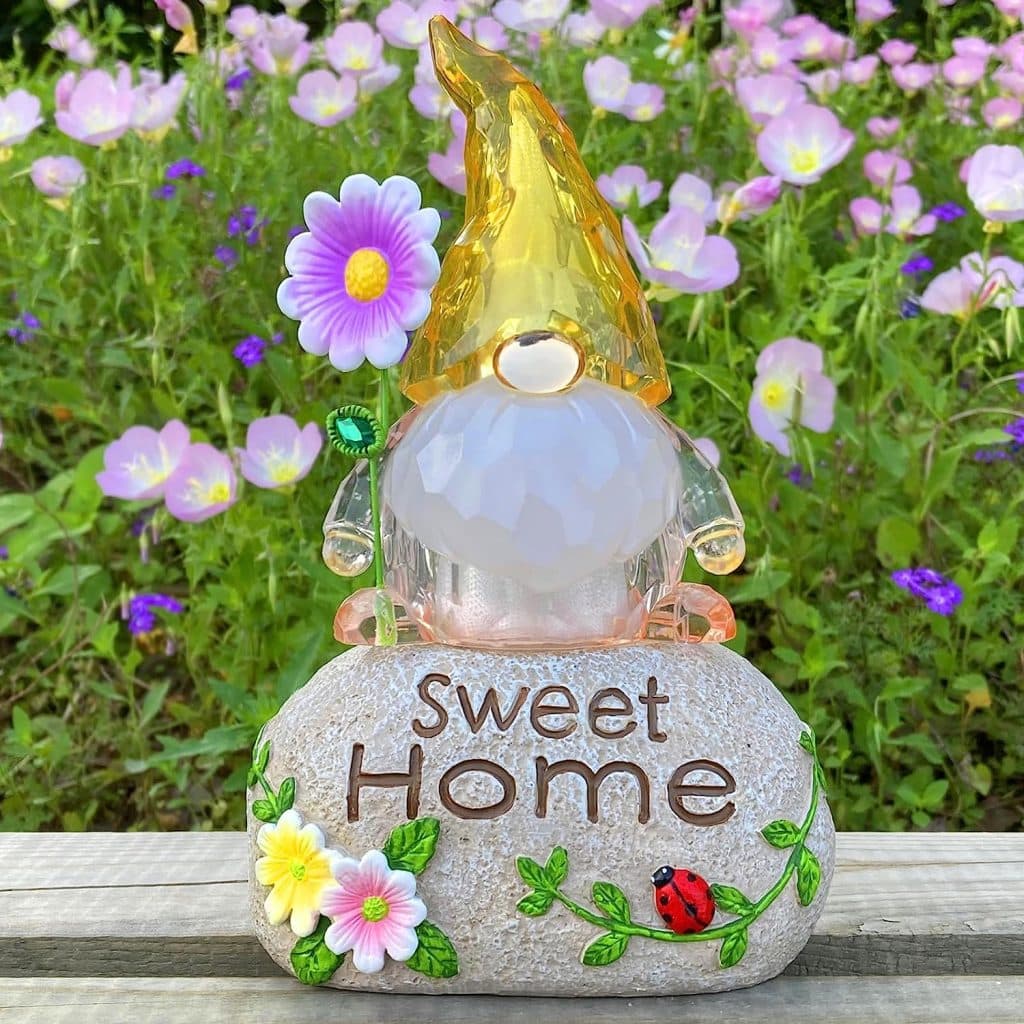 Starryfill Garden Gnome Figurine in Golden Hat Holds Flower on The Memory Stone, 7.68inch(H) Resin Gnome Decoration with Solar Led Lights for Home Lawn Yard Gift
Gnome Sweet Home
This gnome is sitting on a rock that says Sweet Home on it. The stone is decorated with flowers and a ladybug.  The gnome has a beautiful flower in its hands. There is also a solar light to brighten up your garden at night. Learn more here.
We hope that you've enjoyed your time in Teelie's Fairy Garden with the gnomes. They hope that you have an amazing summer spending time in nature and getting to create a magical fairy garden. They want to be sure you don't forget to invite a gnome to help you out with your gardening.  Please keep visiting us for more magic.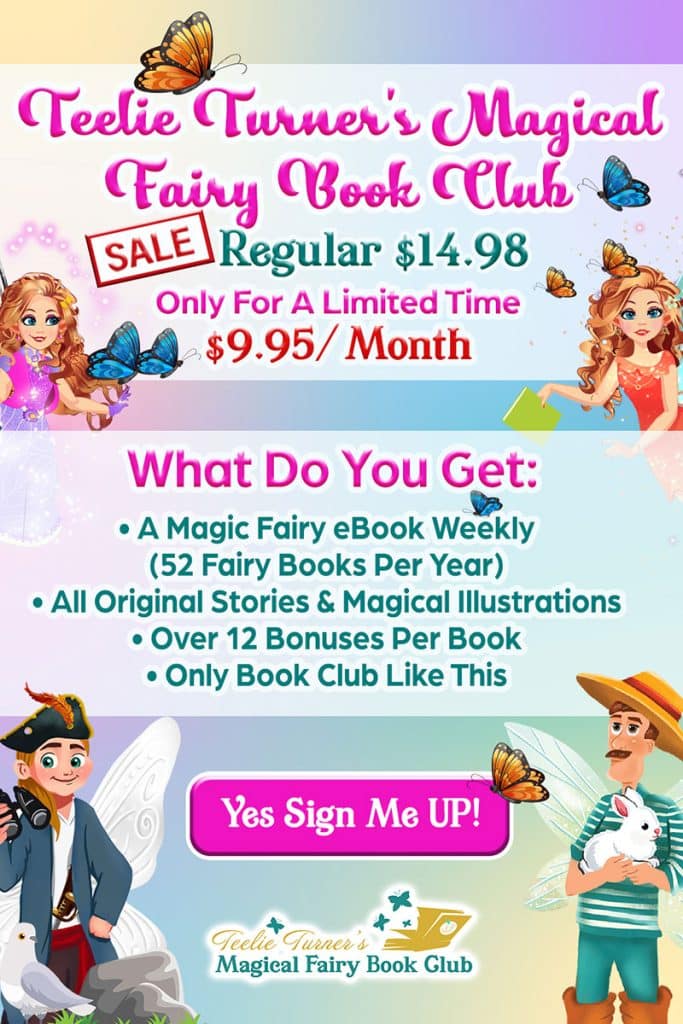 Join the Teelie Turner Magical Fairy Book Club here.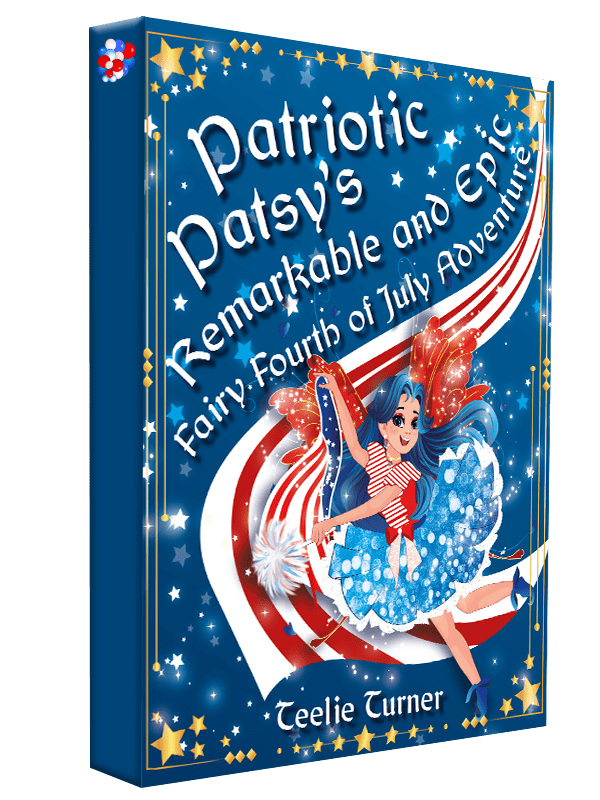 Discover Teelie Turner's complete collection of magical books here. 
Discover one of our magical book trailers.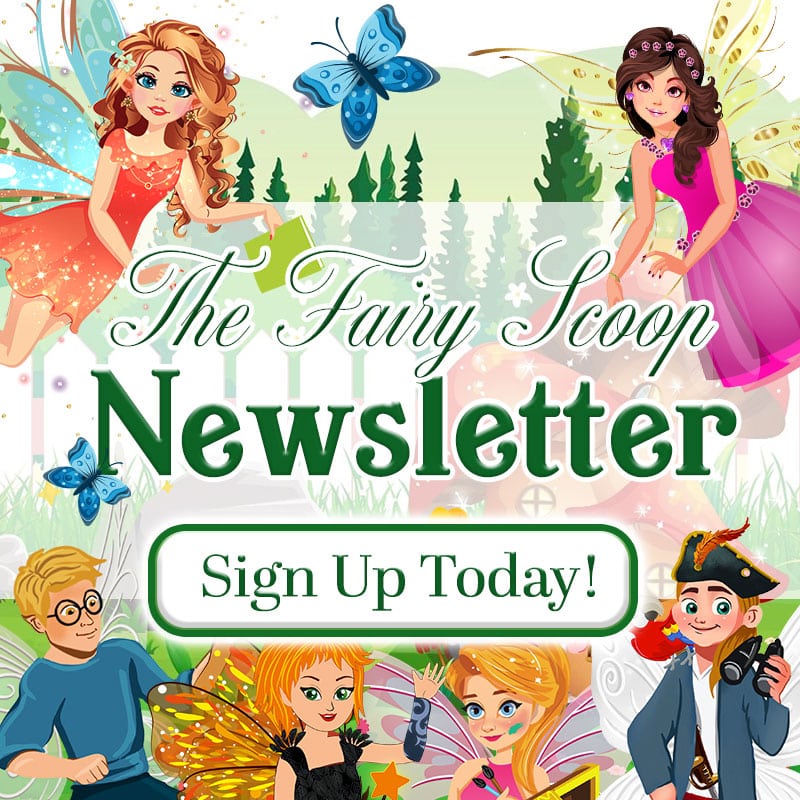 Sign up for The Fairy Scoop Newsletter here.
Just a disclaimer – We have partnered with these companies because we use their products and/or proudly trust and endorse them – so we do receive a commission if you make a purchase or sign up for services. Often, we are able to negotiate special discounts and/or bonuses, which we will pass on to you via our links. We often get short notice on sale items available for 24-48 hours as we will pass these savings onto you.