It's time to meet some magical spring fairies in Teelie's Fairy Garden. We have several magical fairies to introduce you to. Each of these sweet fairies wants to share one of their favorite pieces of merchandise with you.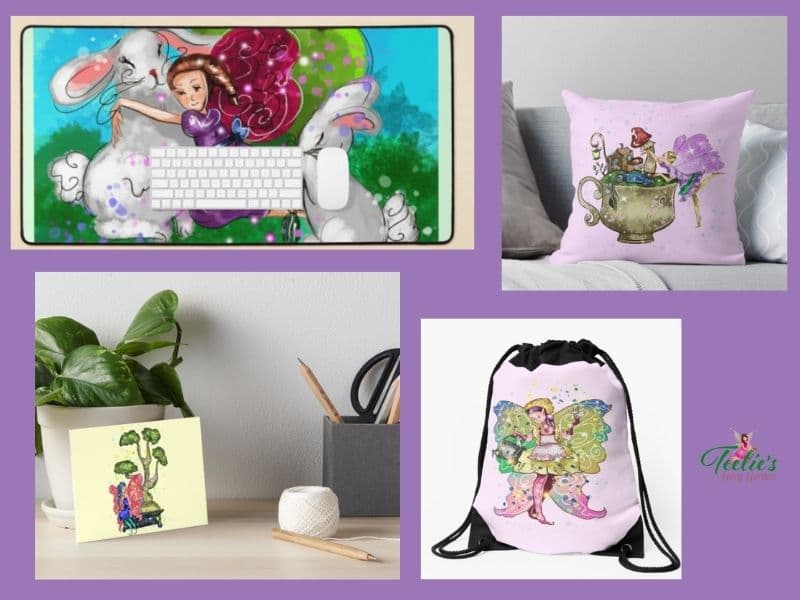 Magical Mouse Pads
Since Easter is right around the corner, it seemed like a great opportunity for Buppy the Bunny Fairy to make your acquaintance. Buppy decided to share her beautiful mousepad with you. Learn more on Redbubble.
Beautiful Art Board Prints
These artboard prints featuring Busana the Bonsai fairy are a great way to help bring art into your life. Busana loves getting to care for Fairy Land's magical bonsai trees. They're also a wonderful place for you to enjoy solitude and a quiet opportunity to read. Here is a video for one of the magical books that Busana recommends. Meet Busana on Redbubble.
Adorable Throw Pillows
Tertia the Teacup Planter loves all the beautiful flowers that her fairy friends plant in her teacups. You can find Tertia's photo on a number of magical items of merchandise including this enchanted throw pillow. Learn more on Redbubble.
Enchanted Drawstring Bags
Gardenithia the Handmade Garden Fairy is available to help you with all your fairy garden needs. She loves visiting gardens and making suggestions and lending a helping hand. Learn more about her on Redbubble. She is sharing her drawstring bag with you.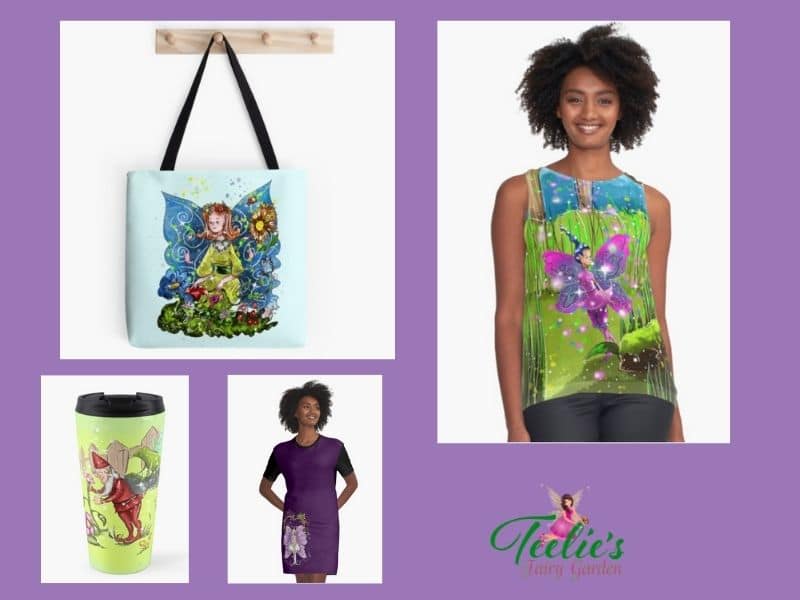 Fantastic Tote Bags
These fantastic tote bags are the magical item of fairy merchandise that Fai the Handmade Flower Fairy wanted to share with you. They come in cotton or as an all-over print. Full details are available on Redbubble.
Magical Graphic T-Shirt Dresses
Trixy the Trellis Fairy loves seeing humans and fairies enjoy her collection of magical merchandise. She and all of Teelie Turner's fairies have many items of clothing available in their collections on Redbubble. Trixy is showing you her graphic t-shirt dress.
Incredible Travel Mugs
Genius the Gnome Fairy loves to garden. He shares that love in his collection of merchandise. He decided to show you his amazing travel mug. Find it on Redbubble.
Cute Sleeveless Tops
Neona the Natural Materials Fairy spends her days searching for amazing and natural materials for her friends to use. She loves to help the birds find grass, feathers, and flowers to line their nests with. Neona's picture is on a cute sleeveless top. Find her on Redbubble.
Thank you again for visiting Teelie's Fairy Garden. I am so glad that you could be here with us. The fairies have so many amazing adventures planned, and they want to share them all with you.
You can also enjoy this magical fairy video.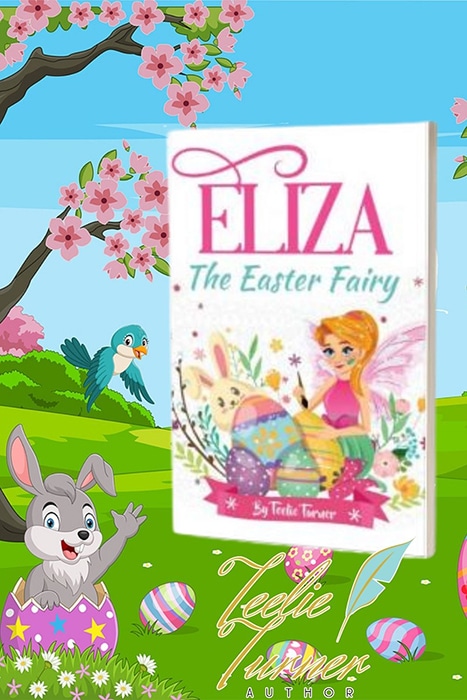 Discover Teelie Turner's complete collection of magical books here.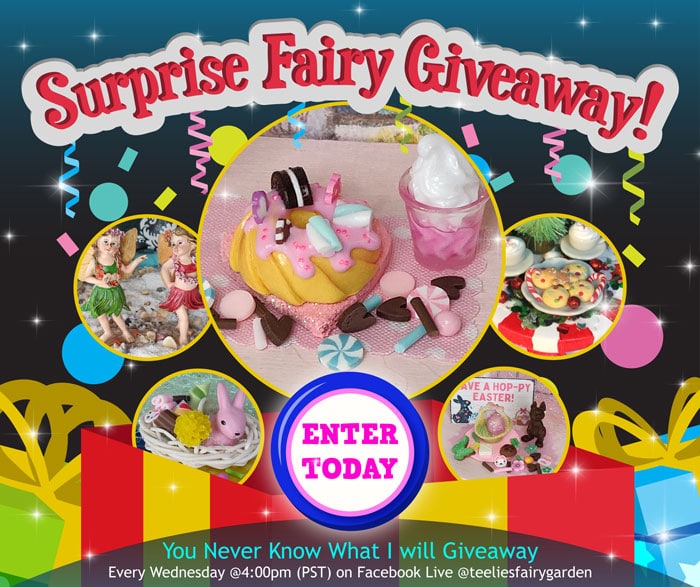 Every Wednesday, Teelie Turner will be giving away something special in a magical surprise giveaway. You'll never know what it might be and that is part of the magic that goes along with this. Sign up now for your chance to win.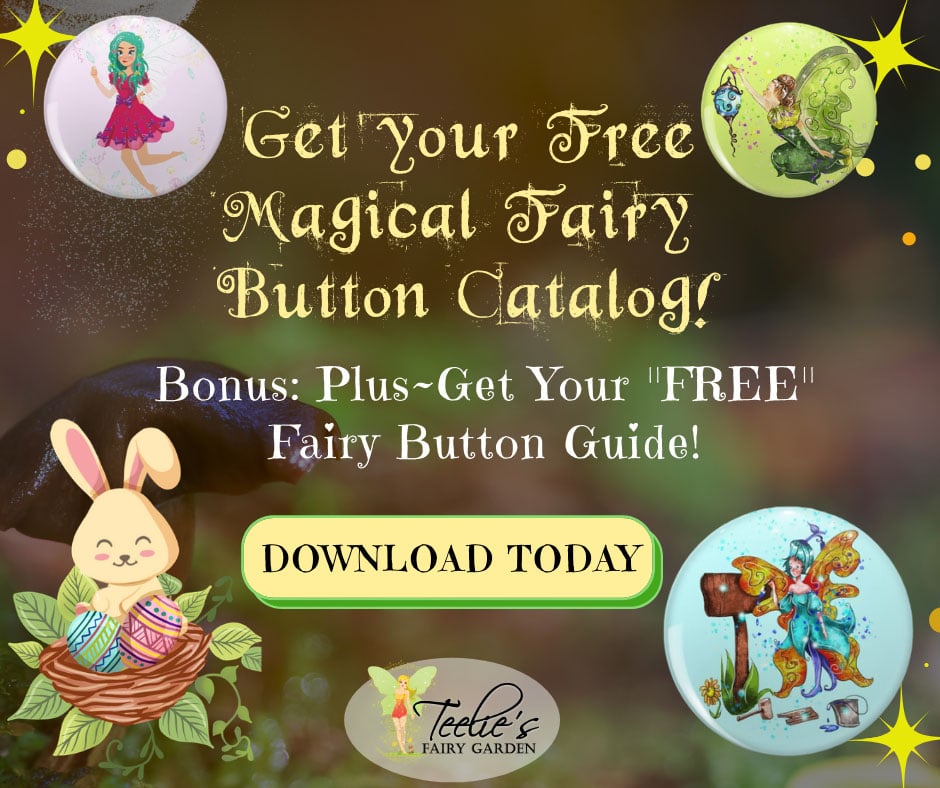 Several magical fairy catalogs and guides are available as a free download. Learn more about them here.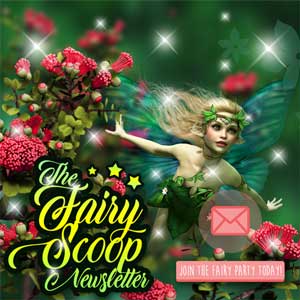 Sign up for The Fairy Scoop Newsletter here.
Just a disclaimer – We have partnered with these companies because we use their products and/or proudly trust and endorse them – so we do receive a commission if you make a purchase or sign up for services. Often, we are able to negotiate special discounts and/or bonuses, which we will pass on to you via our links. We often get short notice on sale items available for 24-48 hours as we will pass these savings onto you.